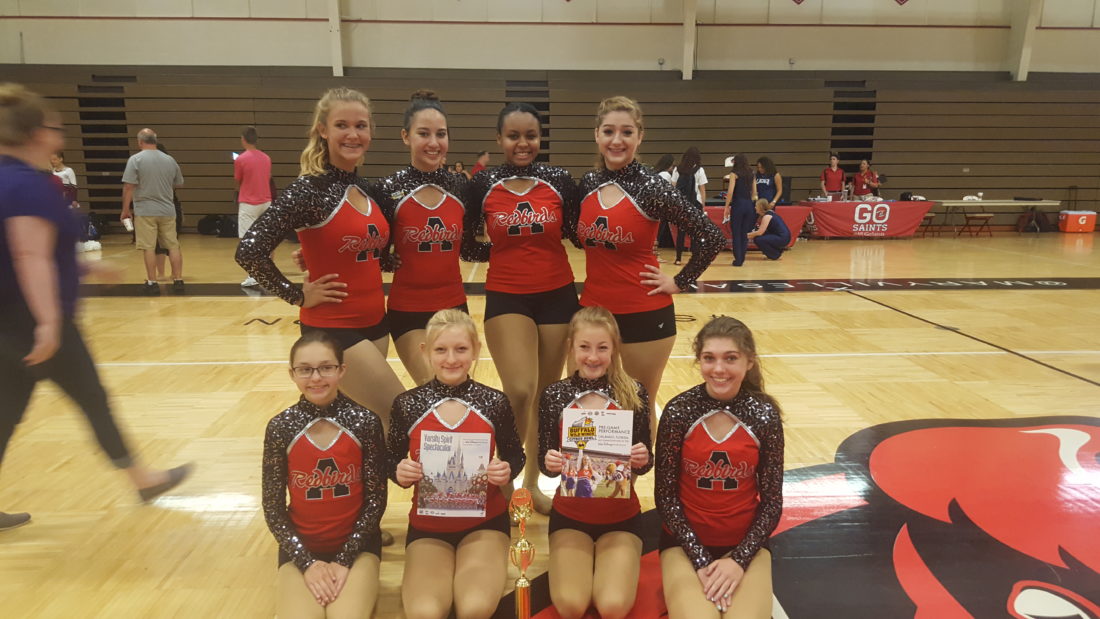 Team Feature: Alton
They've got only 8 on the roster, but the number they're more concerned about is 1.01. Here's how the Alton Dance Team plans on dealing with both numbers.
by Norm Ramil, 8 Count Audio chief.music.officer & dance.fan
Alton's public high school is far to the northeast of its historic downtown, so its campus looks huge because of the hilly, open land surrounding it. Almost 2,000 kids go there, and it felt like I met most of them heading out of the parking lot while I was trying to get in! Then came the journey from the main entrance to their practice space, technically in a separate building, and I only got there with the help of some very nice school staffers. Plus I think I got some TLC by telling them that I'd just driven from Chicago in the rain.
Alton's dance team has eight girls this year, with three returning from last year. "This is a rebuilding year for our team as we lost six seniors who really did an amazing job of supporting and promoting our team," says Coach Sara Miller. Alton has the rare distinction of being senior-less this year, with two juniors, three sophomores, and three freshmen!
For today's across-the-floor drills, the Alton Dance Team works on basic jazz technique. The girls have the benefit of a mirrored wall in this multi-purpose room, whose stationary bikes line the back wall, out of the way for this afternoon. Despite the cloudy, drizzly weather, it's warm and humid, so a garage-like door is open to let some air in. Mixed with the sounds of a dance team practicing are the after-school conversations happening outside, and athletic team buses shifting around the rear parking lot. Alton High School is a busy place, but its dance team rules the multi-purpose room for the next couple hours.
What I'm watching is actually the team's first fall practice after taking much of August off. Spotify's acting a little iffy, but the girls don't seem to mind as they cross the length of the room doing a battement combo. After that comes a grand jete drill, and Coach Miller's minor corrections ("think UP, not forward when you leap") lead to a huge improvement when the team takes a second shot at it.
Things get more elaborate for the dancers just as things start to quiet down outside that garage door. Following some basic switch leaps, the girls practice rotating sets of leaps. The team's first set of spinning discs prompts Coach Miller to explain that a critical part of this classic move is "to hit everything with intention." The dancers execute échappés, split jumps, firebirds, twisting jumps, and toe touches. Both Coach Hoene and Miller want the girls to be more explosive and to make the movements more lively.
Some of the girls' jumps are a work in progress, so Coach Miller encourages them to keep at it: "You never know—you may be a good jumper." During the well-earned water break, she lets the girls know that the upcoming turn drills are also going to be done rotating to the left. "We could always use people who can go to the left…you may have a purpose in life!" she jokingly announces.
As promised, the next series of drills are doubles, triples, and quads, first to the right and then the left. Getting around four times is challenging, so Miller asks her dancers to name the essentials for good turn tech. She emphasizes the need to land strong in order to avoid the visual distraction of any fall-outs.
With more than one studio represented in this room, the girls have to decide between details, like what specific prep to use. After a la secondes (three and then a double), the team tackles changing-spot turns (two secondes facing the front, side, back, other side, front again, double out). The trick is to change that spot on the down right away. Assistant Coach Hoene gets the girls to evaluate their execution: "For those of you who fell out, what do you think happened?" She and Coach Miller comment that self-reflection is a skill that's essential to getting better.
Tryouts happen at the end of May. Getting on this team takes a solid foundation—double and triple pirouettes, turns in second, turning discs, and a variety of leaps and jumps. The girls also had to learn a full minute of jazz choreography, plus a pom sideline routine.
Coach Miller explains to me that "Summer is camp and technique time." Workouts dot their schedule in June and July, frequent and valuable opportunities for strength training, conditioning, and technical development. The girls start learning the school loyalty song and some sideline dances for basketball pregame. Miller adds, "This allows our school year to focus on the halftime routines and competition choreography." Besides these workouts, the Alton Dance team went to UDA camp at Maryville University, where four teammates earned the honor of heading to London to dance in the New Years Day parade. The team also completed a hip hop intensive.
Sharing rooms at camp is one way to build up a team, but each Alton dancer also had to learn to work "with someone who is not their regular 'bff' but a new team member," writes Coach Miller. Summer team meetings included conversations about what each girl likes about the team and about each other. "We always ask for positive talk and never what we don't like, but [instead] focus on what we like and what works," explains the veteran coach.
Fall is a wide-open time for this dance team because they don't have any football halftime obligations. The school's band numbers over 150, so it's impossible for the dance team to do anything at halftime, space-wise and time-wise. On the other hand, the Alton Dance Team owns basketball season. Until comp season starts, this team practices two or three times a week working on skills sets and routines.
The exception to Alton Dance Team's non-performing fall is homecoming. After a break from skills, the girls review the loyalty song they learned over the summer, and…let's just say that they sang it mildly. Coach has one assignment for her team: learn the lyrics by heart. "I don't care what other teams do. This team sings–always has," she declares. Coach Hoene's cheer background kicks in: "No spaghetti arms! Your first job is to your school. Channel your inner cheerleader."
All told, the team dances ten times beyond their normal competition load. The coaches take care of the choreography, drawing on what the girls have learned at camp. Things get a little more intense for the three to five competitions on Alton's schedule; depending on the "needs of the team," outside choreographers sometimes join the effort, notes Coach Miller.
Alton stays busy when not on the dance floor or at practice. Early September brings their car wash fundraiser, and the cash they raise goes to buying poms, plus hip hop and jazz costumes.  The girls run a kids dance clinic in December and coordinate a few "dine to donate" nights at local restaurants.
The Alton dancers will also devote some time to launching a new middle school dance team this year, a smart move that shows they've got an eye toward sustainable growth and bigger goals down the line. The team helped run tryouts for the inaugural Alton Middle School Dance Team earlier this month. Past dancers have found success beyond high school—2016 graduate Posy Durr now dances on the Golden Line Dance Team at Division II Lindenwood University.
Like a lot of the dance teams in "Metro East" (the nickname for the Illinois suburbs of St. Louis), Alton specializes in jazz, while the individual girls also like hip hop. So it makes sense that Alton plans on bringing both styles to IDTA competitions later this season. Unlike several Chicago-area teams, Alton (and the rest of the state) focuses on IDTA, with IHSA sectionals as a formality.
We've all heard the stories of IHSA-only dance teams that missed qualifying to IHSA state by fractions of a point. The same heartbreak happens in IDTA. "Last season, we missed making state by 1.01 [points]. It was hard to be disappointed but that just pushes us that much harder for this year," asserts Coach Miller. Alton is focused on the goal of closing the points gap and getting to IDTA State.
Assistant Coach Amber Hoene is an Alton alum, but she spent her high school years as a cheerleader. But she's got a lengthy dance resume, dating back to age 3, covering just about every style. Her dance teacher back then? Coach Miller. Coach Hoene managed to cheer competitively for Alton while also staying super active in dance, performing at national competitions. After a year at Mizzou on their club competitive team, she came back home to SIU-Edwardsville to major in dance and is slated to graduate next spring. Between now and then, Amber also gets to assistant coach this team.
Coach Miller, ironically, has on a McKendree University dance team shirt during this practice. She's just taken over as that schools's dance coach, but she's quick to mention she's not going anywhere, that she's committed to Alton dance. Her teaching and coaching experience stretches all the way back to 2000. In her time heading Alton's dance program, Miller shifted the team toward a competition focus, on top of just halftime performances. "Dance teams have changed so much in the last ten years and there are [now] so many more opportunities for dancers to get out there, learn, and grow," she observes.
The Alton Dance Team are big fans of the University of Tennessee Dance Team, and ditto for the University of Minnesota. The girls also admire the work of the Highland and O'Fallon dance teams. As a group, the AHS dancers have a go-to silly pose for pictures, love hashtags, and thrive on a steady diet of nicknames for each other and inside jokes.
Rebuilding years are usually not that fun. The AHS Dance Team is an exception because they've got lots of talent and some sharp-thinking, studio-minded coaches. All of that intensity you read about when it comes to skills drills is matched by lots of mutual support and tons of humor. So despite being a little team in a big school, the Alton dancers enjoy a pretty visible profile and of course are part of that vibrant Metro East dance scene. Throw in a very specific team goal for competition season, and you've got a dance team that might not have to wait until next year to taste success.
With eight on the roster, I've got a rare opportunity to offer up a short bio of each team member and their own dance background:
Caroline (JR), named an All-American at UDA camp, danced on this team a year ago. She started dancing when she was 6, and currently studies at Jane Mannion's in Highland and Bethalto.
Dinah (JR) has been on this team since freshman year. She was named an All-American at UDA camp. Dinah says that she likes the team atmosphere and the opportunity to develop as a competitive dancer. Her favorite style is tap, which she studies at Creative Dance Studio.
Dajia (SO) is back for year two on the AHS Dance Team. Currently at Creative Dance Studio, she's danced for twelve years, and her fave skills is leaps. Daija loves performing hip hop routines with her team. As a studio dancer, she likes barre work and stretching.
Miranda (SO) was on the freshman team last year. She's danced for the past five years and currently takes classes at Rush Dance Studio. Her favorite aspect of dance team? The environment and her teammates.
Gabi (SO) moves up from being on last year's freshman team. She danced at Jennifer Bishop's School of Dance but now focuses solely on this team. Gabi's looking forward to starting a new season of competition.
Sydney (FR) has been dancing competitively since age 9, and her fave styles are tap, jazz, and hip hop. She's looking forward to a great year as a member of the AHS dance team.
Lizzie (FR) has danced for twelve years, noting that "it's been an amazing journey technically and physically." Lizzie competed for Showtime and, for the past three years, has competed at OCDC. She's focusing on a great launch to her high school career and this team, so she doesn't plan on any studio work this season. But put her down as another AHS team member who loves tap!
Julia (FR) is in her thirteenth year of dance. Right now she studies with Gordon Cragg Dance Studio. Julia has four years of comp experience, and she's taken classes in ballet/pointe, jazz, tap, musical theater, and modern lyrical. And yeah, here we have a 3rd AHS team member whose favorite style is tap (!!!) (along with modern and pointe). As a rookie, she really had fun at camp this summer with her new team!