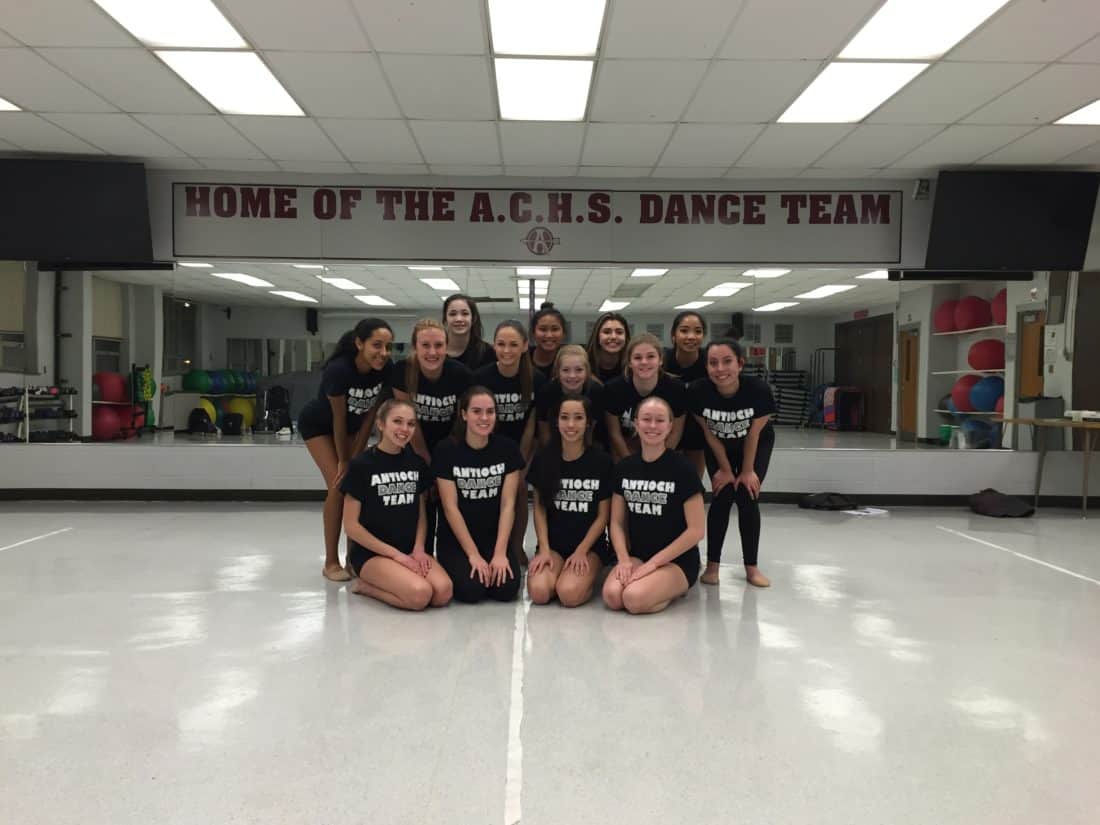 Team Feature: Antioch
The Antioch Dance Team has one of the state's most inspiring dance rooms–along with a horse, a doll, and a smelly old flag
by Norm Ramil / 8ca.chief.music.officer & dance.fan
You've probably heard of Antioch before—not the suburb on the Illinois-Wisconsin border, but the ancient Greek city that gets brought up in world history class or in scripture readings.
If that's pretty clear-cut, the story behind Antioch Community High School's nickname is anything but. No solid explanations exist for what a "sequoit" is, besides the obvious (that it has some Native-Americanness to it). I remember doing a show at my old radio station in Kenosha late one night, and I saw someone had written "sequoits" on the big dry-erase board, along with a pronunciation clue ("SEE-KWOITS"). I figured it was the answer to a trivia question during the morning show, and the morning team just wanted to make sure they were saying it right on the air!
Winding roads that snake around all these small lakes make for a scenic and slow trip to meet with the Antioch Dance Team. The school of about 1,300 kids is along the Chain O'Lakes region of northwestern Lake County, Illinois; the Wisconsin line isn't that far north. Besides boat-based fun times to the southwest, life gets pretty suburban going southeast toward Lake Villa and Lindenhurst. Even with lots of open prairie in this part of the county, dancers have some options when it comes to learning their art form.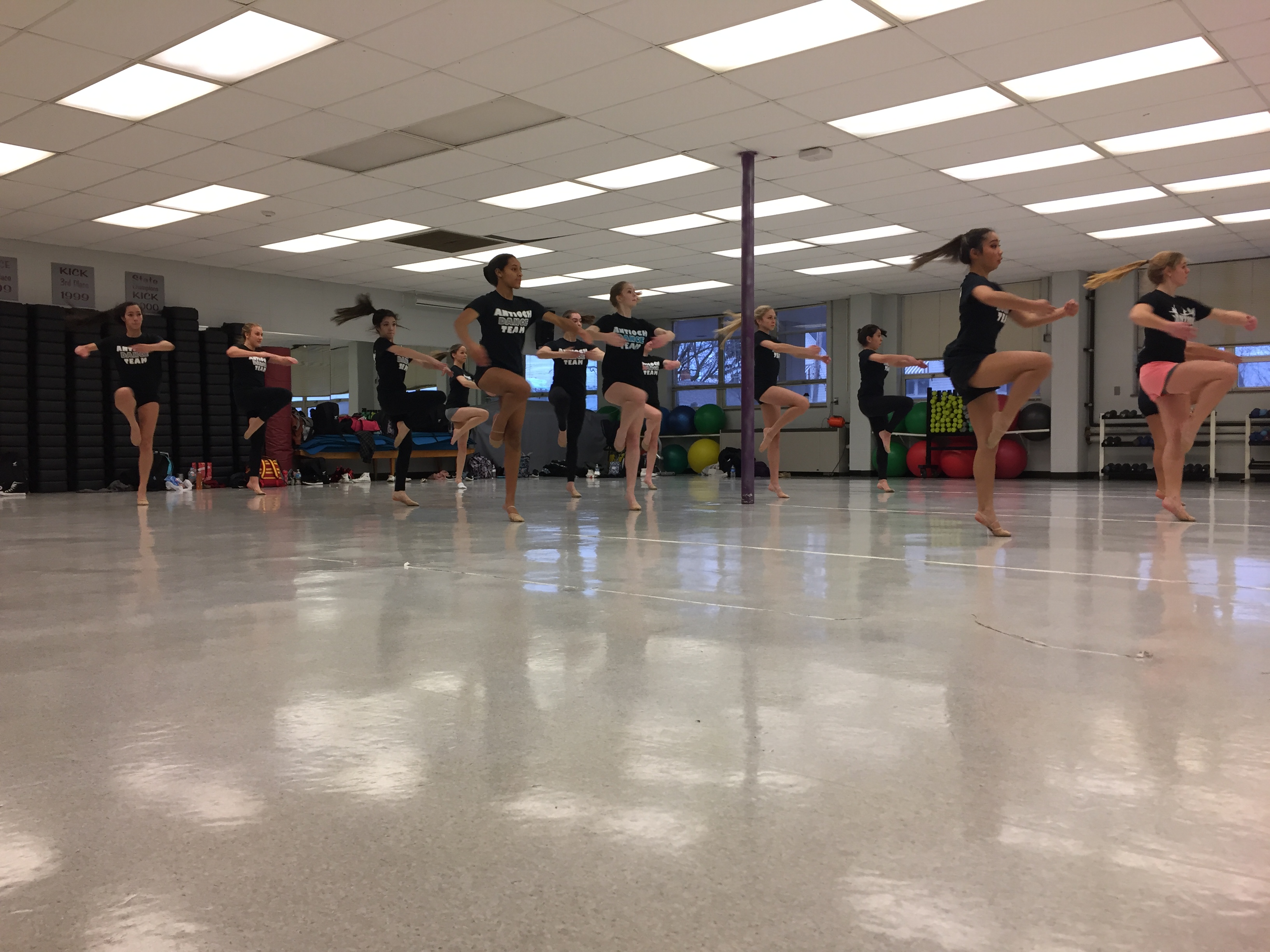 Hey, Pole, we're doing this full-out. No one said you could mark it
Two or three team members plus Coach Stephanie Kischuk are on the lookout for me, trying to guess the entrance I meant to use after I'd just texted them from the parking lot. The searchers find me and soon I'm enthusiastically greeted by the whole team in their own dance room. I'm grateful for the good mood in the room, especially coming about 30 seconds after I was told there were some unexpected personnel shifts this afternoon.
Like so many other dance team practices spaces across Illinois, the Antioch dancers have a big, inconvenient pole to deal with. But what makes this room unique is that it really feels like this team's home. Sure, a lot of dance rooms have the small weights, exercise balls, mirrors, and maybe trophies. But all over each wall, like glorious fingerprints, are reminders of what this dance program has done, whether it was under IDTA, TDI, or IHSA.
But these athletes are focused on the here and now—they've got sectionals staring them in the face. They're dressed in black "Antioch Dance Team" shirts, a stark contrast to the bright floor. Once I'm done chatting with some seniors outside the door, I walk in and discover that the team's working on the big stag leap, right at the spot where I'd put in a huge drum hit while editing the song. Ten girls run the main formation, with three more in the back, and another not dressed.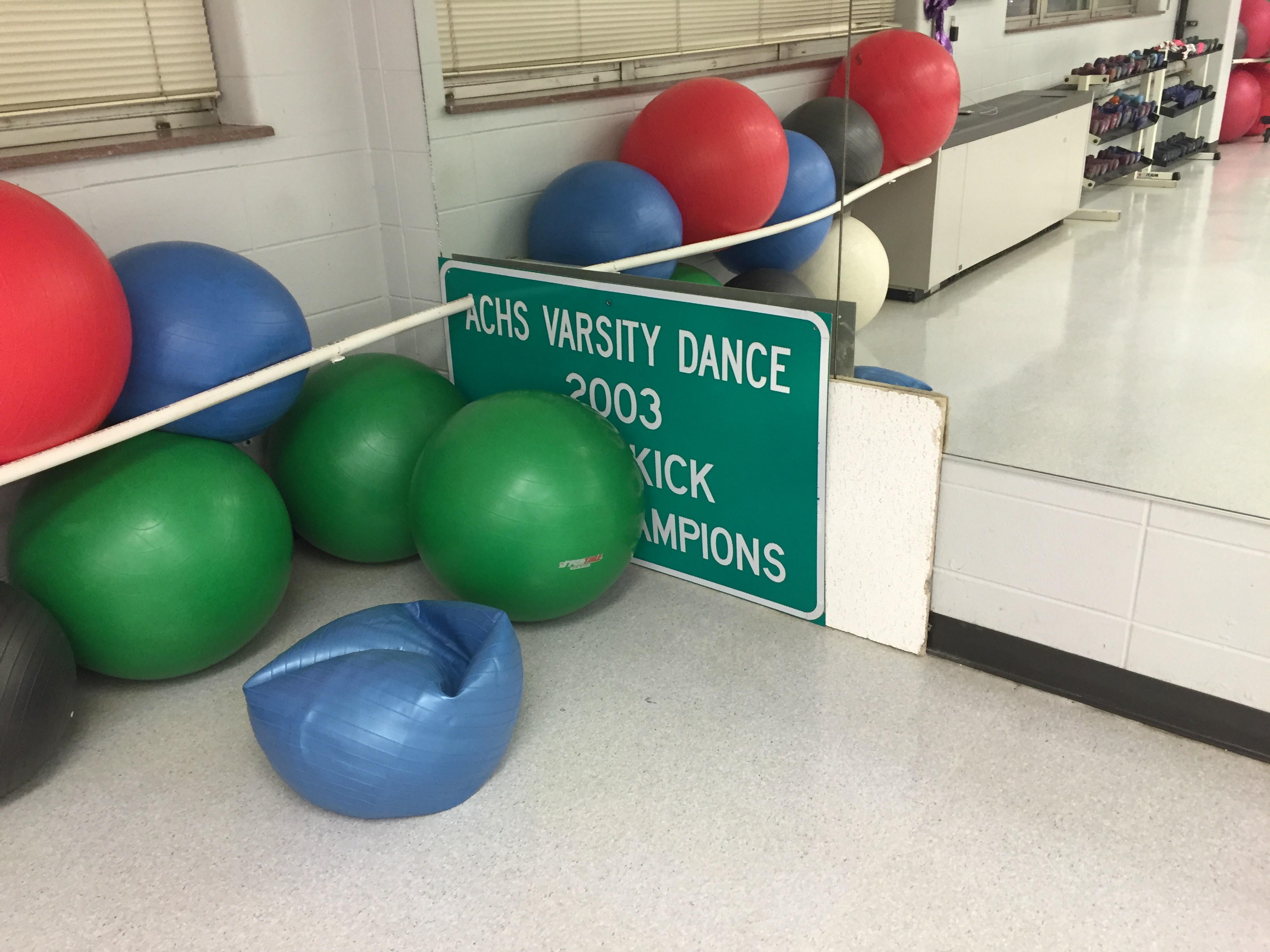 Look, if they're not gonna put this up, I'll take it
Coach Kischuk wants her dancers to sharpen up their synchro, and just fixing everyone's timing isn't going to totally fix the problem. "When we think about the upper body, you can't let go of the rest of the body," she points out.
The team takes a break from this section to look more closely at technique. Coach Kischuk gives strong, clear, and quick instructions, sending one group to the back of their studio to work on what she calls their "surprise leaps," while she takes charge of the "switching spots" group.
"If we get off rotation, fight through it," advises Coach Kischuk, wanting her kids to simulate a real moment on the competition floor. She quietly tells me, "I'm not going to shout, because one girl does better with the shout while another girl doesn't."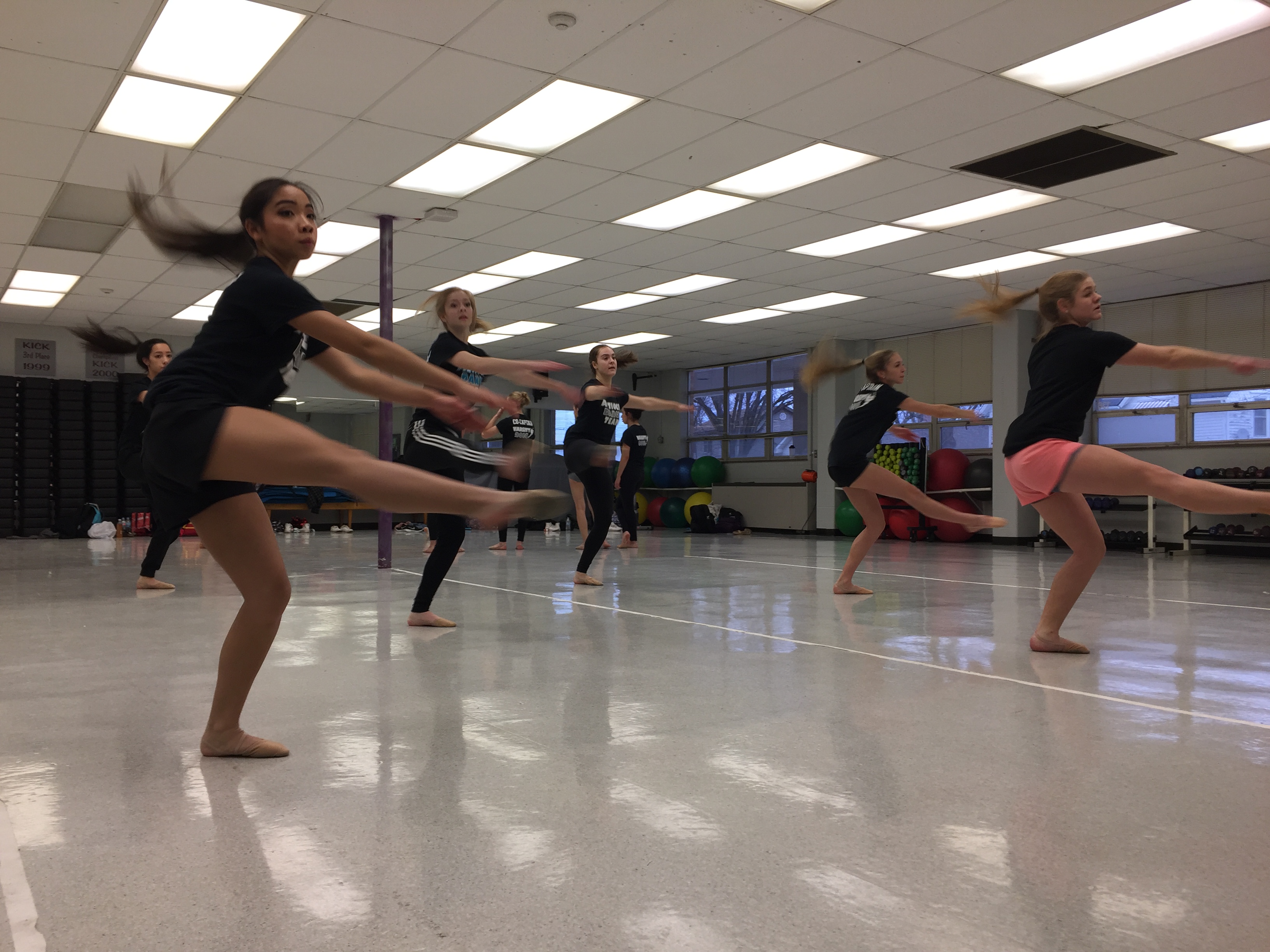 Antioch's dancers confirming that the plié is the secret sauce to a good secondes recipe
I'm always fascinated by how turns line up with counts. As a music geek I just love how the team counts this song in six-counts, with a strong emphasis on beats 1 and 4—just as I hoped they would back when I was editing their music months ago.
Partners give each other feedback, and it's specific stuff like leg height, pointing, and attack. Kischuk adds that she wants this group to elongate upwards. "You're leaning forward and it's throwing off your whole center."
Besides all of these technical details, Kischuk often has her team just absorb the moment "to breathe and focus." Sometimes you have to chill and let the mind take over so the body doesn't run away with itself. But the mind game also takes care of any confidence issues. "Even if you're falling out, think, 'No one's going to look THIS good falling out!' The Antioch dancers respond with the kind of laughter that signals both approval and understanding what their coach is getting at.
The Antioch Dance Team varsity roster has a pair of sisters and a ton of sophomores (6 of them, nearly half the team). One of the sophomores serves as captain, while another sophomore doesn't have a trained studio background. Two freshman are on varsity, and one of them, an alternate, makes a big splash later in this article! The lone junior is a co-captain…and barring any surprises at tryouts next season, she should make for a pretty quick senior section on the 2018 team DVD.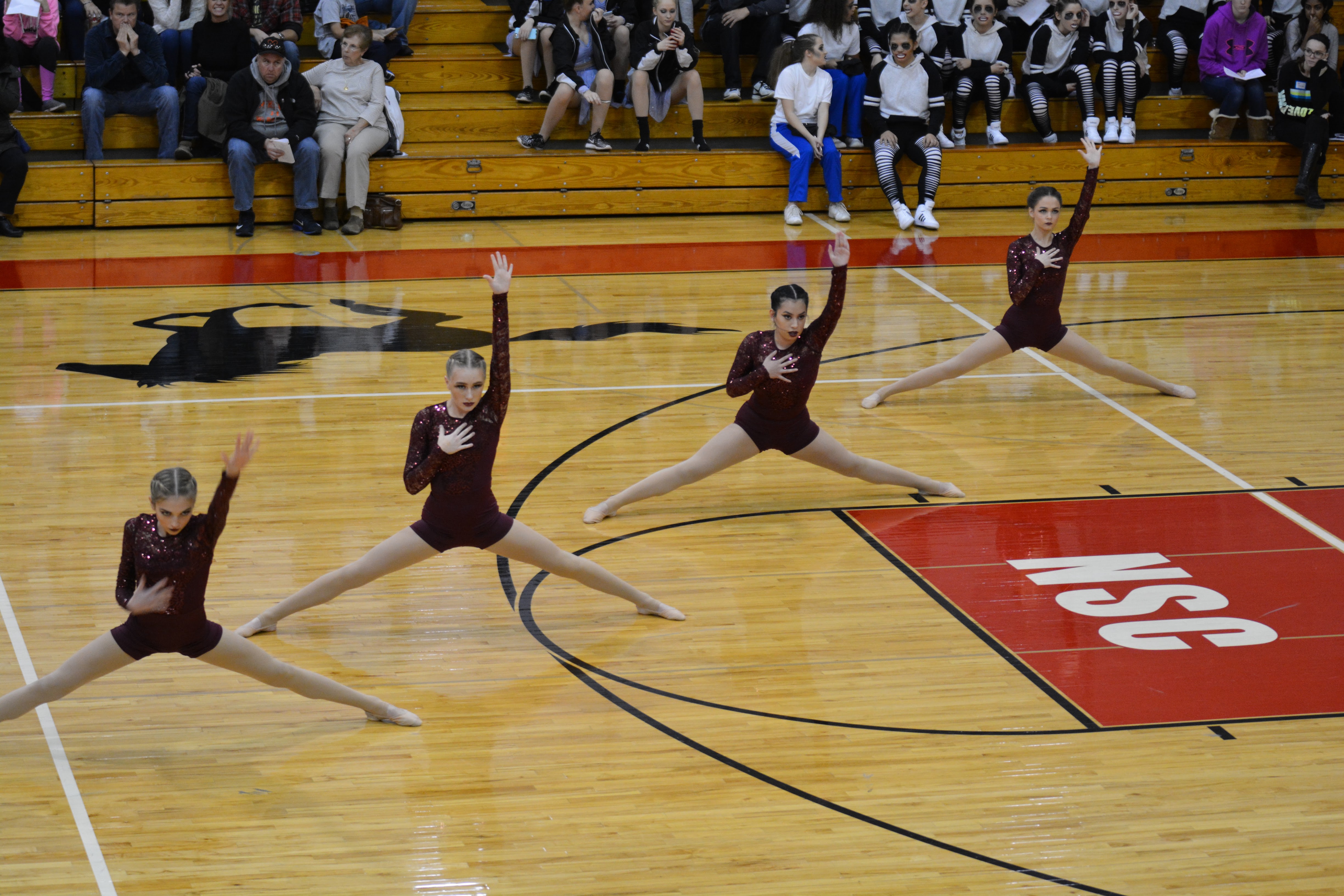 The Sequoits dancers owning the floor at the Mundelein comp
Leading this team are four seniors, along with a sophomore captain and a junior co-captain, all of them interesting (check the interviews below). A couple seasons ago, Coach Kischuk took over the program after working with Wauconda's dance team.
Topics are contagious with this group of dancers. I overhear one dancer mention the salad she had for lunch. Someone else brings up that she had a pop tart. Still another dancer reveals, "My mom bought Olive Garden dressing today and sent me a picture of it."
"I'm scared of the pole," one dancer later says out loud, to no one in particular. Her teammate, Amelia, prefers to give the pole a little credit: "It's holding the weight of the school up." Coach Kischuk joins in with, "Let's just take it out and see what happens…"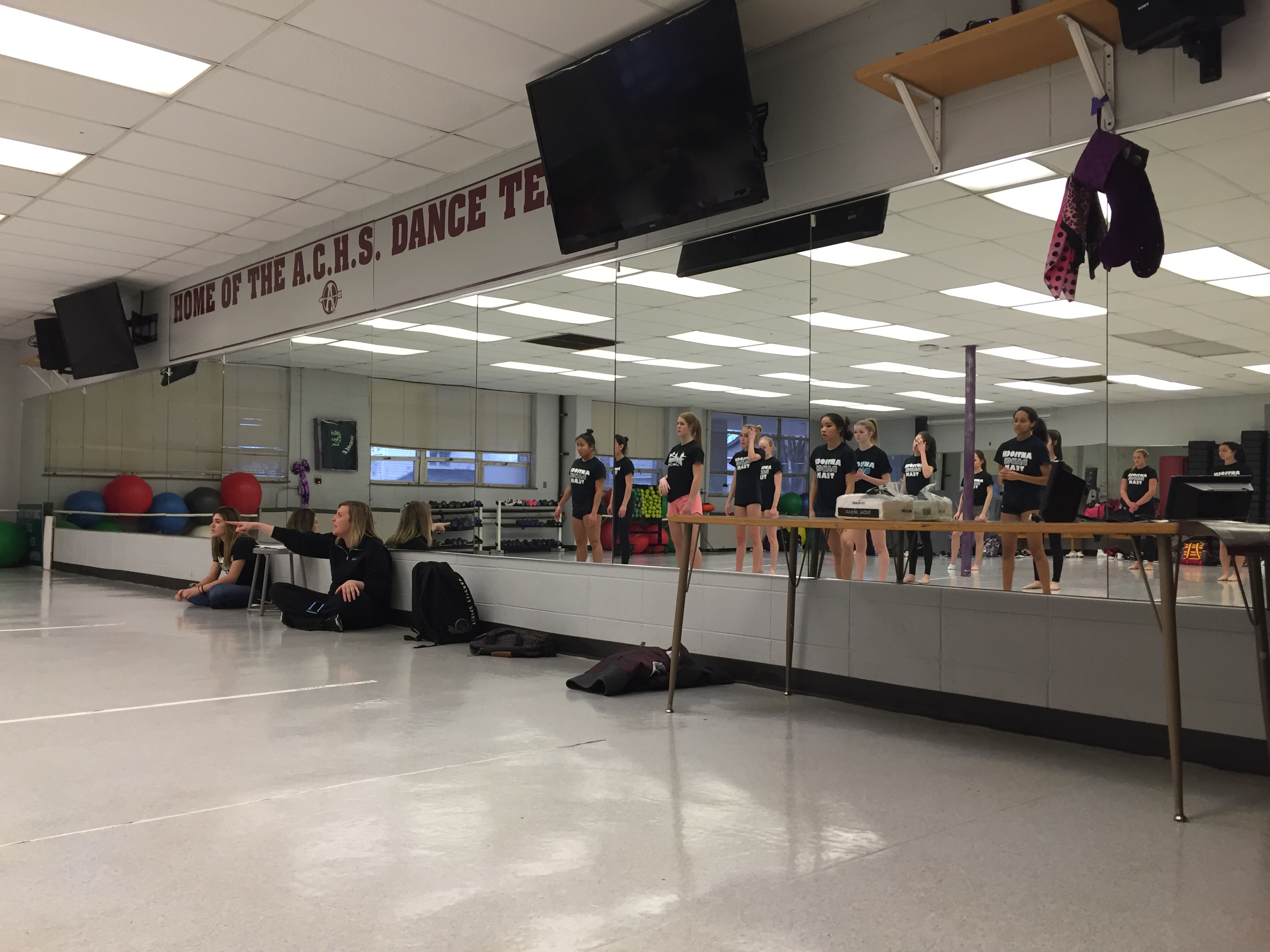 Coach Kischuk directs her team, seen in the mirror in reverse
Out there in the formation, some teammates aren't happy with the personnel moves. Others face sudden pressure to step in and step up. Meanwhile, I think the core of the team is their usual, giddy selves. Some strong personalities keep popping up all throughout practice. I'm happy to see that everyone in here, Coach Kischuk included, is free to be funny, to be themselves.
The team has more musicality up its sleeve. Sometimes when editing a song I'll add elements that the dancers can latch onto and do something with—or, if the choreography doesn't use it, I'll take those sounds out. I left in some claps that hit on 4-5-6 in their six-counts. These Antioch dancers boldly cram a triple into that 4-5-6, and it's impressive and something I wouldn't expect. Coach Kischuk encourages her girls. "You can all do it. We've done it. So let's just do it."
The problem, at the moment, is that the dancers aren't getting to their spots quite in time, so it turns into a synchronization problem. One of the alternates just called into action this week is struggling with triples. Supportively, the entire roster takes part in collaborating solutions. "OK, let's brainstorm," Kischuk announces.
The Antioch Dance Team deftly turns this mini-crisis into a display of mental flexibility. "We've got to hide the weaknesses," Kischuk tells her problem-solvers. But instead of hiding their freshman alternate, they decide to give her a huge moment. How about popping her out of the formation to do a spotlight combo?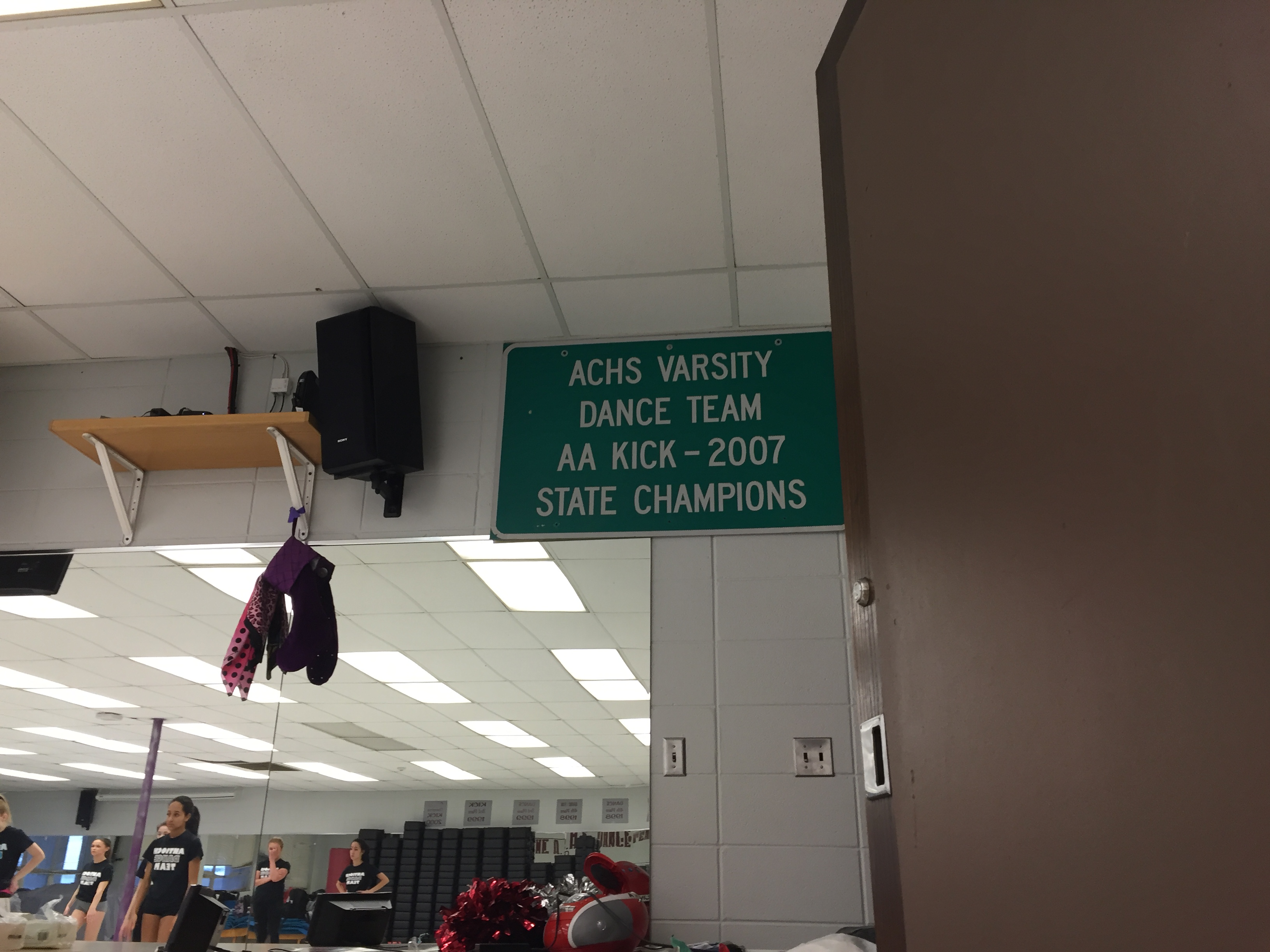 Antioch's dance room has tons of reminders of what they've accomplished as a program
Other team sports would just design plays to minimize the damage, but this team pulls together in support of their new star. The rest of the formation shifts a little to the side, giving the new soloist a shorter journey to her new spot. Coach Kischuk asks her, "What can you do so we can build choreo around you?" The freshman alternate lists some elements–tilts, penchée rolls, leg extensions. Kischuk decides on an overall strategy: she's going to exit, hit, and travel back to the formation while the rest of the ensemble finishes their turns.
Then comes some serious collaboration. The team partners up to come up with a combo using the elements she can do while the music plays in the background. "Use the leg extension that she looks so good doing!" encourages Coach Kischuk. After a couple minutes, each pair presents their best idea, but only after their coach first reminds them that "there are no bad ideas in brainstorming."
Besides this very creative way to solve a pressing and sudden problem (sectionals are this weekend), I'm impressed with how the whole team rallies around their teammate. When each pair demonstrates their idea, it's up to this super-alternate, Alessia, to try it out for herself. Soon, Kischuk has the rest of the team get back to working on stuff so each mini-demonstration isn't so awkward (subsequent pairs of dancers are called forward to offer their ideas).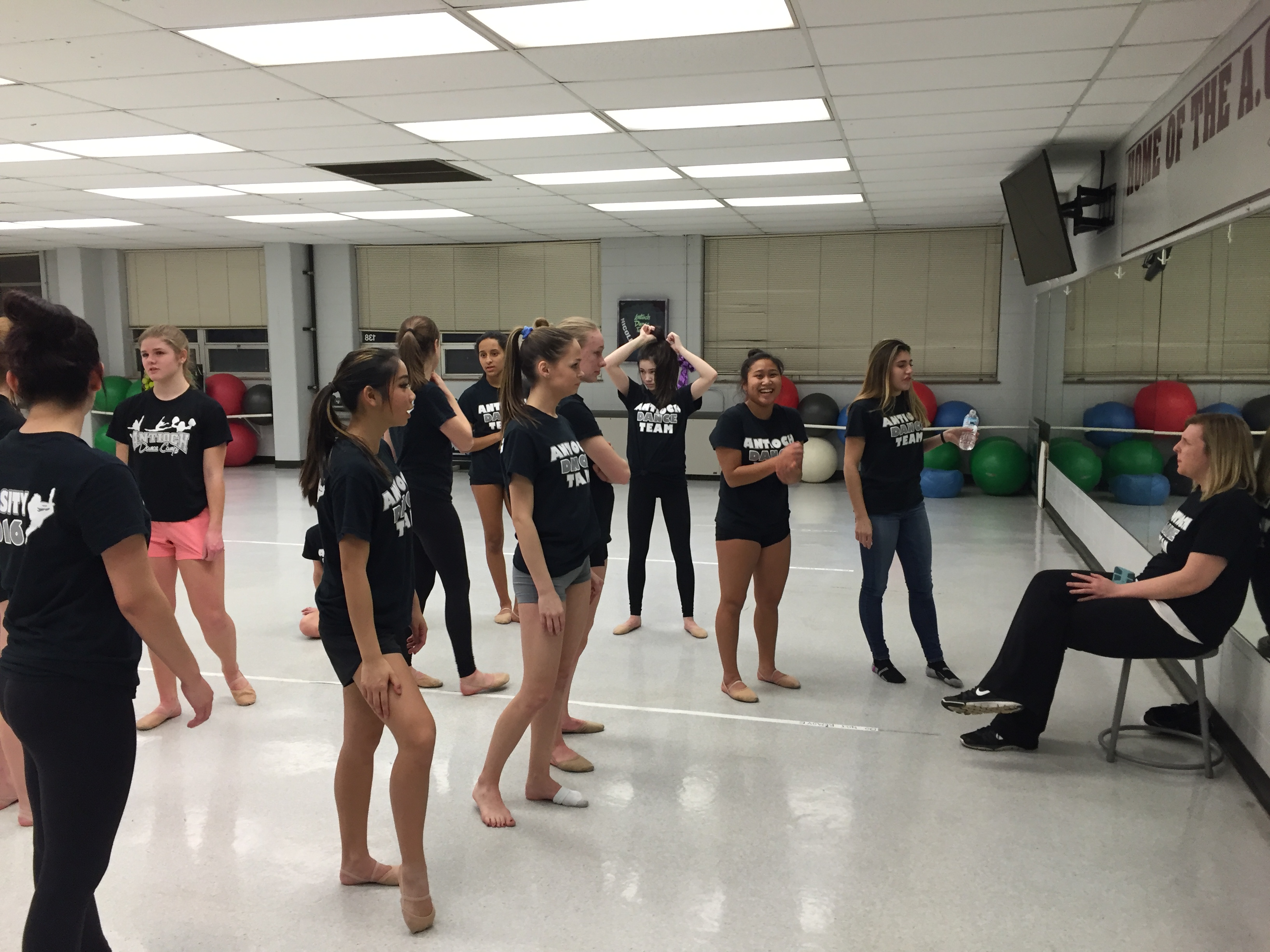 ACHS dancers take a moment to absorb feedback and also wonder what 8 Count Audio's article on them will be like
One more hallmark of good collaboration: the eventual winning idea is actually a blend of several solutions. Not only has the whole team crafted options, but the final product is a patchwork of ideas from up and down the roster.
But there's no time to celebrate this little win. "Even though you think I'm focusing on Alessia, that doesn't let you sacrifice how you're practicing your part. We've got 2 and a half days until a very tough sectional. You have to dance like you want it," urges Coach Kischuk.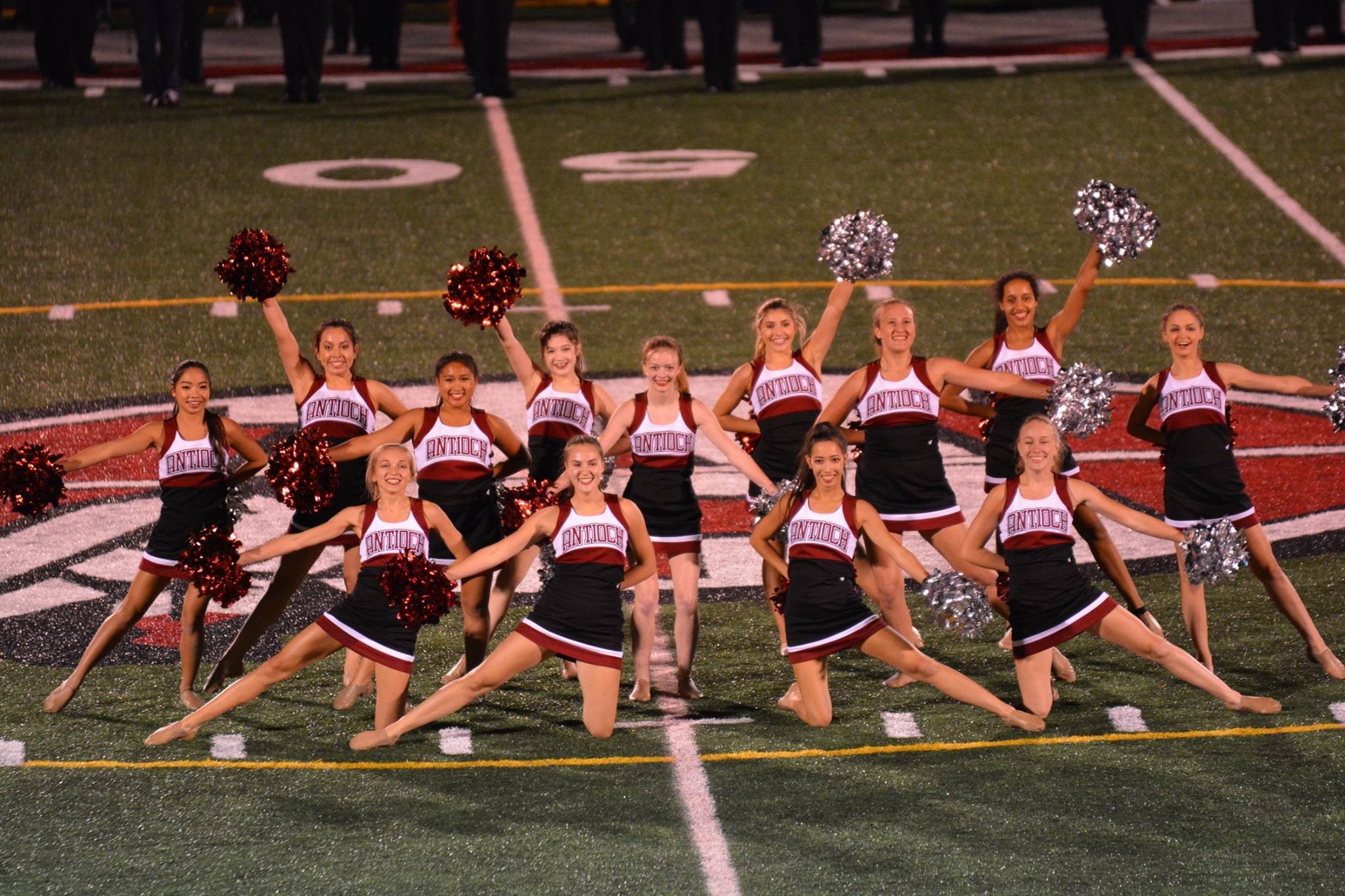 The Antioch Dance Team's first performance of the fall (yup, they do pom work, too!)
That doesn't stop the team from continually supporting their teammate; they soon focus on having her move in a more purposeful or artistic way as she gets back into the formation after her mini-solo. Kischuk adds, "Own this moment. The good news is, it's a solo, so if you're a little off, just recover."
Soon, the whole team's back at it doing run-throughs of the entire dance. Just as the Antioch dancers grow a little more breathless from the hard work, the marching band passes in the hall, playing their instruments distractedly. These girls take it in stride, and one of them jokes that the band's just getting ready to send them off to state. Another teammate turns to me and literally knocks on wood.
The choreo is dynamic and layered, with the whole team taking advantage of every part of the stage. So this normal-sized team ends up crowding much of the room (the pole doesn't help). When needed, they skillfully reference the taped lines on the floor, which simulate the volleyball lines they expect to encounter on the state floor. I'm told that the pole gets credit for just one concussion this season, while running into a wall caused another concussion.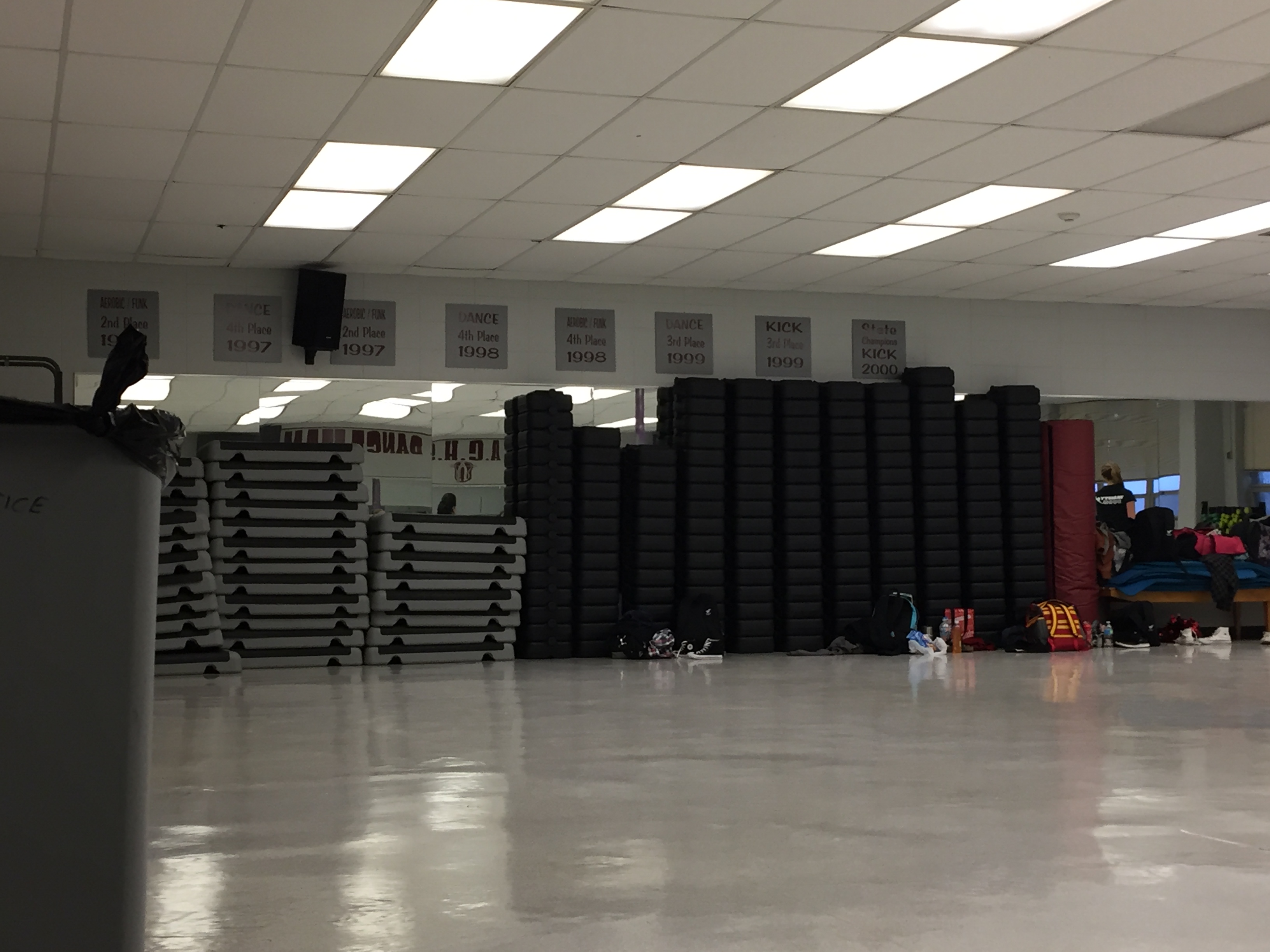 Lots of obstacles to potentially run into in the Antioch dance room. But you gotta love those state achievements painted on the back wall…
Besides the interesting obstacles, it's their dance room, and it has tons of personality. Around every corner is something honoring the achievements of past Antioch dance teams. Besides the band in the hall, the late January sunshine looks pretty uplifting through the window that overlooks a side street. ACHS students walk past the window, maybe not realizing the artistic athleticism headquartered in this room. I see a weathered old house across the street that seems to complement the sense of team history in this studio.
One poignant item on the east wall grabs my attention during a team water break. It's a framed and encased long-sleeved t-shirt bearing the name of a lost team member. Nicole Parfitt (class of '16) made varsity as a freshman, several seasons before Coach Kischuk's time at Antioch. On a summer-like day in November of 2012, she and her dad lost their lives in a small plane crash. She was so close to that first-ever team competition of her high school career, and for the next several seasons, the Antioch Dance Team would end their routines with either held hands or fingers pointed toward heaven. And each time I saw it, I barely kept myself together. I went through those emotions again when I came upon this little memorial in their dance room.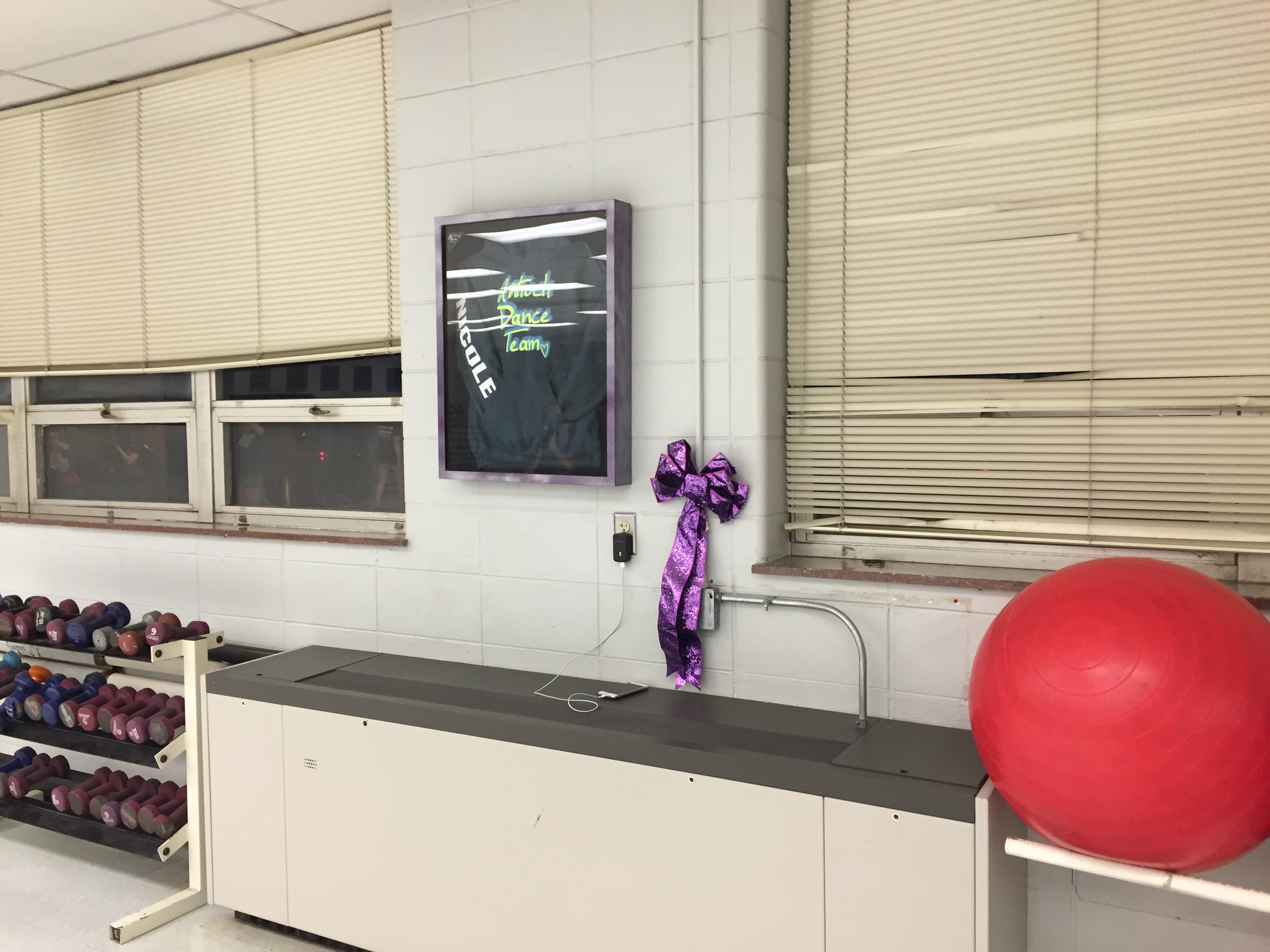 I never met her, but her story always moves me
Last summer, the ACHS dance team practiced twice a week along with another day devoted to technique. The team also made the quick trip to UDA camp trip at NIU where they racked up several blue ribbons and senior Morgan Balleza took home Drill Down Queen honors. With a lot of the team busy with studio competition during the first half of summer, Coach Kischuk tells me they'll be tweaking their summer approach this time, including trading the UDA roadtrip for a home intensive featuring different choreographers.
The Antioch dancers also run two kids camps during the summer months along with the obligatory car wash. No word on if the locals bring their boats over to get washed by the team. During the year the team have their assorted dinners and sleepovers. The coaches join in on a dinner / movie night and also race their teams through a corn maze.
IHSA October tryouts call for doubles, calypsos, battements, and all splits and leaps for JV. Varsity candidates need all that plus a la seconde turns, firebirds, and turning discs. Any "extras" that could be useful in a competition dance are also factored-in (say, changing spot turns, aerials, or back handsprings). Get past that, and you'll need to clear out your calendar. Whether it's football or basketball season, Antioch dancers work three days a week after school.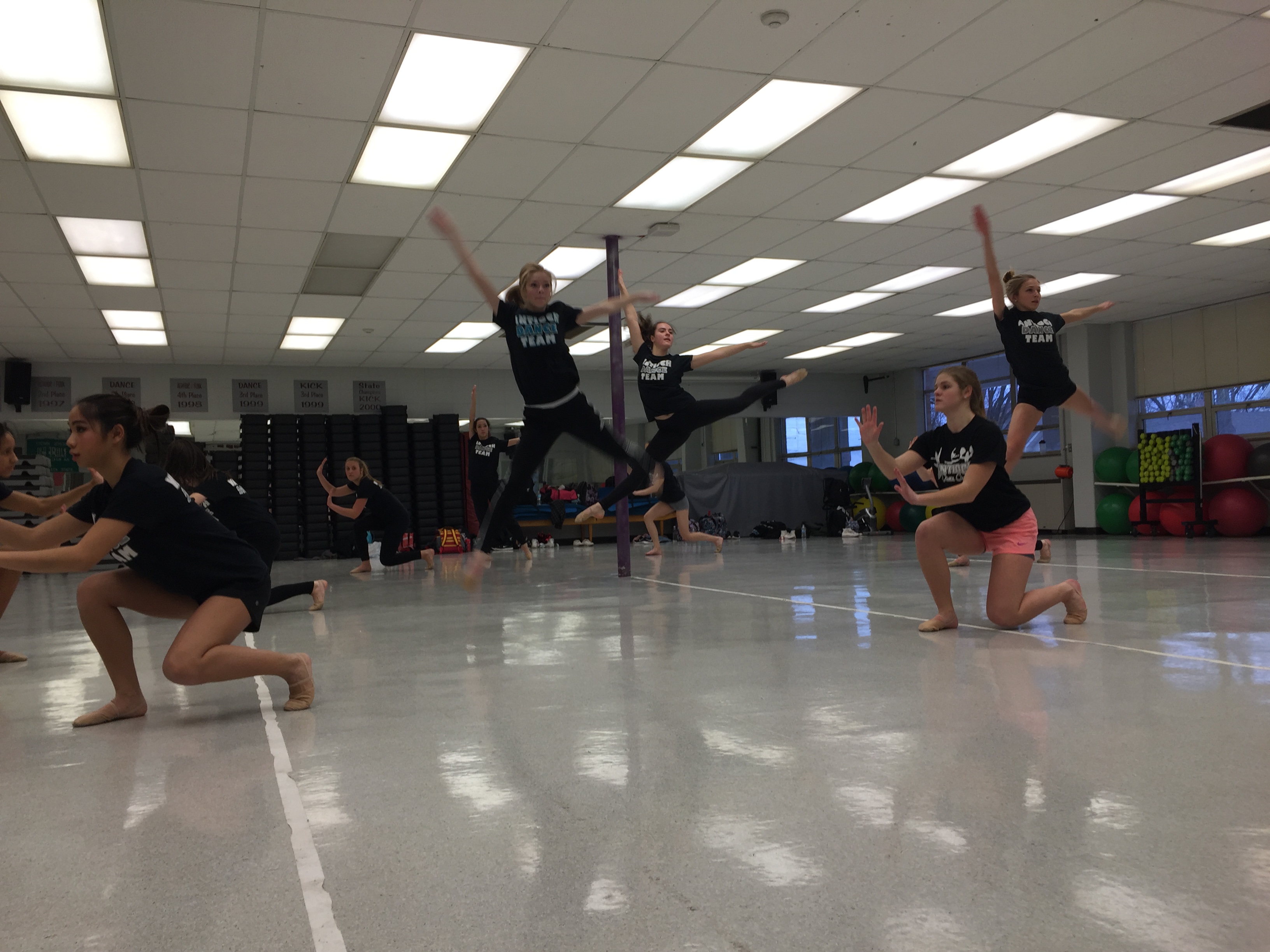 The Antioch Dance Team showing that sectionals week is the time to go full-out
Coach Kischuk has a promising varsity roster and is also excited about what JV's done this season. "Our JV team is filled with very passionate dancers who are always eager to work on new skills and challenge themselves," she writes. "This past year was their first time performing a contemporary routine, and the girls really embraced the challenge that their new coach presented to them. I was really proud of their hard work!"
District 117 spawned a second high school in 2004 when Lakes split off from Antioch. It was a gradual shift that finally finished around 2007, a slow redistribution of dance talent and momentum. The ACHS dance program hung in there, though, and never missed a chance to go downstate during those transitional seasons. Even now, the Sequoit dancers had to steer through the unknown as their school joined the new Northern Lake County Conference. The girls broke the 89 mark and finished 2nd in the first-ever conference comp for the NLCC.
ACHS Dance Team State History
IDTA 1994: 2nd in AA Novelty
IDTA 1995: 5th in AA Pom
IDTA 1995: 4th in AA Production
IDTA 1996: 5th in AAA Pom
IDTA 1996: 2nd in AAA Hip Hop ("Aerobic Funk")
IDTA 1997: 2nd in AAA Hip Hop ("Aerobic Funk")
IDTA 1997: 5th in AAA Dance
IDTA 1998: t-4th in AAA Hip Hop ("Aerobic Funk")
IDTA 1998: 4th in AAA Dance
IDTA 1999: 3rd in AAA Dance
IDTA 1999: 3rd in AAA Kick
IDTA 2000: Champions in AAA Kick
IDTA 2001: 2nd in AA Prop
IDTA 2001: 2nd in AAA Kick
IDTA 2002: 3rd in AAA Hip Hop ("Funk")
IDTA 2002: 2nd in AAA Kick
IDTA 2003: Champions in AAA Kick
IDTA 2003: 3rd in AAA Hip Hop ("Funk")
IDTA 2004: 4th in AAA Hip Hop
IDTA 2005: 5th in AAA Hip Hop
IDTA 2006: 3rd in AA Kick
IDTA 2006: 3rd in AA Dance
TDI 2007: Champions in AA Kick
TDI 2007: 2nd in AA Hip Hop
TDI 2008: 2nd or 3rd AA Kick
TDI 2008: 7th in AA Hip Hop
TDI 2009: 7th in AA Kick
TDI 2009: 4th in AA Open Dance
TDI 2010: 4th in AA Kick
TDI 2010: 7th in AA Open Pom
TDI 2011: 5th in AA Kick
TDI 2011: 4th in AA Open Dance
TDI 2012: 2nd in 2A Kick
TDI 2012: 4th in 2A Open Dance
IHSA 2014: 9th (Day 2) in 2A
IHSA 2016 11th in 2A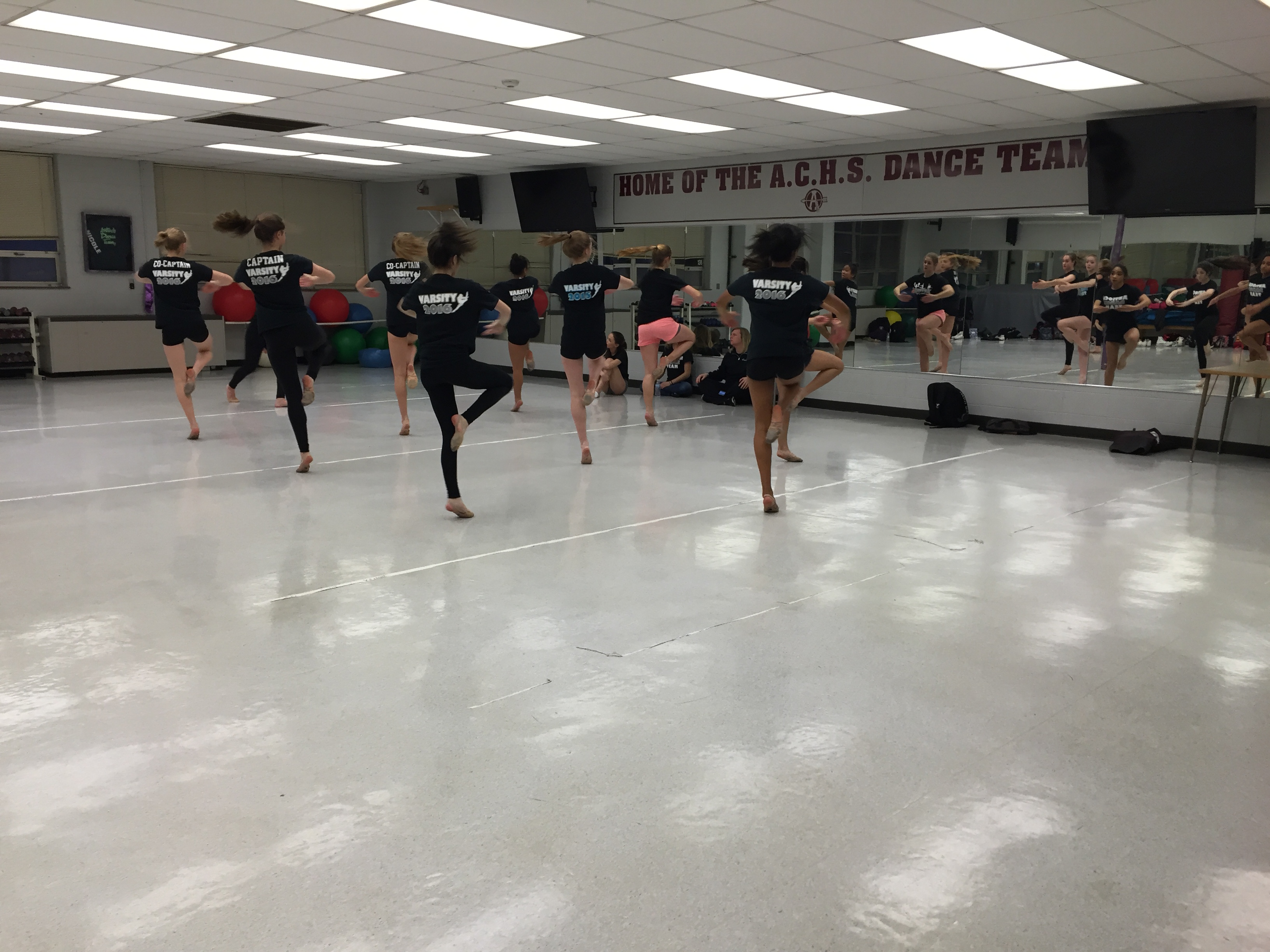 Antioch Dance Team sharpens up their routine days before sectionals
Practice isn't over this afternoon, but I've got a dog to pick up from daycare. The ACHS dancers graciously pose for a couple fun team pictures before I head out the door. And I'm glad I saw the ACHS Dance Team at their height that afternoon, coming off their best score of the season, and solving a crisis in the most collaborative way possible. All of this came just days before the reality of sectionals (and sectional assignments) drew their season to a close.
Kischuk writes, "The team was obviously disappointed that we didn't qualify for State this year, but I think they were all proud of themselves in how they ended the year as a united group. We had a big obstacle thrown our way the week of sectionals, but the girls remained upbeat and positive the entire time. I think they're all more eager that ever to come back and really show everyone what they are capable of. We've had a very young team these last two years, and I'm excited to see what next year holds for us."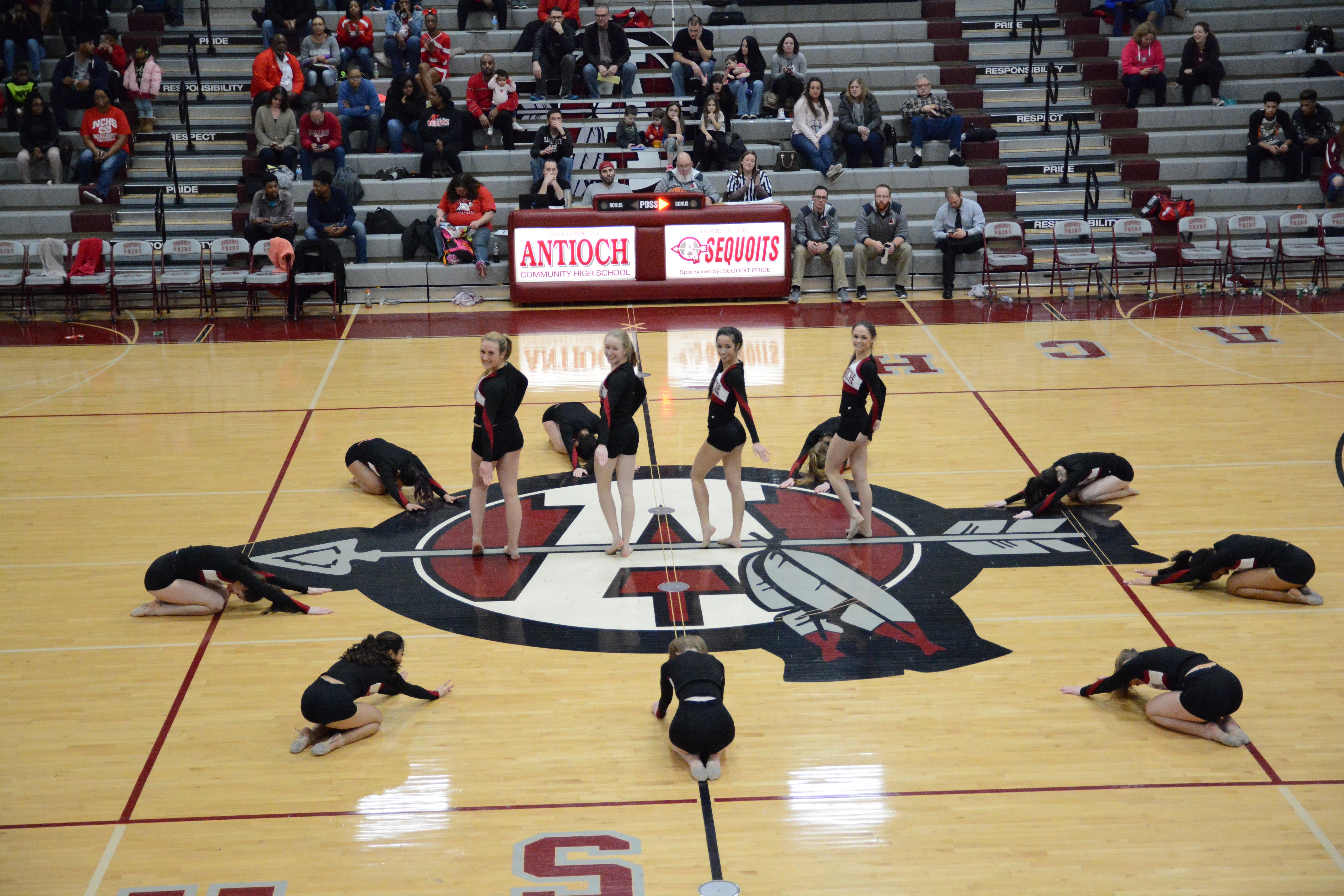 Seniors are the last ones standing at the team's final performance of their 2016-17 season
Once again, let me drift off into US history mode. Sorry. Anyway, it's about that flag that the ACHS Dance Team waves during pre-awards dance parties at competitions. Back in the Civil War, you'd literally rally around the flag if your unit got into a tough spot. In the middle of all the smoke and danger, you'd look over to the center of your line and straighten it out based on the flag. One level up in the hierarchy, brigade commanders had triangular flags. Need to deliver a message to the brigade commander in the middle of all the confusion? Look for the triangular flag.
And that's kind of what I think of with Antioch. In all this IHSA craziness, I think of them waving their triangular flag, and I remember everything they've accomplished through the years no matter who held the keys to the scoresheets and trophies.
More than once, the Antioch Dance program stole my attention—those amazing late '90s and early '00s teams that somehow mastered both kick and hip hop—and the tender unity that honored a fallen teammate throughout what would've been her four seasons. And again today, with some entertaining team leaders (scroll down for the interview) and the team's masterful, uplifting problem-solving. Sure, they've already got plenty of past glories displayed on the walls of their dance studio. But looking at all the sophomore talent coming up, those walls still have room for even more state achievements.
Interview with the captains and seniors
From left to right, I'm in a hallway conversation with Danielle, Amelia, Brooke, and Haley. Later via email I got to ask seniors Morgan and Sarah the same questions.
Let's start with everyone's grade and whether or not you're a captain?
Danielle: Junior, co-captain.
Amelia: Sophomore, captain.
Brooke: Senior and co-captain.
Haley: Senior…[gives the double thumbs-up]…team member.
Can you tell me about your dance backgrounds?
Haley: I've been dancing at a studio for 12 years, and I currently go to Steps Performing Arts Center in Lindenhurst. Currently I'm taking lyrical, jazz, and ballet, but in the past I've taken all kinds of classes.
Brooke: I've been dancing for 15 years and I currently go to Laura Cote School of Dance. Currently I'm in jazz, modern, and ballet, but I've taken lyrical, tap, hip hop.
Amelia: I've been dancing for 12 years and I currently go to Denise Sabala Dance Studio in Lake Zurich. I take everything at my studio!
Danielle: (To Amelia) Way to go! I've been dancing for 9 years and I currently go to Steps in Lindenhurst. I'm currently in ballet, pointe, and lyrical, and hip hop, and in the past I've taken everything.
Sarah, senior (written later): I've danced at Extreme Artistry Dance Studio and was on their competition team. I currently dance at Laura Cote School of Dance. I've taken ballet, tap, jazz, lyrical, and contemporary.
Morgan, senior and captain (written later): I've been competing since I was 4, and have been to multiple studios since. I have taken classes in almost every style for many years, including tap, jazz, ballet, pointe, lyrical, contemporary, musical theater, and hip hop.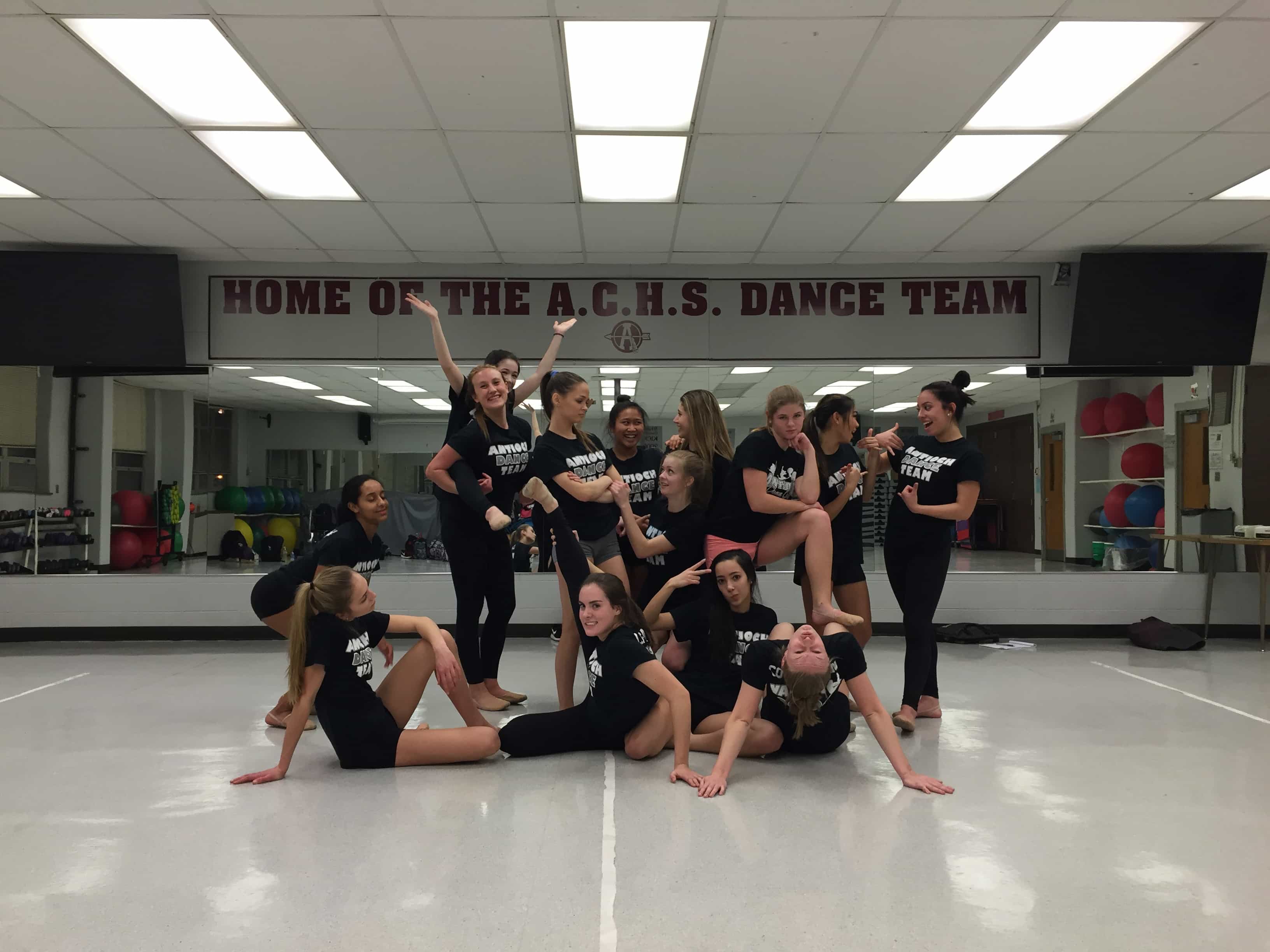 5 seconds after their normal team pose, this is what they came up with
What's everyone's favorite dance style?
Haley: Either like a sassy jazz or a contemporary lyrical.
Brooke: I like to tap!
Amelia: Personally my favorite is modern, specifically Horton Technique.
Danielle: I like probably lyrical or hip hop the best.
Sarah: My personal favorite is contemporary.
Morgan: My personal favorite to watch and perform is lyrical.
Any highlights or favorite memories come to mind?
Haley: We were dancing in the dance room, and a ceiling tile just fell down and broke…on top of me.
Amelia: Personally I love football season. Going to camp…and learning those routines and then actually being able to perform them especially for assemblies for our school.
Haley: At the first assembly, the school loved it. It felt so good to hear them finally cheer for us, because usually they're kind of quiet. This time, they were like, whoo!
Danielle: Being successful at conference—that was a really big step for us.
Brooke: Our progress during the competition season was really good because from our first competition, we've improved so much and our scores have just gone up. It's nice to see how the hard work pays off.
Morgan: My favorite memories every year on dance team are warming up before football games, or participating in UDA camp. But this season especially, my favorite memory ended up being the Huntley Invitational, where many dancers were involved in a bleachers dance-off before awards.
Sarah: My favorite memory was when we went to state last year, as well as being able to bond and have tons of fun with my team at UDA camp.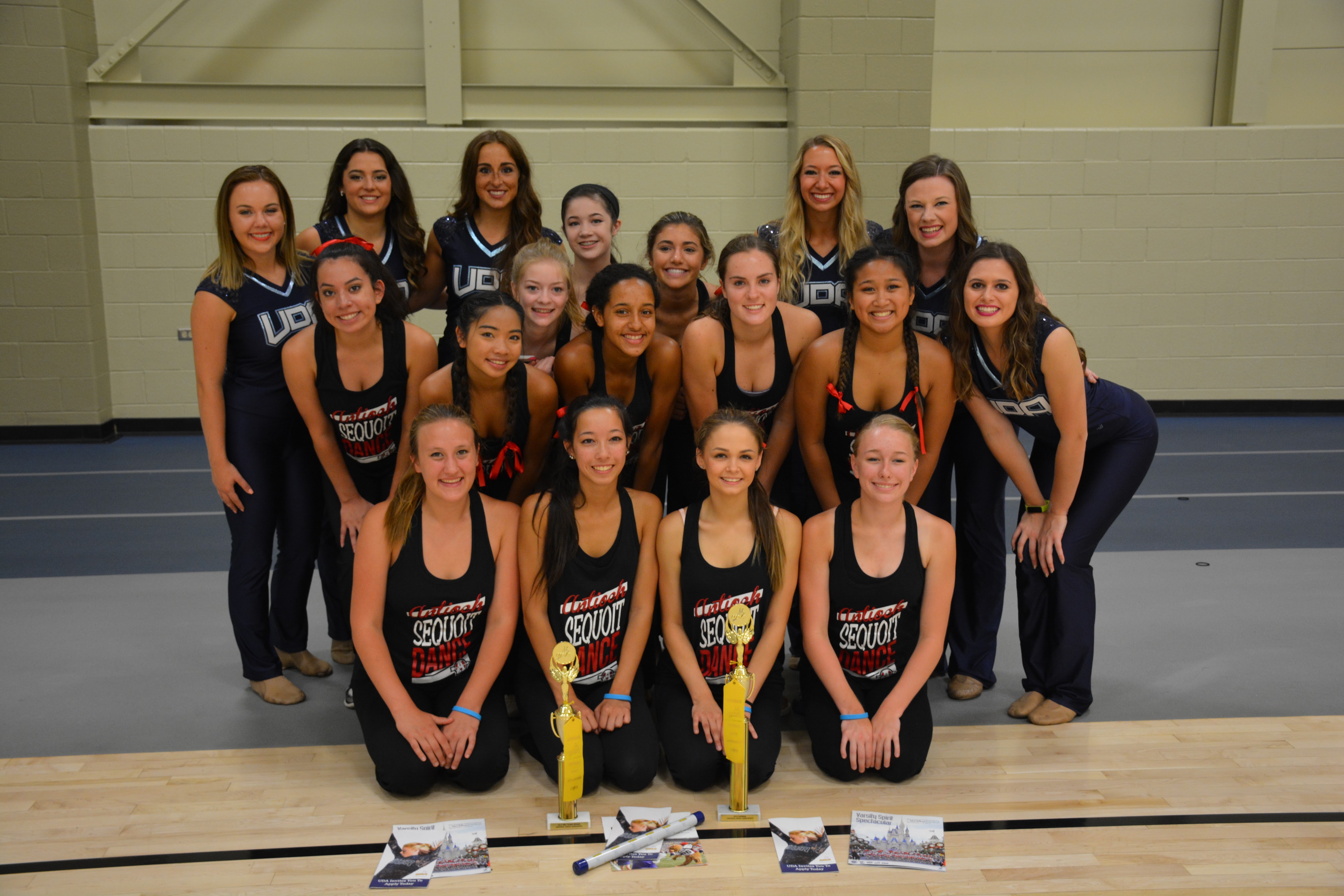 ACHS Dance Team captain and senior Morgan got the Drill Down Queen title at camp
Are there any teams you're really impressed by?
Haley: Warren!!
Amelia: Specifically Wauconda, for me…
Daneille: Yeah…
Amelia: …because their technique is just so beautiful…
Haley: Flawless.
Amelia: …their choreography…
Haley: And Stevenson, and South Elgin.
Me: Any college teams?
[all of them]: Minnesota.
Brooke: Kentucky's another good one.
Haley: I really liked Arizona State University's dance this year?
Sarah: At state, Eisenhower, Morris, Lake Forest, and Maine South really impressed me.
Morgan: High school teams that impressed me were Lake Forest, Lake Zurich, Lake Park, and Maine South. A college team that always stands out to me is the University of Minnesota's dance team.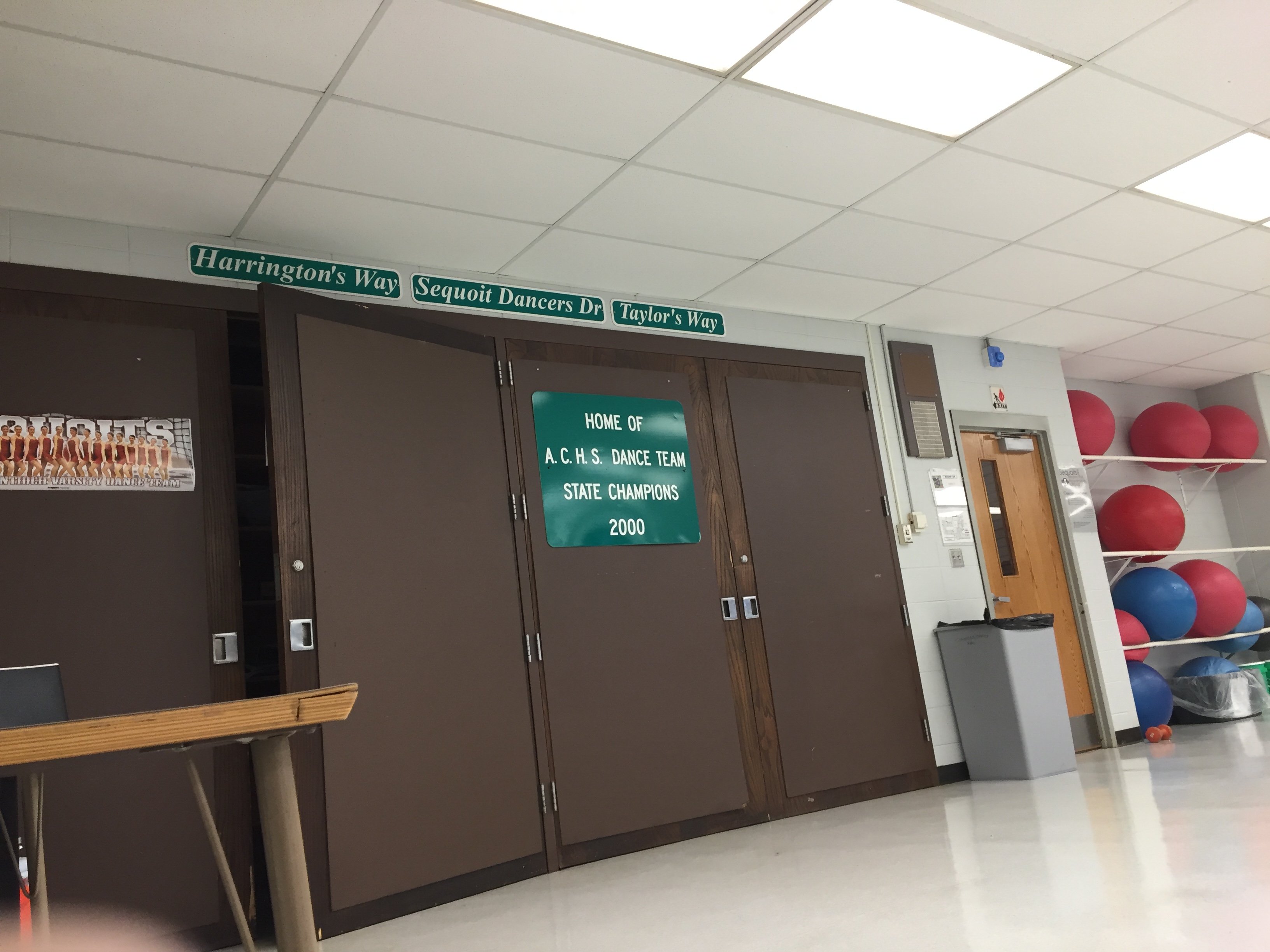 You're gonna wanna shut these doors before running anything full-out
Tell me about any team traditions on competition day.
Brooke: Oh geez…
[Haley looks like she can't hold back her answer]
Haley: On comp day? So I got the award passed down to me saying that I can't shave this part of my ankle all comp season 'cause it's a good luck trend. And if you shave it, you're probably not going down state.
Me: Just you?
Haley: Me and Morgan Balleza, another senior.
Brooke: We have loads of weird, quirky traditions. Like we bring a flag to competition…
Haley: …a horse…
Danielle: …and the Barbie on a stick.
Brooke: We have this thing called "chants" which we add on to each year, and I don't know how long…
Haley: It gets longer and longer.
Amelia: It's really long.
Brooke: But it's just something we do before we go and perform to get us all pumped up
Haley: …happy, connected.
Specifically, what's the deal with the horse? I always see it at awards.
Haley: It started when our old JV coach, when she was a dancer on the team. Someone had gotten a horse, and it just was funny. And so they named it Sophia and they've just been passing it down.
Me: Yeah, I've seen that horse forever.
Amelia: She stays in my room.
Danielle: It's weird.
Ok, what's the deal with the flag? I love how easy it is to spot at awards.
Haley: It started when the team first came [about], I think, because it says pom PONS on it. And we haven't gone by that in a long time.
Amelia: It's one-sided, too, it's not the fanciest flag, but it's tradition.
Haley: It smells terrible [Danielle agrees and has a genuinely disgusted face]. People know us by the flag.
And what about the doll?
Brooke: They started that last year [pointing to Amelia].
Haley: Wasn't it when you and AnLi started calling me Barbie? And so we made it a tradition. I'd always bring a selfie stick, and then one day at state, we just put the Barbie in the selfie stick and it just became a thing.
Amelia: Another sophomore and I, we have just this random Barbie doll that we got a few years ago, and we just trade it back every birthday…
Hayley: Her name is Shaniqua.
Amelia: …so we decided to add her into the team tradition.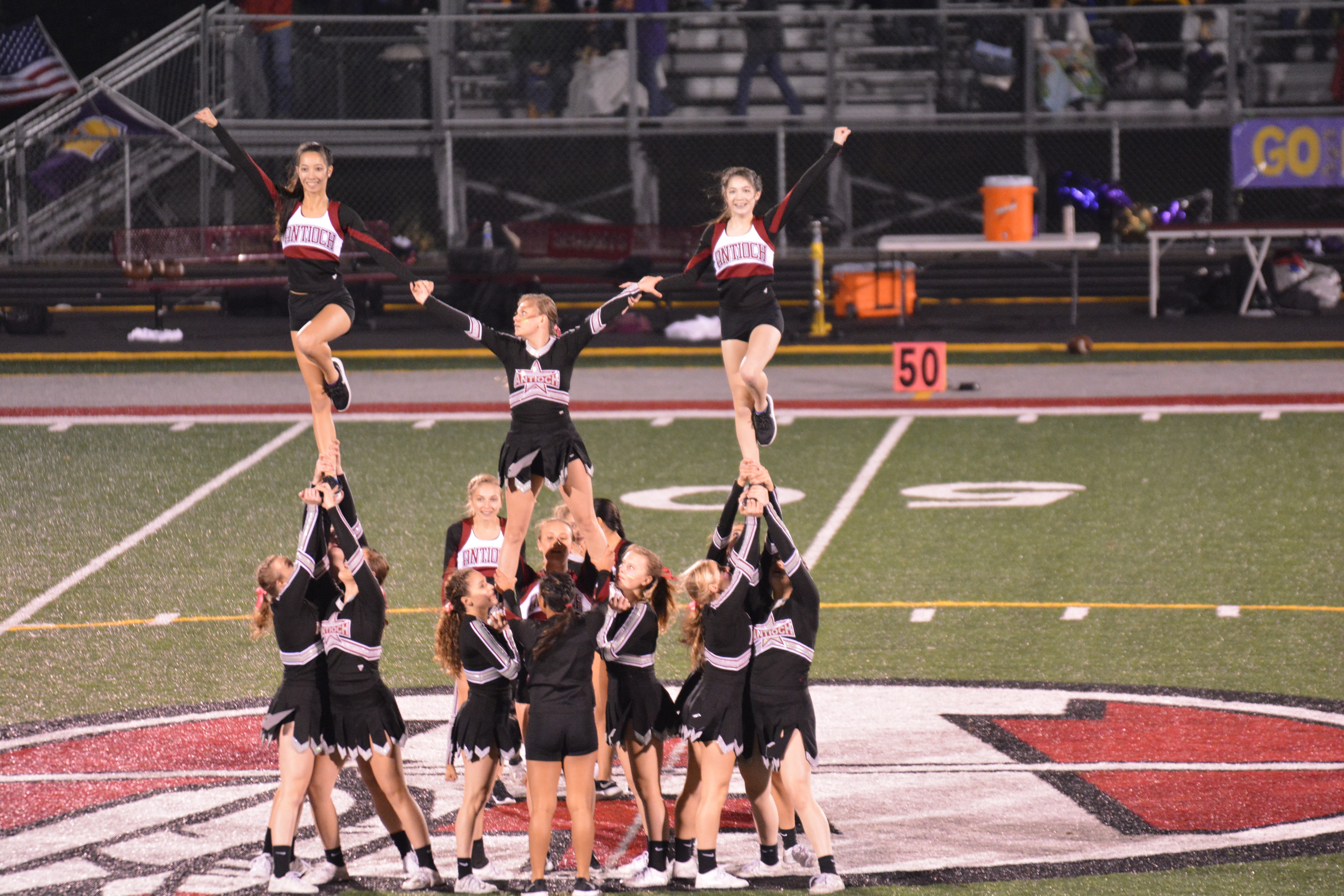 Antioch's cheer and dance programs in a hybrid performance this past fall
Any plans to dance after high school?
Sarah: I plan to tryout for the Bravettes Dance Team at Bradley University.
Morgan: I plan to either try out for the dance team or be involved in an extracurricular dance program.
Anything extra that you guys want the rest of the dance community to know about you guys?
Haley: Just that we're always so determined. We never give up. We just recently [were] faced with a catastrophe, if you wanna say, and that didn't deter anyone. It didn't even deter our coach. We were very positive, and we still have an open mind. Especially with sectionals coming so close, we're still very open minded.
Amelia: We just feel that we've come a really long way since the beginning.
Haley: And we have a good connection. This year, everyone on the team just feels…
Brooke: We're really close.
Amelia: One big family.
Haley: It sounds cheesy, but it's true. We're all so close and we just know the funniest quirks about people.
Brooke: That's true.
Danielle: It is true.
Any thoughts on wrapping up your high school dance career?
Morgan: Dancing on a high school team is one of my favorite high school experiences and has given and taught me so much. I'm very thankful for the person I have become and the people I have met through such an amazing sport and program!
Sarah: I wouldn't have wanted to spend the last 4 years doing anything else. I will miss my team so much next year, and can't wait to see all the amazing things they accomplish in the upcoming seasons.