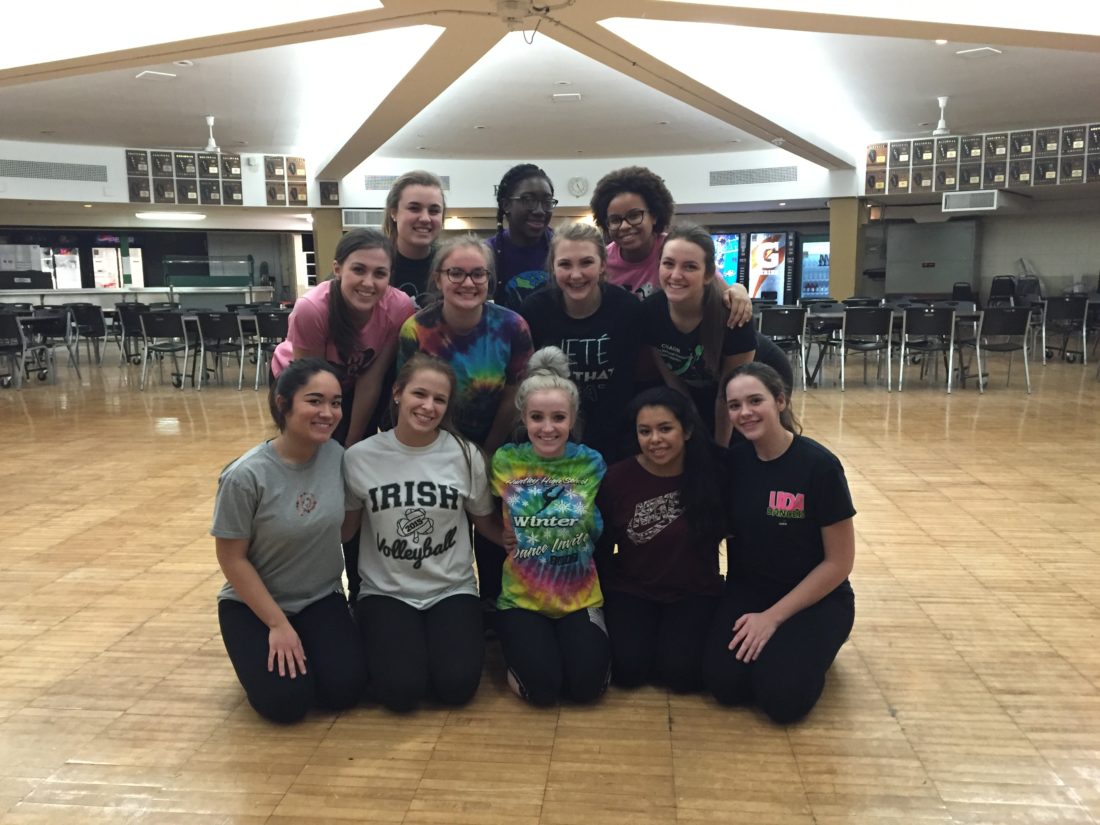 Team Feature: Bishop McNamara
Faith and IHSA plaques own the walls of this cafeteria / practice space. A look at how Bishop Mac approached their business toward the end of the season
by Norm Ramil / 8ca.creative.director & dance.fan
Kankakee's different from the other "edge cities" in Chicagoland (from north to south, the others are Waukegan, Elgin, Aurora, and Joliet). You can find open fields surrounding the old town of 27,000 people. Any further south of Kankakee and you start to hear hints of a central Illinois accent.
The private school option is Bishop McNamara Catholic High School, built in 1922 and named after the first-ever bishop of the Archdiocese of Joliet. The school of around 400 kids has quite the athletic reputation, producing a couple NFL players and countless state, sectional, and conference titles across different sports. They're the Fightin' Irish, with a mascot logo that looks a lot like another Fightin' Irish team we're all familiar with.
The Bishop Mac dancers always practice in their unique cafeteria. The distinctive wooden floor has a school logo right in the middle, almost like a center court / basketball tip-off circle. A carpeted stage makes for a good place for the dancers and coaches to store their gear for the afternoon. On the front wall above that stage is a crucifix, keeping the school's faith literally at the forefront of what goes on in this room, whether it's lunching or dancing.
The whole team's here for this critical practice during sectionals week. Of the 12 on the roster, 2 were recently added. "We floor everyone," points out Coach Lauren Gross. Few on the team have any formal dance training, but on the other hand, their coach teaches dance at a nearby studio.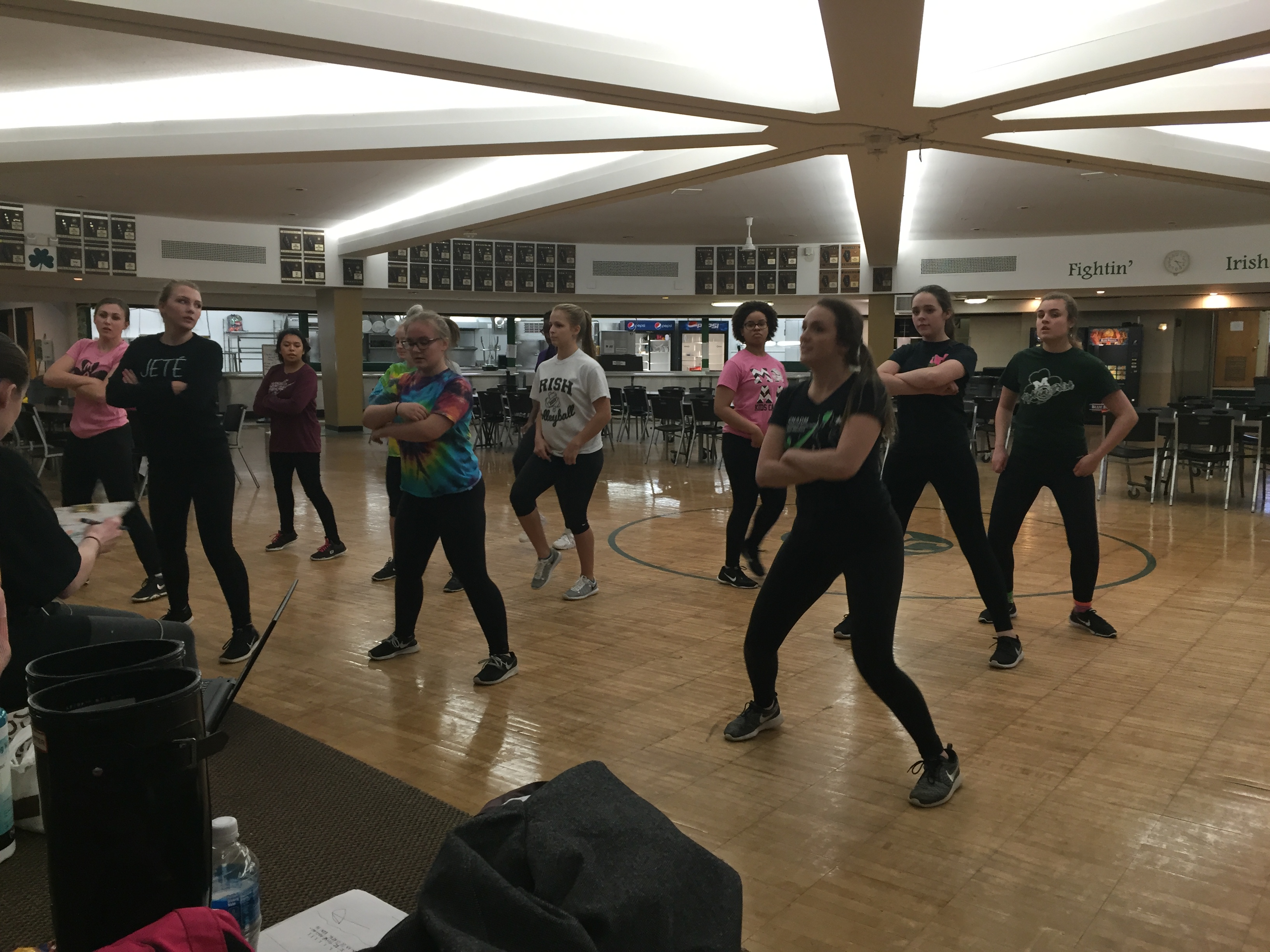 The Mac dancers practice under a cool ceiling and on a really interesting floor
The Mac dancers are fearless. It's a shocking move at this point of the season, but Coach Gross and her team are starting much of the choreography and parts of the music over from scratch. Some of the changes are as drastic as it sounds, while other tweaks are just a streamlining of what's already there, just cutting out some of the parts that weren't working. Coach Gross was here in this somewhat dimly-lit room until 11 last night redoing the dance. She anticipates a six-hour practice on Friday, the day before sectionals.
Everyone on the team is dressed differently, maybe a sign that they're here to work and get things done ahead of any other priorities. A couple girls wear evidence of the long drive to the downstate Mahomet-Seymour comp about ten days ago. Another wears the proof that after that long trip, they took the long-ish trip to Huntley the very next day to compete. Others wear the emblem of UDA events. Coach Gross goes shoeless.
While she takes a few minutes to finish editing the music, the team runs through their "sophomore" halftime dance for Friday night's game. They call it that because sophomores are in charge of some game choreography, which takes a lot of workload off of the juniors and seniors. It's not a simple routine, however (there's a lift involved). Apparently it's an old-school hip hop theme because I'm hearing songs by Vanilla Ice and DJ Jazzy Jeff & The Fresh Prince.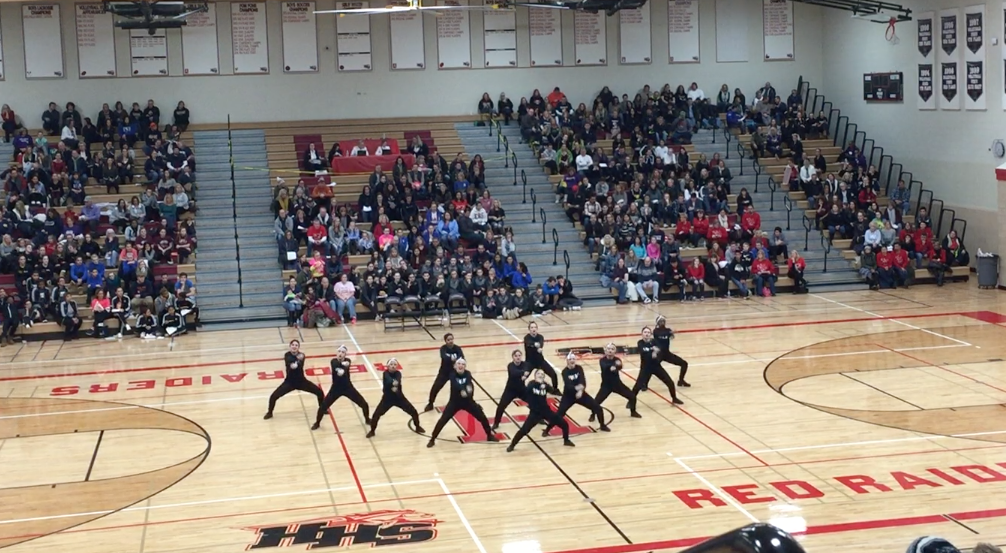 Bishop Mac's Dance Team competed at Huntley against a pretty impressive 1A field
Way in the back of the round cafeteria, a short hall leads to back doors that are propped open to let in the fresh air of a weirdly mild, rainy January afternoon. It helps, since the place does function as a cafeteria and workers are still cleaning up from all the food service. Most of the tables are still out, so students sometimes stop in to chill or get some homework done.
Bishop Mac's athletic legacy covers almost all of the upper parts of each wall, with IHSA plaques from a variety of sports proudly on display. Two of them belong to this dance team, the 1A Sectional Championship from 2014 and again in '15.
"They used to win state every year," recalls their coach. "Now there's so few hip hop routines and jazz is so dominant."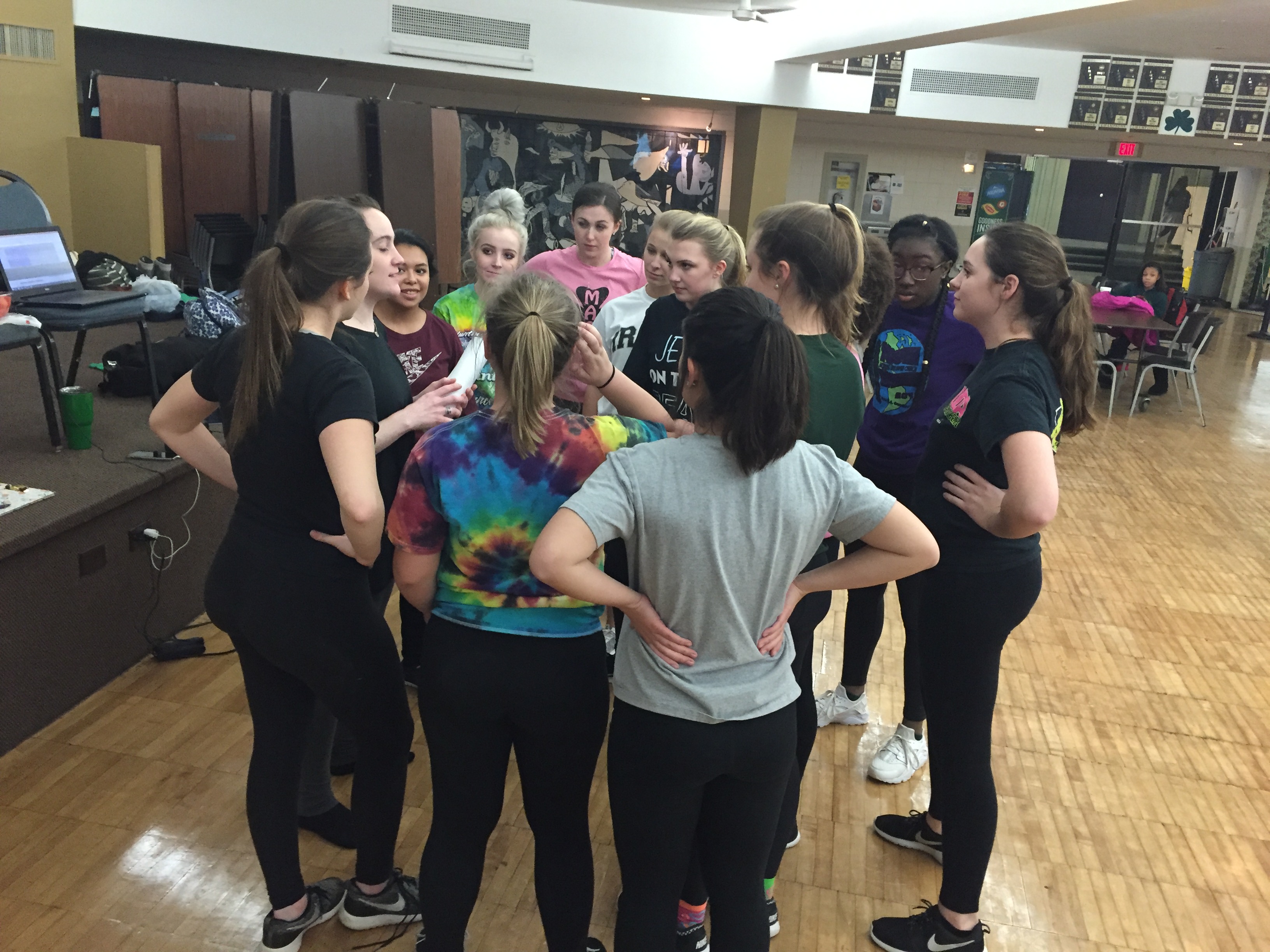 The Bishop McNamara dancers have a mini-meeting just before Coach Gross unleashes the new choreo
Coach Gross starts by verbally giving an overview of what's changed and why. "If you couldn't make it [to your spot] in time before, I changed it." It's really the beginning and end that got turned upside down, dug-up and repaved. She summarizes it like this: "Anything that's not working is now different."
Next, the hybrid team coach / studio teacher announces the specific changes to the dancers who'll have to learn new stuff. Soon the team is setting up its first formation while Coach Gross directs and gestures with her notes in the other hand.
Things on paper don't necessarily work out in real life, so she pauses to make sure her center girl really does have her splits available (she does), and the rest of the team voices their approval and encouragement.
They're a small team but I like this little display of supporting each other. It's the kind of team unity you need if you want to be this fearless this close to sectionals.
At 3:46, the ambitious coach says to herself, "OK, page two is done."
Now it's time to teach the pairs their new parts. Sometimes the counts need clarification, a product of being tired from reworking the dance the night before.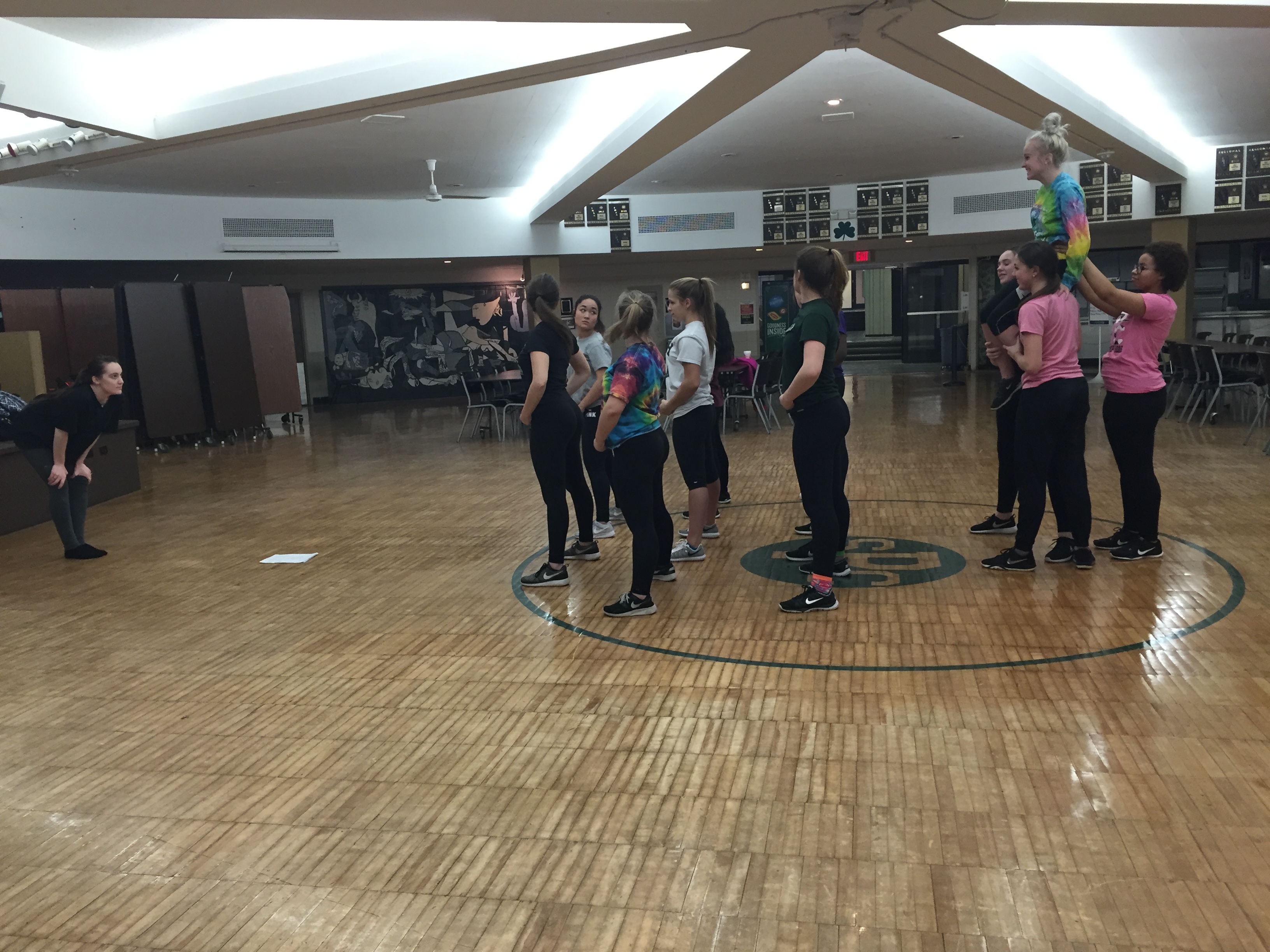 It's a low ceiling, but the Bishop Mac Dance Team can still do their lifts full-out
The team runs through it from the top up until what they've just learned. The team takes special note of the sound cues in parts of the music, just to make sure they hit on all the available musicality. Then comes a reason to take it down a notch: page four just has minor changes that only require a few words to explain. Camryn, the team's captain, playfully announces, "Only eight more pages, guys!"
The team keeps it loose and it's a sign that they're a close-knit group. I'm not sure how it came up (I think it was something in the music), but at one point the girls talk about their laser tag skills and paintballing, which leads to a few seconds of fake firearm sound effects. Another new part of the dance has the team on the floor in plank positions. "The janitors love us right now," Coach Gross says, since the girls are kind of cleaning the floor with their pants.
They look out for each other, too, with encouragement pouring out freely when a teammate does something awesome after working on it for awhile. More than once I spot a younger sibling handing grapes to a girl in the back of the formation. Another kid politely introduces herself to me.
The containers of cut-up fruit are more a community thing than just Coach's stash of nutrients. Dancers freely snag the occasional piece of cantaloupe or watermelon. Same with the guests, whether it's younger family members or dance team music specialists.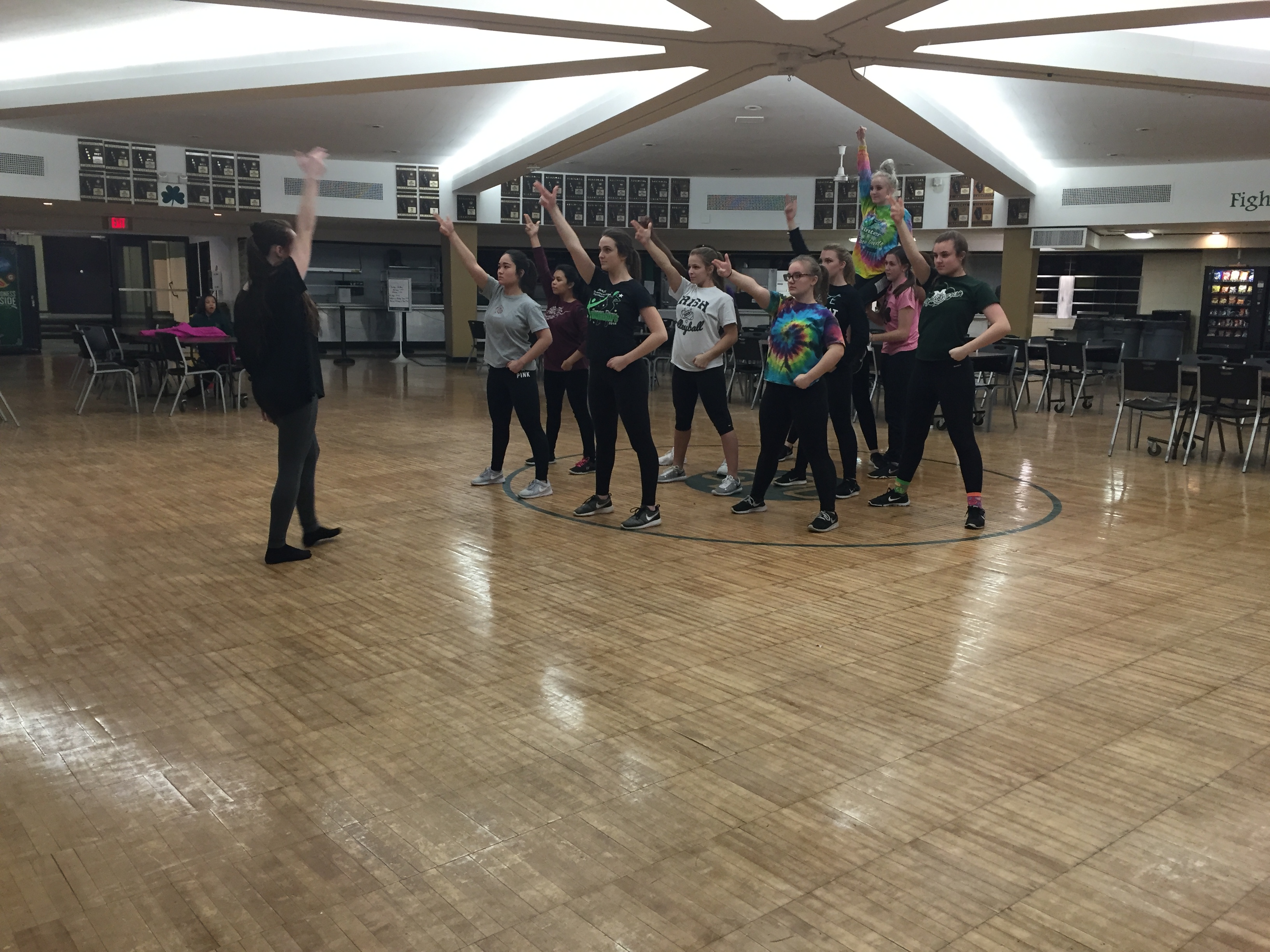 Coach Lauren Gross leads her Mac dancers through the new choreo she crafted in this room the night before
Buried in those eight pages are some pretty cool ideas that are calculated to make a splash at sectionals. The center group does "baby stalls," for example. Every detail's figured out, even if it's just the traveling. "Some of these changes are to reduce any long travels that look bad," explains Coach Lauren to her team, citing what she'd caught on the video from their last competition. Other adjustments coming from that video include a slight change of the head angle at one point of the choreography.
The lift group goes off to the side to clean up their part, and Lauren teaches the main group their next new part. She calls the team back together after about three minutes. Now they're in a good rhythm, running the dance for a few times without any major new changes. Eventually, though, what she'd caught on that video from the weekend's competition starts to creep into the conversation again, and Coach shares her corrections.
Part of the change this afternoon that's not in those pages of notes is upping the overall delivery. "Can we get a little more dramatic?" she asks. One example she gives is to have the girls lift their chins ever-so-slightly for a bouncier effect at one part. It turns out that a lot of the minor changes today are about tiny tweaks to the angles, all designed to make the movements look a little more dramatic. Leaning left or right? Lean a little further. Walking forward? Make it just a little bigger.
The team mixes up how they verbally mark their music. Sometimes it's counts, and other times it's the lyrics. As a musician I really appreciate the wisdom (and humor) of singing certain percussion parts, since hip hop is so focused on the "and" counts, which aren't the easiest to designate by a numbered count. Coach Gross does a lot of the calling-out, but some dancers spontaneously take over at the right moments.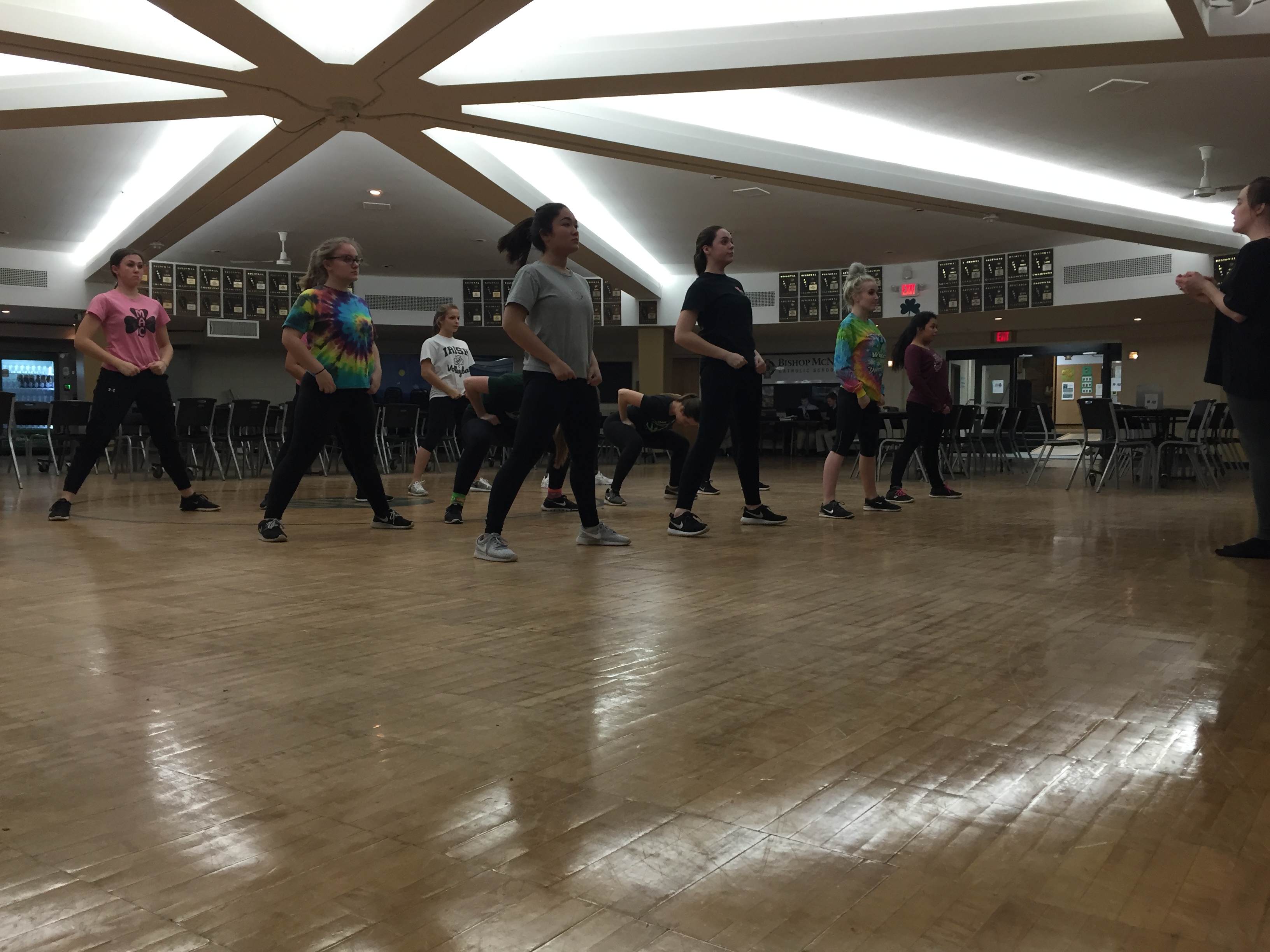 The Bishop McNamara dance program has 5 state hip hop championships to its credit, plus a Day 2 appearance in the IHSA era
"Who's got a good battement while on the floor?" It turns out that the whole team does, so she has to revise her question. "Who struggles with it? Because I need an 'up' group and a 'down' group." That down group will get the "V-sit," so the team runs a mini-tryout for that, and the whole roster shows that they can all do it without a problem. "You guys are bringin' your A-game!"
Bishop McNamara at State
IDTA 2001: Champions in A Hip Hop ("Aerobic/Funk")
IDTA 2003: Champions in A Hip Hop ("Funk")
IDTA 2004: Champions in A Hip Hop
IDTA 2006: 3rd in A Hip Hop
TDI 2009: 2nd in A Hip Hop
TDI 2011: Champions in A Hip Hop
TDI 2012: Champions in 2A Hip Hop
TDI 2014: 2nd in 1A Hip Hop
IHSA 2014: 2nd (Day 2) in 1A
IHSA 2015: 17th in 1A
IHSA 2016: 20th in 1A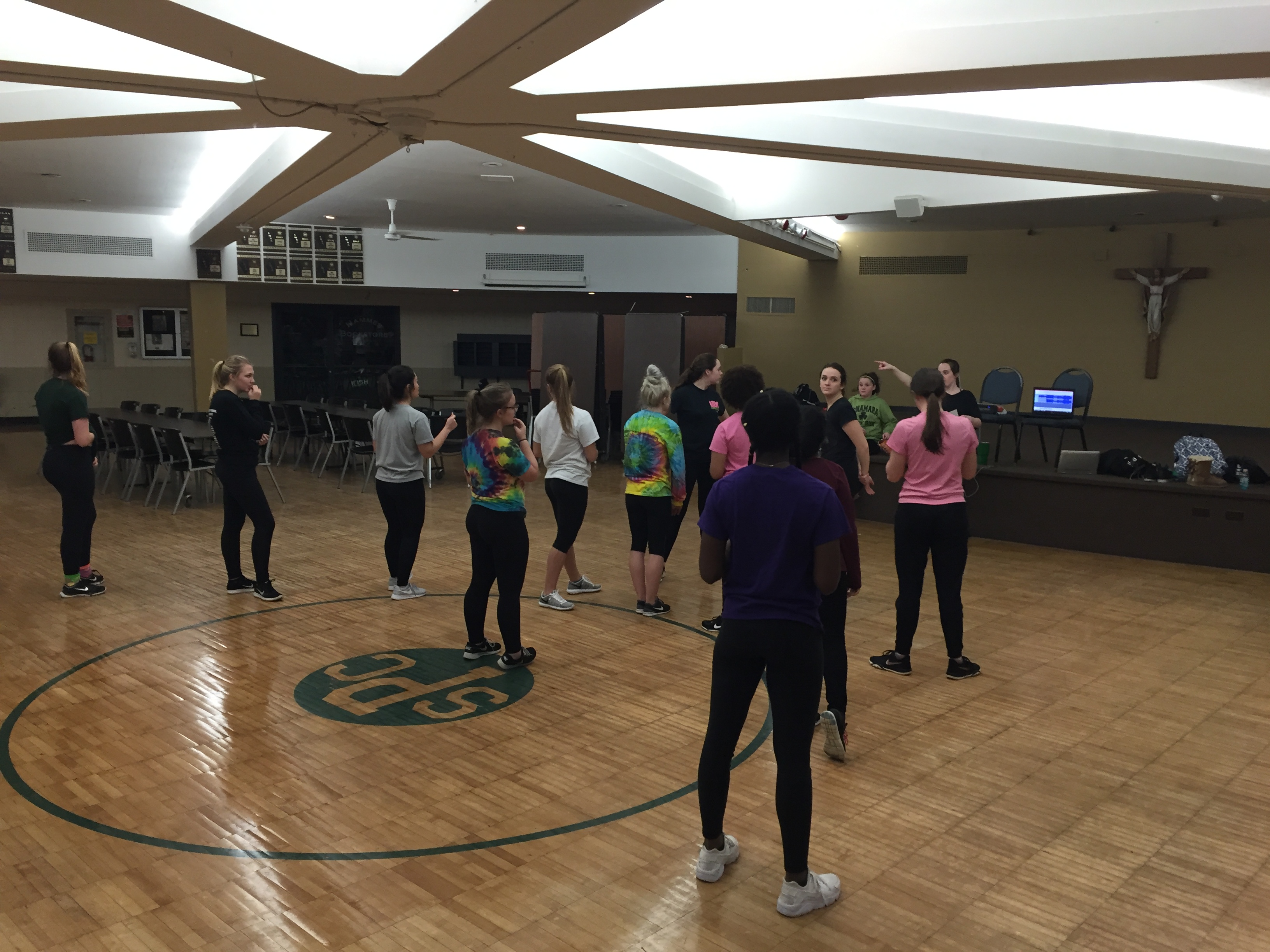 A little divine intervention is always welcome when you're a 1A team specializing in hip hop
The team travels. As a 1A school it's hard to keep their comp schedule all-suburban, so after starting their season at Vernon Hills, the Bishop Mac dancers took their talents to the huge competition at Mahomet-Seymour. The team also competed at Huntley—a Chicago-area comp but pretty far from Kankakee. They also danced at the first-ever Catholic League Dance Championship at Loyola Academy before returning downstate to Mahomet-Seymour (just west of Champaign) for sectionals…what they're preparing for this afternoon.
Coach Gross gives the team a few wrap-up comments after she stops teaching the dance promptly at 5:00. Before heading to teach her studio classes, she hangs around for a couple extra minutes for the team interview. Team moms take over to supervise the last hour of practice as the girls run through their parts and keep drilling.
The huge challenge of learning entirely new sections of choreography for sectionals week might have been ambitious, but it was all calculated based on what the team had been seeing and feeling throughout the season. Scores, trends, feelings…along with solving specific issues, playing to your strengths, minimizing your weaknesses…it's all part of the doing whatever it takes to score better in the crazy IHSA sectional system, especially if you're 1A and you do hip hop.
This time, Bishop McNamara came up 1.77 points shy of the cut-off position. But for a team with such an outstanding hip hop dancing legacy, a lot of positive energy, and one of the most unique practice rooms anywhere, the outlook is good. Just like that extra-something that adds a little life and attitude to a simple movement in hip hop, look for Bishop Mac's dance program to spring forward in the 2017-18 season.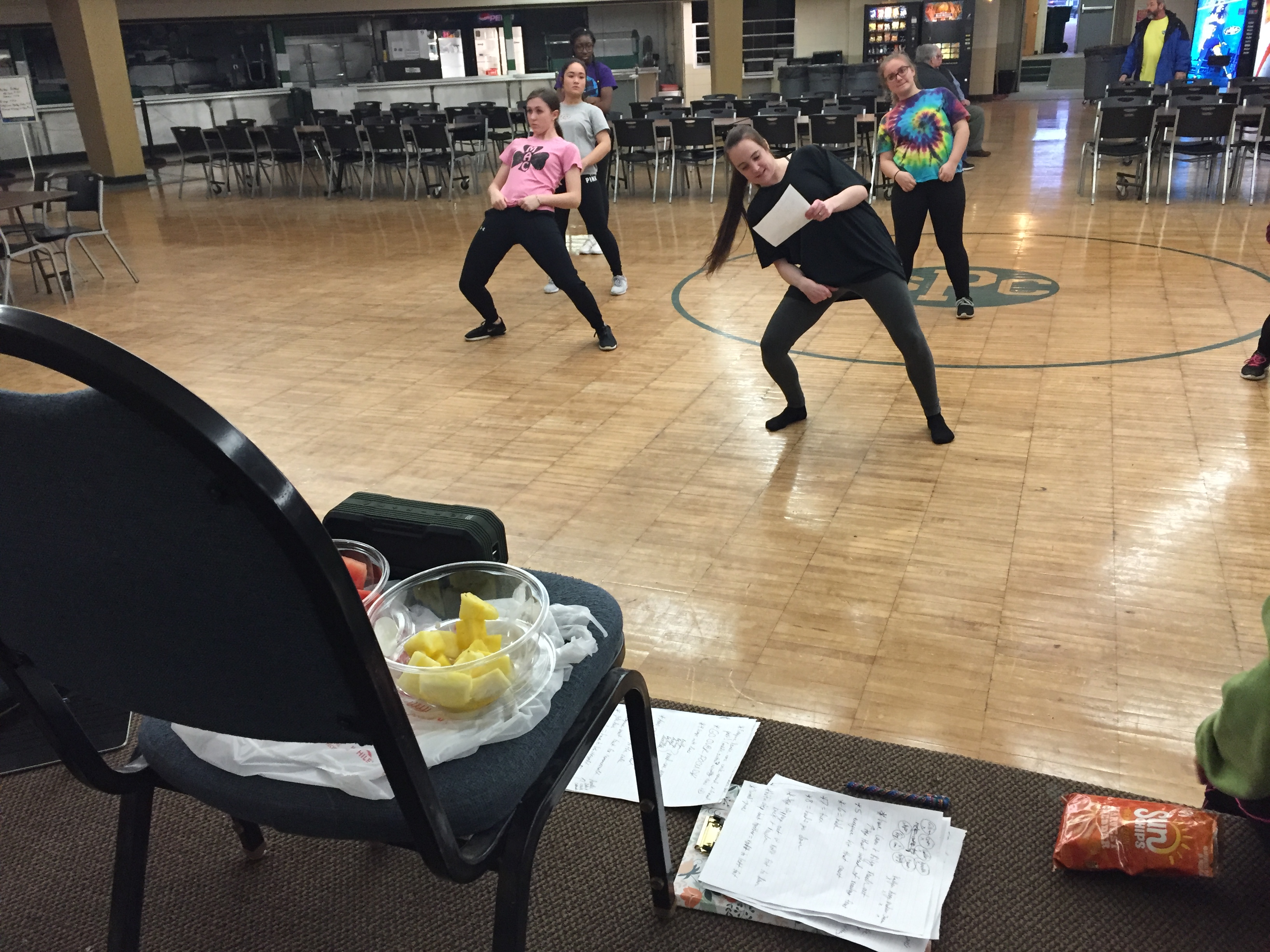 You can't go wrong with fresh fruit combined with hip hop choreography, even if it's on paper
Interview with the team leaders
Up by the carpeted stage, I got to chat with Camryn (senior and captain), Alyssa (junior and co-captain), Kaitlyn (senior), Britney (junior), and Riley (junior and co-captain)
Does anyone have any formal studio training?
Camryn: I went to Paula Aubry [School of Dance], and our coach was also my dance teacher there. I think I stopped going around 5th, 6th grade. Then I went to [middle school] and did sports. In high school, I came to Mac to dance.
Alyssa: I went to Paula Aubry, too. I did ballet, jazz, and hip hop. And once high school came around, I stopped going there and I started doing poms.
Kaitlyn: I didn't have any.
Britney: I didn't do dance at all.
Riley: I danced at Paula Aubry since the 2nd grade and I'm still doing it right now. I took ballet, tap, jazz, and hip hop…and pointe.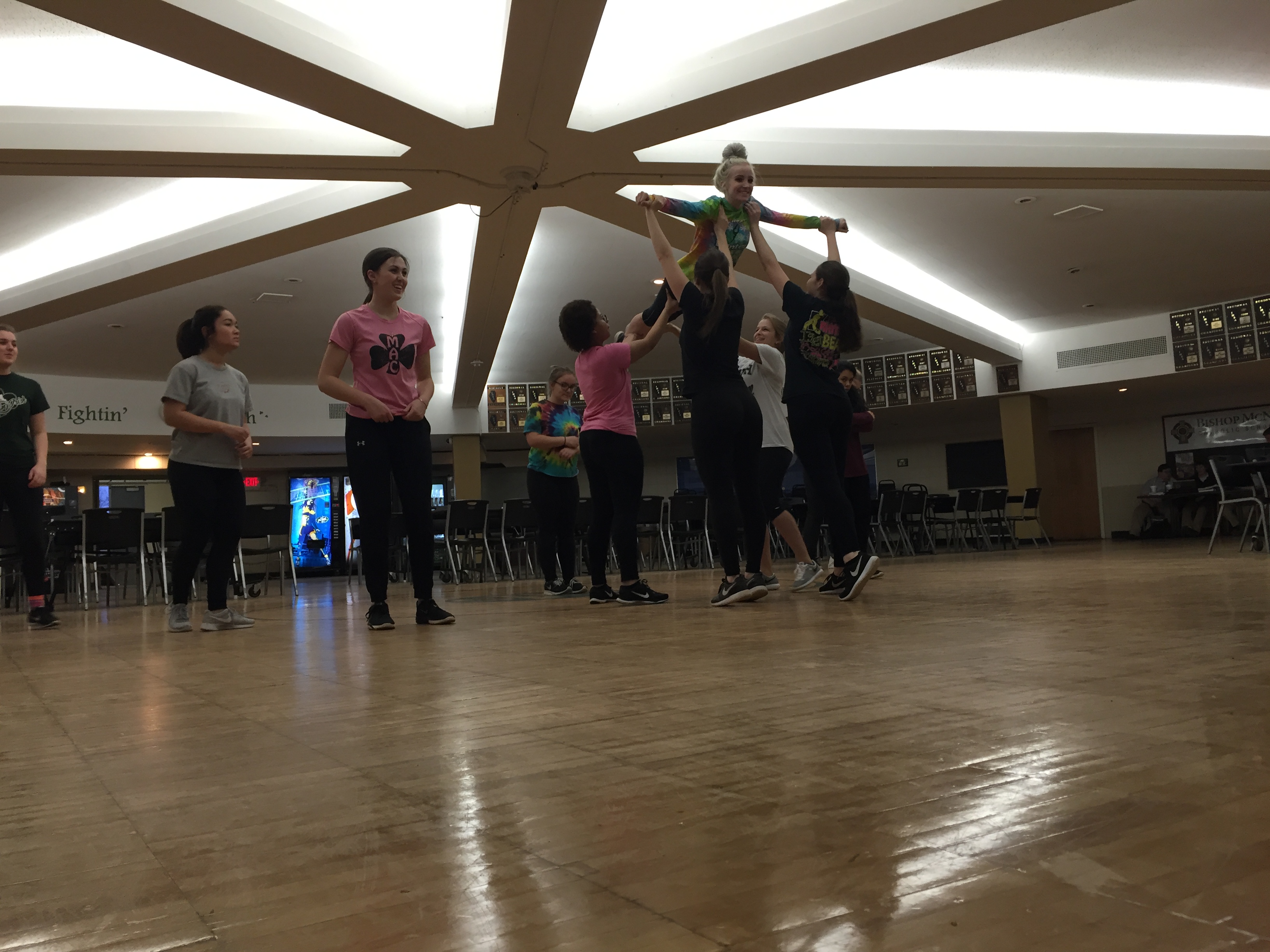 Bishop Mac's dancers showing why dancers are athletes
[to Kailtyn and Britney] How did you get up to speed with the basics?
Britney: I joined freshman year, so I've learned throughout the years. But I did gymnastics before.
Kaitlyn: I just joined this year, and I did cheer last year, and I just kinda…
Me: You just did it…that's awesome.
What's your favorite style of dance?
Camryn: Definitely hip hop. [same for the others]
What are some of the highlights or fun memories from this season so far?
Camryn: I think camp was…I think that's something we always remember. We're there for a week with each other doing fun things, so yeah, it's definitely a good start to the season. We come together, we still don't know each other that well, then we know everything about each other at the end.
Riley: All performances in general just because practice is one thing but being able to go out and perform it in front of each other and being able to just work with each other on the field and dance floor is really cool.
Camryn: Even before dances or competitions, how we get ready together. Girls come to each of us and get ready, it's kind of like a big [team] building experience for everyone.
Tell me about any team traditions for competition days.
Britney: Waking up early…
Camryn: Yeah, waking up early, definitely.
Britney: …and playing music while we get ready.
Camryn: We do a prayer before we go out, and we always do like a hand thing. It started before even my time, maybe? [There's some kind of inside humor going on, leading to giggling and Coach Gross looking over to make sure we're all still on-task]
What's it like being one of leading the hip hop teams in the 1A world?
Alyssa: It's hard.
Camryn: I think it's challenging, definitely.
Riley: It's definitely difficult when you're trying to compare lyrical from jazz and pom to hip hop. So that's why we just have to come out and be the strongest.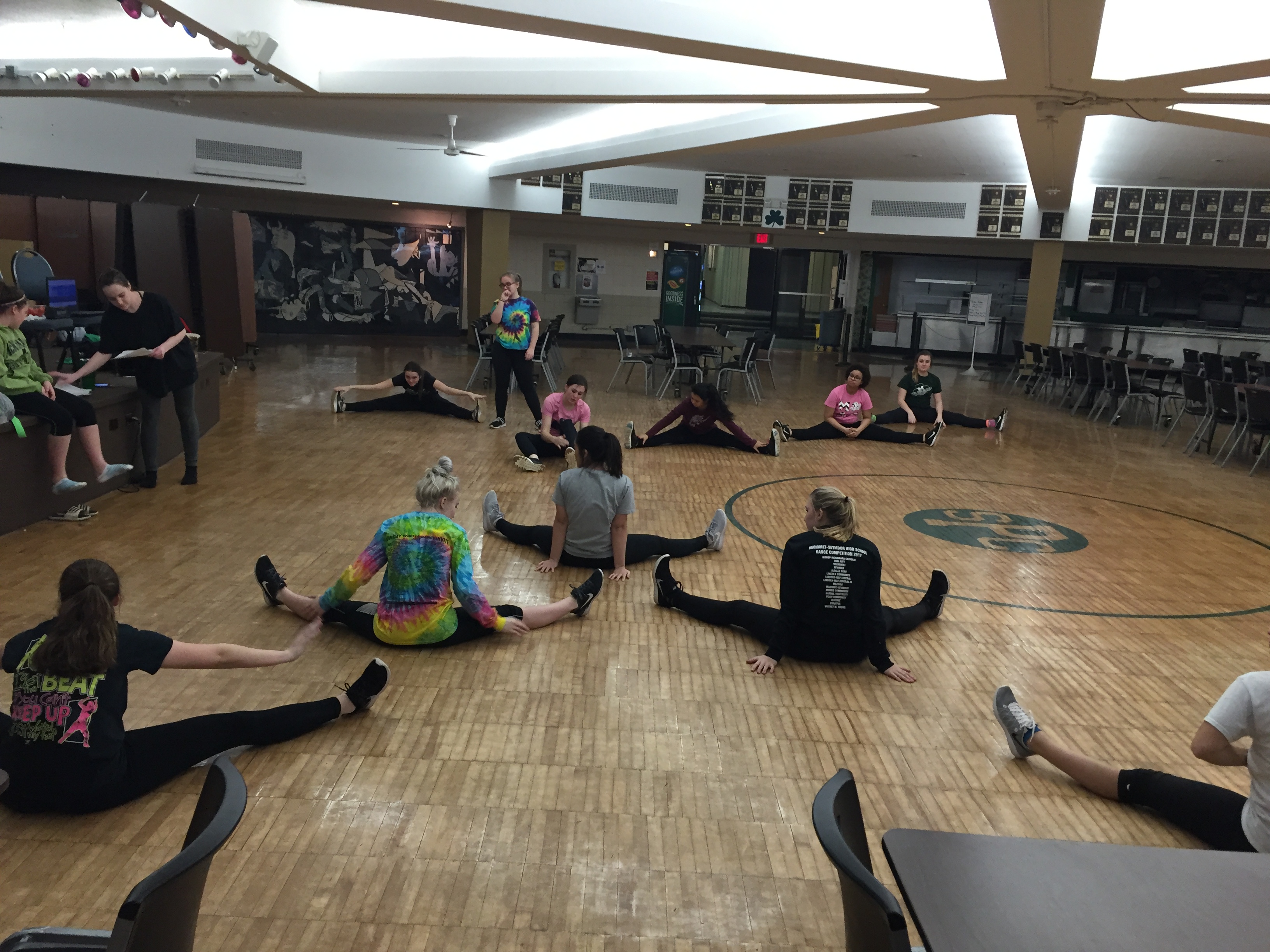 It's not a break and not a stretch. Coach Lauren Gross tries to find out which of her dancers can do a good "V-sit"
What are some other teams that impress you?
Kaitlyn: Morris!
Camryn: Morris, yeah…
Alyssa: They're really good.
Britney: The Rebel Girls from [together with Riley:] University of Nevada Las Vegas.
Coach Gross: Morris is good, they're very trained, very together. It's like they've been cloned into a team of like 30, and they have one mind.
Riley: Genoa-Kingston.
Camryn: They were really good.
Anything extra that you guys want to share with the dance community?
Coach Gross: I feel like we're as committed as a trained dance [team]. It's really cool that you have a high school group that…we're not all trained, they all don't take class outside. They can count music. They can do their own types of tricks, so I do feel like we bring that aspect because when you go to five different competitions, all of the dances look the same…"
[Kaitlyn demonstrates a lyrical extension]
Coach Gross: …It's true, they start to look the same. So when you have a "SWAT" theme, when you have a hop hop crew, when you have light up shoes,  when you have things that are going to change it, I do feel like we bring a surprise aspect to competing. I'm done." [she leaves to teach studio]
Britney: I think we try to be creative and hard-working!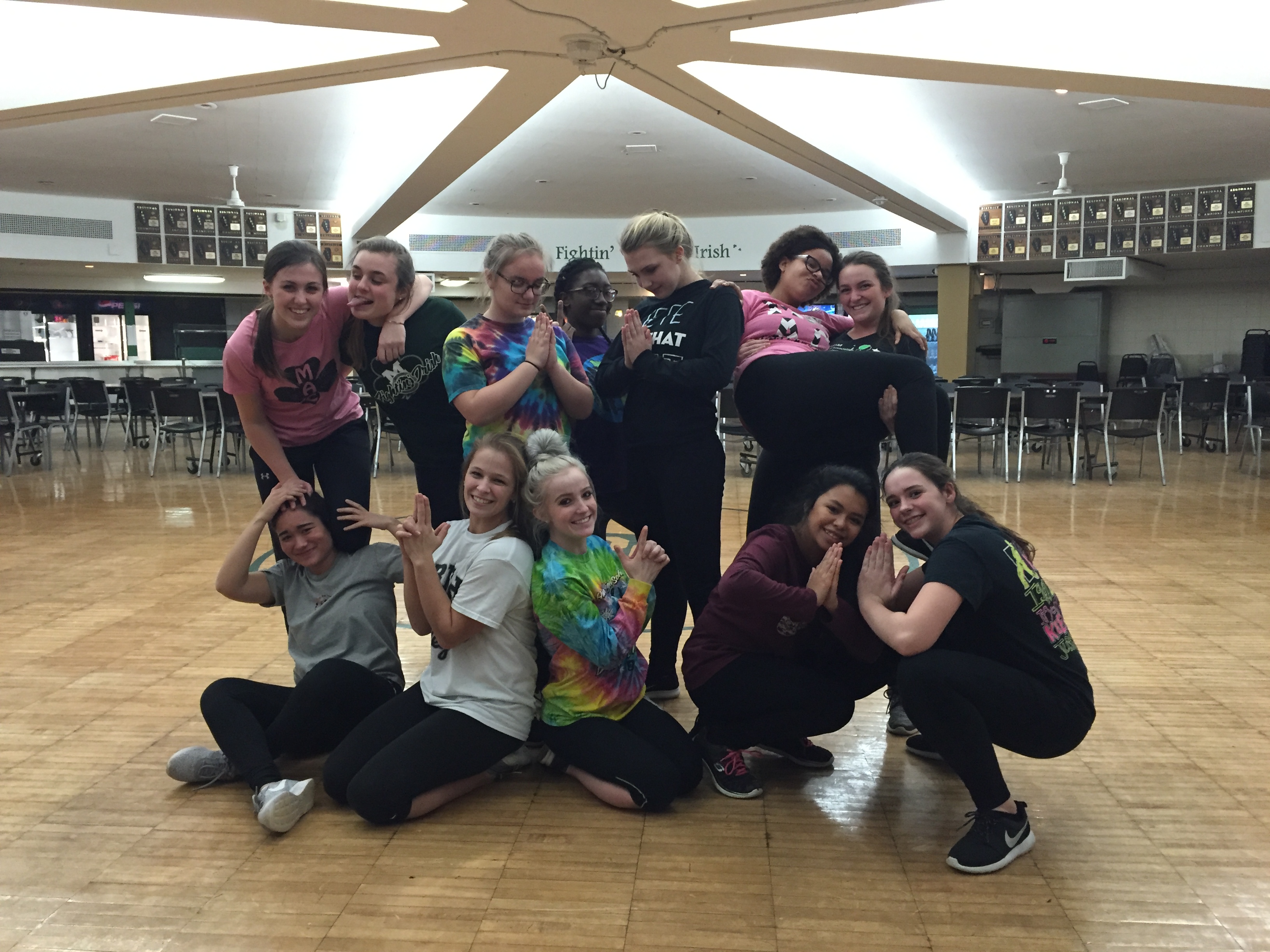 Restructuring choreo just a couple days before sectionals? You'll need a fun and positive attitude!