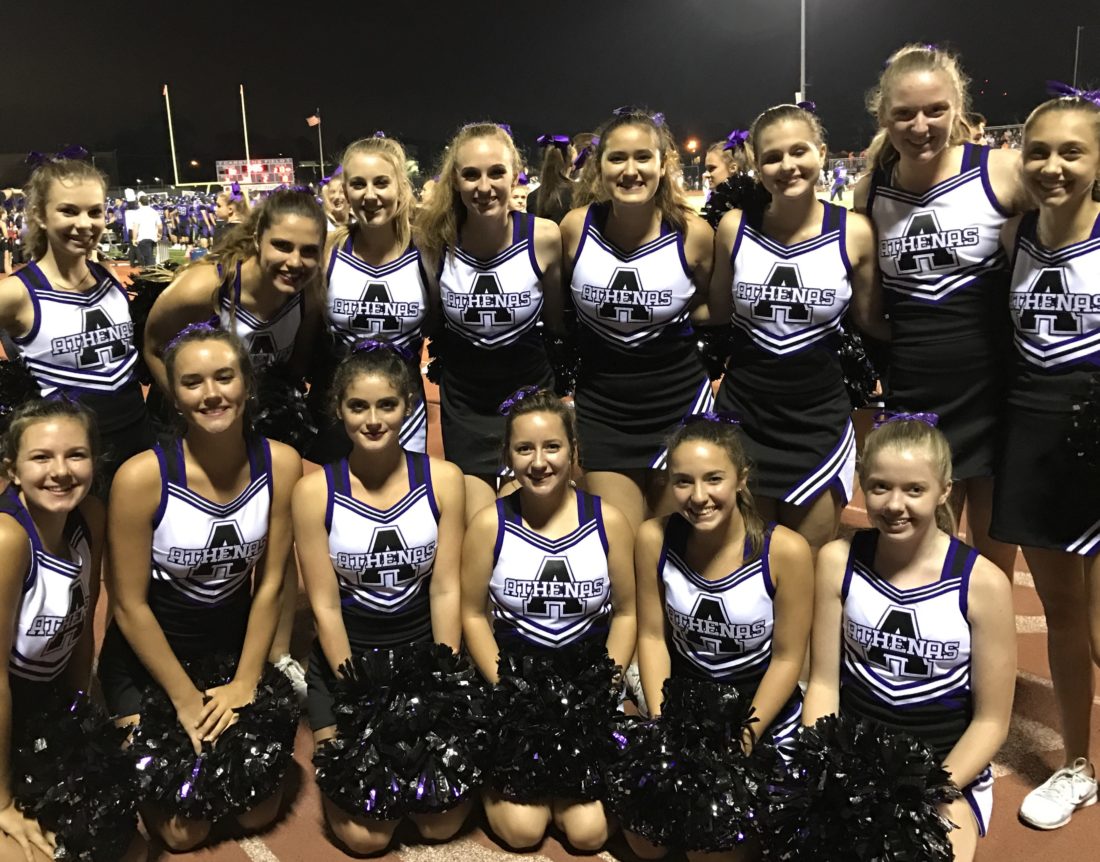 Team Feature: Downers Grove North
She accompanied the heroes of ancient Greece in battle. But these modern-day Athenas are in charge of their own history as they battle on the competition floors of IHSA dance.
by Norm Ramil / 8ca.team.leader & dance.fan
It's about to rain in Downers Grove on an early January afternoon as I park next to the only other car in the parking lot. To get to the front door of Downers Grove North, you need to hit the crosswalk button before crossing Main Street, one of those little quirks you get with a school that's close to downtown.
The school's sports teams go by "the Trojans," but that doesn't make for a cute dance team name. So the poms at DGN have been called the Athenas for forever, sticking with the whole ancient Greece theme. Downers Grove might not be Athens, but it's in the heart of DuPage County where aspiring dancers have a million studios to choose from. So it's no surprise that both Downers Grove North and South have strong, long-standing dance programs.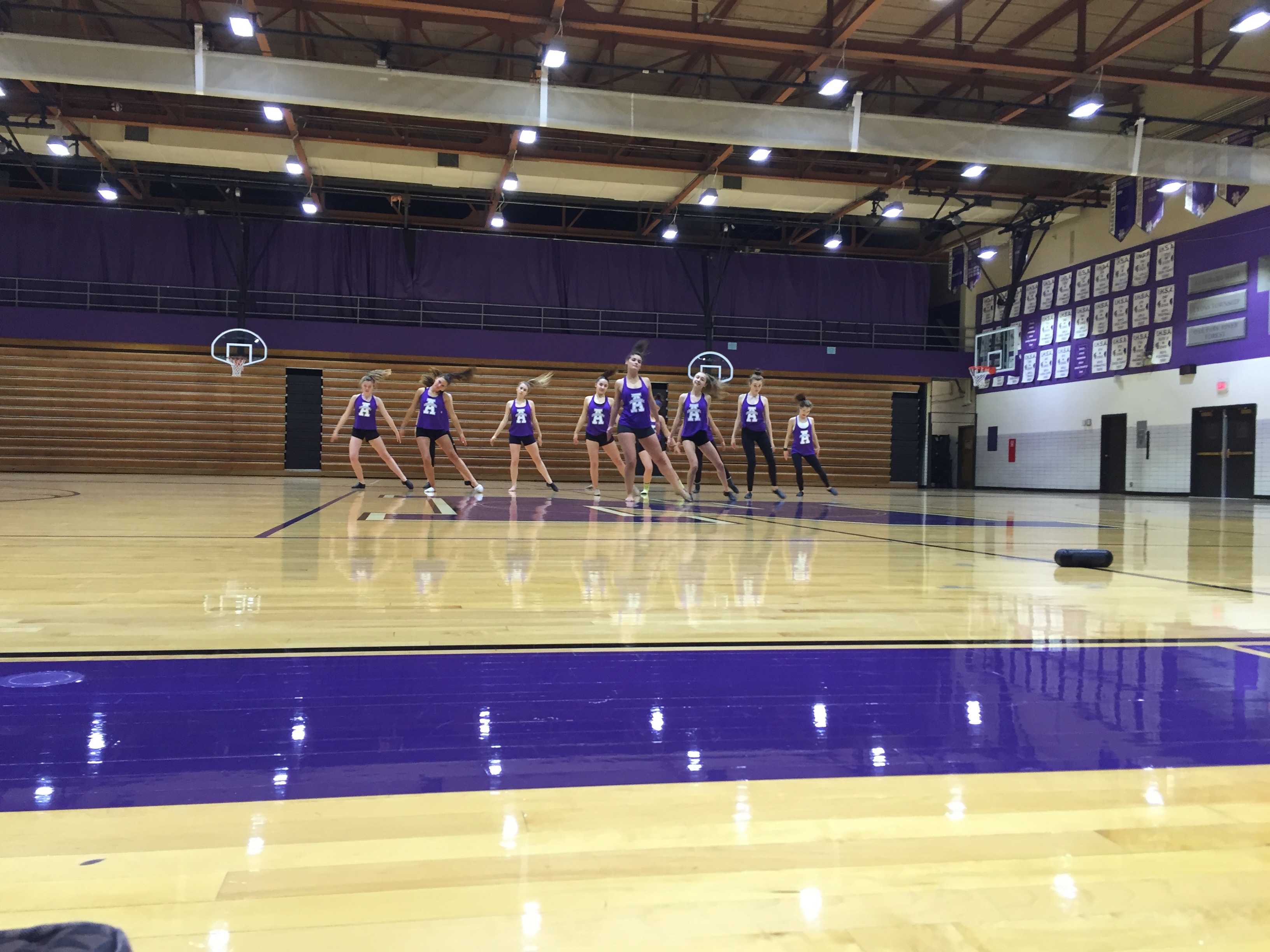 The Athenas own this gym floor on a quiet winter break afternoon
The old building is on the quiet side today. While some lights are off because it's winter break, the gym's brightly lit as the Athenas Dance Team stretches before practice. The team rarely gets the gym, so they're taking advantage of this early afternoon to claim the court. They do have a dance room, but only a handful of dancers can go full-out at any one time.
Varsity Head Co-Coach Chloe Penny eagerly explains her team's schedule to me. "We practice four times a week in January. We still think of sectionals last year, so this year, I know that they want it." At this point, they've got a couple comps left before sectionals '17. And tomorrow, they're all back in school after winter break. "I know they don't want to be here…but we have the gym!"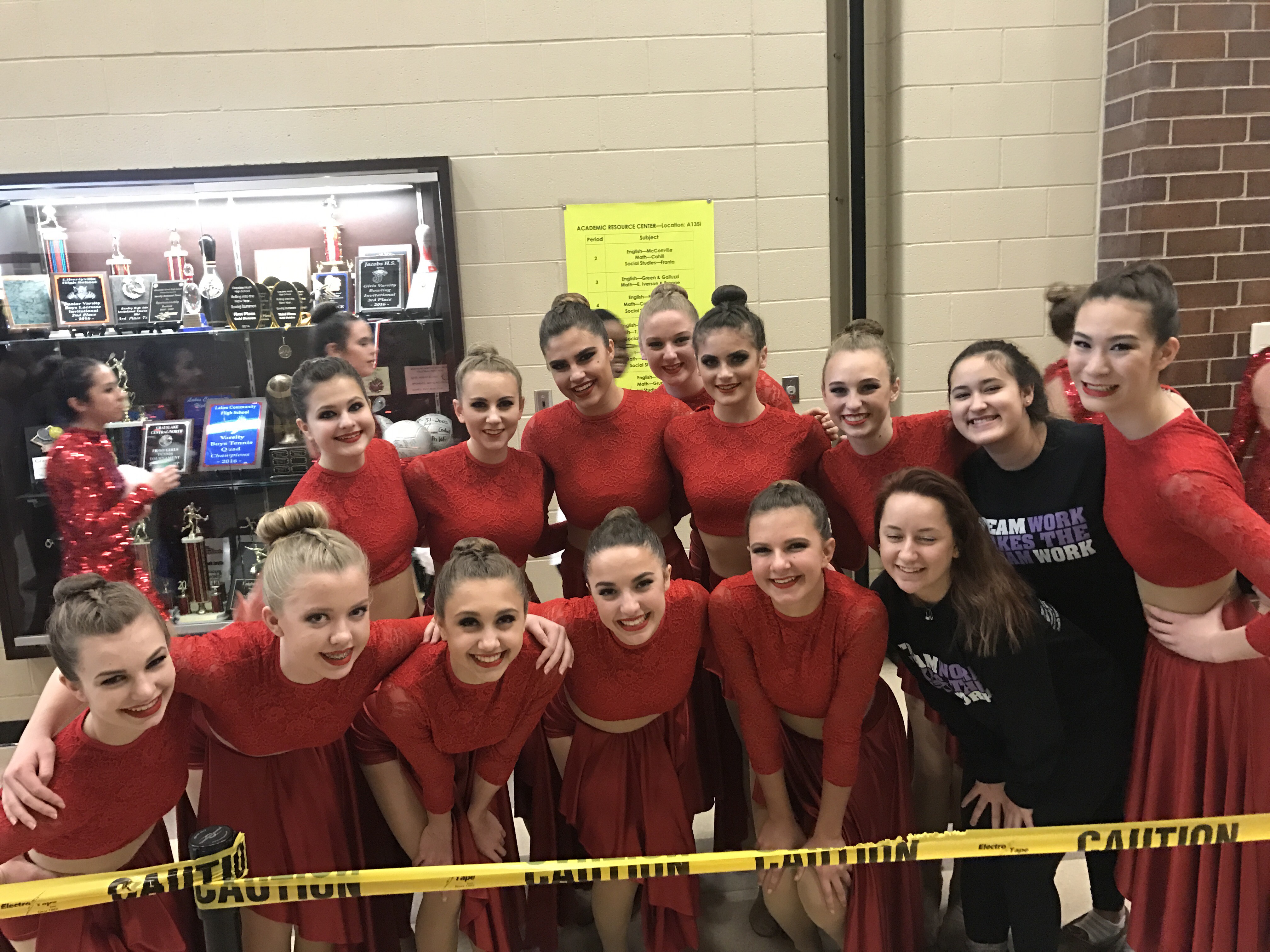 The Athenas are feisty and sassy, hence the caution tape
After stretches comes an across-the-floors sesh. Today they're focusing on switch leaps. "Watch that back leg and use your plié," Coach Penny reminds the girls. Soon it's time to conquer those secondes, and the veteran coach tells her girls to "make sure you use those counts" to help synchronization. This drill then sets up running the big turn section form their "Goodbye" routine.
After one time through, Coach Penny wants to "clarify their arms" because they get a little loose during the execution of a fast and challenging landing. "We've got to be as clean as possible," she says. The Athenas do it several more times before Coach Penny urges one more run. "Let's try it one more time for good luck?"
Next up it's time for the girls to critique each other by groups (three of them). Captains take turns counting out the crucial "open" moment during the secondes, something they'd emphasized in the earlier turning drill.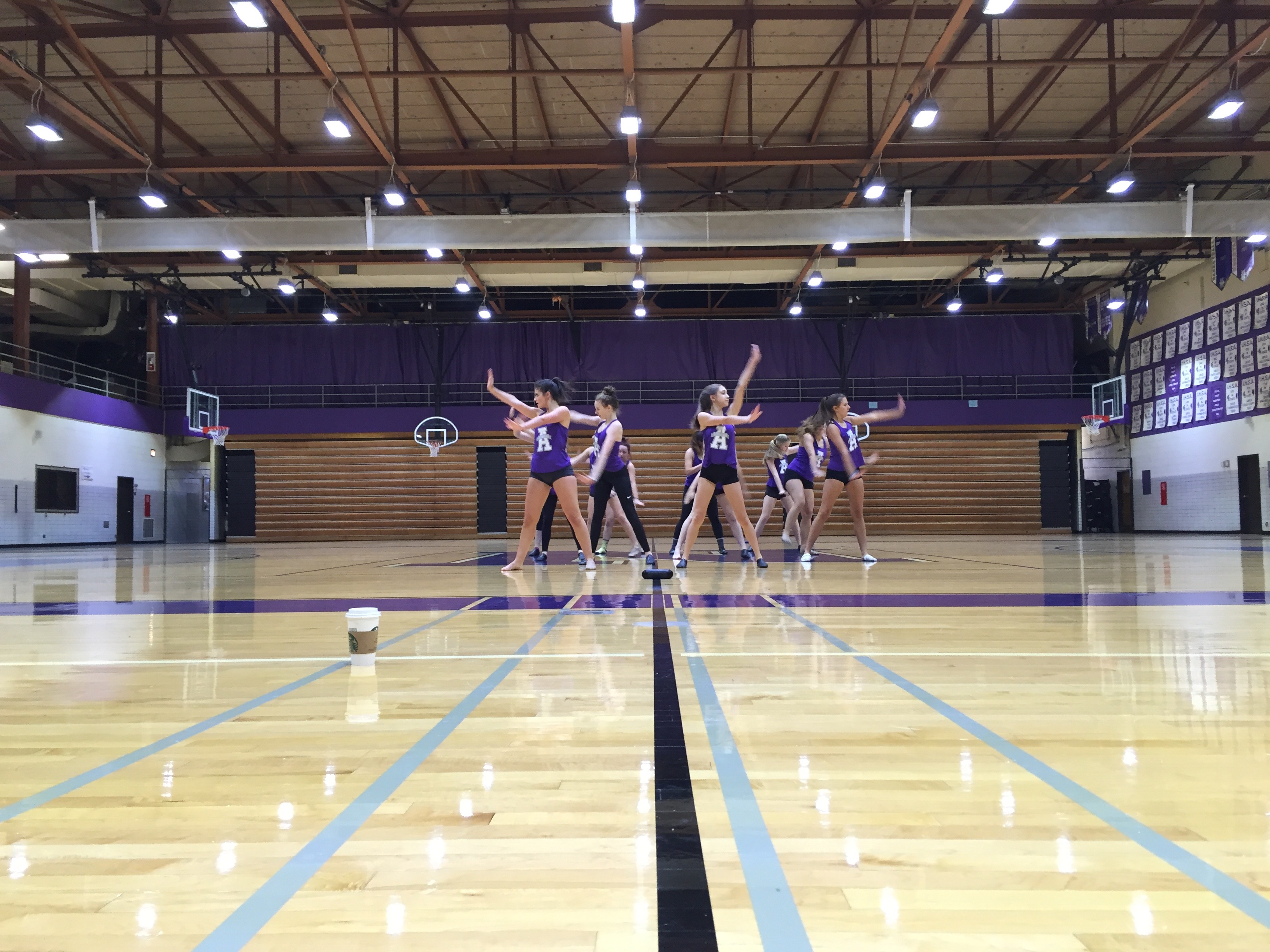 Coach Penny's cup of Starbucks watches as her Athenas reach toward sectionals
Facials are hard in this routine. Obviously the music doesn't call for a happy face, but it'd also be wrong to throw down a sad facial, or even an angry one. Coach Penny's specifically looking for a creepy facial, and the dancers are still in the process of moving from "dark" to full-out "creepy." This is just one of the points she makes during the water break. "I need more sharpness, more intensity, which isn't acceptable even though we're on break."
One 8-count in particular gets a super-detailed cleaning. With that section improved, it's time for Penny to head up to the balcony to take video of a full-out run. It's sort of a long trip from the gym, and the wait gets even more dramatic when we see the balcony curtains opening up a little. I get the honor of pressing "play" on an iPod while she hits "record" about 20 feet above me.
One captain keeps her subsequent water break really short so she can come talk to Coach Penny and me about that last run. When all the Athenas gather back together, I'm glad to see that my one little comment gets repeated to the whole team. I'm equally amused that this water break's also a chance for the girls to yawn and burp.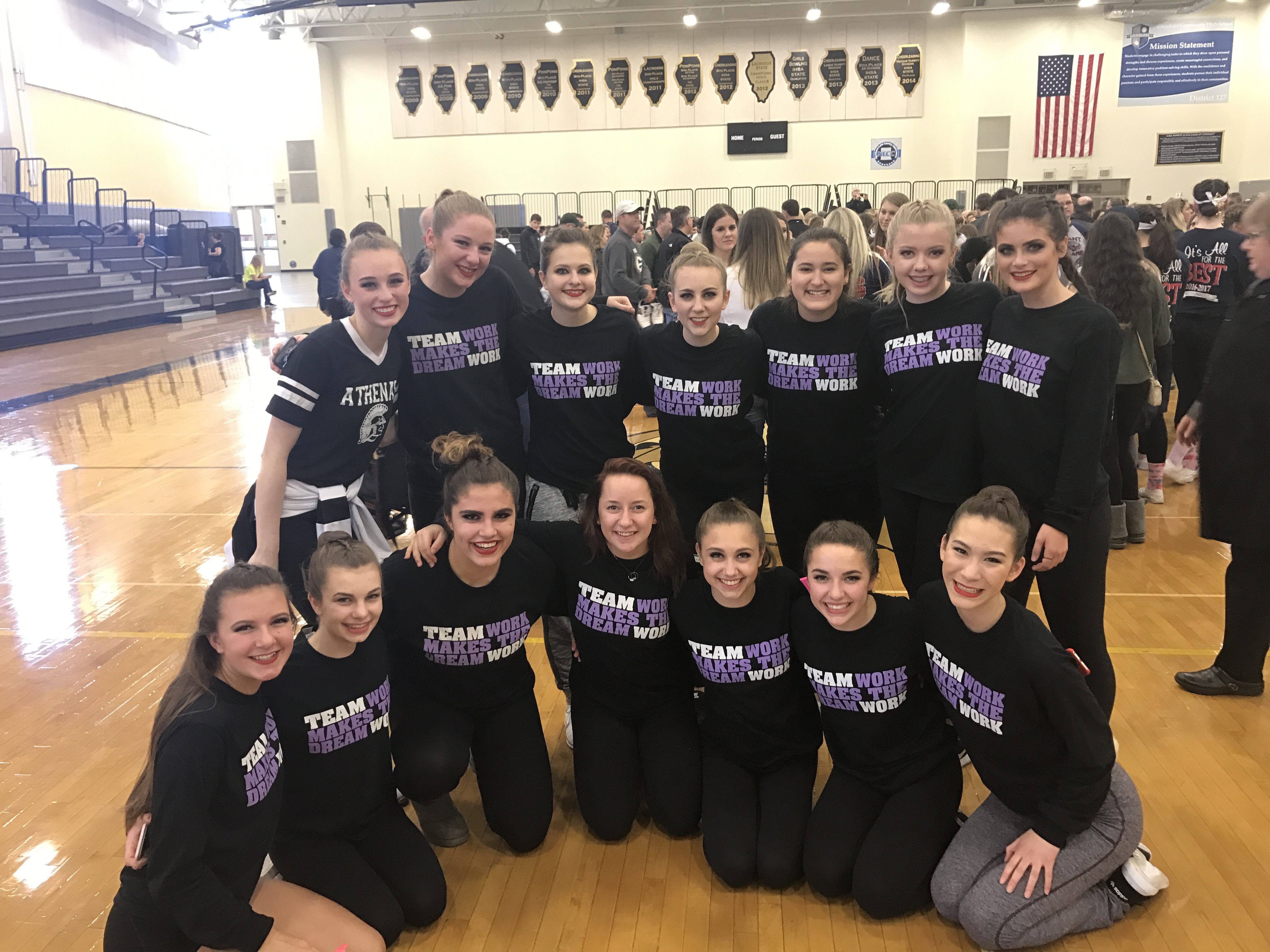 The DGN dancers chill after a long day at the Grayslake Central comp
This practice is on the short side, so we move right on to the other routine—a jazz dance to Melissa Etheridge's "I'm The Only One." Coach Penny tells me she "loves the throwback but the girls are like, 'Who is this?'" I throw in my two cents and also draw a connection across the (630) area code when I tell her that I edited this song for St. Charles North in the '03-'04 season on their way to a state title. That was with Coach Nancy Franson, who once coached the JV team here at Downers North. Small world!
The girls focus on cleaning up a lift, and judging by the aforementioned burps and yawns, they're cool with Coach Penny's advice: "Whatever noises you need to make to get her up, do it." It's true—the music should literally cover up any grunting.
Of course there's more to a good jazz routine than the lift. Penny corrects her team on their posture—specifically the sassiness of it. "Show some agency from the shoulders on down." Agency. A social studies term, something totally fitting of a U of I-trained English teacher, and something I (a history minor) really appreciate. But the Athenas need to think of the shoulders on up, also. "Your heads make the first impression," Penny tells them. "Make me want to watch you!"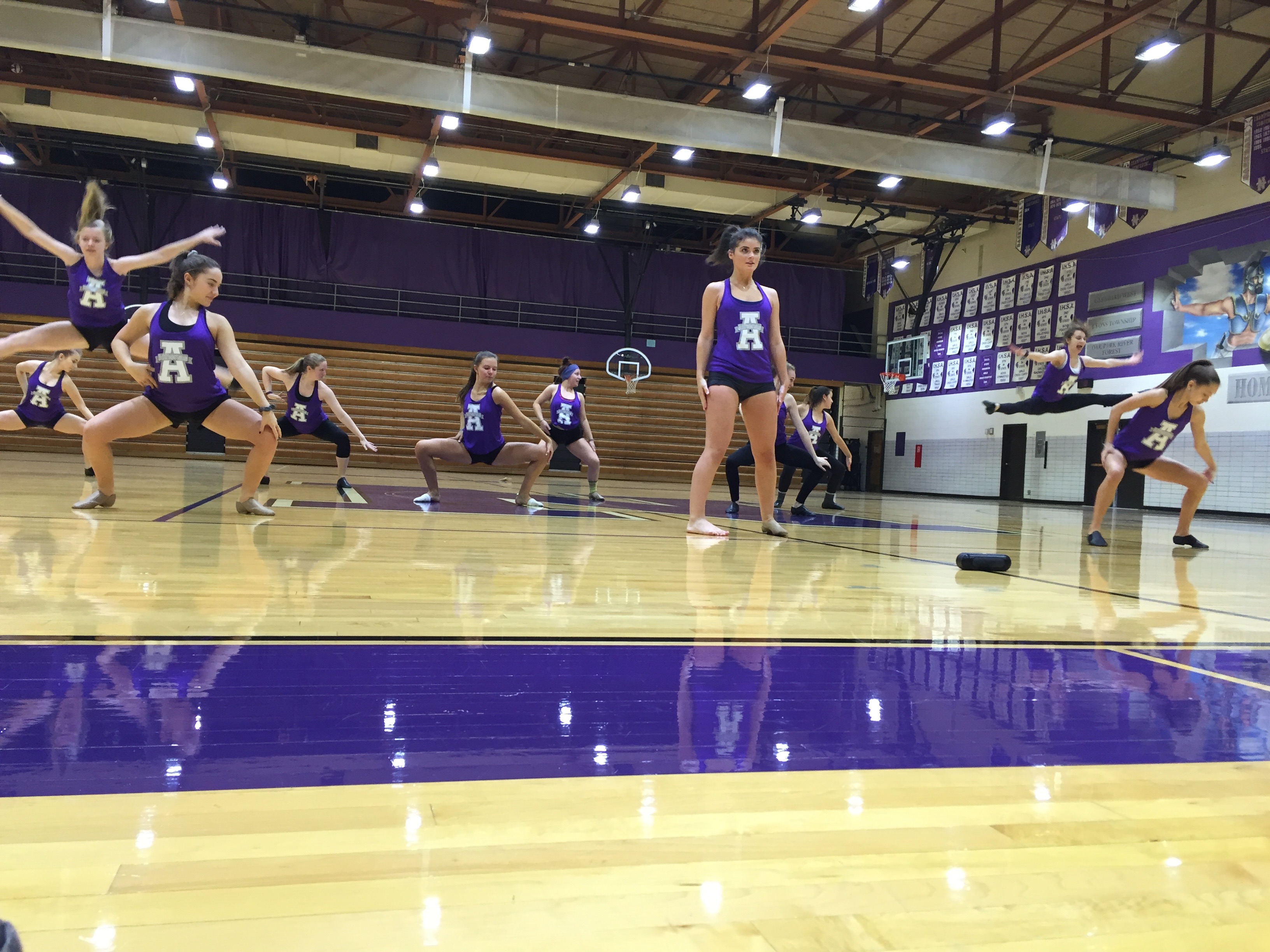 Toe touches are underrated these days…check out the height achieved by these Athenas
More feedback comes out during the next break. On the plus side, she tells the entire team that it looked sharper than when they danced this routine at a basketball game just before Christmas. On the other hand, Penny thinks some of her girls look asleep. So captain Natalie suggests yelling "because it wakes us up."
Well, there's no yelling, but there are shout-outs. During the dance, Natalie and Coach Penny watch for girls doing the right things. It earns them a literal shout-out, and these dancers get to sit down for the rest of the routine. Penny's encouragement overcomes the raspy vocals by Melissa Etheridge: "Show me that you want to go to state! You perform how you practice…"
One of the first things that Coach Penny told me as we walked to the gym is how close this DGN Athenas family is: "just like Downers Grove South." Both schools' dance teams have alums on staff. Here at North, Athenas Co-Head Coach Jennifer Isaacson and JV Coach Paulina Crescimone both wore the Athenas uniform. Also, the team parents are a big reason for this smoothly-functioning dance family.
It's quite a contrast from Penny's own experience as a Stevenson Patriette (class of '05), where such a gigantic school and multi-level dance program sometimes made it hard for everyone to know each other. She went on to dance in sorority performances at the University of Illinois and earned her English teacher's degree.
This area was a new experience for the Stevenson alum. "Growing up, I didn't know anything about the western suburbs!" But she soon became a member of the DGN Athenas family, starting as the JV coach. And speaking of family, her brother handles the team's music editing. Her dancers, whom she sometimes refers to as "friends" (UDA-style), still address her as Ms. Cooper and haven't made the update to Ms. Penny.
Joining forces with Coach Penny is Co-Head Coach Jennifer Isaacson, a Downers Grove North Athenas alum who handles the choreography. She's in her 6th year coaching at DGN and has 8 years of coaching experience altogether. Isaacson isn't in the building during the school day, but she brings a keen artistic expertise to the Athenas program. She danced under legendary DGN dance coach Toni Royster, who, for a long time, was the face of Illinois competitive dance in the '90s and into the 2011-12 season.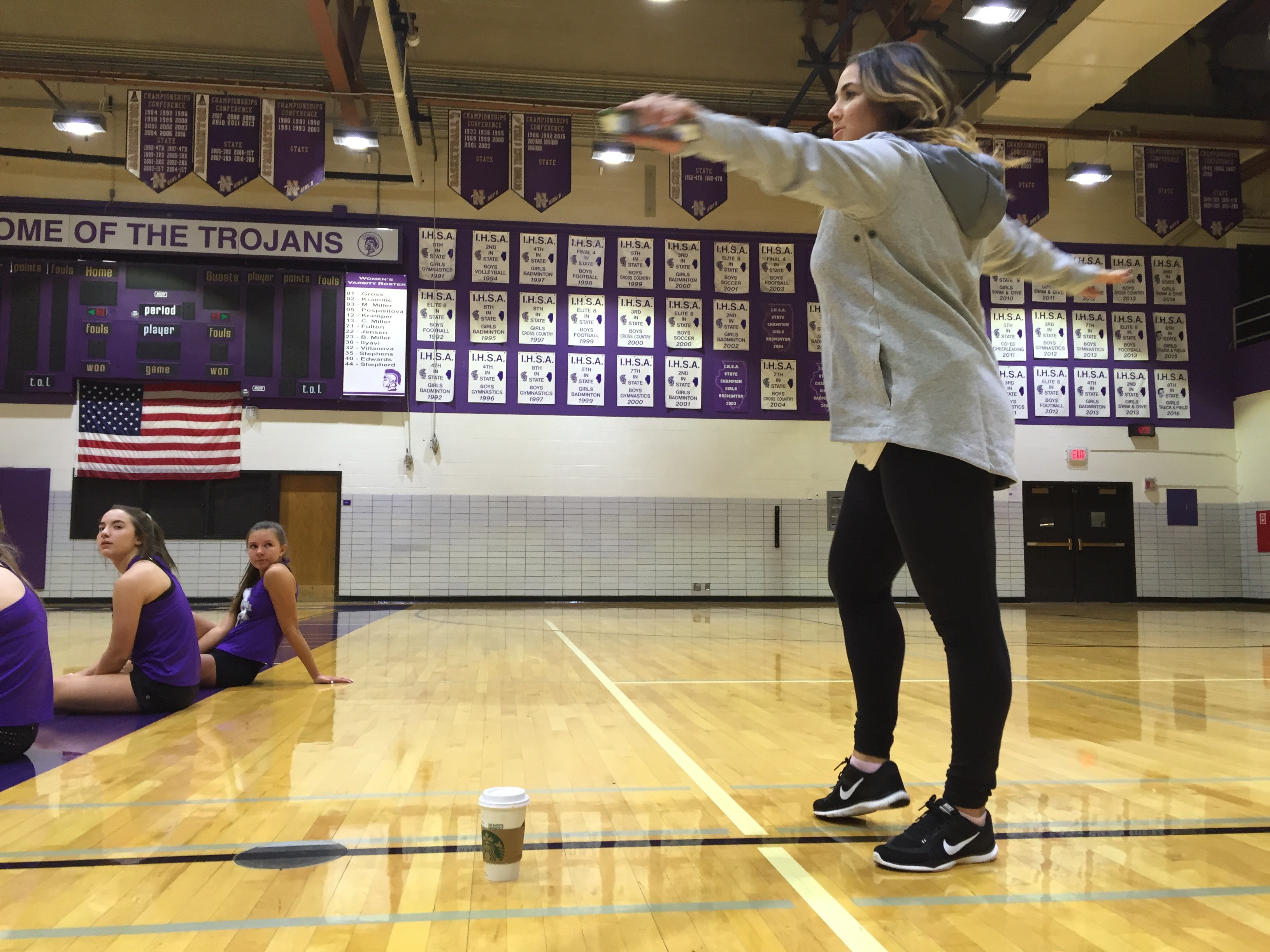 Coach Penny still remembers a thing or two from her days on Stevenson's legendary early-2000s teams
The Athenas were a powerhouse team in their IDTA days. There was the "Superior Rating" in kick at the 1981 IDTA state competition, and again in 1982 for the dance division. In 1988, they took home a 3rd at IDTA state for the prop category, along with a 4th in kick. A year later they again hit state with 7th in open dance.
Downers Grove North holds the 1996 IDTA double-A novelty category championship. In '97, they used their dramatic flair to take home 3rd at IDTA state in double-A production (if these old categories are a mystery to you, it's worth a youtube). The '98 Athenas earned a 4th at IDTA state in triple-A pom dance and another 3rd in production.
The Athenas rocked the 2000s at IDTA state. The team won 3rd in triple-A pom in 2000; a year later, they sent their dance (jazz) routine to Champaign and got 5th at state. The '02 Athenas took home the 4th place trophy at IDTA state for their lyrical routine. Coach Royster stuck with that category and earned a 3rd at state in 2004, and then a 5th two years later. The '07 Athenas were the triple-A lyrical runner up team at IDTA state, along with a 9th for dance (what we would today call jazz). A year later, they earned a 2nd for lyrical and a 4th in jazz. 2009 was a repeat: 2nd in lyrical, 4th in jazz, plus a 3rd in kick.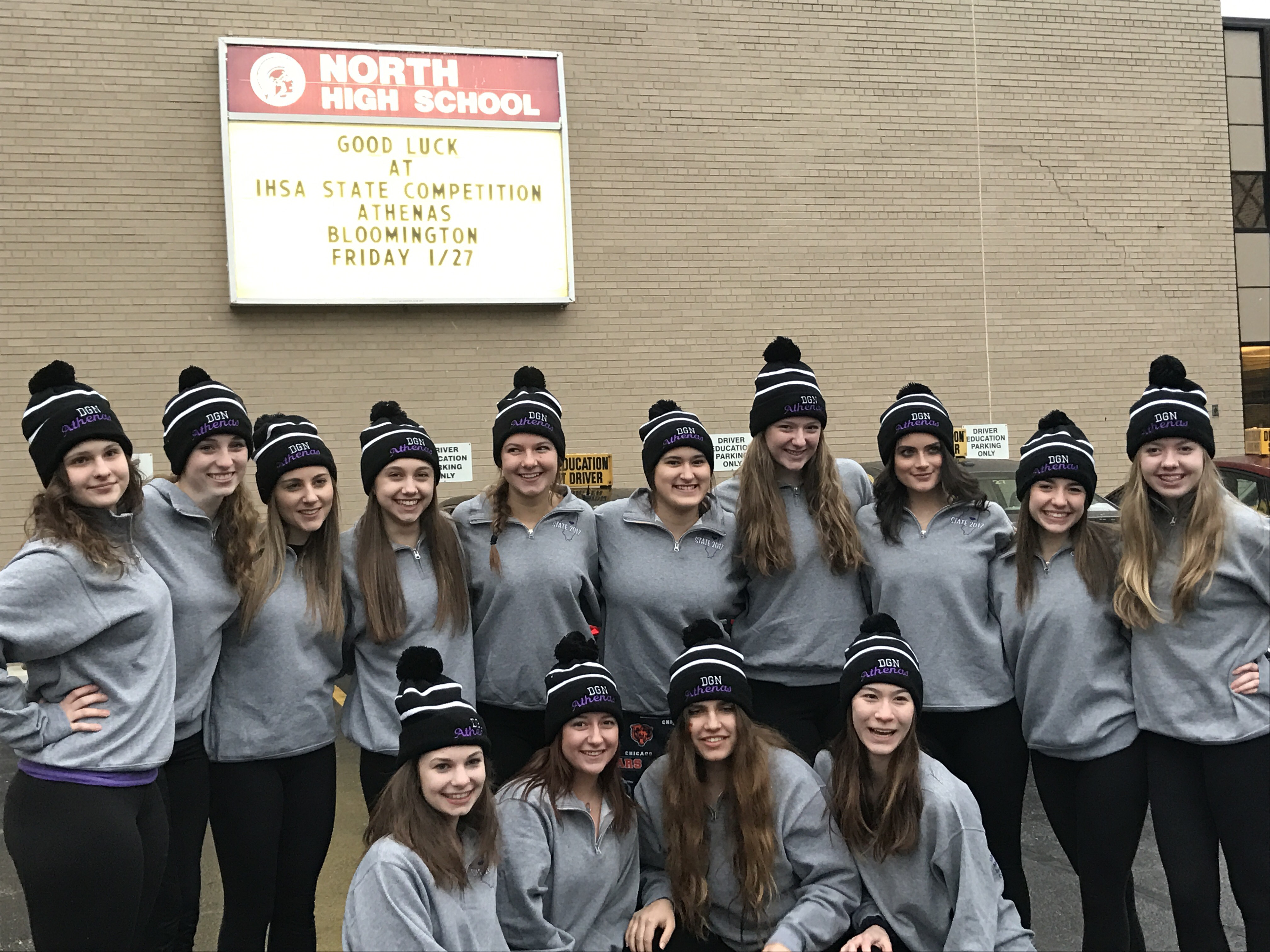 You can add 2017 to the Athenas' long list of state appearances
DGN owns the 2010 triple-A lyrical IDTA championship, a glorious trip to Champaign that also involved a 3rd in both kick and jazz. The 2011 Athenas came back with another 3rd in kick, flanked by a 4th place jazz and 5th place lyrical.
Yup, it's a long list of IDTA achievement. DGN even hosted a huge IDTA invitational every February for a long time. It shows loyalty, tradition, and a stunning variety of styles. Mixed in to this story is a period of dabbling in UDA before the Athenas were swept into the IHSA competitive dance world in its inaugural '12-'13 season. "That was a wake up call," admits Penny. The 2012-13 Athenas finished 21st in IHSA's inaugural state competition, and then 23rd a year later. This season, the team qualified at sectionals with an 87.30 before earning a 25th at IHSA state last month.
Coach Penny tells me that her team is basically all studio-trained (but it gets complicated, with girls coming from different studios of differing qualities). Six seniors—all with lots of studio experience—lead the Varsity Athenas. Joining them are four juniors and a sophomore. Four freshmen are on varsity, but one's out today recovering from getting her wisdom teeth out, while another was just on the non-competitive team in the fall. JV Coach Crescimone handles a team of 17 dancers.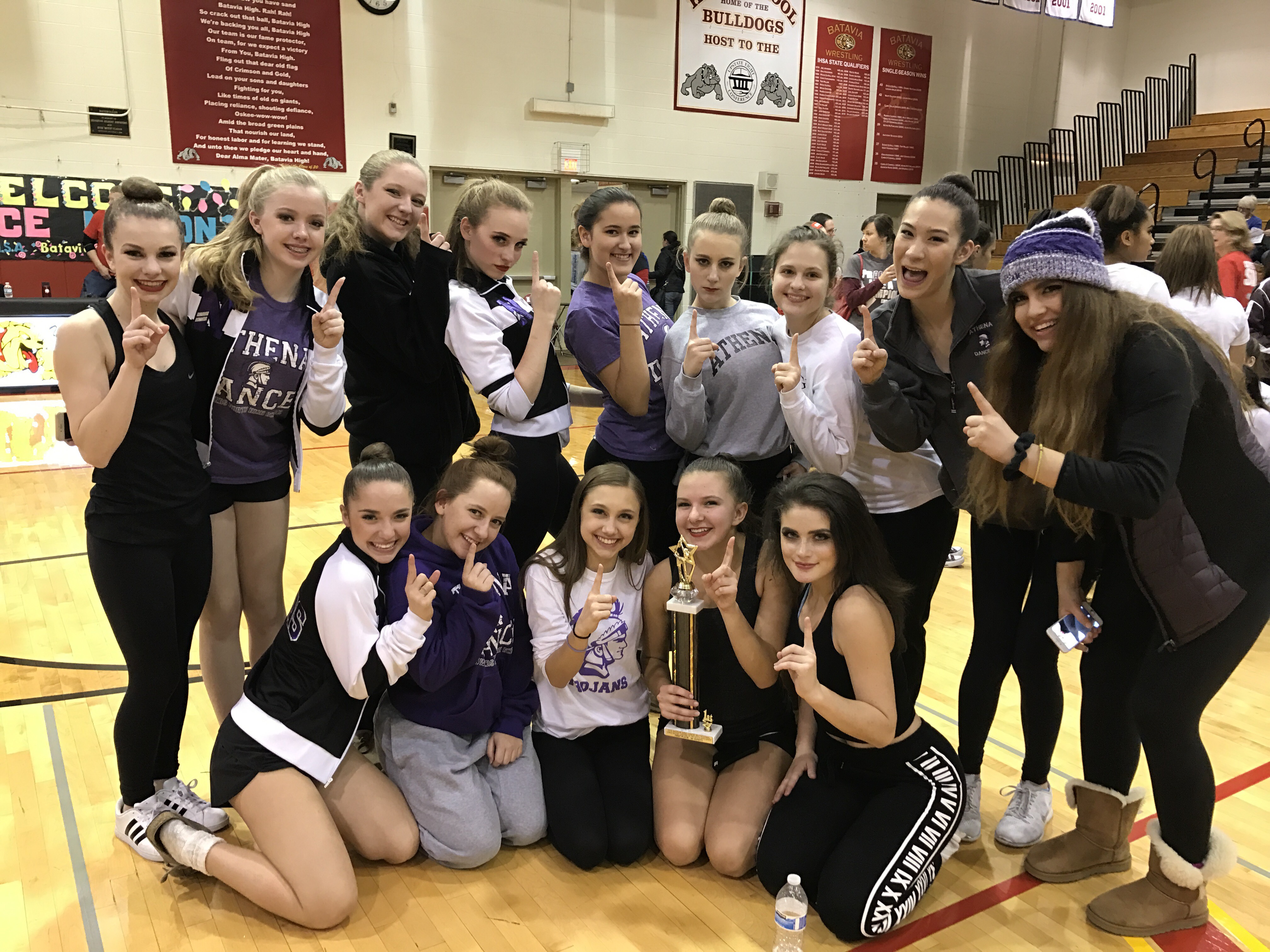 Downers Grove North grips the hardware after a good day at the Batavia comp
Tryouts in the spring involve the usual requirements. JV dancers need the basics—kicks, splits, leaps, along with a clean double pirouette. These girls have to show an understanding of what it takes to perform, including energy and facials. Varsity requirements take it up a notch: triples, secondes, all splits, and a variety of jumps and tricks. "Tumbling is always a plus," writes Coach Penny. Prospective Athenas will have to show the right attitude and grades, too.
The Athenas host a Little Kids Camp for K-8 dancers (hopefully there are plenty of future DGN dancers in attendance). Besides UDA camp (the seniors talk about it in the interview below), the dance team holds a car wash fundraiser. The Athenas stay busy year-round with performances in the school's variety show and at Band-o-Rama. "We are one of the few teams around that performs live with the band during all football games, college style!" writes Coach Penny.
Missed the summer camp? Come back for the Winter Kids Camp. Want to stay in style? You can watch the Athenas walk in the Pretty in Purple Booster fashion show in the spring. They also dance in a showcase in the DGN auditorium.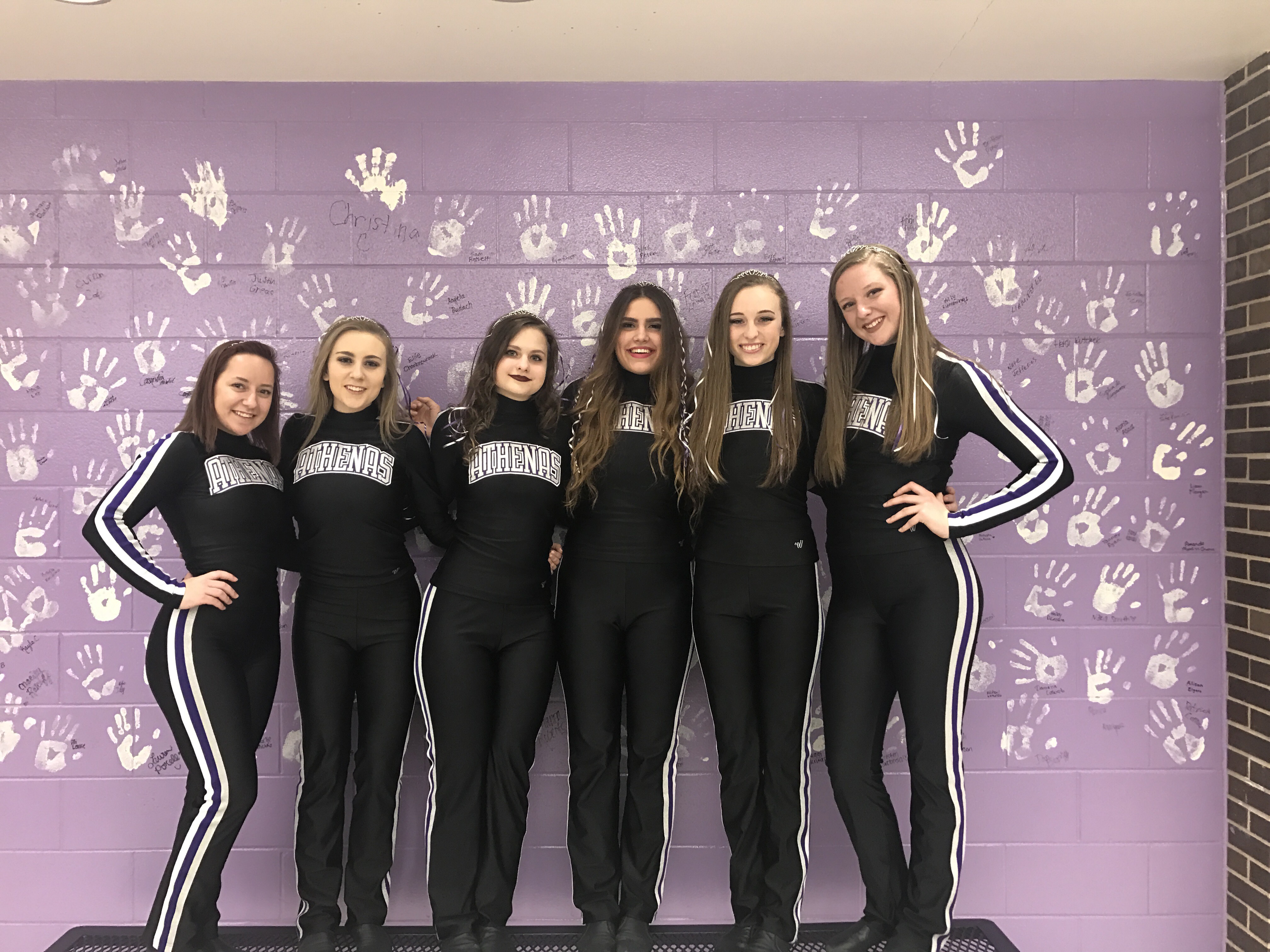 These senior Athenas would have ruled ancient Athens with a lot of sassy class
With Co-Coach Isaacson serving as the choreography guru, the Athenas themselves still get plenty of hands-on choreo experience when they design halftime routines. Since they dance with the band at football games, the choreo stays within those parameters. But during basketball season "is when they get free reign," writes Coach Penny.
But it's more than just a creative exercise. "I have my Varsity girls who are trying out for captain (for next season) choreograph and teach JV their basketball routines as a little trial run and to see how they do as leaders under pressure," reveals the Athenas coach. The captains get the honor of coming up with the team's UDA home routine and other non-competition dances that come up throughout the year. The varsity dancers can also try their hand at performing solos or duets for the DGN Showcase.
It's time to run this jazz routine full-out. We repeat the same process as before: I stay on the floor to run the music while Coach Penny gets to the balcony to take video on her phone. This isn't quite the end of this short practice, because there's still a little time to clean up the secondes in the chorus. The DGN dancers do this by rows so there are plenty of teammates who can offer feedback.
But the best feedback is often the video itself, and Coach Penny tells the girls that today's two routines will be uploaded in a few hours. Besides watching the videos, each Athena has to come to the next practice with one personal goal per routine.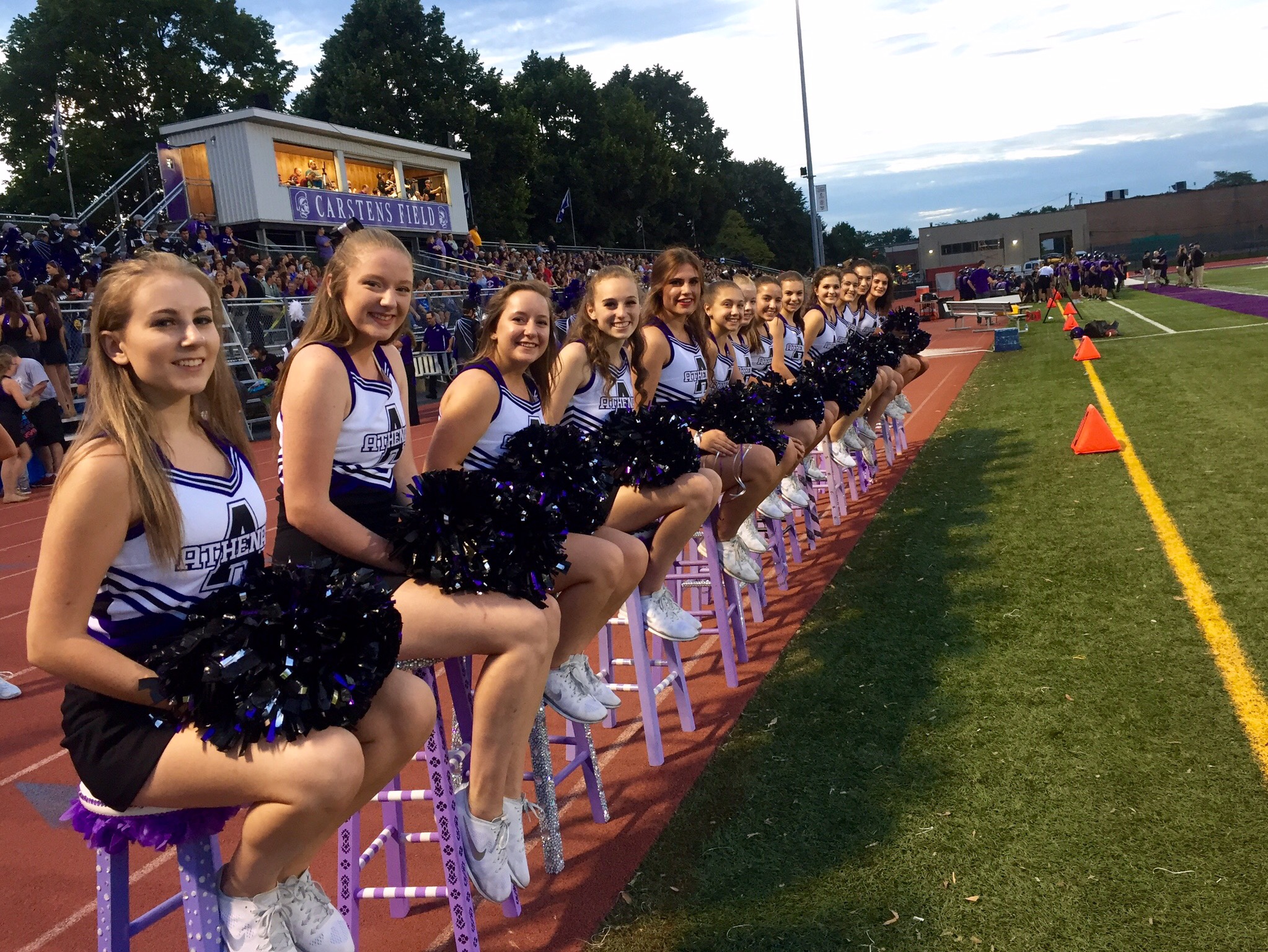 The DGN Athenas get to sit in style on the sidelines
The ancient Greeks worshipped Athena as the goddess of wisdom, craft, and war (thanks, Wikipedia!). Athena was cool under pressure. She was the smart sidekick of heroes, and only fought the good fight, always with a purpose. That's a lot to live up to, and so is the decades-long tradition of success in the Downers Grove North dance program.
An interview with seniors & captains
Sitting with me from left to right are seniors Carley, Melissa, Mikaela, Valeria, junior and captain Audrey, and seniors Anna and Natalie.
Let's talk about where you guys learned to dance.
CARLEY: I danced at Dynamic Perception Dance Company and I did jazz, ballet, hip hop, contempoary.
MELISSA: I danced at Bluestone Academy of Dance and Music, and I did ballet, jazz, lyrical, and contemporary.
MIKAELA: I also danced at Bluestone and did contemporary, jazz, ballet, lyrical, and tap.
VALERIA: I danced at Salt Creek Ballet, and over there I did ballet, jazz, modern, contemporary, character, and a little bit of hiphop. Then I switched over to Athletes of Dance and did ballet there, and then I went to Pure Vibe and did jazz, ballet, and acro there.
AUDREY: I danced at Midwest Ballet Theatre and did ballet for eight years. And then I went to Academy of Dance Arts and did ballet, and then started jazz for a year.
ANNA: I went to the Centre for Dance and I studied hip hop, jazz, ballet, and lyrical.
NATALIE: [puts an arm around Anna] I danced with Anna so we did the same thing.
Call out your personal favorite style of dance.
CARLEY: Contemporary.
MELISSA: Mine's probably jazz.
MIKAELA: Probably hip hop.
VALERIA: Jazz and ballet.
AUDREY: Ballet and hip hop.
ANNA: Jazz.
NATALIE: Contemporary and hip hop.
What's been the highlight of your year up to this point?
NATALIE: Our first competition we got 6th and 8th out of 23. We didn't expect that…to start off really well. I'm really proud of our team 'cause we didn't expect that at all.
MELISSA: We went to a dance camp over the summer and we got 1st for home routine and that was probably the best UDA camp we ever went to. [They were at the Peoria camp]
MIKAELA: Probably when we got first at…where were we?
COACH PENNY: Batavia.
MIKAELA: After the dance, we were like, "Wow, that felt really good." We were just sitting there and they called our name and it was amazing.
AUDREY: And no one went up at first.
MIKAELA: I was like, "Someone needs to go up!"
COACH PENNY: And also our JV team got first. So that was like icing on the cake—we were very proud of them.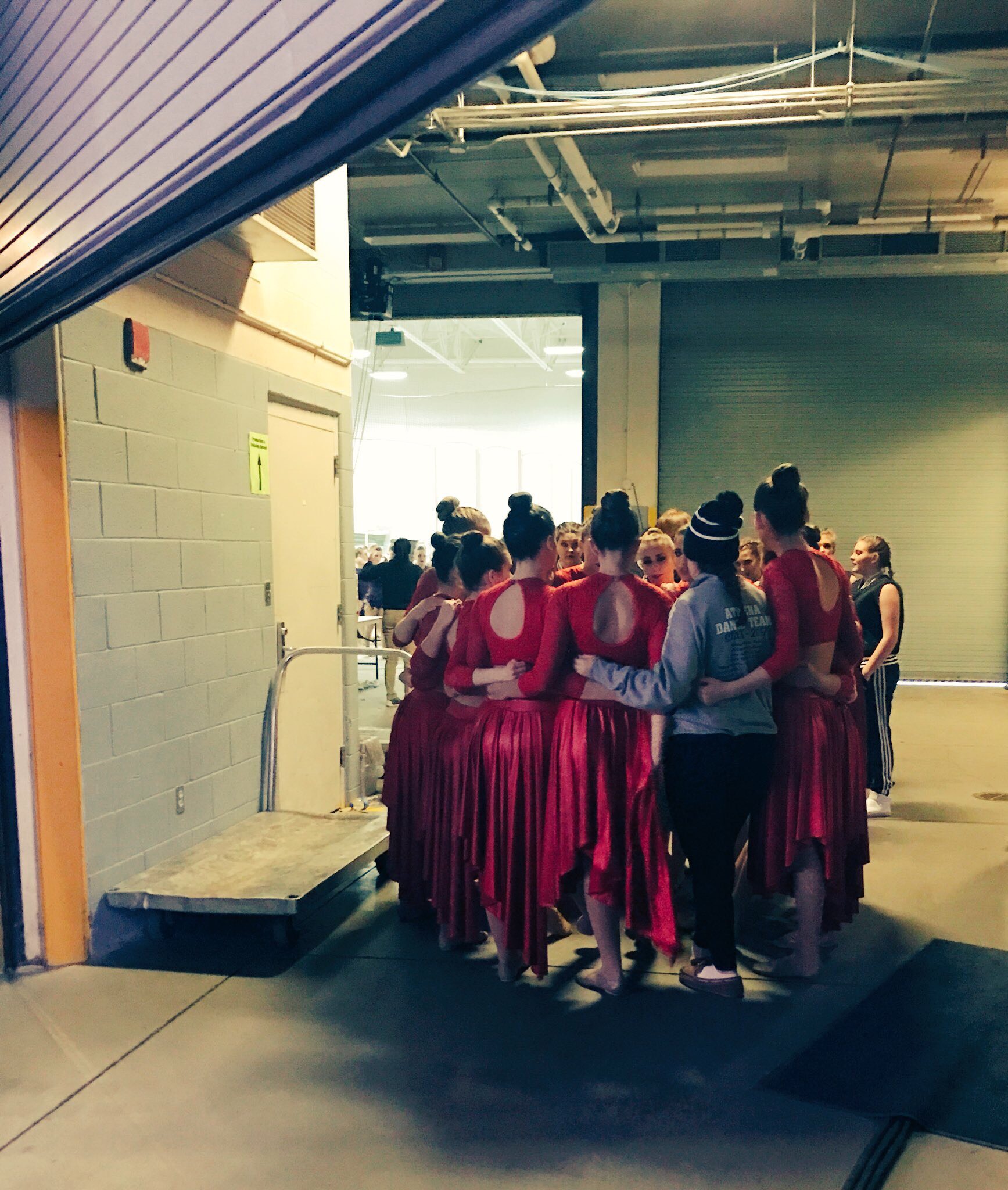 Huddle up, Athenas–time to take that competition floor
Any team traditions on competition day?
AUDREY: Party on the bus. We always pump ourselves up with music on the bus. And on the bus ride home, we do a couple chants.
MIKAELA: We have a whole song that we sing.
COACH PENNY: …to the bus driver. That's my favorite [part]…we sing a song to the bus driver.
How many hours a week do you devote to dance?
ANNA: Ten hours I would say. It's two hours every day.
MELISSA: And I dance outside of it, too.
VALERIA: Sometimes it's three [hours] a day.
NATALIE: My life is dance…
COACH PENNY: You work hard!
AUDREY: We always ask them to think about it at home, too.
MIKAELA: We get homework : )
NATALIE: I mean, I'm always groovin' in class, so…
VALERIA: We watch the videos and take notes of what we want to work on.
COACH PENNY: Teachers always want them working. We're like that.
What are some other teams you like to watch?
NATALIE: Stevenson. [general agreement]. And Ms. Cooper went there.
VALERIA: Neuqua Valley.
CARLEY: Lake Forest is good, too.
VALERIA: Lake Forest is GOOD.
ANNA: Minooka.
COACH PENNY: Lake Park is my personal favorite.
So, I know what the goal is at this point…but what's the plan to get there?
MIKAELA: Just working hard at all our long practices every day. Ms. Cooper [COACH PENNY] always says,  "Practice how you're going to perform it." Working on being sharp, working as hard as we can during practice. Not just thinking, "Oh, when I perform at a competition, I'll do it more full-out than I am now." It's like constantly working up the endurance for a good dance.
CARLEY: You can do anything for two minutes. [So] if you devote two hours of your day to this dance, completely full-out at all times, and put your best effort in it for that whole two hours, that's all you really need.
AUDREY: I think building a work ethic is huge part…
NATALIE: Teamwork makes the dream work! [It's on one of their t-shirts]
AUDREY: …And just the mindset, as Carly just said, whatever you do in two minutes determines what you'll do and if you'll make it to state.
ANNA: Positive thoughts, positive outcomes.
COACH PENNY: We have a lot of good catch phrases.
ME: These all sound like they'd make good t-shirts.
CARLEY: We could have a different one for each day of the week.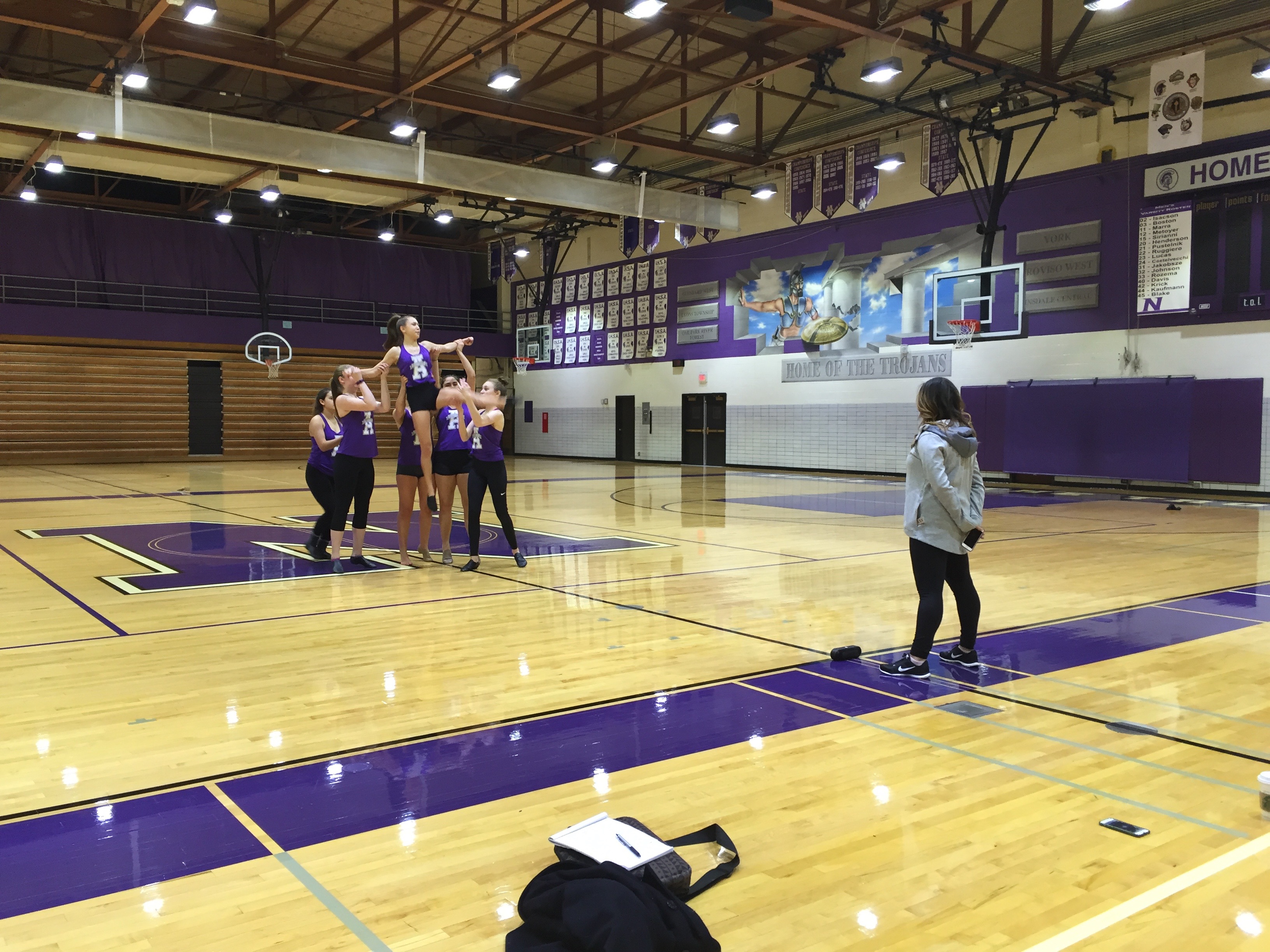 Coach Penny watches her dancers execute a lift in a gym that's seen plenty of great Athenas teams over the decades