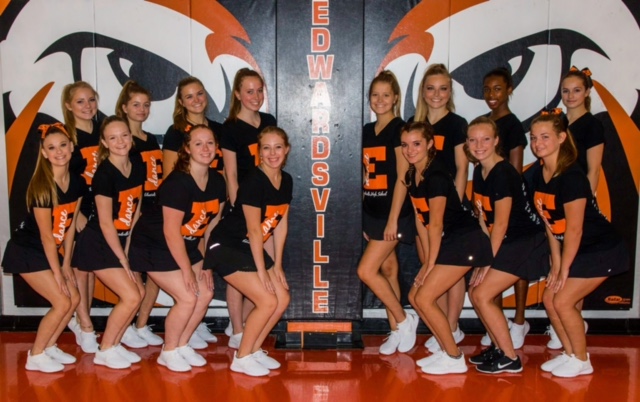 Team Feature: Edwardsville
This St. Louis-area team loves to dance up north. Heads up,Chicago: here's the Edwardsville Dance Team.
by Norm Ramil, 8 Count Audio chief.music.officer & dance.fan
After summer school lets out for the day, the Edwardsville High School parking lot is busy enough to require the police for traffic control. Most of these kids are headed for lunch and then the freedom (or work) of a summer afternoon. But a few dedicated girls stick around, ready to learn choreography in an upstairs gym.
Edwardsville's dance team is part of the suburban St. Louis dance scene—well, the Illinois side, at least. It's a huge looking building, and enrollment is just a few kids short of 2,400. Varsity's led by four seniors, joined by six juniors, two sophomores, and four freshmen. Seven of these 16 dancers have varsity experience from a year ago. Their JV team has four sophomores and five freshmen.
Varsity's got a lyrical personality, and JV's more of a jazz team this year—something that the coaches figured out through the tryouts process and the late spring / early summer team activities. Lyrical and jazz are the meat and potatoes for dance teams near St. Louis, though Edwardsville gives the crowd some hip hop and pom action for football and basketball games. The team's coming off of a successful season in which they brought lyrical, jazz, and hip hop routines to UDA competitions (and took hip hop and lyrical to nationals). In IHSA, they advanced out of sectionals and placed 28th on Day One at state.
To try out, an Edwardsville dancer needs to learn a 90-second dance that includes several styles (pom, hip hop, jazz, and lyrical). Then the candidates get to showcase their skills: turns, leaps, flexibility, and control, among other things. Nearly all team members keep up their dance studies at local studios, including Prima Dance Studio, Studio E Dance, Dazzler Dance Company, Jane Mannions, Rena's Dance Unlimited, and Premier Dance Company.
Learning choreography quickly is a skill that the team will put to good use this afternoon: they've invited a former alum to come in and teach a dance. Chelsea Labrie is back to teach the girls not just any football routine, but one with a definite Sunday afternoon vibe. That's because she's a former Rams dancer (the NFL franchise just moved back to Los Angeles, but don't bring it up to folks in these parts—it's a sore subject).
At least that's how Assistant Coach Lisa Stark explains it to me. But as I watch the girls gradually learn the counts and then mark the formations, I honestly do see the professional football dance elements. Part of that credit belongs to these dancers, because they're picking up the choreo at an impressive pace. By the end of my 40 minutes in that gym, the girls know this dance, and it'll just be a matter of cleaning up over the next couple months. Of course, much of the credit goes to Chelsea, who shows off her teaching skills (she owns Prima Dance Studio in Edwardsville) and has a good rapport with the team. It's their 3rd football routine learned so far. Assistant Coach Stark points out that this Miranda Lambert song is somewhat of a departure for the girls in terms of halftime music, but expanding their palette is a good thing.
This process of learning quick will repeat itself all summer and fall, since the girls perform at all home football, soccer, and basketball games, plus assemblies and local community events. But Edwardsville's dance team spends much of their time focusing on competition, aided by choreographers who help out with the routine through the fall, and technical specialists who come in and help out. Coach Hilary Duncan and best friend / Assistant Coach Lisa Stark are pivoting toward a new strategy this year: just one competition routine, since you can only take one to state.
So what goes on at a typical practice? "Lots of technique and skill-building," writes Coach Duncan. "Although most girls come from dance backgrounds they have to learn how to do everything the same way." Speaking of learning how to be a single unit, Coach Hilary Duncan and Assistant Coach Lisa Stark danced together on this team back in high school. While in college, both ladies taught dance on the side. Duncan's in her 13th season running this team, and she's had her close friend by her side for four years (before that, Lisa often came in to teach technique and clean up routines). JV Coach Kayla Campbell also draws on her experience teaching at a local studio.
Most of the summer days in this part of the state are just plain hot, so pool parties are a great chance for team bonding. The girls also build ties with lunch dates, which of course works in any weather. Before camp, the girls have a special Big Sis / Lil Sis ceremony. This buildup of team unity—both technical and social—will help them work for their goals of getting to Day 2 of state and also qualifying for Nationals again. Such a tight dance family naturally keeps tabs on its former members; Edwardsville Dance has had alums study dance across the country, and graduating senior Emily Roberson is set to attend the University of the Arts in Philadelphia.
Varsity and JV started practice today in gym "B" downstairs, but in a big school with busy athletic programs, it's not a huge surprise to get shuffled around to a different practice spot. Edwardsville Dance Team sometimes heads to local studios during competition season for proper practice space, including sessions at the local Y. At the moment, we're upstairs in gym "C," and during the school year, the teams might find themselves relegated to gym "D" and its less than ideal tile floor! Most of the time, though, they've got the gym during comp season if they're willing to share with baseball and track.
But complaints are probably not going to be an issue—varsity's a "quietish, focused team," as assessed by their coaches. Leaders emerged in the early practices and today they're picking two captains, plus social captains who'll handle morale and encouragement duties.
Megan, a senior, has danced since she was 3 and started competing at 12. She tells me that it's lots of fun performing with this group and "showing off what a small team can do." She's used to the pace of comp season, including practices five days a week plus some Saturdays. Then there's the travel to the Chicago area, like when they head up I-55 to the Minooka competition in early December.
"Anytime any school from the South goes against a team from Chicago it can be nerve-wracking but it's always an honor to be with the best of the best in Illinois…which is why we travel to so many competitions in Chicago," explains Coach Duncan. The local dance teams have a strong sense of community in suburban St. Louis. "A great part of the dance community down here in the South is we stick together. Many of the coaches in the area are my friends." This sense of community extends to the dancers, too—some study at a studio in Highland, where the dance team is legendary. "It's definitely fun to compete against them," adds Coach Stark.
She goes on to reflect on how dance has changed over the years—as a JV team member, she remembers it was standard for everyone to just do doubles. These days, a ton of studios dot the area, and doing doubles isn't going to be a showstopper. Lisa's taught half of these girls when they were little kids, "so it's cool to see them reach this level."
They've got a long dance history, alums coaching and choreographing, girls who come from different studio backgrounds, and a team that learns fast. So if you come from the Chicago side of the dance world, take note that Edwardsville is a big, suburban 3A program–just from the southern part of the state. They might be missing their departed NFL franchise, but they've got NFL choreo and are working hard to both give the halftime crowd a great show and return to IHSA state.
Special thanks goes out to Coach Hilary Duncan, who couldn't be at this practice but sent me some great team info and coordinated our visit!