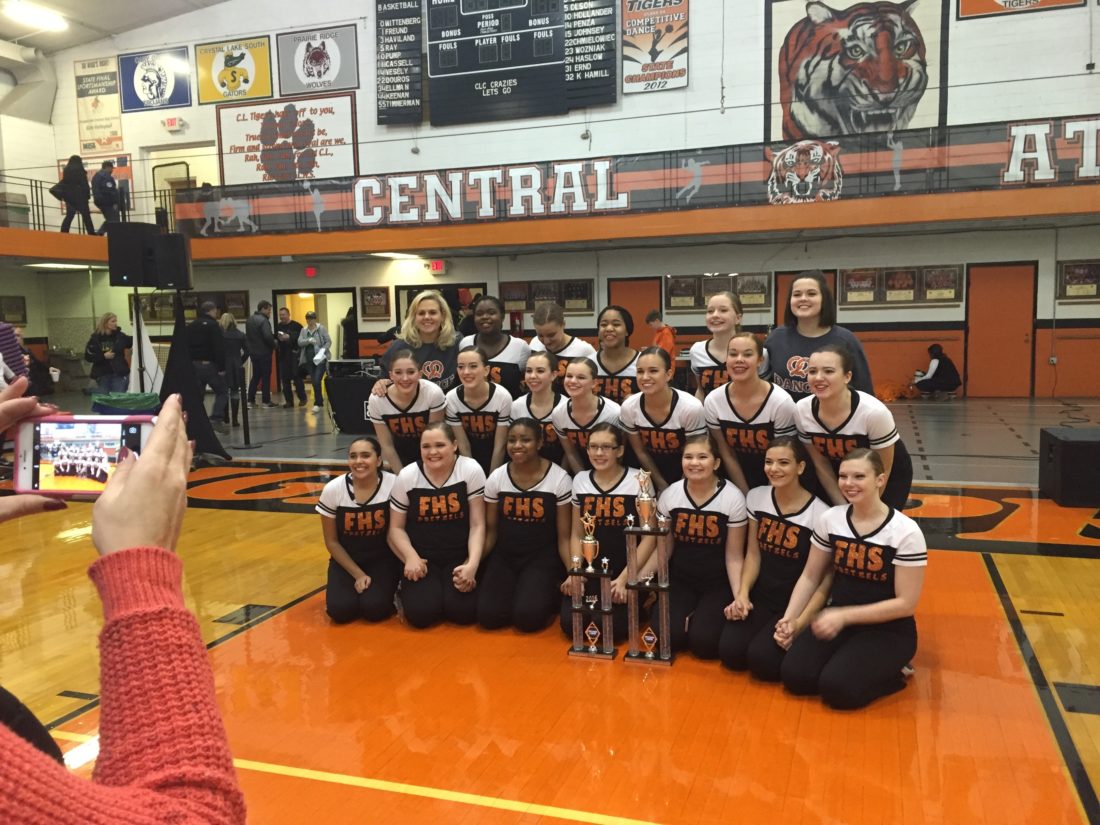 Team Feature: Freeport
Salted or unsalted? The Freeport Dance Team, like greasy dough, is on the rise
by Norm Ramil / 8ca.team.leader & dance.fan
Animals make for good school mascots. Bulldogs, eagles, tigers—they're all meant to be intimidating to opponents. But then there's a mascot that you can dip in cheese, or maybe honey mustard if you need that sweet-salty combo. It might even be covered in chocolate (but then you're on the road to a diet catastrophe). I'm talking about the Freeport Pretzels, maybe one of the state's most-loved school mascots.
The whole pretzels backstory has to do with the community's early German settlers who were apparently super-into that particular snack. In the gyms throughout the NIC-10 conference, you can't help but love the sight of the Freeport Pretzels logo alongside those of the other conference teams. Google the mascot if you're ever feeling down.
The Freeport dancers aren't afraid to hit the road to mingle with the top teams. They often head east to the Chicago suburbs for competitions, and I got to meet Coach Tara Hersey at UDA camp in Wheaton last summer. So this time around, I returned the favor and made the drive to Freeport just a couple days before Christmas (their winter break would start the next day). I wanted to see this team in their world.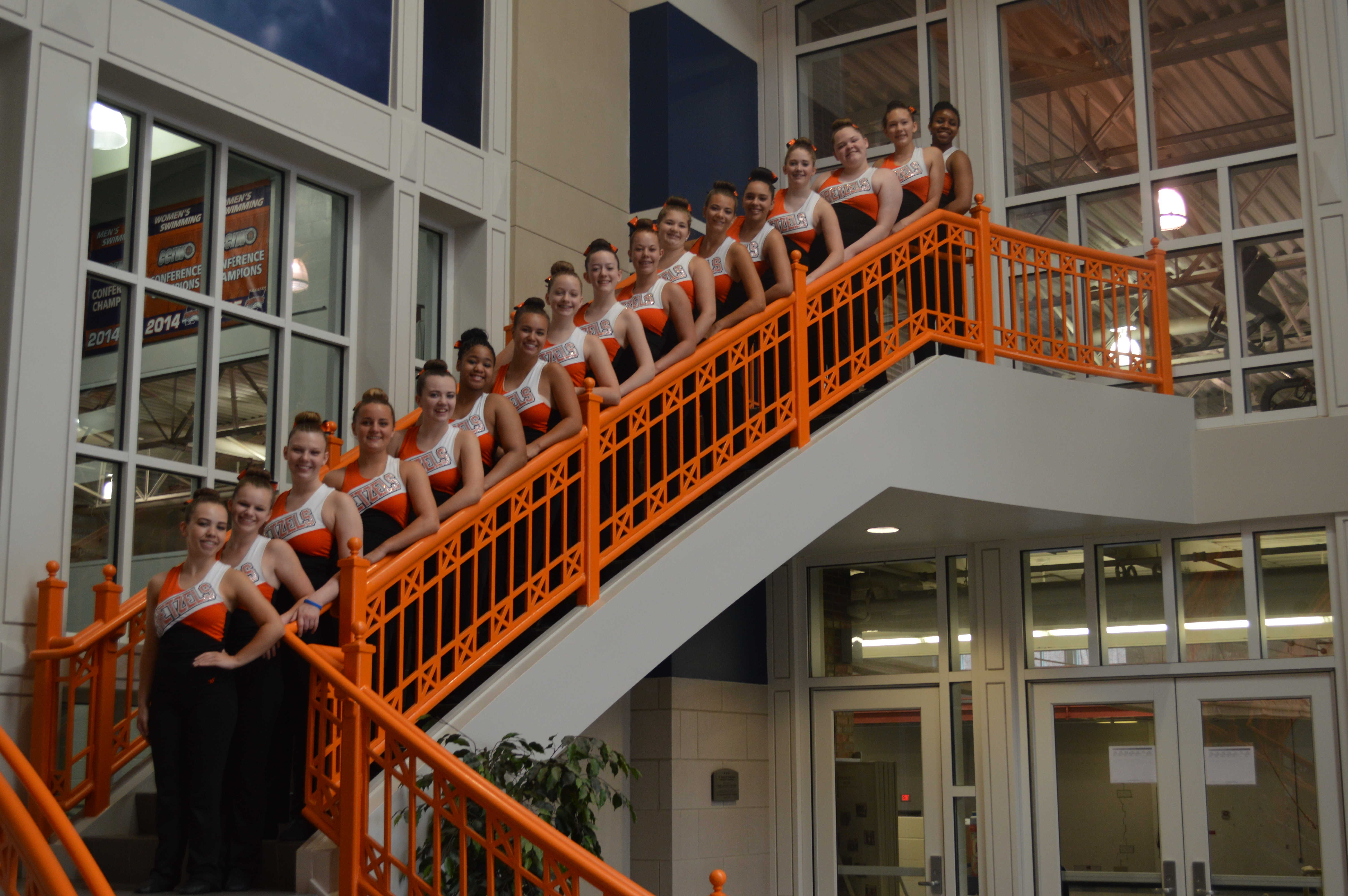 Taking the stairs keeps you fit and also makes for a good Freeport Dance Team picture!
It turns out that their world is way out there, 30 miles west of Rockford. You'll see plenty of farmland on the way there, but Freeport itself is a city of over 26,000. With two dance studios and a high-profile high school dance team, Freeport's the epicenter of dance in northwest Illinois.
Assistant coach and 2015 dance team alum Rachel Carlson lets me in the building. The 16 girls are dressed mostly alike in practice outfits, led by their three seniors who call out the warmup stretches. We're in the school cafeteria, a place made for eating and not dancing, so I overhear Coach Hersey ask once of her girls, "How's the floor today?" She gets a straightforward answer: "Slick."
Even at the end of finals week, and just hours away from the freedom of winter break, these girls are hard at work. A lot of cleaning needs to get done before their next comp, so Coach Hersey will have them back in this cafeteria throughout break.
On the other hand, Hersey's a realist. "The girls are going to tune out at 5," she warns me, after I ask if I should do the senior interviews after practice. 5:00 is technically when Christmas break begins. But since the team doesn't get gym time too often, the Freeport Dance Team will be back here in the morning to claim the basketball court.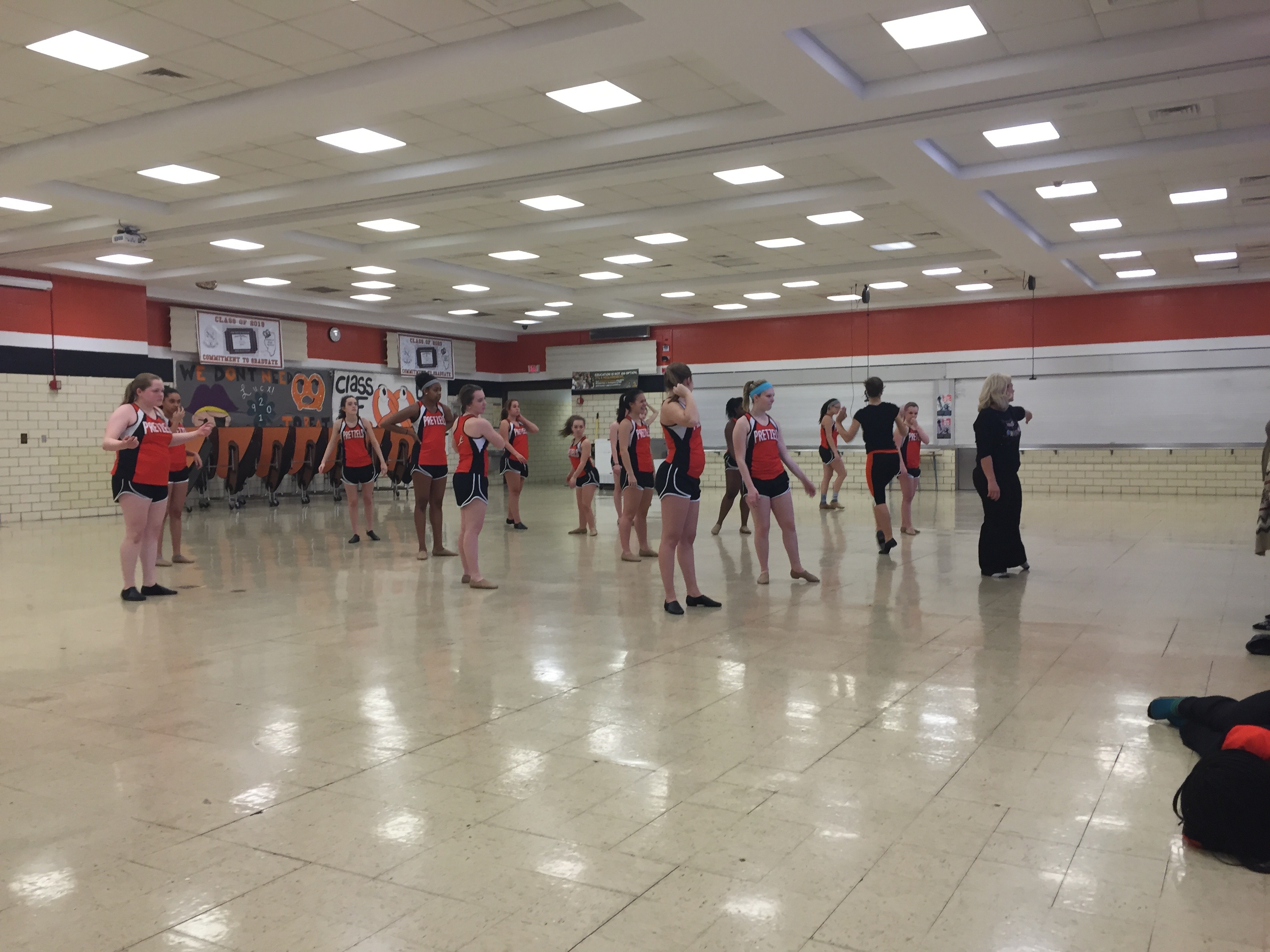 Coach Hersey sometimes jumps into the formation at a Pretzels dance team practice
Once they're stretched out, it's time for a lengthy across-the-floors session. Both coaches offer lots of feedback to their dancers.
"I'm seeing a lot of good things," Hersey tells her girls. She then moves on to the meat of the compliment sandwich. "Two things I want you to think about" (of course, it turns into way more than two things). "Front foot needs to be pointed. Back leg can't be bent. Think of proper body placement. Lift from your core and no leaning back."
Assistant Coach Rachael chimes in. "You guys aren't looking clean because of the landings," she notes, as Katy Perry's "Dark Horse" plays in the background on the bluetooth speaker. She's also big on the details of spotting. After a couple more trips across the floor, Coach Hersey says that "you need to show a purpose for each movement. No lazy arms during the prep!" Her voice has no trouble cutting through the music or the acoustics of the cafeteria.
Pretzels packaged in a big, stretchy, circular thingie
With a sizeable town and two dance studios, there's bound to be some dance talent among the 1,200 kids who go to Freeport High School. This 1A dance team is "an unusually big group," according to their coach. "Most of these girls have training from somewhere." The Pretzel dancers lost just one senior from a year ago, and they're back with three seniors and seven juniors.  Four sophomores and two freshmen fill out the roster, a lengthy one compared with some other 1A schools.
While I start pulling team members aside for interviews, the team shifts gears and sits in their big, trademark circle where they're enclosed by a stretchy cloth thingie. Coach Hersey hands out calendars showing all of the upcoming events that turn January into pure craziness for dance teams across the state.
Then it's back to work. One girl's face down on the floor, sick but too dedicated to not be present and watching. The rest of the team gets into the formation for a troublesome section of their "River Deep" dance. Coach Hersey quizzes the girls on every aspect of their body positions, including facings and preps. She cautions that on the level change, it's all in the plié instead of bending from the back.
When a dancer asks for clarification on one detail, Hersey sticks with one variation over the other. "I'm not worried about whether it's cute. I'm worried about whether it's clean."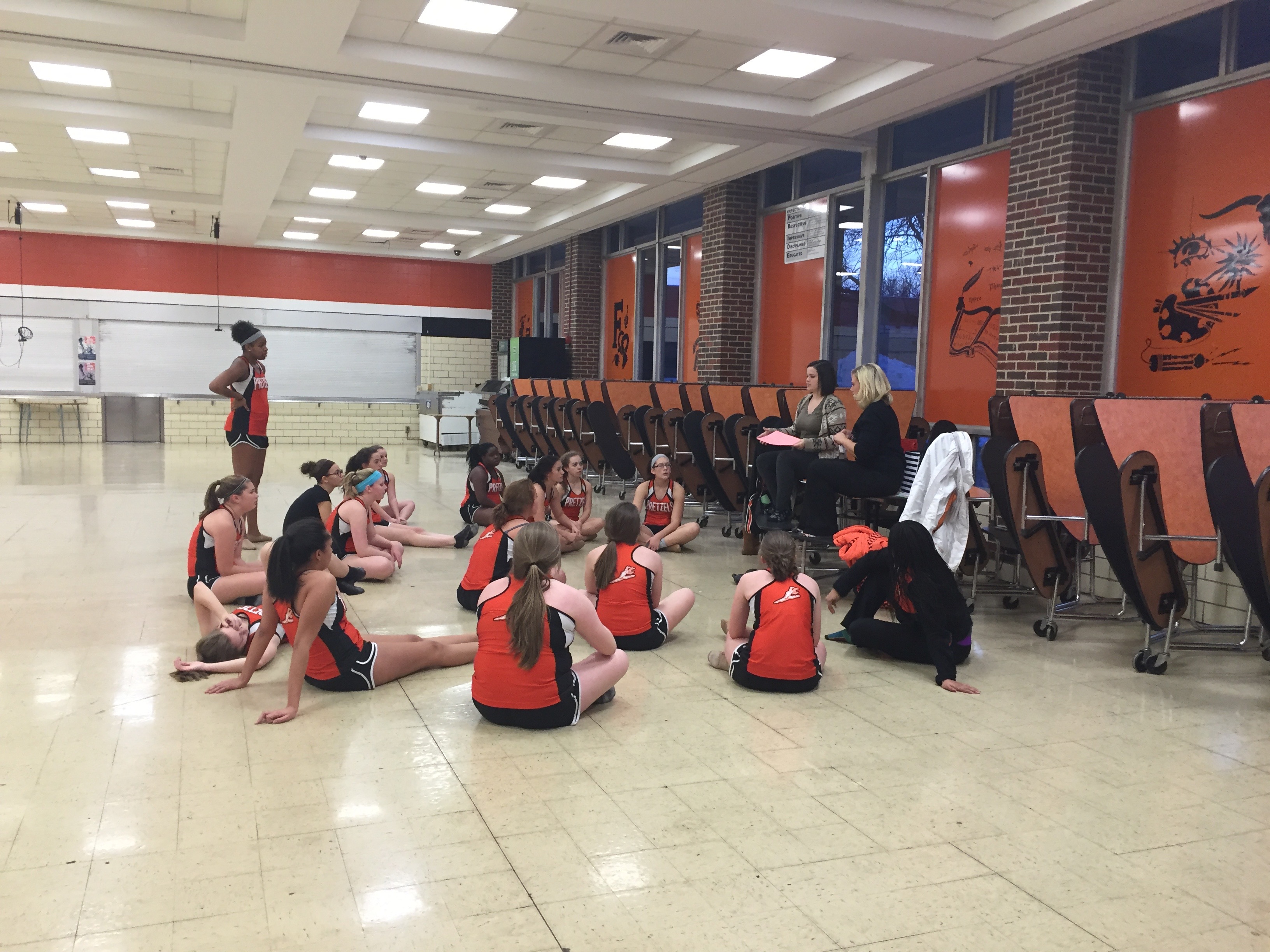 The Freeport Dance Team shown just minutes away from starting winter break
Trained as a math teacher, Coach Hersey easily picks up on timing issues: "There's a huge difference between going on 7 and going on the and of 6 on the way to 7. You see the difference—I know you do." Sometimes she'll even take it upon herself to demo a movement at full tempo, and sharply, at that.
It's not just the coaches that want things fixed. Sydney, a junior, spends her water break consulting with both Hersey and Rachel. Other dancers share feedback with their teammates.
And during a workshop where a turning group straightens out some issues, it's the rest of the team who watches and takes mental notes. "The turns are good but the landings need to be stronger," one of the non-turners says. This spirit of collaboration shows up again later during a whole-team turning cleanup: "All of us as a team have to focus on landing out of that double," urges one of the dancers.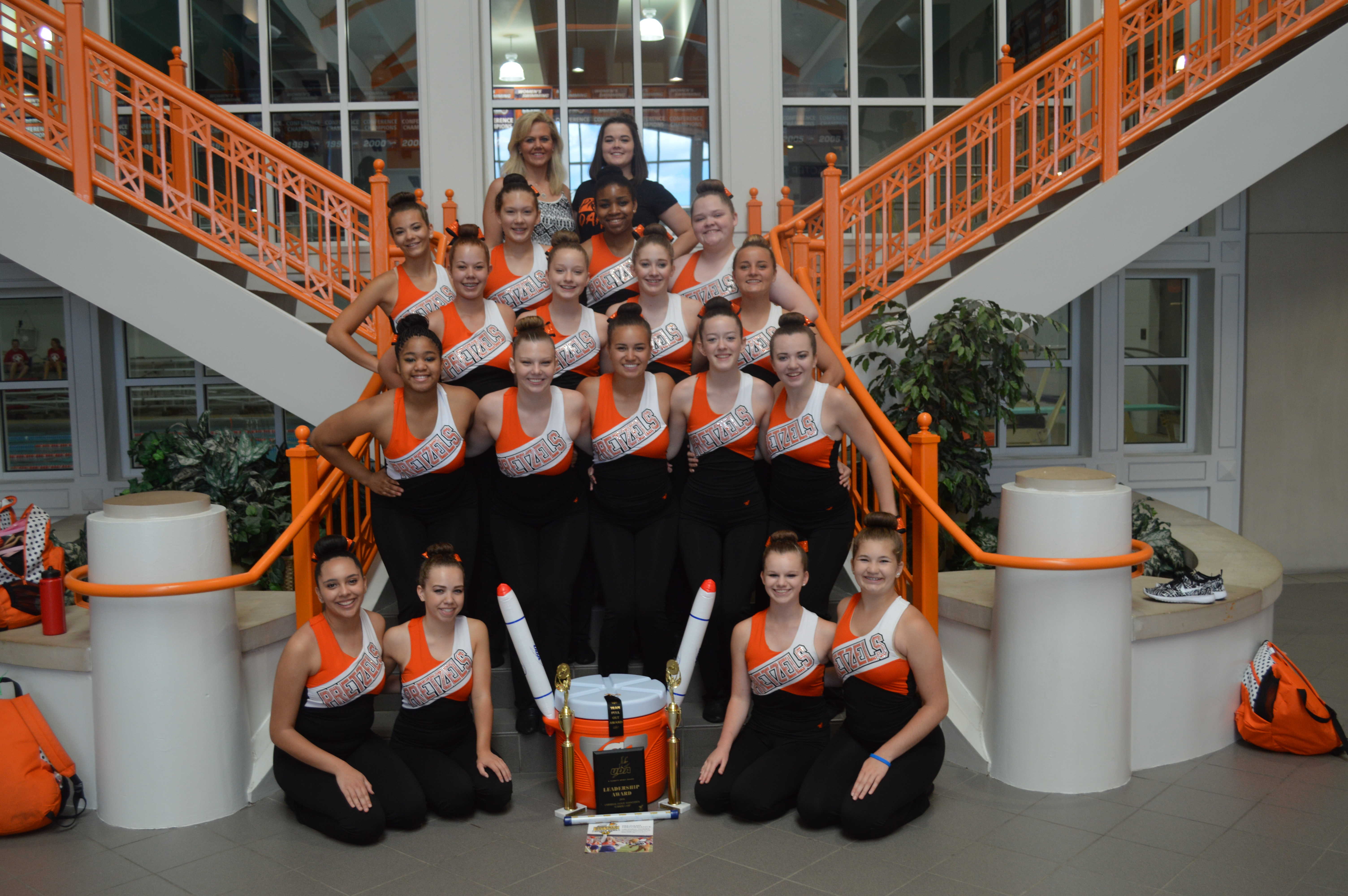 When your water cooler matches your team colors…
One cleaning tool is to check positions at certain counts. Coach Hersey has them execute a turn but then stop on the next beat. Then again, except they go one count further. "Remember we're not in ballet. We're working on cleanliness," she says, speaking of their arm positions. Hersey then walks through the formation to check how strong each dancer's "T-arms" are by pushing down on them. Some girls are rock solid, and others are told to spend winter break getting stronger.
Freeport's a confident group. Coach asks if they want to review any of the new choreo changes, but these ladies have it down and they decline. Instead, they run the whole thing from the top, followed by a comment session. Coaches Hersey and Rachel have literally written down a page full of notes during the girls' full-out performance. And the under-the-weather dancer musters up enough energy to share some important feedback about energy and facials.
After a quick water break, it's time for their other routine ("I Run For You" by Melissa Etheridge). The west-facing cafeteria windows show the glow of a winter sunset. The team has a quick breather before they're sent right back to the big turn section. Coach Hersey stands on a lunchtable to watch while Coach Rachel takes video of the turning trio running their part (a cool changing spot sequence). Caroline (a junior) leads the rest of the team off to the side while Rachel breaks down the video with her small group.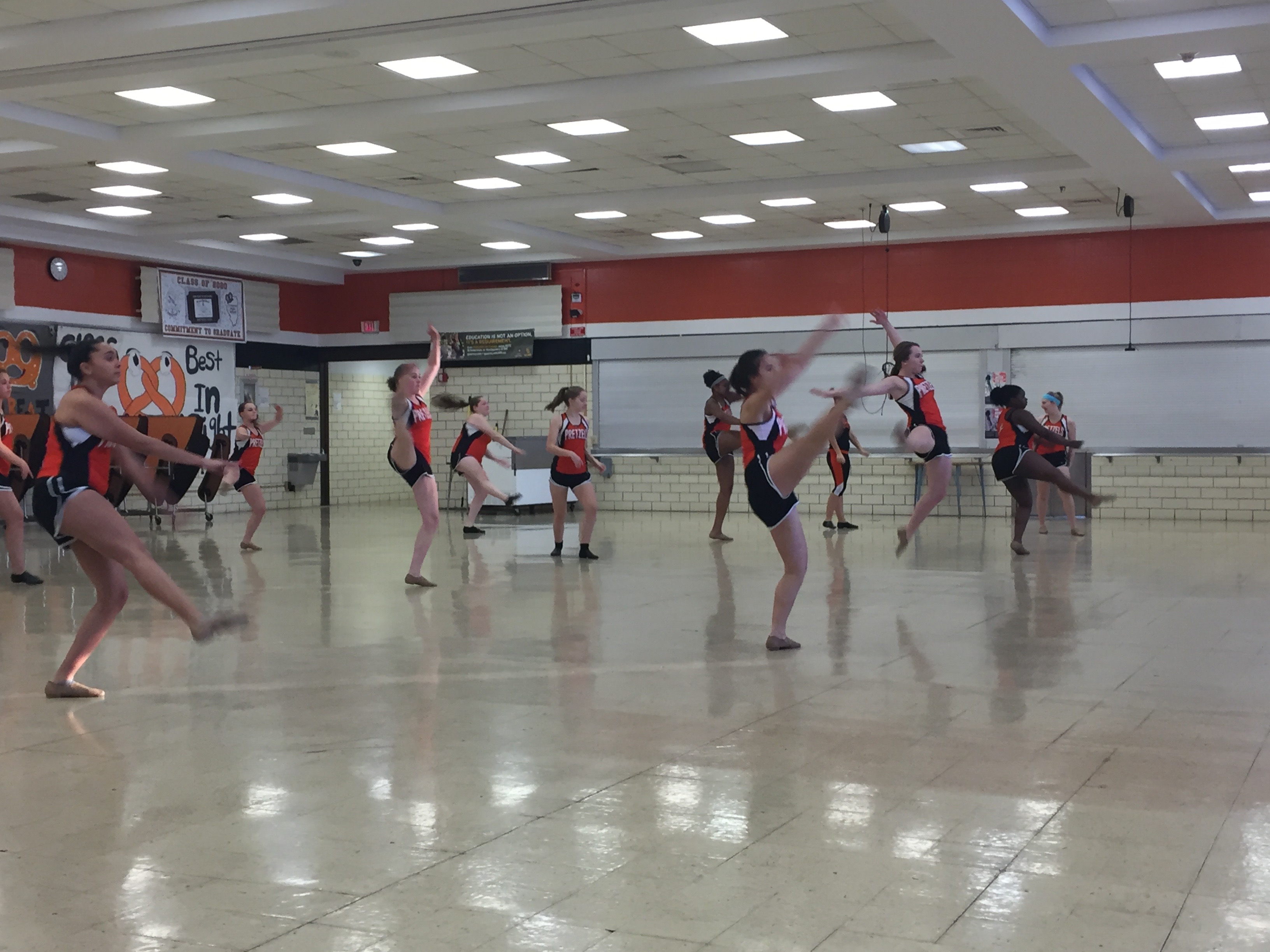 If Coach is busy with an individual correction, the rest of her dancers take the opportunity to go over whatever needs going over
Being practical and straightforward probably has to do with Hersey's years as a math teacher at Freeport (she now oversees math curriculum stuff at the district office). "It's hard to not be in the building during the day [and away from the team]," she adds. The year before last, she took the season off to have her twins, but with that exception, she's been at the helm of this program for a decade.
Assistant Coach Rachel was a senior on this team in the 2014-15 season. She's been a major part of their success this season, but she's off to U of I as a transfer student at the end of summer. Sometime down the road, Rachel's headed to med school.
The Freeport dance program was a Team Dance Illinois (TDI) competitor before dancing in IHSA. In those days, Freeport brought routines for the kick, hip hop, and open pom categories, usually making it to TDI State. While Hersey had her team dancing for TDI category trophies at state in Peoria in 2013, she also guided her team to the first-ever IHSA State contest that same winter. The then-2A team came back to Bloomington and finished 10th in 2014, followed by a 17th in 2015.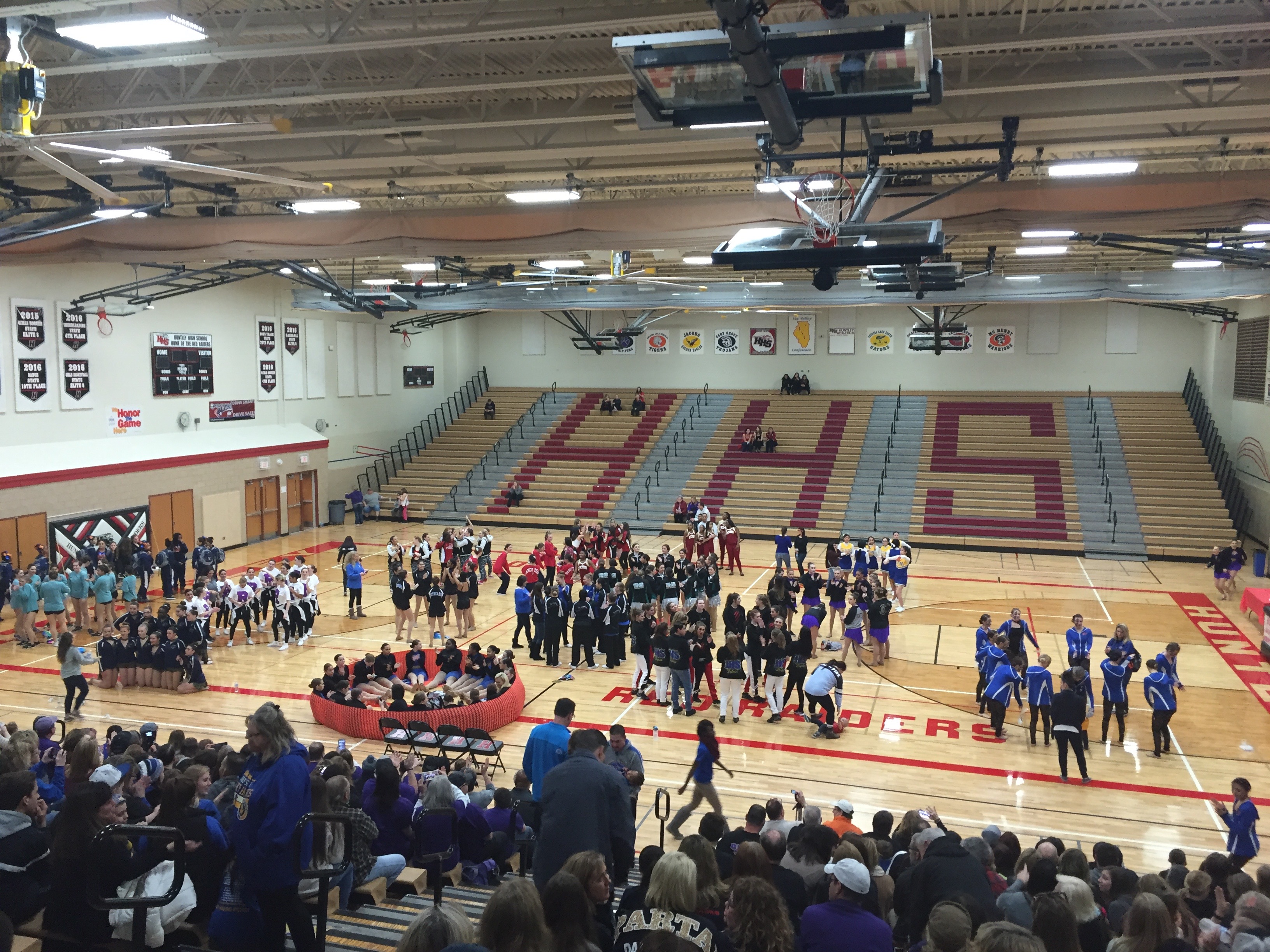 It's easy to pick out the Pretzel dancers–just look for their stretchy cloth thingie!
On that sunny lunch hour in Wheaton at camp, the team had lunch while Hersey and I talked about dance in Northwest Illinois. "No one really know who we are," she lamented. We tried listing the schools in their area with active dance programs, or even just halftime performance teams. "There's also Warren—not that Warren, but the 'country' Warren out by us."
Hersey is also good at calculating what routines work for competing versus entertaining the halftime audience. "This [UDA jazz] home routine doesn't play at home," she explained. The veteran coach adds that it's not entirely because they're from a smaller community that doesn't appreciate these styles; from a practical standpoint, jazz and lyrical concepts just aren't going to translate well in a football or basketball setting.
Despite that, the Freeport Dance Team focused on jazz skills that would take them deep into the upcoming season. That dedication already showed in their UDA routine on family night. But while the team has some technically talented individuals, the real challenge is transforming that into a whole-team trait. Plus, "You can't hide anyone in the back anymore since the judges want to see formation changes."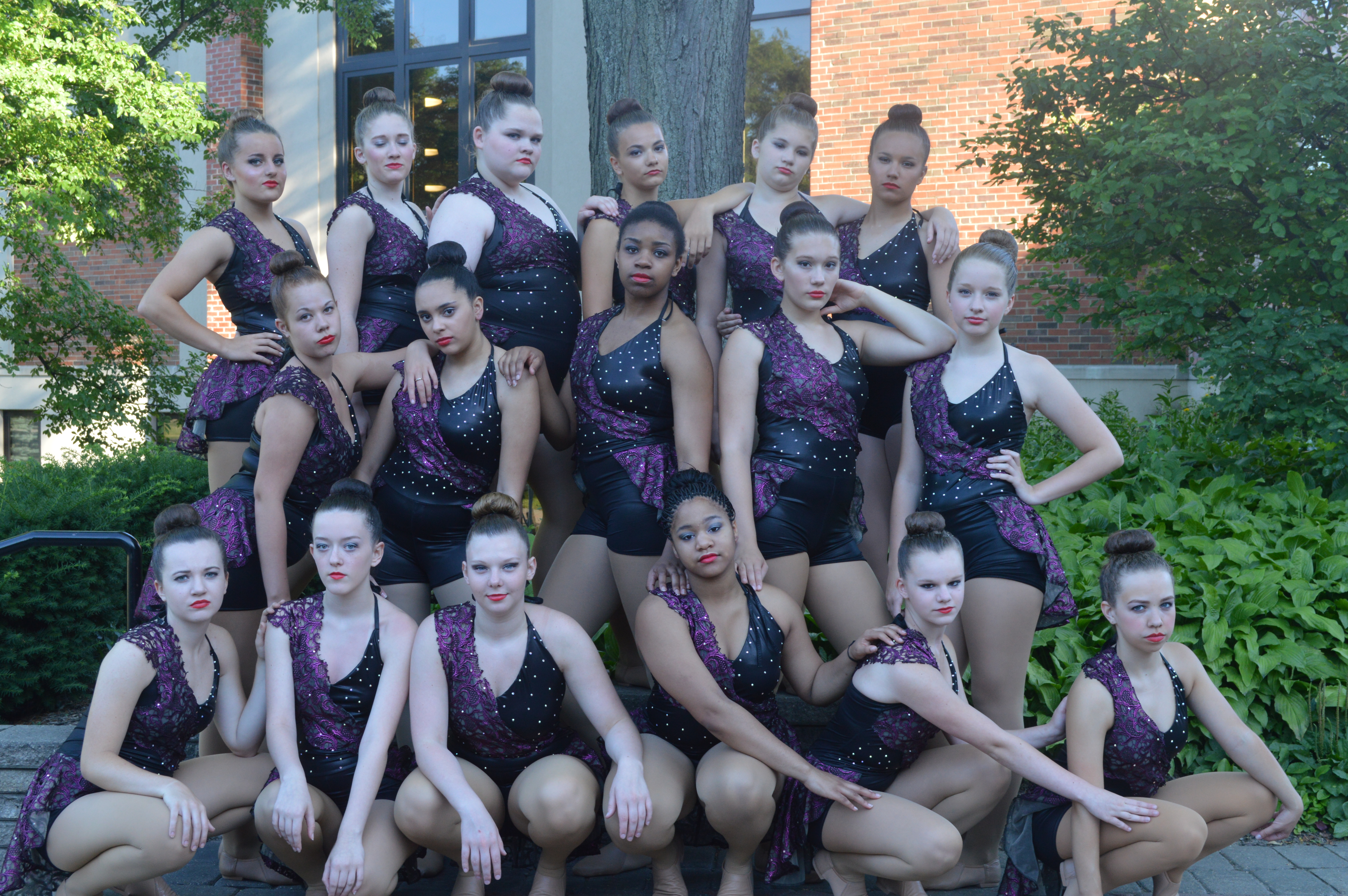 Sassy! These aren't unsalted pretzels. 
Besides that UDA camp, the Freeport Dance Team spent the summer getting ready for halftime performances. Depending on their game schedule, the team has three or four sessions together during the week. They take on the challenge of dancing to the band for three games, plus "one hip hop routine with amazing music done by you!" writes Coach Hersey (yes, shameless self-promotion by me).
The seniors wrote back in September that they wanted to make sure that practices have a positive atmosphere–something I definitely saw during my December visit. Away from the practice floor, the seniors also took charge of organizing team bonding activities and communication, like the team's annual Christmas party. On top of that, the dancers devote a lot of time to serving their community. They perform at nursing homes and volunteer to help out the Lyons Club. Academics are a big deal, too, with a team GPA of 4.73 that brings a smile to Coach Hersey's face when she tells me about it.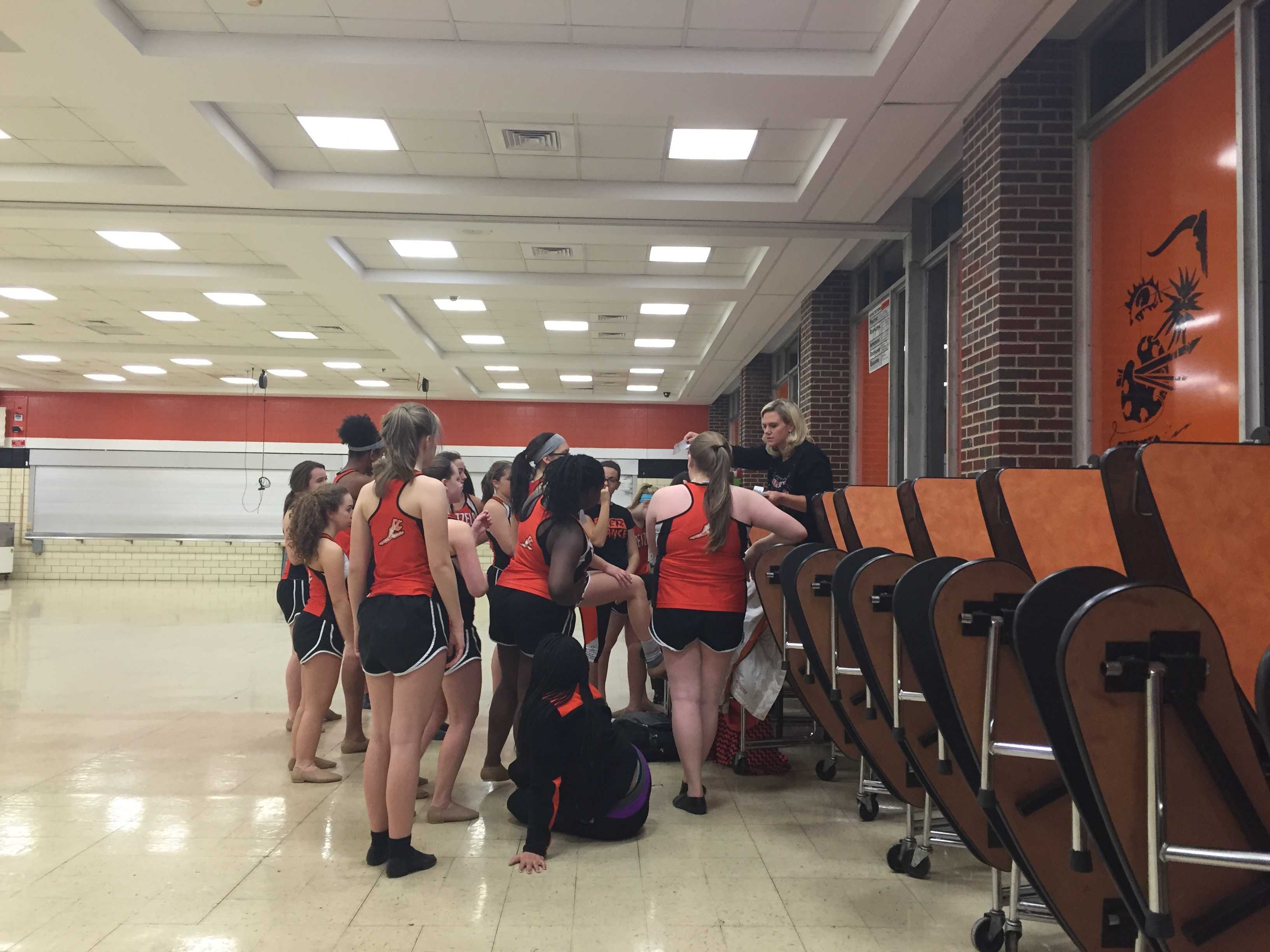 The Freeport dancers receive their GPA updates for all-academic honors
In late December, sunset means business. It's only a couple minutes before 5pm but this time of year it feels like the evening. Coach Hersey hands out little slips of paper to each of her dancers, gathered together for a practice-ending meeting. These are updated progress reports on where they stand as they vie for all-academic honors. Leave it to the math teacher to keep crunching the numbers.
And speaking of numbers, here are some stats that show the Freeport Dance Team did the right things over winter break to set up a good January. A 3rd-place at the NIC-10 Conference championships was followed by a 4th-place qualifying finish at sectionals with an 82.53. The Freeport dancers next hit Bloomington and advanced out of Day 1 with an 83.40. They returned on Saturday, gaining more points (85.00) for a 12th place finish.
From a trophy-winning performance in a warm gym on a cool June evening at UDA camp, all the way to two days on the marley floor in Bloomington, these Pretzel dancers showed you don't need an aggressive school mascot to rise above the competition. And the salty, doughy twist to their approach? They don't mind the long bus trips that let them show off what dancers from northwest Illinois can do.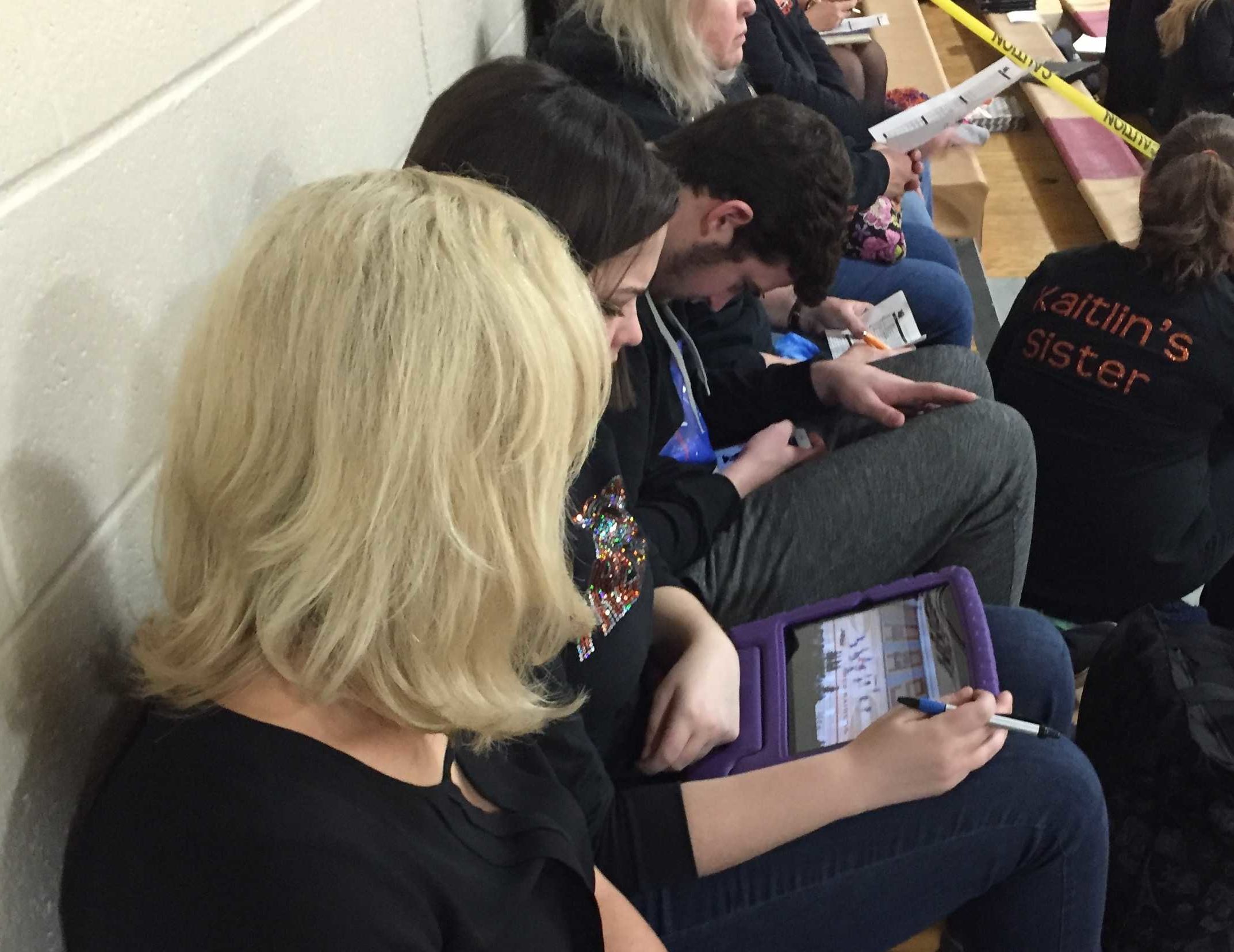 Freeport's coaches review their dancers' performance while scouting the other 1A routines
A mashup of interviews
With that firm 5:00 "tune-out" deadline (the time when practice ends and winter break begins) in mind, I got to talk to a few Freeport dancers in groups of 3. Here's everything put together!
Do you guys have any dance studio training?
CLAIRE (SR.): I went to S&R Dance Studio like most of the girls here.
KYLEIGH (SR.): I still go there. I've taken hip hop, lyrical, tap, jazz, and contemporary.
ALLIE (SR.): I studied at Studio 121 and took ballet.
CAROLINE (JR.): I dance at S&R and danced all styles.
SYDNEY (JR.): I used to go to S&R and did all styles as well.
DAVIDA (JR.): Studio 121. I've always just done ballet.
[Me]: What would you say is the difference between the two studios in Freeport?
DAVIDA: Everything's different!
ELLA: 121 focuses on technique, where S & R focuses on competition.
What would you say is your favorite dance style?
CLAIRE: Lyrical.
ALLIE: Lyrical and jazz.
KYLEIGH: Jazz.
DAVIDA: Lyrical—it's not too far away from "home."
ELLA: Lyrical.
What's it like having a bigger team at a 1A school?
CLAIRE: It's nice having a lot of girls that dance in the school…
ALLIE: It helps us as a team to have all these dancers.
KYLEIGH: It's nice to have 18 best friends and you get to see them every day!
Is there a favorite highlight or memory of the season so far?
[CLAIRE, ALLIE, and KYLEIGH all agree on football season and camp].
[CAROLINE and SYDNEY]: The bus rides!
SYDNEY: Beating Johnsburg.
CAROLINE: Just how it feels good to pull it all together.
How do you guys decide on choreography?
[CLAIRE, ALLIE, and KYLEIGH]: The seniors do some choreo and the rest of the team choreographs in groups. The group leads from the the front row and teaches the dance.
What's it like to work with your coaches?
[CLAIRE, ALLIE, and KYLEIGH]: They're serious about what they do. They want to make us better and have the team's best interest in mind. Ms. Hersey and Rachel are really helpful—they know what they're talking about.
SYDNEY: Coach knows how she wants stuff done, and she'll get it done that way. She's really organized.
CAROLINE: She keeps our team on track!
What's it like being on this dance team at a 1A school?
SYDNEY: Our sports can be really good or bad so it's good to be recognized in the halls.
CAROLINE: Especially in a small town, it's good that we can bring such a strong team
What are some things you guys do to bond as a team?
SYDNEY: We have a mini-camp, and then also a father-daughter event. And during football season, we make chocolate-covered pretzels. [They only dip them, not bake them. I had to ask.]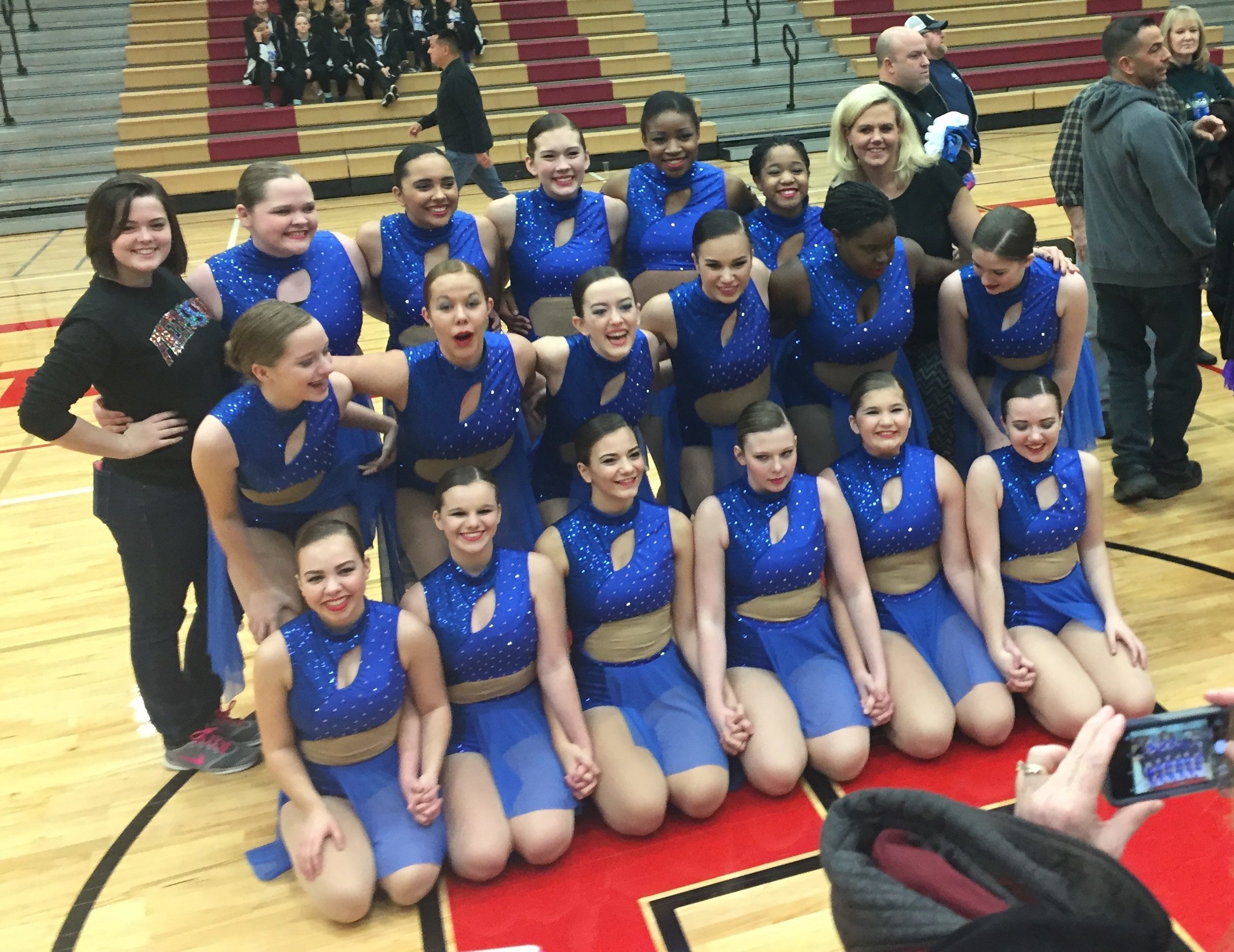 Statebound Pretzels! Freeport poses right after 1A qualifying results at sectionals
What's it like to have to travel so far to compete?
KYLEIGH: The bus rides are fun!
CLAIRE: It's a good time to bond as a team, all of us in a small space for a long time.
ALLIE: On the ride home we're loud if we do well.
ELLA: Competing far from home is normal!
DAVIDA: It's exhausting mentally and physically.
What are your goals from here through the end of the season?
KYLEIGH: To get to state!
ALLIE: To keep improving! This year we're really good at taking corrections and improving.
CLAIRE: The judges have been saying stuff about synchronization and technique and how fast our dance is, so we're doing conditioning.
[SYDNEY and CAROLINE]: We write down our team goals and say how we're going to do it.
SYDNEY: Open secondes, and for the double out, the goal is to land that strong.
CAROLINE: Constant improvement.
What's it like being a jazz team in 1A?
SYNDEY: 1A is such a mixed bag of teams, but it's still really challenging.  We need high intensity to go up against a hip hop team.
DAVIDA: It's a little intimidating going up against hip hop routines.
ELLA: They've got tricks and we've got technique, so it's hard to compare them.
What are some other teams you admire?
CLAIRE: Genoa-Kingston.
ALLIE: Geneva.
KYLEIGH: Glenbard North, Streamwood.
[SYNDEY and CAROLINE]: Geneva, Genoa-Kingston, and Morris.
DAVIDA: Genoa-Kingston because they're technically so superior.