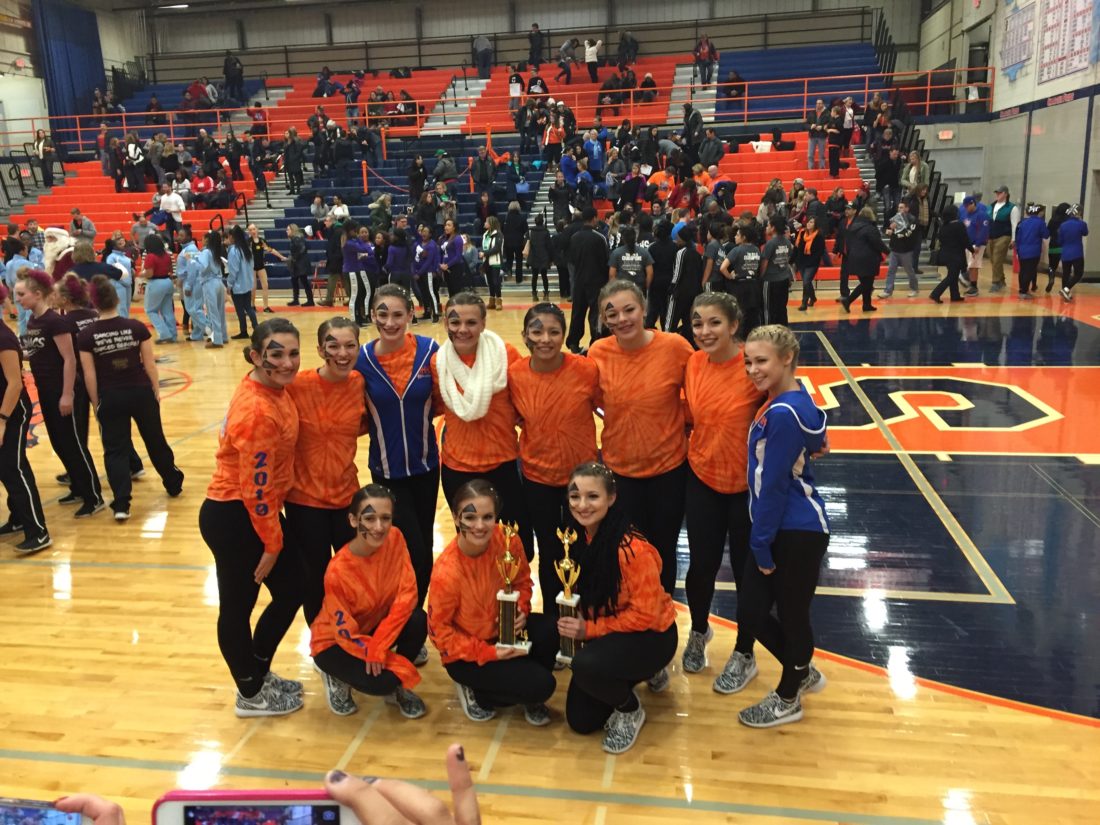 Team Feature: Genoa Kingston
Their coaches keep things loose at practice, but the Genoa-Kingston Dance Team still gets tons of constructive corrections. Throw in some amazing talent and you've got the recipe for a lot of trophies.
by Norm Ramil / 8CA.team.leader & dance.fan
On an early January day that started foggy and mild then turned windy and chilly, one of the state's elite dance teams enjoys some precious practice time in their school's gym. It's the 2nd day back in school after winter break at Genoa-Kingston.
The school of about 600 kids sits on the western edge of the small town of Genoa (and east of the even smaller town of Kingston). The building's nice and modern while the rest of town has a rural flavor, but it's really not far from the suburban universe that Chicago-area kids are used to. Go east of Genoa and, after a few farm miles, you get to Hampshire. Keep going after that and you'll be on the south edge of Huntley. Sycamore and DeKalb aren't very far to the south.
I actually first dropped by to visit the Genoa-Kingston Dance Team (GKDT) about a year ago. That day, I drove through their downtown, and one of the most prominent businesses is the Beth Fowler School of Dance. That studio boasts locations in Genoa and St. Charles—two cities, far apart, with three high-profile dance teams. It's easy to connect the dots.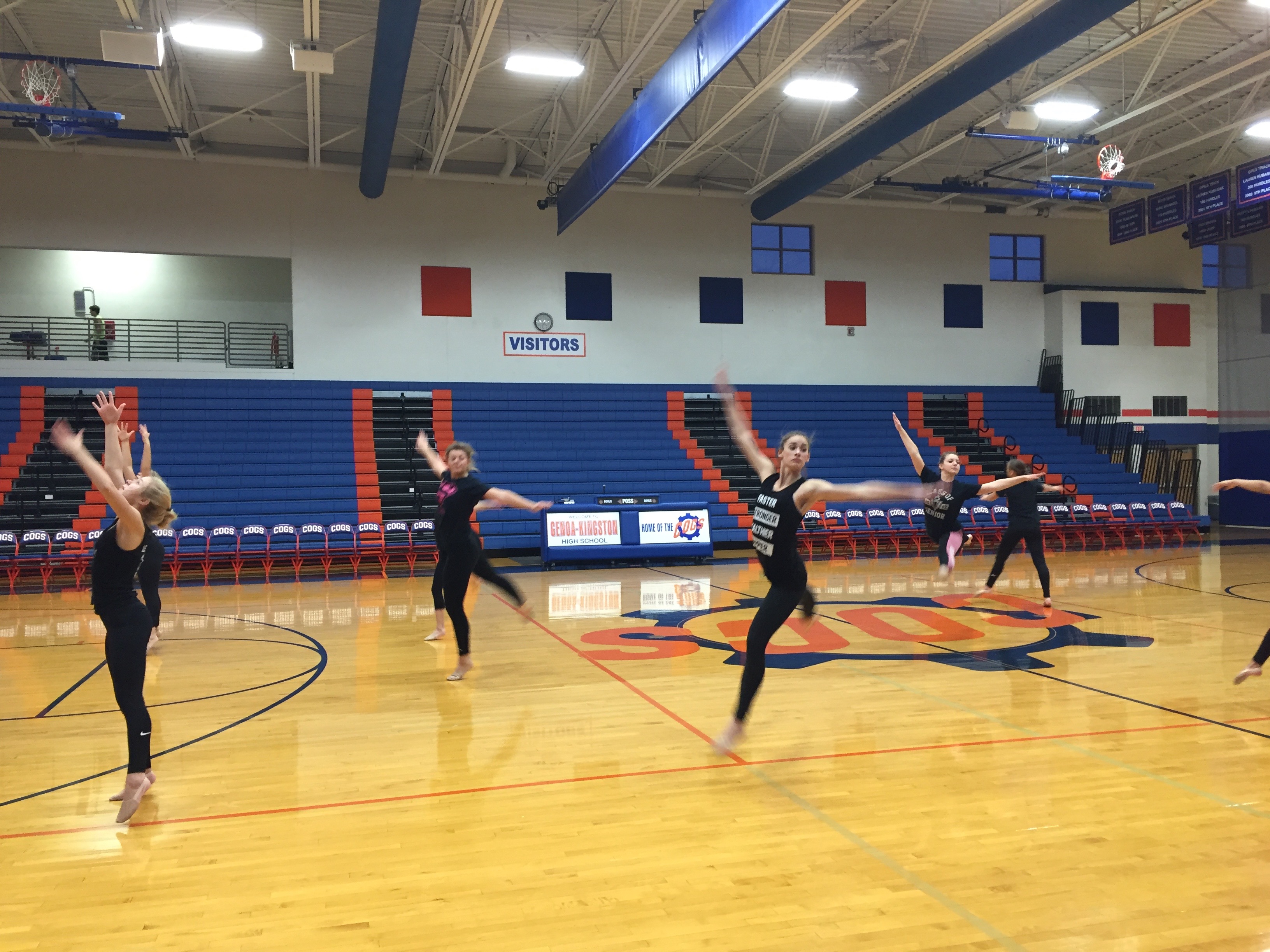 Apparently a Genoa-Kingston Cog is some kind of wheel or gear thingie
The Genoa Kingston dancers are coming off a big day at the Stagg competition, where they picked up 1st and 3rd in the 1A division, outscoring a very talented Morris team for top honors. But that was about 15 days ago, and it seems even farther in the past because of how winter break tends to mess with your time perspective. So now it's time to focus on this weekend's competition at Huntley, where over 30 1A routines will battle each other. After that, it's sectionals.
The girls are in the bottom rows of the bleachers when I walk in, enjoying a quick water break. For a couple of the Genoa-Kingston dancers, it's also a snack break. One girl stays out on the floor stretching while in a conversation with her coach, who's sitting many rows up.
Three seniors lead this team of 12 (check out their interview below). One junior, five sophomores, and three freshmen make up the remainder of the GK Dance Team. Just like this year, last year's team was mostly underclassmen!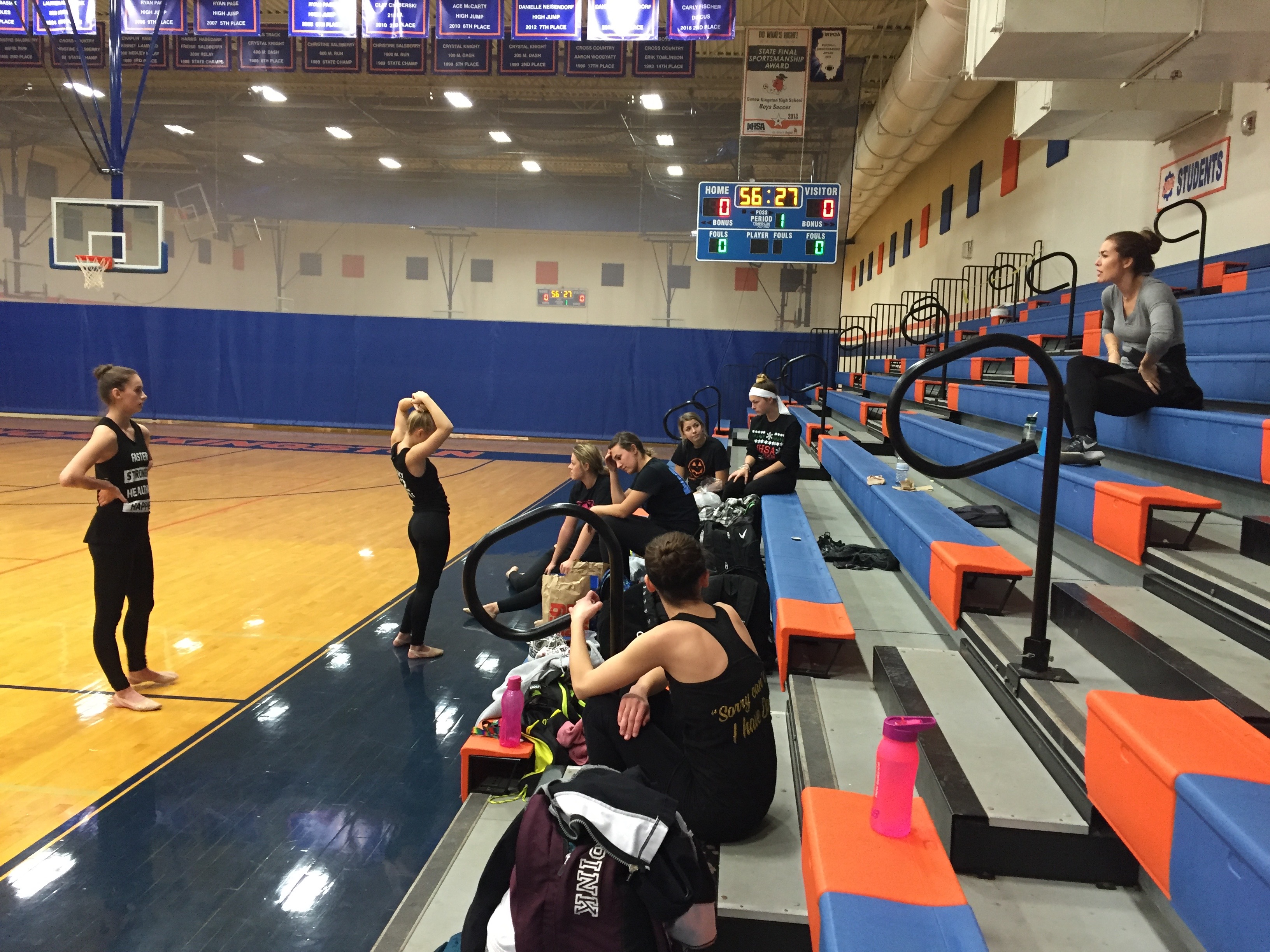 Even during breaks, a portion of GKDT stays in action
Coach Hannah Bohn runs today's practice. She and Coach Kelly Bolander split practice days tag-team style. "This could be the only day you have the gym until we perform on Sunday," she warns with a strong tone of urgency.
Today, the team's mode of cleaning is showing Coach Bohn a position at a certain count (something I also remember seeing a year ago at a practice run by Coach Bolander). Then they break down every aspect: arms, feet, toes, where to face the head, and where to face the hips or torso. It's a small enough roster where the girls can demonstrate a combo one at a time while the rest of the team watches so that they can give useful hints and feedback.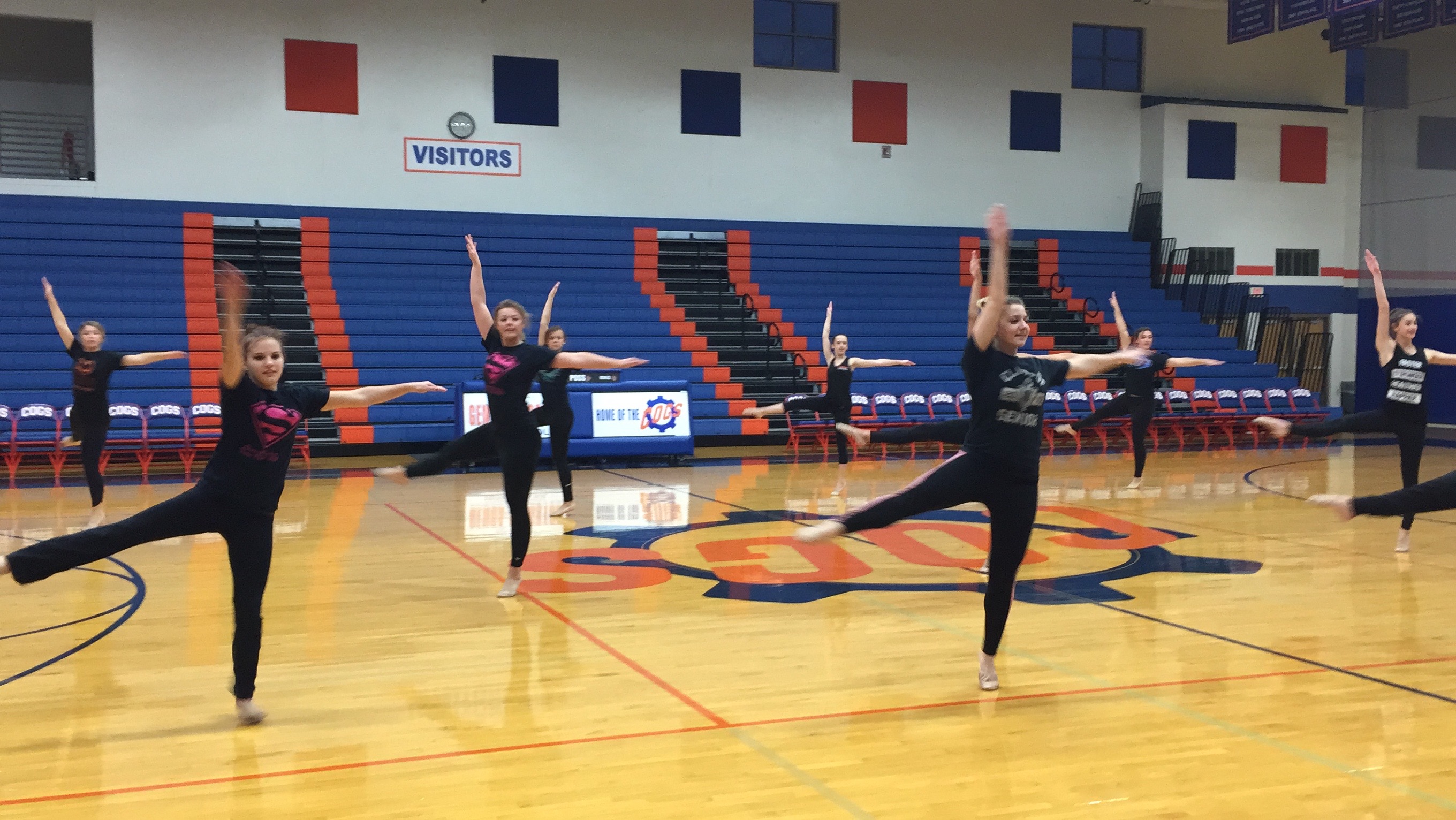 GKDT making the most of their time on the court
Bohn casually sticks with her ballet training when giving corrections. When most coaches would point out a bent leg (which isn't what this particular 8-count calls for), Hannah naturally remarks, "That leg is slightly in attitude." At the same time, she's practical, and focuses on the positives. Not every team member has perfect splits. "Even if you don't have them, you can still point," she urges.
When they're ready, the G-K dancers run through the entire section. They'll take a second to fix spacing if needed. "Don't forget what we just did one at a time!" she reminds the girls. "This Sunday is the last time you'll perform one of these two routines." Both lyrical and jazz get a shot on the floor this weekend at the Huntley comp, but then the scoring will dictate which one they'll bring to sectionals.
But this is a fun, lighthearted group of dancers. The girls joke that maybe they should do a poll of the school to figure out which of their two dances moves on to sectionals. "I would not trust your peers to make that choice!" Hannah replies.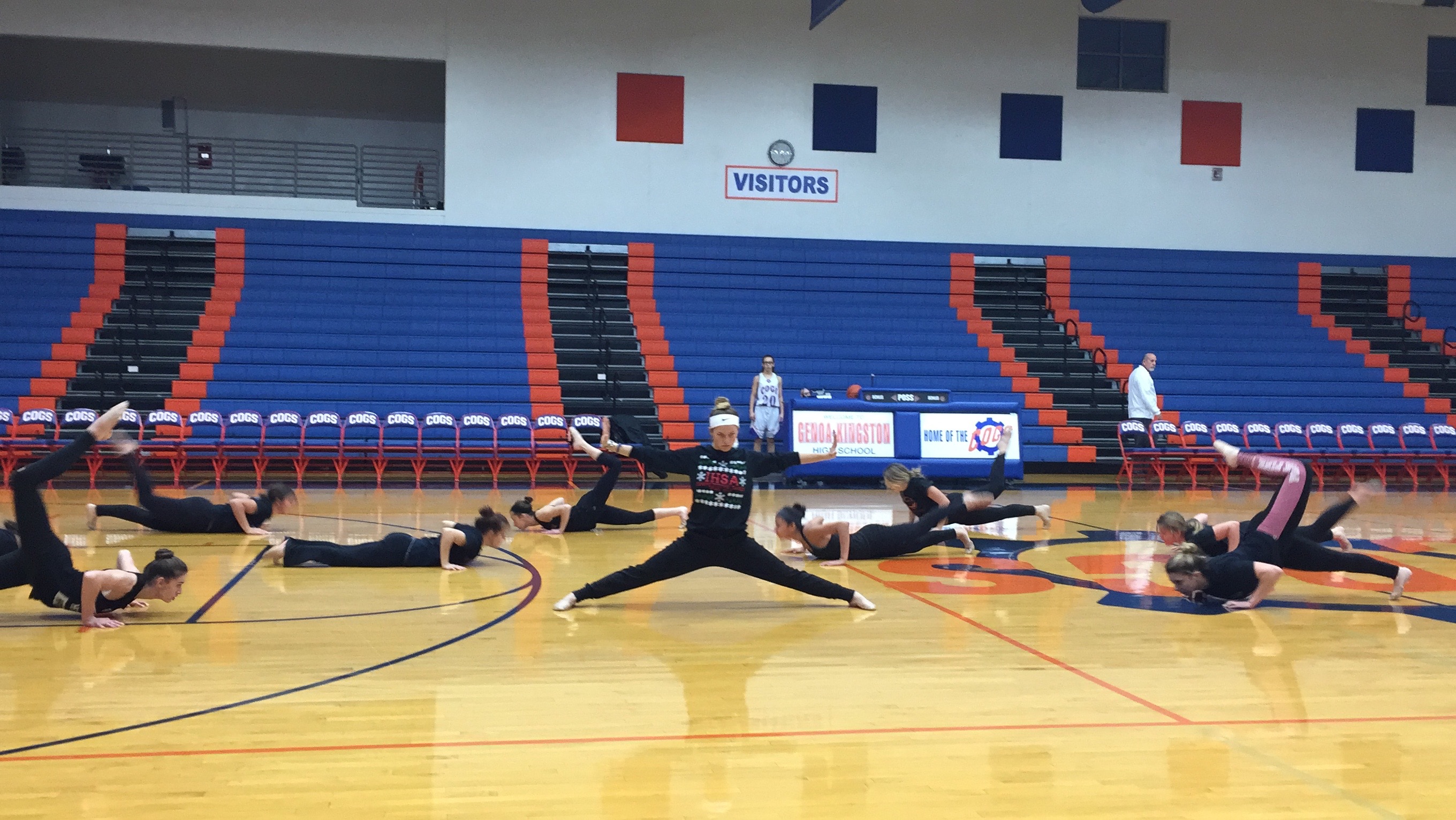 GKDT's routines always show a very artistic kind of athleticism. The baller in the back agrees
Up next is cleaning up their turns in seconde. Coach Bohn reminds the girls that these turns have been very good lately. She emphasizes connecting movements and facials: "When you land I want you to stare into my soul," she instructs.
Then it's time for the girls to run through the entire routine, full-out. Even their walk-on and walk-off get rehearsed. It ends with a well-earned, "Much better," from the demanding but positive coach, and the girls go grab water. The work doesn't stop, however. Coach Hannah has a few quick conversations, complimenting one girl on her great attitude, while she tells another dancer to tweak her facials.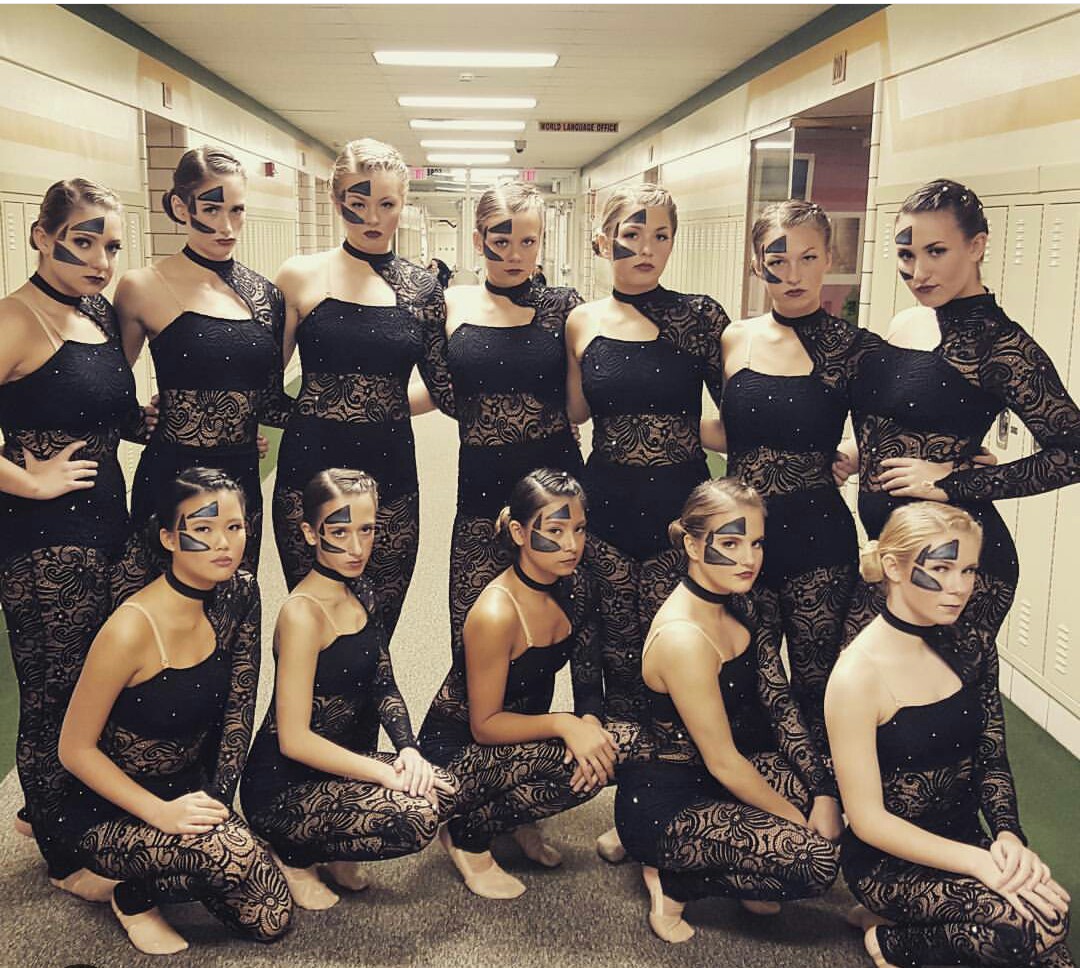 GKDT does not look friendly. And for this routine, that's exactly what Coach Hannah's looking for
Musicality is a huge strength for Genoa-Kingston. Most songs that have a "threes" feel are pretty flexible in terms of counting. Some teams opt for the "six-count" with the accent on one and four. But this choreo is intricate, and the "and" counts really matter for precision. So Coach Bohn prefers counting "one-and-a / two-and-a…", which maximizes the feel for everything going on in between the numbered counts. As a musician, I'm intrigued.
The music itself sounds pretty awesome in this gym. A retractable divider keeps a basketball practice contained to the other half of the gym, but this means that Coach Bohn has to disappear behind the curtain for a minute to get to the overhead sound system's controls. Meanwhile, Athletic Director Phil helps set up the gym for the upcoming basketball game. He spins a basketball on his fingertip mainly for his own entertainment as he walks behind the row of chairs that'll soon be the basketball bench. The dancers are impressed and it breaks the tension of waiting for the music.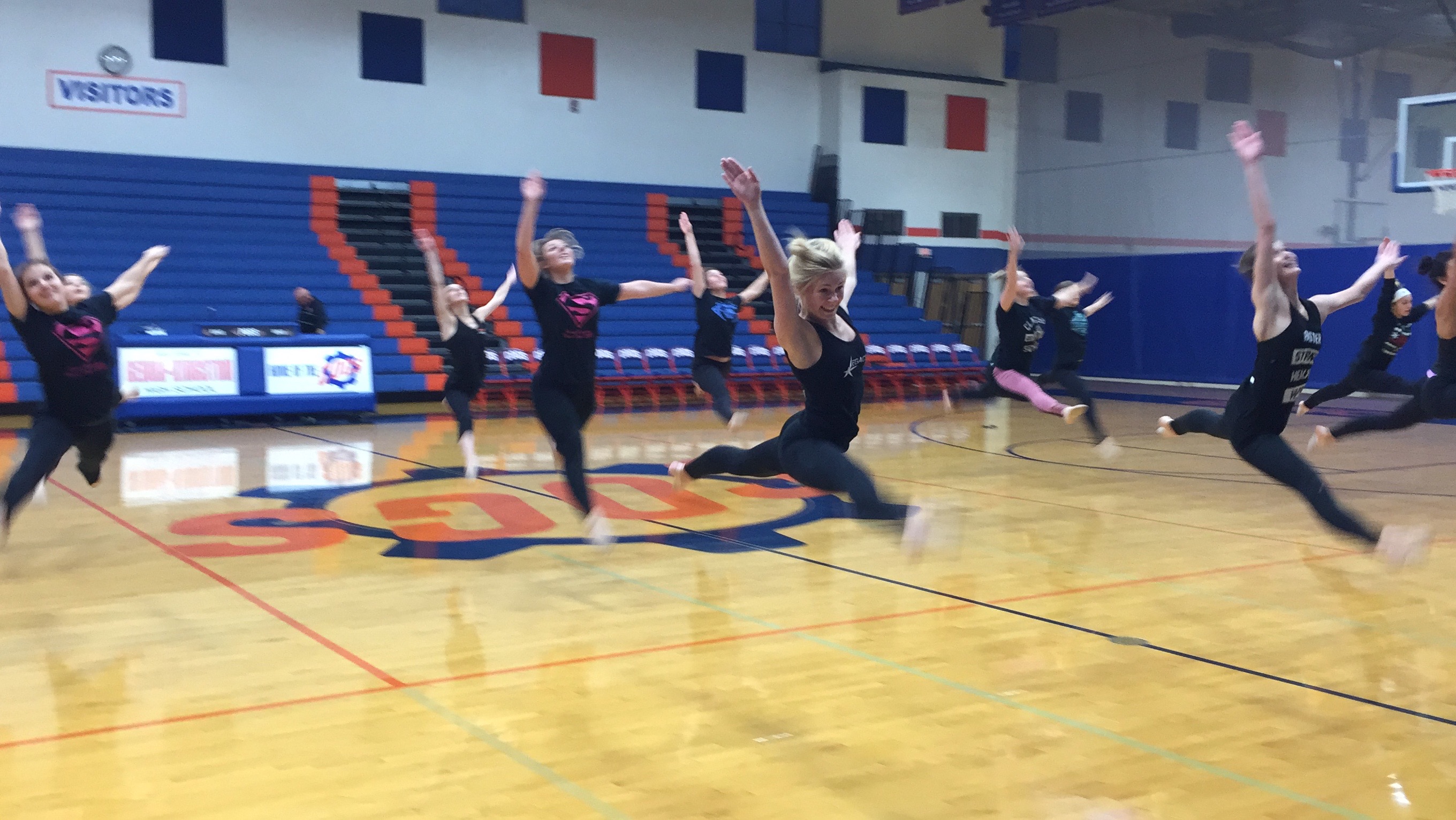 The GK dancers showing that they think "up," not "forward," during their leaps
I'm close to the bottom row of the bleachers as the routine goes full-out, and I can actually feel the air move as one of the soloists does her turn combo nearby. When the music stops, the first thing Hannah tells her team is, "We need to drill that turning disc." But first, a water break. The girls and their coach get on a conversation about energy, and Coach Hannah's a little shocked at what she hears about some of their lunch habits. "I guarantee you—if you ate, your dancing would be 50% better," she says with a tone of both humor and passionate belief.
Soon the team exits the gym so basketball can get going. The warm-up song is "Mr. Brightside," and besides pumping up the basketball players, it's got the Genoa-Kingston dancers singing. They set up in their usual practice space, the cafeteria/commons area right by the gym doors. The girls start folding up tables and moving them to the edges of the room. Knowing that practice time is precious, I help out. "We used to practice in the hall when I first got here," Hannah recalls as we push the last tables out of the way.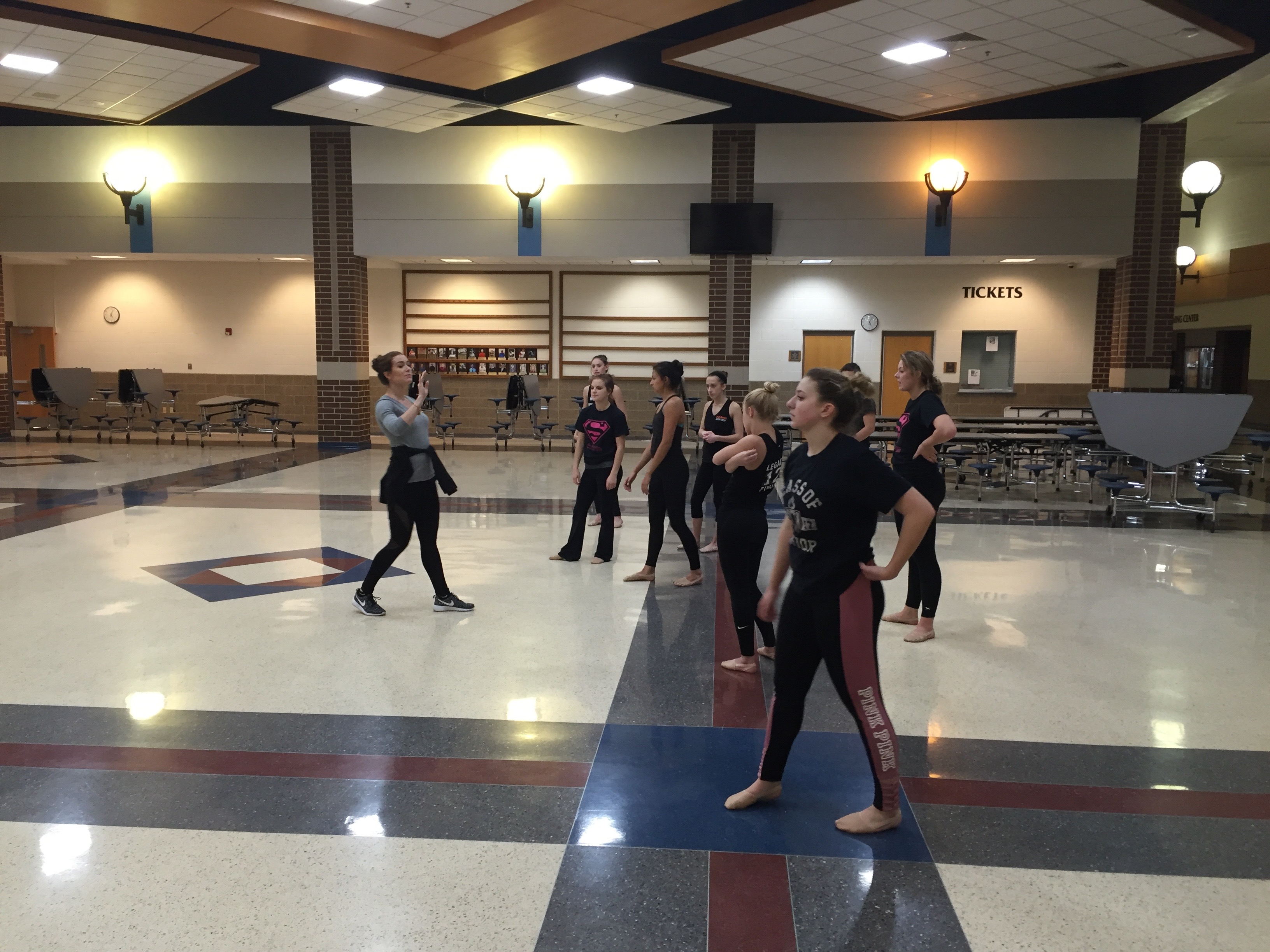 Stop right there, girlfriend! Coach Hannah shares a correction
The girls take time to clean a leap combo. Bohn not only has corrections, but she lets you know why they're important: "When you do that saut de chat forward, the judges see your back leg," she warns.
And a little later: "The turning discs are atrocious," she announces, and without a trace of negativity. She herself demonstrates the exact moments when the discs look off,  and when the arms don't look straight. "You need to think about legs and shoulders when doing these." Hannah then has her dancers practice their turning discs one by one.
It's not just technique that's being cleaned up. "Can you be scarier?" she asks the back row. "Make me not wanna come up to you and say hi!"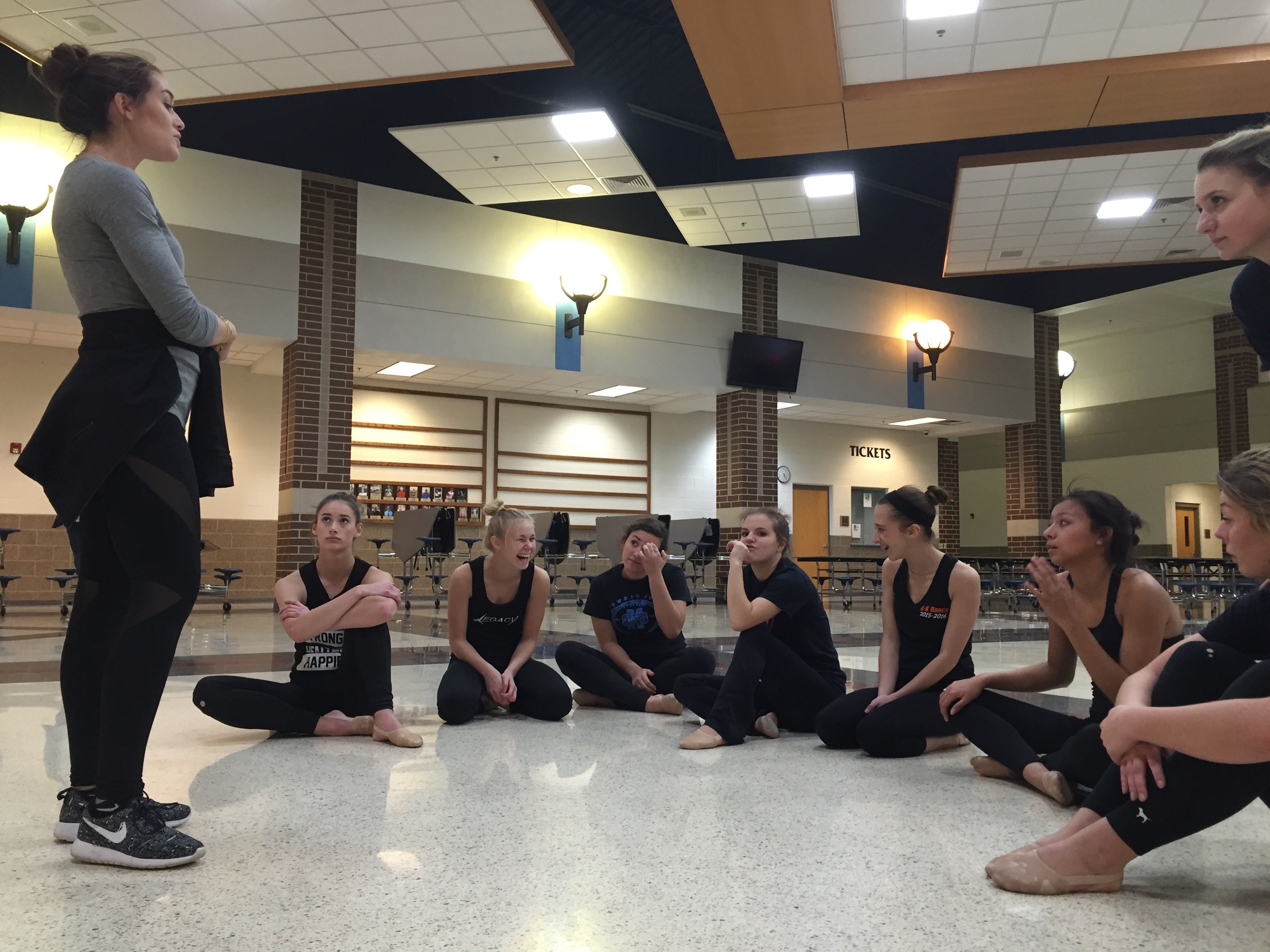 The Genoa-Kingston dancers show a variety of reactions to Coach Bohn's comments
Once those issues are straightened out, it's time to run through the whole section. But before the music starts, Coach Bohn centers her dancers' focus. "Close your eyes. Think about hitting those corrections."
Meanwhile, a woman shows up with a stack of pizzas for the basketball game, while parent volunteers get the popcorn machine going. The Genoa-Kingston Dance Team, at the moment, is literally practicing in a cafeteria where people are actually prepping food. "I'm overwhelmed by the smell of buttery popcorn," one girl observes out loud. As another reminder of where they are, one dancer makes contact with gum on the floor during a roll-out.
At this point, Hannah still has a major concern that she openly shares with her team. She starts by asking what they think about while out on the floor—can they perhaps reflect on an intense emotion or memory and then reflect that in their faces and bodies? One girl has a totally honest reply: "Actually while I dance I'm thinking, like, 'Wow, I can't believe we're competing!'"
Coach Bohn joins in on the subsequent laughter. But she's quick to get back to laying her dilemma out on the table for all the girls to see: "My hesitation to take this one to sectionals [and not the other dance] is your facials. Use the thing in your head that motivates you the most." A dancer brings up the ASPCA commercial that always tugs at her heartstrings. Other girls don't haven't seen it but I provide some validation—yeah, it really is a sad 60 seconds of TV.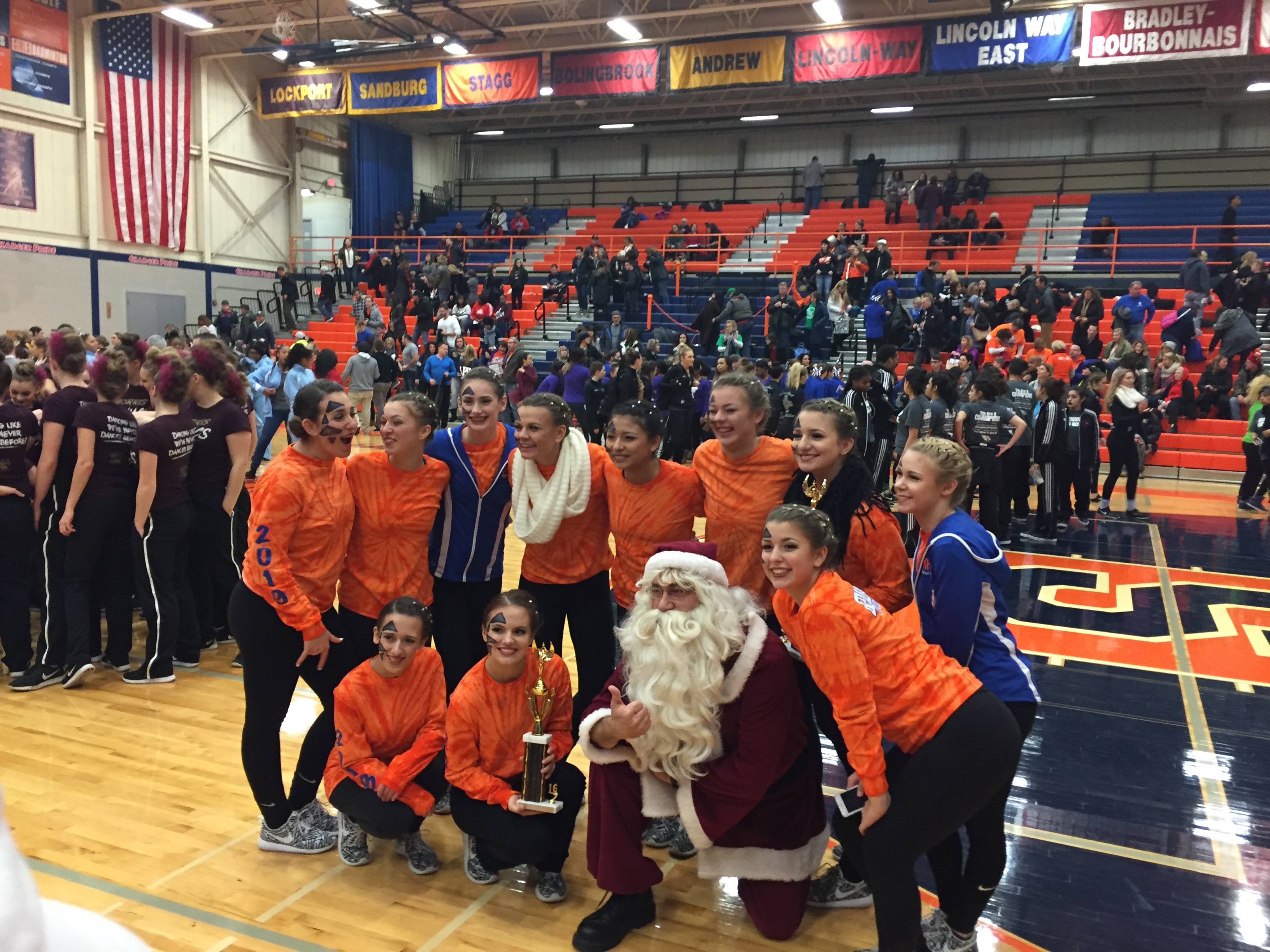 The Genoa-Kingston dancers got a couple early Christmas gifts at the Stagg comp
Before the next water/bathroom break, Coach Bohn takes a minute to talk about the kind of facials that routines like this require. Coming back together, the dancers get an impromptu exercise that Bohn seems to have suddenly added to the agenda based on what she's seeing. They make two lines and mirror each other as they drill their secondes, starting with arms only. A few light bulbs blink to life as the girls give their opposite teammate some feedback. Next is a simple tendu drill, followed by full secondes at 90 degrees. Then they do it going the other way, this time at 45 degrees. It's amazing to watch this elite lyrical team rediscovering some technical basics in addition to cleaning their already-exquisite dance.
The light crowd on the edges of the lunchroom are oblivious to the exceptional teaching, learning, and executing that's going on in front of them. Athletic Director Phil, crossing back and forth every few minutes as he helps get the basketball game ready, definitely knows that good things are happening. "She's fun to watch, isn't she?" he quietly comments to me. "We're very blessed."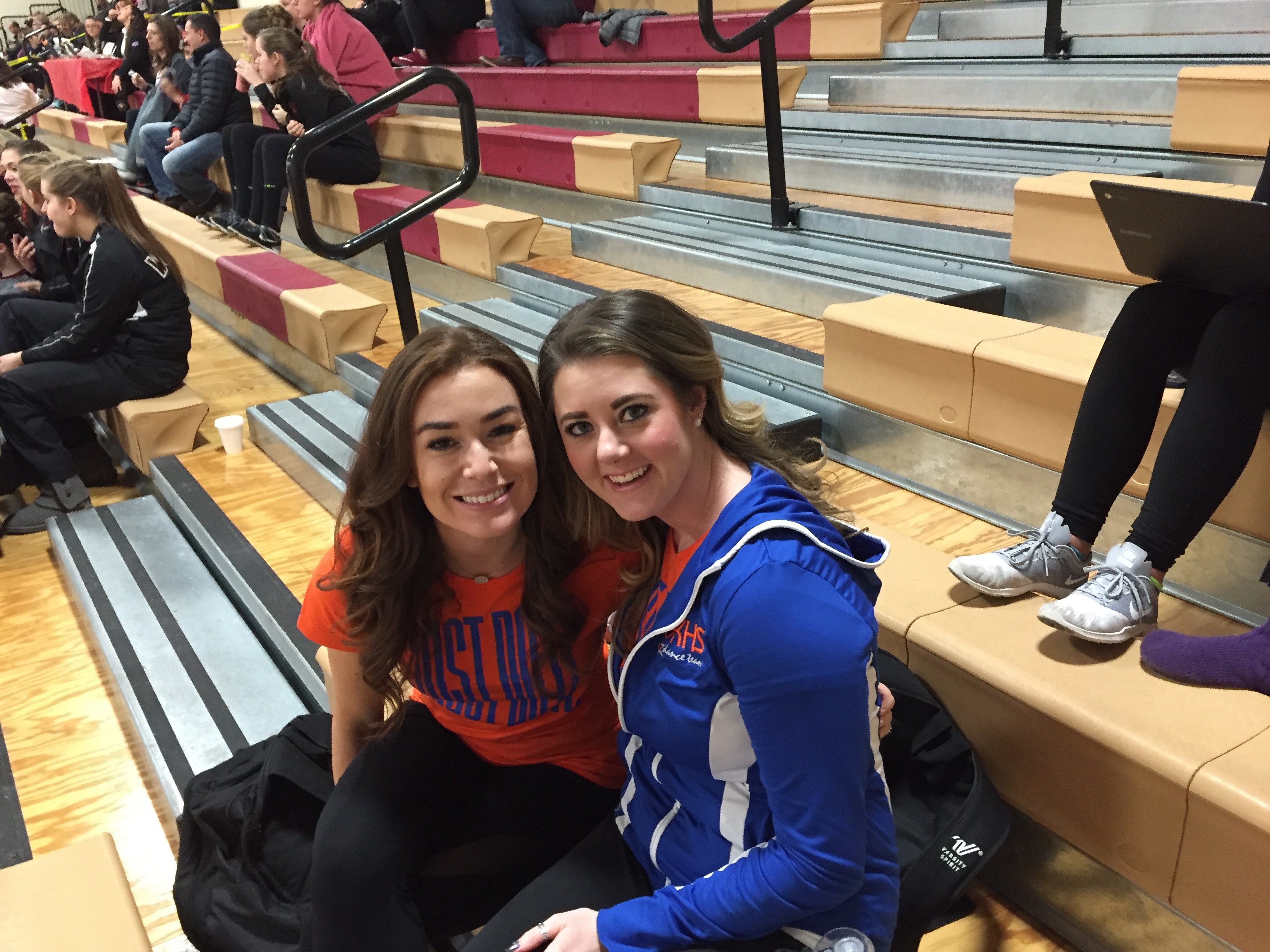 Coach Kelly and Hannah in the bleachers at the Huntley comp
There's no denying that Bohn is a magnetic, charismatic figure. The Huntley poms alum was crowned Miss Illinois in 2011. Her beauty commands attention but so does her voice, something that makes me want to put her down on my "potential voiceover talent" list. But even more remarkable is how Coach Hannah has a knack for saying exactly what needs to be said to her dancers at the right moment. She's clearly a superior teacher of dance and a master communicator, skillfully weaving between very specific corrections and taking a step back to talk about the big picture. With her, everything seems thought-out and certain. She's the one I want teaching my future kids to dance.
When I first dropped by a GKDT practice a year ago, it was Coach Kelly Bolander running practice that cold afternoon in this cafeteria. I actually got to see the warmup drills that I'd missed today. Kelly led the pirouettes drill, starting with a simple prep, then singles, doubles, triples, and finally, to the astonishment of one of my staffers sitting next to me, quads. There was ab work, and then skills drills that used the lunch tables as makeshift ballet barres.
Kelly's a formations expert, and I often heard her tweaking the spacing. "Look at where your friends are," she said, using the UDA term for teammate. The Sycamore dance team alum, like Bohn, has extensive formal training. Like Hannah, she spotted things to fix and gave her corrections with an easy-going, upbeat tone. And also like Coach Bohn's practice today, Coach Kelly's practice had lots of room for casual back-and-forth humor between she and her dancers. Both coaches have set up an atmosphere where having fun seamlessly mixes in with the corrections and praise.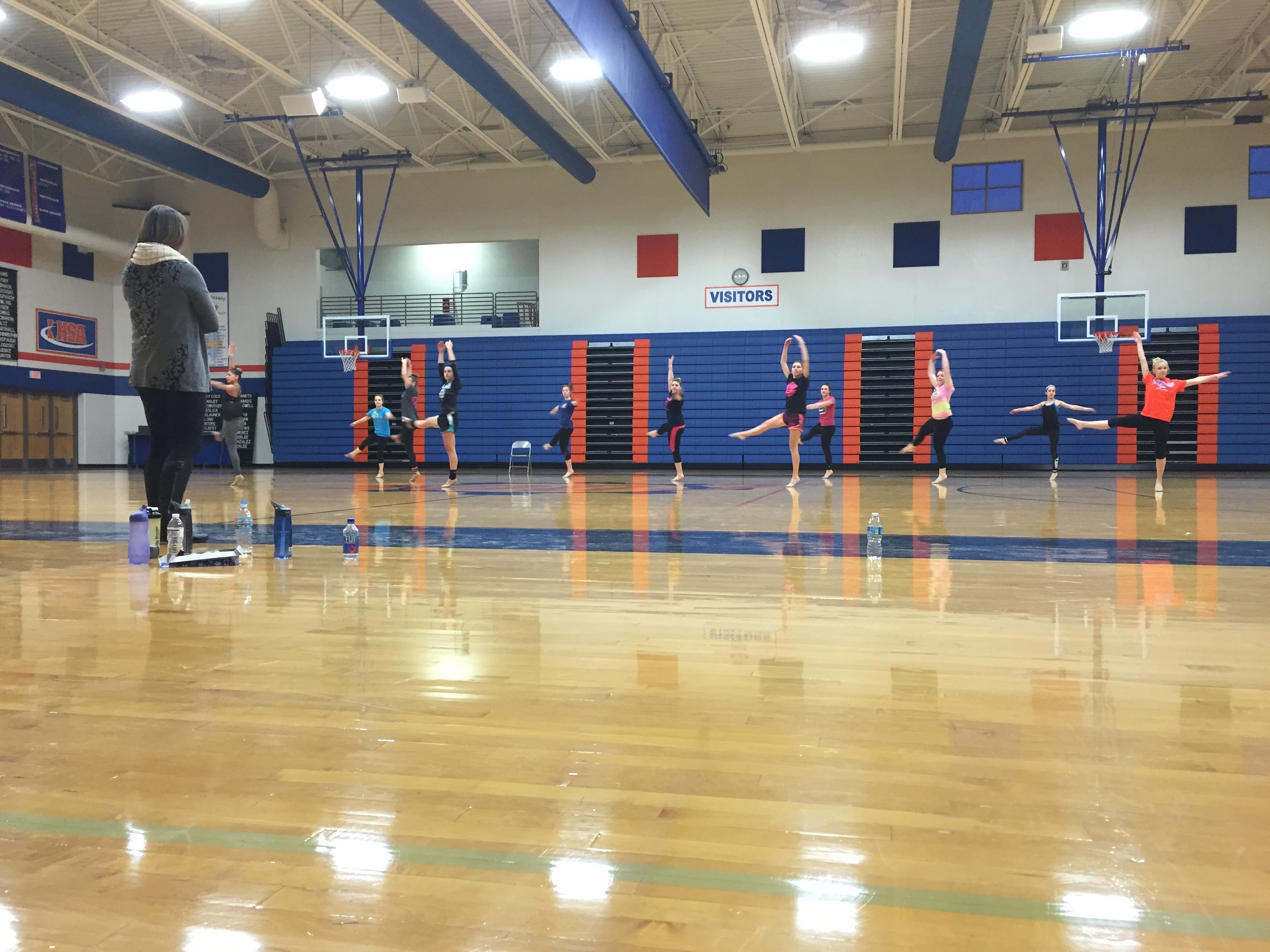 Coach Kelly Bolander running practice in January, 2016
Back to today's practice. The double-line mirroring drill continues. After the 45-degree secondes, it's back to 90. And then a set that combines 45s and 90s. Then it's repeated but with opposite legs. "You should start to feel this in your feet and hamstrings," Hannah announces. Next, the team lines up for across-the-floors. For leaps, she asks the girls, "Your back leg is…" "Straight," they answer in unison. "And your front foot is…" "Pointed."
This all is a lot like hitting the reset button. Now the girls are ready to run both their dances full-out, and Coach Hannah even mimics the P.A. announcer as the girls practice taking the floor.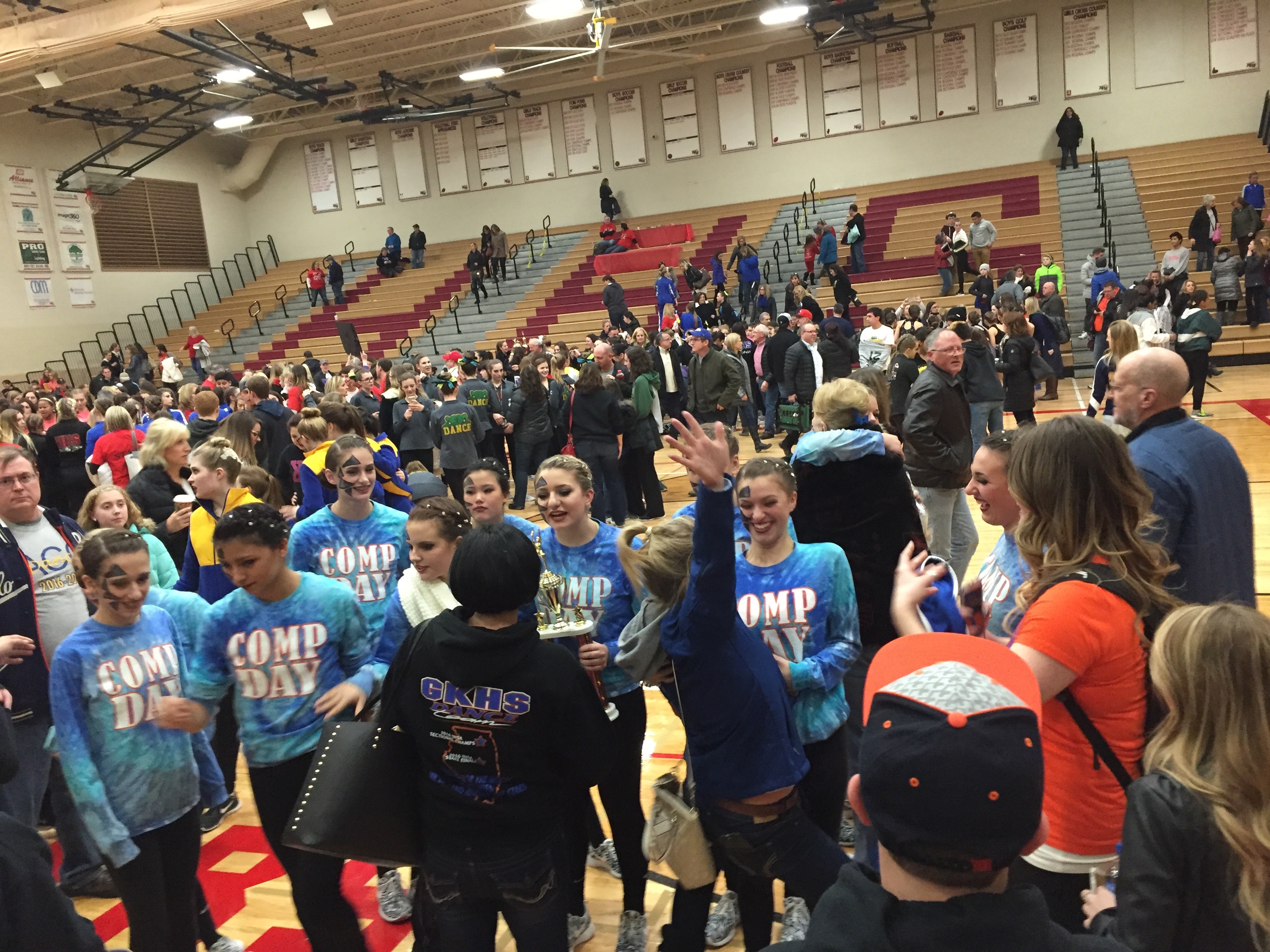 GKDT celebrates another good comp at Huntley on January 8th, 2017
The small 1A school only has a varsity team but it's packed with elite talent. A couple seasons ago, they even floored just eight dancers for jazz and nine for lyrical. Expectations are always high. Former coach Lisa Beynon brought the program to its first state appearance in 2012 at the Team Dance Illinois championship. It was around then that the dance community started to notice Genoa-Kingston's talents. That fall, Bohn and Bolander were handed the keys to this emerging dance powerhouse, and have since taken the trip to state each year.
The GK dance program made their name in TDI, then switched to IHSA competitions in the '14-'15 season. They made the transition look easy, scoring a sectional championship and then dancing on Day 2 at state for a 5th place finish with their lyrical dance. Genoa-Kingston wasn't done shining in Team Dance Illinois, however, with a 2nd place lyrical and 3rd place open dance ranking a month later at the TDI championships. GKDT earned another chance to dance on Day 2 in 2016, coming home in 10th.
They're not just superstars on the competition floor. Like any other dance team, GKDT works on routines to showcase at football and basketball games. You might know them as lyrical and jazz experts, but the girls know their way around multiple styles including hip hop and contemporary.
Teams from smaller schools often have a very different funding situation compared to their suburban counterparts. "We host multiple fundraisers to keep costs down for dancers," explains Bohn. Last year, GKDT hosted its first Little Girls Dance Clinic with 36 K-8 students in attendance (just imagine being a parent and having your kid trained by some of the state's best dancers and coaches). Car washes also raise cash while keeping cars shiny in the Genoa area. And for sales, GKDT knows what the people want: cookie dough, baked goods, sweatshirts, and beads for football games!
It's a close-knit team. Sleepovers, pre-game dinners, and even making blankets are the ways they solidify their bond. Even in the middle of comp season, GKDT sticks together with Secret Santa gifting and team outings like lunch and ice skating.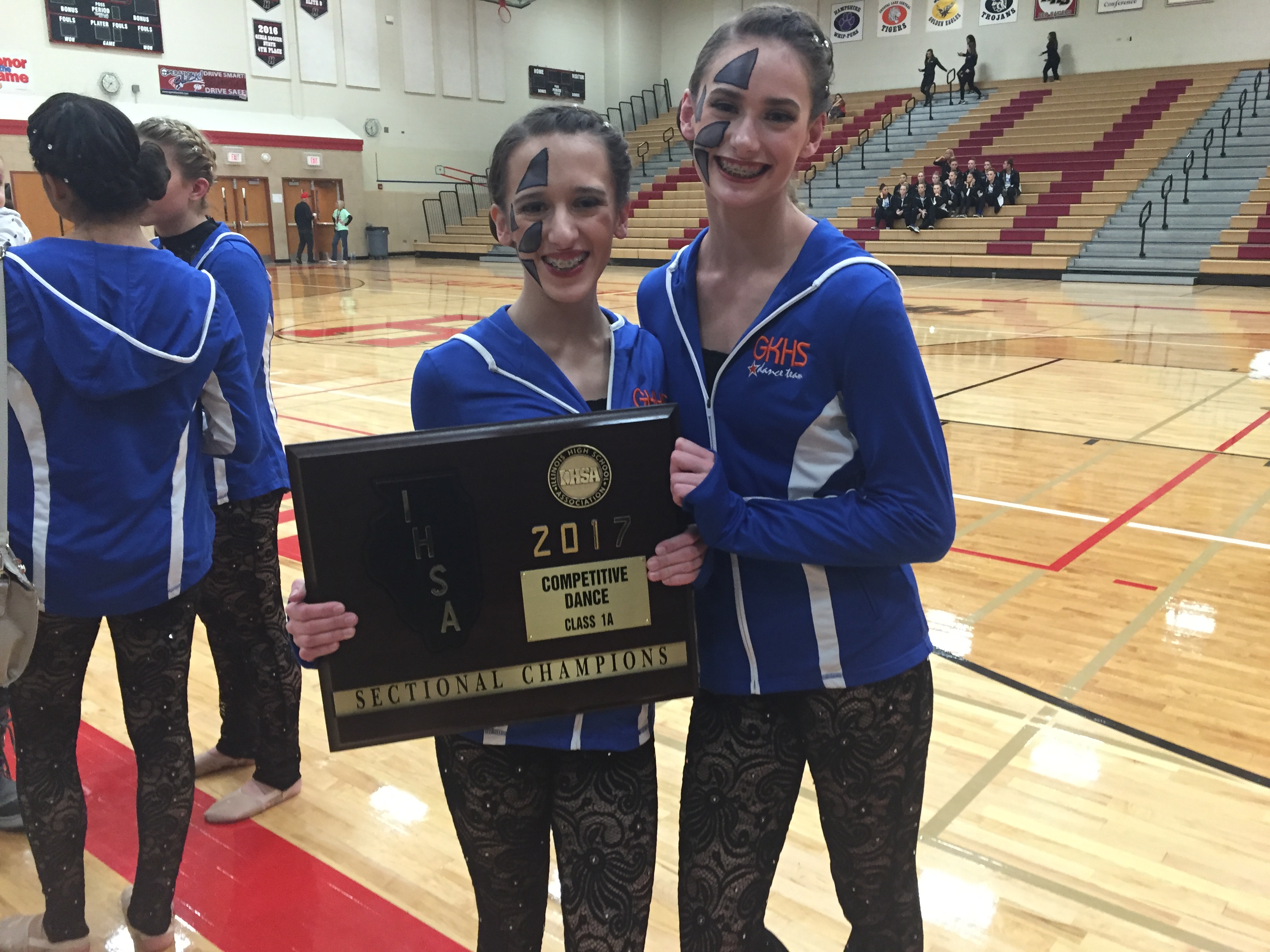 It's not a smiley routine, but Genoa-Kingston's got every reason to celebrate their sectional championship
Coach Bohn focuses in on some core goals (I'm going off of last year's list, but something tells me this is stuff she fundamentally cares about each and every season). Paying extra attention in practices to make routines the best they can be. Sharpening our movements to precisely synchronize them for a clean performance. Using our bodies and faces to effectively convey our story to the audience. It's a straightforward and solid foundation that sets up good results.
The girls are on the same page as their coaches. While practicing in the commons area, and at a point where they were kind of searching for clarity, one girl announces that she really wants the team to be officially recognized "on that wall." The girls enthusiastically explain to me that they want to be the first Genoa-Kingston sports team to win sectionals or go to state three times in a row. One of them even wrote this down while filling out a start-of-the-semester questionnaire in chemistry class.
And this past Saturday, that's exactly what they accomplished.
These GK dancers make me laugh. As the seniors gather to chat right after practice, Hannah overhears another dancer. "Did you just say you twisted your spine?" she asks incredulously. The girl casually laughs it off. "It happens."
It didn't take that many years to become a leading lyrical and jazz team in Illinois. Genoa-Kingston now has the tradition to go along with lots of talented underclassmen and gifted coaches to keep winning for years to come.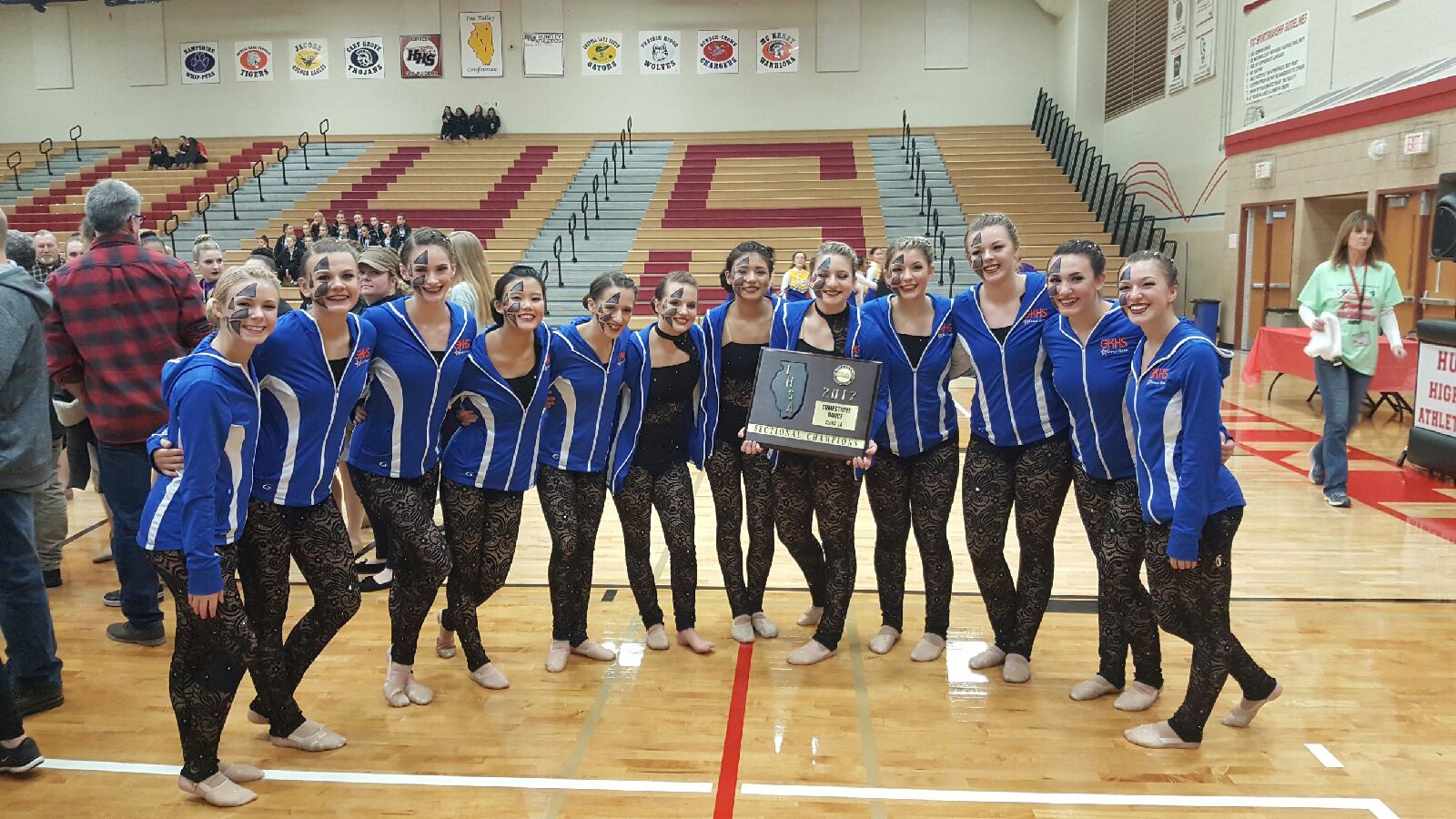 Once again, Genoa-Kingston carried home a sectional championship plaque
The Senior Group Interview
Let's talk about your studio training.
MEGHAN: "I used to dance at Beth's [Beth Fowler School of Dance] but when I was 12 I went to a studio in Belvidere. And now I'm just dancing for the dance team."
ANNA: "Yup, I as well. I danced at Beth's since I was 5 up until two years ago, my sophomore year. Then I was in classes that didn't allow me to take [studio classes]. [I took] Ballet training and other types of dance."
SONIA: "I've been at Beth's, too, for 14 years and am still going. And I don't just take tap, I take everything else."
Favorite styles of dance?
Coach HANNAH: "I grew up teaching and taking classical ballet, pointe, and all that, so that's my background. But I've grown more into an appreciation for lyrical/contemporary."
MEGHAN: "I personally like jazz more. And contemporary, too, so those are my two favorites."
ANNA: "My favorite's actually hip hop. I was really into it and competed in hip hop at the studio I was at. Although I love performing lyrical."
SONIA: "Mine's hip hop, too. And lyrical. They're just totally opposite."
How many hours a week do you devote to dance team?
ANNA: "24/7!
[group laughter]
Well…during competition season, we're here at lot more often. But then, I think about dancing probably all the time."
MEGHAN: "All the time."
SONIA: "I seriously do, too."
ANNA: "Anytime I see any one of my teammates in the hallway, I'm thinking about dance team. At lunch I'm thinking about dance team. It's in my phone: I have countdowns to the competitions."
Coach HANNAH: "Kelly and I are always talking about them. We'll be going to the gym together and be talking about tomorrow's practice and what we should do differently. These guys crack me up at practice during competition season, so I have like nightmares…or dreams—…"
MEGHAN & SONIA: "Dreams!"
Coach HANNAH: "…dreams about dancing. It's non-stop."
What's been the highlight of your season so far?
MEGHAN: "Being undefeated right now."
SONIA: "Yeah, being undefeated so far."
ANNA: "Getting first at competitions that we've been to so far."
What are your team's traditions on comp day?
SONIA: "We always have group huddles…"
MEGHAN: "Yeah, we always huddle!"
ANNA: "Right before we go on."
SONIA: "…we have little talks."
ANNA: "Somebody brings a little snack bag in the morning when we're getting ready."
What are some team activities?
ANNA: "For football games, we do like a snappy cup. So we pick out of a hat someone's name…"
SONIA: "We write notes to each other."
ANNA: "Anonymously we'll write what they've done good this week, how they are as a dancer, and then we all read them before the football games."
MEGHAN: "And we do Secret Santa every year."
ANNA: "We have team bonding groups. We're split up into four different groups and we go and do team bonding."
Who go the best Secret Santa gift?
SONIA: "I got a moose from her [Anna]! It was amazing."
Coach HANNAH: "Someone made something really elaborate…"
SONIA: "I made Carolyn a snowman out of pop. I wrapped up cans in white tissue paper and stacked them and put candies on them. And I gave her some other stuff [but] I forgot what it was."
Other teams you look up to or admire?
MEGHAN: "St. Charles [North]."
ANNA: "South Elgin."
SONIA: "South Elgin, yeah!"
ANNA: "Oh, Lincoln Way [West]—I love them so much."
MEGHAN: "They are awesome."
ANNA: "Their hip hop just gives me life."
SONIA: "Their outfits!"
MEGHAN: "Their hip hop is amazing."
Coach HANNAH: "I'll send them inspirational videos [of other teams] sometimes."
ANNA: "Teams as far as technique are Highland, obviously they won last year."
MEGHAN: "Highland was great last year."
ANNA: "And Neuqua Valley as well."
Coach HANNAH: "Geneva, of course."
ANNA: "And those are like our motivation basically."
Compare and contrast Coach Hannah and Coach Kelly.
Coach HANNAH: "Ohhh…who wants to go first?"
ANNA: "They balance each other out."
SONIA: "I feel like they equal out."
MEGHAN: "Yeah, they really do balance each other out."
ANNA: "…because depending on the day, Kelly can be way more strict on certain things. And then Hannah will be [strict] on other things."
SONIA: "They can make corrections that the other may may not be able to pick out. Kelly's more like formations and little things [while] Hannah will look at the bigger things or the soloists."
Coach HANNAH: "Kelly and I are a really good unit. I choreograph their routines, but she's the mastermind behind…she pushes me out of my box of formations."
ANNA: '…[and] transitions."
SONIA: "Stuff that Hannah may not see."
Coach HANNAH: "So she's really good at looking at the bigger picture, while I'm thinking about the artsy picture."
Coach and team quotes:
"We bust ours to kick yours"
"Did you just ask if we could mark it?"
"Always give it 150%"
"Costume on, hair tied, chillin' with my bun up high, that's whem I'm the happiest, you know it's competition time"