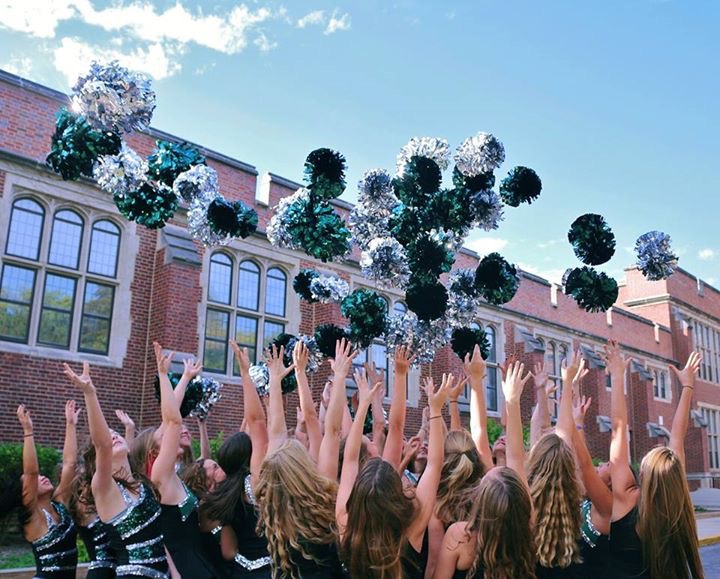 Team Feature: Glenbard West Dance Team
by Norm Ramil, 8 Count Audio creative.director / chief.music.officer / dance.fan
Glenbard West is old-school. Like, literally. The castle-like building on a hill was built in 1922 when the foxtrot and Charleston were the hot club dances. But the dance team? Their current era of competitive success is just a few years old. The team made a memorable appearance at state in 2013, followed by a 7th at sectionals a year ago. Now they're back in the 3A state lineup and ready to show the state why they love to dance.
The team practices in a cozy dance room on the bottom floor of West's famous detached gym, Biester, next door to the weight room. I got to visit the team at practice just a couple days before state, but amazingly, you couldn't sense any tension or anxiety in the room. The only indications that the 3A state championship was 48 hours away were a crossed-off countdown to sectionals and a big posterboard reminding them of their Friday destination.
Practice starts with a stretching regimen led by captains Elizabeth, Kelly, and Abby, using the coolest warmup soundtrack I've heard in years (Dog Days Are Over, Mr. Brightside, and Electric Feel). Next came a pretty hardcore core conditioning set, followed by studio-style group drills across the floor. 25 minutes after the start of practice, the girls are ready to dive into cleaning their state routine. Skills are definitely a big deal for this team.
The girls honed these skills through their many years at studios like DeForest Dance Academy, Elite Feet, Moves, Center Stage, Sunshine Dance, Dance Dance Dance, among others. This diverse studio background lends itself to a variety of dance styles performed during football and basketball seasons, and the girls enjoy doing jazz, lyrical, hip hop, and kick. Dancer Abby Goyak writes, "We have many girls on the team who are extremely flexible, and others can turn for days! We all complement each other very well. Our favorite to perform at a football or basketball game would be hip hop."
Experience leads the way for Glenbard West–14 of the 20 girls are returning varsity members. Their roster is pretty balanced with 6 seniors, 5 juniors, 8 sophomores, and 1 freshman. Today the first item on the agenda after stretching is reviewing a turns section of the choreo, and each class takes a turn performing it while the others watch and give feedback.
Much of that feedback comes from Coach Pulido, who's in her fourth year in charge, alongside 2nd-year Assistant Coach Avella. Both danced together at Rolling Meadows High School.
Next comes a full run-through of the dance. The results are good and the captains and coaches gain a sense of where to go next. After a quick water break, it's time for the captains to lead a detailed cleaning of another section. Pretty much everyone on the roster has helpful feedback. I was seriously impressed with the positive, collaborative atmosphere. Definitely no sign of "state stress" here!
The school's known for its academic profile, and this team definitely takes a cerebral approach to cleaning a dance. Glenbard West's captains and coaches use all their senses to tweak their routine. Today they even relied on the sound of landings to decide what details to adjust. A couple girls were assigned to take video from both sides during a run-through, and then the whole team reviewed the results on the big screen. A few more full-out run-throughs, and then a break to watch the West cheerleaders as they prep for their sectionals this weekend. This team is always on the go.
It's easy to get caught up in state week, but it takes a whole season to build up to this point, to even be in this position to dance for a state title. When the team's in summer mode, practice runs twice a week with a break in July. They focus on preparing for camp, which was with Star Performance Company last summer. The team also keeps busy with the 4th of July parade and perfecting their back-to-school routine. This dance and their homecoming routine are both done alongside their JV team. Fall brings the familiar rhythm of after school practices and sidelines/halftimes for home football games.
When the routine is about something we love, it makes it very easy to pour our passion into the routine.
When it comes to this year's competition routine, "I Love To Dance," the team put in a lot of work off the dance floor. "We knew it was going to be a challenge to put our words to a story but we knew we could do it," writes Abby. "We wanted to do something different, rather than our usual kick routine. When the routine is about something we love, it makes it very easy to pour our passion into the routine. This routine is able to spotlight our individual talents as well as our team as a whole."
The girls admire their fellow District 87 dancers at Glenbard North. "Each year we are blown away by their creativity in each every dance," writes Abby Goyak. Glenbard West are also fans of Lake Park: "They are always so powerful and look so united when they dance." As for her own team, Abby tells me that their dance program's growth is on a roll: "In these past years, the team has greatly improved and will continue to improve. Each year brings a new aspect and outlook."
I have to say that I'm proud of my hometown dance team. These girls are poised, upbeat, and support each other tremendously. There's almost a hint of laid-backness, but I think what I'm seeing is actually a steady confidence, along with taking a smart perspective on competitive dance. West doesn't exactly have a long history of dance achievements, but what they've done in a few short years is pretty impressive. Positive, collaborative, smart, and highly skilled–these are the ingredients needed for a successful dance program to thrive over several seasons, and this team has all of these. This year, they've got the chemistry and choreo to make a splash downstate, West-style.