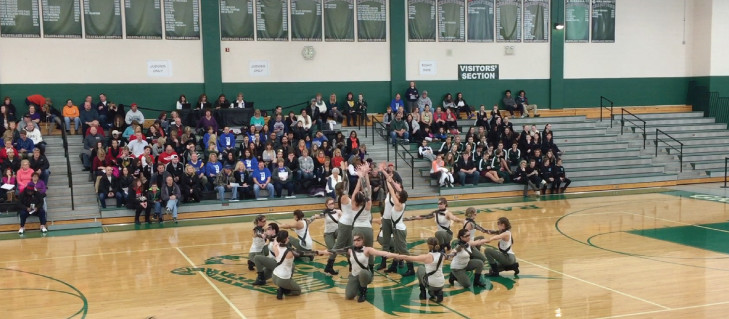 Team Feature: Grant Dance Team
by Mallory Peters, 8CA Staff Writer
Grant Community High School is built on a mission that states, "Each student will be provided the opportunity to develop intellectually, emotionally, and physically in a supportive environment." It is located in Fox Lake, Illinois and has a student body that comes from all over the Lake County area such as Fox Lake, Ingleside, Round Lake, Volo, Lakemoor, and also Spring Grove of McHenry County. With a diverse student body, there are also diverse sports teams which help them lead to success. The Grant Dance Team, in particular, is one that should not be forgotten during this off-season.
After stopping in on the junior varsity and varsity team, it was very clear that these dancers are strong intellectually, emotionally, and physically, just like their mission statement mentions. The environment is more than supportive as well, all thanks to Coach Vicki Shifley, and new coach and Grant Dance alum, Amanda Munsen.  An even better part of the mix: Coach Shifley is actually Coach Munsen's old coach from when she was in high school. Who would have thought!
These coaches spend lots of time at practice ensuring that these ladies are stretching to their fullest, jumping their highest, and giving it their all. All of the dancers were fully engaged as the season was coming to a close, but so were their coaches. It would only take a run through of the routine until the coach stepped in themselves to clarify the movement. Not only does that help them explain to the dancers what it should be, but it also helps the coach know what the dancers should be feeling. This positive feedback helped them end the season on a very high note! Varsity became Prairie Division Champions at the North Suburban Conference and Junior Varsity placed second!
JV and Varsity are both fortunate for having space to practice either before or after school. Grant is extremely lucky though since they have a dance studio in their field house. It is probably bigger than a couple studios I used to dance in back in the day. Even though these Bulldogs have always been one of my rivals growing up, I was extremely jealous of the size of the studio. It is even equipped with a ballet barre and mirrors on two walls! Not only do they get to practice their facials every run through, but they also get that second mirror to make sure lines and spacing are exquisite. They are definitely ahead of the game.
The practice I was able to sit in on was right before a competition and these dancers sure know how to remain focused and listen. Make sure to not underestimate them, either, because even when the competitions are getting tough, they stick to conditioning their bodies so they are in tip top shape during the rest of practice and the week. It is amazing to see a team still keep that as a priority with stretching so they continue to build momentum and strength. The fact that the coaches are able to manage time correctly to keep this a part of such a busy time is also a great factor. With routines in the hip hop and pom style, it makes sense that they make sure to not let that conditioning go to waste.
As JV took on the season with a summertime, Beach Boys-themed pom routine, the girls still love to do hip hop just like Varsity. Perhaps we will experience something new next season? Until then, all of the dancers will continue to spend their free time listening to trap music, specifically Christmas Trap… Yeah, that is a real thing and it actually is not that bad so might as well give it a try! The one thing both teams wish were different this past season was to have more camps and just more time in general to work on two routines for competition. Hopefully that is something they are able to achieve next season as well, but I think we would all hope that one of the two is still hip hop!
While talking to JV in their spare time, they filled me in on what makes their team so unique. Even though over half of these dancers were new to the team, they all have a very strong bond. Over the season, JV has grown to be sisters. They even all get breakfast together with Coach Munsen and bond with Varsity too. Just like any other team though, they have their rivals and that would be Wauconda and Geneva. Who can blame them though, when this season ended with such close scores! The most special thing about this team that I have never seen before was their themed practices every Wednesday. Wacky socks, pajamas, class color. You name it and they have probably made it a part of their weekly routine and posted a fun picture on Twitter, too.
Varsity also has a really strong bond between each other and JV. These high school girls are definitely on the road to maturity though since their most favorite memory this season was all their talks as a team to avoid the drama. That is a fantastic way to really come together as a team and prepare for all that lies ahead of them individually. Another thing that adds to their maturity is being able to lose. Losing can be a very hard thing to deal with, but they do not let it break them. They use it as power and motivation to show the crowd they will not let it bring them down. Being a team that has been in and out of that hip hop style, the teams that inspire them are Warren and Lake Zurich because they feel a bond with them for always trying to push for new hip hop technique. However, they still see Lake Zurich as being a rival, as well as Wauconda.
Grant Dance is a program that seems to be very strong within their school community. They have their own special dance fan section that follows the team to competitions. Not only does it consist of family of these dancers, but also peers and friends. This group of spectators is one you cannot miss.
This season is one that cannot be forgotten in Grant history. After becoming Prairie Division Champs at conference, Varsity qualified for state for the first time in IHSA history! Not only that, but they also qualified for day two! After having deductions at each competition, this had to be a huge milestone for not only Varsity, but also for JV as they aspire to be a part of the same accomplishment. I am so proud that all of these girls were able to overcome what they have been given. I am even honored to have gotten to know some of them and cannot wait to see what happens this summer and over the next few seasons.