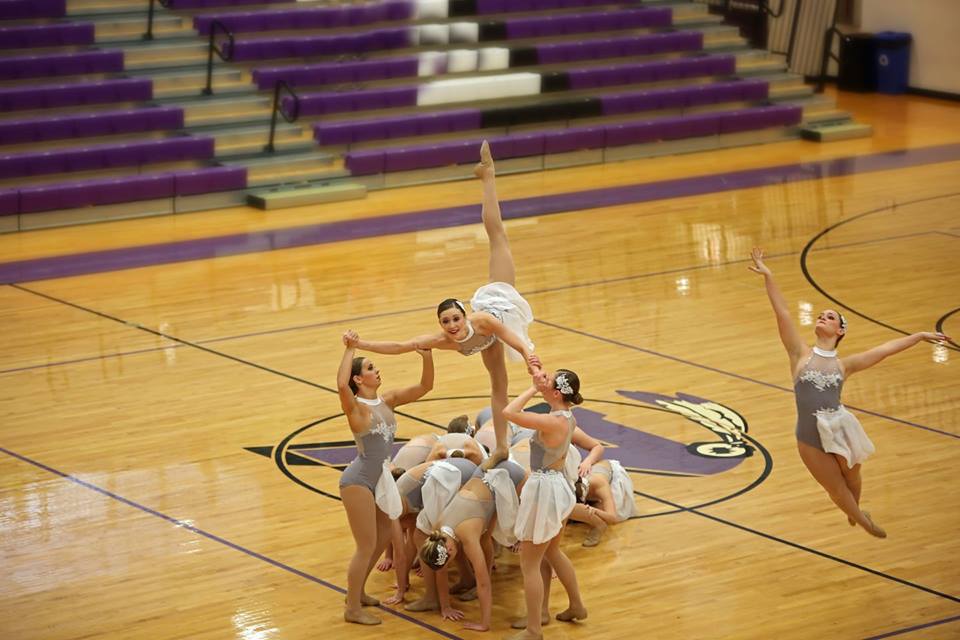 Team Feature: Highland
by Norm Ramil, 8 Count Audio chief.music.officer & dance.fan
When I was putting together a spreadsheet listing each team's accomplishments at past state competitions, I literally ran out of room when I got to Highland's row. Up until then I'd gotten away with zooming out on my screen so I didn't have to scroll, but all of Highland's state titles in so many categories forced me to add, like, A LOT of extra columns just to fit in all the info.
Highland, one of Illinois' premiere dance programs, has dominated 1A competition in IHSA and IDTA competition for almost as long as anyone can remember. The little 1A school lies on the very edge of what you'd consider the eastern suburbs of St. Louis, but really, it's pretty rural. But for a small school, they've got one of the most decorated dance teams in the history of our sport in Illinois.
Michelle Deets coached the team for 24 incredibly successful years, and just now has retired from teaching and coaching. She's the president of IDTA, a testament to how highly she's regarded among her coaching peers. This summer marks the first couple months of a new era under Coach (and former Highland dancer) Emily Wellen, assisted by Whitney Zobrist. Emily moves up from the assistant slot and still flip-flops between addressing her esteemed predecessor as "Coach," "Deets," and then the one she's still getting used to, "Michelle."
The girls practice at the elementary school, usually in the gym. Today the floors are getting waxed, so it's down to the "tornado room" for the team; it's thankfully a few degrees cooler. It's more of a basement / rec room, but a mirrored wall makes it something of a dance space. Practicing on the concrete floor are 12 team members (2 are absent) led by their 3 seniors. 10 dancers are back from last year's group. Half of the team are juniors, alongside a sophomore and 3 freshmen.
Highland specializes in lyrical/contemporary and jazz, and this is what they're working on this afternoon. The team traditionally excels in overall technique, specifically their turns. Tryouts require splits, a straight leg leap and middle leap, calypso, toe touch, and of course double and triple turns in second. Each candidate gets evaluated for their execution and performance of a dance that's anywhere from 60 to 90 seconds long.
Summer practices are once or twice per week. When we walk in, they're in the middle of across-the-floor drills, and one conclusion jumps right out: even in summer mode, this is an elite dance team. Any AD or administrator who watches this team at work would probably be ashamed to ever again use the words "spirit" or "pommies" to describe a competitive dance team, especially this one.
Coach Wellen and the captains have the team doing calypsos, leaps, kick combos, and lyrical combos, and the oppressive humidity calls for a quick breather between each drill. The captains are super comfortable coming up with  combinations on the spot. It just takes a couple seconds of reflection, and then she just has to mark a string of complex movements and the team knows what to do. Watch them drill across the floor a couple times and you could literally turn those ideas into the highlight of a difficult jazz routine.
Even more impressive is that up until today, Highland's been working on hip hop. They're roughing up their jazz shoes today on this floor, and the constant squeaks leads to a couple laughs every few minutes. You hear these the most with their quads, which everyone looks like they can do in their sleep. When the combo calls for mere triples, some girls request a faster count because they've got quads on their minds.
By the time school starts, Highland practices are all about cleaning and perfecting the routines, since technique is something that the girls have already worked on at their own studios. It makes more sense after Coach Wellen explains to me that their little town has four dance studios in addition to decades of dance domination. The coaches recommend that the girls keep taking classes at their studios, which include Jane Minnion's School of Dance, Innovative Movement Dance Company, Dance House, and Starlight Dance Studio. Highland's dancers also get prepped by participating in their middle school's dance team program. Yup, it's a small community, but their dancers are solidly set-up for success.
Throw in a glittering tradition and far-reaching reputation and you've got a dance powerhouse. The dance team was founded by Coach Deets in 1992 and by '96 had qualified for IDTA State, where they took 3rd in what we now call the hip hop category. A couple more seasons in the late '90s had Highland back in the top 3 in hip hop at IDTA state, but the big run started in the '00-'01 season.
That's when Coach Deets guided Highland to its first IDTA state title in the dance category. From March of 2001 through 2011, Highland took home a state title every single year. Over that 12 year span, Highland's state championships covered multiple IDTA categories (dance, pom dance, lyrical, jazz, and hip hop), for a total of 22 first-place finishes at IDTA state! The winning continued into the 2010s, including last year's triple-championship in IDTA's jazz, lyrical, and pom dance categories. They know how to dominate in IHSA, too, including two state titles and two more 3rd place finishes in Bloomington.
As awesome as they already are, Highland is committed to cleaning. "Don't just throw your landing away," comments Coach Wellen after one drill. A captain requests stronger hands, wrists, and arms from her teammates when they hit a high 5th. Another reason to go so hard at tech right now is that the girls are gearing up for IDTA's summer intensive: "Push The Limit" will feature instructors Hailee Payne and Tanisha Belnap from So You Think You Can Dance, and needless to say, the girls are way excited!
They're also not afraid of stepping into new territory. In what was supposed to be a break, a few girls demo some impromptu aerials, which soon turn into full combinations. I kept thinking, "You're just coming up with this stuff…and on this floor?" Later, the team takes a stab at some tilts with switches, building off of feedback from last year's judge comments. Someone playfully suggests they try axels into jetes, something that Emily notes we haven't seen a lot of in recent years. She's a new head coach, but she knows her dance history.
The girls tell me that they love lyrical for its emotion, but also have fun with jazz routines because of the required amount of sass. Highland focuses on four dances each year: pom dance, hip hop, jazz, and lyrical. They'll compete throughout the season at IDTA events, and momentarily shift their attention to IHSA sectionals and state. With only a single dance allowed at IHSA state, Highland usually picks between their jazz or lyrical routine depending on how scoring goes throughout the season. Things switch back to normal after that as they head toward IDTA state, where they bring three dances (usually jazz, lyrical, and pom). But don't count anything out—Highland brought hip hop instead of pom in '09 and won. And speaking of variety, when away from the dance floor, most of the team listens to country and some pop.
Besides the Illinois action, Highland is the only Illinois team to get invited to Lindbergh High School's elite Missouri competition. It's an exciting challenge for them, but they seem to fit right in alongside of the top tier of St. Louis dance teams. It's also another opportunity, besides IDTA, to showcase their specific styles. Comp season also includes hosting a K-8 dance camp in the winter, plus their own IDTA regional comp in February.
Coach Wellen, once the team's captain, went on to cheer with the St. Louis Rams from 2010-2012. After a two-year stint as the JV coach, Emily served as Assistant Varsity Coach last season. The goal is simple: keep succeeding. "We're constantly challenging our team and trying new things," the first-year coach tells me. They won state titles in both IDTA and IHSA last year, and they're looking to repeat in both organizations!
Since Highland has such a strong record of achievement in lyrical and jazz, you might think they're mostly inspired by the other strong Illinois teams in the St. Louis area. But Highland especially admires the hip hop excellence offered up by distant Villa Grove and always notice their "great sportsmanship" when they're at competitions together (both are 1A teams). The girls are always scoping out videos online especially any dances by the University of Minnesota. "Their work ethic and talent is something that the Highland Dance Team admires and strives for."
College teams across the country have included Highland Dance Team alums—the Universities of Memphis, Louisville, Missouri, Illinois, Kansas, Kentucky, and Ole Miss, just to name a few. Former Highland dancers have performed on the pro sidelines, too: the Memphis Grizzlies and Philadelphia 76ers in the NBA, plus the St. Louis Rams in the NFL. Highland alums have also danced with the Radio City Rockettes in NYC.
Practice ends and the girls head off to either work or chill. As hot as the basement was, it's oppressive outside (my car says it's 114 degrees when I first start it after an hour parked in the sun). Coach Wellen is somewhat surprised to hear me tell her that a lot of the teams up north are aware of her team's achievements over the years, and I'm just as surprised to learn that the team knows a little of what 8CA's all about. If north and south are going to come together, Highland's got to be part of the story. But they've already spent the past quarter-century writing a big chunk of the story of Illinois dance, and they've got lots more to say on the dance floor this season.