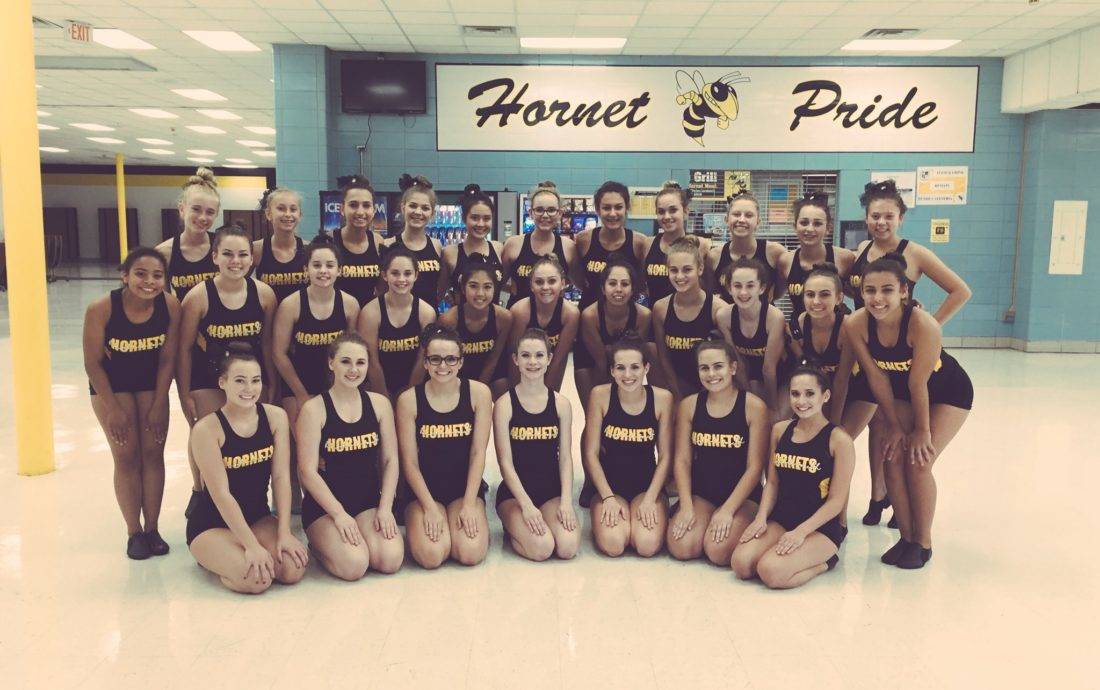 Team Feature: Hinsdale South
Hinsdale South has a throwback name, IDTA pom and kick credentials, and small-town coaches. They're the team that does its own thing.
by Norm Ramil, 8 Count Audio chief.music.officer & dance.fan
There's no shortage of quirky school names in the Chicago area. Take Hinsdale South, which isn't in Hinsdale but just south of it in the suburb of Darien. So while the school name might be a little confusing, their dance team's name is even more interesting.
If your team's looking for that subtle hint of traditional, you'd go with "poms" or something cute that ends in "-ettes" instead of "dance team." For a classic flavor, there's "drill team," something enshrined in IDTA's full name (the Illinois Drill Team Association). Hinsdale South goes with something totally vintage: these girls are the Hornet Danceline, and always have been. "We're an old-school pom team mixed with the Rockettes," explains Varsity Coach Courtney Gillette.
The name's not just a tradition. "We literally have a kick element in every routine," she points out. It's a custom that fueled this team to back-to-back IDTA kick state championships in 2012 and '13, along with TDI kick state titles in 2014 and '15.
Her girls, for the most part, don't have formal dance training (but a few do). "Most of them learn to turn in this cafeteria," she tells me. It's pretty surprising for a place like Darien, where many households don't have a problem finding resources to fund dance classes. It's also a huge contrast to their fellow district dance team at Hinsdale Central, who, ironically, don't field a competition team at all but have a team with tons of studio experience. But looking at their recent achievements, you'd think that some pretty elite studios feed into the Hornet Danceline program every year.
Coach Gillette estimates that around 90% of her freshmen come out of Eisenhower Junior High, which makes it easier to coordinate dancer development and recruitment. An atmosphere of unity starts in the spring when JV and Varsity all try out together. Coach Gillette knows that "sometimes tryouts don't show you everything you need to see," so all the dancers start the summer working as a single group. They're not assigned to Varsity or JV until after summer camp.
Gillette and JV Coach Heather Riggs try to have their respective teams practice together as much as possible. Today's a good example, with both teams coming together for warmups and stretching before moving to opposite ends of the cafeteria. "Both teams are one big family," notes Coach Gillette. Varsity's juniors are in charge of teaching the basics to the JV girls. "Being in the same room within visual distance helps the JV girls see what they're working for."
With warmups out of the way, and with the arrival of Coach Riggs (who drives to Hinsdale South from another building in the district), the combined Hornet Danceline moves on to skills drills. Everything is modified for those who aren't "there" yet, so for some, this could mean doing single turns for now. Pom arms are another good example; during a challenging double-timed drill, a few girls have a hard time keeping up. But it's just a matter of time. "Some need to just build their arm strength," observes their varsity coach.
Across-the-floor stuff usually comes next, but with homecoming bearing down on them, they'll have to skip it for today. But the Hornet Danceline never cuts intensive kick drills from their practice schedule, and the varsity girls definitely execute good kick technique for having learned how to do it in this room. True, there's varying levels of kick knowledge and overall skill, but this line should definitely look just fine at halftime. They're kicking to a '70s and '80s mix of rock women, sped up to sweat-worthy 138 beats per minute—fast for the newbie kickers, but still kickable.
Three official captains lead the way. But team leadership is a group effort shared by all the seniors, a "family mentality," as Coach Gillette calls it. Eleven girls are back from last year's team, which (on my visit in September) numbers 19 total. The six seniors are in charge of four juniors, five sophomores, and four freshmen. The roster could drift toward 16 as some girls shift to JV or alternate roles during competition season.
So now that she's started her 9th fall as coach at Hinsdale South, what's Coach Gillette most concerned with in today's competitive dance climate? "The energy in routines is gone, with so many of the lyrical and dark dances" taking up most of our attention at the competitions. "It doesn't fit for our girls," she says, adding that "IDTA still has a place for that especially with the kick and pom categories."
These dancers realize that their pom and kick leanings give them an old-school image, something that they're proud of. At the same time, she knows they have to evolve. "We have a lot of pride in the fact that we don't hire choreographers," though this isn't set in stone for the future. "We do a lot of soul-searching on this question. Maybe an outsider would help break us out of our shell and push us into new worlds."
The team's seniors, captains, and returning dancers all pitch in for football choreography. They have four football routines to work on, and Gillette tells me that they thrive on last-minute work (call it procrastination if you need to, but it's what works for them). Assistant Coach Riggs takes care of the choreo for her JV team.
As you might guess, kick teams tend to do well at pom, since both are the most traditional dance styles in a sport that officially goes back to 1980, and unofficially way before that. The Hornet Danceline won four consecutive IDTA state pom titles from 2010-13 in the AAA division, then picked up a AA Pom title in IDTA for 2016. Coach Gillette guided the team to a TDI state pom championship in 2015. They've also qualified for the trip downstate in all four of IHSA's state events.
Is there more to this team than kick and pom? "We have no hip hop skills. It's fun at UDA, but…" So yeah, a few days in July at NIU's camp gets the team their hip hop dose for the whole year, and for them, it's plenty. And knowing what they're good at and not good at literally lets them have fun with their short hip hop encounter—no pressure to carry it over into a routine later in the year.
One of the things that Hinsdale South likes about their IDTA and UDA communities is getting to see the same small group of teams often. Gillette observes, "It's nice to see everyone's progression throughout the year—the evolution of where they start and how it develops." Adding to the team's uniqueness are the coaches' backgrounds. Gillette's a native of Sterling, Illinois, where she helped launch their competitive dance program years ago. Assistant Coach Heather Riggs, a small-towner herself, danced on Bureau Valley's team when it dominated the Production category in IDTA's smallest division. It's not a stretch to assume that their own experiences on small school pom teams makes them a great match for the Hornet Danceline program.
Like a lot of competitive teams, the Hornet Danceline's dancers have a lot of control over what choreography the team puts out on the field for halftime dances. Coach Gillette is mostly hands-off this time of year, an implicit (SAT word!) bargain with her girls that once comp season starts, her intensity will ramp up. And both coach and team are cool with it because of the trust and experience shared by everyone in their dance family. "I let them get their way when the stakes are low," she mentions with a blend of casualness and intention.
As practice goes on, I start to really appreciate this head table that Coach Gillette and I occupy (dance is one of the few sports where you'll often find a coach sitting on top of a table while directing practice). Yeah, an annoying pole messes with everyone's sightlines and formations, but somehow this all works. As promised, I do see JV glance over every once in awhile, checking out what's in store for them when they move up to varsity someday. Next to me is a thick binder that the dancers in charge of today's choreography consult every few minutes. It's the team's intellectual stash, lovingly named "the Book of Formations."
This particular dance (homecoming) was created by all six seniors, a routine inspired by the UDA Jock Jams routine they learned over the summer. As the Hornet Danceline runs through their counts, and as the seniors take quick peaks at the Book of Formations, their coach offers some clarifications: where to spot, and when exactly to snap their heads back to the front. The pole makes itself useful, conveniently marking the center of the formation. Sometimes for kick lines Gillette has the girls rotate 90 degrees so the formation has enough room to do its thing. She's always on the lookout, ready to make adjustments to the spacing and balance. As I stand off to the side I know the team's positioned in perfect windows. The telltale sign? Really clean and sharp diagonal lines.
The team's big challenge this afternoon is cleanly transitioning into two kick lines. But once they've got that ironed out, the Hornet Danceline show off how good they are at those classic kick line movements. Other choreo elements get vetoed by Coach Gillette, however. Some combos are a little on the ambitious side, and she figures that "they're not there now…but maybe later in the competition season." But one thing's always present: this is the Hinsdale district, so academics are at the top of everyone's priorities. Having smarts does play a role here at practice, and the seniors really do understand music tempo and BPMs (they've slowed this dance down from 144 BPM to 134 "for better musicality," and they're absolutely right).
I get the sense that there's a ton to cover in a short period of time, but that's where teamwork and good coaching can ease the time crunch. Gillette's pom expertise comes into play when she makes a change for the color work, just to make sure it makes sense to the crowd as they look out onto a distant football field at her dancers. The seniors do a lot of the questioning and answering, besides taking turns counting out loud.
Just as it looks like the Hornet Danceline's really getting pushed and challenged, we're out of time, and the next choreo elements of this routine are saved for next week. JV comes over and runs through their dance while the varsity girls cheer them on. JV and varsity started this afternoon together, and that's how practice wraps up. This one-team approach seems just right for a team that does things their own way, dancing as one of the few IDTA teams who don't speak with a southern Illinois accent. While most of the Chicagoland dance community battles it out, three trophies at a time, in IHSA competitions through December, the Hornet Danceline will be working hard for IDTA state category titles that are as old-school as their own pom and kick specialties.
It's just past 6pm and even though they've got somewhere to be, the seniors graciously hang out for a couple extra minutes to chat with me. Almost a third of the varsity team stands in front of me, sharing details on their own dance backgrounds and what it's like to be on such a unique dance team.
Nicole is one of the team's few trained dancers—she's done work at Lively Arts Dance Academy in nearby Countryside. She loves how her teammates acquired new skills after starting with nothing. When she's not dancing, Nicole's music preferences depend on her mood, so it could be hip hop or Sam Smith.
Paige has dance experience with Beyond The Stars in Willowbrook. You'll usually catch her with country running through her headphones. She's put a lot of work into her jazz skills, and when it comes to this team, she really likes how all the girls work well together despite different dance backgrounds.
Samantha's a pom and kick fan, so this dance program is a perfect fit for her. Even though her Danceline lives in a separate universe from a lot of the suburban dance teams, she admires the energy that teams like Geneva put into their routines. With her comments on energy and pom and kick, it's no surprise that she prefers listening to pop.
Sophie's another senior that leans toward pom and kick. But besides that, she keeps an open mind and isn't intimidated by the idea that some teammates come in without formal dance skills. So it's pretty fitting, given that flexible attitude of hers, that she's open to anything when it comes to music.
Bridget has a specific dance specialty. It's ethnic, and you get one guess (clue: check her name). Besides Irish dance, she's a tap fan, and she's also developed her wider dance skills at Dance Dimensions (all the way out in Bolingbrook!). Her favorite aspect of the team is watching its progress as everything comes together, and the bond that goes with that. She definitely appreciates how working hard all year lets you reap the rewards in the end.
Emily built her dance resume at Steps on Main in Downers Grove and also at Lively in Countryside. She brings a different dimension to the team since she's personally into jazz and hip hop dance. The coolest part about being on the team are the lifelong friendships. And among the schools they compete with, she likes how the Hornet Danceline has a reputation for performing cleanly. And inside Hinsdale South, she likes how the teachers and students recognize that the team's full of hard workers. Music-wise, she prefers hip hop for competition days and alternative for every other day.
I threw out a couple questions to the group of them. First, what's it like having a team with such a variety of skill levels? They tell me that a third—maybe even half—of the team has secondes (as of mid-September). In other words, it's a good foundation for growth. They go on to explain that it's actually a reason to be excited for the upcoming season as new skills come together with experience.
The other "I've gotta know" question: what's it like competing in IDTA when most of the other teams in the suburbs stick with IHSA? They all tell me that it's awesome to be able to dance and compete in categories, so their pom and kick work doesn't have to be judged against more technical styles. They add that they place a high value on tradition, whether it's their dance styles, team customs, and getting to IDTA state. Bridgit or Emily (my bad handwriting won't let me figure out who said what) explain that "we like being unique…we're the team that does its own thing."