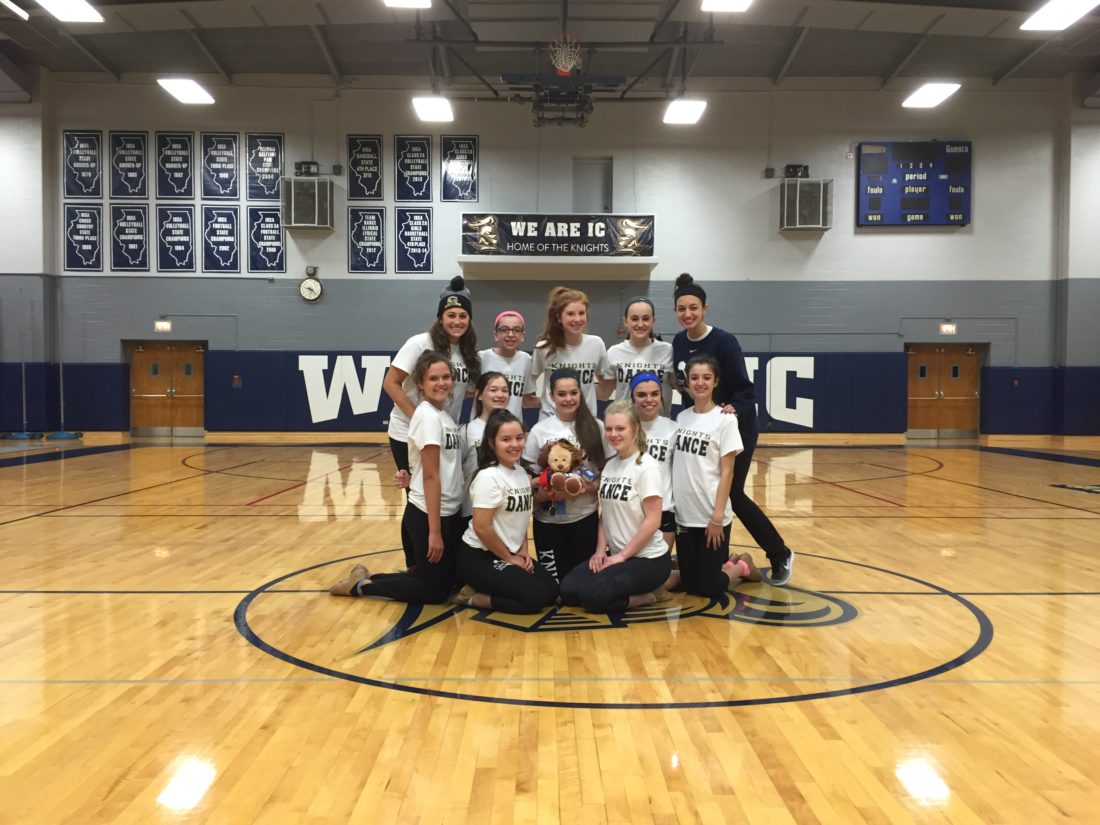 Team Feature: ICCP
Limited tech background? It's no problem when you've got talented coaches and some divine intervention on your side. Just ask the IC Catholic Prep dancers!
by Norm Ramil / 8coutaudio.creative.director & dance.fan
Elmhurst is a mini-hotspot when it comes to dance in the western suburbs of Chicago, thanks to both IC Catholic Prep (1A) and York (3A). What makes the place even cooler is—well, it's kind of hard to visualize without a map. Growing up in (630), I knew that Elmhurst kids can get to the Oak Brook mall pretty easily, while their parents only have a short drive in the opposite direction to get to their business flights at O'Hare. And dance? If you read our 8CA team feature on York back in the fall, you know that the local dance talents learn their skills as far as a couple towns west in Bloomingdale (Lake Park, anyone?). And while IC's dance team doesn't have a ton of trained dancers, the team itself travels to nearby suburbs for some of their practices. I guess, long story short, Elmhurst is the kind of place that can get you where you want to go even if the crowded town itself doesn't have all the symbols of suburban sprawl.
IC Catholic Prep in Elmhurst (formerly known as Immaculate Conception) is the oldest Catholic co-ed high school in DuPage County, dating back to 1936. For a small 1A private school in the middle of the suburbs, you might be surprised that the school's athletic program includes…bass fishing. IC's football teams have 3 state championships since 2002 (including 2016).
The private school of 300 students, just south of downtown Elmhurst, has its own stand-alone athletic / multi-use building, with a full gym on the upper floor. On this very cold January night, the IC Lady Knights Dance Team snags this gym (usually on Thursday nights, sometimes splitting it in half with cheer or basketball). Other times, the team hits the road to practice at a studio Bloomingdale or at a church gym in Hillside.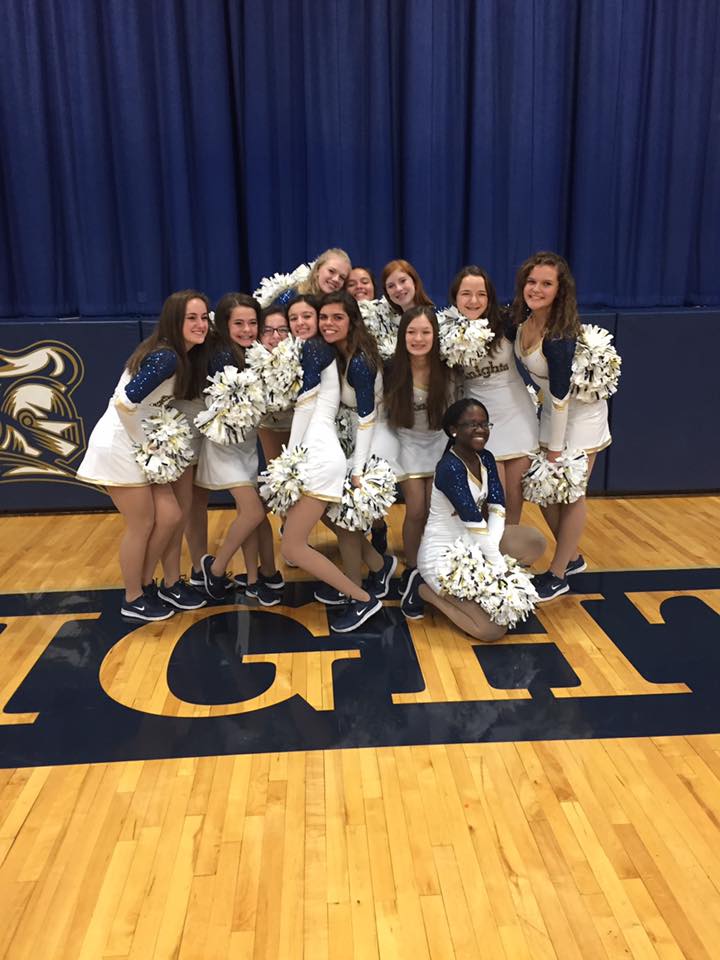 It's a stage! It's a basketball court! It's the IC Dance Team's home floor
The team takes about 15 minutes to warm up and stretch to music, which they do while their two coaches chat with me in the bleachers. Head Coach Lauren Caputo and Assistant Coach Genna Nicketta tell me that this small 1A team basically has almost no trained dancers on its roster, so they spend much of their practice time on not only learning choreo but also technique. No dance backgrounds also means that the team's summer has an intense schedule, heavy on the tech (leaps and turns), along with conditioning, yoga, and some basic choreography.
The IC Dance Team floors six dancers for their competition routine, set to Coldplay's cryptic and majestic "Viva La Vida." The girls are in matching "Knights Dance" t-shirts, and tonight's agenda focuses on choreo and cleaning. Later, the team has their meeting before the alternates get to head home. And then it gets super intense (more on that later). For now, the whole team works in the casual atmosphere of their home gym, with huge posters of ICCP winter sports seniors on the back wall, and a knight watching the whole thing from the corner of the stage.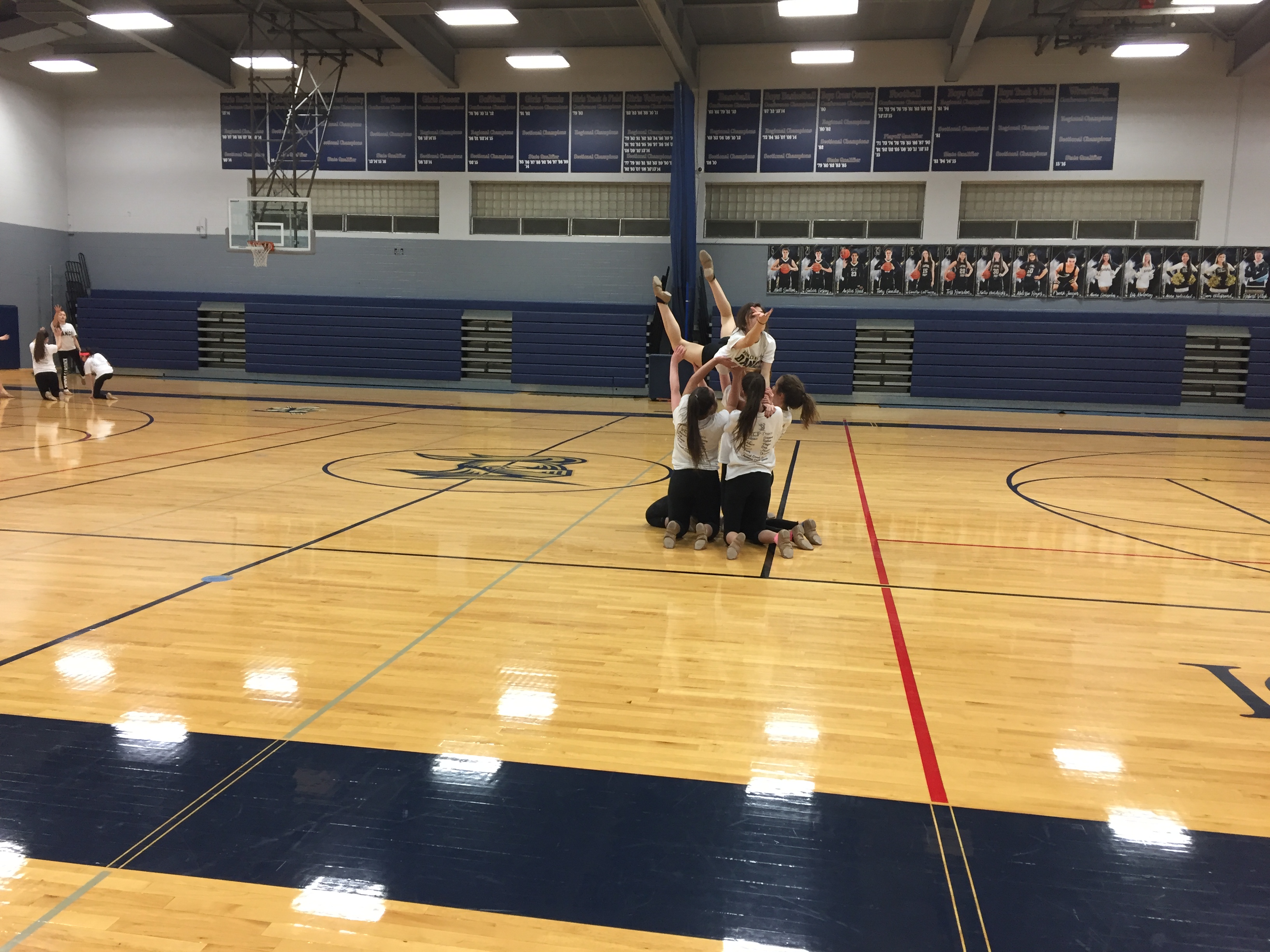 Both the lift group and the alternates hard at work on a super cold January night
Coach Genna often gets to hit the music, controlled from an adjoining room and coming from some nice-sounding speakers above the gym floor. The Lady Knights Dance Team does a run-through of the dance, just to see where they are at the moment. Coach Lauren's very first comments are about the spacing, which is super important with just six on the floor. Caputo asks her dancers what they'd like to go over, but also adds, "Point your toes" to the end of her question. She also brings the alternates closer toward the main formation.
"Remember to smile the whole time. Not cheesy picture-day smiles," Coach Caputo reminds her dancers. After another run-through, the team gets overall feedback. "The beginning was 85% of where I want it to be," estimates Lauren to her girls. And she thinks the capezios are looking really good.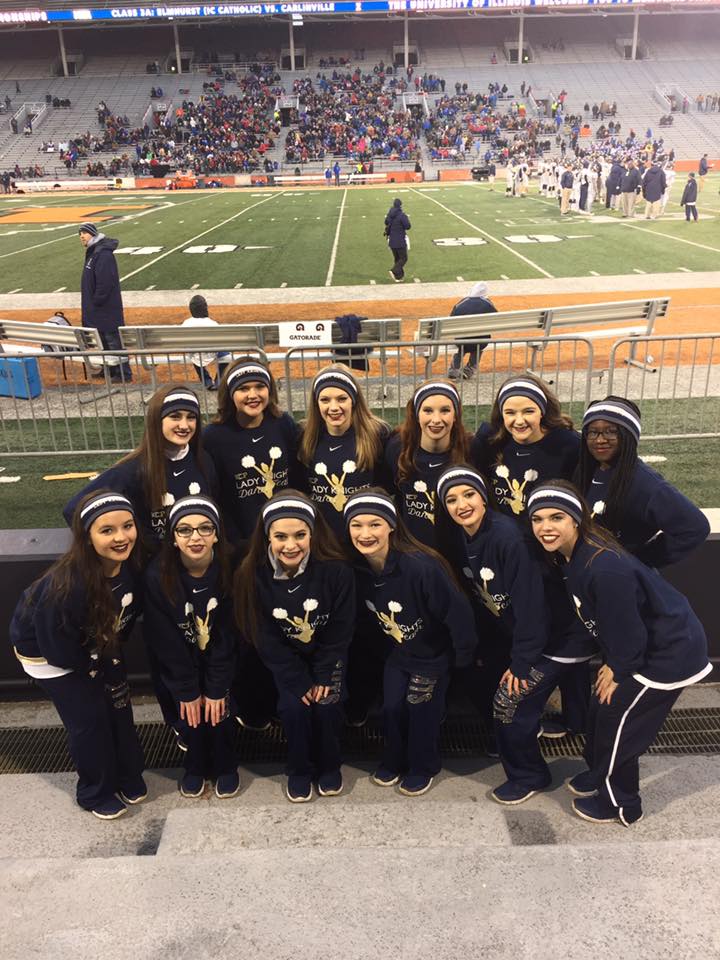 The ICCP Knights Dance Team supported their football team at state–not sure if Coaches Lauren and Genna had to drive the minibus all the way to Champaign and back
The IC dancers and their coaches use both counts and lyrics to clean up the details of their routine, a sign that musicality is a basic building block of their mental framework. So is keeping a tightly-knit team: Caputo again brings the four alternates forward again since they've kind of drifted away from the formation. She takes a second to call out a couple of them for capezios that are looking a lot better, and the whole team (and this guy) joins in spontaneous applause.
The coaches split the team into two groups for both updating choreo and cleaning it up. Lauren takes the "lift group" off to the left to go over their part along with half the alternates. They're on the far side of the gym but I can still hear Coach Caputo teaching the new choreo using a mix of counts and spoken lyrics. Coach Nicketta cleans up the "fish flop" group closer to my side of the bleachers, joined by the other alternates. Genna's a little more musical and sings the counts and lyrics for her group, but after awhile, she has to ask Lauren to clarify the words. One of her dancers assures Coach Nicketta, "You can count this part [instead of singing the words]." "Thank God!" replies a relieved assistant coach.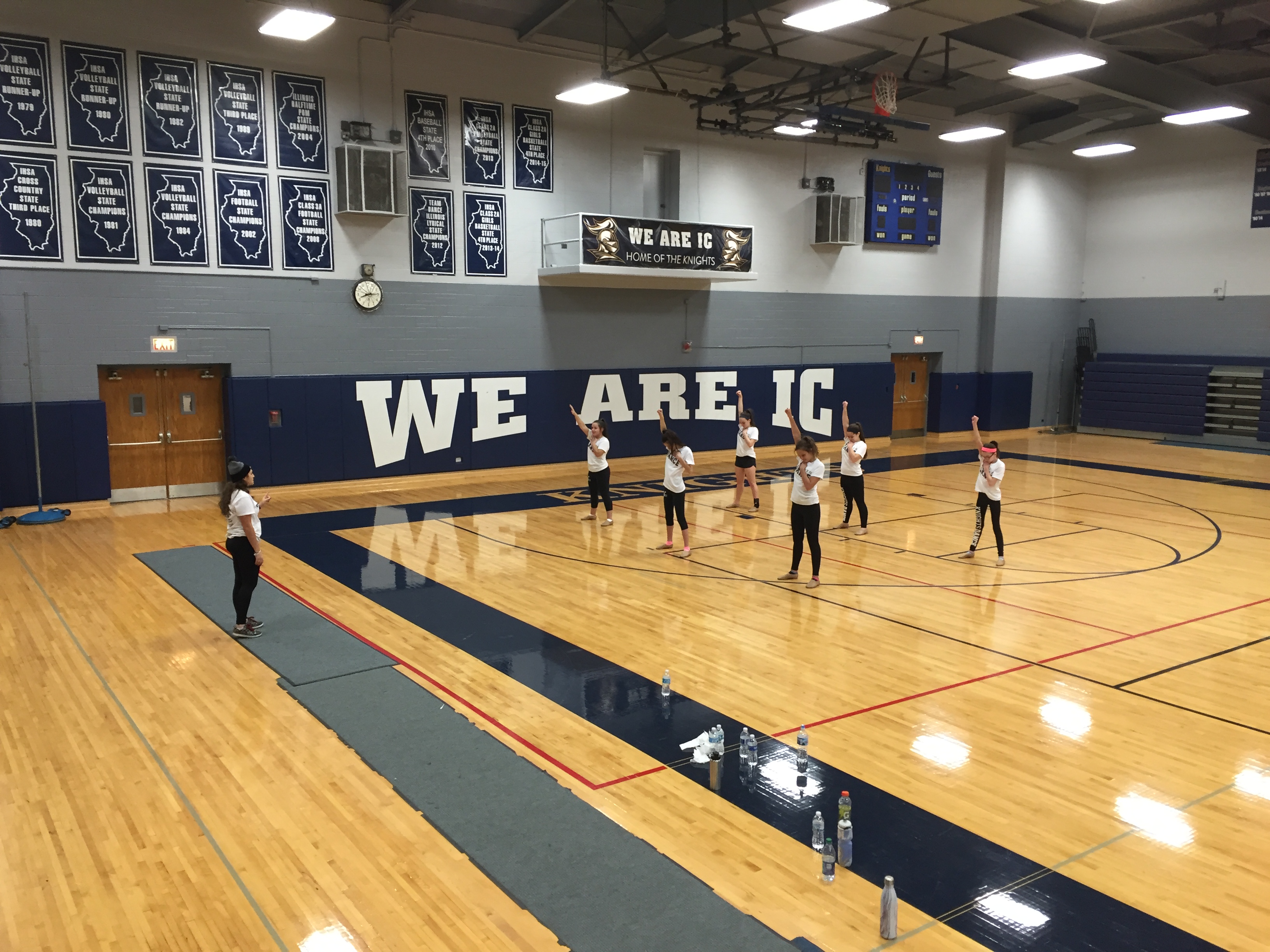 Coach Lauren Caputo teaches updated choreo to part of her team
Back over on Lauren's side, one dancer admits making a mistake during a run-through. "I didn't even notice it until you made this face," her coach points out, simulating a scrunchy face. Teaching some new combinations takes some time, but the musicality's going to be awesome (these movements are based on the rhythm of the singer's lines). Spacing, alignment, and traveling efficiently and gracefully to the next spot are all focused on. For example, Caputo tells her girls to not swing those arms as they perform the capezio.
The fish-flop girls are hard at work, too: secondes, leg holds, and the fish flop itself all get some intense workshopping. The girls realize that being able to do the movement is one thing, but then doing it in the context of an 8-count and music is an even bigger challenge. It really does take core strength to come up quickly after the fish flop. But for the turns, it's mainly technique that gets drilled—opening to the corner, and timing exactly when to drop the heel.
I can see that these IC Lady Knights dancers are super-eager to learn and clean these turns a la seconde. The dancers offer to vocalize "HIT!" when they face the corner during the turns, a trick they remember seeing other teams do at camp. Lauren comes over to help. One girl admits that her last set of turns was "real funky, I know." Coach Caputo tells them to not swing that leg as a way to cheat and create more momentum. She elaborates: "I'd rather have you at [a lackluster] 45 degrees than swinging all that weight around." Their coach even takes a second to personally demonstrate how bad a simple tendu looks when you don't point the toe.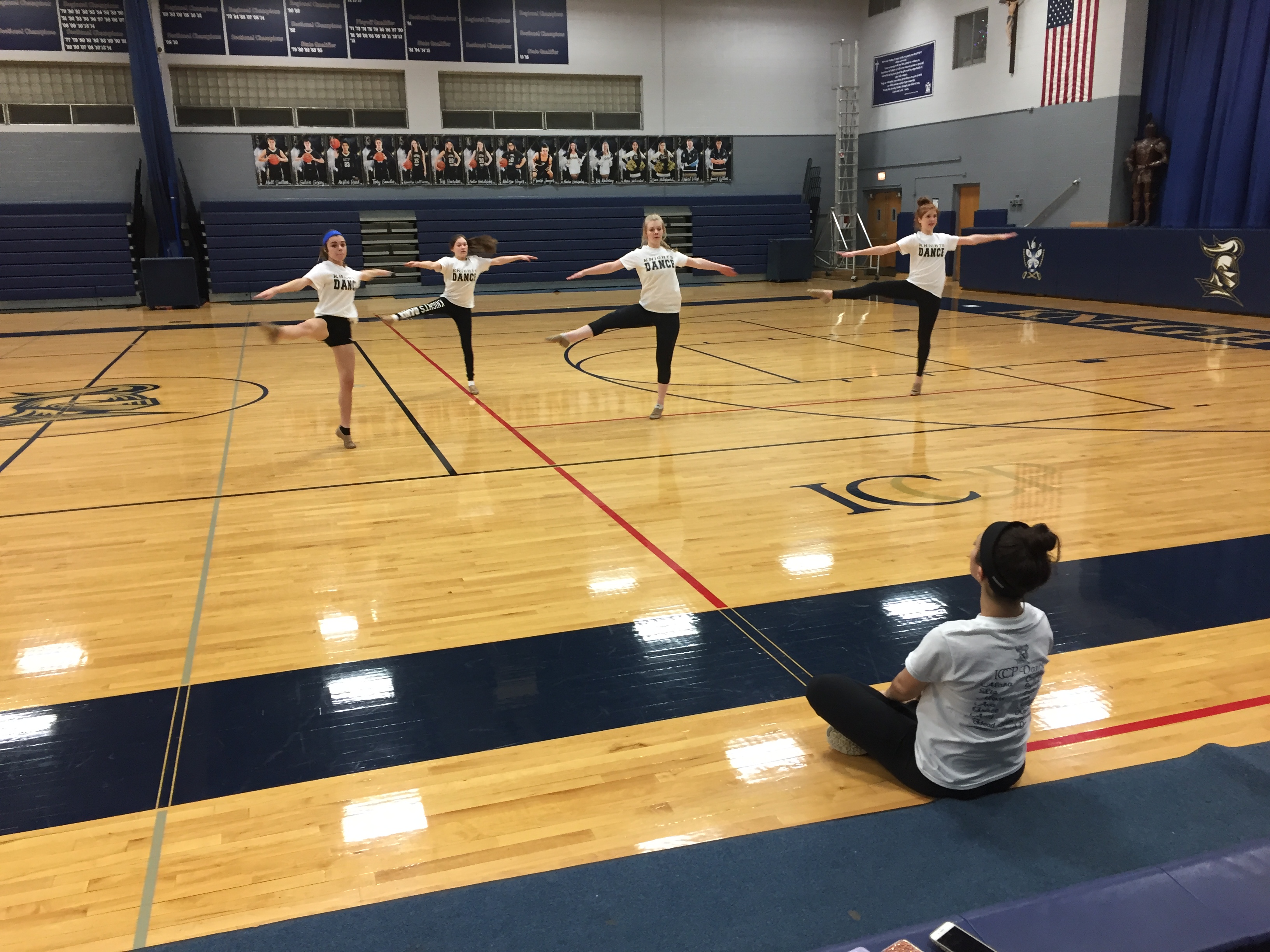 Assistant Coach Genna Nicketta, works on the turners' secondes. Check out the knight on the stage in the background
When both groups come back together, Coach Caputo resets the whole-team mentality with, "Ready, friends?" But before Coach Nicketta hits the music, Lauren asks her dancers, "What are both groups gonna think about?" The entire team replies, "Spacing!"
Next comes the "team circle," which they graciously invite me to sit in on. I'm introduced to Beatrice, the team's Build-A-Bear creation. Tonight she's passed on to freshman dancer Erin for doing a great job at practice. Each girl who's awarded a turn at taking care of Beatrice adds something to her, like a stuffed-animal-sized accessory. The team also talks about New Years resolutions (scroll way down for the full interview). Coach Caputo adds that it takes 27 days to form a habit. "And it helps if you put it [in writing] in a place you'll see."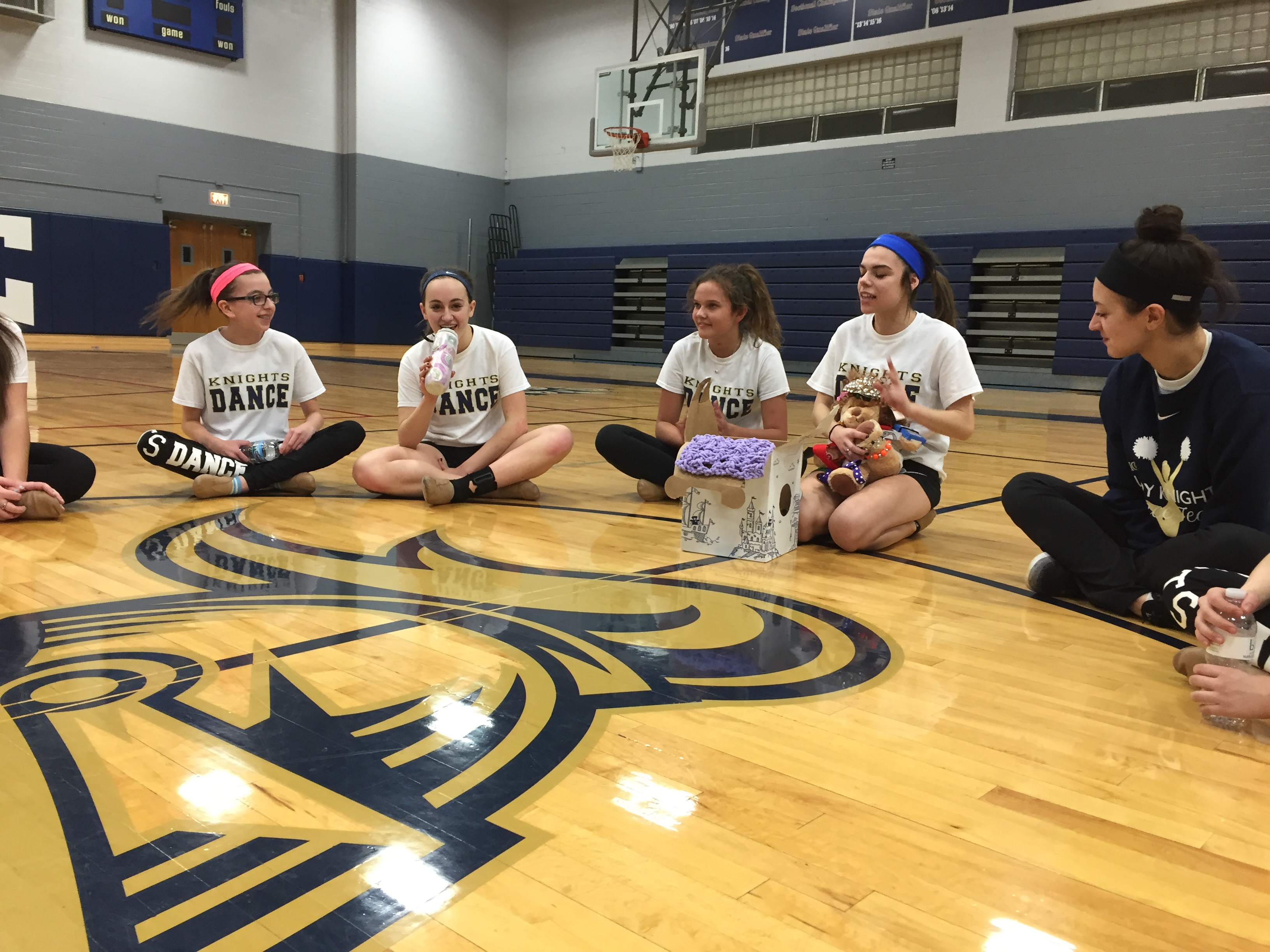 Inanimate but extra-important team member Beatrice joins the team circle 
The team circle finishes up in a tight huddle, and each dancer puts a foot in the middle of to keep the rhythm of the prayer: "Matthew, Mark, Luke, and John, bless us all that we dance on, and if we do our very best, we know that God will do the rest, Amen." Then, focusing on their next competition, they break on 3: "Huntley!" And with that, the "alternate friends" leave practice and the rest of the team gears up for a mini-intensive.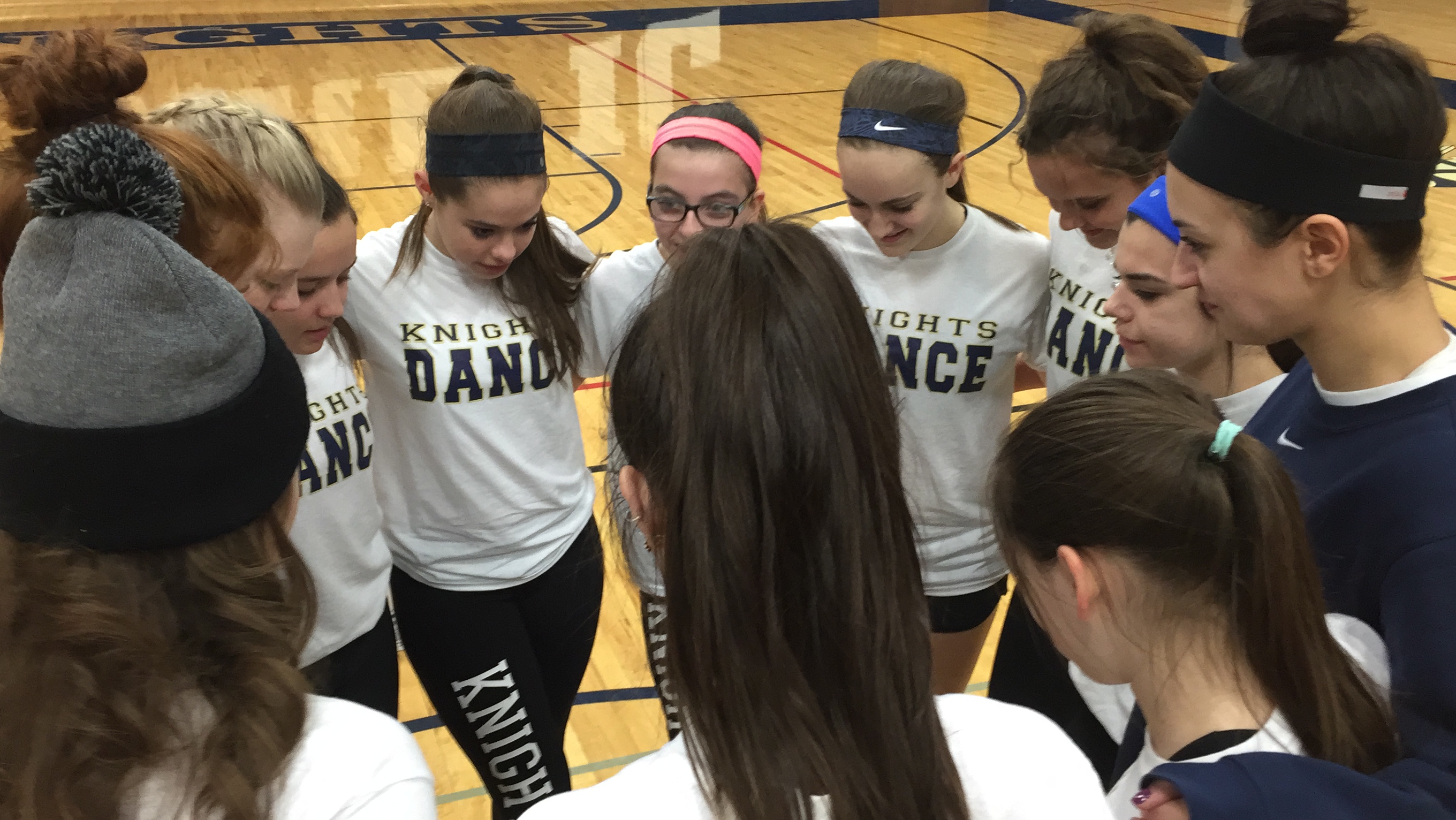 The ICCP Knights dancers give a shout-out to the synoptic Gospels, plus John, as they pray for a good set of practices leading up to the Huntley comp
IC's state accomplishments
1995: IDTA 3rd place Hip Hop (then known as "Aerobic Funk")
2007: TDI champions in A Kick
2007: TDI 3rd place A Pom
2008: TDI 2nd place A Kick
2008: TDI 2nd place A Open Dance
2009: TDI 4th place A Open Dance
2009: TDI 2nd place A Lyrical
2010: TDI 6th place A Open Dance
2010: TDI 4th place A Lyrical
2011: TDI 4th place A Open Dance
2011: TDI 6th place A Lyrical
2012: TDI champions in 1A Lyrical
2012: TDI 2nd place 1A Open Dance
2013: TDI 2nd place 1A Lyrical
(Coach Elyse Skalka):
2013: IHSA 1A 13th place
2014: IHSA 1A 11th place
2015: IHSA 1A 18th place
2016: IHSA 1A Day 2, 9th place
Coach Lauren Caputo:
2017: IHSA 1A 13th place (1 spot and .06 points short of advancing to Day 2)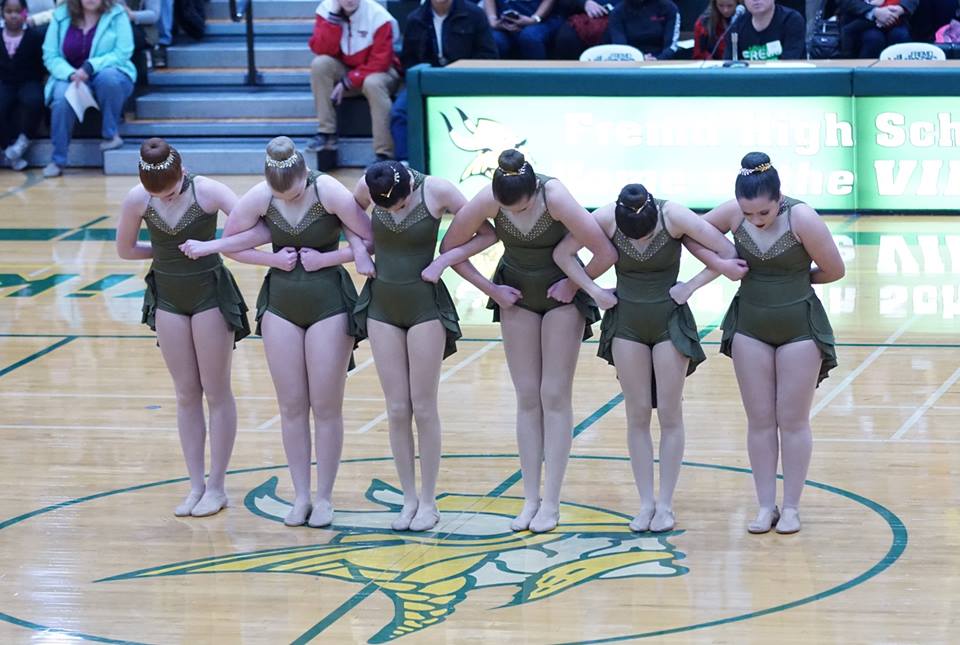 The Knights on a viking-marked floor at Fremd's competition just before Thanksgiving
Coach Lauren Caputo danced on the Lake Park Lancettes before joining Purdue's Golduster Dance Team. She works with other dance teams outside of IHSA 1A, and you've probably seen her choreography in some high-profile, high-scoring 3A routines. Lauren stays busy away from dance since she commutes to Northwestern's Evanston campus to work on her speech pathology master's. Caputo is perfectly paired with fellow first-year coach Genna Nicketta as the assistant. She danced on Lyons Township's team followed by four years of dance at Elmhurst College, just blocks away from ICCP.
Just like their head coach, who stayed casual and chill during tonight's practice in her knit winter cap, the ICCP Dance Team is a relaxed and fun group. Someone brings up how one teammate once said, "What if we score a 90?" (they've teased her about it ever since then). And a couple times tonight, Coach Caputo misspoke, prompting her dancers to remind her that she's a speech pathology master's candidate. Lauren's also quick to laugh at her and Genna's skills at getting the team to and from competitions by driving the minibus (though the school does fund the team pretty well, including buying two sets of uniforms). Check the team interview below to find out more about their minibus adventures.
With impressive academic credentials, it's no surprise that Coach Caputo has a strategic ladder of goals for her dance program. Early in the season, the goal was just to hit a 75 on the scoresheet. And just because they're consistent state qualifiers doesn't mean that anything is automatic. "We've got a really young team this year, and they're all hard workers."
With very little dance training on her team and being a choreography ace herself, Coach Caputo handles the choreo alongside Coach Nicketta. "The girls even asked us to come up with their senior night dance," reveals the rookie coach. Still, with so much going on, Lauren and the girls are totally up for reusing a few choreo ideas from camp for their halftime routines.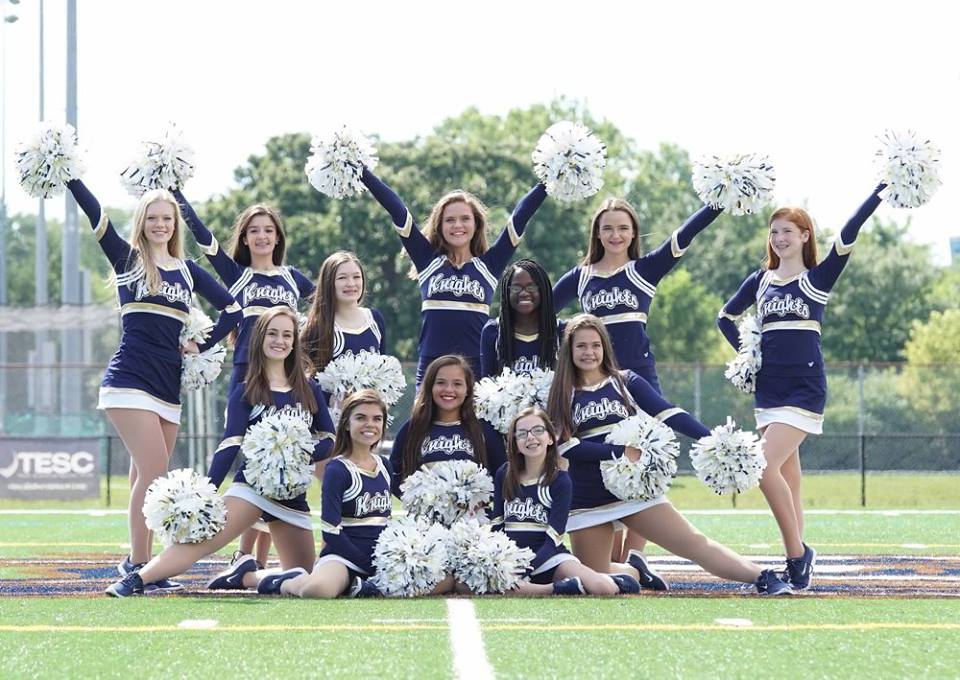 The IC Catholic Prep dancers look like they're in the mood for some state-quality football
Sportsmanship is important to these coaches, veterans of Team Dance Illinois (TDI) competitions back before IHSA. The team's gotten to know 3A powerhouses Stevenson and Neuqua Valley, building bridges across divisions and experience levels. Both coaches mention to me about how nice the Eisenhower dance team is to them.
Poise is another focus point for Coach Caputo, even away from the actual dancing. No doubt she draws on her time on Purdue's high-profile Goldusters Dance Team to impart some presentation skills to her young team. During the team interview, she stops junior Alexis and gives the entire team some public speaking pointers: "You're speaking to our guest…because we all [already] know who you are." But then the team's sense of humor kicks in when a teammate plays along, saying, "Hi, Alexis!" as if she were just meeting her.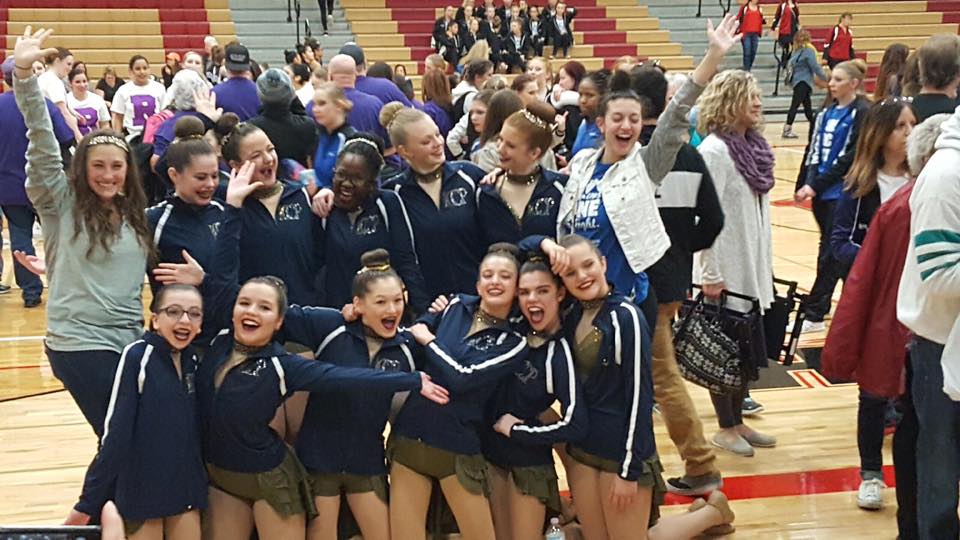 The ICCP dancers gettin' ready to take that minibus back to Elmhurst
As promised, things get intense for the next hour. While most of the world winds it down after 9pm, the dancers of IC Catholic Prep are about to mash the accelerator pedal on what Coach Caputo calls "a stamina run." First, they mark the full routine with music, but with full arms. Then she has her dancers go full-out up through the first lift, and then mark the rest. She warns them, "Don't revert!" Before the team does run #3, Lauren announces, "Don't forget the small things we haven't cleaned in awhile." And before the 4th run-through, Coach Caputo throws some encouragement their way when she says, "We've had a productive practice, but we can do better. Think your thoughts. When you just do it, it's not good." She shifts into zen mode, a little like a thoughtful yoga instructor. "Close your eyes and think about five corrections." Then a long pause, much like the one you'd encounter at a Catholic mass at the part where you're supposed to insert your own petition. "Take three deep breaths, in the nose, out the mouth. Remember: dance is 90% mental." I'm not sure if deeper dance wisdom has ever been uttered at such a late hour.
They run it, but then comes the biggest challenge of the night—only a 30 second break between the end of run #4 and the start of run #5. This is all about physical and mental stamina. Lauren tells her dancers that they're at about 80% and will be in good shape after Saturday's practice (the last one before the big Huntley competition). She's ironically run out of room on her phone to take video, so I take over that job for this final full-out performance.
This isn't just reciting choreography and physical execution—the Knights Dance Team still has to listen and take in corrections during this grueling run. Coach Caputo yells out, in the middle of the dance, whenever she senses the energy is dying. During a short lull in the middle of the routine, she manages to tell the girls, "Dancing sharper takes less energy than flailing!"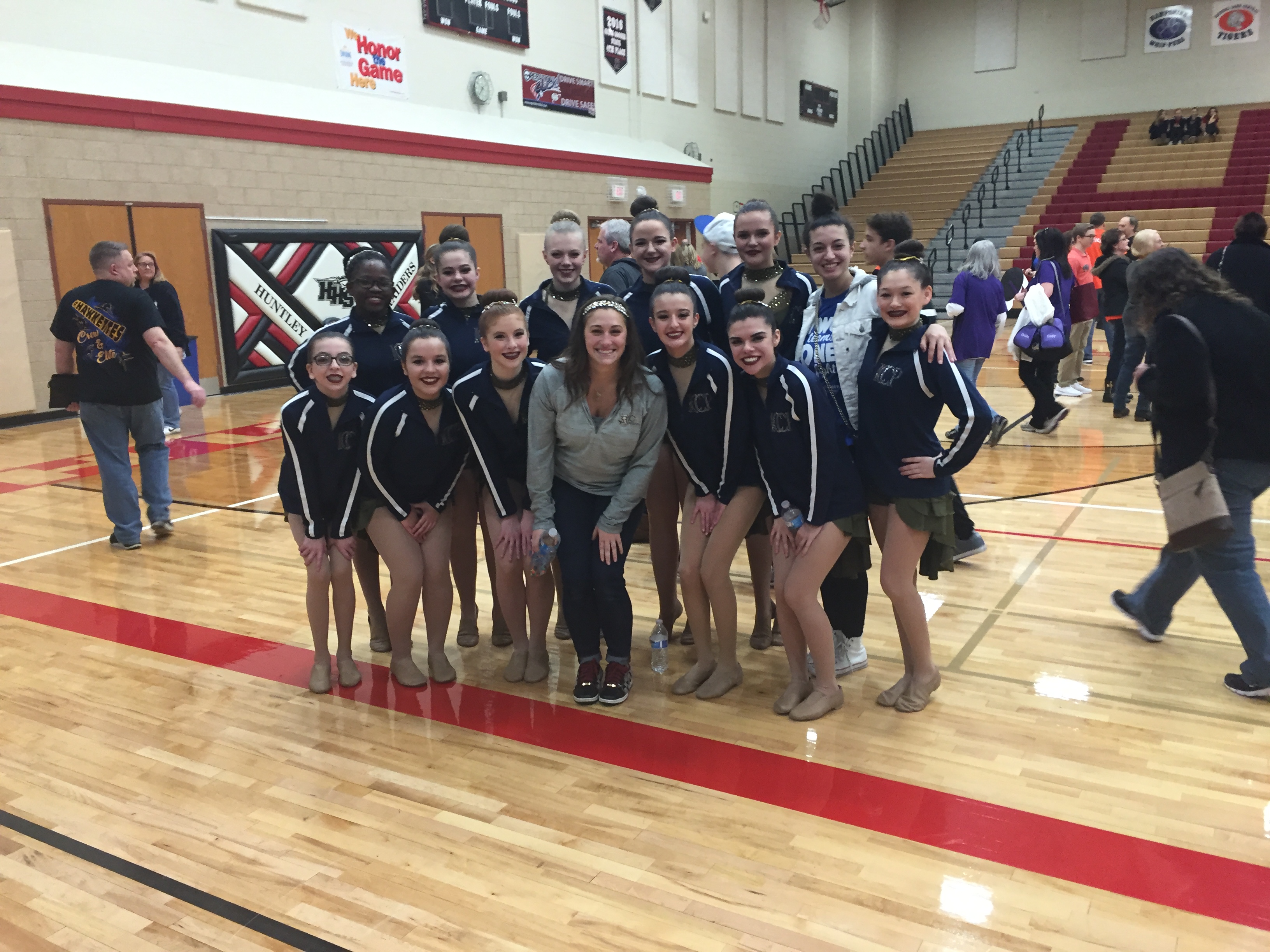 New coaches, same travel plans for late January: the IC Catholic Prep Lady Knights Dance Team poses after earning a spot to IHSA state
The breathless team honestly looks potent and ready even after these five run-throughs in a row. The team's homework is to watch the video and write down 10 things "you yourself will fix," along with one thing to fix as a team.
Lauren asks them, "How do you guys feel on a scale of 1 to 10 for getting to state?" The Knights dancers are feeling eights and nines right now, and it's all slathered in legit optimism. I'm swept into the hype, and I believe. I basically just witnessed a team literally combine cleaning a routine with actually learning technique. This program's been to state plenty of times since the mid-'90s, but now they've got rookie coaches and challenging choreo that's built for what they can do. So on this bitterly cold January night, the team feels good, but there's still some uncertainty. They'll soon test it all out at Huntley, and then go back to that same floor 13 days later to try and head back to state.
The IC Catholic Prep Dance Team went on to qualify for state at the 1A Huntley sectional, where their cleaned-up and upgraded lyrical routine looked awesome in a huge gym. The team came just about as close as they could to advancing to the 2nd day at IHSA state, earning a 13th on Friday afternoon–just 1 spot and .06 points behind 12th.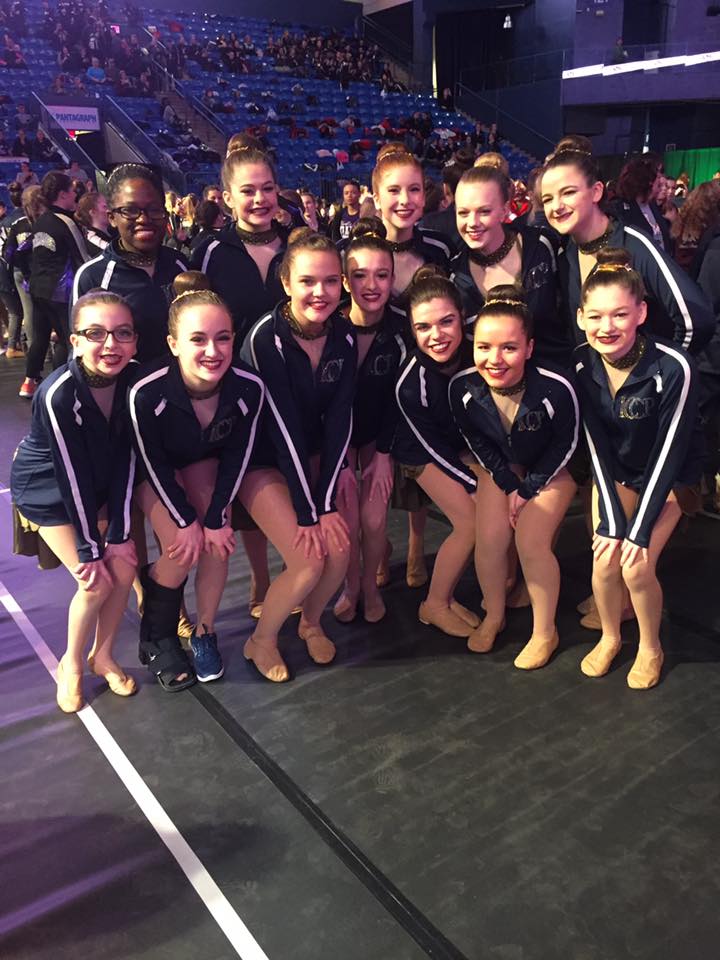 Just hundreths of a point away from dancing on Day 2 at state, the ICCP Lady Knights Dance Team still made a huge statement with their beautiful choreo on that Bloomington marley floor
With a few weeks to take in and process their state run, I asked Coach Caputo for her thoughts. "As far as some wrap up comments go for this being my first year as a new head coach and after losing 5 strong seniors I could not be more proud of my team. We overcame a lot of challenges, we had a lot to prove and did better than anyone could have ever expected. I look forward to continue to grow this program and to lead these wonderful women to be their best selves."
These hard-working and enthusiastic dancers, aided by the Gospels they cited in their team prayer (and probably the intercessions of some key saints and Mary…and a thumbs-up from the knight on the stage in their gym), took some tailor-made choreo really far into IHSA's state tournament. Also on their side are two rising stars in the coaching ranks of Illinois competitive dance, a supportive school, and a long history of competition success over the past 20 years. Believers, believe it: good dance things are happening at that little Catholic high school in Elmhurst.
Sitting in on the team circle
Coach Caputo invited me to sit in on the team circle, so I got to ask the entire team my "senior" interview questions!
So let's start with how long you've been on the team AND if you have any New Years resolutions for 2017? 
Alexis (JR): I've been on the team for three years. One of my resolutions is to study for my theology tests, because I always try to wing them and it doesn't work.
Grace (JR): I've been dancing for three years. My New Year's resolution is to eat healthier.
Maggie (FR): This is my first year on the dance team. So, the team already knows…I'm very busy. I do a lot of extra curricular activities, and it's often late nights. So I'm going to try to turn stress into motivation (the whole team loves this idea!).
Katerina (FR): It's my first year on the dance team. My resolution is not eat so much fast food.
Coach Caputo: Oh, Kat, you really need to work on that…
Someone else: Kat, seriously…[she's on the short and slim side]
Erin (FR): This is my first year on the dance team. My New Year's resolution is to find something good in every day and write it down, and keep it in a notebook, and look back on my year.
Coach Caputo: Like a positivity notebook! That's cool.
Alana (SR, captain): This is my 4th year. I'm also a captain. My goal is to just kind of be healthier and work out more, and be fit.
Liz (SR, captain) It's my 4th year on the team, and my resolution is to reduce on my snacking at home after school.
Someone: That's a good one!
Coach Caputo: That is a good one.
Peyton (SO) I've been on the team for 2 years. My New Year's resolution is to better myself both academically and at home and improve my work ethic.
Ava (JR) I've been on the team for 3 years, and my resolution is time management 'cause I don't really use my time very well. I'll work on that.
Courtney (JR) This is my 1st year on the team. My resolution is to study harder 'cause I have a habit of not studying for tests.
Coach Caputo: Do you have a New Year's resolution, Genna?
Coach Nicketta: Yes, it is to use social media less, because I'm like the social media queen, and I need to really relax on that.
Coach Caputo: I have a good one, too. I always respond [to texts]…you guys probably know when somebody writes me, I'm like [snaps fingers] there. Which is fine for you guys, but for my friends, I just need to chill. Because I don't need to answer everybody's question or make a comment every time.
What's everyone's favorite style of dance?
Courtney: Jazz.
Alexis: I haven't done it in awhile but my favorite style of dance is probably tap dance.
Grace: My favorite style of dance is jazz also.
Maggie: I like hip hop. I thought that was really fun whenever we did that for football season.
Katerina: Mine is jazz.
Erin: Probably jazz or hip hop.
Alana: I like doing jazz, but hip hop's the most fun to watch.
Liz: That's exactly what I was gonna say.
Peyton: K, my favorite style is probably ballet-contemporary-lyrical, those three.
Coach Caputo: Me too, contemporary…
Eva: Mine's hip hop.
Coach Caputo: …I do enjoy a clean pom routine, though.
Coach Nicketta: Mine is jazz, like a sassy jazz.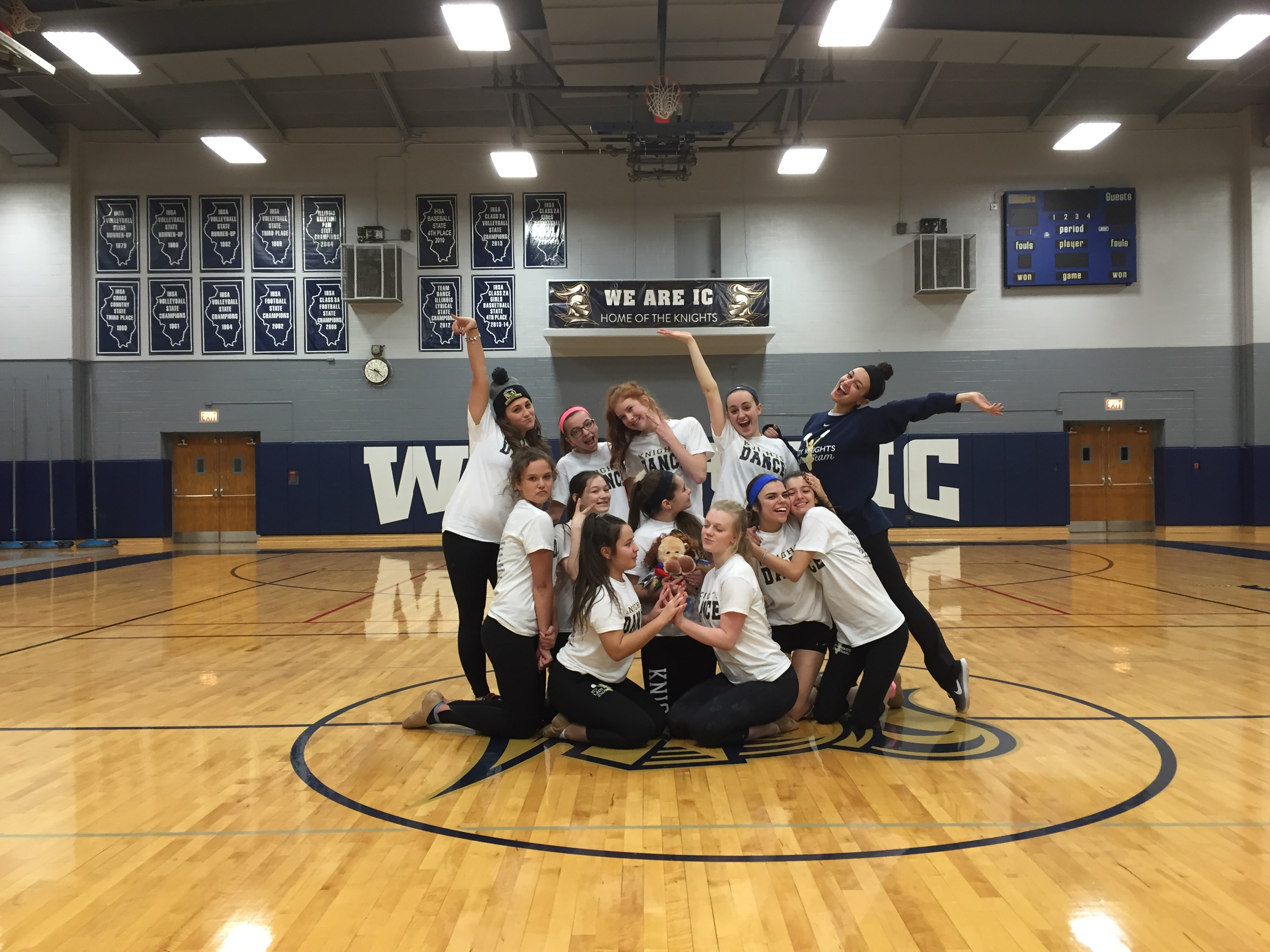 The IC dancers getting a little goofy minutes before practice goes hardcore
What are some other dance teams you admire?
Coach Caputo to Alexis: You got one, go ahead.
Alexis: I have two, actually…the FSU Golden Girls and the Illinettes Dance Team.
Alana: I really like the Hurricanettes from Miami, they're great. And then I like University of Wisconsin's dance team. I've started to watch them now 'cause someone who graduated [from here] is on it now.
Liz: I like University of Minnesota and then the LSU dance team.
Peyton: I like Florida State University and University of Minnesota.
Courtney: I watch Dance Moms, so I like the ALDC dancers, and Maddie Ziegler. She's a big inspiration.
Coach Caputo: I really like the Washington Redskins, they're my favorite professional team.
What about some team traditions that you have on competition day?
Maggie: We do our little prayer thing.
Coach Caputo: One thing that makes us different from other teams is we have to drive a minibus to competition. And there's an alarm…there's steps that you have to take and we always manage to mess it up, so the alarm goes off five times when we exit the bus.
Grace: And the lights start flashing.
Maggie: And the girls that are dancing, [Alexis] gives them a giant smack.
Ava: …a snap on your hand and it stings…
Liz: It puts energy through your whole body.
Coach Caputo: They get bagels in the morning, too, on the bus.
Alexis: Team bagels!