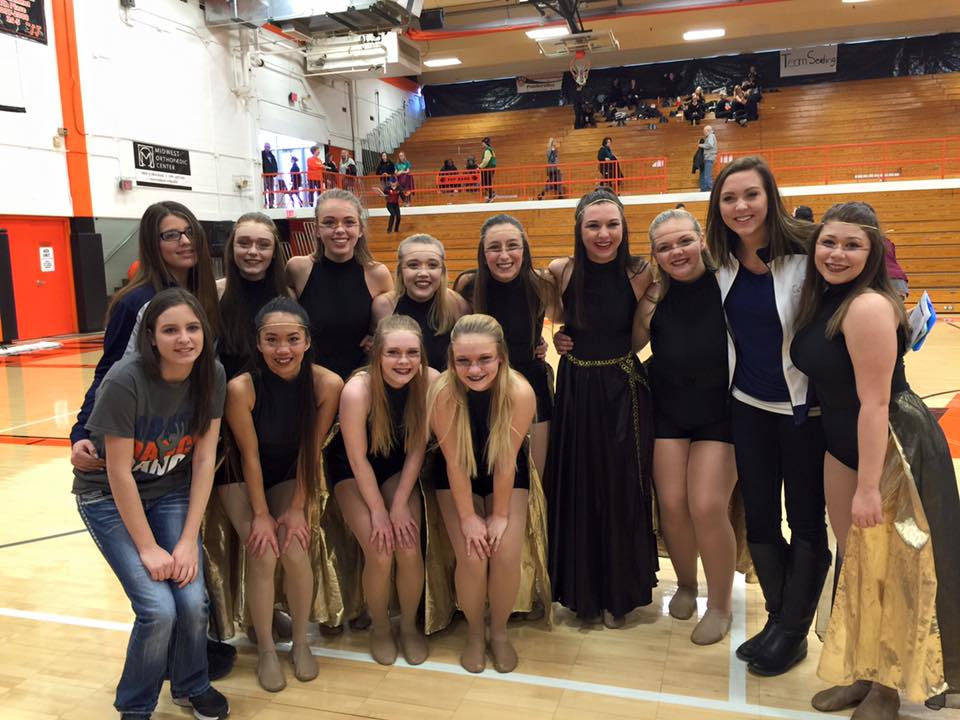 Team Feature: Illini West
They dance on any surface–gym floor, marley floor, outdoor concrete slab. It's all good for the Illini West Chargettes.
by Norm Ramil, 8 Count Audio chief.music.officer & dance.fan
Over in western Illinois, the tiny high schools in Carthage, Dallas City, and LaHarpe teamed up in 2007. They went with a new name: Illini West.
Carthage is a town of around 2,600 and situated in the fat belly part of the state (if you imagine Illinois as a tubby dude facing to the west). There's no easy route to Carthage if you're traveling from Chicago; you'll pass through the college towns of Galesburg, Monmouth, and Macomb first, and then you've got several rural miles until you hit the town. Drive a little further and you'll cross into Keokuk, Iowa.
Small, yeah, but not that small: Illini West has about 376 kids and its dance team competes in 1A. But an impressive 17 dancers make up the Illini West Chargettes. Last year's team had just 13 on the roster, and 5 of them just graduated. Coach Ashley Olin is proud of how they've expanded their roster numbers despite being a small school. Three seniors lead the team. Coach Olin's dancers also include a junior, 5 sophomores, and 8 freshmen!
As you might expect for a team that's almost half freshman, "It's starting back to basics this year," according to Ashley. "Most of my girls have never had any previous dance experience but they have a ton of potential and that's what is mostly important to me." On the other hand, the youthful coach is quick to mention that she's got a better-conditioned team versus a year ago.
Having legit studios in small towns is a key factor in keeping dance strong in Illinois. The girls are encouraged to work on technique at any of the studios in the area. And when you're from a small town, you've got a wider definition of "area."  Maybe it's a studio a couple towns over, or maybe it's an hour away. Here in western Illinois, a dancer might even have to cross the river into Iowa.
One studio is definitely close to home. Mind & Sole Dance Company is fresh, bright, and inviting—the kind of place you'd expect to see in a bigger community. You can still smell the new paint on the walls, and the interior work has a few finishing touches waiting to wrap up. But the mirrors, barres, and marley floor are ready to help shape this young dance team. It's a studio that seems set up to grow quickly and gracefully, the fulfillment of Ashley's lifelong dream to have her own dance studio.
By the time I can catch up with the Chargettes, they're already in the middle of their second of two intensive camp weeks. The team's learning combinations on the new marley floor with Olin up front by the mirror, her Macbook providing the soundtrack to this session. I can tell it's a good group of girls who don't mind me interrupting practice for a couple seconds (and who could probably use a mini break from what looks to be some intense dancing).
The dance they're working on is a homecoming "outer space" theme, proudly mixed by Coach Olin. She notes that it's a chance to be free of the pesky music rules that have popped up this season out of nowhere. So far today, the main issues have been with spacing and fixing formations. As she teaches the routine, Ashley has no problem acknowledging that it's pretty fast, but that they're doing a good job for learning it just today.
And being in their own space, it's easy for the teammates to bond, and also easy for Coach Olin to evaluate what she needs to do to bring out the best in her dancers. "I try my best to bring a studio environment to our dancers and especially to those who would like to take studio classes but are unable to."
The girls try out by demonstrating basic skills including turns and leaps, plus across the floor work. Illini West dancers also have to show flexibility. Mentally, Coach Olin looks for dancers who can pick up choreo quickly, so candidates have to learn a set combination on the same day as tryouts. What she cares most about, however, is attitude. "I would rather work with a dancer that has a 'I will try anything' positive kind of attitude [who] has hardly any technique over a dancer who has the best technique but a horrible attitude. I want hard workers and dancers who really have the passion for what they are learning."
The team's first camp week (a few weeks before this visit) focused on technique. Olin challenged the girls to choreograph a short section for themselves. The twist? It had to be a hip hop style, but the music was Frozen's "Let It Go!" Besides that creative challenge, the girls had to learn a combination each day, in effect learning how to memorize choreo quickly. A difficult turning and leaping exercise underscored Coach Olin's recommendation for the girls to continue taking technique classes. On the flip side, her Technique Week also illustrated for the girls why studio style and team style are so different, and how to bridge the gap between the two.
Launching a studio just a couple years out of college—and in a small town—takes a strong-willed individual. There's definitely fire and drive behind her easy-going persona. The girls sit on the floor for lunch but Coach Olin and I chat at the adjacent counter. She casually but firmly reminds a couple girls to not leave crumbs on her new floor. At the start of her coaching career, Olin was barely much older than her dancers, and it felt a little awkward to not be addressed by her first name. "The girls know when I'm their friend and when I'm their coach," something confirmed by nods as the dancers eat lunch. Still, things are basically on a first-name basis when it comes to addressing the youthful 4-year coach, and she's always available to text with her girls when it comes to life's problems.
Ashley Olin is young but manages to blend a demanding style with a casual rapport with her dancers. Her goal for the team is "mainly growth not only in dance but just teaching my girls how to become young adults, be responsible, [and] work hard." She admirably continues, "High school is about finding out who you are and I try my best to let the girls feel that they are in the best environment to do so."
So what's a natural result of this kind of coaching philosophy? Coach Olin gets to watch the girls become close as friendships grow—"[it's] such a great gift to me. The dancing, of course, is something I hold dear to my heart and the goals I have for them are set extremely high. But I think if we don't challenge ourselves enough in life we will never truly know what we are capable of."
But there's room for differences. For warmup music, Ashley tends to prefer country while the girls favor hip hop. Style-wise, Coach Olin isn't a huge fan of pom dance, saying that combining pom with dance work involves the whole body "but you end up watching the pom work."
And being a captain doesn't require being a senior. "If you think you can lead the team then you should try," Coach Olin announced in the spring. This year, they've got a junior and senior in charge, and a sophomore was up for the position, too. Captaincies, formations—nothing is automatically granted by seniority. "You have to work for it," she says, and adds that it's the best way to keep things fair.
Olin matter-of-factly tells me there's no girl drama. And just to prove her point, she asks the girls (while they eat lunch) if she's right. The team firmly agrees. One dancer added that "We can always tell if someone's in a mood…" The closest thing to negativity is the occasional complaint of soreness or a hot room, said another teammate. This is the kind of atmosphere that leads to a very close team by the end of the season. And I can see it for myself—the team's having lunch right next to my quasi-interview with their coach, and everyone feels free to chime in on a topic.
This huge emphasis on team respect is partly due to Coach Olin's own experiences on this team as a member in high school. Her personal style as a student was to be social with everyone (and I could see this character trait before she even mentioned it), but her team back then was cliquey. So far, her own teams have been great, and this year's group looks to be extra-unified. She probably won't have to use her strikes / demerits system, something carefully laid out along with other policies in the team's "Rules and Expectations" packet.
Once this intensive week wraps up, Illini West's dancers will switch to practices in the gym, where the focus turns to the competition season. The Chargettes plan to have at least two practices each week once school starts. Besides making another run at IHSA State, the Chargettes will once again base most of their season on IDTA competitions (with the team going to Clinton and soloists performing at Highland). Coach Olin choreographs a hip hop dance and a contemporary routine for competitions. On top of that, there's a homecoming routine, a senior dance, "and if we get extremely ambitious, we try to do a Christmas dance."
The Illini West Chargettes advanced out of sectionals last year and got to take the stage at state. The experience was a big deal for the girls, obviously, but also a transformational moment for the community. "Living and being in a small town, it's very hard to get people to be open minded and understand why dance is so important. It's another opportunity to give kids something else to do and try." On a personal level, getting to state confirmed her long-held hope for dance to be "recognized and accepted, and after last year it absolutely was."
When I ask the team which competitors they admire, I get answers that remind me that exceptional dance talent can be found in all corners of our state. There's Mahomet Seymour and Highland. Other girls mention Washington and Villa Grove. Almost of these places are far away from Chicago and St. Louis.
"Being in a small town, it's challenging to do the bigger and better costumes and make everything stand out in ways that larger schools do." This means a crazy amount of fundraising, including a kids camp and a candle sale. And with more dancers than ever on this roster, fundraising is pretty important; Coach tells me it might be time to launch a parent fundraising committee. The school takes care of costs when it comes to shoes, warmups, bags, and comp fees, while the team takes up fundraising for costumes and hotel rooms. Even though she's had a different athletic director for each of her four years, Coach Olin credits her administration with being supportive.
Small town challenges show up even when not competing. For basketball season, about half of the team serves on cheer as well as dance. This means that after pregame cheer festivities, some Chargettes do a quick change and get ready to serve as dance team members for halftime. It's a little like having to play on both offense and defense on a small football team–except that dance and cheer are way different from each other! And Coach Olin catches some residual cheer habits in these dancers–maybe a slap when the arms hit the sides, or something a little off with their high V.
But the team mixes in some fun team-building, too. There was the silly choreo exercise in June mentioned above. The girls got to know each other through lots of activities over the summer, like when they played the "either or" game. And for Christmas, the Chargettes do a Secret Dancer gift exchange.
Just as lunch wraps up and Coach reminds everyone to not leave any crumbs on her new floor, her sister walks in with lunch from DQ. Paige Olin, class of '16 and four-year Chargettes veteran, is back to help the new team through its second camp week. As Ashley heads back to the mirror, she warns Paige to not eat the cookies left over from her lunch. It's a casual comment from sister to sister, but there's a seriousness behind it—don't mess with her food.
Ashley resumes teaching while Paige stays in the back with me as she finishes lunch. She's good company, not just because she's talkative but also because she's quick to assess her sister and former teammates.  Paige spots something to fix in the formation and both alerts Ashley and adjusts the spacing herself. "My sister's too nice sometimes," says the new alum.
Paige is a fan of the contemporary style because of its natural, organic flow–"There's a little wiggle room when it comes to executing some of that choreo." Alongside this artistic sensibility is the pride of being on the first successful Illini West dance team and helping the program grow in both status and popularity. The hardest part of her four years? "Growing close by the end of each year and then having to say goodbye to the seniors." The younger Olin also appreciated the chance to watch her teammates grow as dancers.
She's helping out this summer by demo-ing combinations and just helping out big sis in any way she can. And she's had a taste of leadership before, back when the program was a mess. The team had an ineffective coach her freshman year, and Paige took up lots of the leadership duties. When Ashley took over, the two helped to build a program that would eventually climb all the way to an IHSA state qualification.
As the girls work on a dance for a beginning-of-the-year event, Paige is pretty vocal to both me and Ashley that there's no way that formation will fit on a small concrete square. She explains to me that this dance won't be on a football field (which was my first assumption); instead, it's on a little concrete performance area in Carthage's famous town square. Ironically, this small town team's big numbers are making it a challenge to pull off the year's first performance.
That detail will have to be ironed out later. Right now it's all about learning the dance and growing into a single unit.
All is good—no crumbs left on the floor, and apparently Paige hasn't yet attacked Ashley's leftover cookies. Exiting the studio and pulling out of the parking lot, I have a good feeling about where the Illini West Chargettes are headed and how their team is built. The hours on this marley floor are probably going to translate to a couple proud minutes on another marley floor—this time way bigger—in late January.