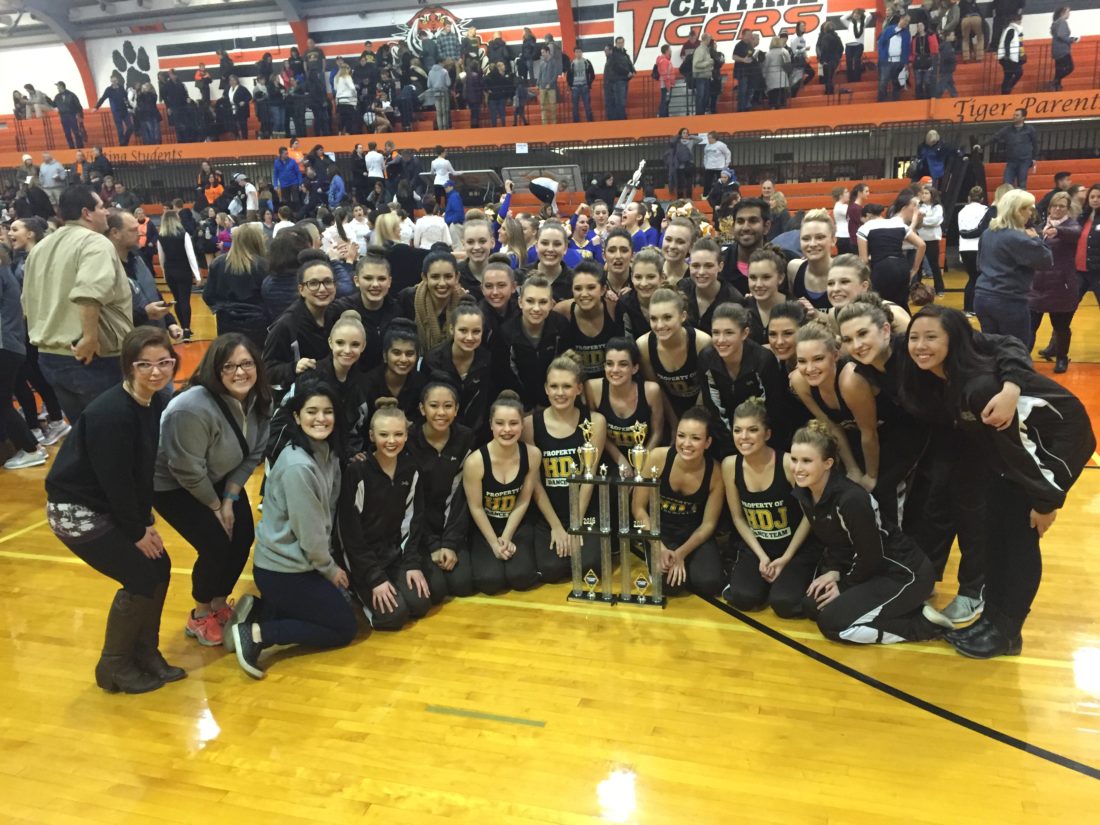 Team Feature: Jacobs
Late start? You can overcome that with a mix of heart, talent, and innovation.
by Norm.Ramil / 8ca.music.person & dance.fan
The wildlife preserve near my house likes to promote what kind of animals you can watch there. Once in awhile they break out a big banner that reads, "Eagles? We've got BOTH kinds!" I personally think an eagle is an eagle, but if you're picky, you should consider being a Jacobs High School sports fan.
Around 40 years ago, HD Jacobs High School in Algonquin went with the Golden Eagle as their mascot. So their school colors are…(I feel like I can hear the In The Hole announcers saying this)…gold and brown. Side effect? A school that looks slightly trapped in a certain time period when those colors ruled.
Inside, heavy overtones of the late '70 – early '80s dominate. But the big gym behind the fieldhouse is very modern and bright (the south-facing high windows let in plenty of uplifting, indirect light during all those huge Jacobs dance invitationals in the late 2000s).
Not that an older building needs to bring you down. Sports teams do well here, so there's usually a lot to cheer for. Hundreds of food choices await you nearby, or you can get your shopping list trimmed down at the nearby Target. Or get some studying done at the ultra-comfy Algonquin library a minute west of campus. Then you could follow that up with a diet-destroying milkshake at Sonic or Colonial Cafe, which both seem to bracket HD Jacobs in creamy goodness.
The Jacobs dance program has enjoyed high-level success for much of the past couple decades. Dance is absolutely huge in the northwest suburbs of Chicago, and it's even more intense in the Algonquin-Crystal Lake-Huntley zone. So at tryouts, there's plenty of prospective talent to choose from, assuming the dance talent in the building wants to go the dance team direction instead of staying with their studios.
But this year, the Jacobs Dance Team had to rise above some challenging early season circumstances. The team had to skillfully maneuver through a crisis well into the season, around mid-August (their school year started on August 16). After a coachless summer and a late-summer tryout that called for the seniors to step up and right the ship, the Jacobs Dance Team started climbing out of the hole. As their long-time music person, I was proud to witness some exceptionally tough-minded kids take a rough start to their season, start over, and turn it into a remarkable success.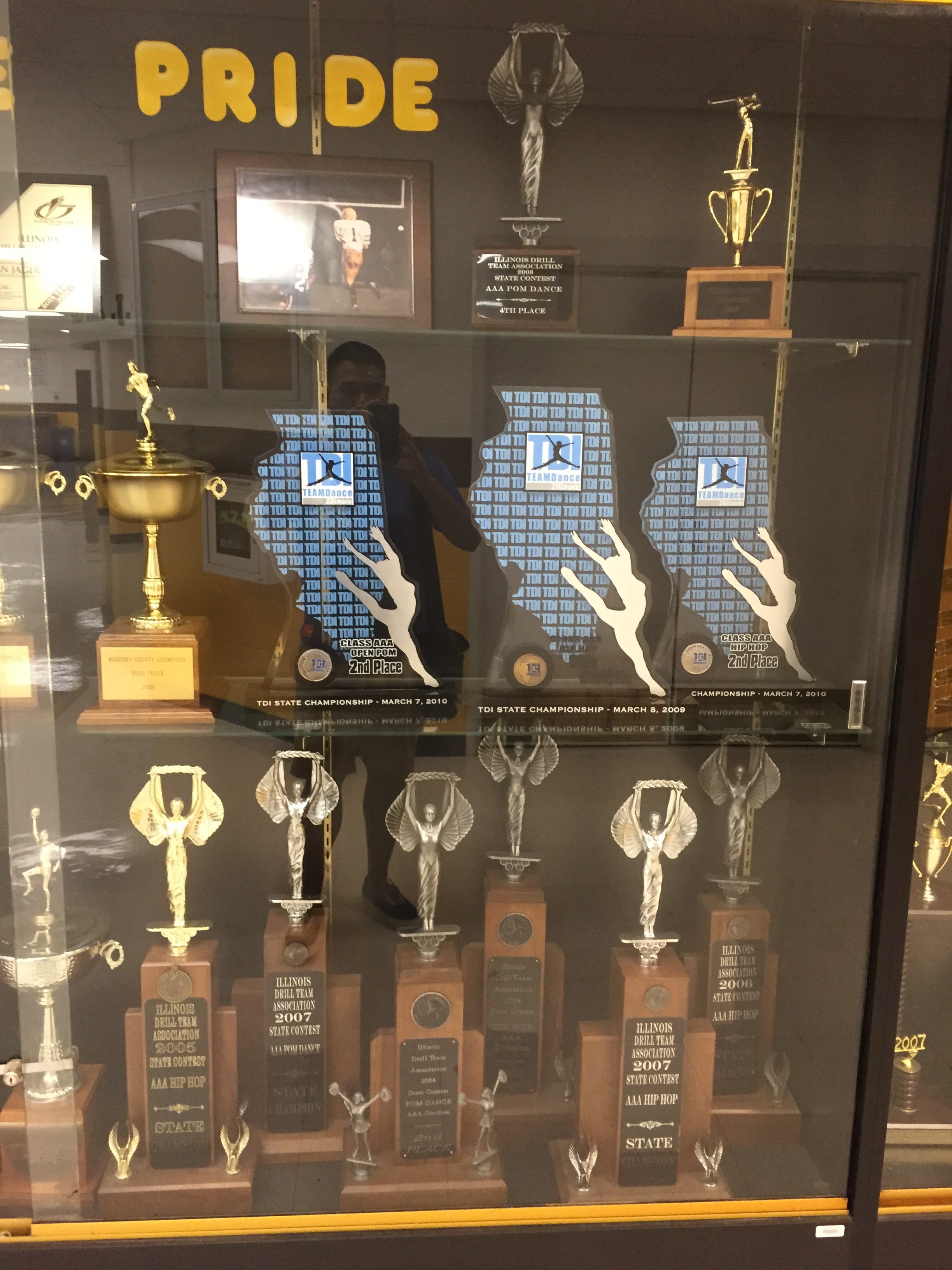 The Dance Team boasts a full trophy case outside the small gym at Jacobs HS
I've worked with most of these upperclassmen for years, so I wanted to show the girls that I supported them and that they weren't alone in the middle of a crisis. So I just came by to watch a reboot of tryouts while also consulting with ex-Coach Allison Lichtenheld as we work on the Illinois Dance Coaches Association website. I wait a couple minutes to let whatever intense discussions might be ongoing inside the gym air out. As I wait on the other side of the gym doors I notice the extensive Jacobs Dance Team section of the trophy case and I remember that this program's strong, accomplished, and talented. We'll be ok.
I also happen to notice a section for some recent alum named Evan Jager…wait, that Evan Jager? The Olympian? Yup. Other mentions of HDJ athletes who've gone on to play professionally show off what this athletic department has done over the years.
As usual, Coach Lichtenheld (I always call her Preston, her maiden name) evokes an interesting mix of anxious energy and confidence. She keeps me up to speed as a gym full of hopeful team members learn a second, totally new tryout routine, designed and taught by recent team alum Olivia Orencia. I also reunite with class of 2012 alum Mackenzie Butler, newly minted as one of the team's coaches. Coach Stephanie Jund, who had some experience dancing on Conant's team, introduces herself to me as the other new addition. Team manager Nevan, beloved by the Jacobs dancers, tries to keep the clerical work of this potentially big roster organized. Athletic Director Jeremy Bauer stops in every once in awhile to speak with Coach Lichtenheld whose post-coaching era apparently is about to be put on hold. It feels like the whole Jacobs dance family comes together to relaunch the season.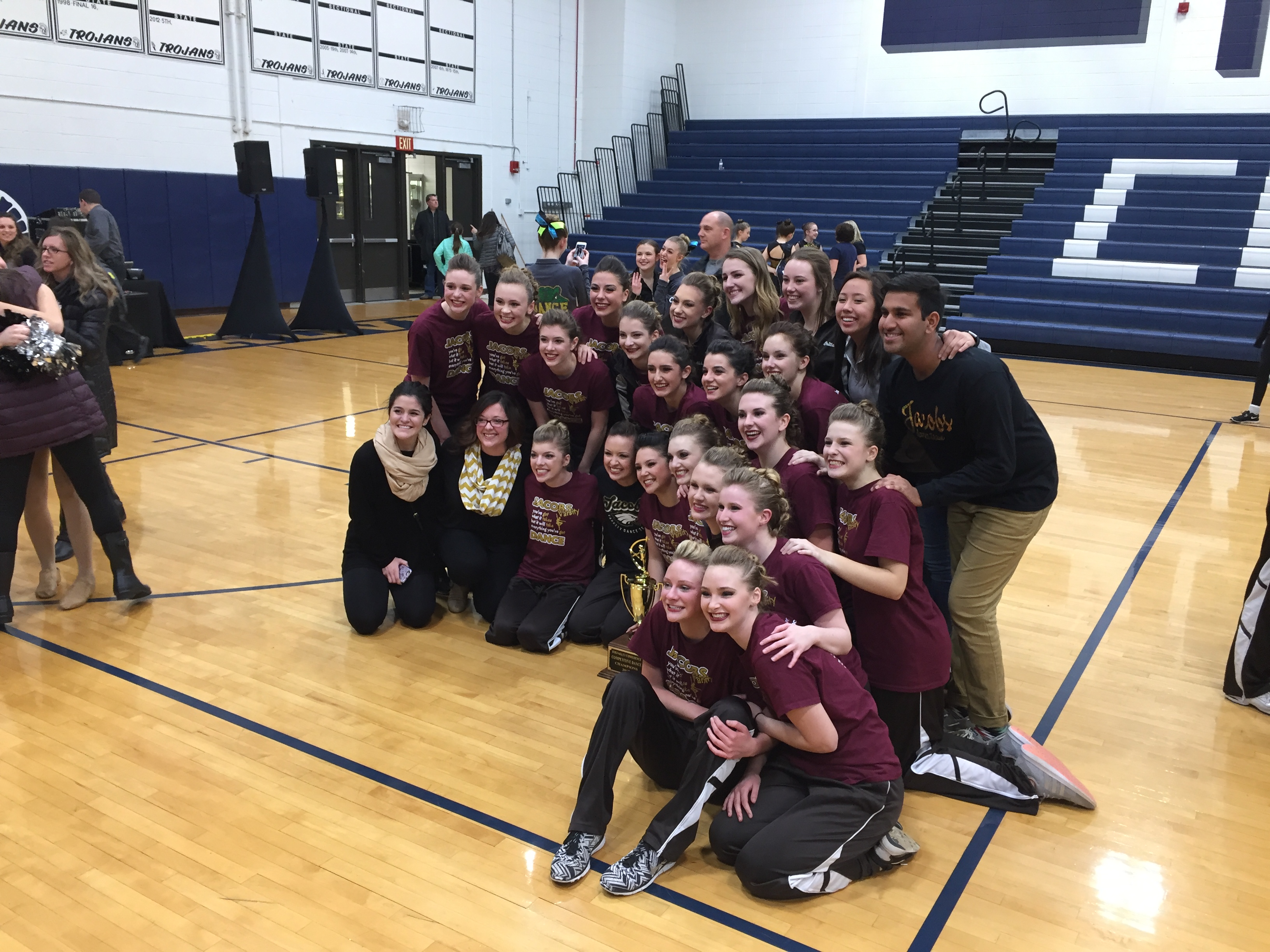 The Jacobs coaches have a tradition of scarfy accessories
It's Jacobs, so they've already got that strange District 300 calendar, adding to the weirdness of these unusual August tryouts (school started around mid-August). I'm back the next day to observe the workouts as the candidates continue to learn this pretty snazzy and definitely sassy jazz routine for Tryouts 2.0.
After an anxious weekend comes tryouts on a warm, summery Monday afternoon. Coach Butler and I walk through the chaos following the final bell of the day, and we take a shortcut through the main office where one of the principals cheerfully wishes us luck.
Prospective dance team members stretch, rehearse, and wait in the main gym while I help the assorted coaches and alums set up the judging tables in the small auxiliary gym next door. "It's usually chilly in here," remarks Lichtenheld, and I'm glad I dressed for a warm gym. A varsity veteran brought in boxes of cupcakes to share with her potential future teammates. I never quite heard what the occasion was but I do make sure to acquire one…red velvet, I think it was.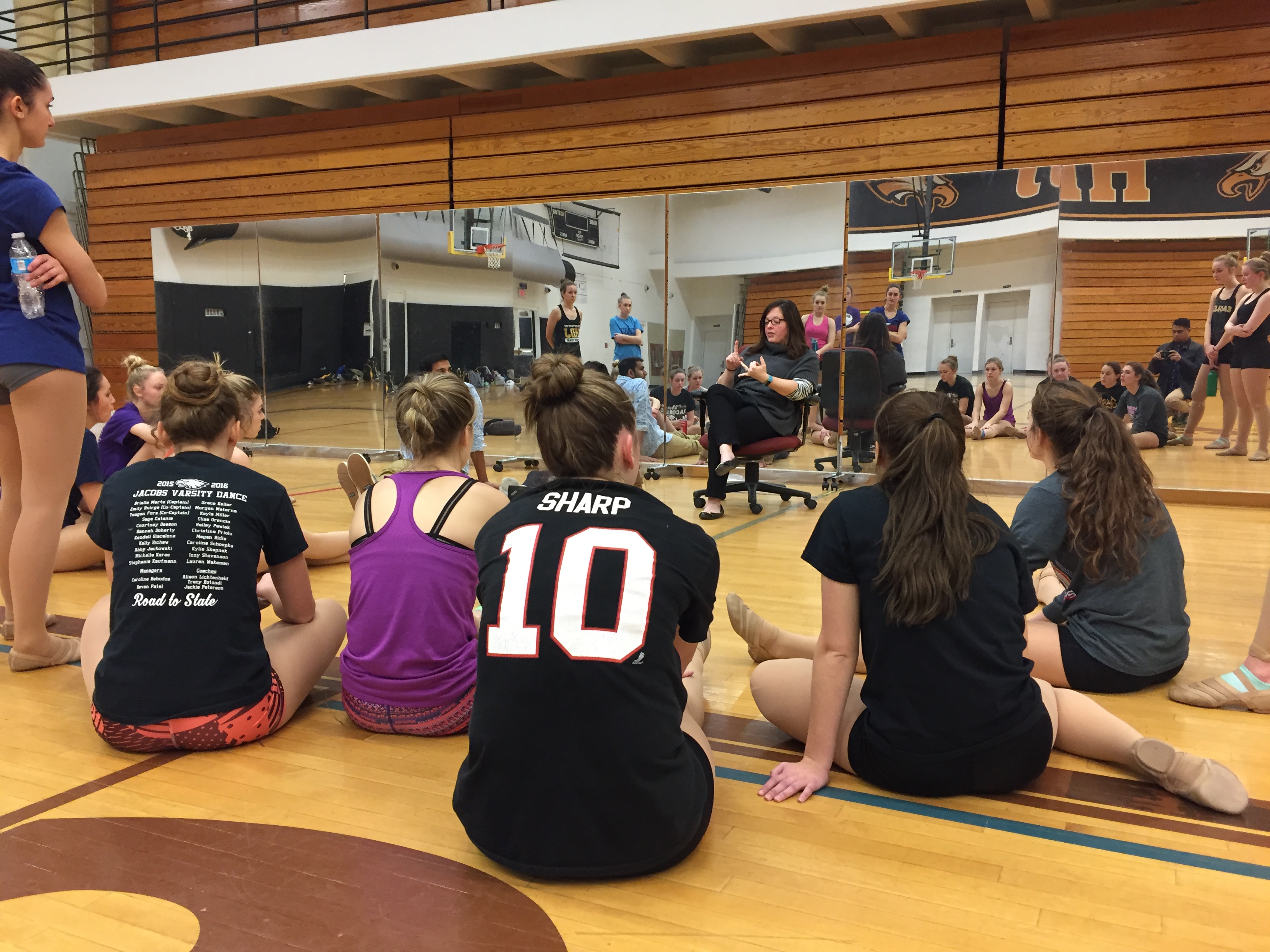 She looks like a titan of industry with her office chair and corporate gestures! Also note their portable mirror setup
The dancers run through the required list of skills and perform the routine in groups of three. From their perspective, the line of judges from left to right include me, Coach Stephanie Jund, Coach Mackenzie Butler, sort-of-retired Coach Lichtenheld, former Assistant Coach Tracy Rotondi, and alum/tryout routine choreographer Olivia Orencia. The candidates run through their splits, kicks, pirouettes, fouettes, toe touches, discs, grand jetes, switch leaps, and any extra skills that they might have in their arsenals. Then they perform Olivia's routine, making sure we see evidence of projection, technique, memory. The process goes towards 7:00 and then beyond. I'm a little ashamed to have to leave (urgent homecoming music mixes tonight and then a long trip to downstate Alton tomorrow) but I know that we've got some notable talent coming on to this team.
On that 4-plus hour drive to visit the dance team at Alton High School the next day, I'm mentally tired from tryouts the night before. I reflect on everything those dancers had to polish, memorize, and execute, no matter what level they are at. I can't help but think that when it comes to dance, there's no gentle break-in period like you'd expect in an academic class. Business starts right now and hopefully the summer-like weekend didn't lure anyone into thinking otherwise.
Music-wise, we've been innovative for the past several years, taking songs and making them into totally unique re-interpretations. This time, we had the quasi-music rules to deal with—you know, the ones that a lot of people thought were in effect but technically weren't? We wanted to blaze the trail and see what we could come up just in case someone changed the rules on us, Hunger Games-style.
Instead of settling for some sketchy-quality cover version (the safe but awful route), we instead opted to just make our own licensed cover version of "Creep." It's built, composed, and recorded from the ground up. Like previous years, I add some guitar work for texture. Cost-wise, it's actually cheaper than buying a premade cover version, especially since we're using quality voice talent from the HD Jacobs student population. All for rules that technically aren't in effect at all.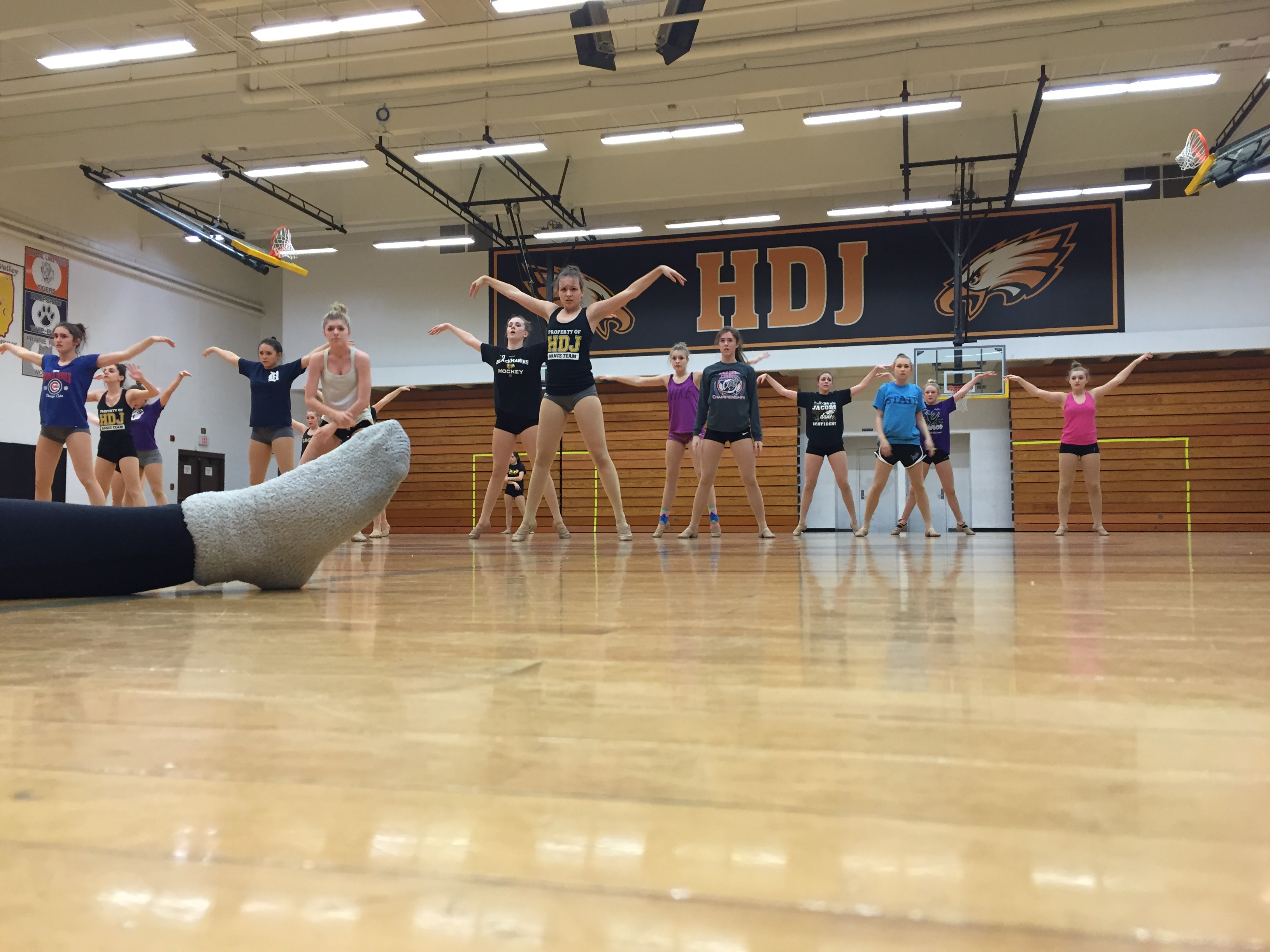 I believe that's Coach Butler's foot. Definitely not mine. 
Preston's library office makes for a decent recording booth. We just had to make sure to keep the vocalists comfortable and confident, and I'm grateful that Butler and Lichtenheld didn't ruin any good takes with accidental coughs or chair squeaks. We worked with two very coachable and enthusiastic singers–the "talent," as we say in the music production business. Like dancers, one of them is a little more technical, and the other's more artistic. Just like an ideal dance team where you want to balance the technical and artistic elements, we decide to blend both vocalists together into the final product.
Over on the JV side, Coach Butler chooses "Some Time Around Midnight," a 2009 alt-rock hit that still gets a decent number of plays on Chicago stations WKQX and WXRT. I remember telling Butler that I loved her choice and that the lyrics get me every time. The song's emotional story takes several verses to tell, so my job is to cut it down while keeping the essential parts of that narrative intact.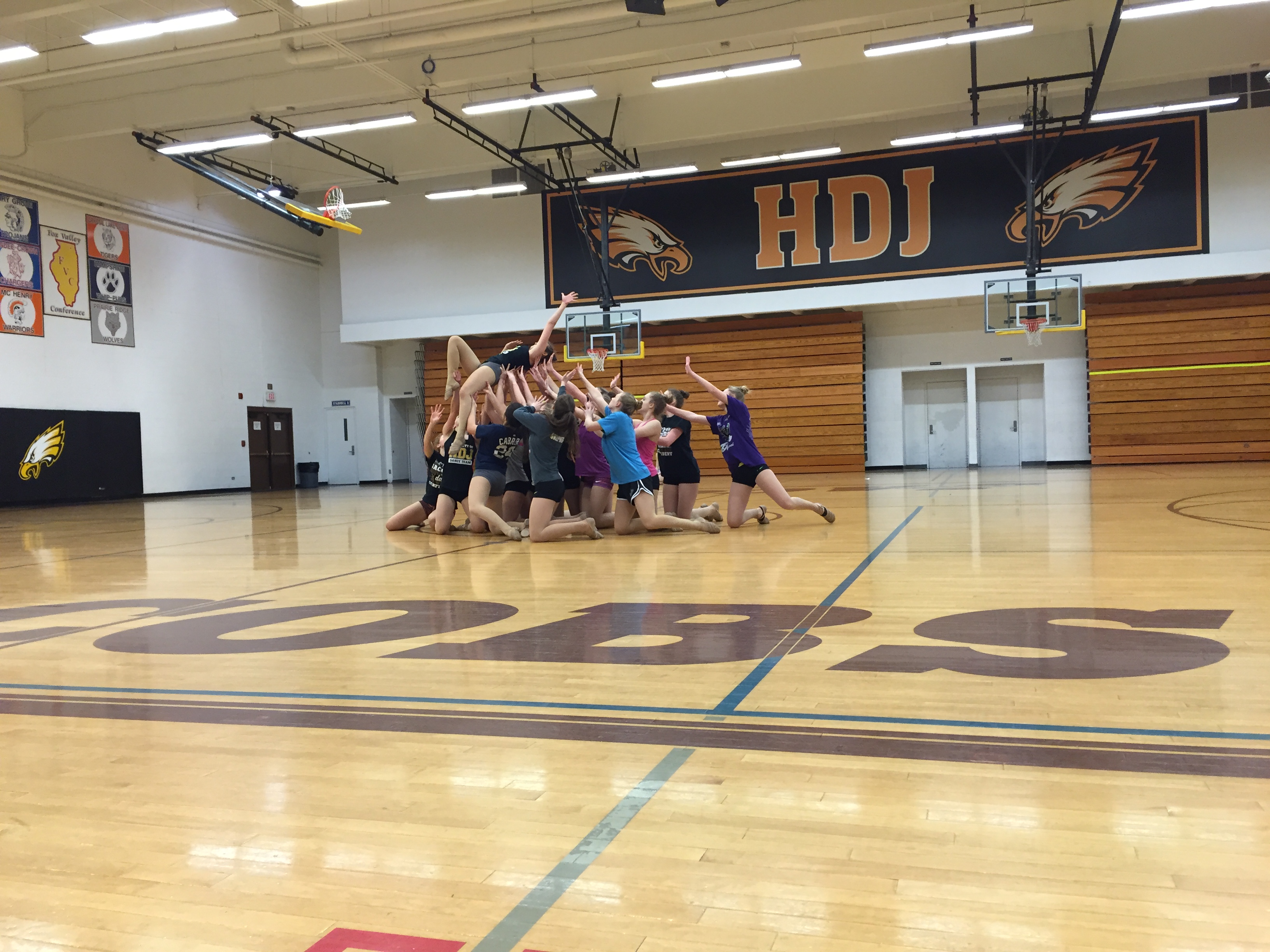 The final formation of the final run through at the final practice before HD Jacobs competes at conference. (It's definitely got a Civic Memorial vibe for all you downstate 1A fans)
This season was definitely different in a million ways, but there are still traditions that the Jacobs Dance Team sticks to (the senior interview below will fill you in). Coach Butler, who herself wore the team uniform not very long ago, tells me that the fall season always starts with a team meet-and-greet at a senior dancer's house. "Everyone from jv and varsity goes and bring their parents so everyone can mingle and get to know the team and the coaches," she writes.
Football games keep these dancers busy, but they also spend those precious weeks during fall looking ahead to the meat of their season. "We do some fundraising for the winter season…usually selling pastries or candles but this year we also hosted a public painting class as a fundraiser and it also doubled as a fun team bonding night," Butler tells me.
HD Jacobs at State
2002 IDTA: 2nd in AAA Hip Hop ("Funk")
2003 IDTA: 5th in AAA Hip Hop ("Funk")
2004 IDTA: Champions in AAA Hip Hop
2004 IDTA: 2nd in AAA Pom Dance
2005 IDTA: Champions in AAA Hip Hop
2005 IDTA: 3rd in AAA Pom Dance
2006 IDTA: Champions in AAA Hip Hop
2006 IDTA: 4th in Pom Dance
2007 IDTA: Champions in AAA Pom Dance
2007 IDTA: Champions in AAA Hip Hop
2007 TDI: 3rd in AAA Open Pom
2008 TDI: Co-Champions in AAA Open Pom
2008 TDI: Champions in AAA Hip Hop
2009 TDI: Champions in AAA Hip Hop
2009 TDI: 6th in AAA Open Pom
2010 TDI: 2nd in AAA Hip Hop
2010 TDI: 2nd in AAA Open Pom
2011 TDI: 2nd in AAA Hip Hop
2011 TDI: 5th in AAA Open Pom
2012 TDI: 2nd in 4A Hip Hop
2012 TDI: 4th in 4A Open Pom
2013 IHSA: 16th in 3A
2014 IHSA: 20th in 3A
2015 IHSA: 15th in 3A
2016 (7th at sectionals)
2017 IHSA: t-14th in 3A
By the Fremd competition in late November it's time to see what the team's done with our music track. While I partake in the tasty snacks available in the coaches room (thanks, Fremd and Coach Adamski!), Coaches Lichtenheld and Butler stop in to spread their nervousness to me. We rush to a spot at the top of the bleachers and watch the early routines. I get to say hi to a couple of the Jacobs parents, while throwing some "good lucks" to nearby team members.
Butler overhears a lot of the conversation between Preston and me in those few minutes. "You two are very similar…" Part of me is cool with that, and part of me wants to offer up a counter argument.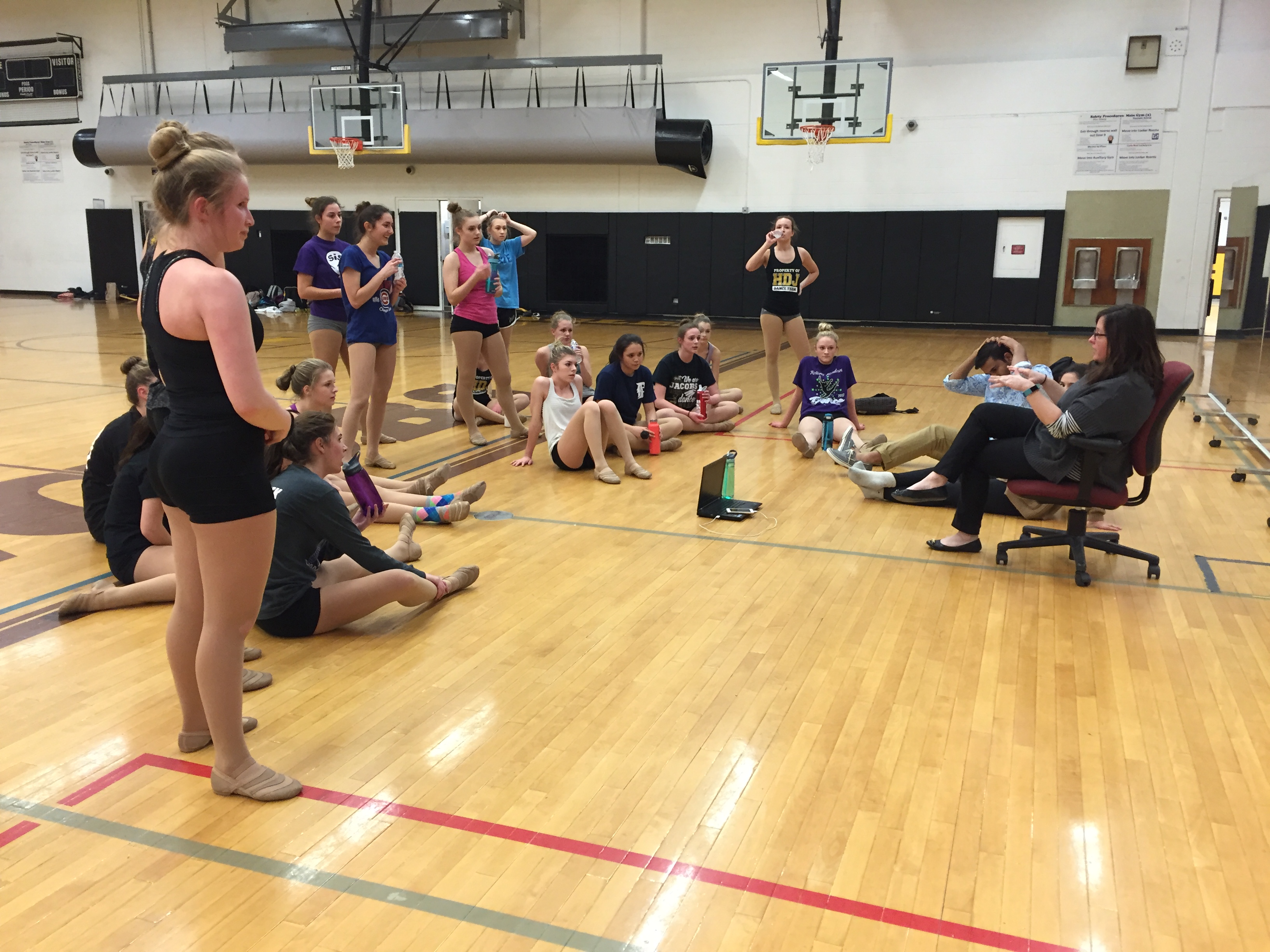 Coach L–previously Coach Preston–brings her team in for some inspirational comments at the end of practice
The two are an interesting pair. Preston's got the dark and sophisticated perfume, while Butler's is lively and fun. I know it's a temporary arrangement just to get through this competition season, but I feel at ease knowing that a mentor's guiding a very capable rookie. Both served as head coaches throughout the comp season, while Butler also stuck to her initial focus of handling JV. The Jacobs dancers also got more support when they were joined by new JV Coach Ally Sitko, which let Butler continue to learn the ropes from the veteran Lichtenheld.
Preston danced at Crystal Lake South, class of 2002, and also coached JV there after attending the University of Iowa. I'm proud to say that I was her music person through some excellent seasons at HD Jacobs where she integrated her CL South pom expertise while continuing the program's strong hip hop tradition. And I'm extra proud to have teamed up with her during HD Jacobs' calculated transition toward jazz and lyrical in response to the realities of IHSA competition. It was a bold, risky, and emotional change—exactly our style of doing things.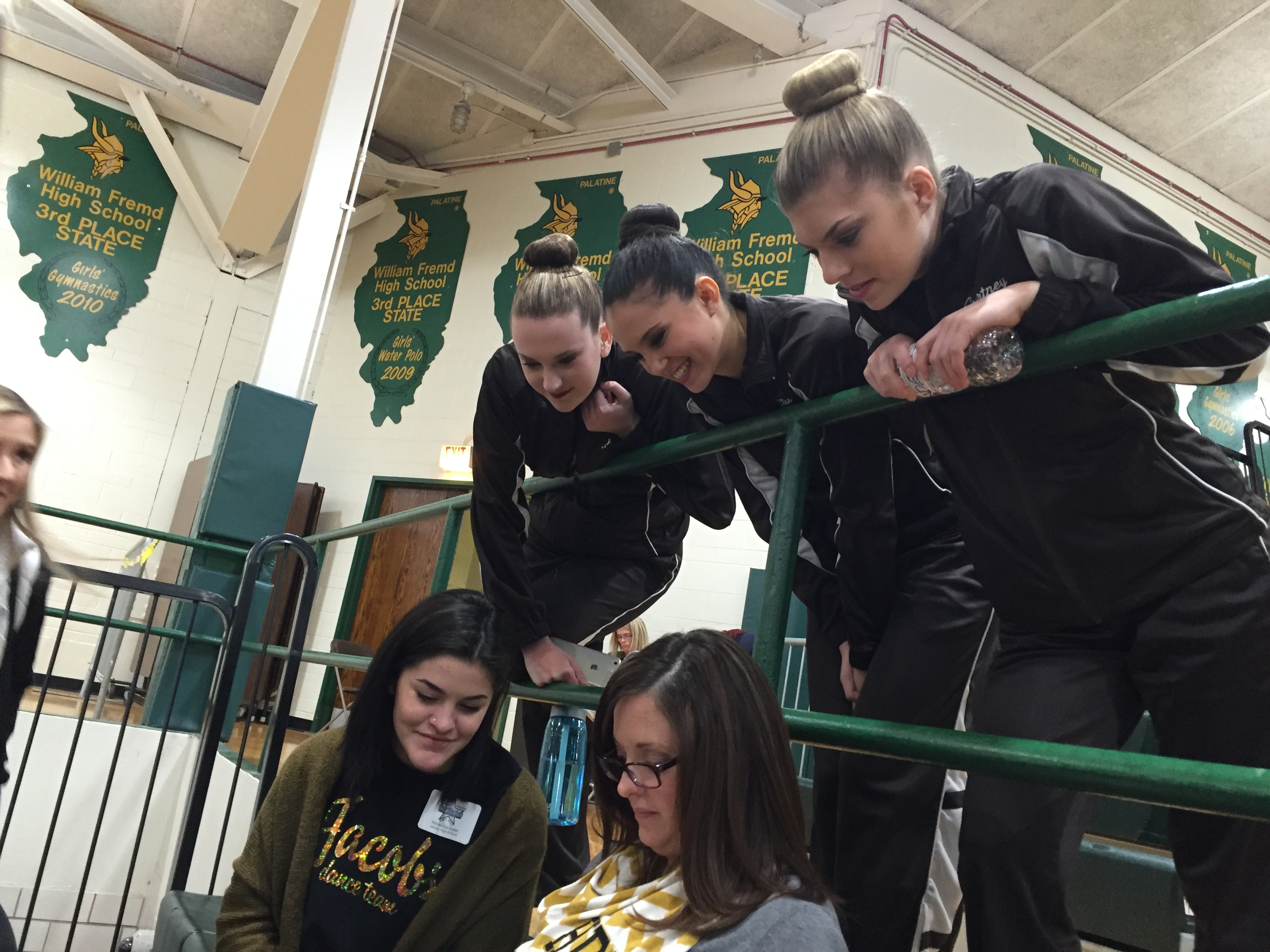 Coaches Butler and Lichtenheld and their dancers looking at something super important at the Fremd competition
Coach Mackenzie Butler danced on this team and graduated in 2012 before heading to Eastern Illinois University to study art. One of my favorite memories of her on the team was in the fall of 2011. I sat in the athletic team video review room tweaking their hip hop mix while the team reviewed their latest competition performance and then left awhile for practice in the gym. I stayed behind promising a big improvement to one part of the music. An hour later, the seniors came back and (remember, this was the era when dubstep was king in hip hop routines) Mackenzie Butler celebrated the updated music by vocalizing all the typical dubstep vowel-like, growly sounds. Wuh-wuh, oww, etc.
The awesomeness goes beyond just the coaches. I'm always amazed at how much work gets assigned to the dependable and indispensable team managers Nevan and Callie. This year's seniors were an exceptional group, but I'll always appreciate how easy Megan and Grace were to work with over the years. They never failed to be enthusiastic about how dance and music fit together.
Another shout out—this time, to all those new JV faces. Over the years I usually didn't stop by JV to see what they were up to (they're often set up in the cafeteria down the hall from the small gym where varsity's headquartered). But at one point, I think it was November, I wanted to check out what they'd done with our "Midnight" song. Coach Butler showed off a very musical and narrative JV contemporary lyrical piece that she'd choreographed. JV looked pretty legit. "I thought you were mainly a hip hop dancer," I told Butler. Her response? "College does that to you."
Fremd was the Jacobs Dance Team's chance to shake any problems out of their routine. Two weeks later after some hard practices and a few music tweaks on my end, the Jacobs dancers hit the shiny floor at Crystal Lake Central's competition and looked the strongest I'd ever seen them in a December. JV also picked up a 1st-place trophy as they debuted their first-ever try at a contemporary lyrical.
Besides some goofy celebratory pictures, what I'll remember most was the scene of the Jacobs Dance Team on the the risers at the end of the court, where you'll often find them at the CLC and Rolling Meadows comps. Just like countless other times over the years, I see the upperclassmen gather around Preston/Lichtenheld talking about something or watching a video. Former dancers and associates drop by to greet her, like CLSouth JV Coach Lisa Losito and Woodstock North Varsity Coach Sabrina Nevler. Past, present and future mingle effortlessly on these temporary metal bleachers.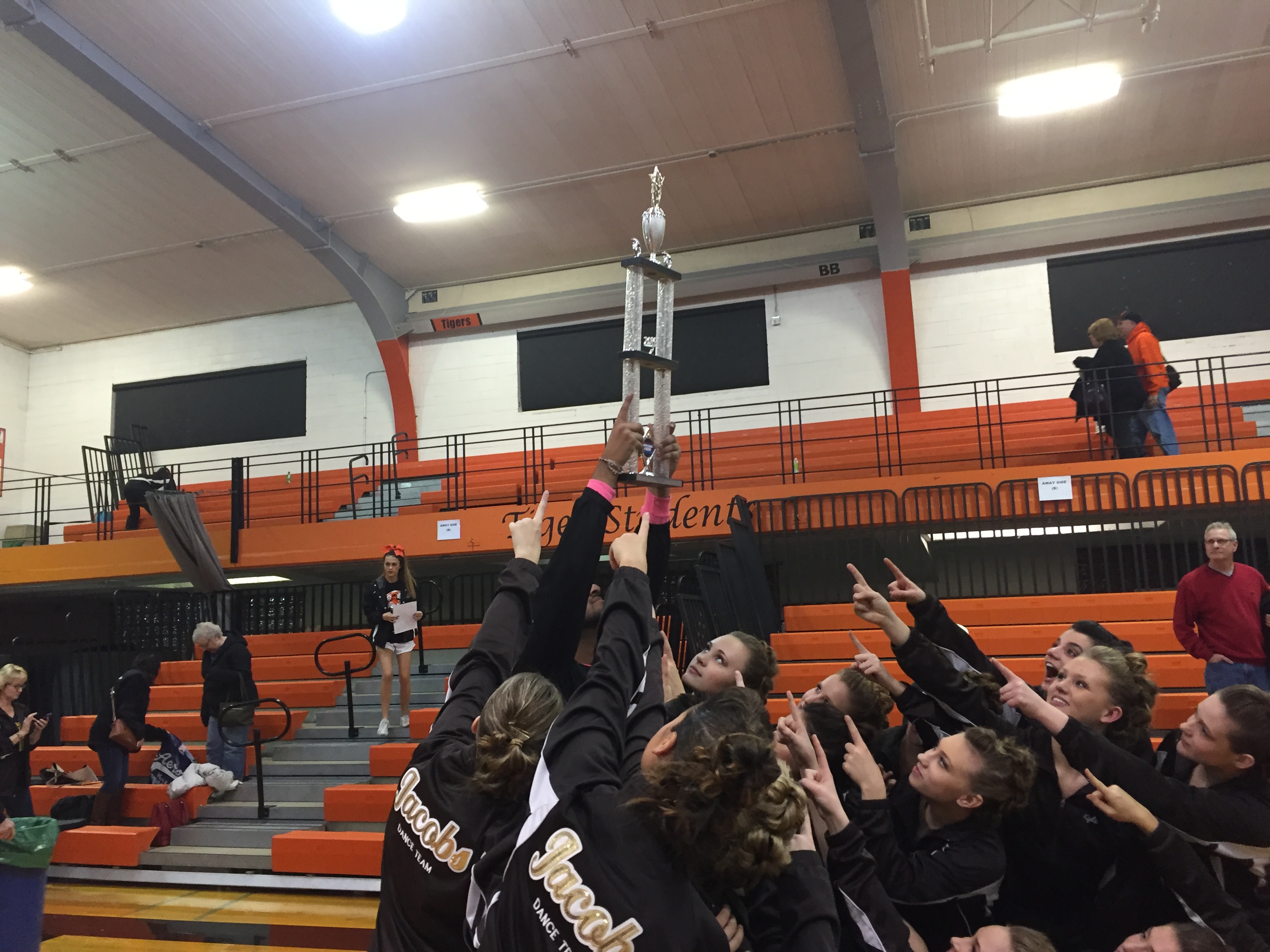 The Jacobs Dance Team points out the fact that they're going home with a pretty sweet looking trophy
The weather was a little iffy that Sunday, and the snow finally won a week later. A few teams—including Jacobs—stayed home from the Stevenson comp. We'd have to wait until January to see if the team's momentum continued.
Again at the Rolling Meadows comp, the HD Jacobs Dance Team takes a prominent position on the risers at the east end of the basketball floor. Outside in the halls afterwards, the Jacobs coaches and I examine the scoresheets and comments. We're ready to crank up the intensity.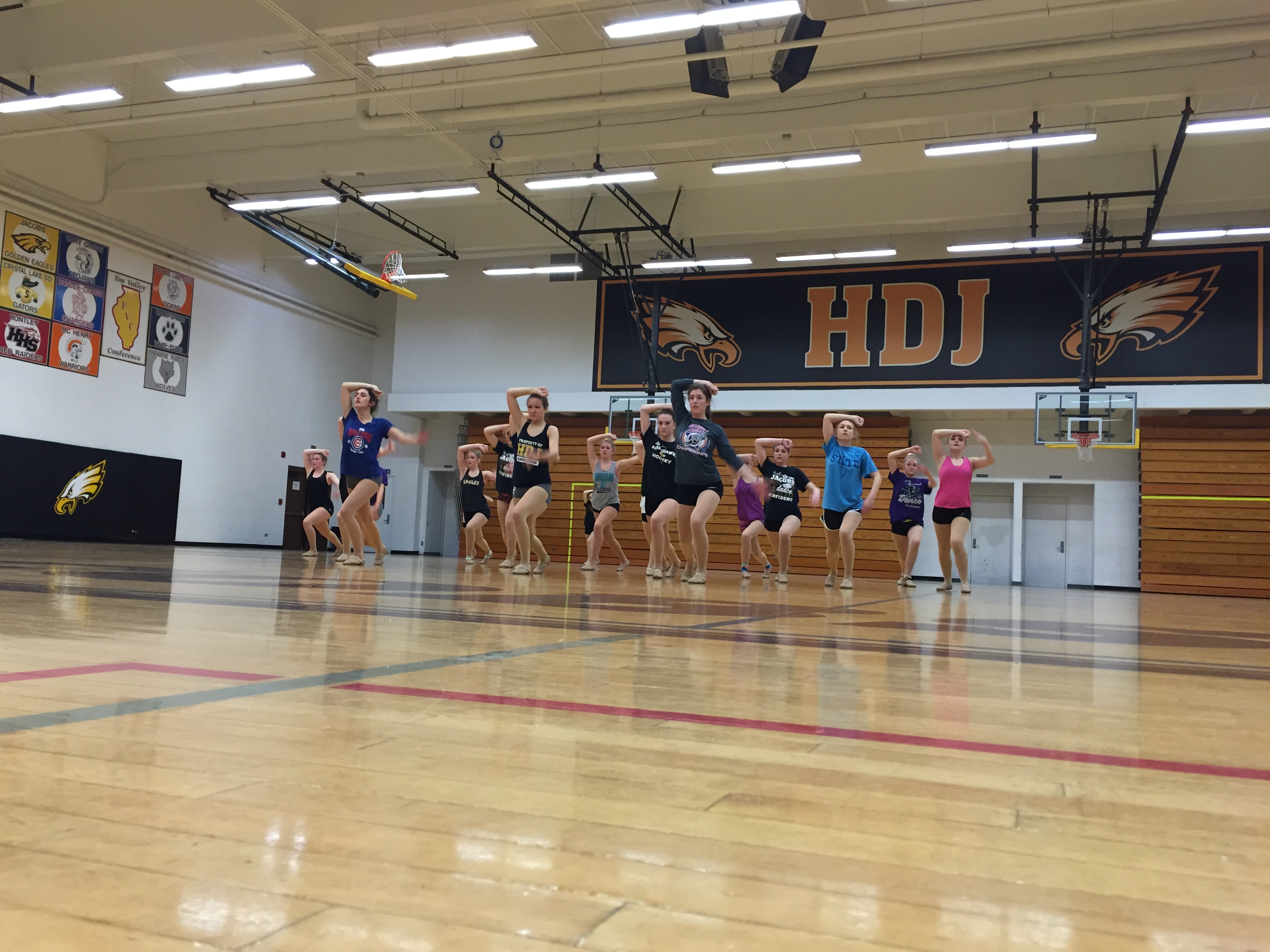 A day before the FVC competition, the Jacobs Dance Team works through an intense practice. Luckily they're cool with me barging in for the final hour
The next time I see the Jacobs Dance Team is at a Tuesday afternoon practice, and it's clear that they're in January cleaning mode. It's not often that the team brings out their long line of modular mirrors on wheels, but the gym's been basically transformed into a dance studio. A couple dancers are still getting a hold of the updated choreography, and Coaches Lichtenheld and Butler keep an eye on making sure everyone's matching each other's movements. Under extra scrutiny this afternoon is the exact timing of these turns, making sure each dancer faces the same way at the same point during the rotations. By the final run-through, someone needs to see the trainer. That's how hard the Jacobs Dance Team is going at this last practice before Conference.
A day later, Jacobs faces off against the other elite dance teams of the Fox Valley Conference. Even though their IHSA state results have been a mixed bag in recent years, Jacobs has a knack for doing really well at the FVC Conference competition. This was their night and it was so cool to watch them celebrate a 3-peat as conference champs. Nothing less than joy marked the faces of these dancers, the rookie Coach Butler, and the usually stoic face of veteran Coach Lichtenheld. Outside of Cary-Grove High School, the afternoon showers have evolved into an evening freezing rain event. It's just a reminder that in January, you might have momentum, but the sectional system forces you to tread carefully.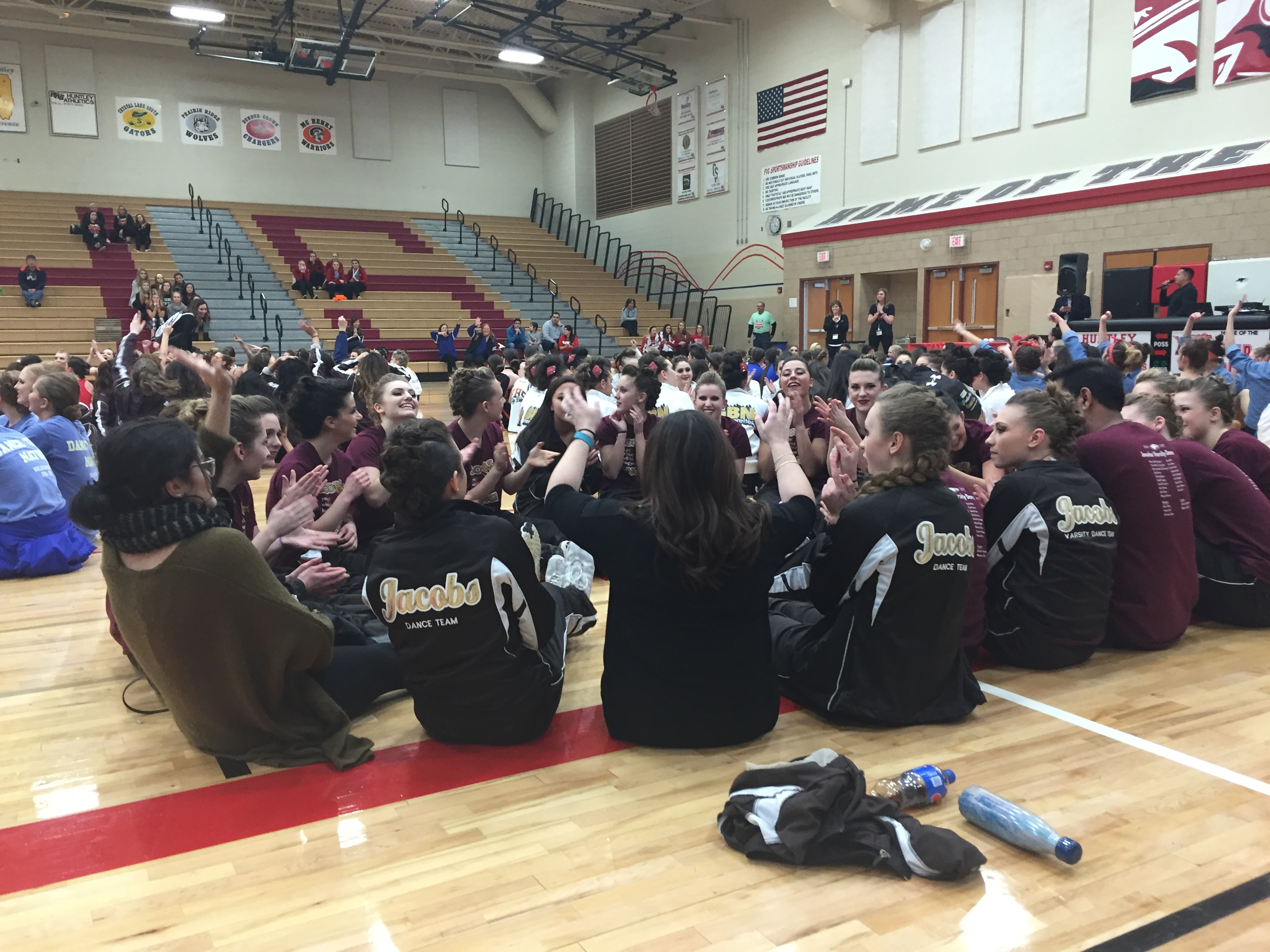 The moment when the Jacobs Dance Team finds out they've qualified for IHSA state
3A sectionals, Huntley High School. On this gym floor a year ago, Jacobs was left out of the state mix, coming in 7th with an 89.30 (6th place scored a 90.00). These dancers put aside that memory and also the unusual start to their school year and earned a 5th place finish (90.13). Jacobs brought their innovative dance to the big stage in Bloomington and tied for 14th in the new top-12-advance format of Day 1.
Coach Butler shared a couple comments wrapping up the Jacobs Dance Team's journey through the '16-'17 campaign. "This season was definitely different from other seasons in the past but that team really pulled together and worked harder then any team in the past years. Looking forward to next season!"
State? Conference? They are what they are–pretty good results, all things considered. But for me, the biggest story of the Jacobs Dance Team's season was how these dancers stood up and took charge of their own destiny. They wouldn't let their season slip away into mediocrity, wouldn't let their multi-year legacy get interrupted.
So unfortunately, I've left open the door. There's lots of room for cheesy wrap-ups, something about eagles soaring above the competition and adversity. Or, "laying the eggs of future success."
The Jacobs dance family has built something good here since the early 2000s and from what I've seen out of the underclassmen, they're not about to let that go. Not with these claws (aw, man, I ended up going with a cheesy eagle analogy). With an artistically-minded alum at the helm and former HDJ dancers always willing to help out, the school's going to want to make sure they have some extra room in that trophy case outside the small gym.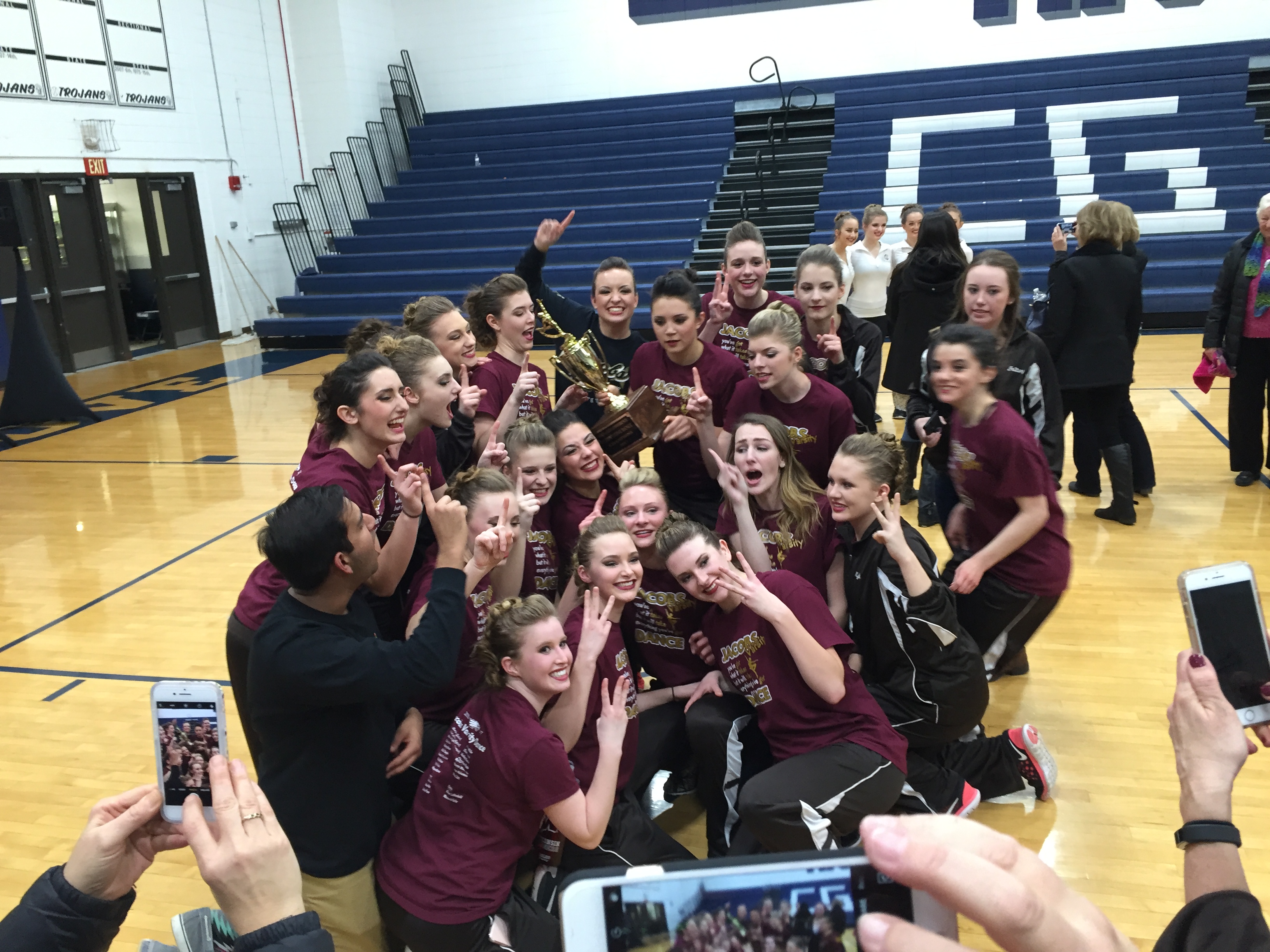 Snapping pics of fans snapping pics never gets old. A few dancers signify that they're number 1
Chatting with the seniors
After practice I got to interview Grace, Abby, Kayla, Megan, and Sage. Coach Butler's by my side and Coach Lichtenheld is multi-tasking a few feet away.
Can you tell me about which studios you've danced at and what you studied there?
Grace: Right now I'm at Turning Point Dance Academy, it's in Huntley, and I take lots of ballet.
Abby: I'd previously been at Dance Force doing pom, hip hop, and jazz.
Kayla: I've danced at Dixon Dance Academy, and I do tap, ballet, jazz, and lyrical there.
Megan: I previously danced at Dance Force and I did pom and hip hop and jazz.
Sage: I danced at Pro Dance Elite and I did pom, jazz, and hip hop.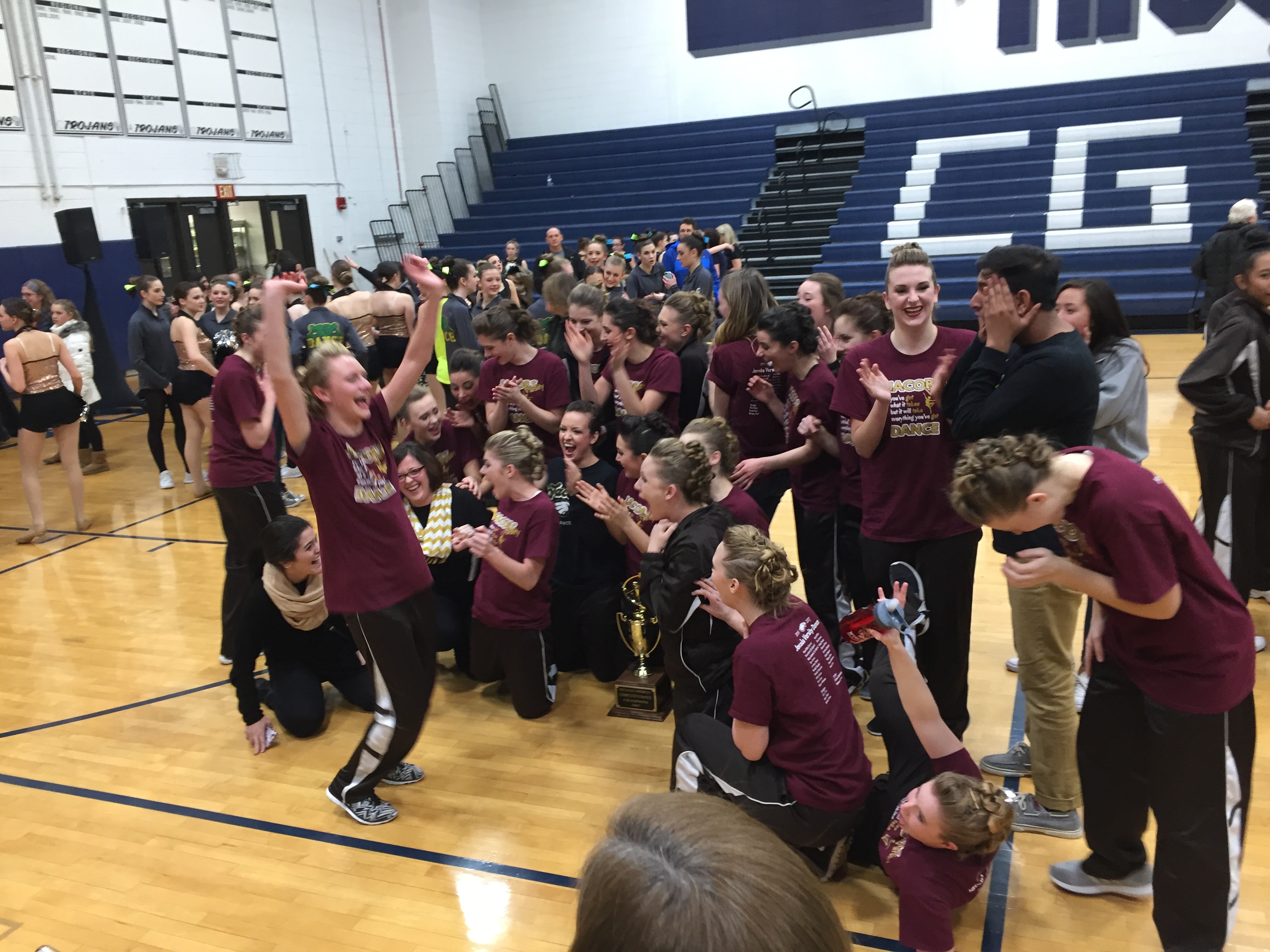 One Jacobs dancer has fallen over but still manages to keep the her 3-peat up in the air
What's your favorite style of dance?
Grace: Contemporary.
Abby: Hip hop.
Kayla: I like ballet a lot.
Megan: Hip hop, hands down.
Sage: Pom.
Me: "Hands down"…she means it.
Megan: I mean business!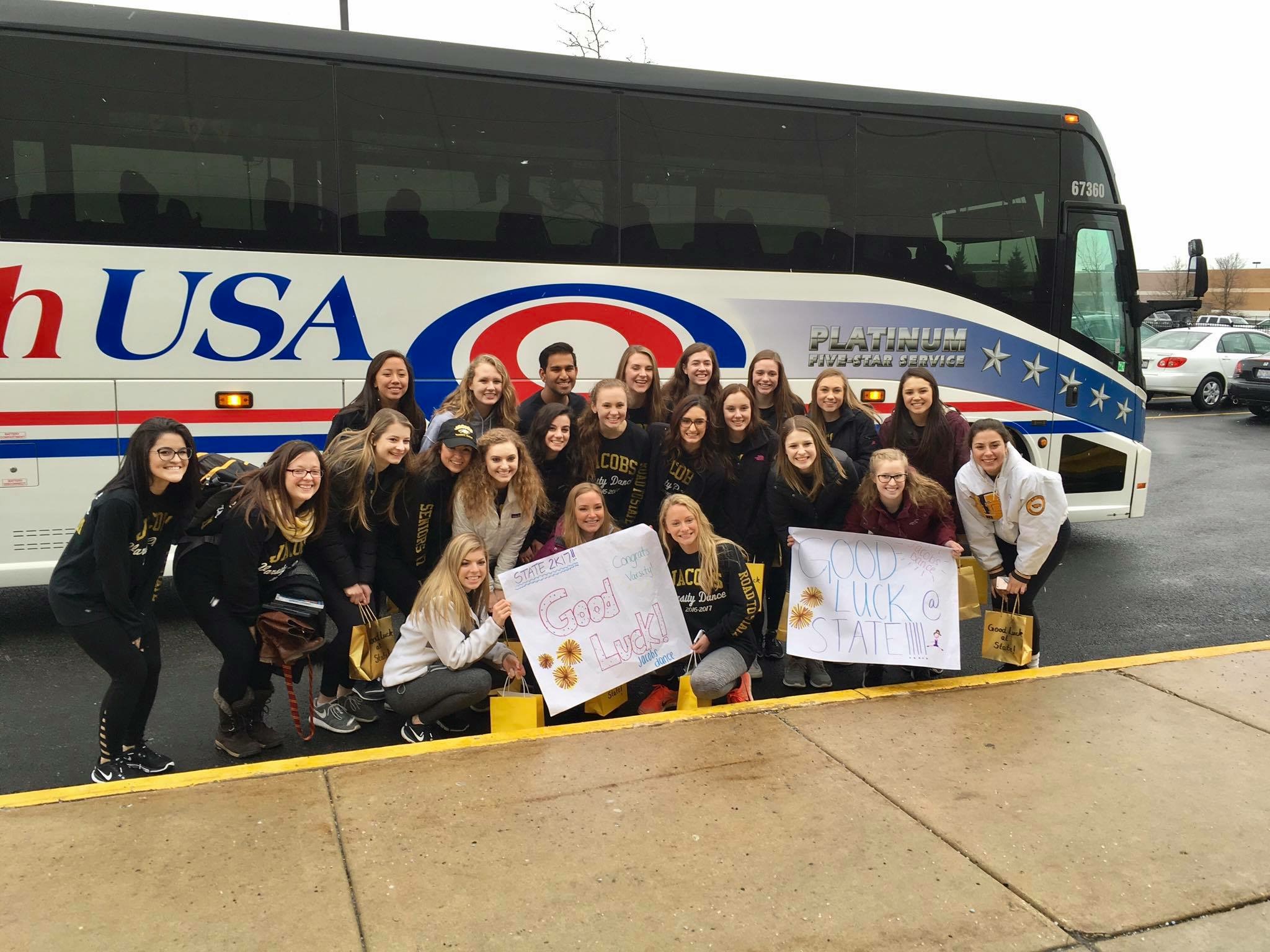 The HD Jacobs Dance Team wish themselves good luck before the ride to Bloomington
Tell me about some Jacobs team traditions.
Grace: For me, I always get ready way before I need to leave. So I get ready and get to chill and get in the zone before I leave my house.
Abby: That's what I do, too. I get up early so I can relax before I get here.
Kayla: A tradition we have before we go on is I get to pray with the team and I really like that because it really brings us all together right before we compete.
Megan: I sleep in the same shirt every night before competitions, and I eat an apple with peanut butter every morning.
Sage: I just like having a good breakfast and having a relaxing morning so I'm not stressed out.
Coach L: We also have stuff passed down [from previous teams]. So they do their little pump-up circle, Kayla prays, and she'll pass that down now that she's a senior…to somebody else on the team…
Kayla: Oh no, I have to pass things down…
Coach L: …who's kind of a leader and a positive force. The coaches usually talk and pump the girls up a little bit, and we do the little, "Huh-huh-huh." And then there's like a pump-up girl who comes out and cheers everybody on, and right now, that's Megan, so she'll pass that down.
Coach B: Megan's my great-great-great-grandaughter…
What's been the highlight of your season or your favorite memory up to this point?
Grace: Honestly, where we are now. That's the highlight for me.
Abby: Yeah, just competition season, it's been really good so far.
Kayla: Yeah, as a whole, competition season. I don't really have a specific point yet.
Grace: I mean, this point of competition season, because we started off with a rough patch, and I think we're at a way better place than we have been.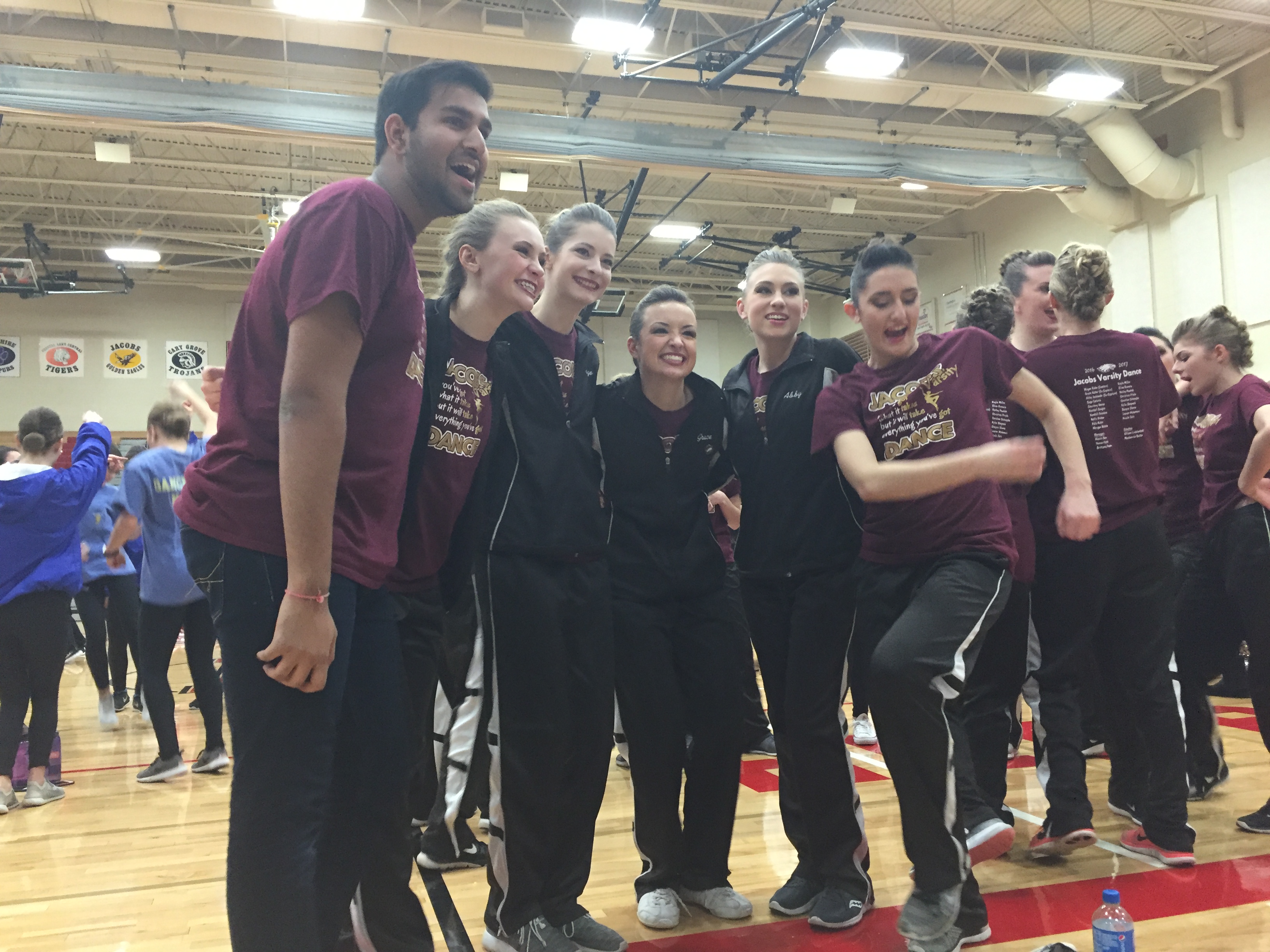 HDJ's dancers sensing a good result as they wait for 3A placements at sectionals
Any fun memories from summer or fall?
Megan: We organized our own camp…
Grace: We ran our own dance camp…
Megan: I mean, we tried.
Sage: It was pretty good. Those dances, [I'm] proud of us for doing them, but honestly, that was work.
Abby: That took a little work.
Sage: It turned out pretty well for what it was.
Grace: We ran our own conditioning well.
Megan: Yeah, over the summer before we had a studio to go to, we ran our own conditioning in the West Field track. And people actually came!
What are some other dance teams you admire?
Grace: Hands down, University of Minnesota [ironically she says this with her hands up in praise]. I might go there, so…I'm going to try out just for fun. If I don't make it, I'm gonna be their biggest groupie.
Abby: Yeah, University of Minnesota.
Kayla: Minnesota.
Megan: Minnesota.
Sage: Stevenson.
Coach B: I was expecting a group [response of], "Geneva!"
Megan: I really enjoy watching Geneva.
Grace: I root for them so hard.
Coach B: I am, like, obsessed with them.
Grace: Yeah, I enjoy it.
Any extra thoughts that you want to share with the rest of the dance community?
Grace: How much we've persevered and how…like I said earlier, we've probably had the roughest start of any team in the state. And so, because of how far we've come, even despite that [start], I'm really proud of us for coming together now.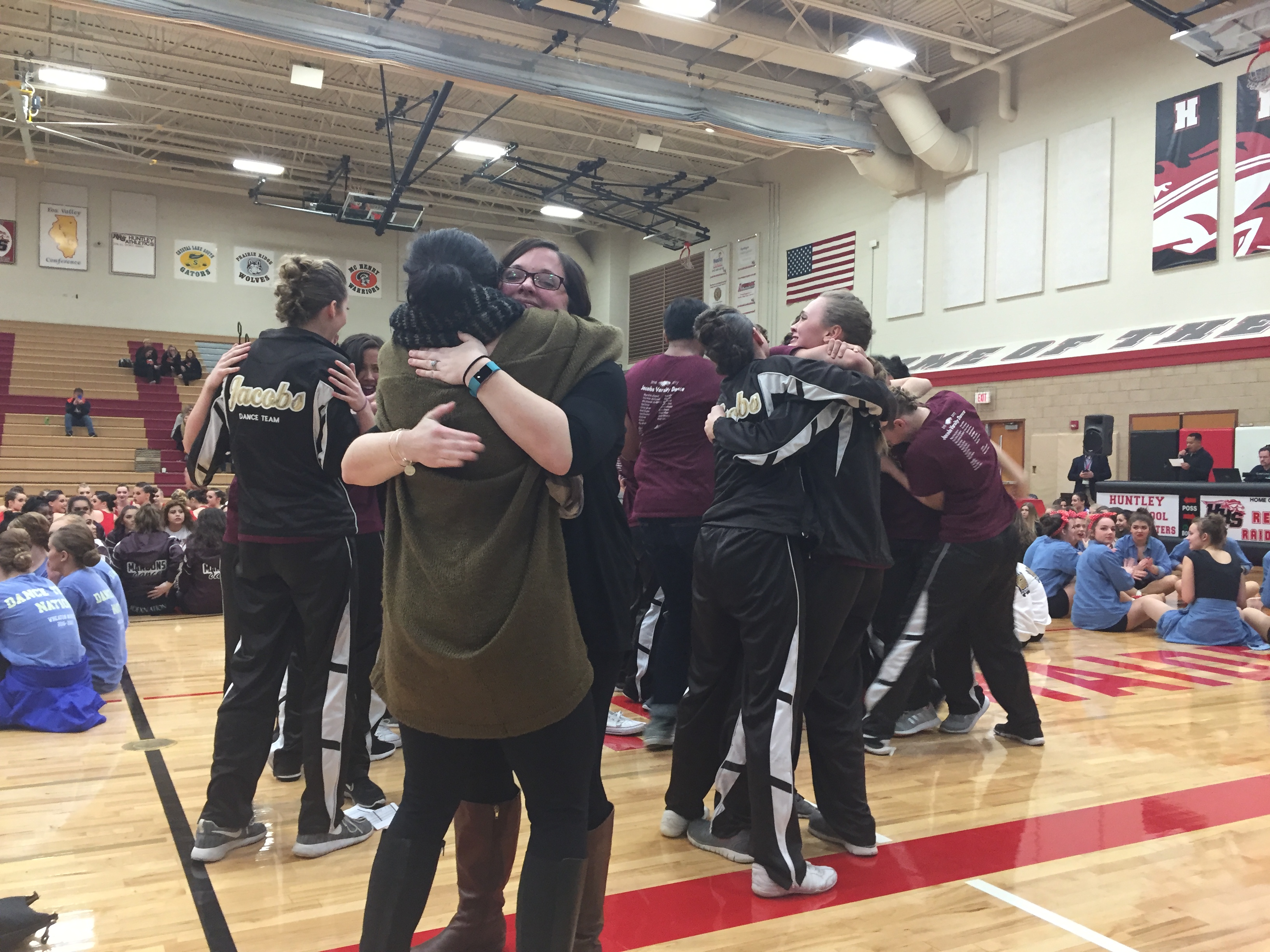 Rookie Coach Mackenzie Butler (HDJ Dance Team '12) shares in the elation with her mentor, the former Coach Preston and now Lichtenheld