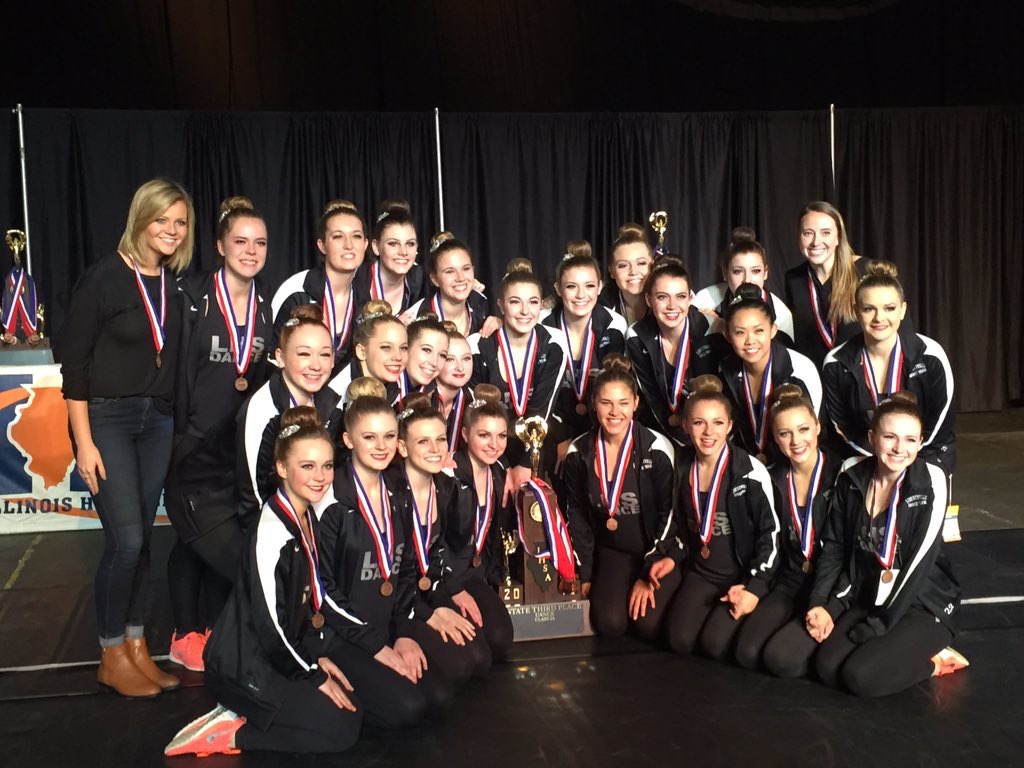 Team Feature: Libertyville Dance Team
by Kaitlyn Winters, 8CA Staff Writer
The Libertyville dance team is a greatly admired group of girls in the dance community. With their extremely emotional yet precise performances, they are very successful and consistent year after year. They compete in the 2A division of IHSA dance, and are members of the North Suburban Conference. At the recent 2016 State Championships, they earned a well deserved third place finish!
Casey Dugan, the varsity head coach, begins working with the team over the summer, focusing their practices on conditioning and additional technique training, to add to the work the girls already put into studios. Some of these studios include Talent Forum, Dancenter North, and The Dance Academy of Libertyville. Most of the members of the team have spent their lives training in these studios, or took part in the feeder Pom program. While the elementary/middle school dance programs in Libertyville do focus on Pom style dancing, they always succeed in other styles.
The team grows closer during the summer and fall portions of the season by attending UDA camp and performing at football games. For games, they use mainly hip hop and pom routines to perform as sidelines, and at halftime they perform with the marching band. The dances and styles they choose for games are always fun and visual, helping to get the student section pumped up for the game. Once winter season rolls around, they become much more focused on the styles they compete in.
At tryouts, the team looks for strong technical training and body awareness. They also allow girls to display special skills for the judges that could be used during the upcoming season. Mainly, their focus is to have a team of dedicated girls with strong levels of focus and coachability. Skills all lead up to their amazing competition routine, which is choreographed by Lindsay Lococco. For the past two years, their state placing routines have been to powerful covers of popular songs. Paired with incredible synchronization of a large team attained through detail-focused practices, they always have a great impact on the floor.
Fun Facts
School Info:
Their mascot is a wildcat and their school colors are black and orange.
Composition:
The team is made up of eleven seniors, nine juniors, and three sophomores. Out of all the members, eight are new to varsity.
Specialties:
They are known for their emotionally inspiring contemporary lyrical performances. Also, they are known for having a large varsity team year after year, but they keep their routines in sync and moving by going through tedious routine details at practice with help from their coach and captains. Having such a large team also allows for more visual effect.
Teams they admire:
The team has a good relationship with the Lake Forest Varsity Dance Team thanks to pre-existing friendships, especially in the studio dance world. They also respect and admire their successes and talents as an overall dance program.