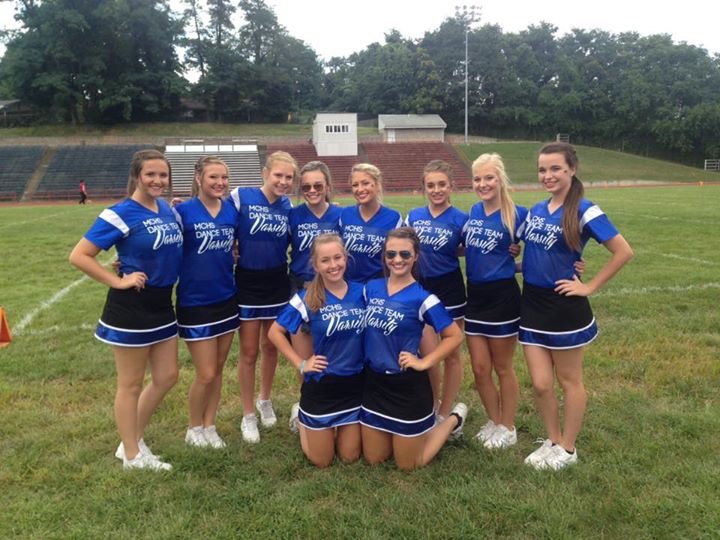 Team Feature: Marquette (Alton)
This team first competed 25 years ago and helped build Illinois competitive dance to what is today. This season, they're looking to build memories while capturing state trophies–and not in Bloomington.
by Norm Ramil, 8 Count Audio chief.music.officer & dance.fan
You know how sometimes nicer things are less convenient? Like the best burgers are the ones that require the most napkins. Or a thick, wool sweater needs to be dry cleaned if you don't want a medium to turn into an extra, extra small. The streets around Marquette High School in downtown Alton, Illinois are a little like that burger and sweater. They're bumpy and you need to drive on them slowly, but only because they're paved with bricks instead of asphalt. Classy-looking, and definitely not convenient. Same with the insanely steep hills around downtown—they'll make you want to get your brakes and transmission checked, but the trade-off is a spectacular view of the Mississippi River.
Marquette is Alton's Catholic high school, and its physical setting couldn't be any more different from its public school counterpart. While the Alton High School campus is newish, huge, and out on the edge of town, Marquette's in a vintage, downtown school building.
But what's most important is what's inside—a private, Catholic school that's really proud of its athletics and academics. Marquette poms was part of the intense growth of competitive dance through the 1990s and 2000s. Decades before IHSA accepted dance as a sport, the Marquette dance team built up its own crowded trophy case in an already crowded sports trophy hall. The school's poms program launched in 1984 and first danced competitively in '91. Coach Danielle Lusicic proudly notes, "I was part of that ground-breaking event!" as a team member 25 years ago. They hold six state championships in IDTA, along with prominent success in TDI competition, including a 3rd at state in kick and hip hop.
Finding dancers among its 431 students isn't a problem for Marquette. After all, they're part of the dance-infused St. Louis scene, where parents have no trouble picking from dance studio options for their kids. Three studios in the Alton area provide the Marquette Dance Team with lots of indigenous [SAT vocab!] talent: Jane Manion School of Dance, Jennifer Bishop School of Dance, and Showtime Productions. This technical training is critical, since Alton's Catholic grade schools feed up into Marquette, and they don't have dance teams.
Keeping it old school, the Marquette Dance Team still picks its roster in late March or early April, like most teams did back when the state contest happened in mid-March. Candidates learn a 60 second routine over two workshop days, while also demonstrating the usual skills (kicks, turns, and leaps). Seniors get to skip tryouts but do have to compete for the two captain's positions. Besides an essay, girls who want to captain the Marquette Dance Team need to submit a video of their original choreography.
Varsity (there's no JV) is guided by two seniors, and having four juniors points to a solid foundation for next year. Joining these upperclassmen are three sophomores and a freshman. The entire roster (except for its youngest member) is back from last year's team. While Marquette's lengthy history includes success in pom, hip hop, and kick, this year's group is big into jazz and hip hop. The girls see themselves as leap and kick specialists, but still show their love for pom and kick besides jazz and hip hop. As fans of what the University of Minnesota Dance Team can do, you can be sure that these Marquette dancers aim for excellence no matter what dance style they want to bring to audiences and judges.
Still, it's a small school. No one argues against the idea that football (and here, volleyball) bring in spectators and therefore money, while dance doesn't. So fighting for practice space is just part of the reality for the other sports, including dance. "We get moved around a lot," explains first-year coach Danielle Lusicic. Today's a good example. The dancers start out in that trophy hall outside the gym, but then opportunity knocks and they shift onto the basketball court. The gym's attached to a huge weight room, visible to fans in the bleachers, and it's a busy place this afternoon, with athletes coming and going. After splitting the gym with the football team (they've come inside to escape the rain), the Marquette dancers will have to head back to the hallway as volleyball fans start to file in for the upcoming game.
They've still got a couple minutes, so the dance team runs through their routine. It's based on work that they did at UDA camp over the summer, so at this point it's more about cleaning than anything else. It's not easy for private schools to fund their extra-curriculars, so "the parents pick up worthwhile things like camp," Coach Lusicic notes with visible gratitude. Their trip to ISU is the Marquette Dance Team's main off-season adventure. The team earned a 1st place for their home routine and qualified for nationals. Impressively, freshman Isabel Borman earned a 1st place Drill Down trophy. Besides a haul of 30 superior blue ribbons, three All American winners get to perform in London (senior captains Carley Hamberg and Maddie Weimers, along with junior Johnna Harshbarger).
For the five football games, the Marquette Dance Team preps four routines (with the fifth being that kids clinic routine). The girls collaborate on choreographing the halftime dances, while Coach Lusicic plans on putting her professional experience to use when she designs the competition dances.
Always a 1A or "single-A" team, depending on the sanctioning body, Marquette Dance Team has a long history of going up against the formidable dance talent of the smaller schools in the southern half of Illinois. But Marquette's one of those handful of good dance teams that choose not to dip into the hit-or-miss world of IHSA dance, instead focusing on their long association with IDTA.
Tradition can't help but be a big deal with such a historic dance program. Their popular "Hat Dance" started in the '80s and still gets performed each year during basketball season. In true vintage style, "the dance includes chairs, white gloves, hats, and a pant suit uniform," explains Coach Lusicic, herself a veteran of performing the dance.
The Marquette Dance Team's new coach knows that she can't totally sculpt every aspect of her team, at least not right now. "I was sort of thrown into it, so I'll structure their conditioning program for next year." On the other hand, this team's roster has athletic talents that go beyond dance, with girls who play soccer and softball in the spring.
Sports are a huge part of most private high schools, and the same goes for academics. The dancers leave Marquette prepared for success; former team members have gone on to dance on teams and minor in dance at schools like Mizzou, SIU-Edwardsville, and the University of Illinois.
Taking over a big-name dance team can sometimes be tough, but this group has bonded tightly, so the transition should be smooth. Following tryouts, upper classmen pick lower classmen and serve as "big sisters." The mentoring starts in the summer and extends right through basketball season, where each pair creates a routine and then teaches it to the rest of the team. Each game night during football season starts with a team dinner. Besides the halftime dances, the Marquette Dance Team also dances at two local festivals: the St. Ambrose Applefest and then St. Mary's Oktoberfest. The team reaches out to future dancers by holding a kids camp that ends with a halftime performance that very night.
When I asked Coach Lusicic to send me a few comments about her new team, what I got back was almost a piece of art. She wrote out her responses on sheets torn out from a small notepad, and the handwriting revealed a dance-centered mind. No, it wasn't frilly or anything like calligraphy. It wasn't even meant for anyone to see but herself (her plan was to type them out later after first jotting down some ideas, but I asked her to send me a picture of her notes to make it easier). It just had the elegance and precision of someone who values precise control in movement, a steady smoothness, tempo, and rhythm. You can't write that way unless you've got a certain sense of balance. And a mindset that's cool with repetition and self-evaluation, the skills needed to get really good cursive.
Not that good penmanship is required to be a good dancer. But it probably helps if you put a high value on how your own work ends up looking to the outside world. Coach Lusicic brings a valuable perspective to her new team. As an alum of Marquette Poms, class of '92, it's easy for her to see the evolution of competitive dance over time. She remembers how pom-oriented her team was back in the day—not just hers, but all dance teams. "Dance is very technical now," she muses.
By day, she's a special ed paraprofessional at Edwardsville High School. Lusicic's extensive resumé has all the marks of a well-rounded dance professional. Besides dancing on the team at SIU-Edwardsville, she also professionally performed with the St. Louis Ambush Brigade for seven seasons. She danced with and coached two pro dance teams (St. Louis arena football's Missouri Monsters and pro indoor soccer's Piasa Pizazz Dance Team). Add to that her time coaching the Adrenaline Pro Dance Team and performing with the ethnic Croatian Junior Tamboritzas of St. Louis, and you start to get a picture of a life dedicated to dance.
The girls tell me that their ultimate goal is to "make it to state and bring home some hardware!" And until then, the team's goal is to keep their fans entertained at halftime. The girls tell me that whether it's in front of judges or Friday night football fans, "We can't perform without our stuffed animal Novi watching us!" Novi keeps it Catholic, faithfully cheering on the girls with a traveling rosary.
Coach Lusicic brings a more measured view of what she hopes for her new team. She wants her girls to "perfect [their] routines in pom and kick…hopefully producing a placement but most of all to just build memories." It's a wise perspective you'd expect from a team alum who was part of that first-ever competition squad. A quarter century later, she cherishes memories of her time in that uniform and wants the same for her 2016 team.
With practice now back in the hallway outside the gym, the team has to use their mental flexibility muscles to continue cleaning a dance but in a totally different physical space. I've got my back to one of the trophy cases (basketball), trying to stay out of the way of turns and leaps. The bluetooth audio connection is acting a little sketchy today, but it doesn't faze these girls.
Like a lot of other teams, Marquette's captains keep a firm hold on fall practice. They dish out the feedback, and if they join their team for any run-throughs of dances, these captains keep their necks flexible as they look over their shoulders, evaluating their team's performance. It's all part of Coach Lusicic's approach—she has them critique each other so it's not her voice all the time.
Practice ends with a couple of things I don't see a lot of with other teams. The girls converse with their coach at the end to check up on any feedback they all have about their practice and where they feel they need to improve. It's definitely not a one-way conversation, and you don't need to be a captain to bring something up. Then the girls do a cooldown set to finish things up, accompanied by some chill music (bluetooth issues always seem to improve at the end when you're depending on it less).
When your program helped build Illinois dance, you don't necessarily need to dance in Bloomington in January. Like the vintage brick streets outside their school, Marquette's dance program is sturdy and historic enough to stick to its roots, to stay with what's been good to them over the decades. Keeping a sense of tradition shouldn't be too hard for these girls, since their new coach danced at the very first moment of Marquette's competitive history, 25 years ago. So maybe it's all right that sometimes the bluetooth cuts out, and that sometimes the team has to relocate several times during practice. What matters is that old trophy case full of 30 years of achievement, along with those outdoor events where the Marquette dancers connect with their community. Put that tradition together with the upgraded technical skills of 2016, and you've got one of Illinois Dance's most interesting teams.