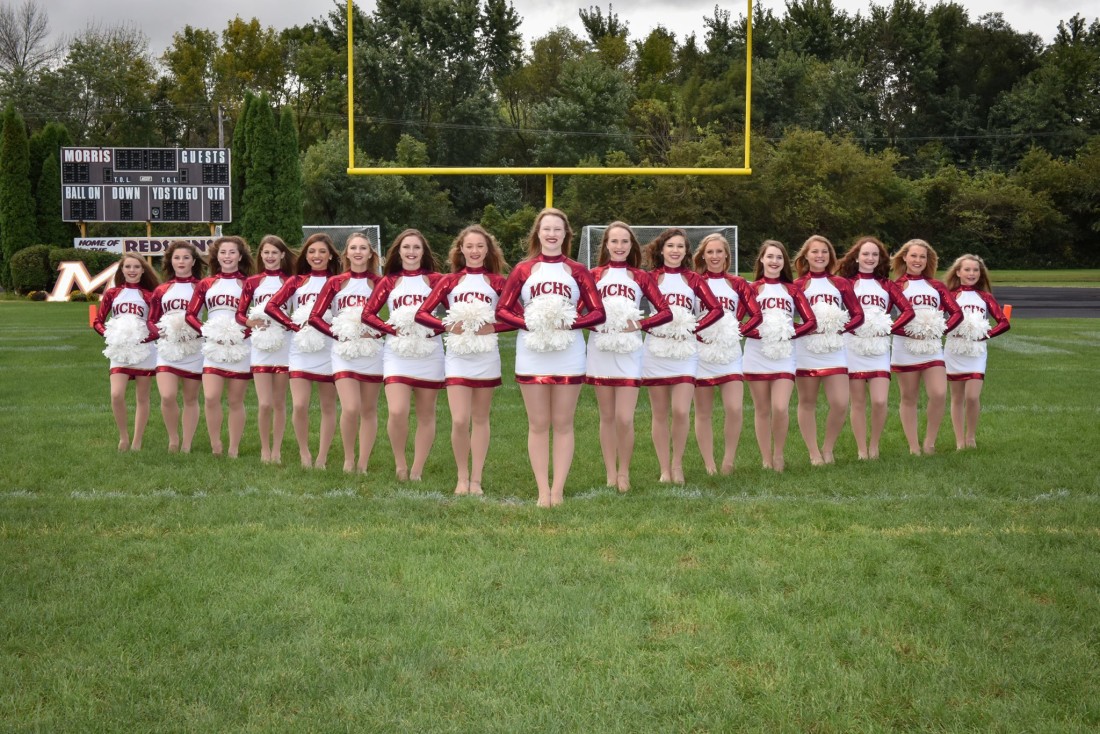 Team Feature: Morris
by Norm Ramil, 8 Count Audio creative.director / chief.music.officer / dance.fan
You probably know Morris as a pom and hip hop team. I think the moms sitting near me at the Grayslake Central competition had this image of Morris in their minds when I overheard them looking over the schedule for the rest of the day. "We have to stay for Morris–they're always so good," one of them said. It's the good teams that have the power and the reputation to change the lunch / bathroom break plans of unaffiliated fans in the bleachers.
But what those fans saw was an outstanding jazz routine that would soon be headed to sectionals and state, courtesy of the 17 dancers of the Morris Poms team. In a couple weeks, they would walk across the podium at IHSA State '16 with a 2nd place finish in the 1A Division.
I gave up counting their championships over the past couple decades; thankfully, head coach Becky Bernardi reports a total of 35 state championships in IDTA and TDI.
"This year, we decided to break the mold and try a traditional, uniform pom routine and a high energy jazz," says the head coach and team alum. Hip hop stayed in their mix, but this time for camp and homecoming. The change in styles had the girls "nervous but excited," though Coach Bernardi knew it was all about focusing on the team's strengths. "I think that with the new talent we had and some of the hip hop strength we lost [from] last year's seniors, it was a perfect year to make the transition."
Breaking the pom-hip hop tradition is all the more impressive because she was a part of that long stretch of Morris domination in those categories. I still remember walking by one of the hotel banquet rooms in Champaign in 2004 at the IDTA state championship. A sign on the door read something like, "Morris families and fans only, $2." Behind the door it sounded like the party of the century, as it should have– Morris had just picked up yet another pair of state championships in hip hop and pom-dance. That was Coach Bernardi's last of four seasons dancing on the team before heading to ISU where she danced on their competitive team for a season. Assistant Coach Megan Carlson's resume boasts a similar record. The '09 Morris alum danced for four years earning multiple state trophies in IDTA and TDI. Both graduated from Illinois State with education degrees–Bernardi now teaches English at her alma mater while Carlson teaches 3rd grade in Coal City.
With two coaches who truly appreciate the program's tradition of success, you'd expect some high standards during tryouts. To make this roster, a dancer needs solid triple/quad pirouettes, and two 8-counts of turns in second. You could see these building blocks in action in both of Morris' routines this season, with turns that definitely caught the attention of the judges and audience. Coach Bernardi and Assistant Coach Megan Carlson also look for dancers with flexibility in leg holds, discs, toe touches, and other jumps. Tumbling skills can come in handy for competition routines, so they're on the lookout for these, as well. Tryouts involve learning a minute of choreography that combines pom, jazz, and hip hop, plus a self-choreographed two 8-count set that shows off a dancer's strengths.
Of course, it takes years to refine those strengths. The girls on this year's Morris team come from the three studios in town: Donna Mueller's School of Dance, Forte Arts Center / Pam's Academy of Dance, and TNT Dance Studio.
Early April tryouts are followed up by a few weeks of practice once summer starts, along with designing a home routine for UDA Elite Camp in Iowa. When the girls hit the road for camp in July, it's a great opportunity to bond, and everyone starts to get a sense of what kind of team they have. The Morris dancers also keep the rest of their summer busy with their annual Morris Night at a Joliet Slammers baseball game, plus the traditional car wash fundraiser.
Fall brings a focus on technique and conditioning, with practices Tuesday through Thursday each week. Once the competitions start, the team works four days a week plus a few weekends. The three captains launch practice with a stretch and warmup, and the rest of practice might involve adjusting choreography, conditioning, and small group work. All of this happens in their own mirrored dance room, complete with an entire wall of trophies (which probably reminds the girls of what people have come to expect of the Morris dance program!), and interestingly, a tiled floor. If luck is on their side, the team gets to work in the gym, but usually the hard work happens in their dance room.
Choreography is handled by the coaches and team members, which brings its own rewards. "I think that by having the girls so invested in the choreography, they take ownership and it makes success that much sweeter. Knowing that they have literally put everything into the dances, it gives them a sense of pride knowing that we, hands down, own everything we put on the floor."
The team kept a flexible approach to choreo throughout the season, making changes based on critiques from the judges each week. Morris changed the final :30 of their jazz routine each weekend right up through state: "Finally, we found one we loved and the judges did, too!"
The girls get a lot of support from their school and their fans during the intense couple months of competition season. When they're not cheering loudly in the bleachers, Morris parents encourage their dancers with locker signs, notes of encouragement, and texts that help them power through the season. The parents even handle the post-practice treats and snacks. When it comes to state (and let's face it, you can usually count on Morris heading to Bloomington in late January), the team parents turn drab hotel rooms into inspirational dance team headquarters.
But before any room-decorating comes sectionals. While most teams with two routines have a clear choice of which dance to bring to sectionals and state, scoring trends showed that the judges liked both dances pretty equally. "We had a hard time deciding to bring pom or jazz to sectionals…and it was ultimately the girls who decided they wanted to do jazz," says Coach Bernardi.
Even with high expectations every single year, Friday afternoon at state took them by surprise. "I think it's safe to say that we coaches and girls were pretty shocked (and so excited!) to see ourselves at the top of the ranks on day 1 of state," notes Bernardi. The team followed Friday night practice with what might have been their best performance of the year on Saturday. In the end, Morris found itself celebrating on the podium with a 2nd place finish.
"The last few years, we've made it to the top 10, but never got close enough to some of the top contenders. While you might get the one pom or hip hop team [making] the top three, it's traditionally been a lyrical/contemporary or jazz routine that is getting on the podium. We're really proud of how the girls adapted to the new style, and in the end, they really loved it!"
Even with a 2nd-place ranking in 1A, the what-ifs remain intriguing. "I wonder how things would've turned out for us if we would have done pom on day one of state and jazz on day two…something fun to think about!"
The team includes four sets of sisters–definitely a dynamic that's fun to watch both in and out of practice, according to their coach. Of the 17 dancers on the team, 3 are departing seniors, and 6 juniors are poised to lead the team next year. With no JV team, 5 freshmen and 3 sophomores add to an already talented roster, and just 1 of these underclassmen has previous varsity experience.
The Morris dancers are big fans of both Neuqua Valley and Geneva. Bernadi has some remote ties to Neuqua (she danced at ISU with their head coach) and also roots for Minooka (she was an assistant there for two years before getting to Morris). "We love [Minooka coach] Melissa–she's great!," she says of her 3A counterpart a few miles east.
For the 3 seniors, a 2nd-place state finish was the sweetest highlight of their season. But for Cassidy (headed to Bradley), Haley (going for the dance team at St. Louis), and Isabela (headed to ISU), becoming a close family was also the best part about their championship season.
So it's no surprise that bittersweet feelings hung in the air on senior night. I felt like I got to see everything this team's about when you put aside the monumental accomplishment of taking 2nd at state: sideline duties (in a small, old, gym full of character), dancing with their kids camp counterparts at halftime, and then one last dance before the basketball teams came out for the 2nd half.
Lucky for me, that last dance was pom, and it looked as full-out as could be, even about a month after they last danced it in front of judges. A few weeks might have gone by since they hoisted their runner-up state trophy, but this team still went about their normal business in championship style.
That's just as impressive as the stellar jazz dance that propelled them onto that podium in Bloomington.