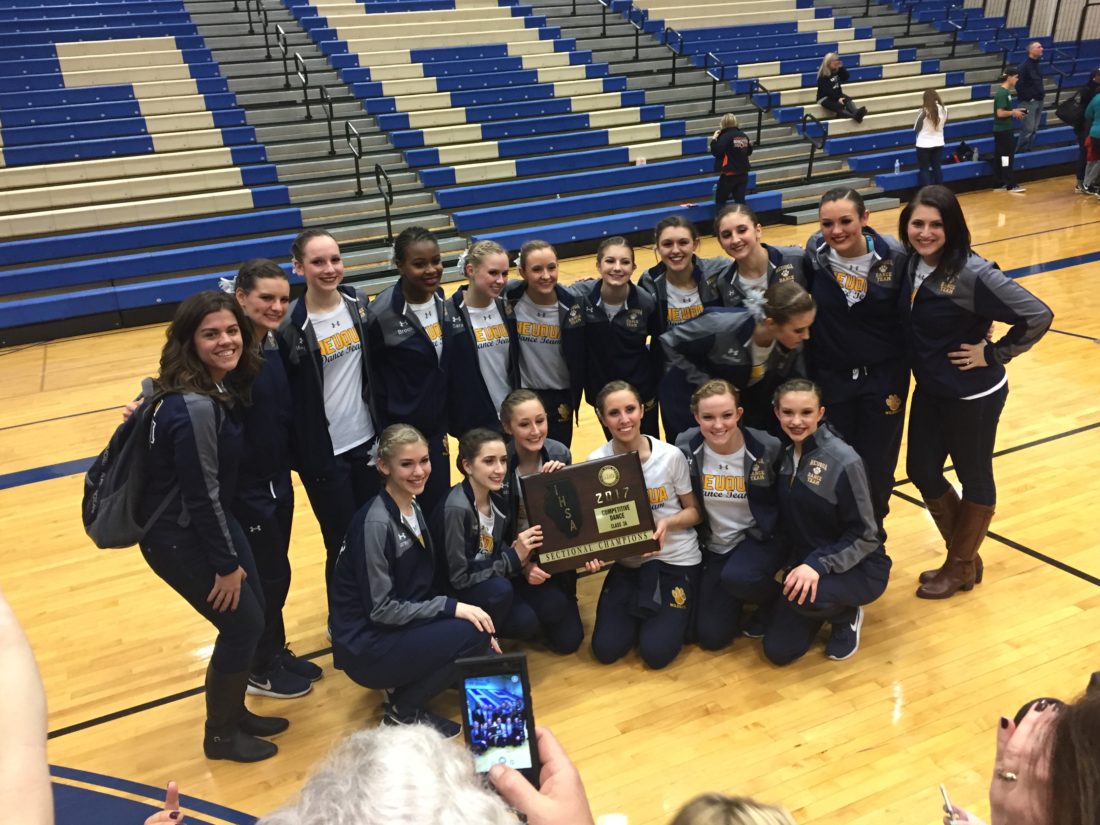 Team Feature: Neuqua Valley
Different coaches? Overturned roster? Ultimately, the Neuqua Valley dancers couldn't hide what's inside
by Norm Ramil / 8ca.music.person & dance.fan
Anyone watch Mad Men? I remember how one of Don Draper's affairs ended with the woman saying something like, "You only like the beginnings of things." These days, endings aren't all that sweet for most dance teams, even if they do reach the second day at IHSA state. But when you take both ends of the timeline into account, you start to appreciate the journey.
One of the coolest things I got to do this past season was to watch the new and rebuilt Neuqua Valley Dance Team start and end their season. Their new coach kindly invited me to watch some of their July home camp, and after day one, I was hooked and came back each day that week. My Neuqua binge was all about watching the next stage unfold for this revamped program—new coaches, new everything, almost a new roster—and how the Neuqua dance legacy would evolve. So I admit it…beginnings are pretty fun to watch. Like anything else in life, the real test is the ending and then thinking about both sides of this year-long plot.
So rewind to mid-July, when the rest of the world seems asleep in the haze of summer but the elite teams know better. This wasn't a normal summer week, though. It was the hottest string of days in years, but that wouldn't stop this elite team from making the most of their camp week at home.
Just after 8am on a Monday morning, 8CA staffer (and dance alum from nearby Waubonsie Valley) Taylor Babcock and I meet at the front door of Neuqua Valley's freshman "gold" campus. It's like a mini-school within the bigger campus, shoved off to the southwest corner away from the other three grades. New Coach Taylor Farnetti greets us at the front and we step out of the heat and into something sort of air-conditioned. By the time we reach the gym, it's clear that the AC is on summer break in this part of the building.
The heat didn't stop me from being a little starstruck. It was Neuqua Valley Dance. I didn't know names but I recognized a few of these faces from competition routines. They're running camp, at home, and I'm sitting there watching. Pretty cool.
First up for day one of camp was an intense session with the team's technique instructor, Callie, who also works with other big-name 3A teams. She runs some physically challenging drills while I meet the other new coaches: Varsity Assistant Lauren Prosser, who I think I remember from her judging days, and JV Coach Kaitlyn Herrera. Nineteen Neuqua dancers are out on the floor, including three seniors and—wait for it—eleven juniors. They explain to me that only four, maybe five kids are back from last year's team.
Naperville should be considered as one of the state's dance hotspots—maybe not quite as famous as the northern suburbs, maybe not as crazy as the stretch of land running from Batavia up to Crystal Lake. Students can take dance during the school day; the Neuqua Valley Orchesis has around 60 kids. The DVC (DuPage Valley) had long been one of those underrated dance conferences, but the arrival of the 3 "Valleys" (Neuqua, Waubonsie, and Metea) makes it an outright powerhouse.
So far this summer, the solid foundations of the Neuqua program have stayed the same. Incredible parent support, solid guidance from the AD, and an ultra-organized car wash have already impressed the new coach. I'm told that Neuqua dance alums have stopped in this summer, back to help the three captains (two of them are juniors) lead their team with tips on  technique, motivation, and later, cleaning.
Like other teams that change coaches, Neuqua's summer schedule started a bit on the late side. So instead of bonding at camp away from home, they've got this week in the freshman gym with some talented guest teachers coming in for intensives. One of the goals is to use all of these varied instructors to get a little more well-rounded, to grow beyond that Neuqua reputation for superior jazz and lyrical.
Two dancers sit on the sidelines. I'm told that one is at the tail end of a long bout with mono (community water bottles apparently are a bad idea). I nudge my chair just a little farther away from them. A little later this morning, one of these sidelined Neuqua dancers starts to join in the drills, carefully and selectively. When you're a dancer, it's hard to sit out. I admire that kind of dedication because what's going on out on the floor is pretty intense, especially since I'm soon aware that this might be hottest gym I've ever set foot in.
If too many girls quit or fall out of a stretching / holding drill, they have to start over. It's no mere technical class. It's physical, along the lines of those Gatorade commercials where sweat-drenched student athletes look like their season depends only on sugary electrolytes.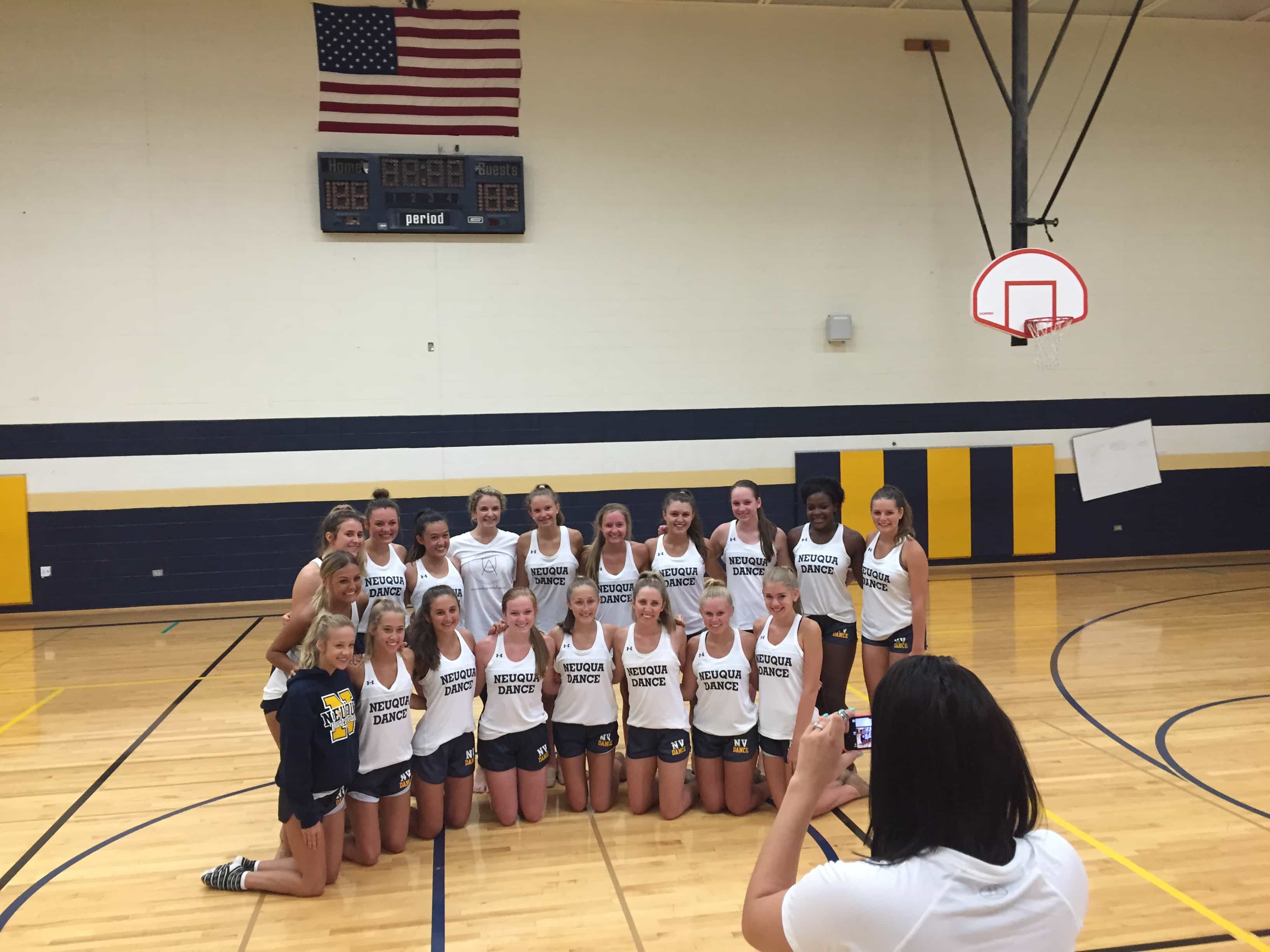 Wilting heat didn't stop these Neuqua dancers from an awesome first day of home camp
"Talk to your team. If you're dying, the girl next to you is, too," announces Coach Farnetti. There's still room for summer-like humor, though. In the middle of a break where the dancers are supposed to stretch, one girl announces, "There's gonna be a huge sweat imprint from my face" as her forehead nudges against the gym floor.
So far, 75 minutes has been devoted to just conditioning and stretching. Now it's time to incorporate some technique. The Neuqua dancers first do a wall plank in relevé. 15 minutes later, they're doing across-the-floors. "What gets condensed in a normal pirouette?" asks their tech expert, who's just opened a studio in Naperville with its own competitive team. The Neuqua dancers offer their answers—contracting the abs, butt, arms, shoulders, rib cage, and of course, pulling up into passé. They're not just doing…they're thinking their way through this session.
After their technique session comes a major shift. The NV dancers run through their fight song and dance, with the usual funny problems shared by teams around the state this time of year: trying to remember the words, and singing too timidly even if they do remember the lyrics.
Next one of the dancers teaches a couple 8-counts of a sideline dance. Coach Farnetti watches and tells her new team, "Now that you have the same shoes, we can tell who's full out. I know this is fun and cutesy, but it has to look sharp." And also a sidenote with a smile: "You need to get arm weights before school starts!"
Pairs of Neuqua teammates teach a total of four sets of 8-counts, and then the Neuqua Valley Dance Team strings all four dances together. It's a memory test, and if you mess up a part, you sit down. The last girls standing earn a sucker as a prize, and both times, it's the back row who wins. It's early, but it's looking like the entire team's strong, back to front.
With sidelines checkmarked off the list it's time to tackle a football dance that they'd learned before today. The Neuqua dancers run through the intro and their coaches emphasize doing it with purpose, otherwise "you'll look small to your grandma in the bleachers!"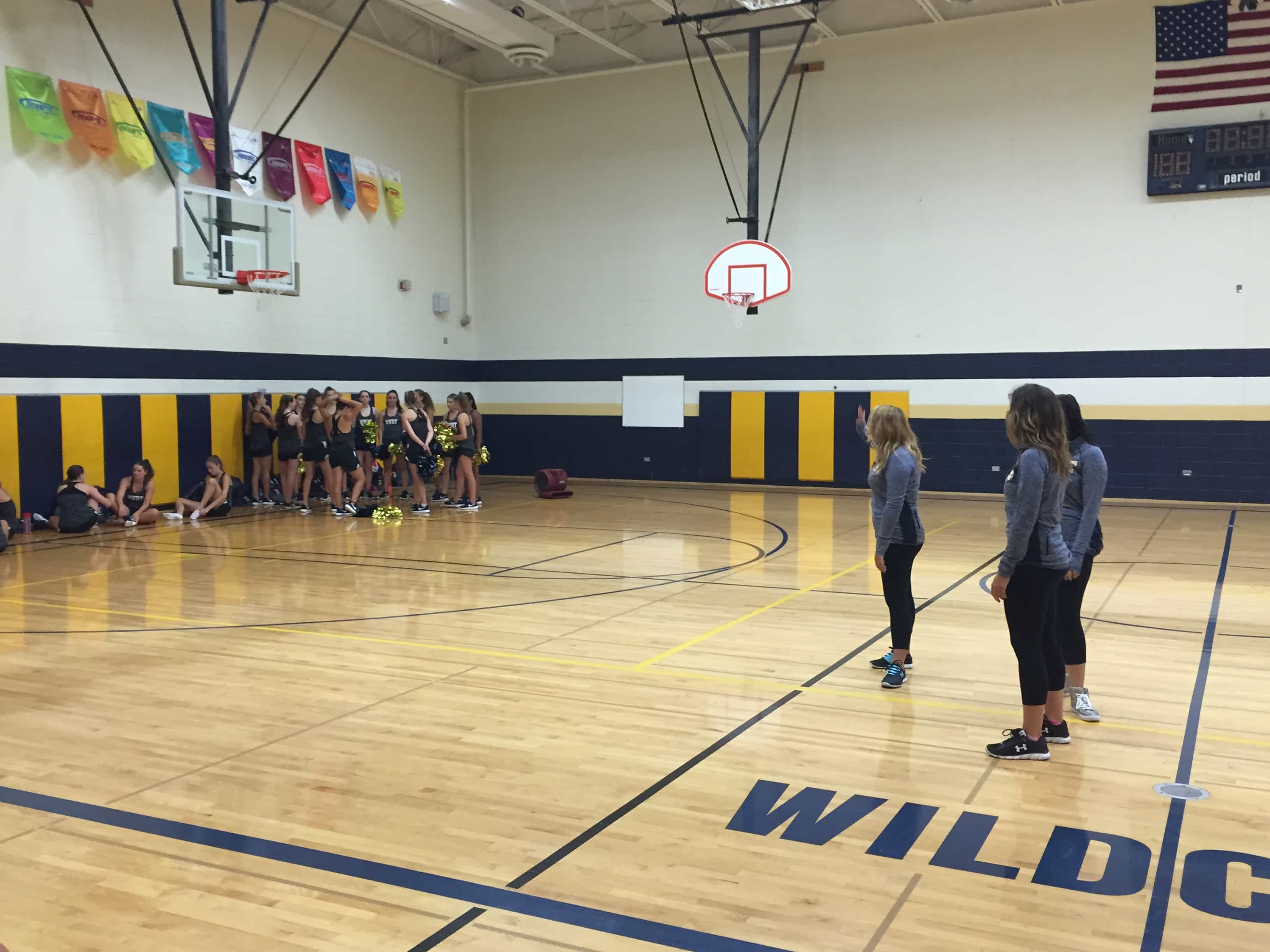 New to each other, the team and coaches almost look like they're sizing each other up. Actually it's just a water break
Day Two. Still hot, possibly hotter. I got to south Naperville in the middle of the afternoon after meeting with the dance team from Seneca High School. Lucky for me, I didn't miss much of the afternoon jazz session at Neuqua Valley since their guest teacher was running late.
The team just finished learning a pom routine, and I got to see the results. I instantly see what I like to call that Neuqua Valley polish, even with different coaches and a mostly new roster. It's just meant for football season, but I get the sense they're already asserting themselves, prepared to show a stadium full of fans what the name on their uniform is all about.
Nikky Paramo, a dance professional who choreographs for Britney Spears, shows up and starts teaching combinations almost right away. A native of a nearby suburb but now based in L.A., she's definitely got that professional look, doing every single movement with a big dose of intention. Her ideas aren't just some combinations strung together—they work with the music, a reminder that musicality isn't just for the judges between November and January. I appreciate it when she tells the team to "make sure in that moment you break all technique and just relax," because that's exactly what the music asked for at that single point in the song.
Coach Farnetti points out how Nikky's entire body is engaged with each movement. Nikky explains it as a natural side-effect of connecting with your work: "I put so much emotion into the choreography. It's more than just steps."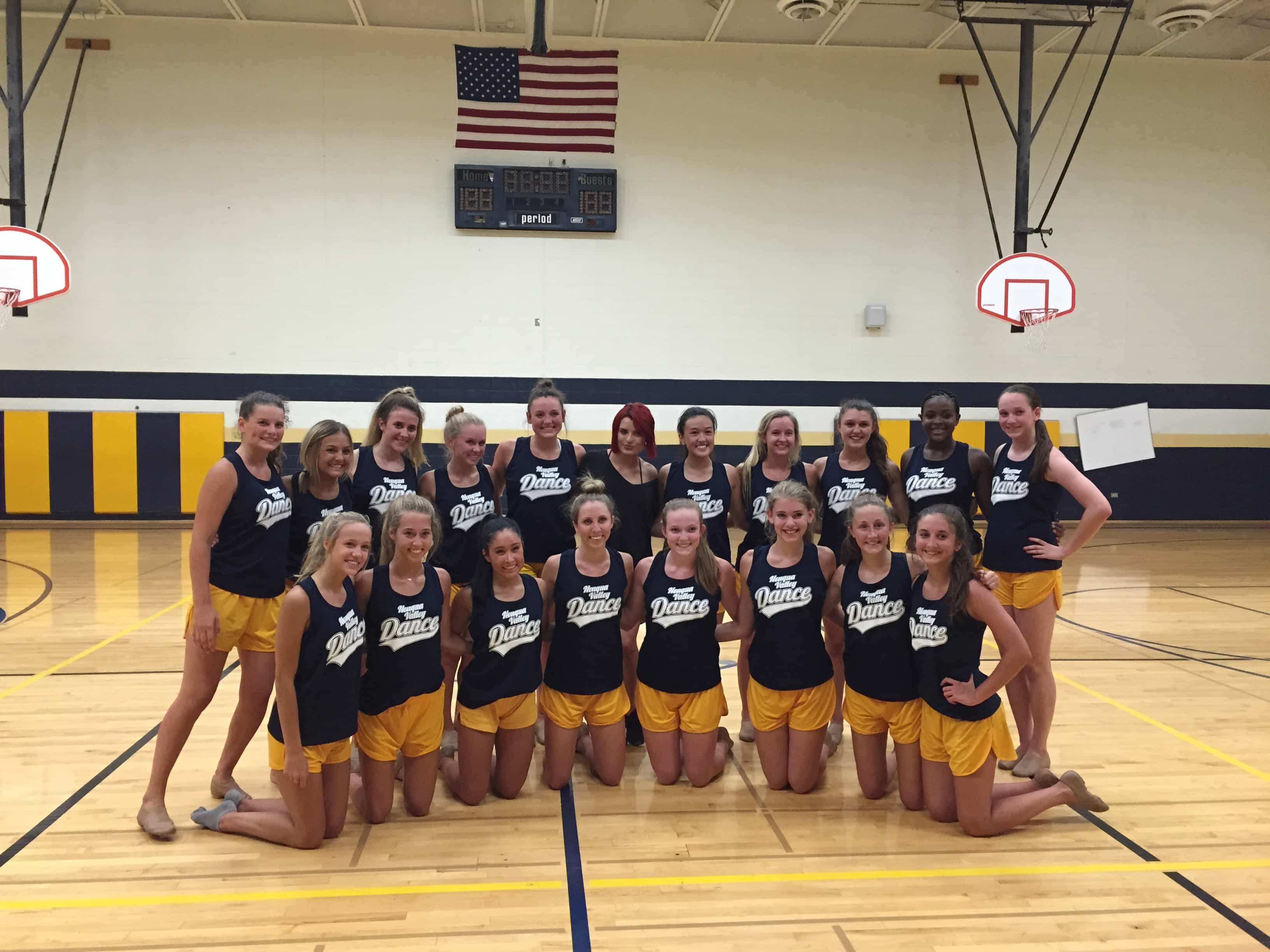 Neuqua Valley Dance hung out with a legit LA dance pro, and everyone in the gym (including me, just as an observer) learned a ton
Day Three. Same blazing heat, same un-air-conditioned gym. I start to wonder if, since we're stringing days of heat back-to-back, this place is getting hotter every day. Maybe some of yesterday's heat and humidity hangs around like a party guest that won't go home.
While waiting for todays' guest teacher, the girls made inspirational poster boards as part of a camp team-bonding activity. I also had my first real look at the Neuqua Valley JV team in their upstairs and slightly cooler gym. They've pretty much finished learning a routine and it looks good for summertime JV.
Today the girls stepped outside their comfort zones and learned a hip hop dance from a well-known Chicago choreographer who's performed on a certain professional basketball team's homecourt. It's ambitious. But like other great choreographers, she's first and foremost a teacher. Stylistically, it's a stretch for this group, and absolutely challenging. "Secondary movement is gonna be key for those who can't do it all," she suggests to Coach Farnetti. I almost break out my calendar right there just to ask when this dance might hit the basketball court for a halftime performance, because I'm sure it'll look huge and own the crowd.
Day Four. Why not? Might as well go four-for-four. I dropped by their last day of camp (Thursday) to check out the final performances meant for the parents. The glaring July sun wouldn't let up. I know I'd been saying it all week, but this was the hottest day in that gym. Add in a small crowd of spectators in the bleachers and it was going to be a challenge for all involved.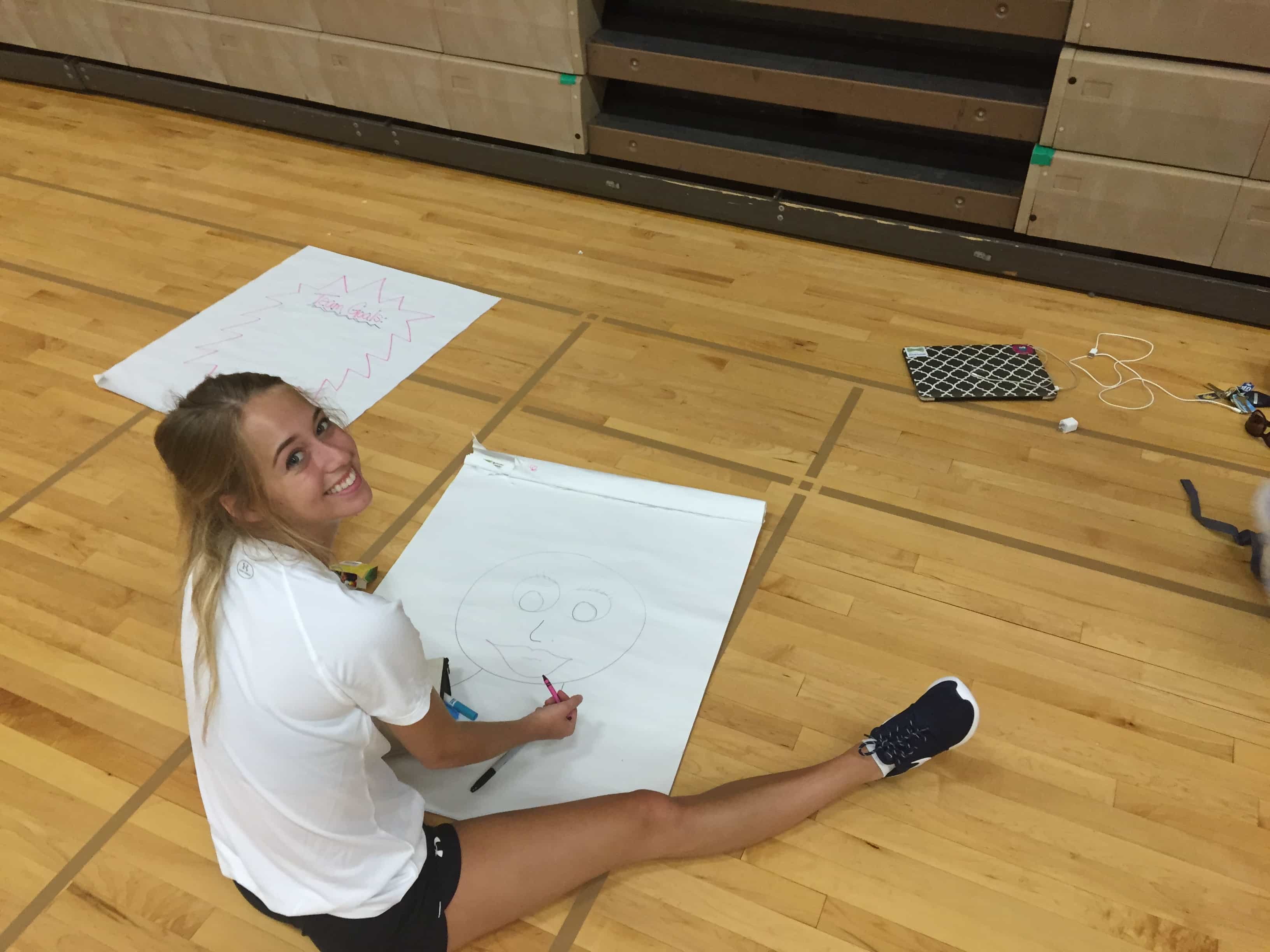 Not sure what's going on here. Just part of the mysteries of team bonding at your home camp.
A few routines were on the unfinished side, but I was pretty impressed with what this team did and learned in just four days under tough conditions. Question marks probably floated around in that steamy air, parents wondering what the season would bring, dancers and coaches more closely bonded but still in the process of becoming a cohesive unit.
Workshops for tryouts started in early May, and by the 13th, the all-new varsity and JV Neuqua Valley Dance Team rosters were set. In a nice linking of two eras, the early-season team meetings overlapped with the arrival of state championship rings (something the dancers of south Naperville had gotten used to). By the 31st, the team was hard at work practicing.
Practices, event performances, technique class—they all filled the Neuqua June calendar, the sign of a team that knows where it wants to be in late January. July had the aforementioned carwash, and then the weeklong camp at home. Then came their junior poms camp to wrap up a busy mid-summer. August was more laid-back with football season on the way, but the team did find time to sneak in another carwash.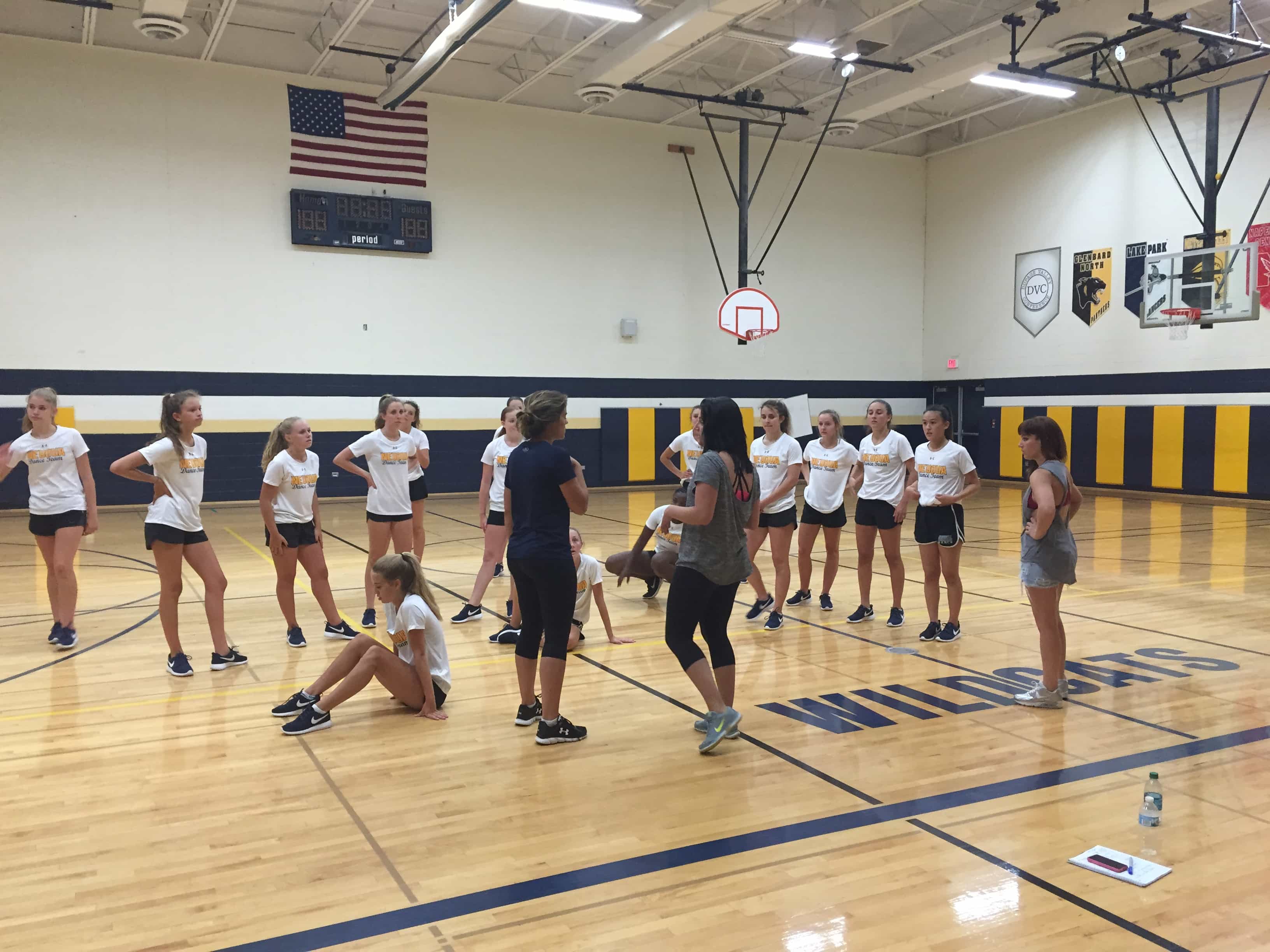 NVDT gets professionally schooled in hip hop on the 3rd day of their home camp week
Football season was more than just halftimes and sidelines for the NVDT. They got some quality on-screen time when WCIU-TV came to visit. The Neuqua dancers also marched in far-off downtown Naperville for the Labor Day parade. And southern Naperville cars, don't even think about getting dirty in September because the NVDT dancers will come at you with yet another car wash.
The Neuqua Valley Dance Team: State History
IDTA 2002: 5th in AAA Lyrical
IDTA 2004: 2nd in AAA Dance
IDTA 2006: 5th in AAA Dance
IDTA 2007: 3rd in AAA Kick
IDTA 2007: 4th in AAA Dance
TDI 2008: 6th in AAA Kick
TDI 2008: 2nd in AAA Hip Hop
TDI 2008: 6th in AAA Open Dance
TDI 2009: 5th in AAA Hip Hop
TDI 2009: 4th in AAA Open Dance
TDI 2010: 3rd in AAA Lyrical
TDI 2010: Champions in AAA Open Dance
TDI 2011: 4th in AAA Lyrical
TDI 2011: 6th in AAA Open Dance
TDI 2012: 2nd in 4A Lyrical
TDI 2012: 2nd in 4A Open Dance
TDI 2012: 4A Grand Champions
IHSA 2013: 4th (Day 2) in 3A
IHSA 2014: 4th (Day 2) in 3A
IHSA 2015: Champions in 3A
IHSA 2016: Champions in 3A
IHSA 2017: 16th in 3A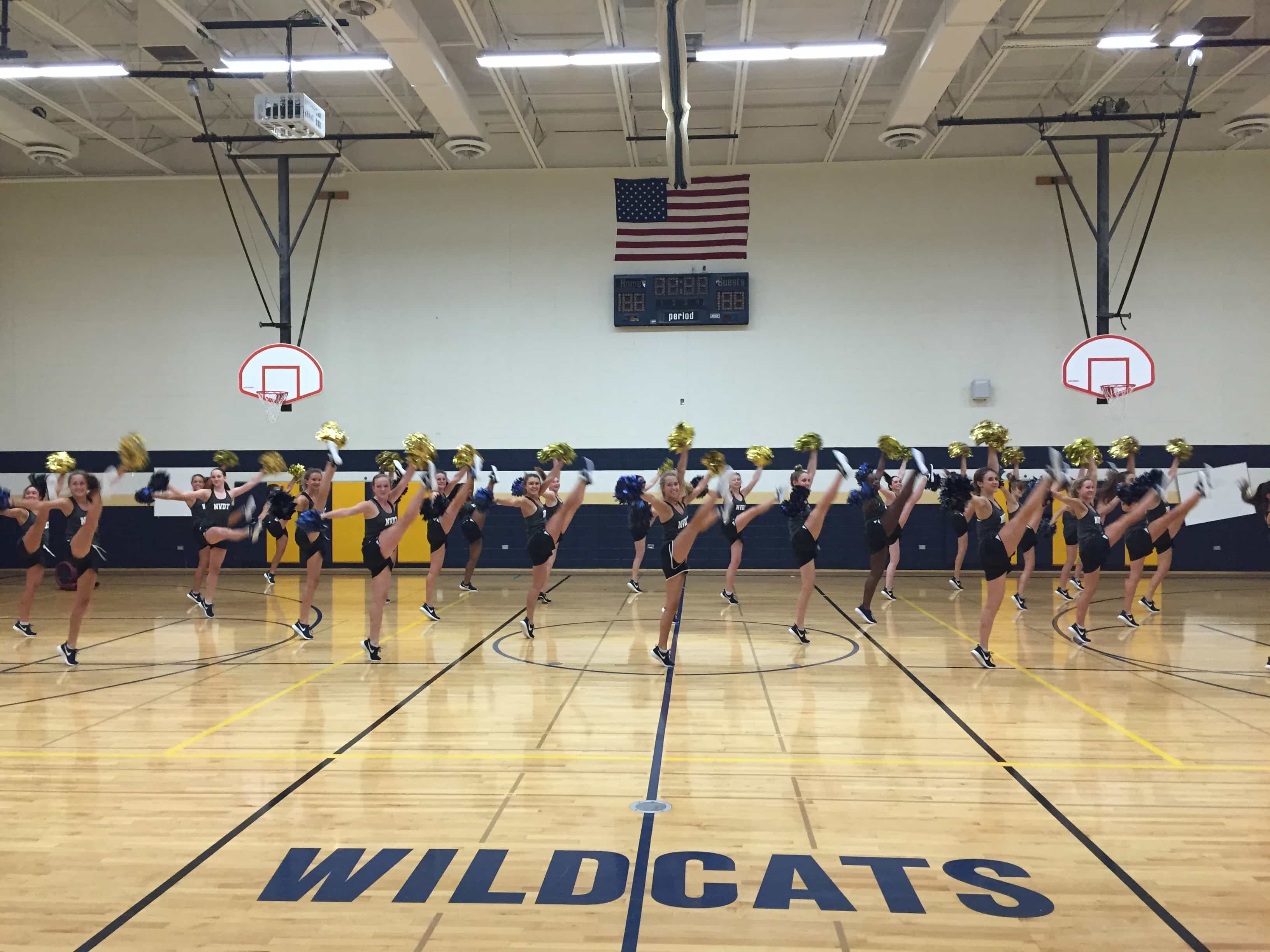 Neuqua's known for their jazz and lyrical skills, but they sure do know their way around a pom routine
The Neuqua Valley Dance Team spent most of their competition season navigating new waters, not quite dominating all the time, but steadily climbing, making the rest of 3A wonder when the breakout would happen. JV earned a placement trophy in the pom category at Fremd. By mid-December at Stevenson, varsity snagged a 3rd in the overall 3A division.
Fast-forward to mid-January, on an afternoon trying to be partly sunny. I was back in that gym in Neuqua's freshman building and it couldn't have been any more different than the atmosphere I remember from July. No weather-related heat, but plenty of intensity out on the floor with sectionals 48 hours away.
Strangely, the one thing about this gym that reminded me of July was the bleachers, pulled halfway out like they were on the last day of that home camp week when the parents were invited to watch the dances.
Coach Farnetti closely works with one group of dancers, the ones responsible for the challenging changing-spot turns. She wisely mentions what she knows about the floor markings on Geneva's basketball court, their sectional site. A teammate in the bleachers yells out encouragement. The whole team will need it because some big sections of the dance have gone through major changes.
Three distinct groups in the choreography each get specific instructions on what to work on, and the three coaches each take turns working with the groups. One set of Neuqua dancers has the task of coming up with some new ideas. The changing-spot group reviews a slow-mo video, and it's revealing. Coach Farnetti and her girls pick up on the varying head positions at different moments in their turns.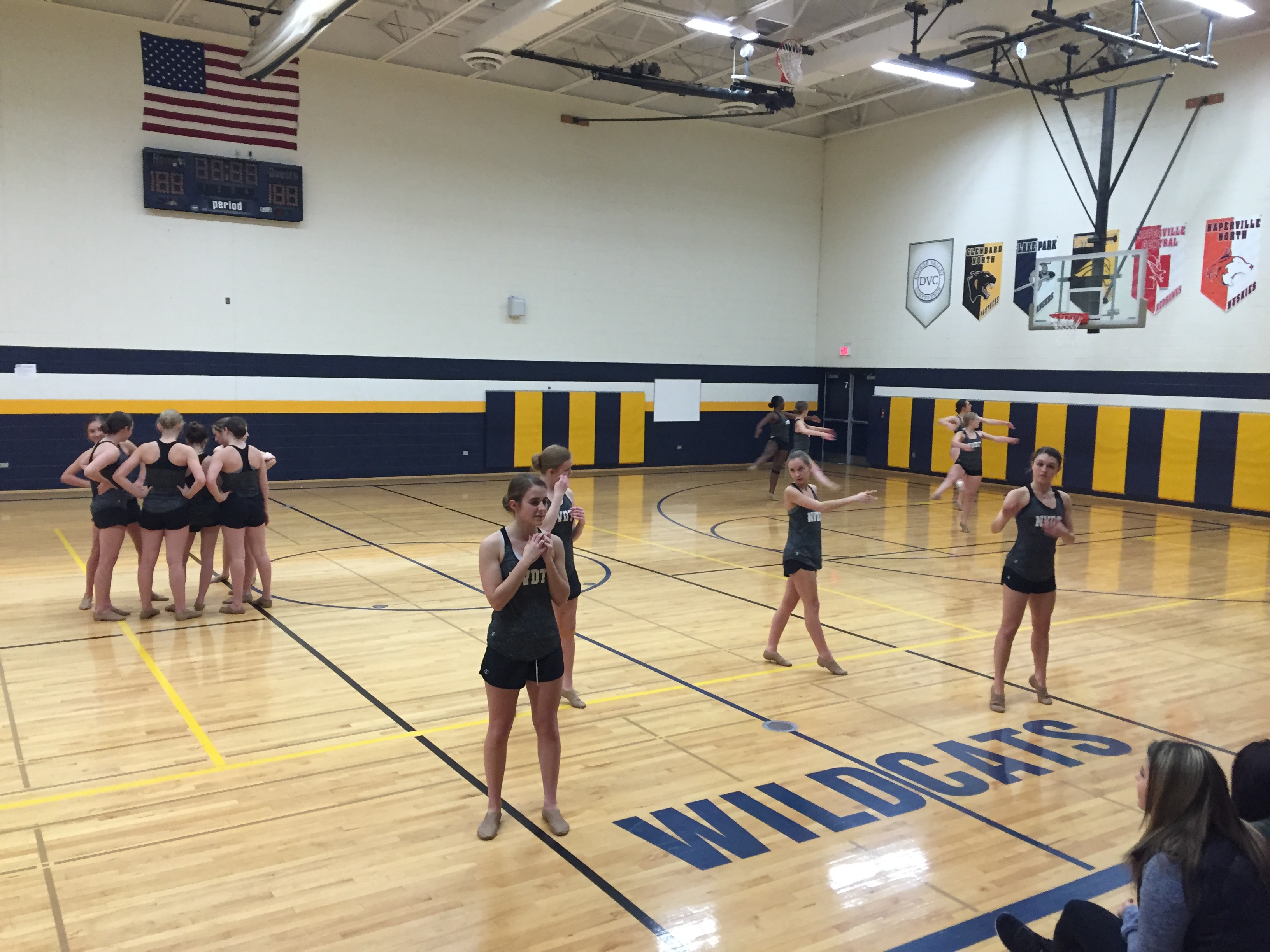 Layered choreo means group work, and sectionals in two days means they all clean at the same time in different parts of the gym
The gym's full of organized chaos with each group counting out loud and doing their own thing. Up front, the Neuqua dancers figure out how to fix one side of their formation doing flat backs while the other side has rounded ones. "I wanna see facials," Farnetti orders. "I don't care that there's no music." At some point, one of these dancers asks the girl in the bleachers to go get a bandaid. Later, their coach eventually gives in and goes searching for bandaids for three or four of her kids. "Our goody bags are going to have band aids," she quietly jokes to me.
At 4:38, the Neuqua Valley Dance Team has enough things figured out that they can try it all with music. Farnetti calls out the back row for doing a good job: "You all look like one!" A collective and cute "Yay!" comes back from those far-away dancers, and I vaguely remember how the back row won the suckers at camp in July. Their upbeat mood inspires them to count out in Spanish for a few fun moments.
Then the 2nd and 3rd run-throughs, both followed by individualized feedback from all the coaches and some of the girls out on the floor. Each coach watches a section of the formation, and one assistant praises her side for looking good.
Before the 4th run, Coach Farnetti resets their minds. "This is for whether or not you go to state. This is the part where you lose energy. So push through. You have to have the stamina." On the technical side, she adds that she needs her dancers to really lift but without sacrificing the precision of the head angles, to not compensate and get sloppy in order to achieve more height. An assistant coach adds some reassurance that this part of the dance (the end) really does have some of their hardest choreo. If they're having a hard time, it's justified.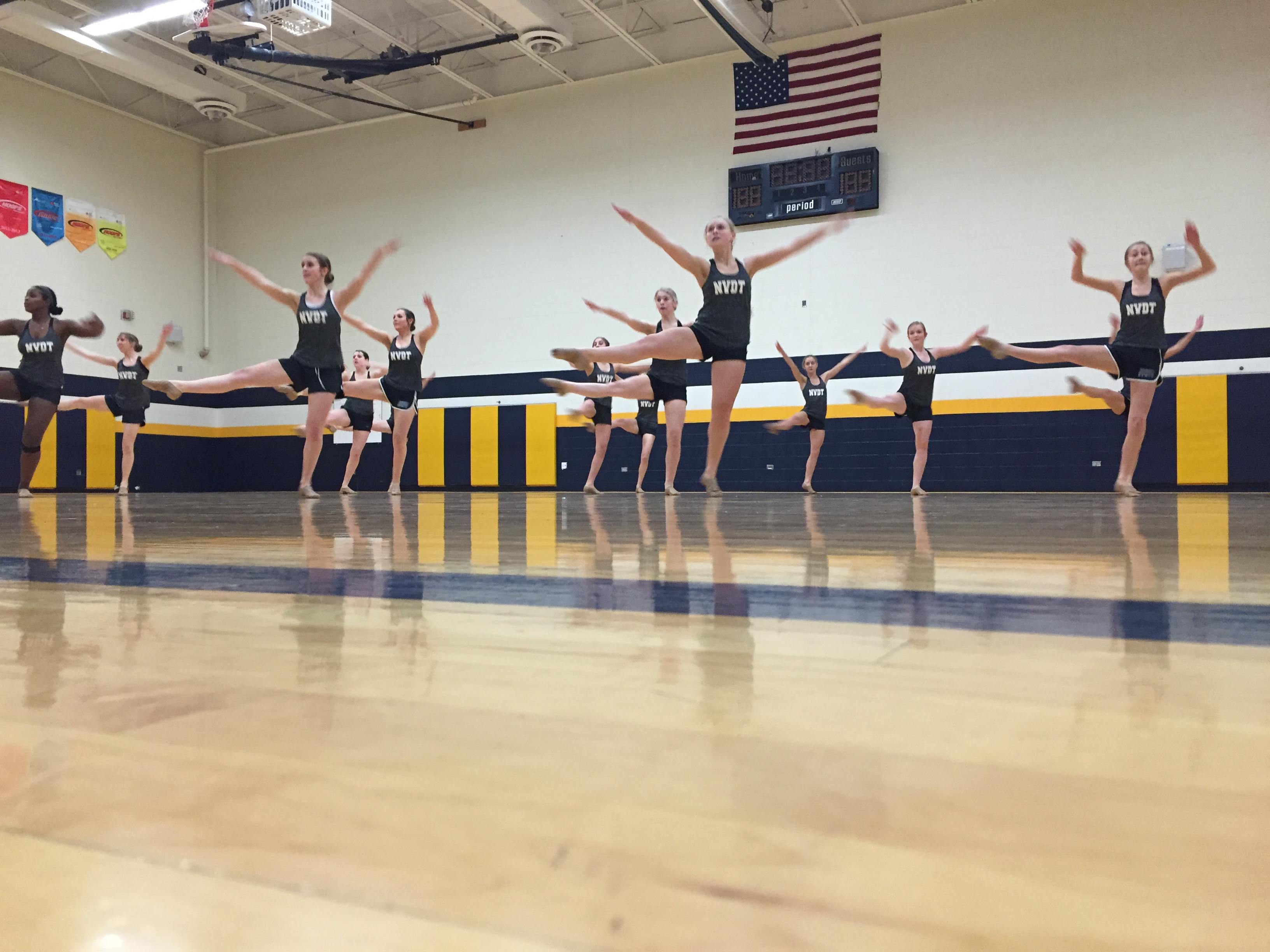 Technical work all summer eventually pays off in January
The atmosphere is kind of tense, but there's still room for collaboration. On a suggestion from one of the girls, their coach tests which works better in this moment of the choreograhpy—a développé versus a brush for a leap (développé wins).
Back to the run-throughs, and this time, Coach Farnetti counts it out. Lots of girls offer up feedback for each other, with an assistant coach adding that everyone's got to hit the triple. Citing judge comments, the coaches emphasize that a certain row has to look as strong as possible, even during the recovery if you fall out of a turn. The team shows their mental flexibility, shifting from the sting of that sharp rebuke to laughs all around when one dancer playfully disagrees with a teammate's critique of whether or not her heel dropped.
The team continues to run that triple over and over again, trying to stay aligned. At 5:06, they try it again with music since one Neuqua dancer suggested that they needed to practice the transition into it. Every verbal cue gets thrown at the problem—counting by numbers, words like hit, up, and down for the pliés. Just before the music starts, someone in the formation encourages her teammates.
It's more than just those turns, though. Before another run, one of the team's leaders adds, "Talk! Please! We made a lot of changes." It's the last time they're cleaning this part with music, and they don't have the gym tomorrow (the last day before sectionals).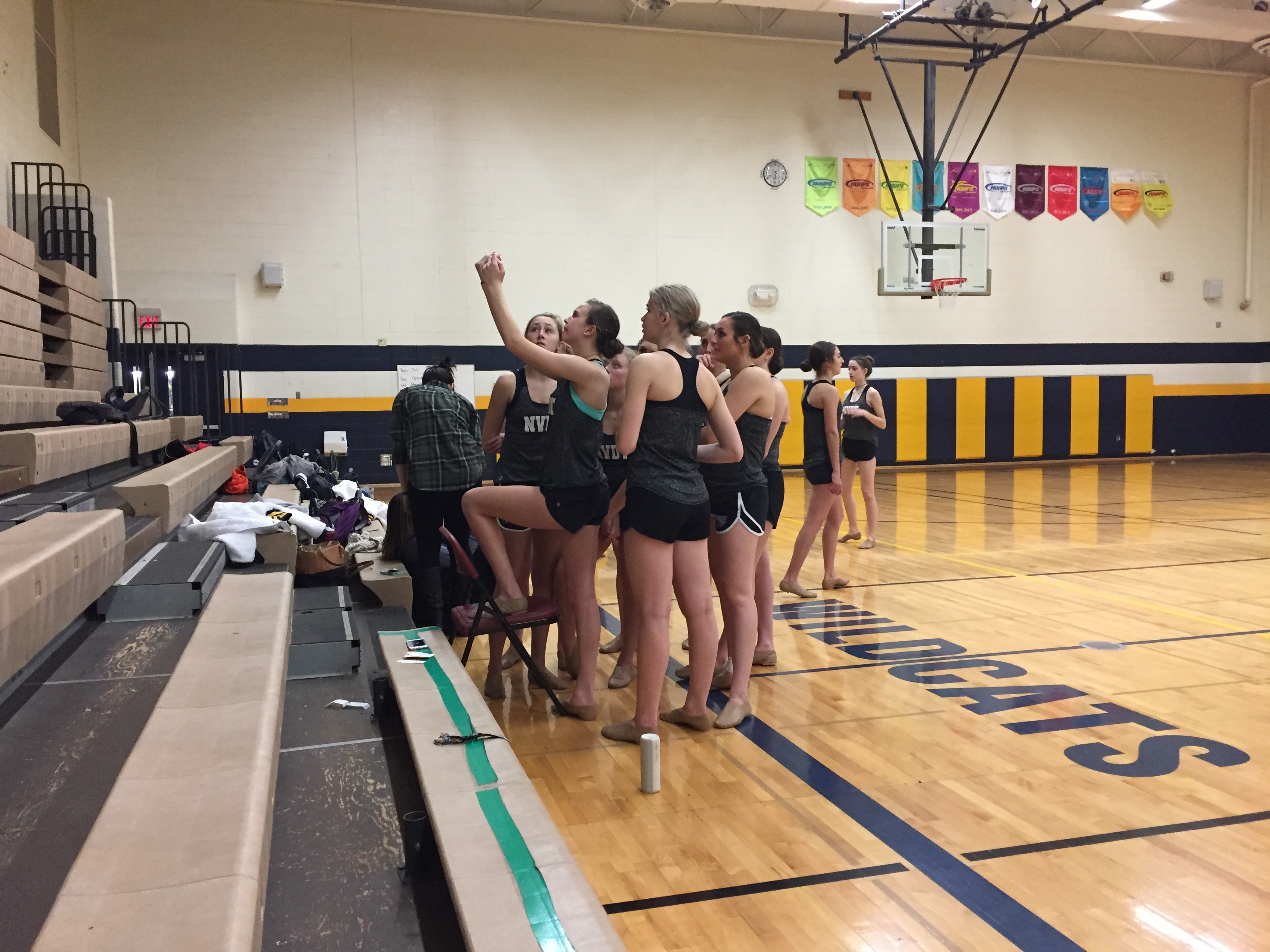 The Neuqua dancers usually spend their water breaks consulting a little iPhone screen to check videos and figure out what to clean next
"Tell the story," Coach Farnetti urges.
She adds more narrative, dramatic flair by adjusting the way one of her two front dancers end the routine. They should both pull away a little from the formation because the song's plot line suggests it—one of my favorite musicality ideas I've heard all winter.
Just before the 5:21 water break, the gym's a mix of emotions. Feedback and corrections have been shooting to and from all directions, a little like the freezing rain that stung your skin as you walked in it about a week before today. But the dancers agree that a lot of things look good.
During a water break, Farnetti reviews the video of the latest run and keenly catches how the girls need to whip their heads around more on the turns—something I've noticed is sort of a dividing line between top-tier 3A teams and upper-tier ones. A few girls join her, one of them saying, "Point your feet…" Besides looking out for stuff to clean, I can tell they're also watching closely just to review the effectiveness of the new choreo. Everyone watching on the little screen says the same thing: "This looks so cool!"
5:30. The team counts through the new sections while the coaches call individuals forward for private chats. Farnetti also rallies her team. "Guys, c'mon. The pizza's gonna get here at 6:30 so you have an hour." A captain sheepishly replies, "It's supposed to be a surprise," so their coach comedically corrects herself: "You're not getting pizza."
Personally, now all I can think of is pizza. And how it's definitely coming.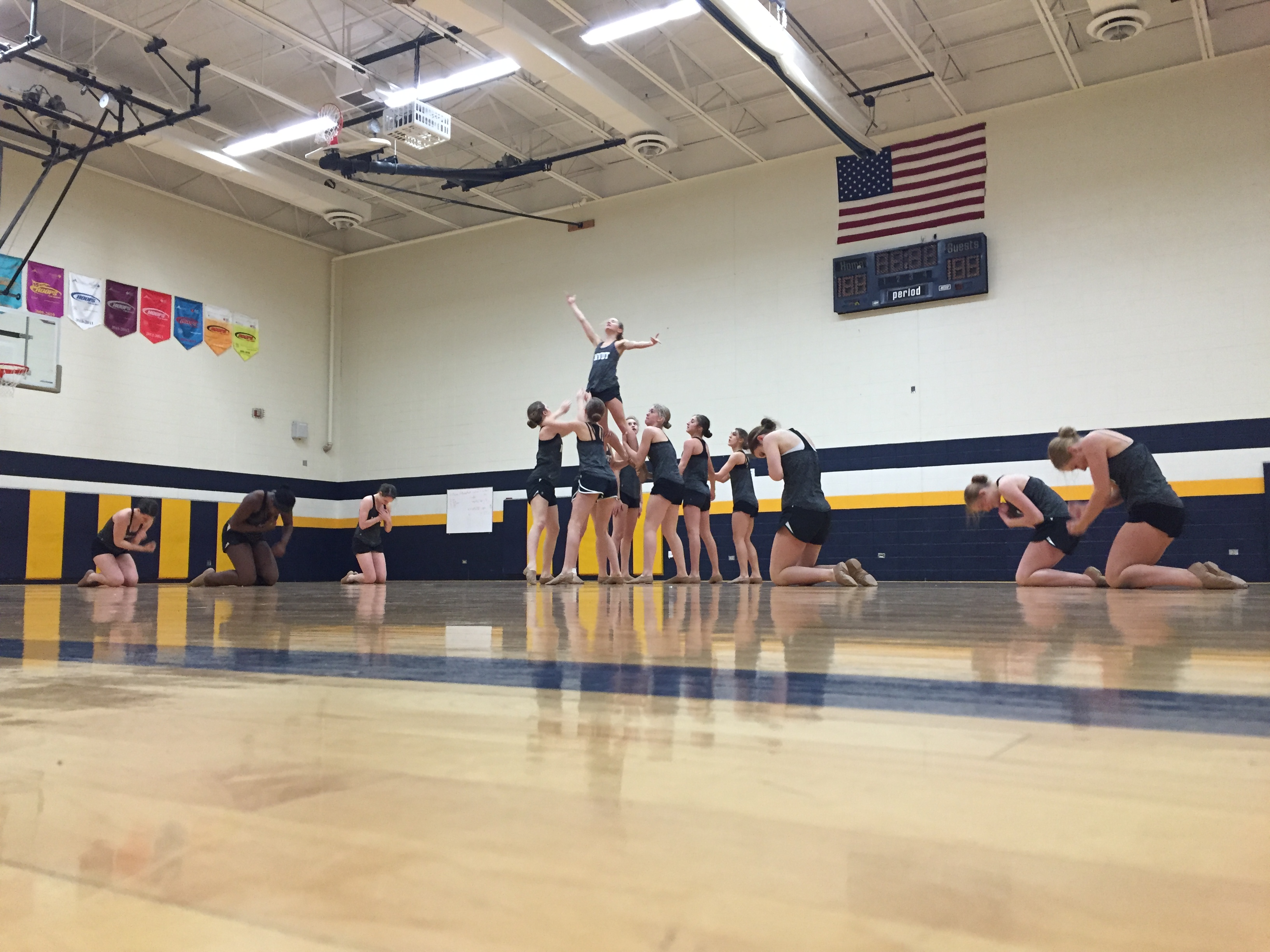 Alright, when's that pizza coming? For now, NVDT executes a lift
The Neuqua Valley dancers also focus on the tiny details, not just the overall look of their revised choreography. Maintaining spacing after a rollout. Thinking "up," not "out" for leaps. A Neuqua dancer even requests they run a section again just to see if their coaches can catch anything that still needs fixing. The next few minutes are full of chatter, all relevant, as dancers clean each other's movements individually in spontaneous pairs and trios.
About a half hour before their scheduled pizza encounter comes the most intense aspect of this afternoon's practice, a simulated "one and done" performance, meant to imitate the pressure they'll face on Saturday at the Geneva sectional. An assistant coach ominously tells the team, "I've honestly never felt emotion from you," noting that the dancers will somehow have to instantly crank up the authentic passion of connecting with their music and the story of their routine. The Neuqua Valley Dance Team even practices their hallway customs, the walk-on, and then the walk-off.
Emotional delivery remains an issue. Coach Franetti tries to get one dancer to look more sad and desperate. She helpfully suggests, "Cry like you did at [the] Minooka [competition]." The dancer clarifies, "That was a concussion cry."  A moment later, more humor about facials. "I don't know the difference between the constipated look and this look…"
Whether it was feigned digestive problems or fake broken hearts that secured points, Neuqua Valley got more than just the facials right a couple days later. The 3A field at the Geneva sectional topped out only in the 85-86 range, but the team at the top of the mountain was Neuqua Valley. I personally missed their performance but I got to that crowded Geneva High School gym in time to see this team raise their sectional championship plaque. I saw the triumph in their faces. This was more than just outscoring the other 3A teams. This was their moment of validation and maybe even healing from a year of challenging change. The faces, practices, and routines changed this season, but this group showed everyone that this was still Neuqua Valley Dance.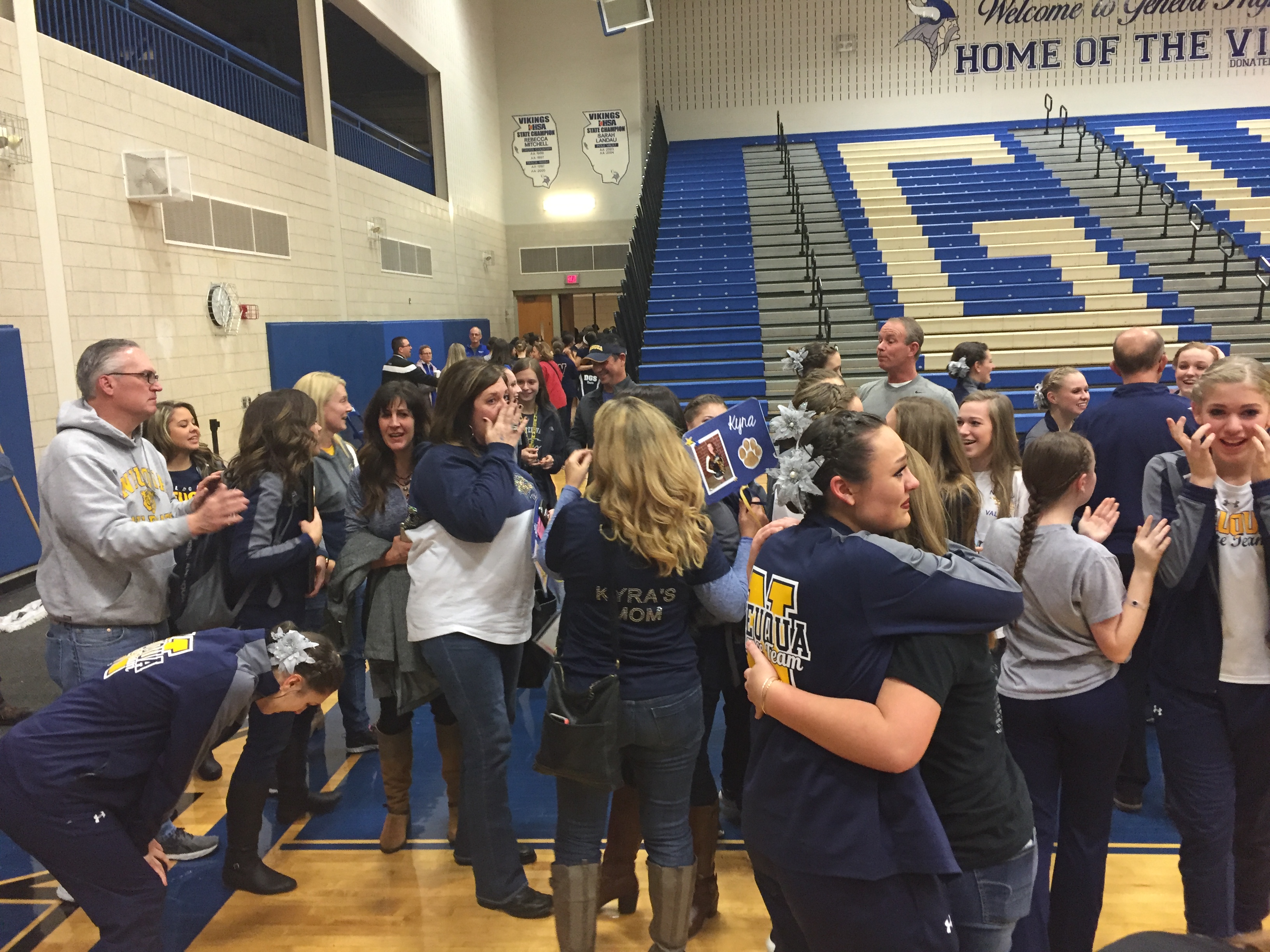 Emotional delivery during the dance leads to emotional deliverance afterwards: NVDT, sectional champs
No doubt, that sectional win and its celebration stands out among all the highlights this season. From my perspective, I'm not exactly motivated to overly-cover their solid Day One performance at IHSA state. It's the little things that stick out, like meeting a couple proud Neuqua parents in the bleachers at Grayslake Central, and again a week later on that Geneva floor.
Outshining all else was the interview right after that practice a couple days before sectionals (see below). We were in a gym that just had a certain vibe, something hanging in the air that was way less palatable than the pizza being served the rest of the team a few doors down. These kids—their hearts—poured out enough truth about togetherness and life itself to keep me hooked.
I remembered walking into that very same gym six months before, starstruck for different reasons. But for these 10 minutes, in between that practice and the sectional victory two days later, I found more reasons to be a fan of Neuqua Dance. And I realized that the beginning and the end of a story don't mean as much without each other.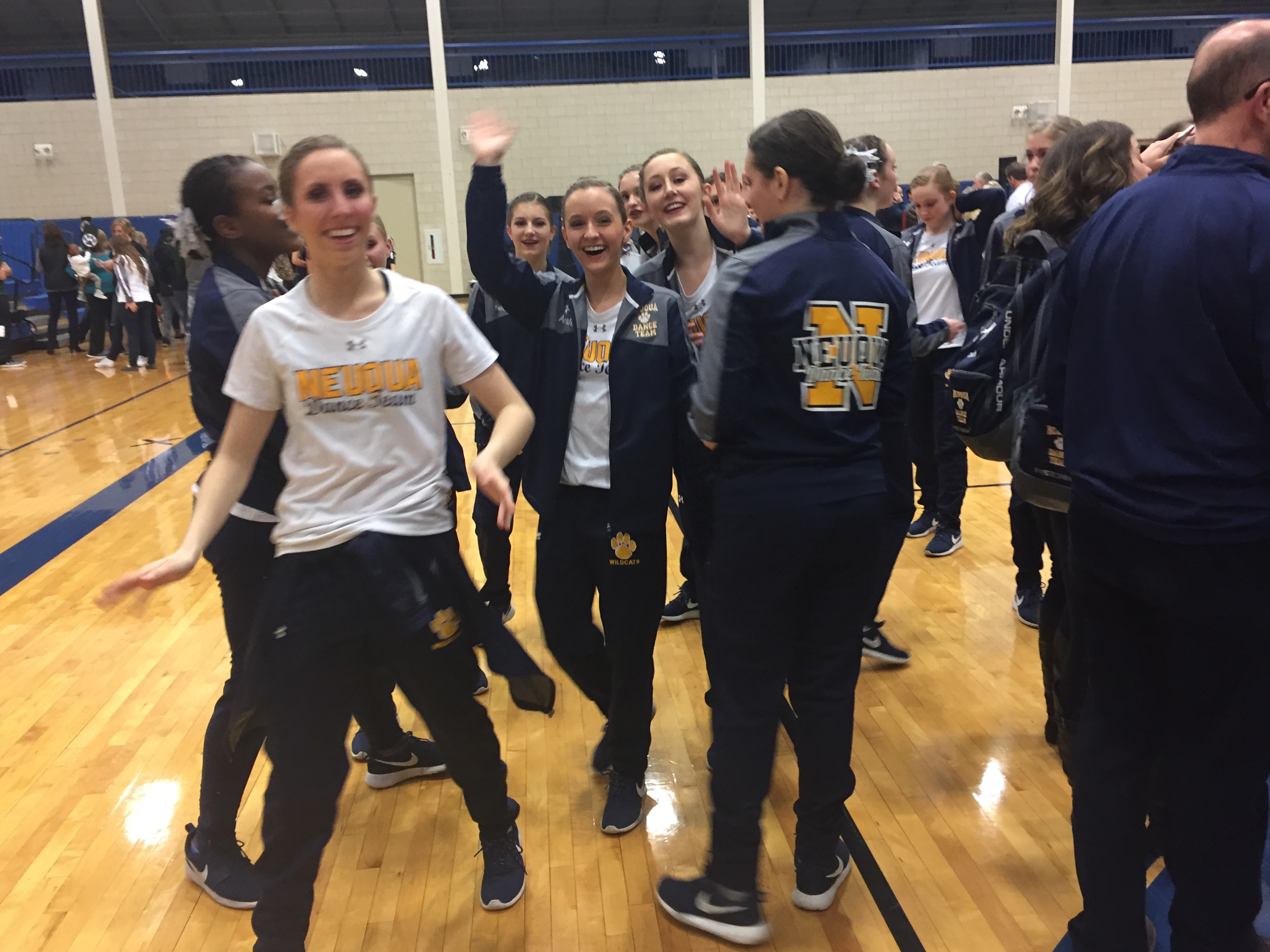 Tension in Naperville turns into elation in Geneva for the Neuqua Valley Dance Team
Bleacher Truth: A Conversation With 4 Neuqua Valley Dancers
They gave up hot pizza to chat for over 10 minutes, so thanks goes out to Lindsey, Katie, Hannah, and Rachel!
Where'd you guys take dance growing up?
Lindsey: I danced at Steps Dance Center since I was 3, and then I did that 'til 7th grade and then I played volleyball 7th and 8th grade. I came back to dance here freshman year.
Me: What did you study at Steps?
Lindsey: I was on the competing team ever since I was little, so I did that and I was also on senior hip hop for 2 years…
(Katie and Hannah danced at Midwest Edge Dance Academy, taking ballet, jazz, lyrical, and hip hop.)
Personal favorite style of dance?
Lindsey: My favorite is hip hop.
Katie: Jazz.
Hannah: Jazz.
Me: And Rachel's just joining us…where'd you dance at?
Rachel: Storm Dance [Alliance].
Me: And what did you study there?
Rachel: Just like, studio. And I did poms team.
Hannah: What styles?
Rachel: Jazz, contemporary, hip hop.
Tell me about any favorite memories or highlights so far this season.
Lindsey: My favorite thing about this team is that the team chemistry…we connected really, really early in the season, and it's benefited us in being able to talk to each other and communicate with the coaches, as well. And one of my favorite experiences: we have a Christmas party every year, and we have a Secret Santa. At the party, you act out the person that you have, and so those are always funny. Each person on the team is either quirky or has a thing to them, or does something all the time that's like, their thing. So it's really funny to watch and a team bonding [experience].
Rachel: Mine, personally, this is taking it back awhile to like football season times, when we would go to Buffalo Wild Wings or something after the game. It was more than the eating stuff, it was like bonding with everyone.
Me: And what sauces do you prefer at B-Dubs?
Rachel: Oh I don't like wings.
Lindsey: Honey barbecue, teriyaki.
Hannah: Honey barbecue…I think the best part about this team is just being so close because we've never had a team this close before. You can share your personal stories with everyone, it's not like there's cliques. Everyone comes together. Our bus rides are so much fun. Even the times that we perform our best, maybe we didn't place like what we thought we deserved, but we performed our best, and those bus rides home are always so fun, we're just motivated for our next competition.
Do you guys have any team traditions?
Hannah: So my mom makes the same cookies for every competition and we all have to eat one…
Lindsey: This is last year…
Hannah: …Last year was a different cookie, this year's a new cookie. We're a really superstitious team. So one competition, everyone wrote everyone's names on the board, so the next competition, we wrote them the same exact way. We're very traditional, superstitious.
Rachel: Sometimes we wear the flower in our hair at awards, sometimes we don't, because it's like a superstition.
Lindsey: Before we go, we all go in a circle and you point your toe in the middle and everyone prays by themselves or says something to motivate themselves, and then when you're done you pull your foot out. And then we have a team chat and we say the same chant before we go out.
Katie: And also as a team we made up a dance to this song called "Steal Her Man." And before every time we perform we have to do it as a group…
Hannah:…or else it doesn't work.
Rachel: This is just a personal thing, but I have to do 12 jumping jacks to each side. I make everyone else do it.
Hannah: We have to do abs to the song "Yeah" by Usher.
Lindsey: I have to do always 20 sit ups and 10 push ups before…
Rachel: I have to do the sit ups…
Katie: We literally do like 80 different things, it's a routine.
Hannah: We listen to a motivational speech…
Lindsey: It's basically really good motivational quotes from your favorite sports movies…
Hannah: …like Rocky, all those movies.
Lindsey: It took all these really good quotes and put them together, added some music.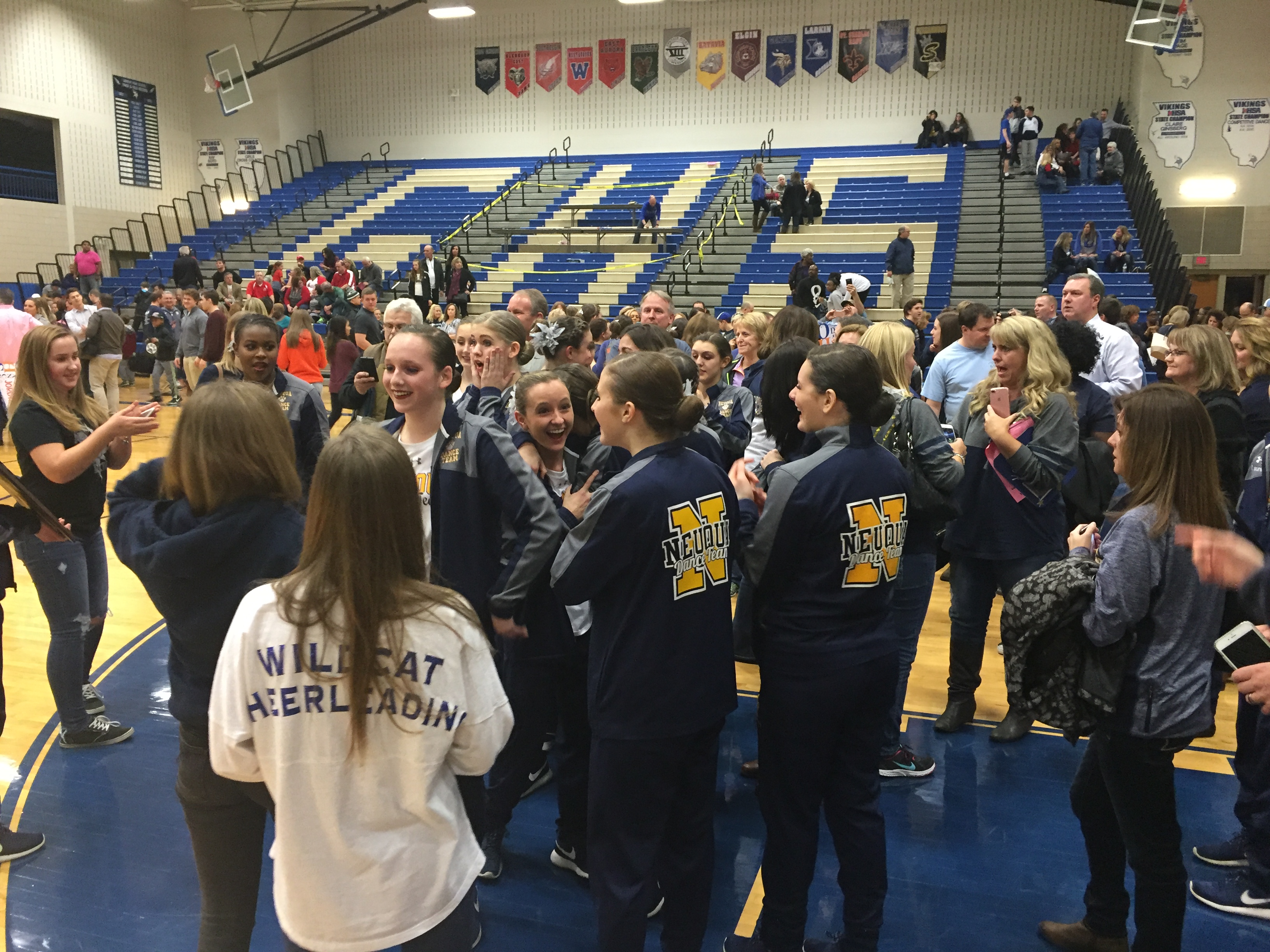 A week after this celebration NVDT would hit the Bloomington stage as 3A sectional champs
Alright, what are some other teams you guys are fans of?
Katie: (whispers) Minnesota.
Rachel: When I watch videos and look for teams, I usually look west coast because it's just a personal thing, I would say. We watch Minnesota and those teams a lot because they're so amazing, but I feel like not as many teams look for the west coast area. So San Diego State, and [Cal State-] Fullerton, those schools I like looking at. And they're so different from over here.
Katie: A girl from our team last year is on the Iowa Dance Team now. So I kind of like look up to her and their team because it shows where you could go with the dance career.
Hannah: I think for all us it's not a certain high school team. We like to watch videos and be like "Oh look at their sharpness, oh look how they execute their turns." You kind of take a little bit from everyone because everyone has their specialties. And I think it's important to take stuff from everyone so you can apply that to yourself.
Rachel: I will say though a personal favorite high school that I liked that I saw for the first time live on Sunday was Huntley.
Katie: Oh my God, those guys were so good.
Rachel: And 'cause my dad went to that high school, so he's always like, "My high school's better than your high school," and joking around, and I didn't know if he was being truthful or not because his school was so small went he went there.
Me: Did you like their hip hop or their jazz?
Rachel: I didn't see their jazz. I just saw their hip hop.
Lindsey: We all watched their hip hop.
Hannah: It was so powerful.
Lindsey: Another team that I go to…it's kind of different 'cause they're technically the younger girls, but I think my team really connects with the JV team. We try to help them with technique and we look at them and watch their energy 'cause that JV team has so much energy and passion and they want it so badly. We didn't do this as much last year…but where varsity really had things to feed off of JV and JV fed off of us. It wasn't like just because technically we're varsity that we don't look at them.  We want to have the energy that they have because they're always so passionate and have the energy in their dance. That helps motivate us. And we talk to them all the time about how we can "show" more like them and that bond has really helped.
Anything else you want people to know about your team?
Rachel: We don't expect to get handed anything just 'cause we're Neuqua. We want people to know that we work hard to get what we think what we deserve.
Hannah: That's the tough part about coming back from last year…'cause it's not the same team. That's the biggest thing. It's not the same team. There's probably eight girls from that team last year. I think that's what people need to realize.
We're really outgoing, we're funny. A lot of times people think we're like (holds hands up in a straight and narrow symbol) monotone…We always try to have fun. At our last competition, we talked to girls from other teams, I feel like they always seemed surprised that we wanna be like, "Oh, like let's be friends!" I think that's the hardest thing about dance compared to cheer…they're all friends. I think that should be the same for dance, 'cause they're friends like in the same thing.
I think people just need to know, we're not the same team as last year…or even years before.
Lindsey: We need to build our own legacy each year. I know Rachel was on the first state-winning team, but then us 3 came on. And even from winning state that first time, it's like we had to build our own legacy as a team last year. And then even more this year, being two time, this year, it's our own separate team, it's our own separate legacy…how we wanna perform, and how we want this year to go is up to us more. And we can always look back on the years and see what went well, what didn't, to help in the future. But at the end of day, it's all up to us for how that year, that outcome is gonna be. And how we're gonna deal with all the struggles, deal with everything that's been going on.
And having a new coaching staff is tough, but I could not have thought of a better team to be striving through and really to the end working together and not giving up on each other. That's one of the real things we had to do this year was to not give up on each other, like trust the new coaches, even though we didn't know them as well as the past coaches, but being able to trust them and being able to have an open mind to every new thing that happened this year and being able to succeed in that way. And maybe not even getting the same scores as last year, but I'm so proud of how far we've come, and how far we've been a team through thick and thin, and that is something to be so proud of for this year.
Rachel: And personally when you say it's "great" [this season] obviously I think everyone would say that, it's an amazing opportunity to have. But compared to like all the other years, I would so much rather have a team full of people that are so close and so determined, rather than people who think they could just go dance and win, just because they won before and think they could just win again automatically. I would rather have these people…who wanna work hard, wanna get better, wanna help people get better, rather than winning the highest title there is.
Lindsey: And I know me and Rachel being seniors, [we're] not gonna be here next year, we definitely wanna come back and be a part of the program and a part of their senior year, just because this is such a well-rounded program. Even though you do get better in dance, you get better as a person especially with this team. I feel like for sure going away to college or wherever we decide next year, definitely wanting to keep in touch with them because they've shaped who we are. At the end of high school, that's the biggest thing for me freshman year to senior year. This program has not only shaped my dancing but also how I am as a person.