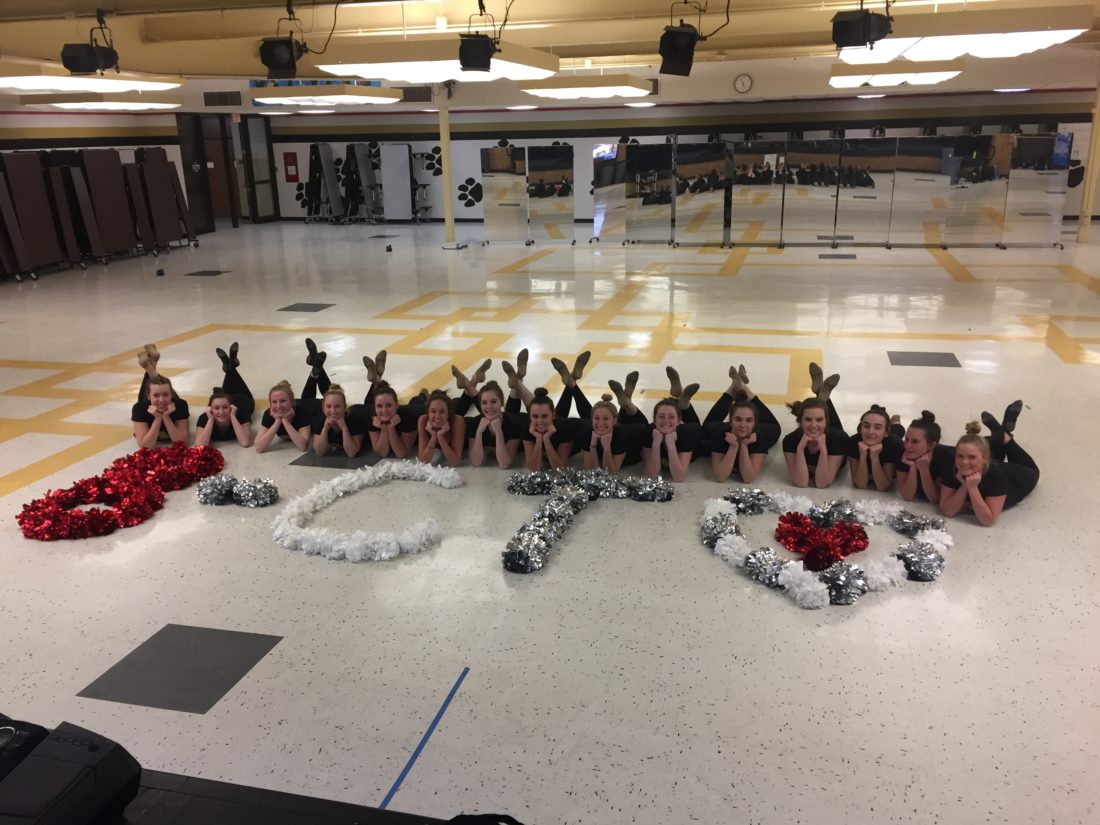 Team Feature: Oak Forest
For most the teams, the stakes are low after state. But Oak Forest is different.
by Norm Ramil / 8ca.music.person & dance.fan
What's the most overlooked area in Chicagoland in terms of dance teams, besides the city itself? Try the near-southwest suburbs, the ones nestled between the city and the spacious towns a little farther out.
Long-standing programs that planted the seeds of competitive dance 30, 40 years ago live here, their dancers only sometimes equipped with years of studio training. Bremen. Argo. Morton. Teams with a pronounced lean towards the pom side of dance, the historical heart of the sport. They're alongside other teams in this zone that take things well beyond just hip hop  (Reavis, Eisenhower, Thornridge, Oak Lawn). A shout out to all of them, now and always.
Oak Forest has one foot in that world, the other one facing out toward open spaces to the southwest. If you're going strictly by looks, you'd call it kind of an old-school place to live. If you're going by state results, you'd call the Oak Forest Poms a premier program.
Speaking of…I'm going to with "poms" this time, even if they also go by the "dance" label just as often (for example, their insta profile shows "Poms" while their account is @oakforestdance). It's how they speak of themselves. It's a nod and a wink to their history, and what they continue to bring to the table in terms of competitive routines.
A season ago, 8CA staffer and Oak Forest Poms alum Molly Owens wrote a post that gave us a glimpse of what goes on at an O.F. practice. At state earlier this year, I finally met Coach Jen Bajer in the stands as we watched 1A on Day 2, and eventually that led me to check out the team for myself. Even better, I got to see what they were all about post-state.
The temperatures outside are ridiculous for mid-February. Both the degrees and the pollen count are more like May, so thanks to my crushing allergies, I'm pretty ineffective with a sore throat. But even if you're healthy, the beautiful day makes it too easy to drift out of the moment, away from the reality of the calendar. The spring air is an illusion, which reminds me of the time when Owens took a couple minutes to explain all the details of illusion turns while we sat at a nearby Starbucks. It's a turn she herself had to pick up during her time on this team, taught by Coach Bajer.
After all these years, I still don't exactly have the right words to describe what it's like to walk into a room mid-practice, whether the team's an 8CA client or I'm just a visitor. Even though it's way after state, I still sense a heavy purpose in the air as I enter the Oak Forest cafeteria. The last time I was in this room was years and years ago (during a lunch break at an O.F.-hosted competition, I remember sitting with Lincoln Way East's captains, trying to figure out what to do about their routine and music).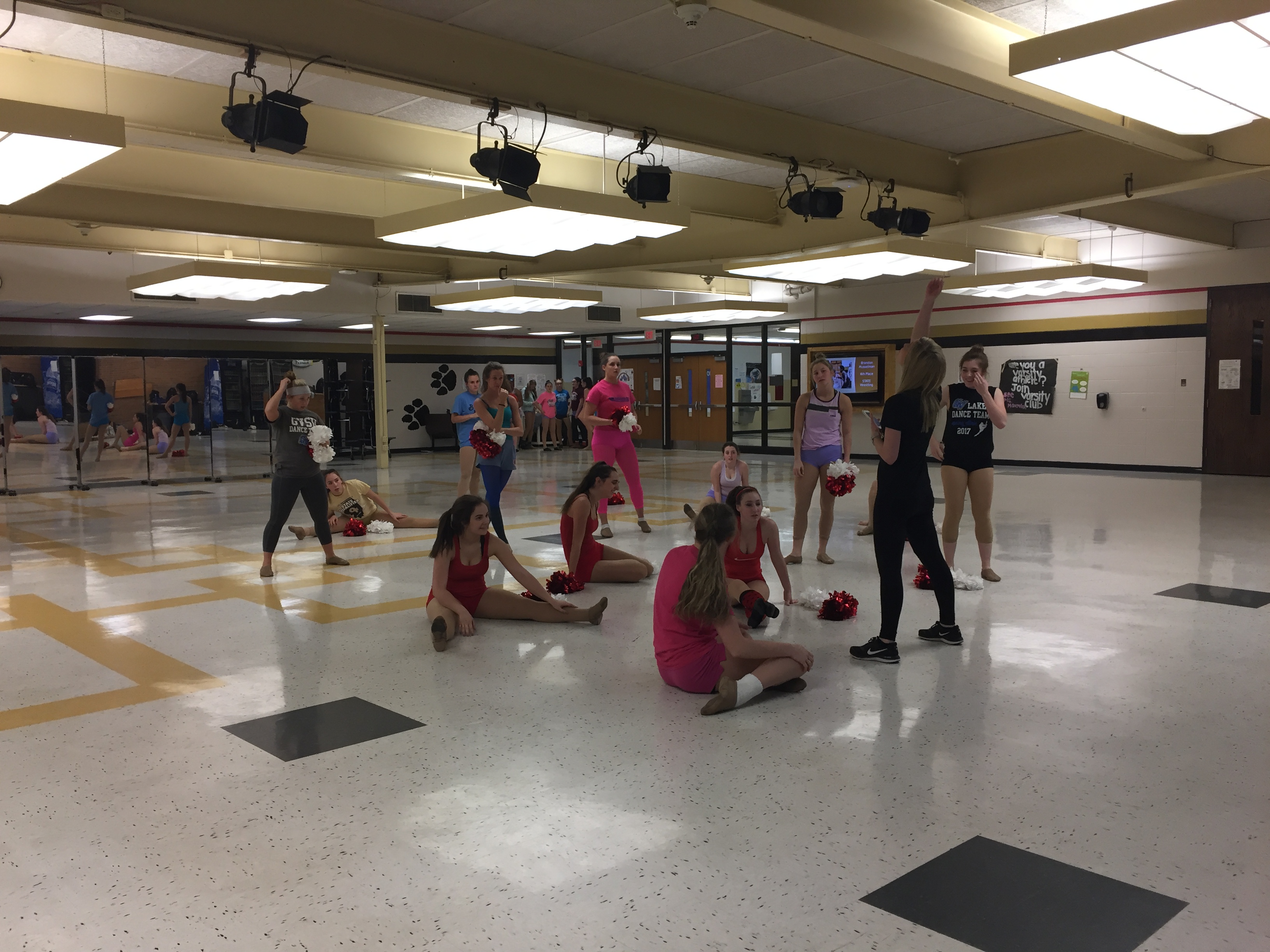 It's a quirky space to practice in, but the Oak Forest Dance program calls this room home
The Oak Forest Poms are doing across-the-floors. I reunite with Coach Bajer and also get to meet Assistant Coaches Britta Beardsley and Kirstie Bussie. The team has a sweet welcoming pom arrangement on the floor for me, and I know they're a thoughtful group because they left it intact even while waiting for me to battle through traffic. After a couple celebratory pictures with the team and their pom creation, a girl asks Coach Bajer, "Should we leave them [on the floor, or pack them up]?"  Bajer replies with a definitive "You'll need them eventually."
The girls are visibly pumped for senior night, the last performance for seven teammates who've reached the end of the line in their high school pom careers. Portable mirrors are arranged side-by-side along the back of the school's cafeteria. Even better, they're set up technically at the back of their practice space, not meant to be used as a constant crutch but instead just available in case individuals or groups need to go clean something up.
The actual front of practice is the stage built-in to the side of the cafeteria. Its curtains are open, and it's where Bajer can look out over her team's formations and gain a judge's perspective. On the floor and leaning up against the stage is a dry erase board with this day's agenda and an inspirational quote.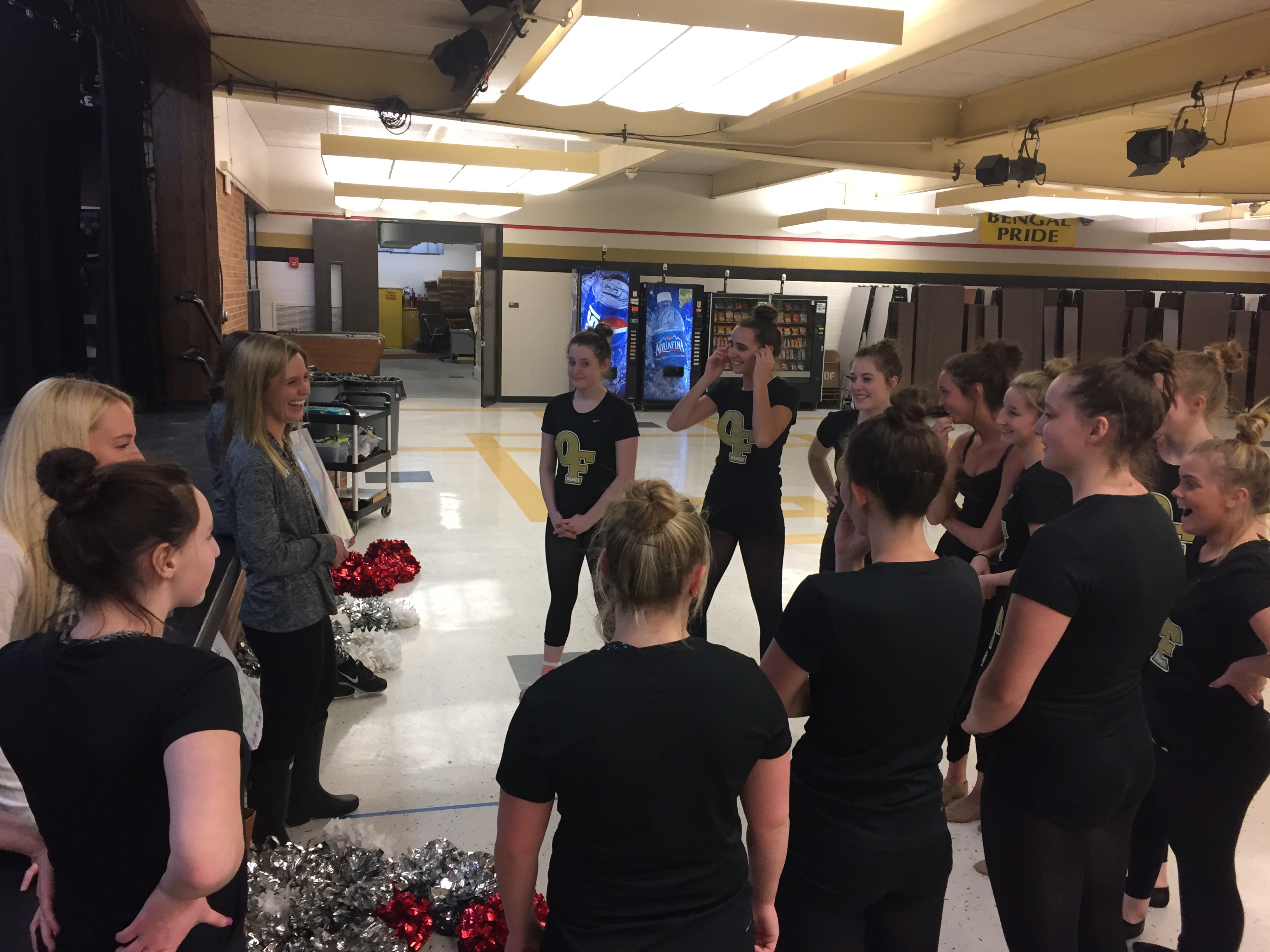 Coach Bajer breaks out her U of I teaching skills and has the team reflect on a literary quote
The quote on the dry erase board is by writer Paulo Coelho, so I'm guessing it's from The Alchemist, the fable/novel that's found its way onto a lot of summer reading lists. Coach Bajer has a volunteer read the quote and then asks the team, "What does it really mean? How does it apply to senior night?"
I didn't jot down the quote or what it had to do with this team's last dance of the season. But I do know that it's their competition routine. They know it by heart at this point (state was almost 3 weeks ago), but the Oak Forest Poms are totally relentless as they pursue the cleanest performance possible. This one's for their fans, their families, a toast to a roster that's visited the 2nd Day of State for three years in a row.
With technical drills done, Coach Bajer has her girls go over their routine's changing spot turns, something you don't often see in pom dances (and until a decade ago, you'd rarely see them at all). First she has them work on the arms alone. Then comes the request from one of the seniors: can we do it with music now?
So they run it before partnering for a couple extra minutes to strictly focus on clean landings on their triple-out. Bajer visits each pair but keeps her eye on the whole team, commending them on a "good use of your time."
During the water break Coach Bajer tells me about some of the challenges her girls faced during the season including one dancer with a serious staph infection on her ankle. Today happens to be her first full day back after sitting out for two months.
You know how some people love showing pics of their dogs? Or that time they did scorpions along the Lake Michigan shore? Well, this time I'm asked if I want to see an unfiltered view of an incredibly large and probably super-painful staph infection. I politely give in. And it was way worse than I expected. Somehow, she's up and dancing today, just in time for a dance that the whole team is taking extremely seriously.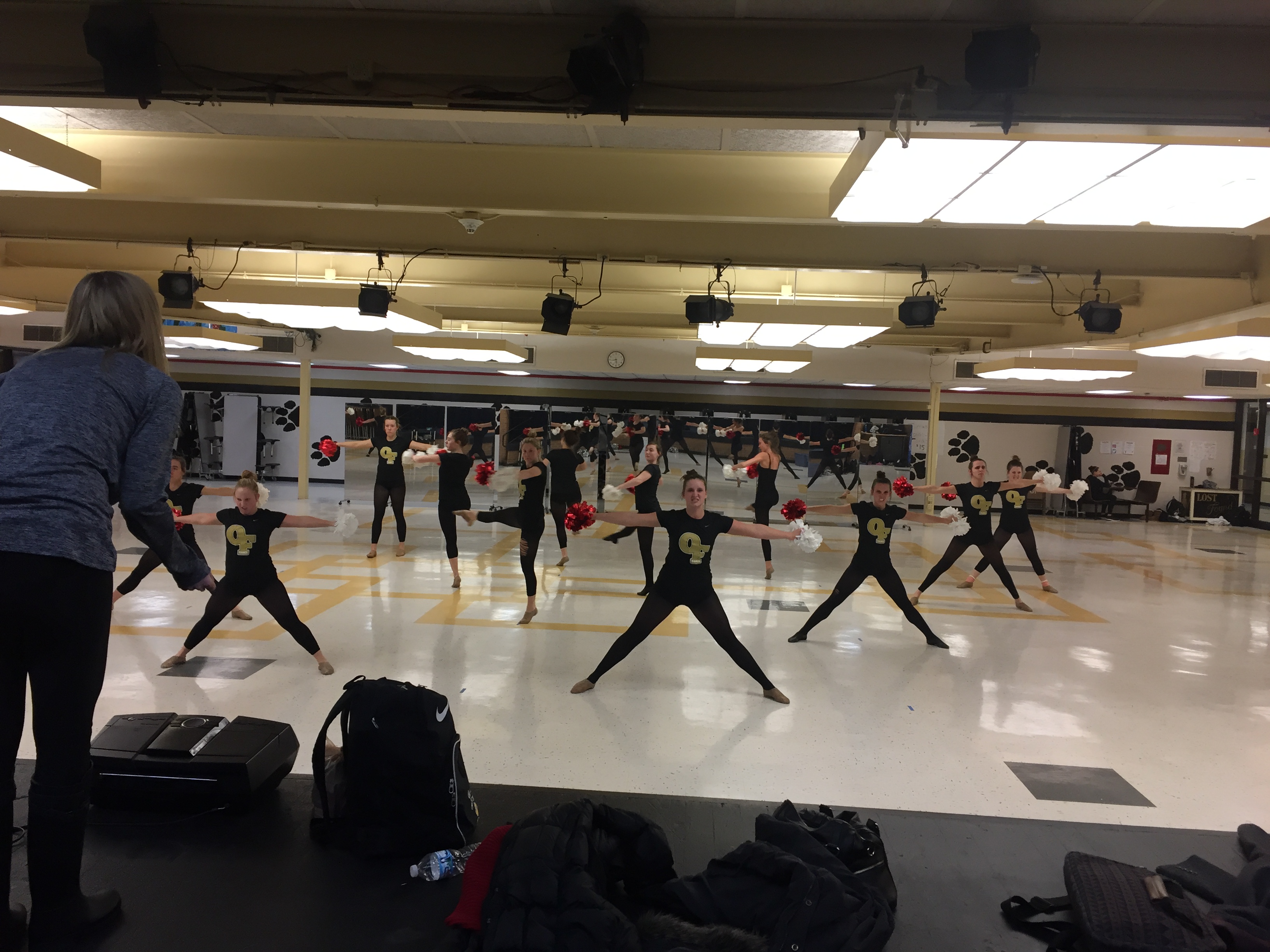 The routine looked good enough for Day 2 at state, but the Oak Forest dancers spent the next month making it even better for their fans
Next the Oak Forest Poms go by groups. The turners do their thing while the ones doing aerials claim another section of the floor. Both groups take videos to really figure out what's going on with these landings.
The team reassembles except for a couple dancers who are designated to observe. Bajer gives the girls fair warning: "I'm watching your arm placement!" Always a bright and supportive corrector, the veteran coach doesn't just tell the team what they're doing wrong, but why it's going wrong. On those triples: "You always cut the landing too short because you're anticipating the next count."
Everyone stays on the same page thanks to Coach Bajer, whom they call Coach K (from her recent maiden name). The teacher in her comes out when, after telling a tired team what they're about to do next, she seriously asks, "What did I just say?" just to make sure. She'll even count down, or invoke an "In The Hole" reference (from the announcers who used to run the Stevenson and TDI State competitions). The team stays focused despite the custodians doing their late-afternoon thing in the cafeteria, some theatre people shuffling on and off of the stage area, and of course, me hanging out, watching it all.
With two dancers out, they're not quite sure if they can practice the lifts in this routine. So instead, Bajer asks her girls what they think they need to work on between now and their final dance. "The leg hold." "Turns." "Firebirds. "Illusion." "Toe touches." "Double discs."
It turns out that they do the lifts anyway. The lift group watches out for those pesky ceiling lights while Coach Bajer cleans up the landing. Assistant Coaches Bussie and Beardsley (kinda sounds like a law firm name, doesn't it?) take video to help out the other group off to the right. Next, Oak Forest makes sure the second lift in their routine gets worked on.
10 minutes remain for technique and clean up—so says the agenda on that dry erase board. Bajer asks if there are any other skills they want to work on. The girls agree that the toe touches could use some attention. While they drill those, Bajer reminds them to stretch their center and point toes. Someone remembers a turning toe touch from a previous routine, but before the team can go too far down that road, Coach K snaps everyone back to the moment and announces, "I'm seeing swoopage!" (another colorful adjective I'll have to add to my dance vocab).
"Ready? Can we be one and done?"
Just before what the Oak Forest Poms hopes is the last run of the day, one girl suggests that they not do the lifts. "See what happens when you're absent?" points out Coach Bajer. During the run, she lets the team know they've got good facials going, but she wants to hear more of their vocalizations on the disc. She lets them know that their arm placement isn't quite there, the nagging issue that's persisted all afternoon.
One and done? Not today. The Oak Forest Poms go through run #2.
And then, run #3. But first she quizzes them on every little placement as if they were prepping for the marley floor in Bloomington—the feet, facings, when and how that arm comes down.
Even though no judges will be up in the bleachers for senior night, the team doesn't change their approach. Just before full-out run #3, Coach leads them through their pre-performance competition chant. "What's it gonna be?" SHARP, they yell back. "What's our goal?" TOP FIVE.
"We need to do it again and here's why: I saw some random timing errors." Coach Bajer lets her kids think, won't just always hand them the answers. "I'm not gonna tell you what they were. I know that you know what they were based on the faces you made."
It was hard for me to catch more than a couple little bobbles, difficult to sort out the intense facials from any expressions that reveal a "whoops." She has the girls grab some water and promises they'll talk about it after hydration. In the meantime, she says a simple and loaded "Yikes!" to me.
"Are we the only team that practices in a cafeteria?" someone wonders out loud. If I wasn't battling a sore throat, my answer would've gone on for a minute, but I do reassure the team that even the biggest teams in the state usually work in their cafeterias. One Oak Forest dancer explains to me, "We'd be doing splits, and all of a sudden there'll be a french fry…"
Their two assistant coaches are the perfect complement to Coach Bajer's upbeat style. "She can be scatterbrained, even before the pregnancy," comments Kirstie Bussie, followed by an agreeing nod from Bajer herself. "But the two of us put together can't match the energy of that woman."
"JV cracks me up—they're the most adorable team ever," reflects Bussie, who helped lead varsity during Bajer's recent maternity leave. "We're usually more involved during practice but Jen is really intense for it being after state."
Both assistants take a minute to write out the agenda for JV's practice which follows right after this one. As their JV girls stretch and do tendu drills in the far back corner, Beardsley and Bussie commit to a plan of fouéttes and then triples with weights (another O.F. training trick that 8CA staffer Molly had told me about). For a group that hasn't competed in maybe 6 weeks, these JV dancers show no signs of walking toward the finish line. Comp season is long gone, but the pom work never ends—just as it should be for something you love doing. It's cool to see JV so committed and active at this point on the calendar.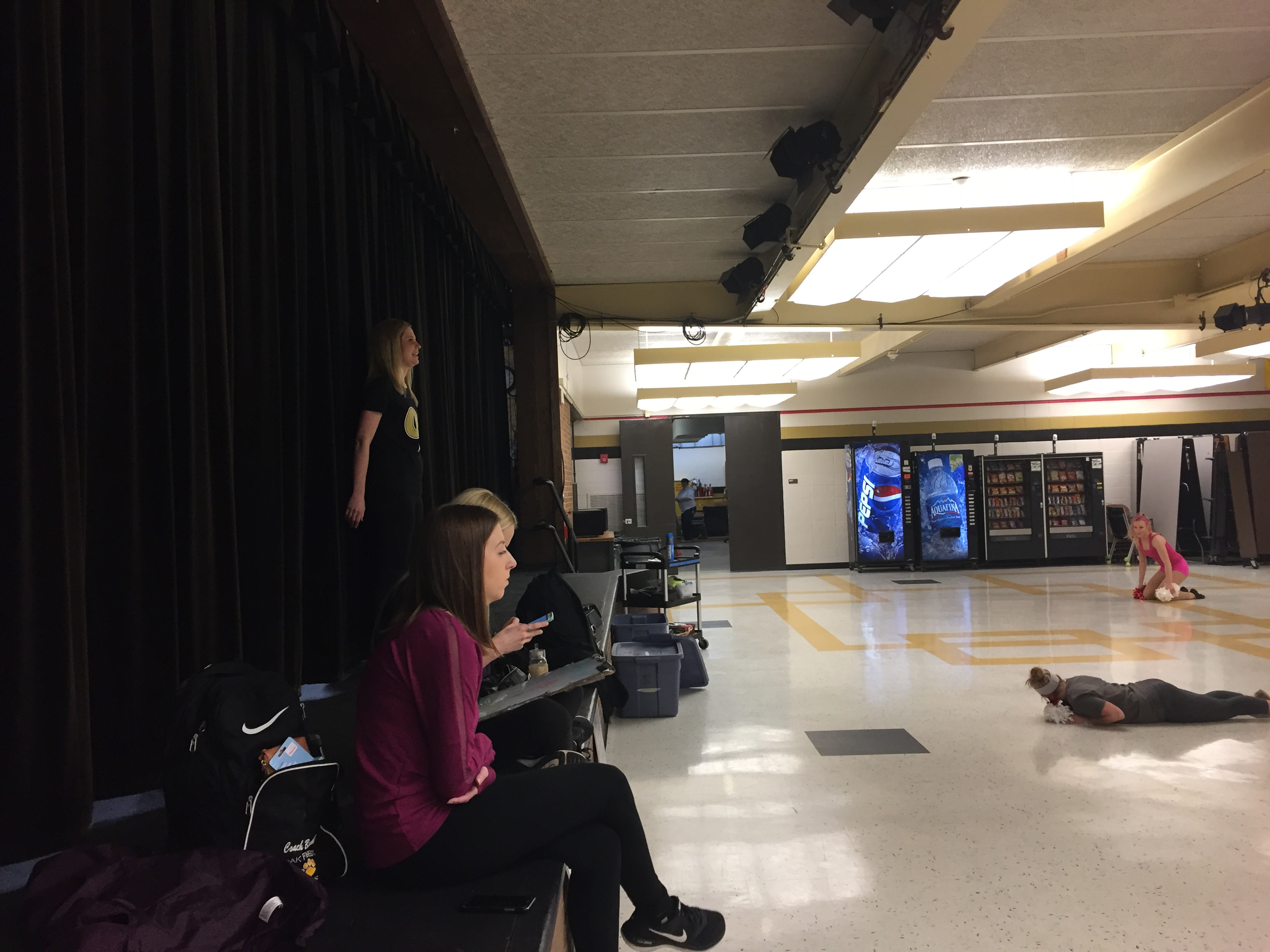 The Oak Forest coaches make good use of that stage as they nitpick every aspect of their team's formations and technique
Jen Bajer's voice cuts through any kind of noise level her team can generate. I learned this first-hand about a year ago on Day 2 of IHSA State, 2016. I was in the concourse buying overpriced food before the afternoon 2A-3A session, and of all the teams practicing in that noisy hallway, I noticed that I could always hear that Oak Forest coach barking out the counts as her team sharpened up one last time before hitting the state floor. Today, she's easily heard above the chatter of a team that's pretty pumped to deliver their last performance in front of the whole school. The small-statured coach can even cut through the power of the team's huge boom box without much effort.
Team alum/8CA staffer Molly always speaks glowingly of her time on this team and of her old coach, who back then was Coach K. Having taken her team to Day 2 of state for three straight years along with some dominating performances at conference competitions, Jen Bajer knows all about the Oak Forest Poms legacy. She danced on this team (class of '04) before landing a spot on the Illinettes during her time in Champaign-Urbana on the way to a teaching degree. Her assistant coaches reveal that sometimes the girls call her mom, though I forgot to ask if this is from just having had her first kid or because she's nurtured this dance program for so long. I'm guessing it's the latter, just based on how everyone speaks of Coach Bajer.
One part of the formation works on those turns, while Bajer catches the other half of her team winding it down. "You guys can stretch instead of laying on the floor," she calmly points out. Meanwhile, Jaime, the one coming back today after sitting out for two months, goes over the changes to her solo as her teammates show encouragement.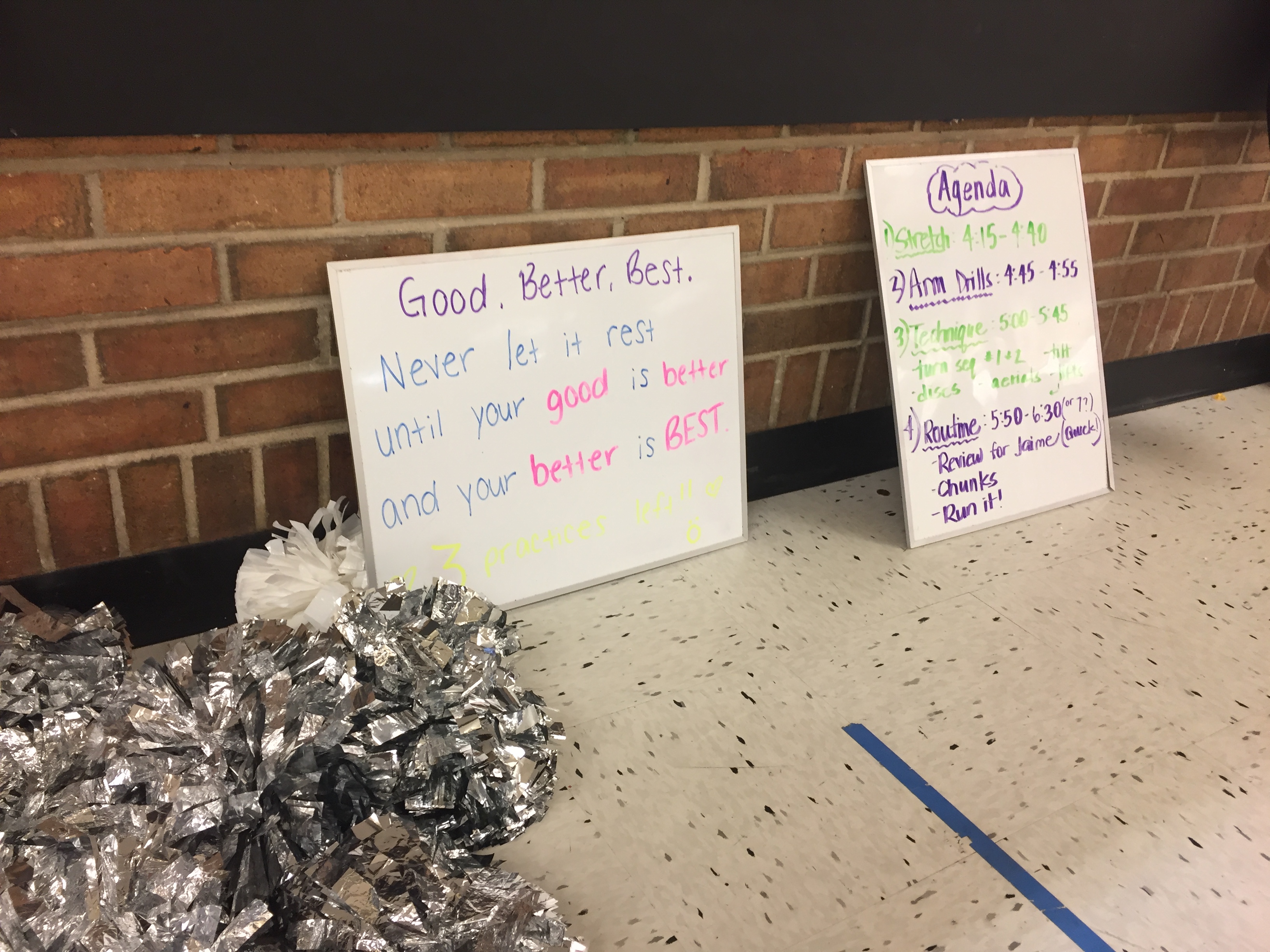 Who needs Instagram and Twitter when you've got dry erase boards to inspire and inform?
For this last run (for real this time), Coach K wants her girls "to intimidate Norm with the vocal hit" on the disc. I do appreciate being incorporated into practice motivation. In the background JV's super-ready for their own practices, going hard with ab work while varsity closes out their session.
After that 4th and final run, the girls grab water before coming together for the wrap-up meeting. "I know some of you are marking it," remarks the veteran coach. She says it in that same tone of voice that teachers use when they calmly reveal just how much they know about how much of the reading you actually did last night.
About a week later I've shaken off my cold and I return to talk with the team's outgoing seniors (scroll down for the transcript). But I'm mainly there to watch history—the last practice of the season. It's February 22nd, a date for dancing that's at least kind of close to the way the calendar used to be. I'm thankful to witness any team doing their thing so close to spring, thrilled to see seniors putting in the work one last time.
It's still fun, though, not all intensity (I missed the heavy emotions when the team met at the start of practice, the perspiration when they did conditioning). The seniors picked a jumpsuit theme for their final practice. Fashion rules tend to be pretty loose at dance team practices, but today they're totally out the window.
Coach Bajer replays the music to the big turn section over and over again, trying to help her girls master the changing spot turns that already look awesome. The Oak Forest dancers are out there in six pairs for partner feedback (five teammates will later join practice after their SAT class). This time, the stage curtain's closed with something busy and noisy happening back there.
Coach Bajer tells her Oak Forest dancers exactly what's going wrong. "The biggest thing is the prep. It's not deep enough of a plié. Push down into the ground and lock that knee." But the other end of the combo demands just as much attention. "Commit to the landing. Start the same and end the same."
As I watch this last-ever practice, I finally start to notice that the AND counts aren't just there for extra cues on when to move. This team actually uses them, accents them. They totally get the shuffle, triplet feel of their song–not something to avoid or get around, but to actually use and highlight in the choreo.
An athlete might be able to do the turns, but it takes an artist to appreciate and really feel the lead-in and lead-out. "Don't anticipate or cut off that landing," Coach K reminds her dancers. She even issues an official challenge: they are to land "underneath yourself, completely to the front, no movement. Formations need to stay intact."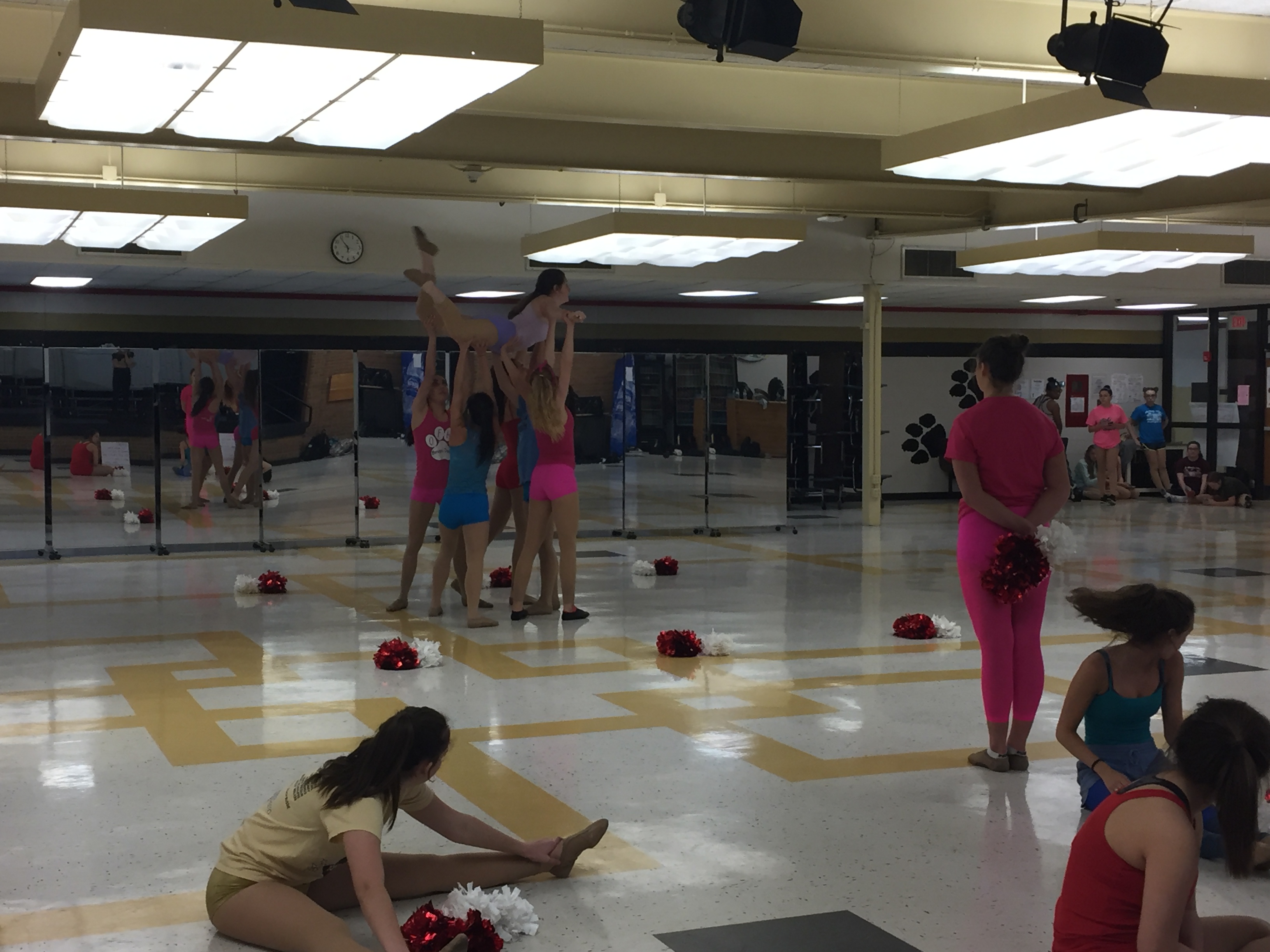 Look out for those lights! Oak Forest practices their lift amidst the challenges of the cafeteria setting
Still, Coach K understands. It's not going to be scored or formally critiqued. But it's a huge deal for these seniors who've spent four years taking a high-profile team to the next level, a consistent player on Day 2 of state. Recognizing the adrenaline might be going too far, Bajer instructs, "Seniors—think about the placement of your pom. I know you're excited, so think about it."
Feedback given like that really works nicely for this group…and for any group. Another example: the "L" arms need to be real, and Bajer sees they're "too acute for 90 degrees." Her theory on why it's off? "You guys are so focused on that nice relevé." With that explanation, the girls adjust it successfully.
Oak Forest Poms at State
IDTA 1997: 5th in AA Pom Dance
IDTA 1998: 4th in AA Pom Dance
IDTA 1998: 5th in AA Pom
IDTA 2000: 4th in AA Pom Dance
IDTA 2000: 5th in AA Pom
IDTA 2001: 5th in AA Pom Dance
IDTA 2001: 4th in AA Pom
IDTA 2004: 5th in AA Pom
IDTA 2004: Champions in AA Prop
IDTA 2005: 3rd in AA Prop
IDTA 2006: 2nd in AA Prop
IDTA 2007: 2nd in AA Pom
TDI 2007: 3rd in AA Pom
TDI 2008: 8th in AA Open Pom
TDI 2009: 5th in AA KIck
TDI 2011: 6th in AA Pom
TDI 2011: 9th in AA Kick
TDI 2012: 4th in 2A Kick
TDI 2013: 3rd in 2A Open Pom
TDI 2013: 4th in 2A Kick
IHSA 2013: 20th in 2A
TDI 2014: 4th in 2A Pom
TDI 2014: 4th in 2A Kick
IHSA 2014: 21st in 2A
IHSA 2015: 7th (Day 2) in 2A
IHSA 2016: 6th (Day 2) in 2A
IHSA 2017: t-7th (Day 2) in 2A
"Who just farted?" Someone during a water break asks that as a rhetorical question (I mean, no one's really going to answer that, right?). Maybe they're all that close because it's the end of a long season, but I bet this group was tight-knit long before today. I never got around to asking the usual team feature story questions, stuff like summer activities or team bonding. But talking to the seniors, I just got the sense that the Oak Forest Poms fought through a lot of…get ready for that famous sports cliché…adversity.
"Make sure you're not sickling your feet as you go down." She also asks the girls exactly on what count their heads are supposed to go down, and when it is that their facials change. With each detail fixed she announces, "Checking stuff off the list!"
Just before the final run, a senior asks JV to sit up front to simulate a crowd performance. Jenny, the talkative senior, jumps out of the formation to check everyone's spacing and alignment, a task that Coach Bajer leaves to her captains. "Make it good so it's your last time. You KNOW I'll make you do it again."
For the last-ever meeting to end the last-ever practice, Coach Bajer brings her team in close. Again, she shows the signs of a well-trained teacher, asking the girls to think about what they labored on today, technique-wise: the timing of their turns. She turns to me and adds something that I'm sure she means for her kids to hear, too: "Their stamina is down since they're down to just two practices per week."
"They're cafeteria-trained," Bajer tells me with a clear hint of pride. It reminds me of what team alum Owens (class of '14) said to me once. Maybe they don't have quite the studio training found elsewhere in 2A, but they do know how to get to the state stage. And when they do get there, it's usually for both days.
Oak Forest ran a first round of tryouts in March and are in the process of setting up a clinic for potential incoming freshman dancers. Coach K's absolutely proud of what last season's team achieved and looks forward to an exciting…well, usually I'd write "next season," but next season is really now.
"The '16-'17 varsity team was an extremely talented team that I'll always remember!  They were the third consecutive "state finalist" team I've coached, and they achieved our highest score yet at state… a 90.56!   Many of those seniors danced in our program for 4 years, and they will be terribly missed. I'm incredibly proud to coach this team, and I look forward to watching this program continue to grow!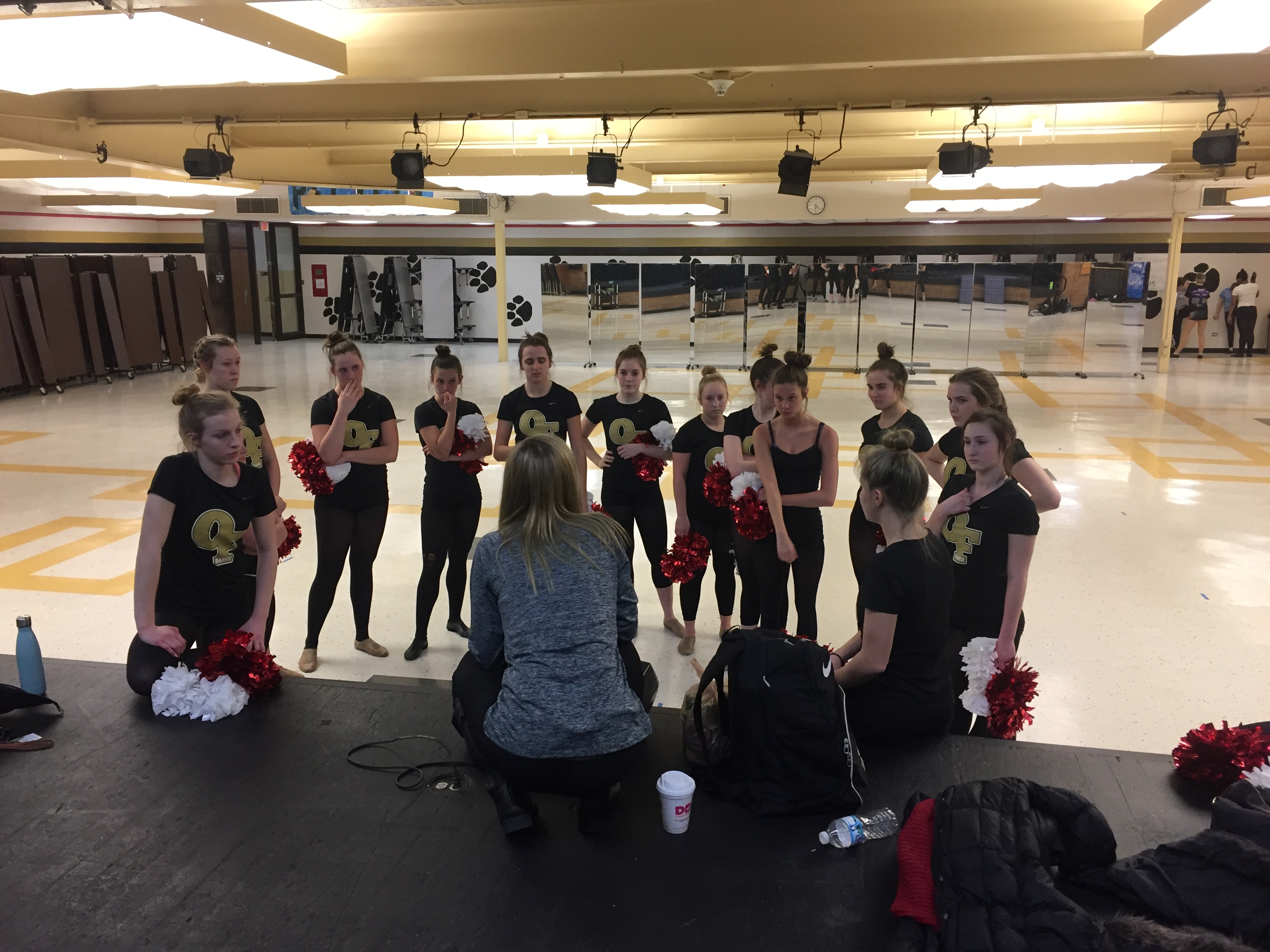 The Oak Forest dancers are always on the same page thanks to a close bond and their coach's management style
Senior Interview: 7 of the most grateful dancers I've ever met
Arcing left to right in front of me are seniors Jaime, Bailey, Cassidy, Bridget, Jenny, Molly, and Lilly
Do you guys have any studio training?
Jaime: I did dance when I was in like 5th grade. And I did the poms camp here, the kiddie camp over the summer when I was little.
Bailey: I've been dancing ever since I was 3. We did ballet, jazz, lyrical, contemporary, hip hop, tap…I'd been doing that a long time and then I joined poms.
Cassidy: I danced at a studio [from] ages 3 to 4, then I danced at the park district for two years, and then I've been doing musical theatre since I was 7. And then I joined poms halfway through my sophomore year.
Bridget: I just danced when I was younger, I don't remember at what studio. I did gymnastics, then didn't do anything for awhile, and then I joined my dance team here.
Jenny: I've been dancing through a studio…I used to dance when I lived in Wisconsin, but when I moved here, I found a studio with actually Bailey. We've been dancing together for 9 years. I was actually one of the influences to get her to join the team last year.
Molly: I danced at the park district, so only a little experience. I just tried out my freshman year.
Lilly: I danced with the park district, too, like 3 years probably. We were on the same team (points to Molly) and Coach K was there, too. It wasn't that much experience. Then I joined my sophomore year.
Me: So how many park district people do we have? More than half?
Jenny: We came from nothing!
Jaime: We came from the cafeteria.
What's everyone's personal favorite style?
Jaime: I mean, I love hip hop but I can't do it. It's fun to try to do…Otherwise, probably pom.
Bailey: My two favorites are contemporary and hip hop, for sure.
Cassidy: I can't dance anything but pom, but jazz is pretty cool.
Bridget: I can't do hip hop, but I like watching it. And then I like watching lyrical, but the only thing I know how to do is pom.
Jenny: I love ballet.
Molly: I don't know anything but pom, but I wish I could be a ballerina.
Lilly: Me too. I really like tap, but I did that at like the first grade level. It was fun back then, but I would never do it now.
What's been the highlight of your season? Or even of the last four?
Bridget: Finally getting to dance on the state floor. I'm excited to be done and start something new. [Jenny nods in agreement]
Molly: Retweet.
Cassidy: I'm with Bridget. I was an alternate last year, so I didn't dance at anything. Then getting my own spot this year on the floor and dancing at every competition was awesome.
Molly: Yeah, I agree with them, 'cause I was an alternate last year, too, and I only performed at the home competition (and I kinda got lucky for that).
Jaime: I was on JV freshman and sophomore, and then I moved up to varsity junior year. Probably just getting the whole varsity experience. Then being able to be a captain this year…I guess I had a staph infection so I couldn't even perform… But just experiencing poms in general, 'cause there's nothing like it. Being on a state floor, you'll never experience anything like it.
Lilly: For me, the highlight of the season was when we got first in conference, and we had the best pom team…and at state, too. For me, it was when I got my name called for all-conference. I was super-excited about that; I'll remember it forever.
Bailey: I would just say a highlight would be getting a captain's spot because it's very different leading the team in a different way. You're seeing all the things behind the scenes, like choreographing, working with the coaches, it's a lot more to handle.
Jenny: I have to agree with Bailey. Me, Jaime, and Bailey being captains in our senior year, it's not like being a team member. I was a member for 2 years, and I never realized how much effort a captain had to put in. They put in so much time. Instead of just being here for practice time, we probably doubled it in choreography. Getting close to coaches, having lunches, phone calls with them. The little stuff sets us apart from other [sports] teams, and why it's such a special experience being on the dance team. Our season is three times as long as everyone else's. People literally are like, "Oh, you guys are still practicing?" Yes, we're still practicing.
Cassidy: We practice the day before Thanksgiving.
Jenny: …the day before Christmas…
Jaime: All right, back to the question…
Jenny: Just getting really close to everyone…
Lilly: We're like legit a family. I actually feel like they're my siblings. Sometimes I wanna kill them, and sometimes I just wanna give them a big hug.
Me: You guys are too young to remember, but the season used to go from April to March.
Jaime: My freshman year when TDI was still a thing, March we had state. I'm on badminton for spring, so that started a couple days after state on March 1st. It's crazy to think that IHSA has state at the end January.
Are there other teams you guys are fans of?
Molly: If we were still a kick team, definitely Maine South. Coach K used to think we're a kick team. We're not a kick team. But like watching Maine South…we were right after them at state, so we could watch them on the practice floor. We were like, "Oh-my-God."
Lilly: Everytime [I see them] my jaw drops. I feel they're all the same person.
Cassidy: I thought Andrew's lyrical was pretty great.
Jaime: I would say Lake Zurich, too.
Cassidy: And Fenton. I give them props for that one.
Someone brought up kick. Why are you guys a pom team and not a kick team also?
Jaime: We did that a lot.
Bridget: We do like a Thunderbolts performance [a pro, indie baseball team in nearby Crestwood] and we always do kick for that, and for homecoming we do kick.
Jaime: For competition we used to do two routines, a kick and a pom. But for IHSA you can only take one routine, and we've always been stronger in pom.
Bridget: I feel like kick is good because kicks take up so many counts. So for football and basketball games we can do kick.
Molly: It's a crowd-pleaser.
Lilly: [In pom] We can drill the sharpness and the hand placement into people's brains…you know exactly where to hit it. But with kick, no matter you try, some people just can't get 'em up perfectly.
Cassidy: I feel like this team has kind of grown up as a pom team, so everyone knows us as a pom team. We're pretty good at pom! I feel we're comfortable with pom and know we can rock pom.
Bailey: There's a lot more to fill in each routine with pom. There's more choreography to fill it up.
Jenny: You can only get so detailed with kicks.
Is anyone dancing after high school?
[most of the group says they want to]
Bailey: I wanna try out for the college dance team for sure. For football games they'll do little pom routines, and for competition they'll do a jazz and a hip hop. They won nationals the last four years for hip hop…so I'm excited. [she's talking about the Grand Valley State Lakers Dance Team, and wearing their shirt]
Jenny: I'm not dancing for a team next year…well I guess I could dance for the Moraine [Valley Community College] dance team. I'm gonna stick to a studio and getting back into that. Then I plan on applying to Lindenwood in Missouri and dancing on that team…they're pretty good. [First] I just wanna get back into studio dancing. I love the studio setting. It's really comforting, like home to me.
Lilly: I know from friends they don't do like legit dance team, but they're in cute little dance classes and recitals. I feel like I'll do something like that to stay with it.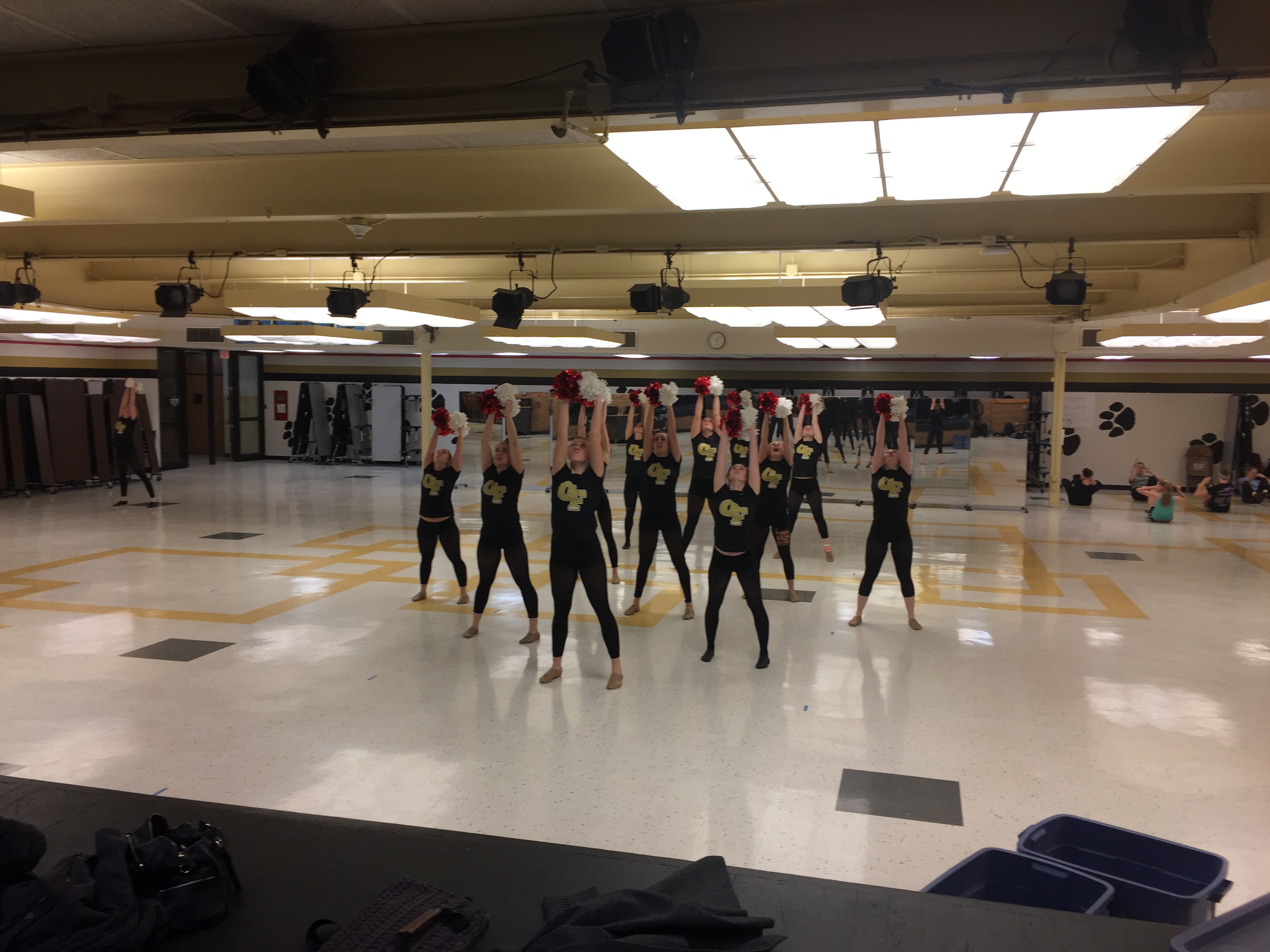 It was their last-ever practice, but the Oak Forest seniors and their teammates worked hard right through the end
Any extra things that you guys think that people should know about Oak Forest Poms?
Cassidy: We deserve more than what we get. People aren't comfortable with pom.
Jenny: To spin it on a positive note, we built this program from absolutely nothing.
Molly: We built this town from dust.
Jenny: Being able to see the program as a whole get so serious and getting it to where it is within the short amount of time we have…it's just crazy. If you want it enough and work for it enough, you're gonna get it. We've shown everyone that we deserve what we have. We work so hard.
Bridget: People know our name now. Before they didn't.
Molly: We look up to other teams and we don't always realize that other teams look up to us, too. "We're the number one pom team in the state, we want to get on the podium." But we don't look at it that way. We want to do better for ourselves first before anything else.
Cassidy: We work so hard behind the scenes. Our coach was gone, she had a baby. Our two [assistant] coaches stepped it up and we worked so hard to get where we got this season.
Bailey: We definitely went through a lot when our head coach wasn't here for awhile. It was a little stressful for all of us. We got through it. It was a long and rough season but it was worth it because we got really far.
Jaime: If there's one thing I want everyone to know it's that Oak Forest doesn't cut any slack…
Molly: We don't play around, we don't mess around.
Jaime: Four years ago, we would've never dreamt of being in the top ten 3 years in a row. Growing from a little program to how big it is now…even for other teams that don't think that they could, if you work hard… We've added so many practices, it's crazy. It's possible to work from the bottom up.
Lilly: Like Jenny said, it's all about the drive. Every single one of us on this team has drive. It's not like we just spent almost the entire year for nothing. All of us are 100% in this sport. We need to be. You're dedicating your whole high school life here.
Jaime: So much motivation went into it. So many pep talks. Little notes. Our coach screaming on the stage like crazy.
Jenny: It's a good thing that we push, because we're making everyone else push, too. It's exciting to see because you never know how the other teams are gonna turn out.
Jaime: It's awesome to see, even this year for 2A, how competitive it got. It was completely insane. Like Eisenhower…
Jenny: Congratulations to them!
Lilly: Oh yeah, they're another team that I look up to.
Jaime: So many teams probably in the top 15 deserved to be in the top 10, it was just so much competition.
Jenny: I love how Eisenhower has the heart. They wanted it this year.
Cassidy: We didn't slack when the competition got really hard. We pushed ourselves even more.
Jenny: It was a chaotic season. We changed pom colors. We changed costumes. Our coach was out for how many months.
Cassidy: We never went a week without changing the routine.
Jenny: The captains went through it, and there is not one single part of the dance that remained the same throughout the year.
Bailey: We literally changed everything.
Bridget: So much of it.
Jaime: After the Bremen competition December 11th, we started changing everything.
Molly: The amount of parts people had to go through…
Jaime: Some people had to learn 4 parts.
Bailey: And you gotta give those people so much credit.
Lilly: Sometimes it would be the exact same thing, but opposite arm, and it's like, how could your brain deal with it? I could not do that.
Molly: Shout out to the alternates, though, because I know how hard it is!
Jenny: Alternates made the team go 'round. Without you guys, we wouldn't get anywhere near where we're at. You had to change so much…and I could not do it.
Bailey: It was hard on everyone this year because right when we finished the competition routine, little by little, each practice, we would change one thing here, one thing there. By the end, it was completely different.
Jenny: Coach K went out. Then Jaime went out. Injuries here, we had injuries there. Something was always going on. Complete chaos. I can't believe we were able to contain it and get what we got.
Bridget: Way to have a remembrance of senior year!
Bailey: Even if we didn't have space we would go in the hall and practice.
Jaime: We were in the hall for two days.
[Someone off camera]: Even the library.
Bailey: No matter what, we would always find a space to practice.
Jaime: Freakin' hallway…