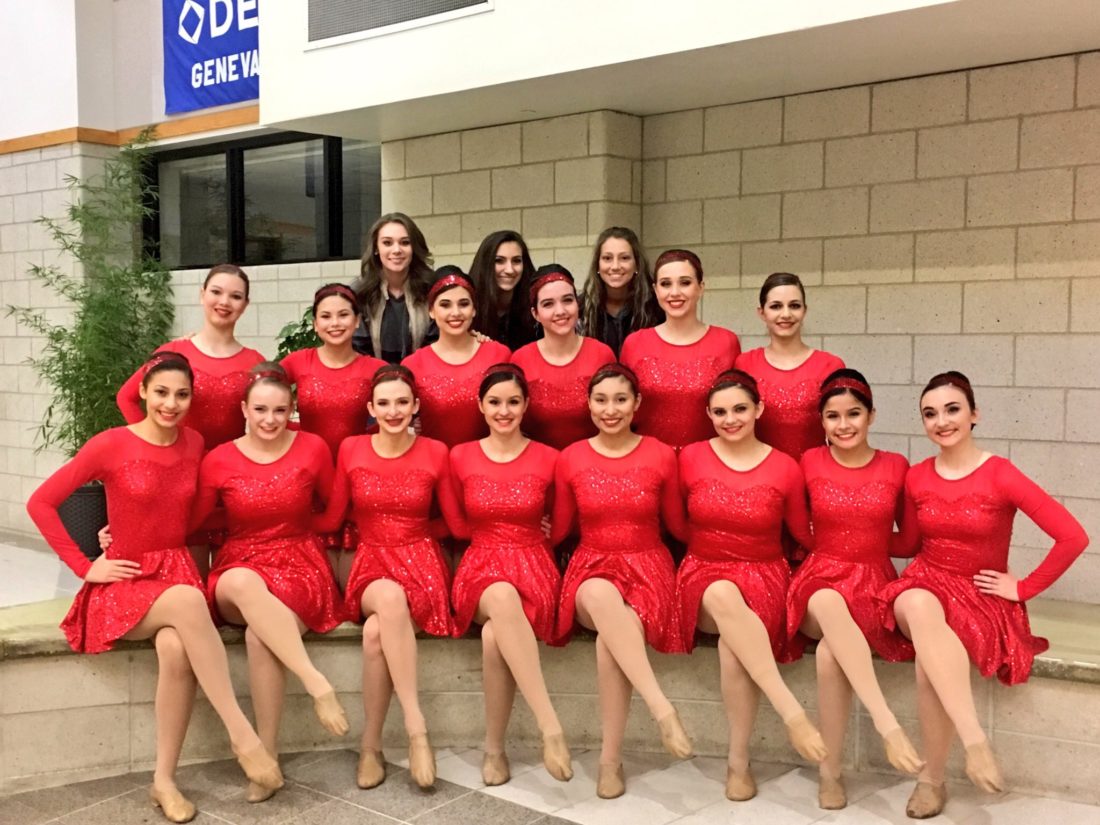 Team Feature: Plainfield South
This coach pushes her dancers to fully embrace musicality. Here's how the Plainfield South Poms bring a song to life on the dance floor.
by Norm Ramil / 8ca.music.person & dance.fan
On a mild January morning, all of these semi-rural intersections look the same in the heavy fog. OK, you could probably say that in any weather, but the open land and subdivisions on the southern edge of Plainfield (it's more like western Joliet) are pretty much blanketed in fog. Of course it's heaviest right by the high school. Inside, the Plainfield South Cougarettes have just started practice with a team meeting while I hunt down a parking spot.
Not too long ago Plainfield just had one high school—the one that got slammed by the infamous 1990 tornado. Today, that rebuilt school is Plainfield Central. A Plainfield North, South, and East joined the family through the 2000s, and for good reason. The tornado-era Plainfield had 4,500 people. These days that suburb has around 42,000 residents. Some live near the old-timey downtown. There's the north side that bumps up against southern Naperville and eastern Oswego, so it's got that flavor. Same with the east side, but that's got some of the open land between Plainfield and Bolingbrook. Long story short, this is a big town.
The south is pretty distinct from the rest of town. Sure, there's plenty of suburban comforts (Panera and Giordano's aren't too far east of the school toward Joliet and Shorewood). But you can't get to Plainfield South without passing by farmland. Look westward and it's legit farmland. Go south, and even though it'll take awhile, you'll run into Minooka (and they have a big "Battle of Ridge Road" football rivalry every fall).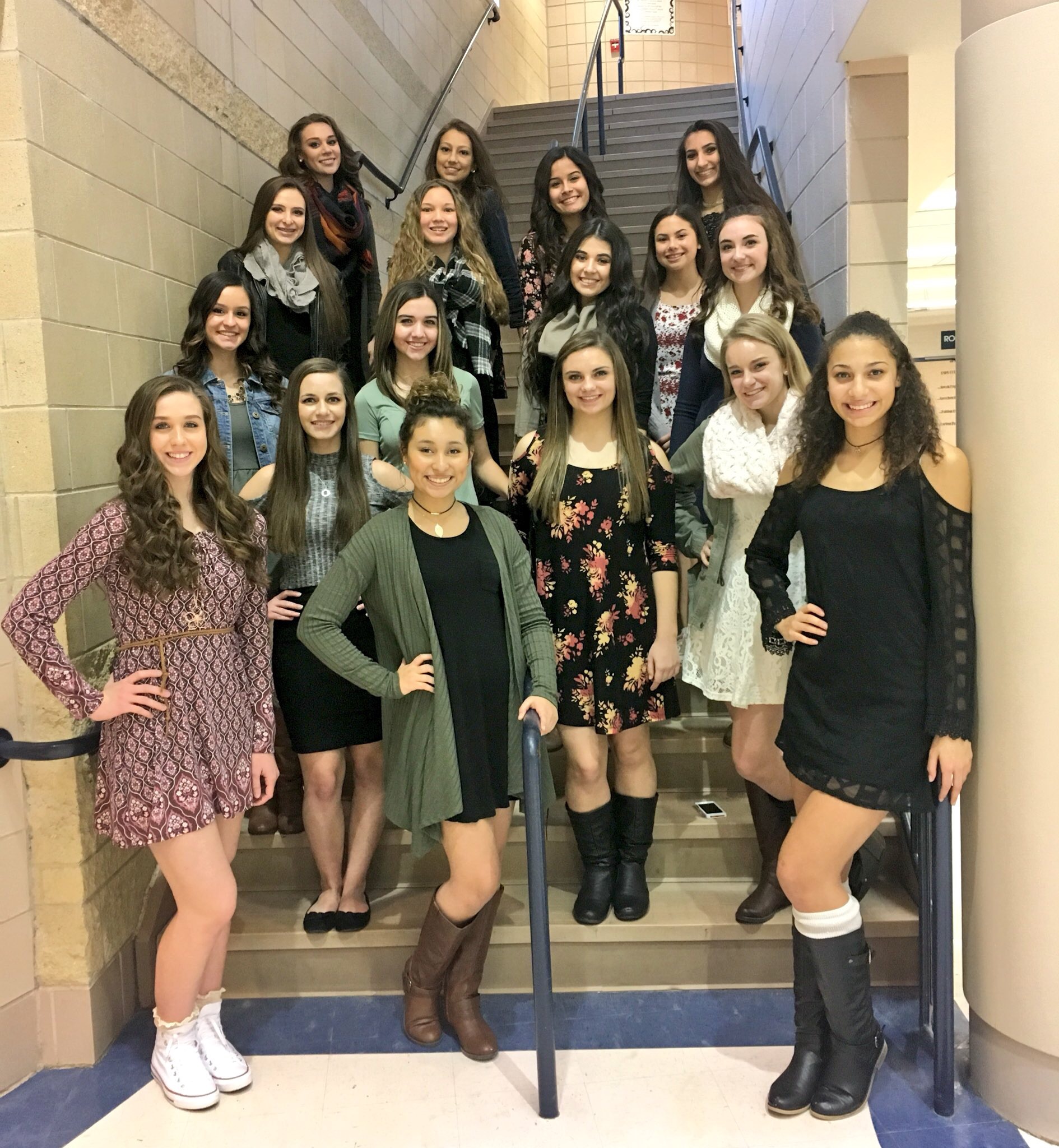 The Plainfield South Cougarettes in their stairs formation and sort of dressed up
The Plainfield South Cougarettes are in the middle of a detailed team meeting. Goals, the schedule for today and the rest of the week, and taking food orders for this weekend's competition are all on the agenda. Coach Natalie Fisher stands next to the only desk in this dance room, her team seated and looking up as she shifts the tone of this gathering. "Let's talk about highs and lows…"
Hopefully, winter break has more highs than lows. After all, this district is starting week two of break (it's Tuesday, January 3rd), while a lot of other suburban schools are already back in session. One dancer has a low to share: she's already broken her resolution to work on abs every day. As so often happens with resolutions, her confession gets funnier the more she explains it.
On the back of the team's practice shirts are a mix of real names and what I hope are nicknames. In front it reads "Plainfield Dance" with their mascot in between both words, though the team also goes by "poms." One dancer's in a cast sitting with her back against the mirror while her 14 teammates get their muscles warmed up. The JV dancers aren't working today, so JV Coach Stephanie Germann is here to assist Coach Fisher. They're up at the front leading warmups (jumping jacks gets the party started) and working their Spotify playlist, mostly throwback stuff like Justin Timberlake's "Like I Love You" and "Señorita."
"Remember, if I stop, you have to keep going," Fisher reminds her team.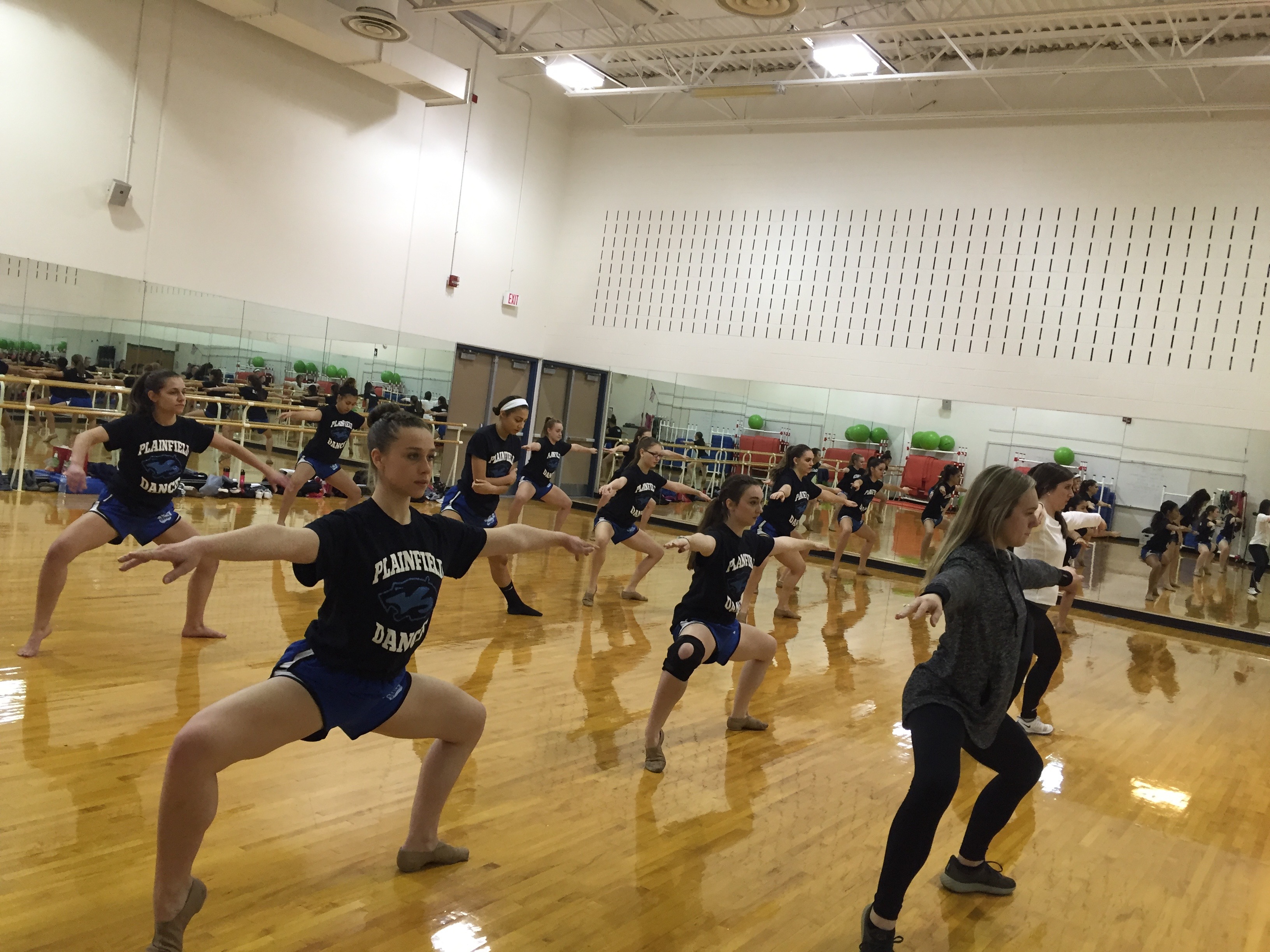 Coaches Germann and Fisher practicing what they preach as they lead warmups
It's not a huge dance studio, and it feels even cozier with 3 walls of mirrors that almost create the illusion of a huge dance team in a little space. The lighting and very polished floors give the place an energetic vibe, and you'd never know that on the other side of a door in the back corner is a dreary January morning. This room makes it easy to focus on just dancing. Even the 4G reception is pretty sketchy.
Dancers have two barres to work with. The wall without a mirror has the usual rack of exercise balls, steps, weights, and, more importantly, a dry erase board with a list called "Team Goals '16-'17." I camp out at the desk next to the audio system while the team goes through a variety of planks. Coach Fisher, clearly a fitness expert, gives her girls a few tips while they work. "Stretch through to your feet!" she says, talking over the obscure Justin Timberlake deep cut "Mr. J.T." Her dancers then get a couple minutes to do their own stretching routine before getting their turning shoes on.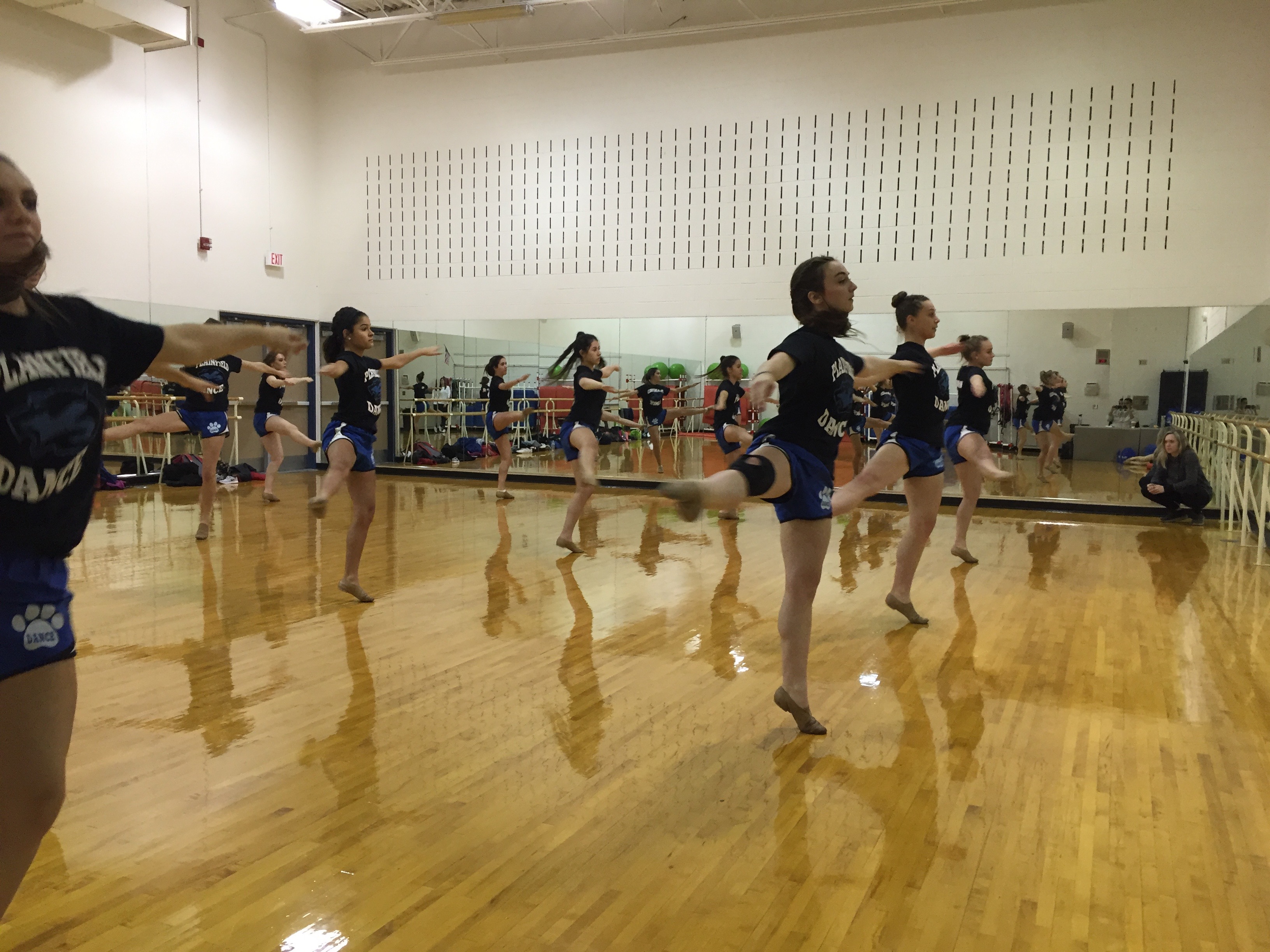 It's bright lights, shiny floors, and open secondes for the Plainfield South poms
The Cougarettes aren't just going to plow into their routine—first, Coach Fisher wants them to think about it. "Who can tell me what you're supposed to remember?" she asks, getting the girls in the right mindset to clean a tricky turn section. "Strengthen quads" and "pull up through your core" are a couple answers she hears back from her dancers.
Even the humble fan kick needs refinement—not just in terms of the physics but also the mental aspect. "Think circle, don't just think battement," Fisher reminds them. Coach Germann adds, "Point those toes on the fan, not flexed."
These days, we're all obsessed with turns in seconde, but the Cougarettes want to make sure their triples are sharp, too. Fisher's impression of their first set of triples this morning? "You guys are looking like individual soloists."
Then the dancers take another shot at it and the team looks a lot sharper. "Tell me what was different that time," asks the 4th-year coach. One dancer can't resist asking her own question as an answer to Fisher's: "Was it good? The spotting?"
Fisher tells her girls to "Focus on your core. Your energy comes from your center—it's the center of your universe." Before another run-through, she teams up with Coach Germann and their injured dancer to be on the lookout for spotting and the passe angle. It's already January, after all, and the details matter now more than ever.
The Cougarettes enjoy their own practice space while waiting for the gym to open up
Only once those triples are cleaned up can the team address their secondes. Fisher and her dancers recall the tips they went over last time they were together: pull up, turn out the leg, watch the timing of your arms, and of course, spotting. One girl has trouble hearing every detail. Fisher jokes that her teacher voice is a little off, reminding them that "I haven't taught in two weeks." It's understandable, even mutual. "Words aren't registering today," admits one senior, half-jokingly.
After four days away from dance team and a little mental fog starting to show in her team, Coach Fisher helps her dancers boil it down to two keywords for improving these secondes. Attack and precision. These terms keep coming up in the judges' comments. She adds, "If you make an error, land strong, precise, and with a head snap so you at least bring something to the table."
Dancers don't have to rely only on a list of tips to execute their turns well. There's the music! "Use what's there to help you," suggests Coach Fisher while I silently nod in agreement. In this case, it's the tambourine rhythm in "I Can't Help Myself" (more commonly known as "Sugar Pie Honey Bunch"). Another musicality clue is in the timing of the lyrics, according to Fisher. The girls sing one of the lines as they perform the sequence, just to nail down the exact timing. "Thank God we don't do karaoke with them," she quietly says to me.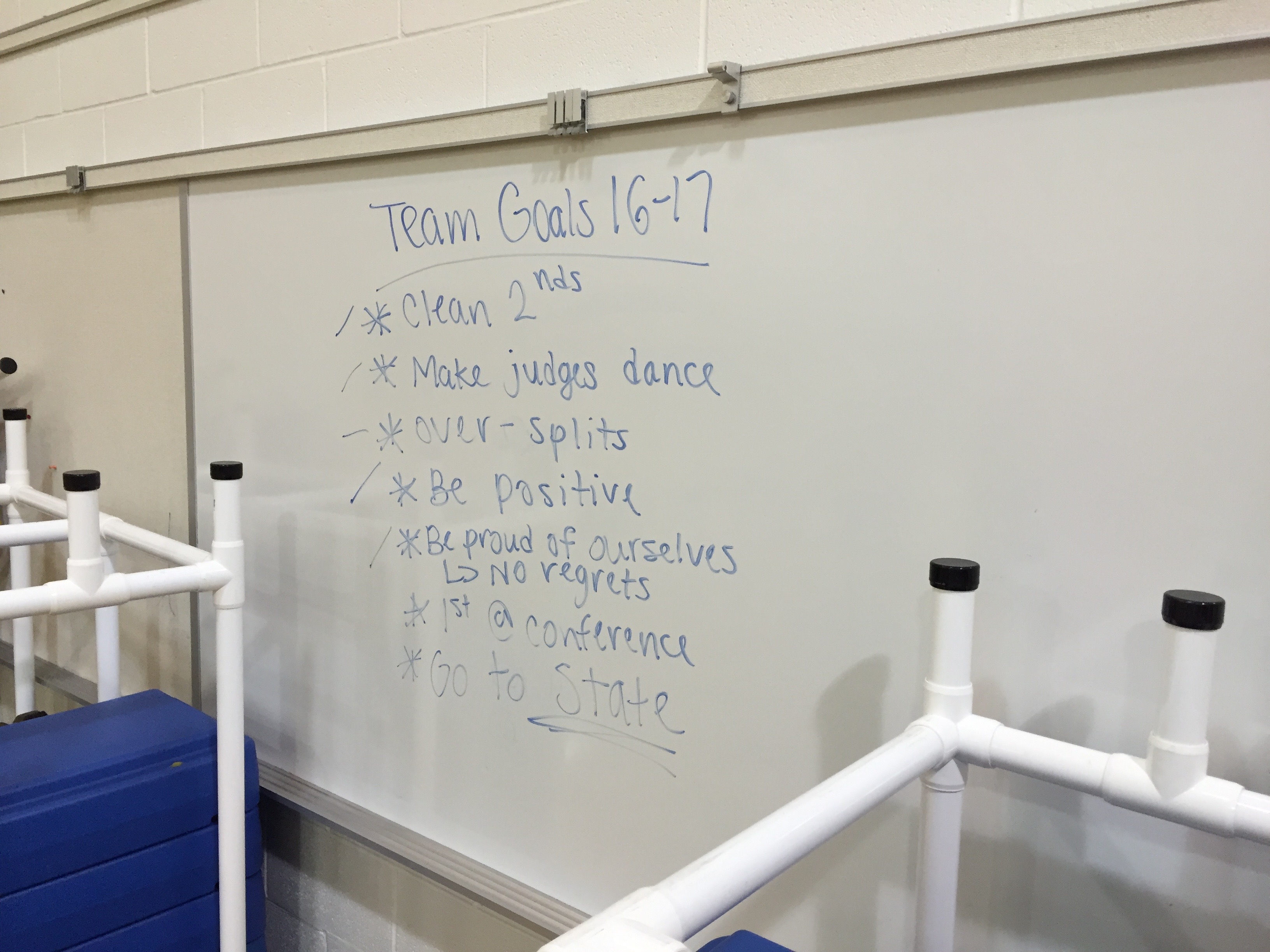 New Year's resolutions are meant to be broken, but these poms goals stare the Cougarettes in the face all year
On to the new stuff, the updated choreography. There's more to water breaks than just rehydrating. Fisher has her dancers take two minutes to mentally review this newly revised combination "so you don't freak out." Fisher's a little concerned about the effect of winter break. "The new material should have sunk in by now. It's been a change, yes, but it's a change from last week."
They walk through it using a mix of chanting the lyrics and using the actual counts, a really cool way to incorporate musicality even without anything playing through the bluetooth speaker. Coach Germann joins Fisher in calling out broad corrections for the whole group: "Use that plié!" "Know where your body weight is and where to shift it." "Point through your toes, not just through your ankle."
A Lockport dance team alum, Coach Fisher stands out with her University of Illinois social studies teaching degree. She's also got her dance endorsement from U of I, so it's no surprise to see her take a mental approach to teaching dance at a Cougarettes practice. Besides all those technical corrections and tips that she shares with her dancers, Fisher encourages what teachers call a "growth mindset" when she catches her girls lacking: "If you have to work on something, maybe make it your goal for this week."
Despite that, Coach Fisher is ultra-approachable. If she's ever nervous or annoyed I'm willing to bet she hides it well, and I have a hard time imagining her yelling at anyone. Like other close-knit teams with younger coaches, the Cougarettes simply address her as "Fisher."
Coach Germann is even more laid back and just as friendly. The 2nd-year teacher danced on the Naperville Central team and graduated in 2011 (she's friends with that team's current coach, Terri Rorer). Her JV team of 15 dancers has today off. She teaches elsewhere in the district, so her team gets some homework out of the way as she makes the commute to South. The majority of her dancers head right to their studios after practice.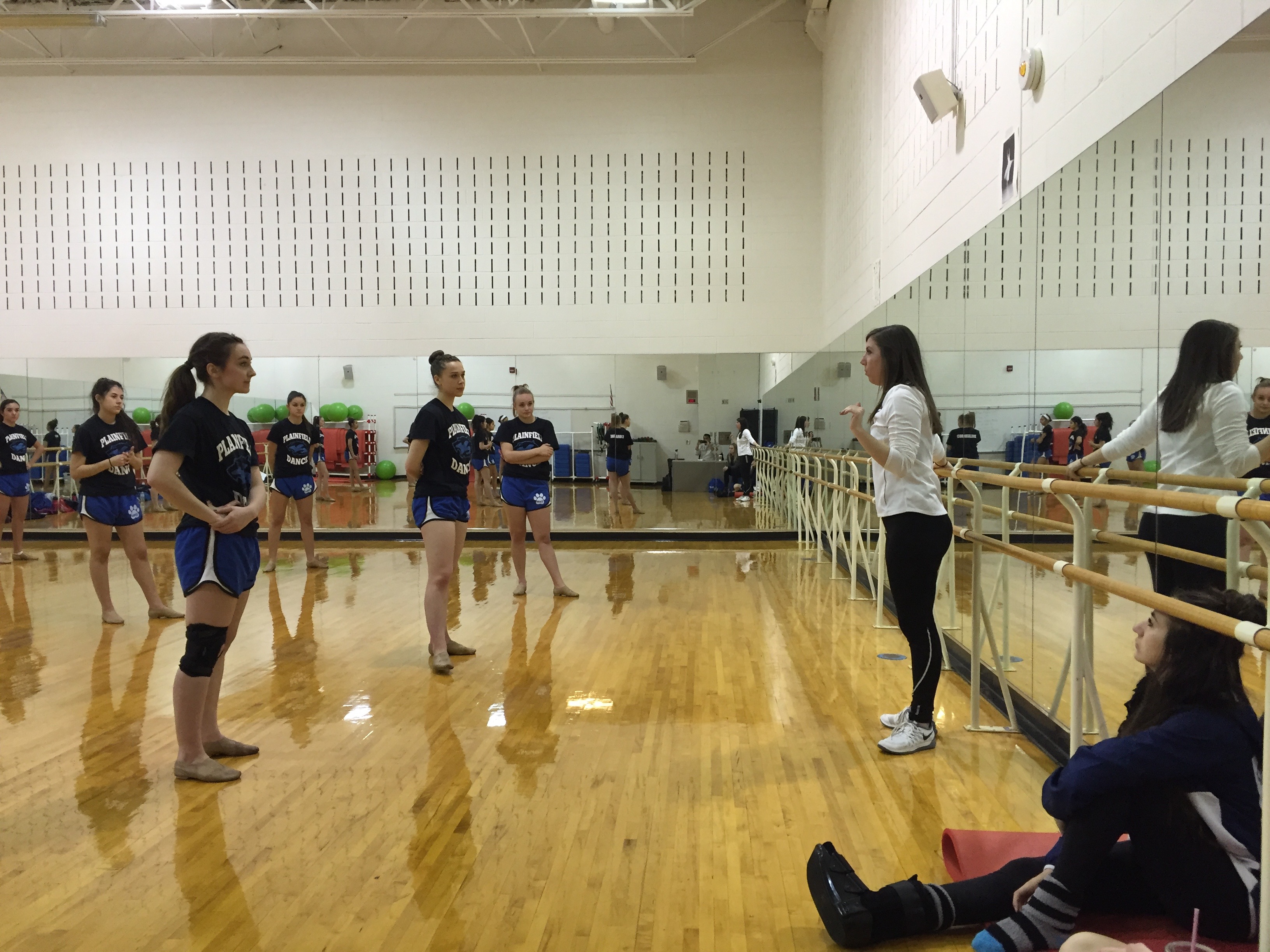 Fisher getting her point across to the Plainfield South Cougarettes
It's kind of refreshing to watch a team that doesn't spend every ounce of energy on their turns. I watch the Cougarettes take a hyper-detailed look at their tilts, a key moment of one of the sections they're cleaning today. Fisher calls out, "What's our goal for these tilts?" The whole team answers, "45!" Like so many other things, it's the plié that sets up success, and Fisher reminds her girls of that. Plus she has them pay careful attention to their head and arm angles.
"Don't try and reserve your energy—it'll make you more tired," Coach Fisher says as her girls head for their water bottles. This time they get a lengthy seven minutes to chill and  mentally review three sections. "Today is about cleaning, seeing if we like it [the new parts]. It's not my job to reteach choreo," Coach Fisher calmly points out.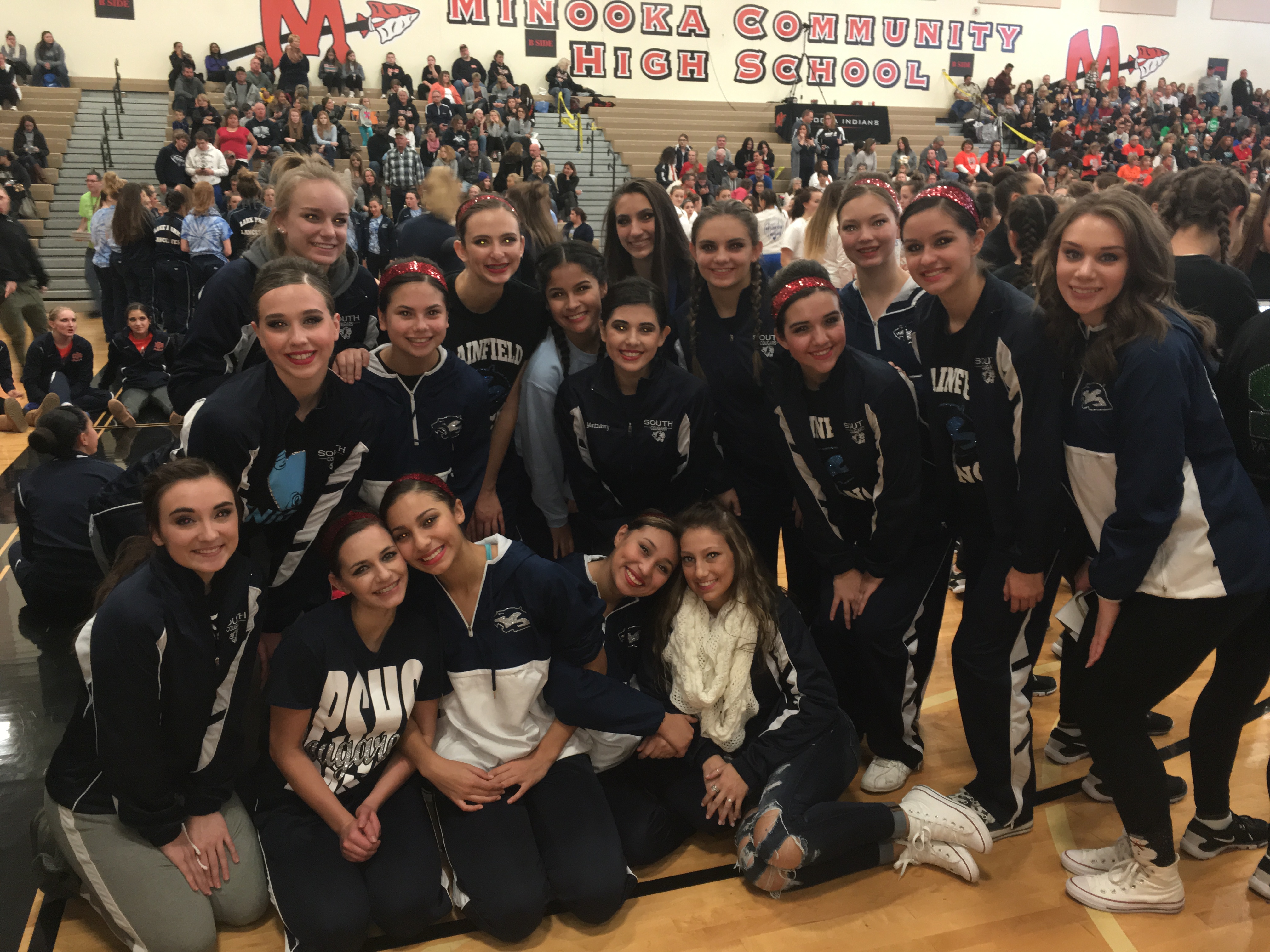 The Cougarettes danced not too far from home when they competed at Minooka in December
Confidence is another focus point today. "Today we're telling you about it," Fisher warns. Tomorrow, she'll be taking notes on who's showing confidence. If you don't make her list, pushups might be in your future. It's hard to tell if she's just throwing this out there, but these girls are used to the rigors of combining technical skills and the performance aspect of dance. Most of them have studied dance at local studios. The girls keep their technique sharp by taking summer classes or through private instruction.
When Fisher first got to this program, not many studio dancers chose to do poms here. Plainfield South opened in 2001 and its dance program competed in IDTA. I first crossed paths with the program in '05 when one of their competition routines was in the AAA Kick category. By '07, the Cougarettes had made it to IDTA state with a 7th in AAA pom-dance and a 9th in AAA hip hop. The 2010 team tied for 12th in AAA hip hop at the Team Dance Illinois state championships.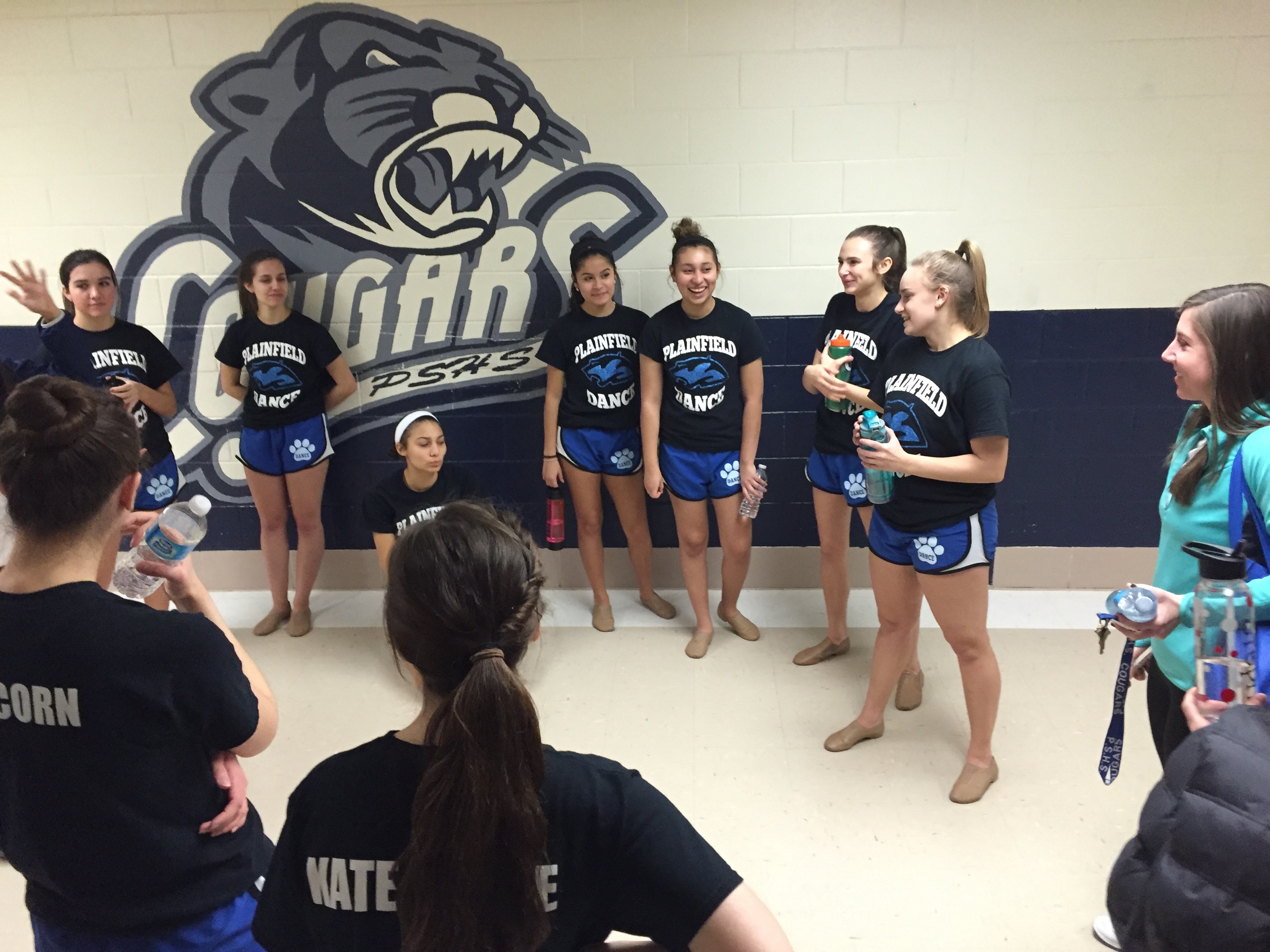 Plainfield South poms hanging out by their mascot while waiting for the gym
Throughout this morning's practice a little uncertainty hangs over the room: when's the gym going to be available? Fisher's been in communication with the basketball coach, and even the AD drops by to check on the team and introduce himself to me. We all head to the gym around 11 and find out that basketball needs a few extra minutes. The Cougarettes and their coaches go with the flow and set up two groups to work through sections in the hallway outside the gym. It's actually pretty productive and the girls keep up their upbeat attitude while patiently waiting to take over the basketball court.
Just like a year ago when Plainfield South hosted their conference cheer / dance competition, the gym's really toasty today. The Cougarettes run through parts of their dance, experimenting with some new ideas taught by Assistant Coach Germann. They also practice those changes from last week, the ones that Fisher had wanted her girls to know by now. She has each of the three groups of this formation embody a different part of the music (yup—musicality, just like choreo, can be layered). Coach Fisher takes the left group, the dancers she wants to portray the fast instruments in the song. Coach Germann handles the right side of the formation, three dancers who are supposed to highlight the long notes played by the band's brass section by using some cool turning ideas. Meanwhile, the middle group takes care of themselves until Coach Fisher visits with them. "Musicality as it relates to execution has been a problem," she admits to me.
After that little workshop, it's time to bring it all together. Fisher climbs onto a folding chair. Before pressing "play," she reminds the team to "Dance with confidence by thinking about precision and what you do with your head. Just 'cause the choreography has musicality doesn't mean your job's over. You also need to execute the musicality for that score to go up."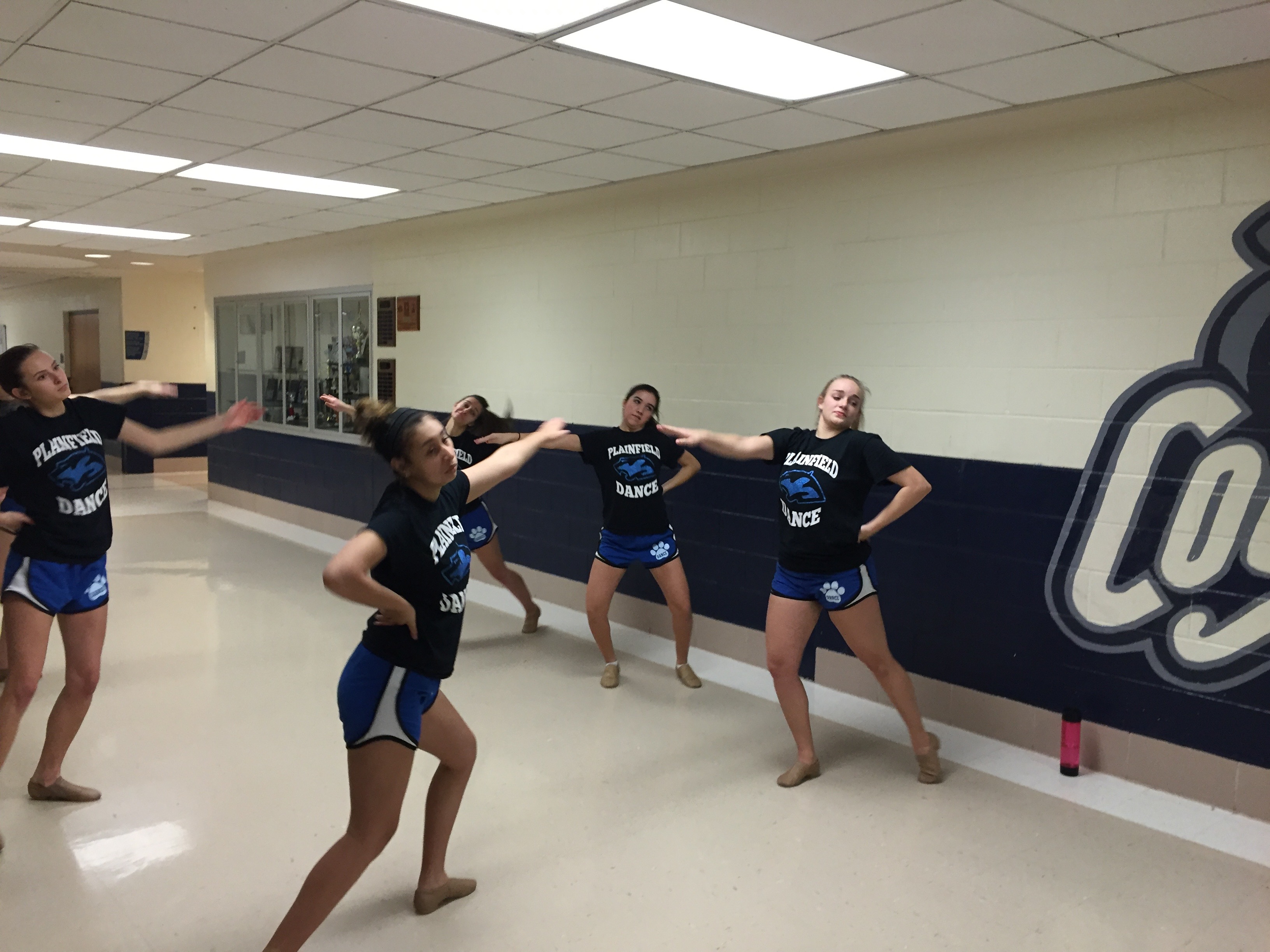 Waiting around? You can still get stuff done if you're the Plainfield South Poms
We all shift back to the dance room to finish practice with a meeting. Most of these Cougarettes are about to grab lunch, and then eating habits come up in the conversations. Fisher reminds her dancers to eat; you can't show up to practice having had just a granola bar and expect to be effective.
"What are the things you need in January?" Coach Fisher asks her team. The short list they come up with: precision, energy, and pulling up. This is the time of year when everything's full-out, including the mental side of dancing. The team went on to dance well at conference and then sectionals, but came up short of qualifying for state.
I asked her for a couple thoughts on this group and their season. She didn't hold back her praise for a team led by seniors that she cultivated years ago. "I am proud of the girls' hard work and dedication this season.  They are certainly helping to develop our school's dance program.  I have seen so much growth these past four years and am excited to see what the future has in store for the Cougarettes!"
Count me in. With this cerebral coaching style and the blossoming dance scene in Plainfield, I want to see where this story goes in the long run, too.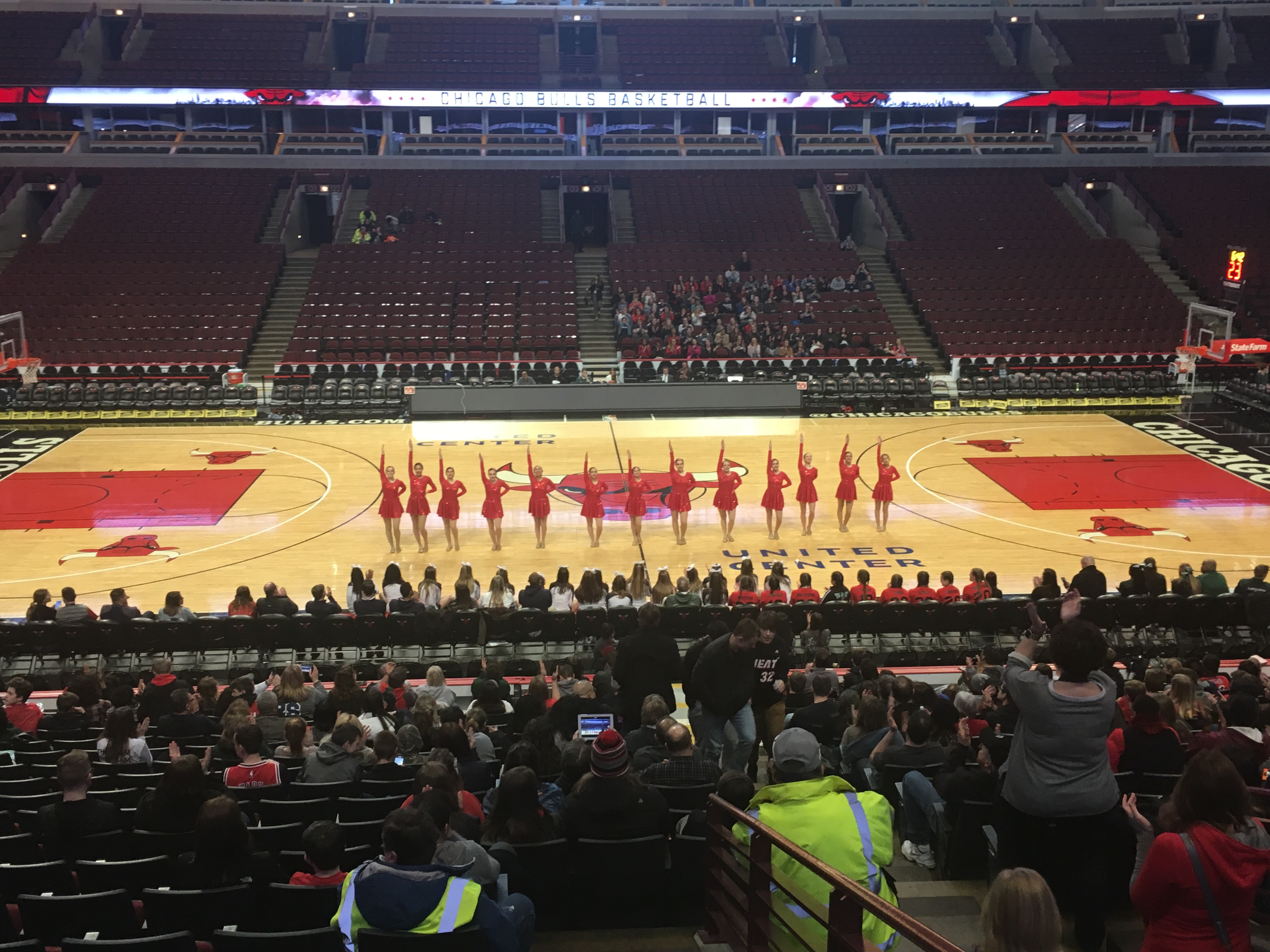 The Cougarettes got to dance on an NBA floor!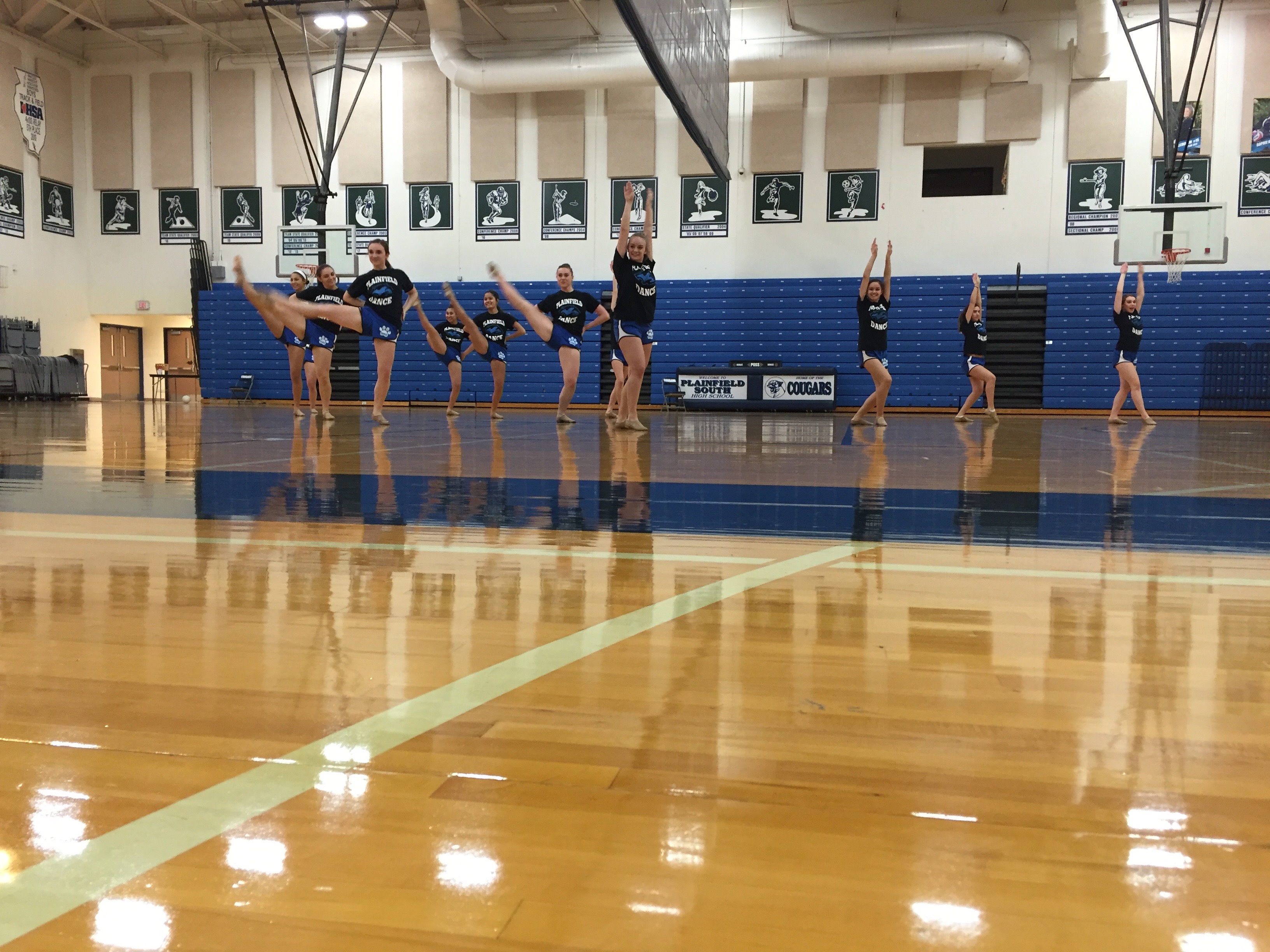 Compared with the United Center, the Plainfield South gym is sligghhtttllyyy smaller
A group interview with the Plainfield South Dance Team seniors
Sitting left to right are Rachael (who enthusiastically made sure I got her name spelled right), Faith, Lexi, and Cora (I think we're missing one senior who had to leave early).
Do you guys dance at studios?
RACHAEL: I was at BDA Dance Company [in Crest Hill] until I was 13 or 14.
FAITH: I took a couple classes at Revolution Dance [in Shorewood].
LEXI: I danced at Vaughan [Dance Academy in Plainfield] until I was 13 or 14 also.
CORA: J & K [Elite Studio in Shorewood].
What about your personal favorite styles of dance?
RACHAEL: Hip hop.
FAIT: Jazz.
LEXI: Jazz or hip hop.
CORA: Pom.
Coach FISHER: Pom, because I danced at Lockport, so maybe kick also.
Do you guys have a favorite highlight of the season so far? [as of 1/3/17]
Coach FISHER: Back when we weren't done with the routine yet…when we were finishing with practice we all started singing it [the seniors agree].
Because the whole point of this music is for the fun Motown sound, like, getting into the sassy singing, and that's what you guys were doing during practice.
FAITH: I have two. When we did camp with Star Performance and we did our dances and then some of us got All-American. And when I found out we were doing Motown, because before we would do like dark jazz and stuff like that. I like the Motown songs.
RACHAEL: Mine's probably actually performing hiphop at our homecoming because I'd never been able to do that before, because last year I sprained my ankle a couple days before so I didn't get to perform. So this was my first time performing [it] with varsity so it was really fun.
CORA: Mine was when everyone was so supportive of me. One of our girls who's in a boot, she sprained her ankle and I had to go in for her. And everyone was really helpful and supportive trying to teach me the dance and stuff.
LEXI: I don't have a favorite memory because I think this is the best season out of all four years. We all get along, we all have fun, all the time.
RACHAEL: We have our inside jokes.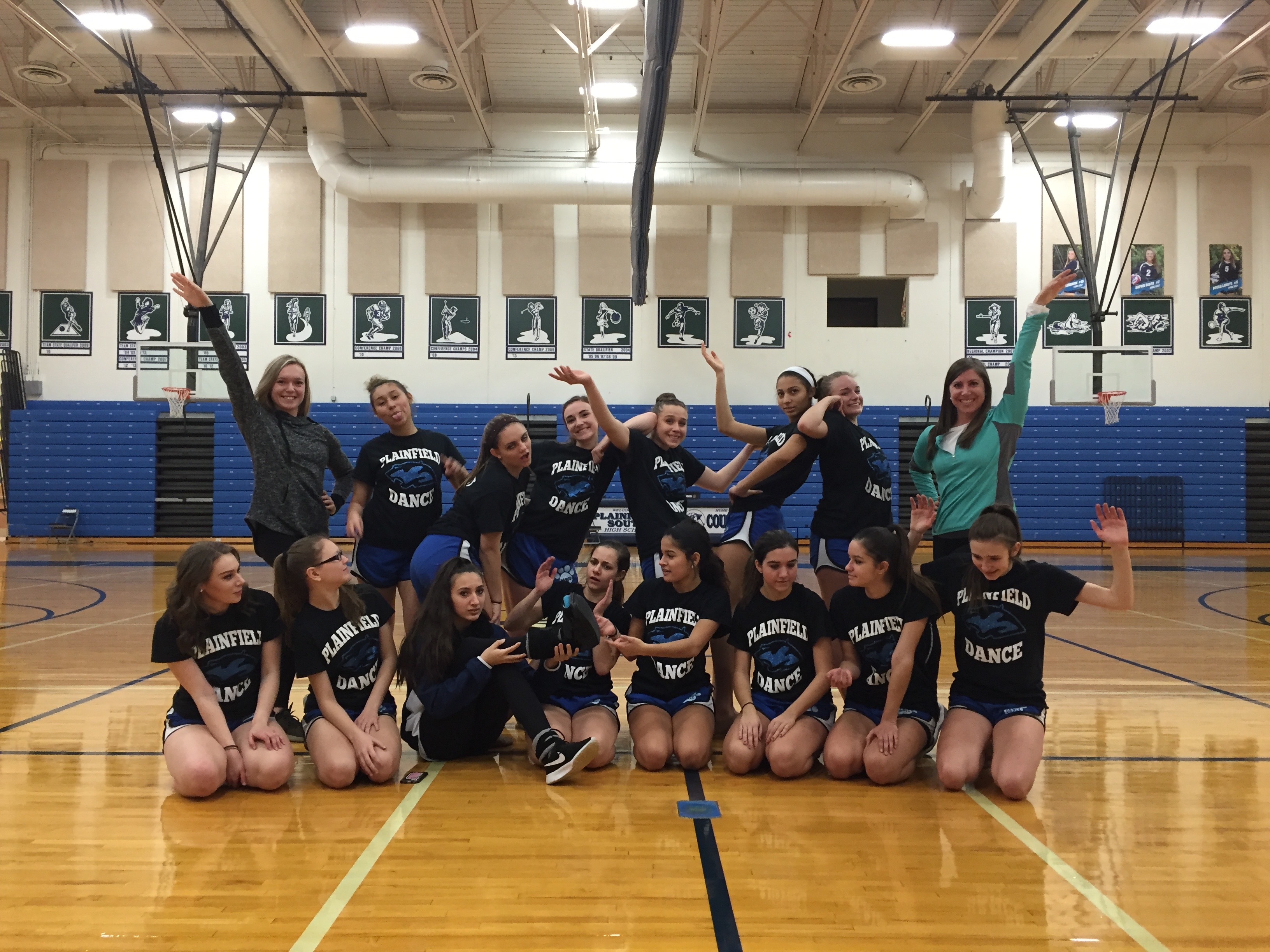 It's still winter break, so the P-South poms have an easy time getting silly
What are some traditions you guys have on competition day?
CORA: We don't have a song this year, do we? We don't have a song but we play a random mix of music. None of it makes any sense. We kind of like play really weird songs and it makes us laugh.
FAITH: Rachael brings her speaker and we listen to it while we're getting ready.
CORA: We've been singing [our routine music] before warmups in the hallway. We just go out and sing it and dance to it instead of playing the music. It was more fun I think.
RACHAEL: And it helps with our nerves. We all love this song and so we focus on enjoying it instead of being like, "Oh my God, this is a competition!" We're more like, "Oh, it's a performance, we're doing it to have fun." And that helps us to all get calm and be like, "We got this."
How do you plan on achieving your goals throughout January?
FAITH: [Fisher] printed off papers for us where we put down something you have to work on, and it holds yourself accountable for it, because you have to sign off on it. It's like more self-awareness and what you have to do for yourself…and making sure it looks good as a team, too.
RACHAEL: And then you know if you didn't do it, and you have to fake sign it, you really feel bad 'cause you know "I let my team down 'cause I didn't do it!" [the seniors laugh in agreement].
Coach FISHER: This is a new thing we're calling "January Goals." They individually do their work at home, then when we come [to practice], all their individual stuff comes together as a team. The overall goal is to up your scores and to have a better performance every week. [These seniors] are my first class; this is my 4th year. Our goal the whole four years has been to get progressively stronger and better in your conference and in IHSA in general…making a name for yourself.
What are some other dance teams you're fans of?
FAITH: Wisconsin and Minnesota.
LEXI: Yes, Minnesota.
CORA: Minnesota for sure.
RACHAEL: I like Iowa State, too, because iIm thinking about going there. I like their dance team.
CORA: York—they're a lot of fun to watch this year.
Coach FISHER: We have to be supportive of Neuqua. [NV Dance Coach] Taylor Farnetti came from here so we have to have that love.
Anything extra you want to share with the rest of the dance community?
Coach FISHER: I'm not just teaching you how to dance, but it's also teaching you how to be a well-rounded person. I make you do a lot of things like performances in the community. And you're a face and a name in the school when you're wearing that uniform. You're a student-athlete that's held accountable for things. How to be confident young women. That's what I hope that comes through, at least once they leave me [they laugh in agreement]. They kind of know my speech on that. And overall, if they're good people and have fun with it, it will show in their dancing and when they're competing.
CORA: For us, it's more than dance. I know it sounds super cheesy when everyone's like, "Oh, you're a family or whatever."
RACHAEL: Oh, you can go ahead and say that.
CORA: But it's different for our team. We literally call [Coach Fisher] mom. We're all extremely comfortable with each other. I just really enjoy just us having fun, like team dinners every single game. We're always with each other outside of practices.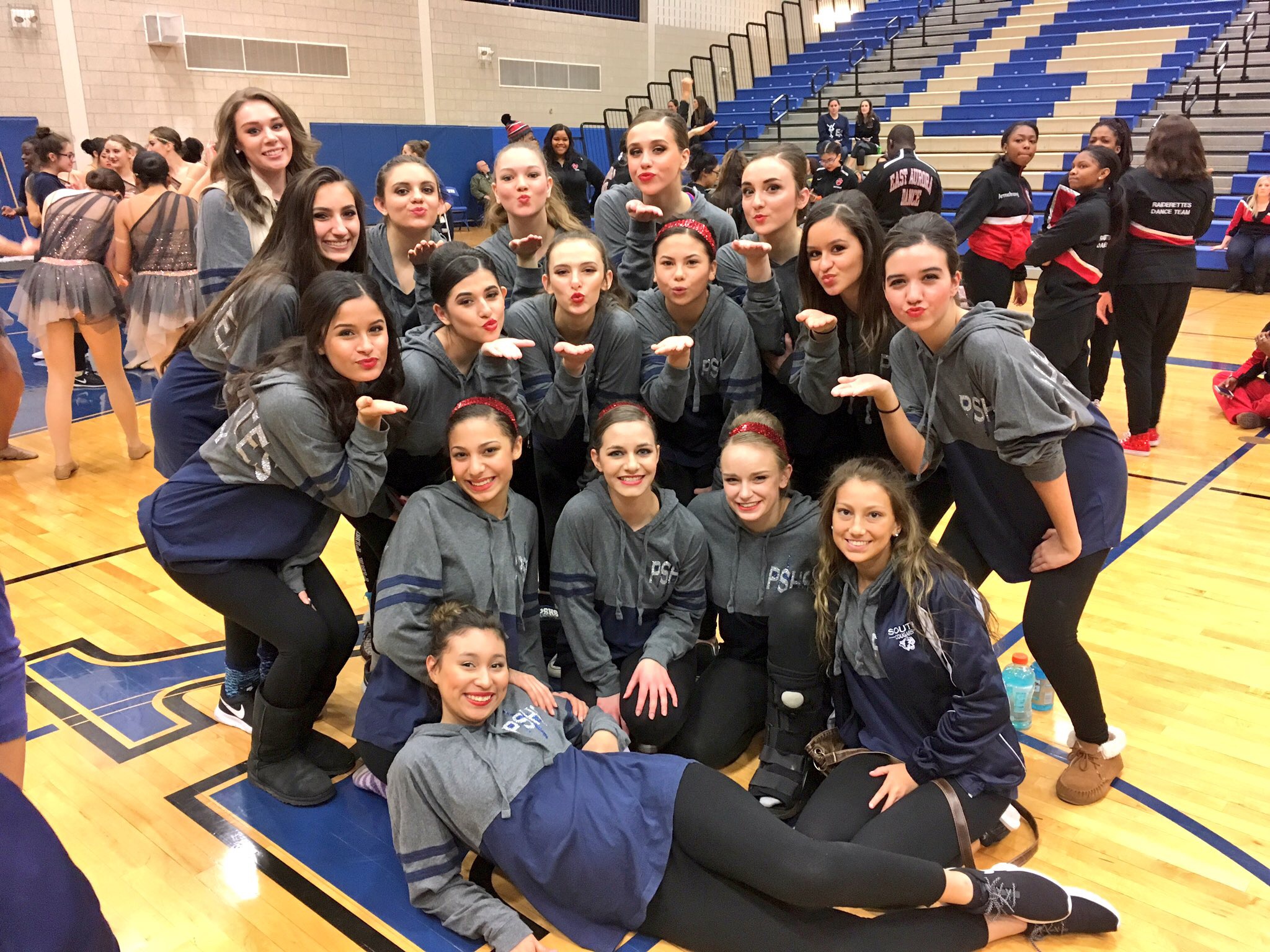 Coach Fisher's dancers take a moment to acknowledge a good season at sectionals