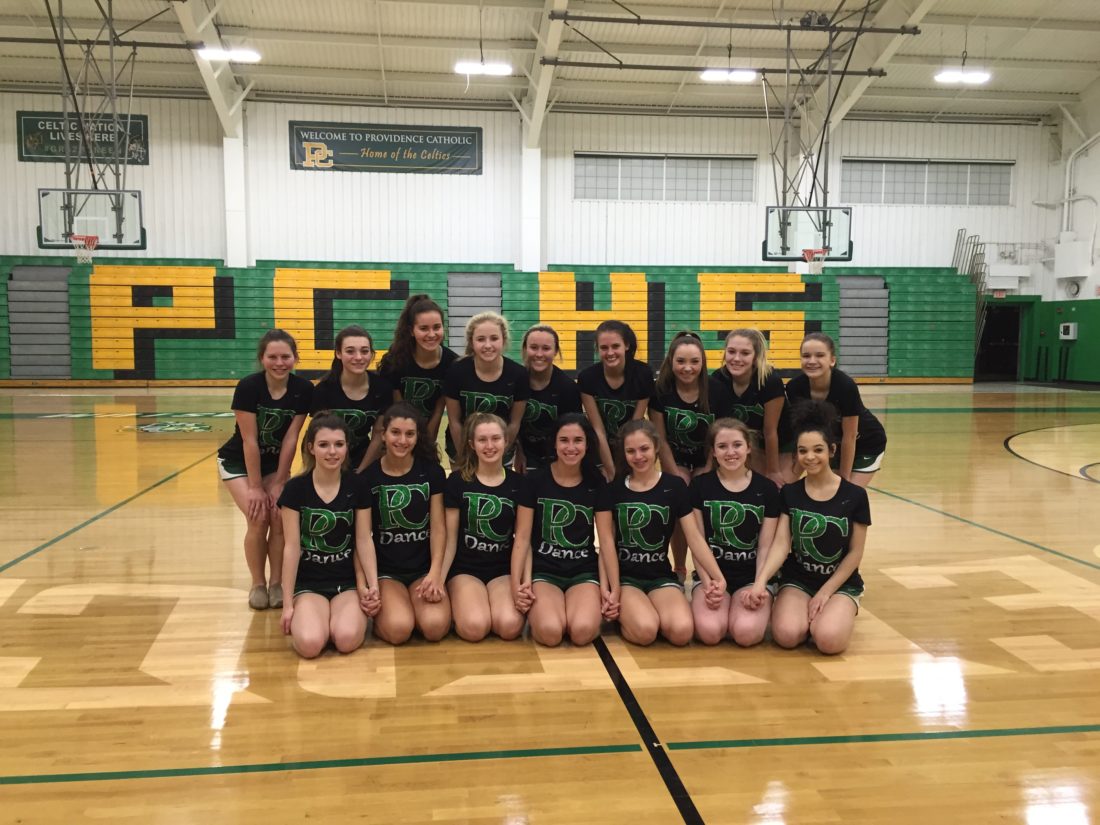 Team Feature: Providence Catholic
Fueled by cake pops and watching University of Minnesota videos, the athletes of "ProviDance" kept up a long tradition of downstate dance roadtrips.
by Norm Ramil / 8ca.creative.director & dance.fan
It's a rainy early evening on MLK Day, and I'm thankful that Providence Catholic High School is easy to find. The school sits in the middle of one of the Chicago area's dance hotspots, that broad stripe of schools that run east-west from New Lenox to Joliet and then Shorewood/southern Plainfield/Minooka.
My first sight as I walk into Providence Catholic's athletics entrance? The dance team's gathered in the lobby waiting for the gym to open up, and the girls are lounging around on the floor like sea lions sunbathing on the rocks at Sea World. Coach Stephanie Coglianese explains, "They're mentally getting ready." A friend drops off boxes of bundt cakes for someone's birthday (besides MLK's).
As a private school, Providence Catholic attracts students from well beyond New Lenox (but it does compete for kids with Joliet Catholic). So their students might travel from big and busy Joliet to the west, Lockport to the northwest, Mokena and Frankfort to the east, or maybe those open fields south of New Lenox. This geographic diversity isn't an issue for Providence's many successful sports programs, including dance (PC rocks at baseball, football, and cheer). I still remember competitions back in the day where their dancers proudly had on "ProviDANCE" t-shirts.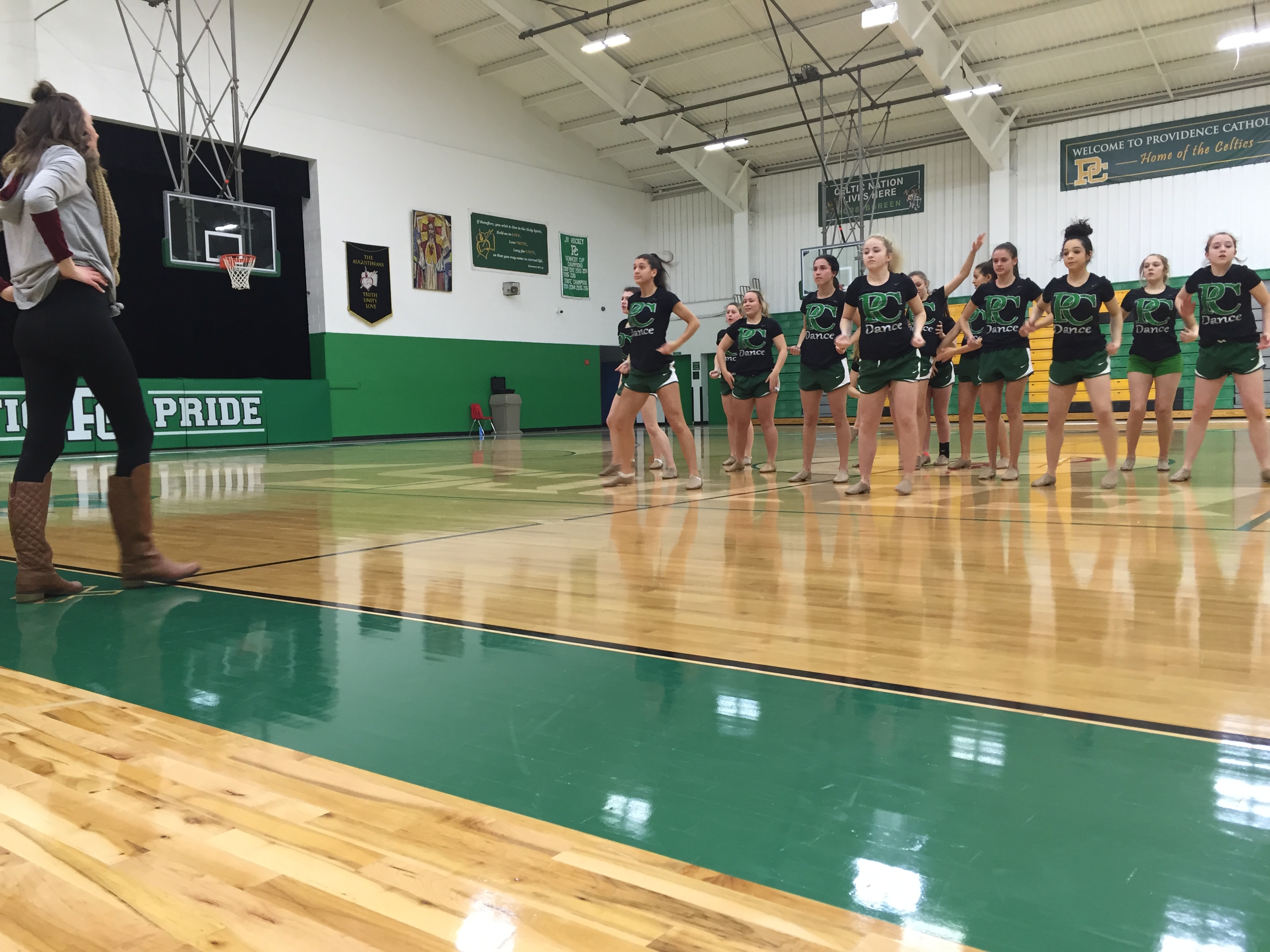 The Providence Catholic dancers under the direction of their expectant but very active coach
Tonight the team gets to work out on the gym floor, something that Coach Coglianese says their AD is good about whenever they really need it. Otherwise, the Providence Catholic varsity dancers practice in the cafeteria especially during fall sports. It's a mild January night, making for a warm gym, so the big ceiling fan and a noisy HVAC system aren't going to be quiet observers. The dancers will have to pay careful attention to hear every correction given by their coaches and teammates.
About half the team are trained dancers, and all of them wear the same black "PC Dance" t-shirt and green shorts for tonight's practice. Coaches Coglianese and Hayley Hanson lead a team of four seniors, three juniors, plus a bright future represented by five sophomores and five freshmen. Before working on their routine, these dancers go through about a 20-minute warmup.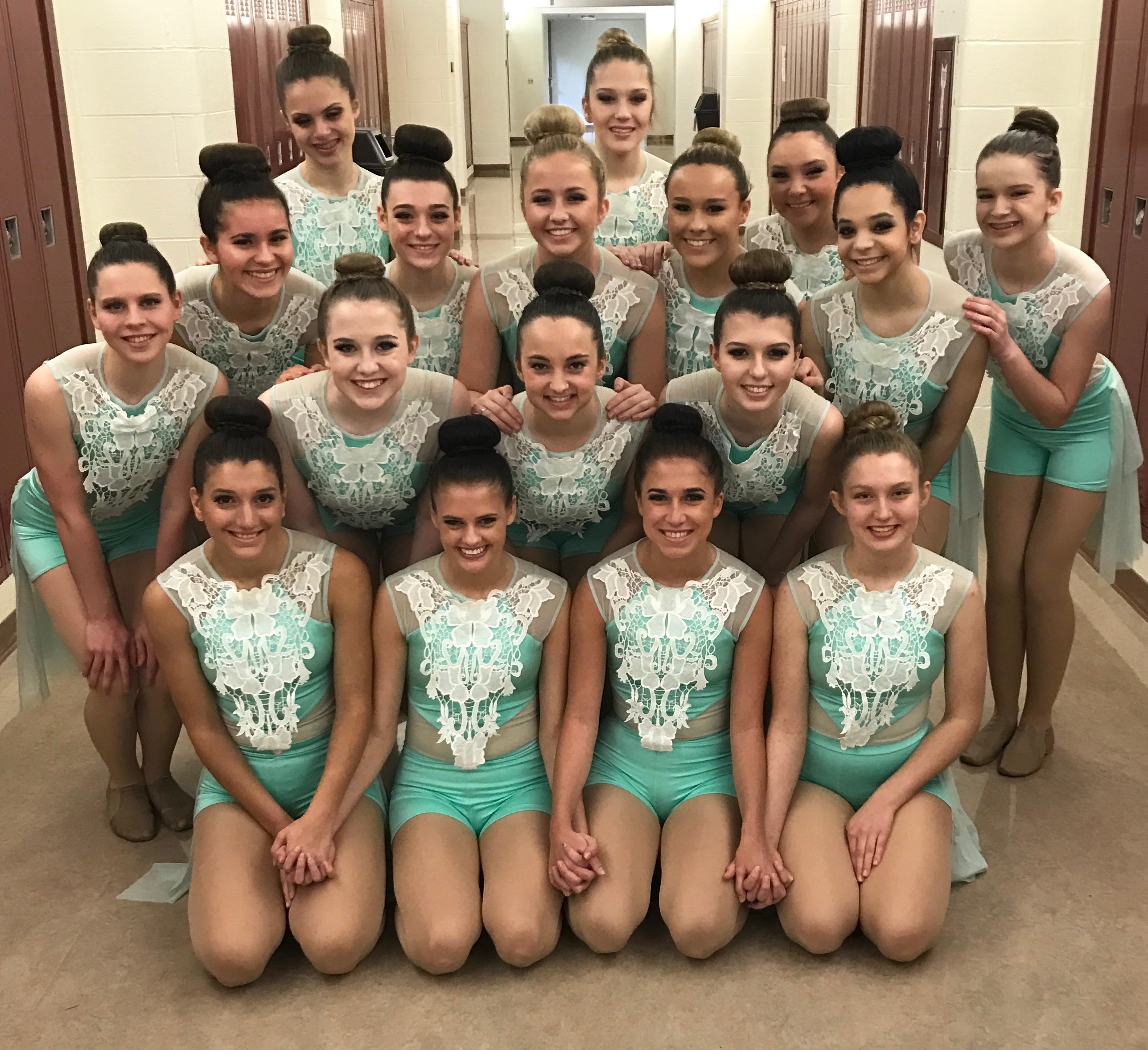 Providence goes wall-to-wall in a hallway at a comp
The warmed-up Providence Catholic Celtics Dance Team starts with a quick meeting where Coach Coglianese, new to the team this year, asks them what to improve. "Formations," one girl answers. Coach C elaborates: "Those are the easiest points to get. The transitions have got to be quicker, so you're dancing when you're supposed to be, instead of still traveling."
Other teammates share their thoughts. They want to improve their power, the sharpness, the cleanness of the level changes. The dancers will focus on pointed toes, even when their whole bodies are down on the floor. And just to remind them, Coach Coglianese praises how her dancers have been hitting their quads. Implied: keep doing that!
One dancer asks Coach C if she can check the team's arm placement. "Did everyone hear that correction?" asks the first-year Providence coach. Like many quality coaches, she can't help but tag-on another piece of feedback that comes to mind. "Where are you supposed to be looking?" In unison, the team answers, "Front." I can tell they've been down this road before. Before they move on, another girls throws in, "Toes!"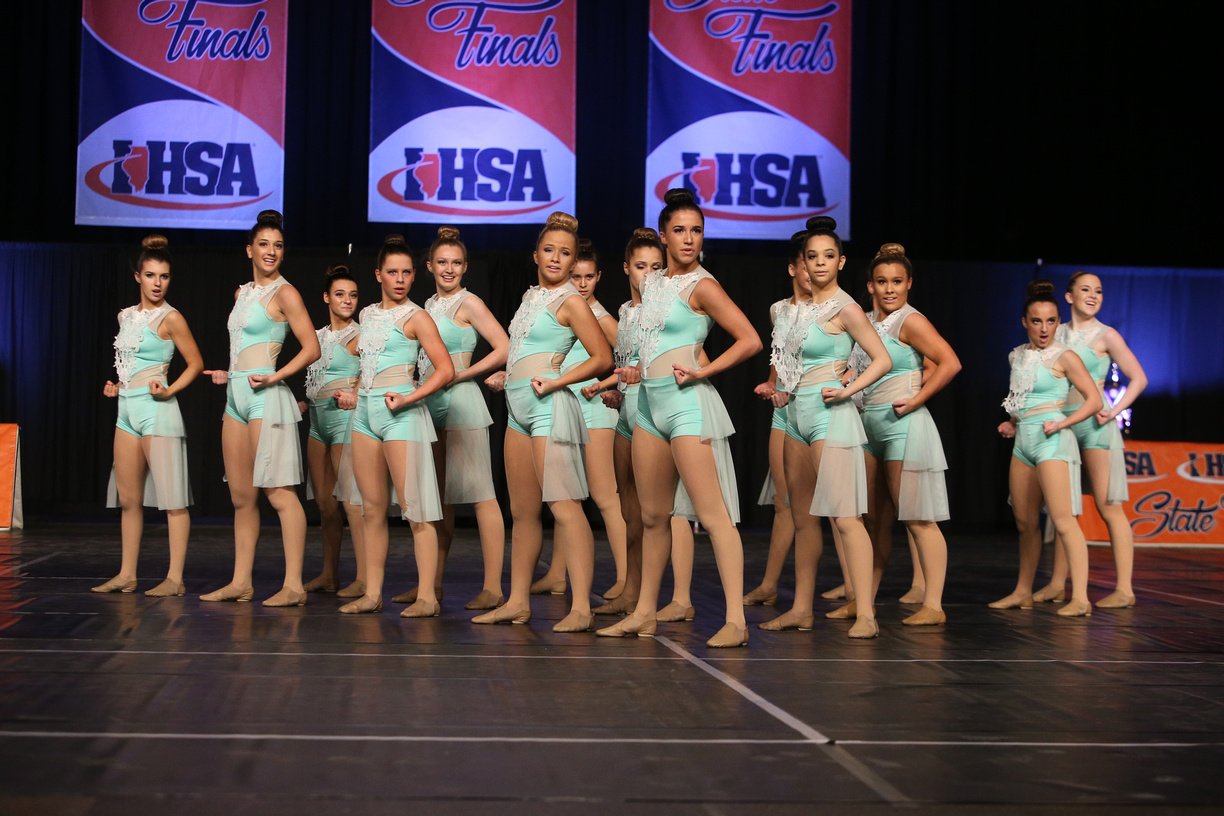 Providence Dance Team looking good (though that marley floor looks a little sketchy)
One part of the choreo has a pushing arm kind of motion, and clarifying and practicing that is what the team focuses on for a few minutes. Then they run it, and Coach Coglianese says it's much better. "I could feel you guys pushing those arms. That's what makes for a strong pom routine," she comments.
I love what I hear from these dancers in between runs—they ask questions, and they want things clarified both for their own sake and their teammates'. When one dancer needs another position clarified, Coach C simply answers, "Arms in 5th, face the corner."
The team runs the whole section with the music, and right after, Coach walks into the formation and demonstrates a little fix. During the next run, she calls out more corrections and reminders, followed by a water break. Time for a mini chat with the first-year coach.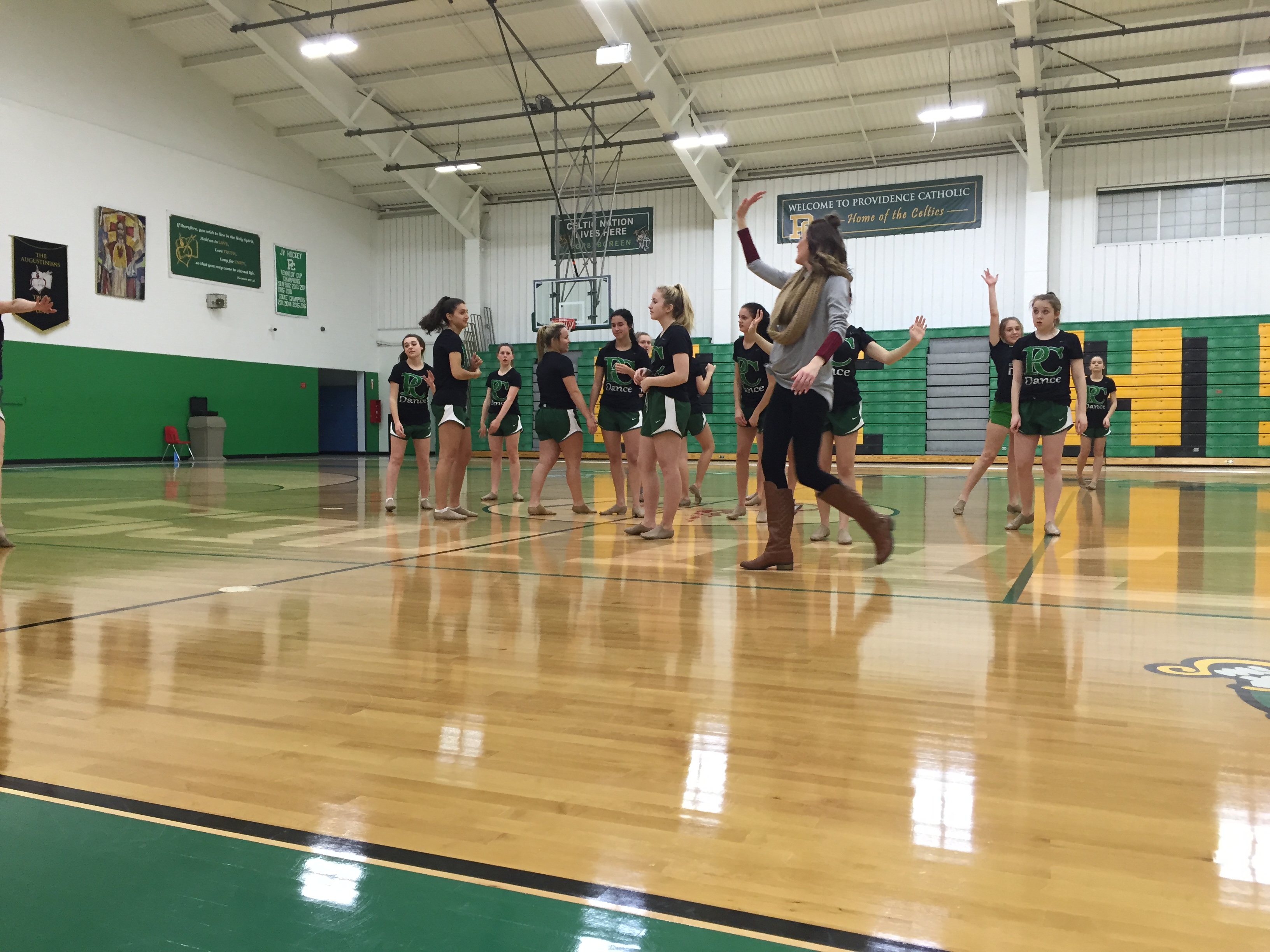 Coach Coglianese calling for power, and maybe some dramatic flair?
"So this part is a section where the music gets soft. What's going wrong is that they're using it to catch their breath instead of portraying the emotion of that soft part," she explains. "I had to get them to understand the song's emotional drive." Coach Coglianese gets that this song can be harder to connect to for high school kids, so she has them visualize whatever helps. She even suggested thinking of the gloomy, Chicago winter to get in the right frame of mind. Both technically and artistically, "They've worked so hard on this routine," she proudly tells me.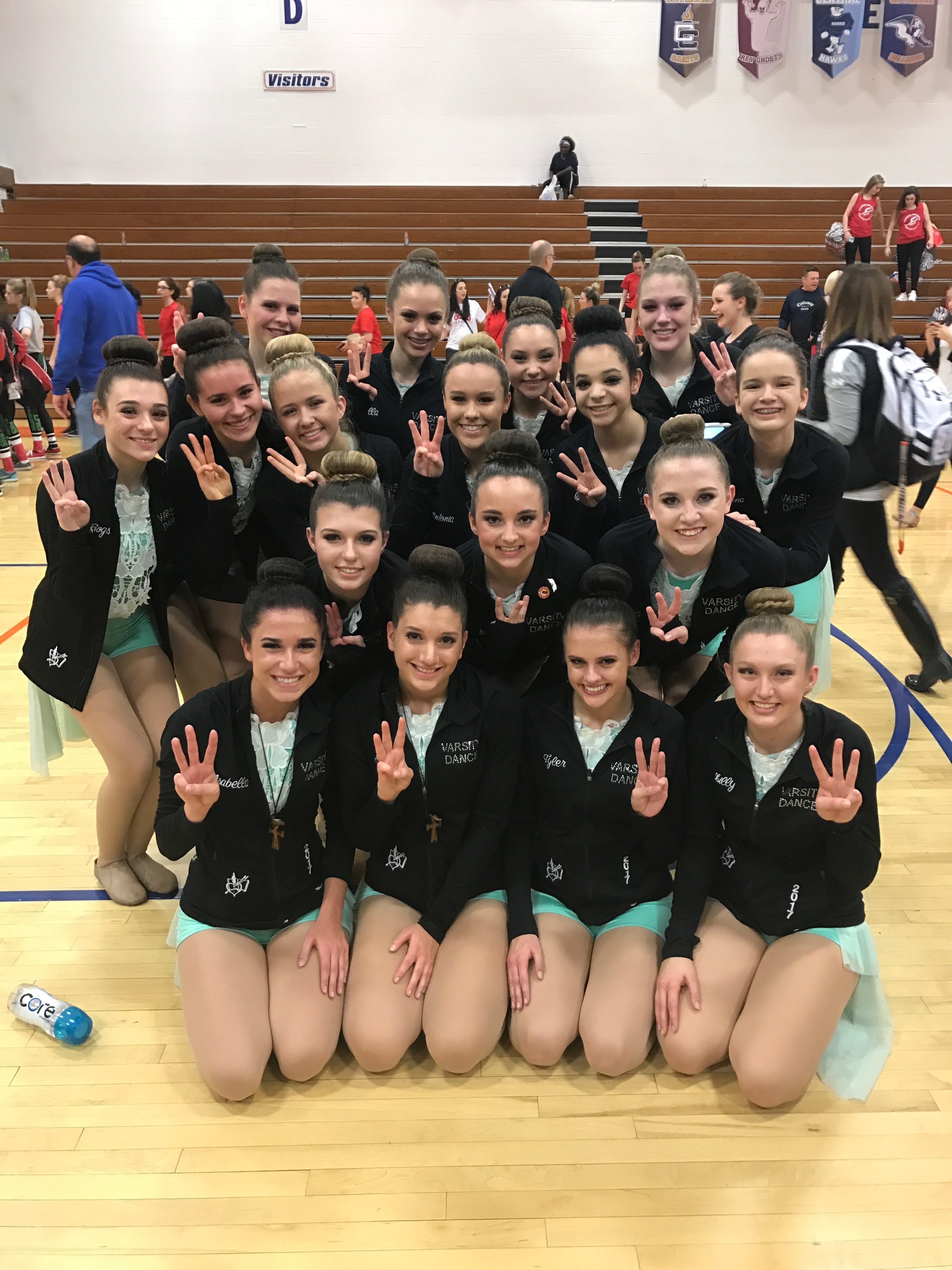 Providence nabs a state bid at the Mahomet-Seymour sectional. Gotta love the "Grey Ghosts" mascot on the wall behind them (it belongs to Illinois Valley Central High School). AND: this pic is only sideways on mobile devices…
It's a good thing they had that water break, because next they tackle an even harder section of the routine. Coach C explains to both me and her dancers, "This is the hardest technique of the whole dance, so you'll need stamina." To execute the hard stuff, you'll need to first take care of the basics, like "pushing up on that pirouette—so it's not leaning."
This really is a complex, layered set of counts. I see quads and discs, while the back row shows off come coupé turns. Coglianese knows that these Providence kids are smart, so she doesn't hesitate to invoke a little geometry vocab when she tells one girl, "I need 45 degrees on that leg…I got 30!"
All of that was before even running it with music. When they do, Coach C hands out a general piece of feedback for the whole team. "Judges will look at small details, and those are all important." For the next run, she watches from the side, and then she and Coach Hanson walk into the formation talking with individuals. They even demo some concepts, with the pregnant Coglianese executing some nice triples.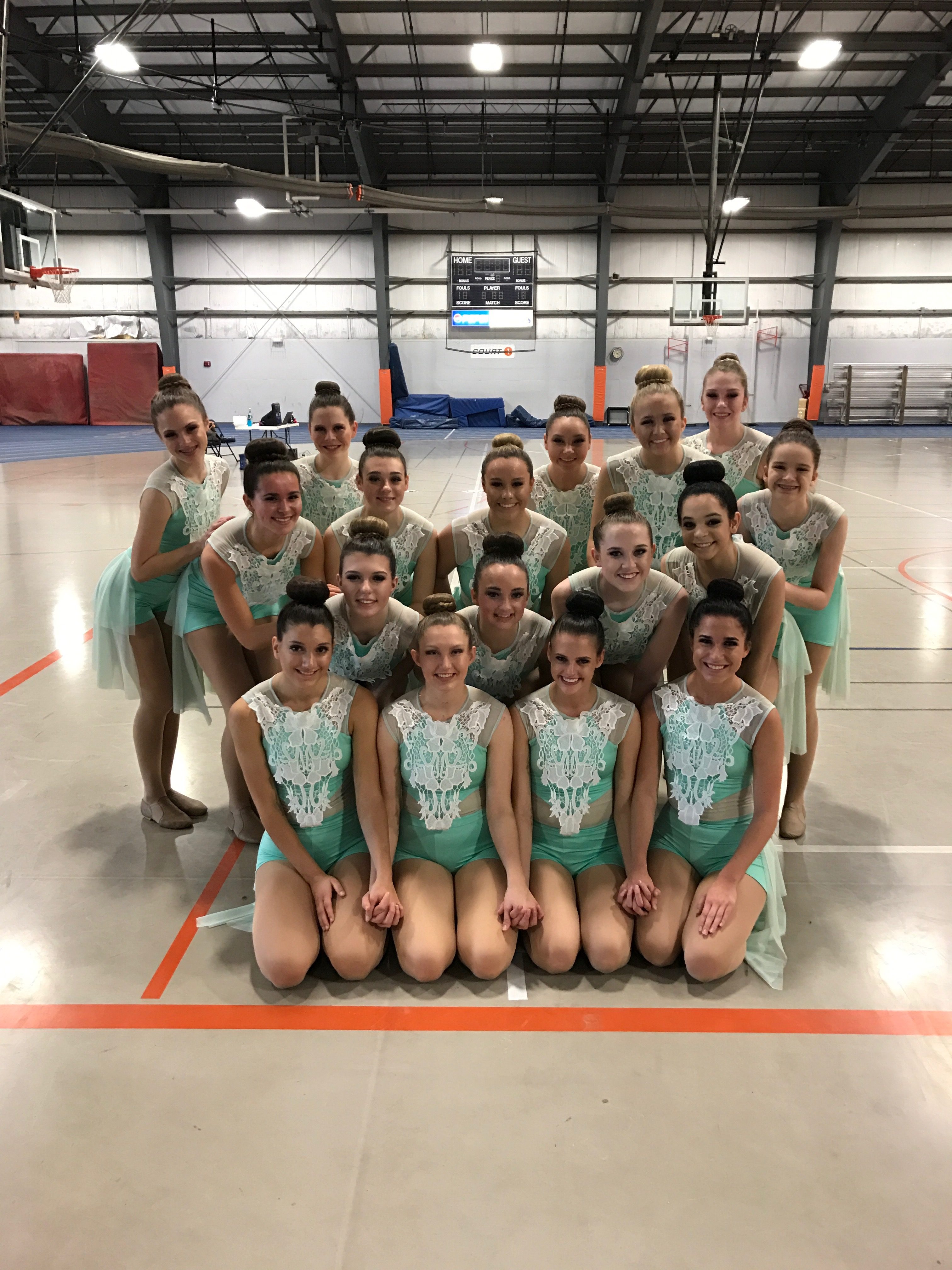 Providence is warmed up and ready to compete. They compete right-side-up especially on non-mobile devices
The next water break is another chance for me to gain some insight into how the team's using their time leading up to sectionals next weekend. "It's just a matter of execution," Stephanie assures me and maybe herself. "Right now there's just a lot of nerves…maybe it's me, maybe it's because they know this is the hard part of the routine. But this section hasn't changed, so I know they can do it."
After the whole team runs it with music, Coglianese takes a moment to review what the Providence Catholic Dance Team's goals have been all year. They want to get as close as possible to moving on to Day 2 at IHSA state. They've already improved a ton over two years ago—now they've got secondes and quads, for example.
At the moment, her only feedback is to look up and watch the alignment in the formation. Otherwise, "Great job, keep pushing!" Then again, the good coaches usually have something more to say after handing out compliments. "Remember the importance of counting, especially for those not turning."
And she's liking what she's seeing from the dancers doing the tilt, especially versus what they did the day before. Still, they've got to reach all the way down on that. Assistant Coach Hanson adds, "Reach through to your fingertips." As they keep running this part, a custodian riding on a floor polishing machine travels around the perimeter of the court, stopping just short of where the team's left their gear by the bleachers.
At one point Coach C makes a reference to dancing more like "that one J Lo video…" A Providence dancer recognizes what she means—it's "Flashdance," or more accurately, her "I'm Glad" single where the video was inspired by the movie (and she got sued for it).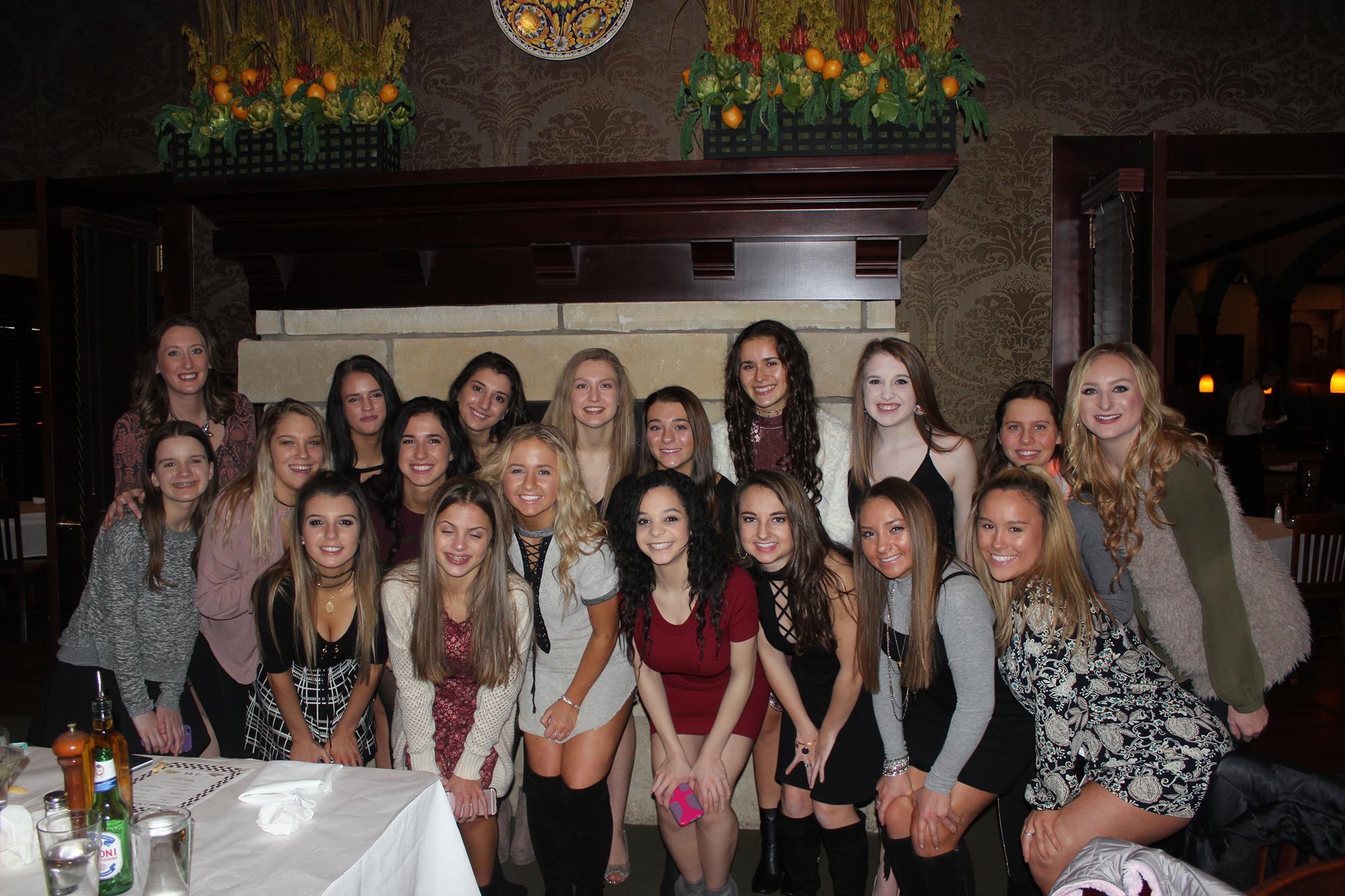 Looking classy, Providence Catholic Dance Team!
Coach Coglianese attended Lincoln Way East and graduated in 2006. She also has experience coaching at the college level. Her husband coaches here at Providence, too, and they're expecting their first baby in the coming months. She's made the full transition to the Providence Catholic family; a wardrobe once filled with LWE blue now is dominated by Providence green.
Assistant Coach Haley Hanson danced at Morris (class of '12), so she knows all about what it's like to dance on a team that has a habit of getting to state. Outside of Providence dance practice she's a teacher. With Coach Coglianese's full time work schedule, the 5pm-7pm practice slot works best, besides also being the time they happened to be assigned by the athletic department. "The girls would prefer going after school," Stephanie jokingly comments.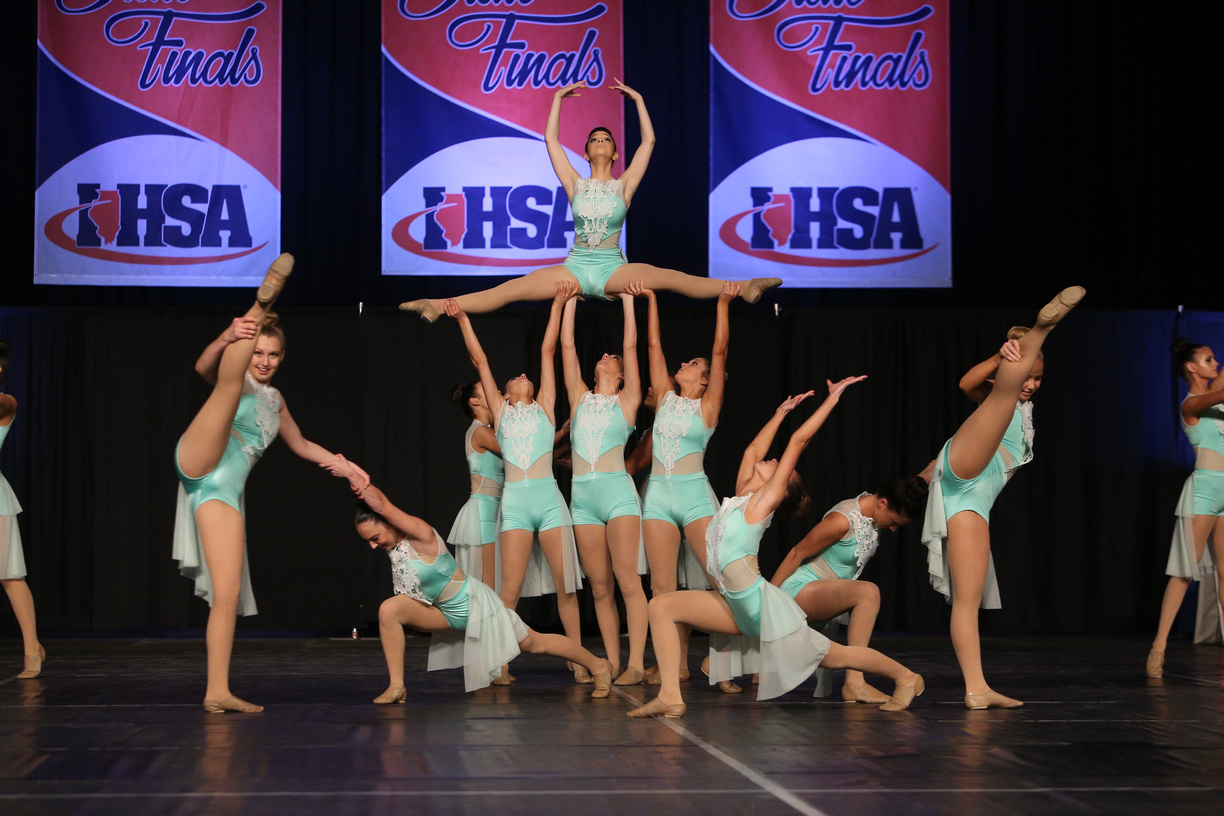 The Providence…or Providance…program is no stranger to state competitions
This pair of first-year Providence coaches brought some new ideas to the program that ended up both accepted and integrated. Unlike previous inactive summers, this team stayed busy with conditioning and technique sessions. But this set of dancers has opened up Coach Coglianese's eyes to new ideas, supplementing what she learned while earning her dance education degree. For example, the team's a very faithful group, puts a high value on academics, and strives to live up to the Augustinian values of "Truth, Unity, and Love" which happen to be displayed in a huge banner in the gym.
Providence Dance puts in a lot of work to fund their own operations. And they've also been challenged by some injuries, including two concussions, plus another injury from studio dancing. At their first comp of the year, all the girls were on the floor. Of the fifteen dancers in tonight's formations, one's an alternate. An injured dancer isn't here, so another alternate's been plugged into the routine, also.
The team hires an outside choreographer even for some football routines—"It exposes us to new ideas," explains Coach Coglianese. Kids tend to just recycle ideas, she tells me. Coach C even admits that she can sometimes run out of material herself. As for this competition dance, they've already changed much of it because of what judges have said and what the team itself saw among both competitors and their own videos.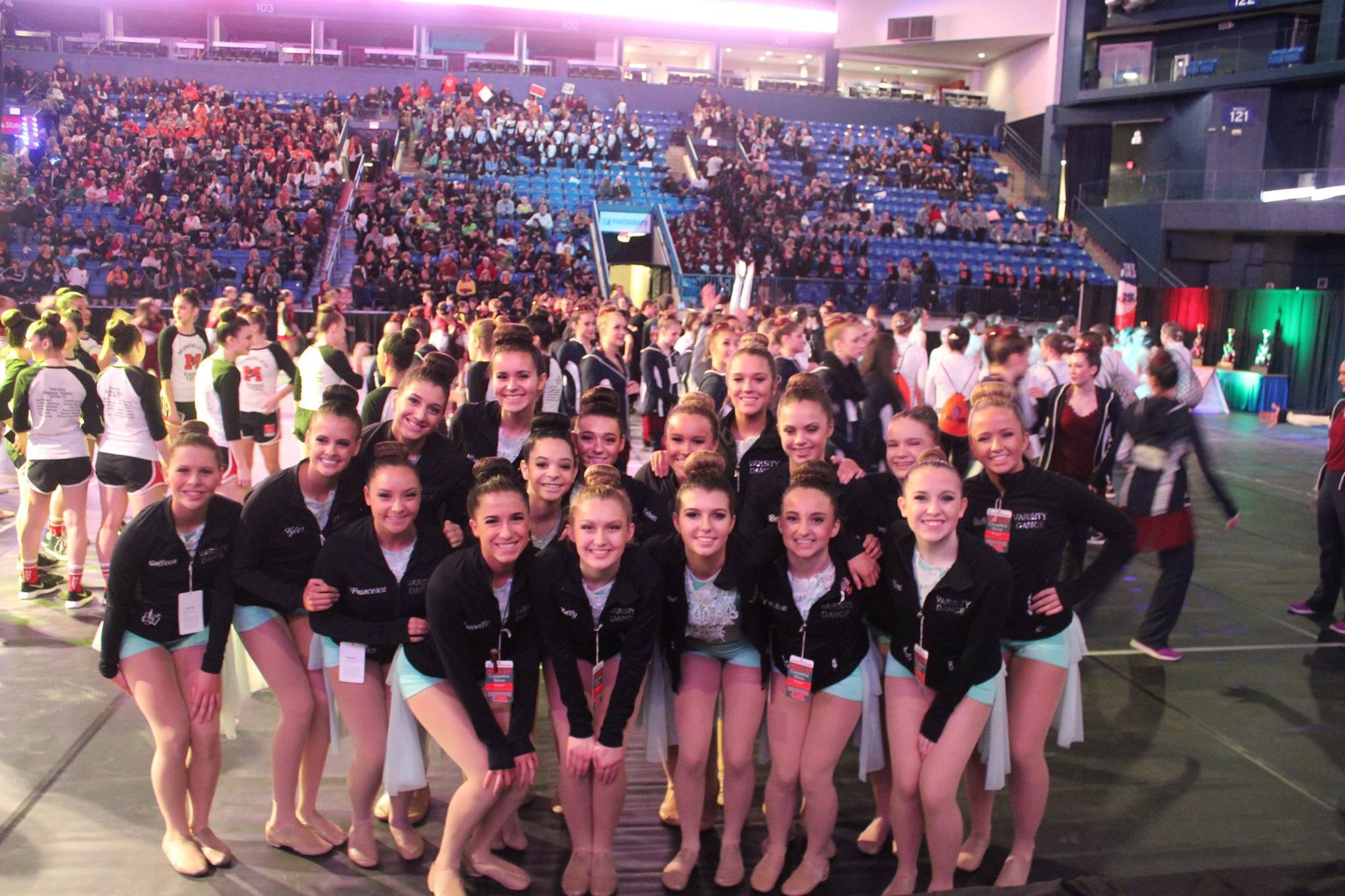 The faithful dancers from Providence savoring their time on that state floor at the end of Day 1
Providence Catholic Dance: State History
Football, baseball, and cheer are all huge sports at PC. The Providence Catholic Celtics Dance program also has a lengthy history of high-level achievement.
IDTA 1991: "superior rating" in Pom
IDTA 1995: 4th in AA Pom Dance
IDTA 1996: 5th in AA Pom Dance
IDTA 1999: 2nd in AA Pom Dance
IDTA 2000: 3rd in AA Pom Dance
IDTA 2002: 5th in AA Pom Dance
IDTA 2002: 2nd in AA Kick
IDTA 2004: 2nd in AA Hip Hop
IDTA 2004: Champions in AA Kick
IDTA 2005: 2nd in AA Hip Hop
IDTA 2005: 4th in AA Kick
IDTA 2007: t-7th in AA Kick
IDTA 2007: 5th in AA Pom
TDI 2008: 4th in AA Pom
TDI 2009: 2nd in AA Kick
TDI 2009: 4th in AA Pom
TDI 2010: 7th in AA Kick
TDI 2010: 4th in AA Pom
TDI 2011: 3rd in AA Kick
TDI 2012: 7th in 3A Kick
TDI 2013: 5th in 2A Kick
TDI 2013: 5th in 2A Pom
IHSA 2014: 3rd (Day 2) in 1A
IHSA 2016: 26th in 2A
IHSA 2017: 21st in 2A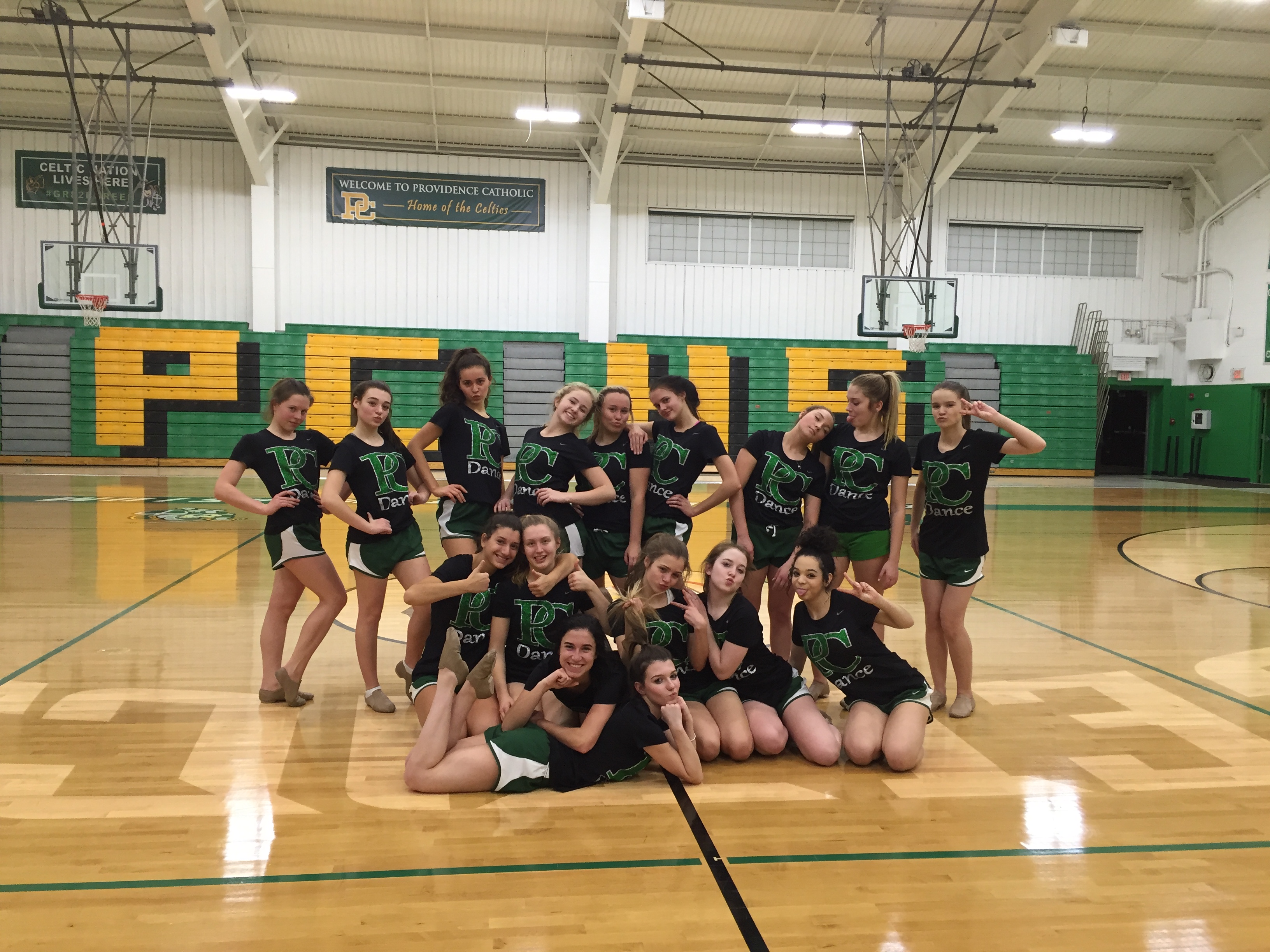 I asked for a silly pose and I got one from the Providence Catholic Dance Team
Coach Coglianese announces, "We'll do the dance full out, and the number of times depends on how well you do." As a quick afterthought: "Secure your hair!"
What she sees is some tired jumps with minimal elevation, prompting her to say, "You have to push." After a second run, Coach C praises one group, saying it's the best she's seen them do it. The whole team congratulates them with applause.
The Providence dancers have a basketball performance tomorrow night. Besides that, the girls will have a total of four practices this week. "It's going to be tough. A lot of running," announces Coglianese. A couple shocked faces among her dancers prompts her to clarify, "I mean running the routine." Relieved laughter fills the gym.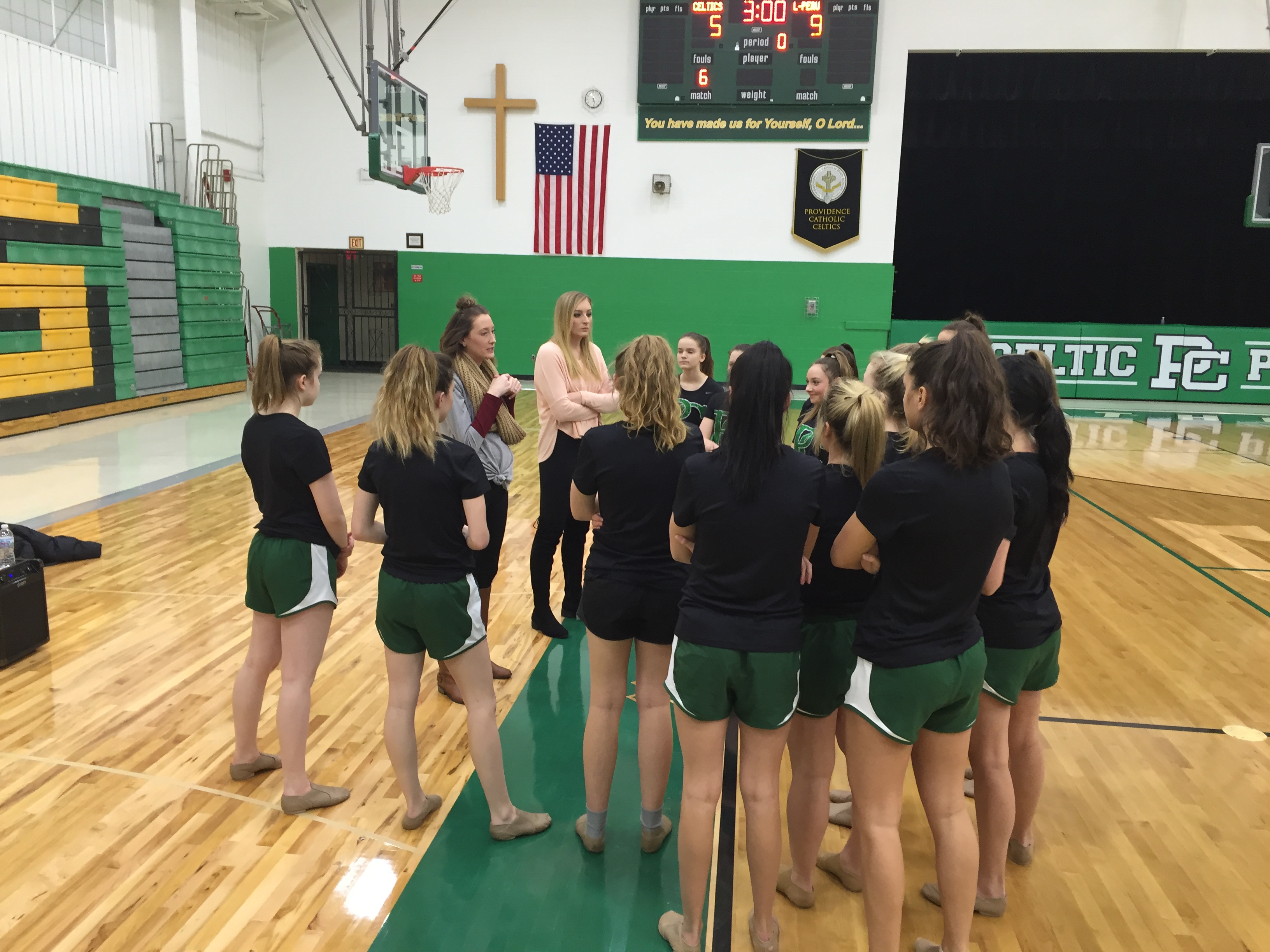 Practice is more than triples and secondes, as the PC Dance Team gets on the same page
Providence dance had lots of momentum in mid-January around the time I dropped by to watch them work. They'd just taken 2nd at the first-ever Catholic League conference comp, going up against some formidable teams. Then came that week of intense practices promised by Coach Coglianese as they prepped for sectionals. It paid off: the team scored 3rd at their sectional, earning Providence another trip to state.
I ran into Providence while sitting at the far end of the arena at state (the only angle that remotely makes any sense). The girls were their bubbly selves, quickly moving up and down the steep stairs back and forth as they took in the 2A and 3A action that afternoon. I could tell they were excited to show off their hard work.
Under the guidance of a couple new and enthusiastic coaches, women who don't hesitate to jump into the formation and fix individuals and entire rows of dancers, the Providence Catholic danced to a 21st place ranking on Friday night. No matter what the final ranking would have turned out to be, I'm pretty sure St. Augustine himself would've seen what I saw in this year's Providence team–a lot of truth, unity, and love. Link that to a roster full of underclassmen and energetic, skilled coaches, and this team is one you'll want to watch in the coming years.
A quick post-practice chat with the 4 seniors
Sophia danced at Company C where she took ballet and jazz. Her fave style is lyrical-contemporary.
Lilly studied at Encore Dance Productions and studied ballet, jazz, hip hop, and tap. She counts pom and jazz as her favorite styles.
Izzy (Isabella) took her classes at Dance Alive Dance Studio. Lyrical's her favorite kind of dancing, and she also studied ballet, jazz, and pointe.
Tyler is a fan of jazz dance. At Willow Street Dance Theatre, she studied ballet, jazz, hip hop, and tap.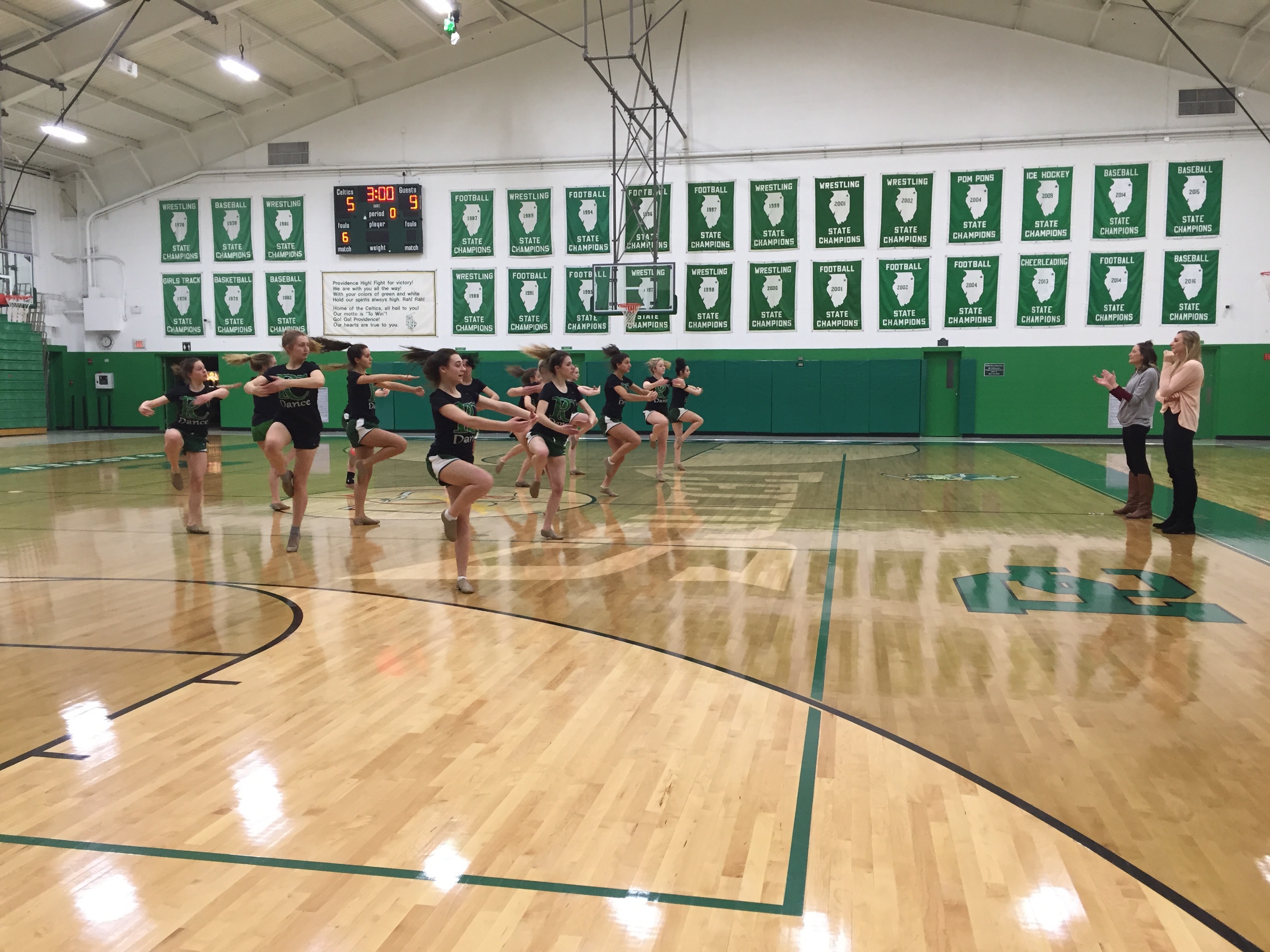 Coaches Coglianese and Hanson building a mental list of corrections for their team
What's been your favorite memory so far this season?
Tyler: Just all being close with each other.
Izzy: Yeah, we really bond as a team and even at school in the hallways, it's always nice 'cause you have people from other grades to talk to.
Lilly: Probably conference from last weekend, that was big stepping stone.
Sophia: I like our pasta dinners, and we have breakfast before our competitions.
Me: What's on the menu at the pasta dinner? I need to know.
Sophia: All [kinds of] pasta and cookies.
Lilly: Cupcakes.
Izzy: Cake pops.
Sophia: We love cake pops.
Does your team have any traditions on competition day?
Tyler: Saying a prayer together before we perform.
Sophia: We do the breakfast in the cafeteria or at the school that we're at.
Do you get a lot of support from your parents, are they like at every competition?
Tyler: They bring the big signs!
Sophia: We got t-shirts this year that have their names–our names–on the back.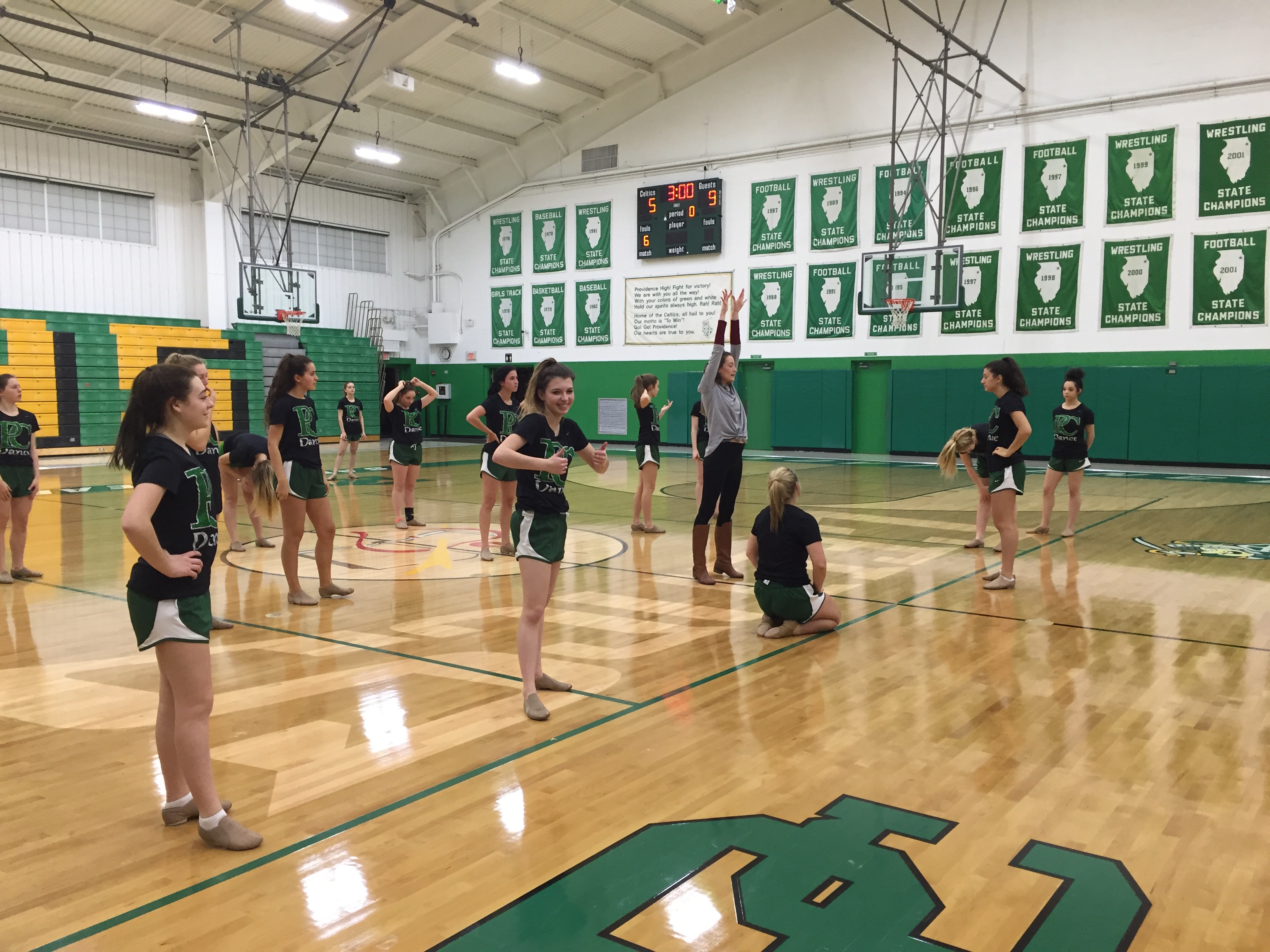 Coach C jumps into the formation and has the attention of most of her dancers
Tell me about your new coaches this year.
Izzy: It's been really nice, they show us how to do it and they tell us what we're actually doing wrong and how to fix it.
Are you guys fans of any other teams in particular?
Tyler: University of Minnesota (and the other three agree).
Sophia: We watch their routines a lot. Coach sends them on a group message.
Izzy: I'd have to say Geneva…
Lilly: Lincoln Way West is good, too.
Sophia: We wish we could hip hop like them. We kinda can't.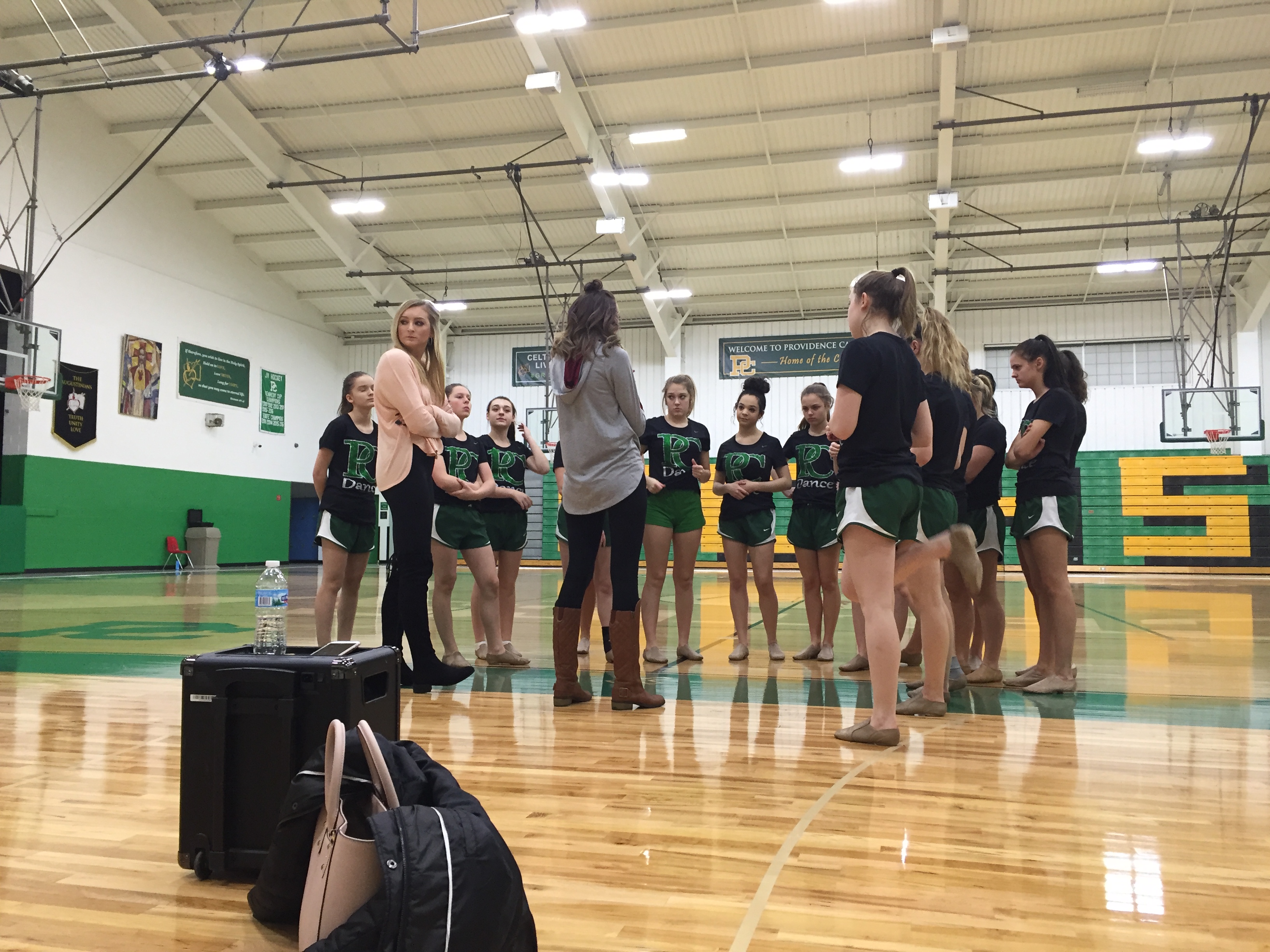 Everything you need for a good practice: water, phone, huge speaker, dance team, and nicely-accessorized coaches