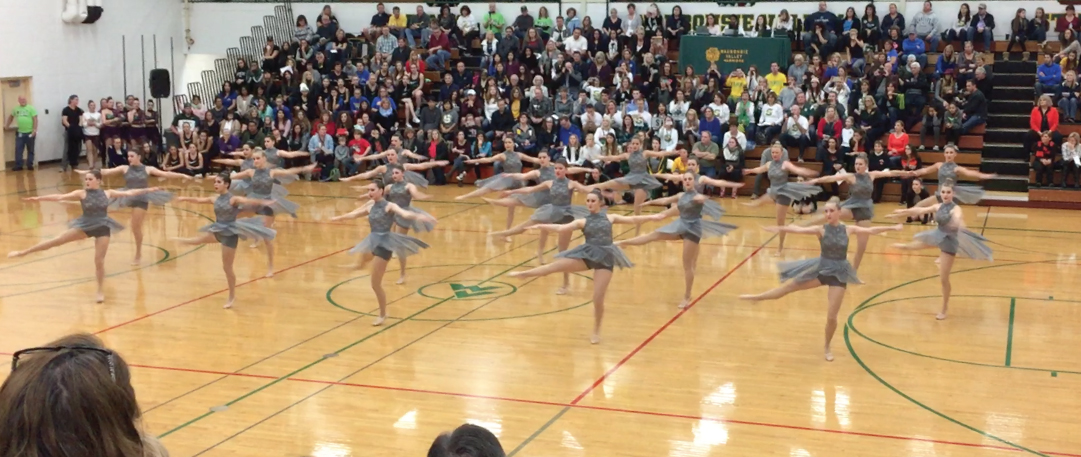 Team Feature: Stevenson
by Kaitlyn Winters, 8CA Staff Writer
The Stevenson Varsity Dance Team is a force to be reckoned with in the IHSA competitive dance 3A division. They made a strong mark in IHSA dance in 2013 with their unbelievable speech routine, and have not disappointed since. Stevenson has one of the largest high school dance programs in Illinois, having a freshman, JV, and varsity team that consists of 28 members.
Kristin Piekarski, the Varsity head coach, is an expert in what she does, having coached at Stevenson for 13 consecutive years. She is also a former alum of Palatine High School where she was a member of their Pirateers. The team's assistant coach, Laura Moschel, is a former Stevenson Patriette who now has a career in dance.
Having such a talented team begins at tryouts, where the girls must learn and perform two dance routines (jazz and lyrical), along with performing individual skills. For girls who are interested in varsity, challenging turns including quads and fouette combinations are required, along with many common dance skills such as leaps and strong flexibility for extensions.
While team members already dedicate an extraordinary amount of time to the team, most of them also attend studios in the area, including the Lincolnshire Academy of Dance and the Libertyville Academy of Dance. Having such dedicated dancers is really what makes their technical training stand out year after year.
Once the team is formed, they attend a summer camp at Star Performance Company at Carthage College. For the rest of the summer, they have practices that focus on ballet training as well as cardio/strength conditioning that will help them with stamina and dance skills for the upcoming season. Also during the summer the team hosts a tryout for members to audition to have a leadership role as a choreographer on the team that season. Every year seven girls are chosen for this job and meet every Sunday during the season to work on routines.
During fall season, the Patriettes support the football and basketball teams by performing routines at halftime and doing sidelines with the cheer team throughout the games. Spirit is a very important part of being on this team, but once winter season rolls around their main focus is on their challenging competition routines that consistently impress everyone in the audience. Every year, they have made the top ten in the 3A category at the state competition, and during the 2015-2016 season they received second place at finals.
It's clear that proper technical training is valued by the team, and they always have routines that touch everyone emotionally. Similarly, they are a team that is willing to take risks and bring things from the current dance world into the world of competitive dance teams–something other teams admire a lot.
Fun Facts: 
School Info:
Stevenson High School's colors are green and yellow and their mascot is the Patriot.
Team Composition:
Out of the large team of twenty eight girls, fourteen of them were seniors during the 2015-2016 season.
Teams they admire:
They admire Geneva and Neuqua Valley,  and have a good mutual support system with many other teams in their conference, including Libertyville, Warren, and Vernon Hills. They live by VP4L!
Special Skills/ Trademarks:
They are known for having a large team that always fills the entire competition floor during their emotionally intriguing contemporary routines.