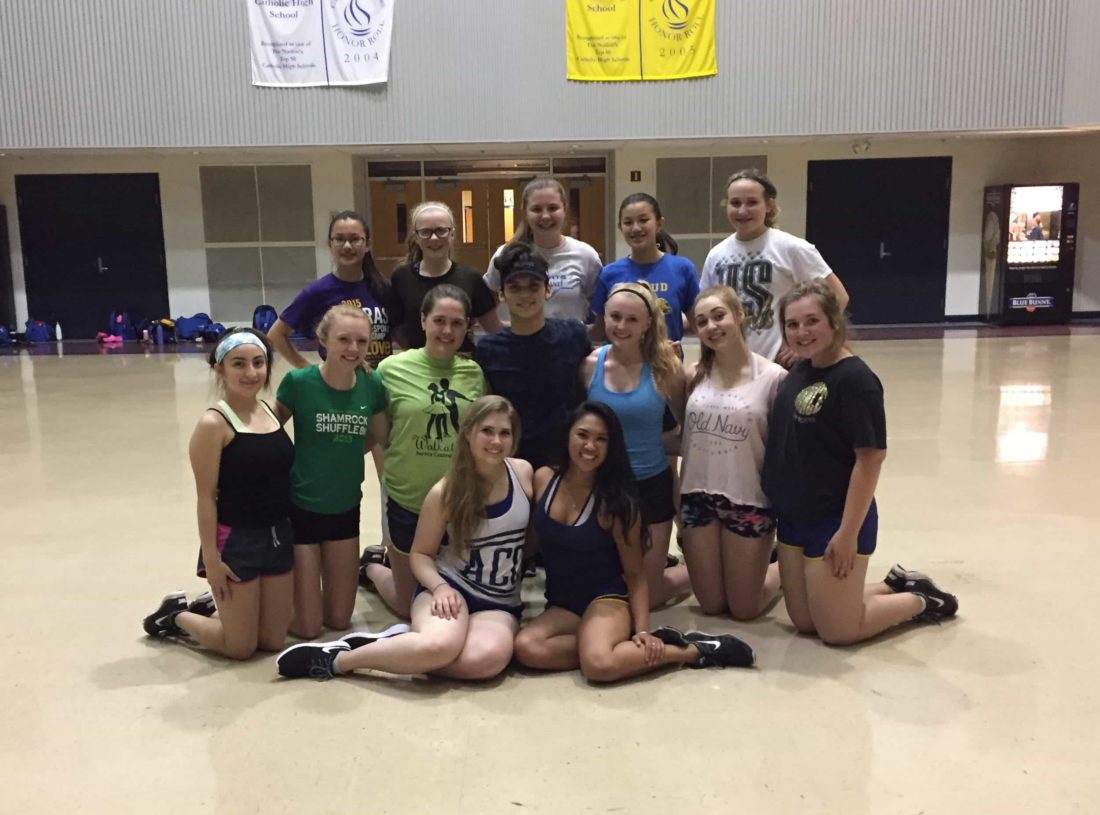 Team Feature Story: Aurora Central Catholic
We'll all have busy Sundays during comp season, but the ACC Dance Team started hitting Sundays hard in the spring.
by Norm Ramil / 8ca.music.person and dance.fan
"Tonight's the first time the whole team is all together at a practice," Coach Terri Varney tells me as her team starts 40-minutes of stretching and warmups. We're in Aurora Central Catholic's "cafetorium," a hybrid theater-lunchroom.  Up in the balcony behind the rails are racks of theater lighting and a sound mixing board, and flanking the dance floor are vending machines and trash bins. When you're a 1A school, each space in the building needs to serve at least a couple purposes.
It's 6pm on May 31, kind of a long way since the ACC dance team held its tryouts back in March. They spent their spring Sunday practices mostly on conditioning. But this week's been the real thing, with the dancers learning the choreography for their UDA home routine as they kick off summer break. And they've got to work quickly because their NIU camp is in just a couple of weeks.
Coach Varney (now in her 8th season) explains one big change for this highly accomplished program. "We're down to one team this year…we lost six seniors plus another didn't return, so we couldn't justify having a JV." Losing half the team to graduation was hard, but they do have five varsity returners. Four more dancers have experience from last year's JV team. Five of the 14 dancers have some studio training, alongside one girl who used to competitively cheer.
The roster gets even more adventurous when you notice all the freshmen on the list, making up a big chunk of the team.
"No pressure but tomorrow is two weeks from camp," Varney calmly informs her girls as they stretch. "That is so much pressure," one of them playfully replies.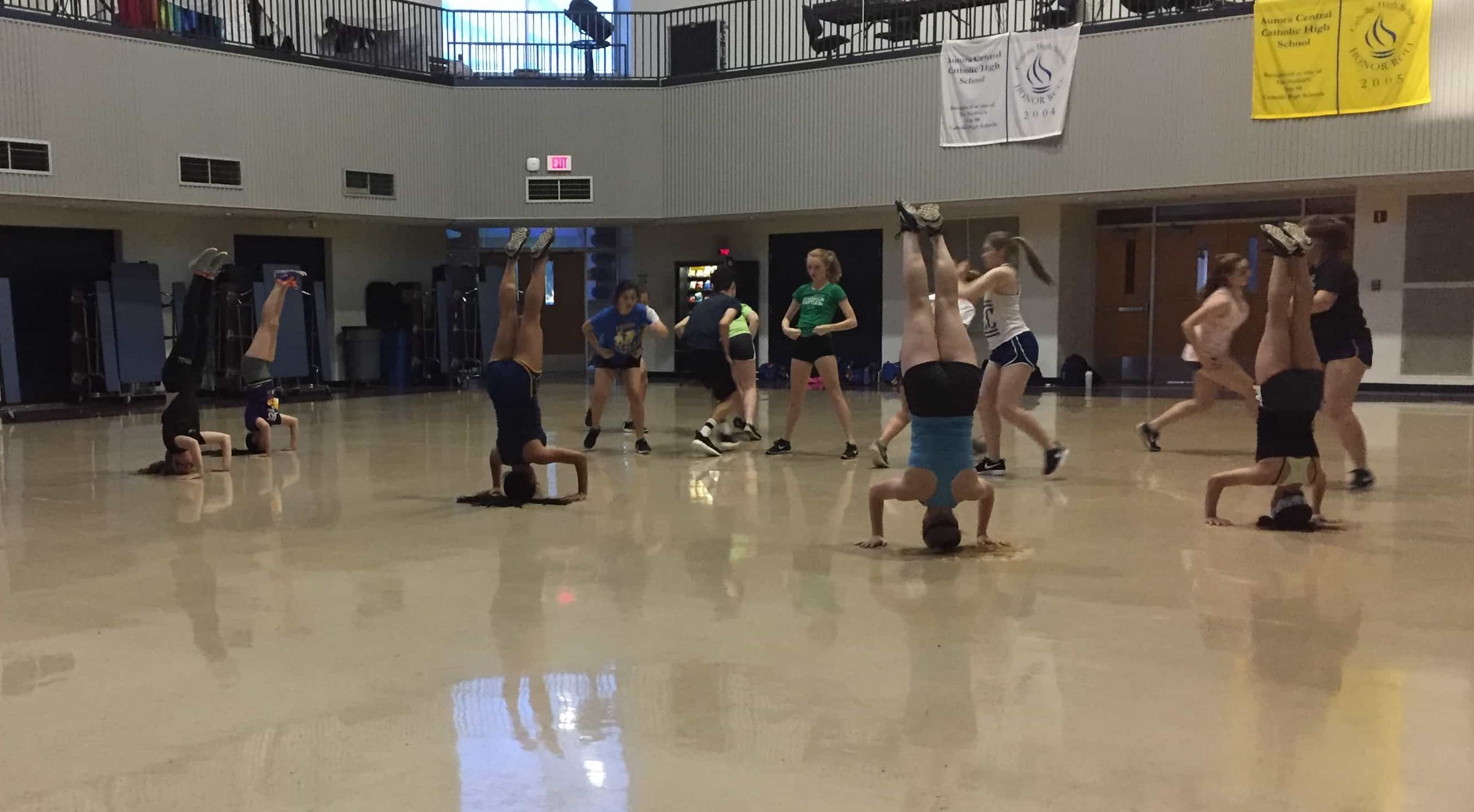 Coach Varney, a veteran UDA instructor, started her Aurora Central Catholic journey when she stumbled on a posting for an assistant coach vacancy years ago. She's got a couple choreography principles that I really appreciate: hide what needs hiding, and pick music that's a little bit outside of the box. That includes one routine I personally loved, the "Time For Me To Fly" lyrical from a couple seasons ago. "The girls really fought me on that one, but the judges and you loved it," recalls Varney.
An alum of (Ottawa) Marquette High School, Varney studied dance at Northern where she earned her BFA. Besides her choreography, she impresses me for a couple other reasons: she works for the American Red Cross in Chicago and then makes the challenging commute to Aurora to coach her dance team.
She also has "an obsessive approach to musicality and formations" as she choreographs her teams' dances, which always stand out to me on those long competition days. "We want to be original or else we'll get compared with the other big 1A teams."
Like rhinestones? Not as much as she does. Part of Varney's choreographic vision is an eye for costumes and a passion for the tedious work of rhinestoning the dresses.
She can count on the leadership of her two seniors, Hanna and Claudia. "They're so enthusiastic, especially when they realized it was their team. These girls have some big plans." Even though it's the start of summer when I visit, I can totally see that the two seniors love their new role.
The lighting's kind of mellow in this room, so you've got to stay focused and not zone out during these evening practices. As the team works on their hip hop home routine, Varney casually announces, "Watch out for nails on the floor." (Yup, I do some some tiny nails leftover from some kind of set build for a play). "Eww…I thought you meant human nails!" says one of her dancers.
The team just learned its home routine for camp the day before, so tonight is all about reviewing. Sometimes they partner up to work out any differences in timing and angles. Other times they do group work or rotate lines to make sure everyone gets a turn up front. When it's time for a water break, a dancer asks if they could do that section of choreo one more time because "we're close to being decent!"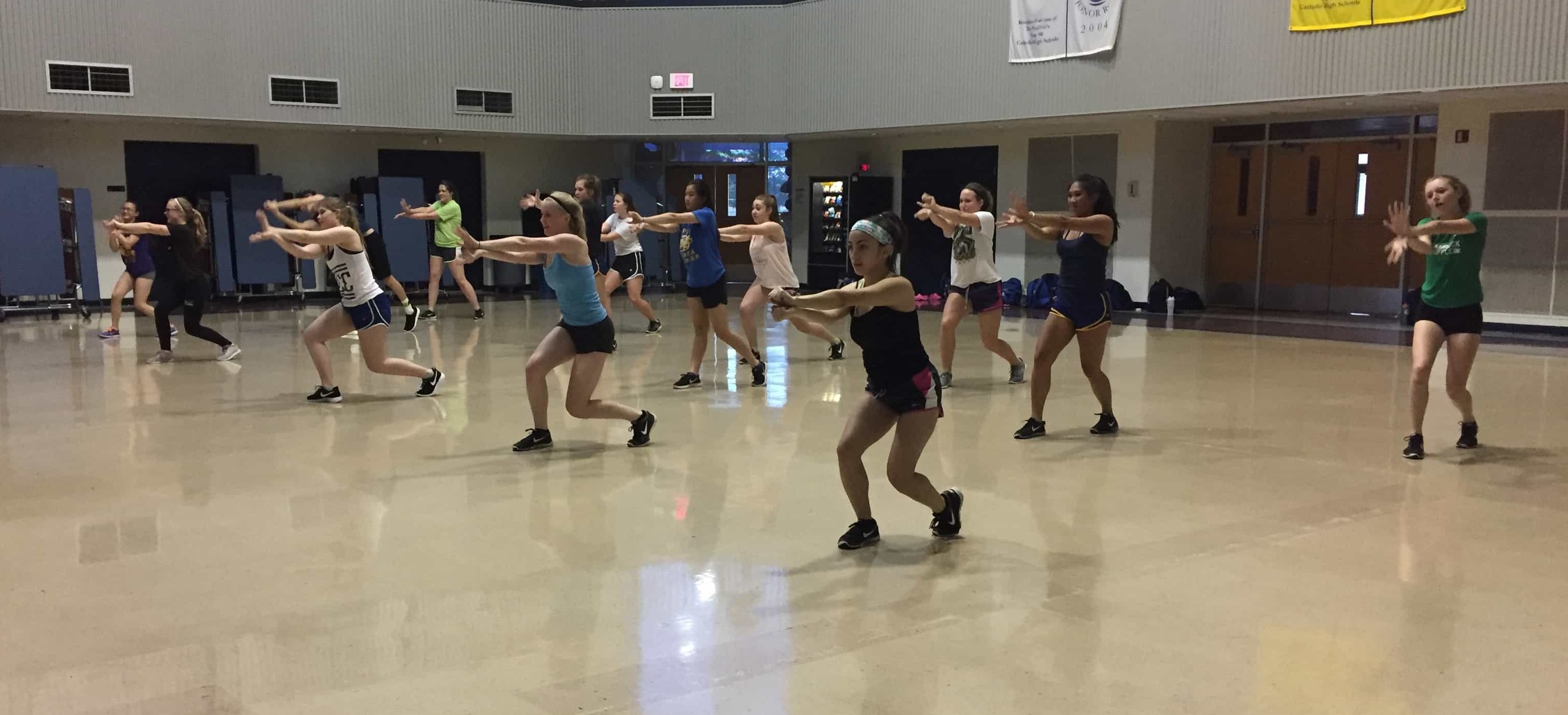 So yeah, they push hard to get where they want to go. It even applies to snacking (during that the water break I see a dancer pounding on one of the vending machines in the back, making sure her food really does make it down to that little door on the bottom).
Speaking of, this room's nothing like the gym across the hall. When you're a 1A dance program, sometimes you've got to improvise. Coach Varney tells me that one girl laid out some tape to mimic basketball floor lines.
Besides dancing in the cafetorium, the ACC dance program has a couple other quirks. Coach Varney drives the minibus to competitions, which gets interesting when she has to drop the team off for registration so she can go park the thing. The dancers practice on Tuesday and Thursday nights and Sunday afternoons. And being a private school, the ACC dancers aren't just from Aurora (check the captains interview below).
The team's small enough where it's easy for anyone to speak up and help her teammates. Someone yells out to focus on spacing; another one wants to pick up the energy. Anyone with music training can hear the syncopation in this routine's music, and being a musicality-obsessed choreographer, Coach Varney makes sure her dancers savor the counts that have the accents. "Don't anticipate this part," she warns them. Finish that count before going to the next one.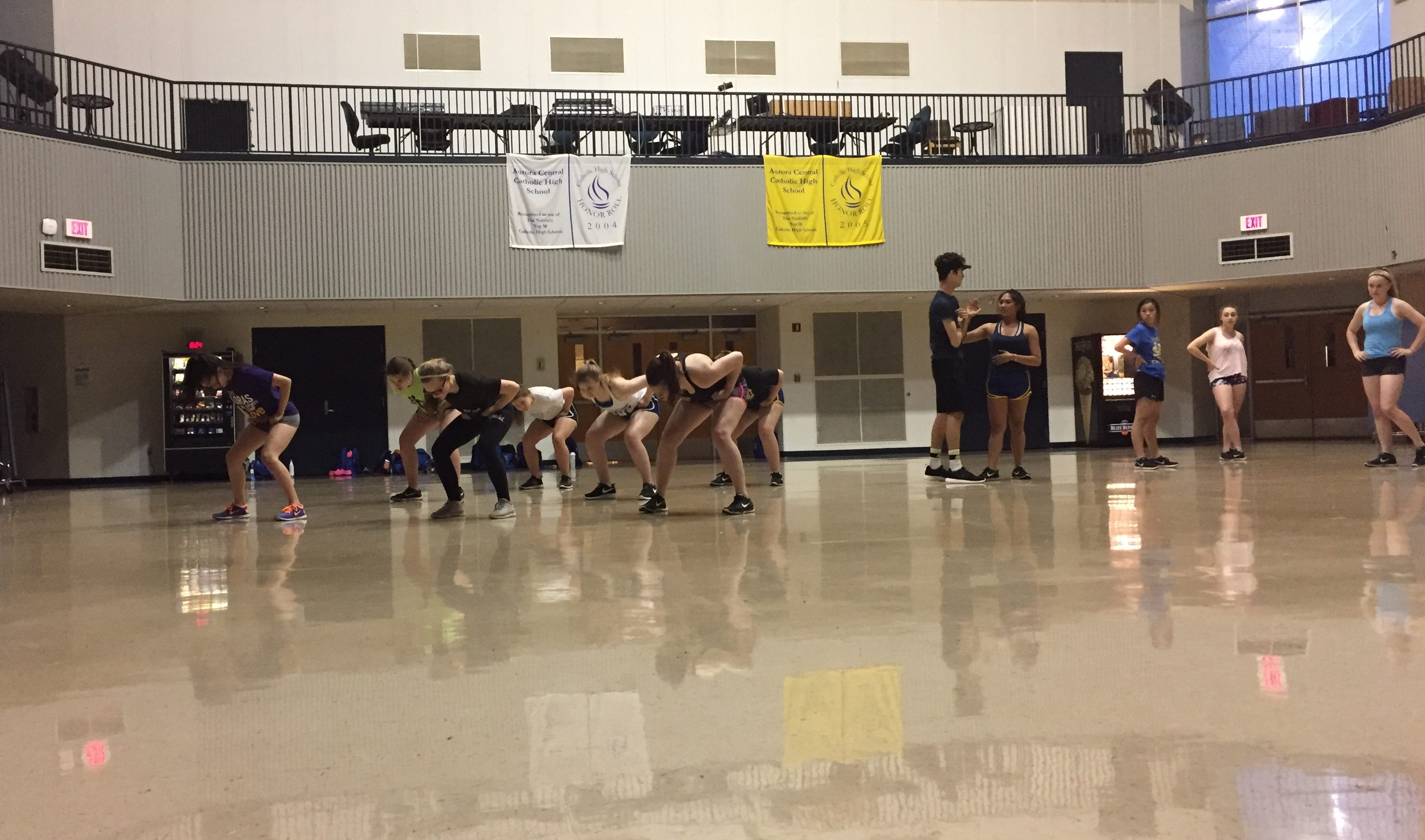 One thing I'll always remember from that first practice with ACC is…well, the end of it. We walked out at 9pm, and there was more than just a hint of daylight out there. That's when I knew it was legit summer.
Aurora Central Catholic at State
IDTA 1999: 4th in A Dance
IDTA 2002: 4th in A Pom Dance
IDTA 2003: Champions in A Lyrical, 5th in A Kick
IDTA 2004: Champions in A Lyrical, 3rd in A Kick
IDTA 2005: Champions in A Hip Hop, Champions in A Lyrical
IDTA 2006: Champions in A Hip Hop, 3rd in A Lyrical
IDTA 2007: Champions in A Hip Hop, Champions in A Lyrical
TDI 2007: Champions in A Hip Hop, Champions in A Lyrical, 2nd in A Open Dance
TDI 2008: 2nd in AA Open Dance, 2nd in AA Hip Hop, 3rd in AA Lyrical
TDI 2009: 3rd in A Hip Hop, 2nd in A Open Dance
TDI 2010: 2nd in A Hip Hop, 4th in A Open Dance
TDI 2011: 3rd in A Hip Hop, 2nd in Lyrical
TDI 2012: 6th in 2A Hip Hop, 3rd in 2A Lyrical
TDI 2013: 2nd in 1A Hip Hop, 3rd in 1A Lyrical
TDI 2014: 2nd in 2A Hip Hop, qualifier in Open Dance
IHSA 2013: 12th in 1A
IHSA 2014: 11th in 1A
IHSA 2015: 8th (Day 2) in 1A
IHSA 2016: 4th (Day 2) in 1A
IHSA 2017: 8th (Day 2) in 1A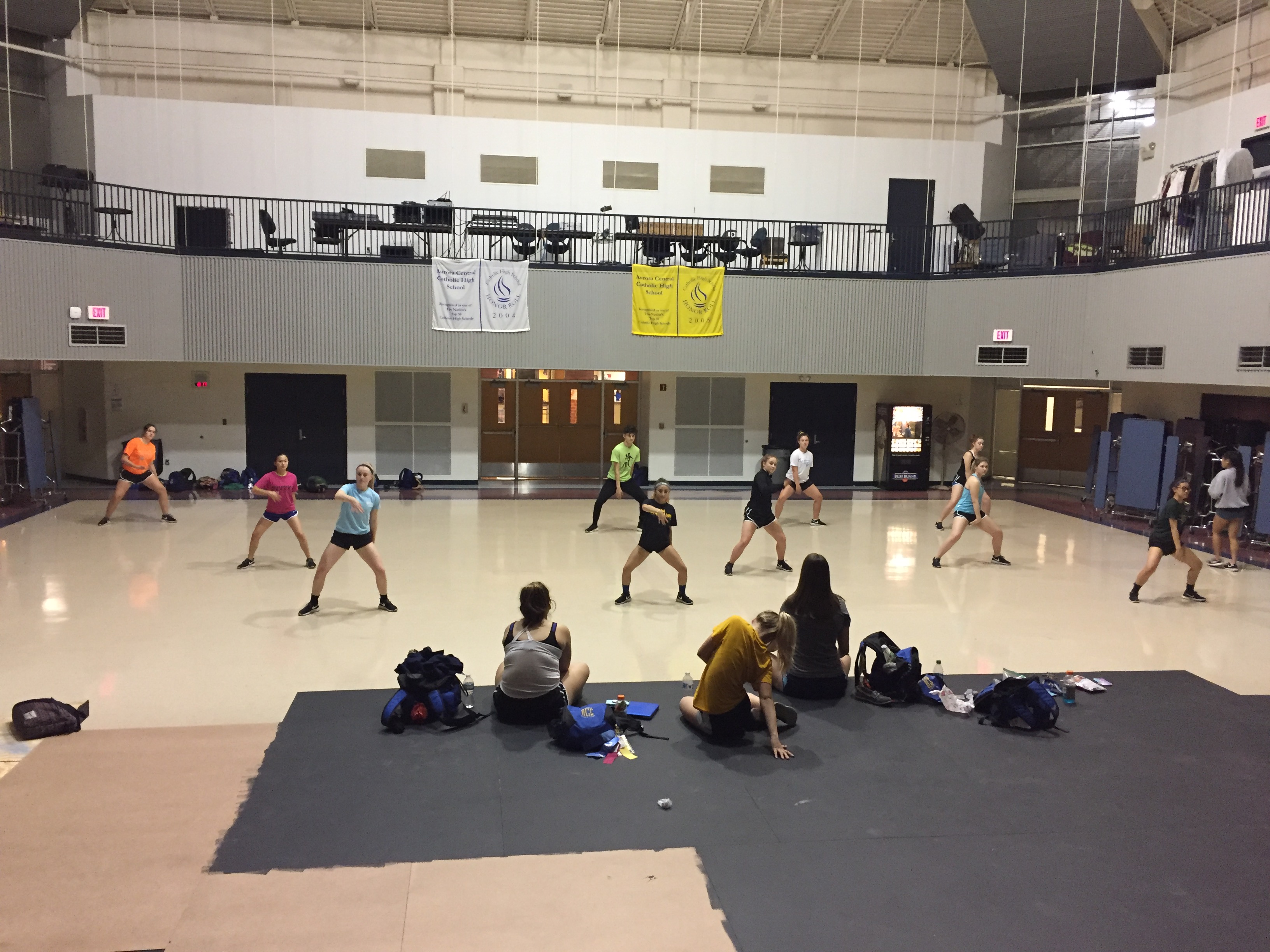 My next time here is October 5th, and weirdly, the weather's pretty much the same tonight as it was when I first met the team on May 31st. This time Aurora Central Catholic High School is busy with a volleyball game in the gym across the hall. In the cafetorium, the ACC dancers are about to start some technique drills.
"Kids who couldn't turn three months ago can do it now," Varney proudly tells me. Whatever they did during the summer, it's obviously working.
Senior Hannah leads the turning drills from the edge of a temporary stage that takes up a big chunk of their floor.  One girl asks her to watch out for dipping legs on the turns in seconde. "It happens when we get tired," she explains to me. "Think about your facings on each part of the rotation. It'll help your landing so much,"cautions the talkative senior.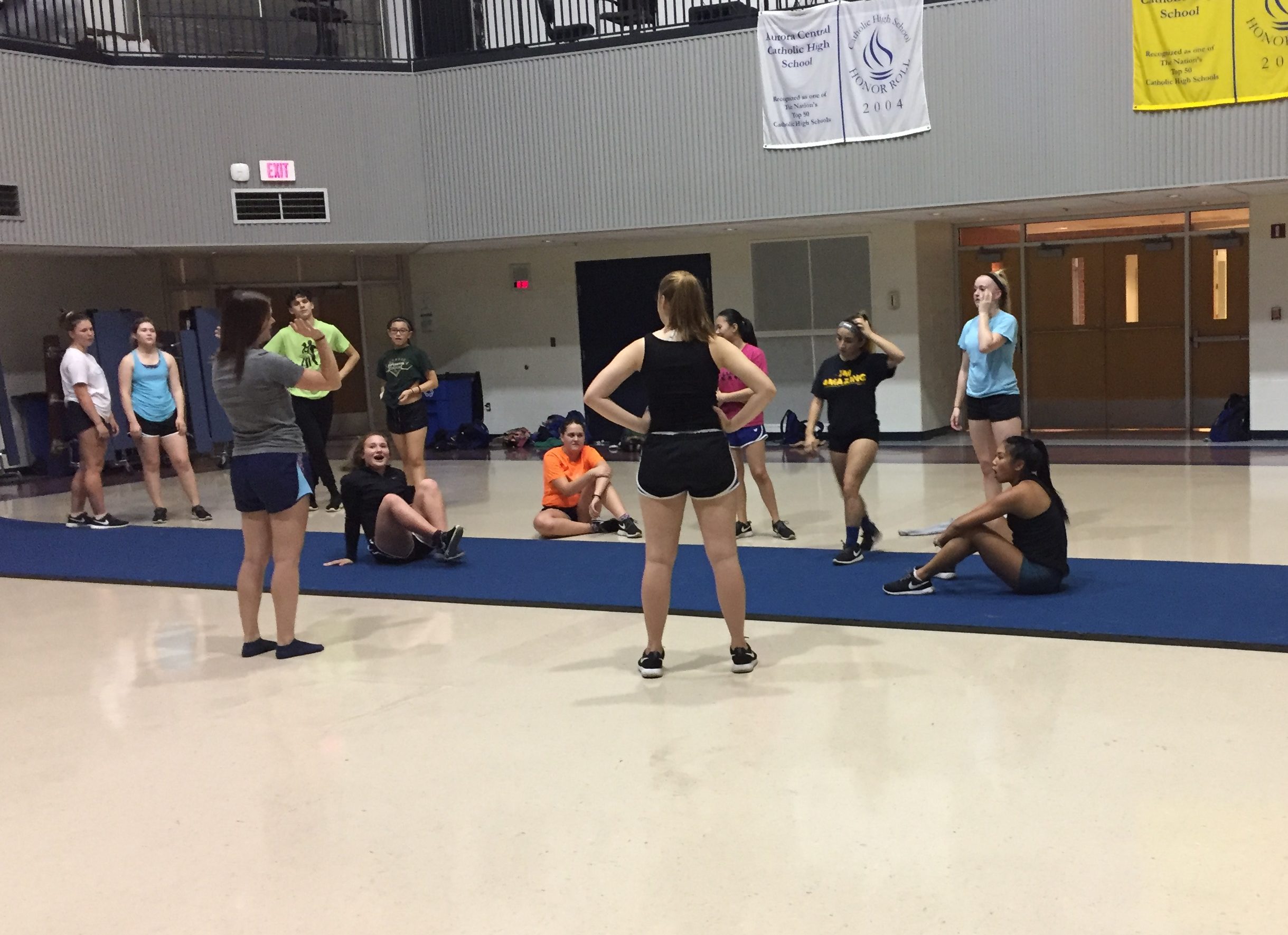 Meanwhile, Coach Varney and a dance team mom hover around one of the girls. She models one of the newly-arrived costumes, and the three are meticulously going over every part of the dress to decide on alterations. A little later, Varney enthusiastically tells me about how she can't wait to get the stones onto these costumes.
It's been a typical fall of football games mixed in with their Sunday-Tuesday-Thursday schedule. The team also just had a team photoshoot the week before. Tonight they're focusing on a routine they're doing for an upcoming Thursday night volleyball / pink game, something that works well for them since they'd just have to stroll from practice to the gym across the hall to perform it.
Despite the noise from the gym, this room's got a chill atmosphere, no drama or excessive personalities to get in the way of real work. I like how that hasn't changed since the last time I was here, seemingly forever ago.
After running through that pink routine for half of the evening, the ACC Dance Team unrolls a cheer mat (yeah, in a room made for lunches and school plays) to work on hip hop tricks. One girl keeps it super real by working on her stuff off of the mat. Other teammates figure out how to improve their headsprings and tumbling runs, and equal portions of feedback and laughter bounce around the room.
Dancing from March through February is kind of old school, the way dance teams across the state used to operate. Aurora Central Catholic basically dances all year, a pretty joyful way to spend most of your 365 days. They even dance across most of each week. It makes sense, because when you're a 1A dance program, you'd better love what you do and show it by doing it all the time.
Their state dance resumé says a lot. I feel like it shouts at me every time I see them take the floor.
Add-in some enthusiastic senior leadership and a coach who knows how to maneuver a mini-bus around a crowded parking lot, and you've got the makings of a fun and spectacular dance season—really, a dance year.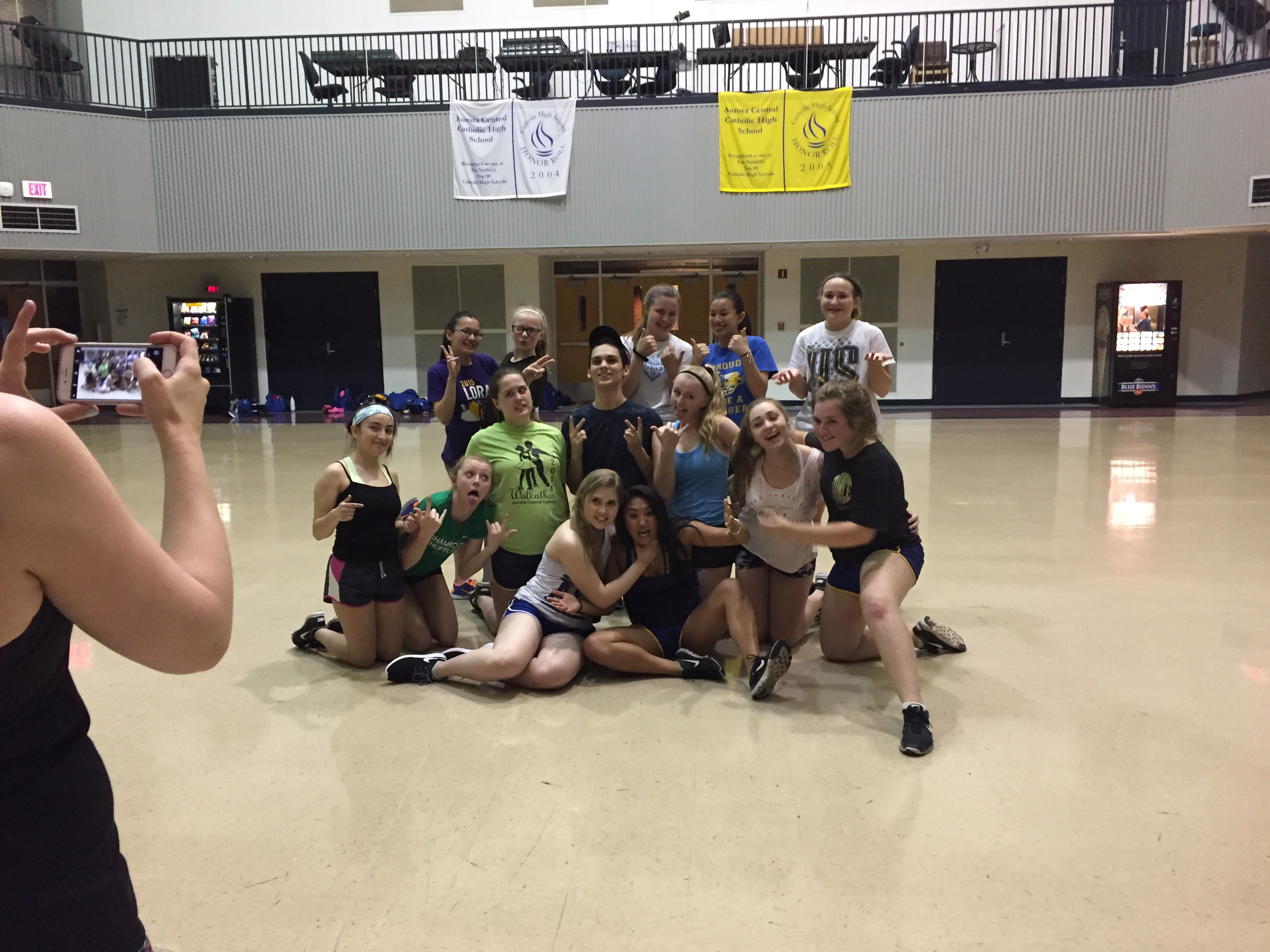 A start-of-summer chat with the captains
I got to throw a few questions at seniors Claudia and Hannah and junior Julia
What's it like to dance at a small school?
Julia: I personally think it's really cool because we get so close because there's fewer of us [and it's] a smaller environment. We go through the difficulties of not having some of the nice space that other schools do, the bigger schools. We do a really good job adapting to that space. We make a lot for how small we are.
Hannah: Definitely. I believe in our struggle. I don't mean to be like, "Oh we're super cool, we don't have anything." But we've always thought of ourselves as the comeback kids. We never really had much, and it was like we were always asking our principal, "Oh can we have more recognition?" And we do because I feel like we deserve it for how hard we work.
Claudia: It's really nice because like [Julia] said we get closer, and like [Hannah] said, the struggle, I think that kind of summarizes it. The struggles make us a lot stronger and then we work together so we bond.
What's your favorite style of dance to either perform or watch?
Hannah: I just like watching contemporary, but that's not, like, us. I always thought of us as a hip hop team, but we've been more transitioning to a jazz team, which is cool because I like seeing the different things we can do and adapt to.
Julia: My personal favorite [to do] is contemporary. I love contemporary so much, but then hip hop is a close second. I think it's really fun.
Claudia: Competitively I started with hip hop so my heart is with hip hop. But I love watching contemporary.
Julia: 'Cause contemporary is a mix of all the styles and I love that. I love the hard hitting, and it can be fluid and soft and pretty, but it can also be strong and dynamic.
Hannah: I also really like modern. It's like almost contemporary but it's not contemporary. I feel like some people can really hit it…if they have the movement for it. So I think if you have that, that's really cool.
Claudia: You have to put yourself in it, everything you've got.
Do you guys have a technical or studio background?
Hannah: I didn't for awhile. When I was little, I took classes for a little bit and then I hated dance. My mom would like bribe me to go to classes. She would say, "This is something that looks like is really fun for you," but I like hated it because I thought I wasn't good. And then I found people who loved it, and I was like, "Oh that's really cool that you can find people through it, and it makes you feel confident in that."
Julia: I started when I was really little, like 2 and a half, at Dance Encounter in North Aurora. Then I switched to Moves Dance Studio in North Auorra as well. And then just recently, I was on Soleunique Dance Company, but then I went to dance team for high school.
Claudia: I was at Goldstar Academy of Dance and I don't think I've really gone anywhere else. It's in Yorkville. I like it a lot.
Are you guys all from Aurora?
Hannah: I think I'm in Oswego.
Julia: I live in North Aurora but it's basically the same thing.
Claudia: Yorkville…woo!
What are you looking forward to about camp?
Julia: Everything!
Hannah: I really really want us to get close. We've never had just one team. There's so many freshmen, it's a weird age gap…it's awkward because…
Julia: 'Cause there's no sophomores either. It's just us seniors, juniors, and then the freshmen. And as captains we really wanna try to get close with them and just show them how fun dance team really is.
Claudia: [Almost] half the team is freshmen.
Hannah: Exactly.
Julia: Because they're gonna be the future of the team so we want to introduce them and make sure they stick around.
Claudia: Like, "Please stay."
Hannah: And there's like 2 of us, there's 2 seniors [speaking to Claudia]. It's weird as a leader.
Claudia: We're like, "Come on, kids!" Yeah, it is weird.
Do you have other teams you're fans of?
Hannah: Andrew.
Julia: Andrew…
Claudia: Lake Forest.
Julia: …and I also look up to Morris…they're a 1A school as well so they're really tiny but they're so amazing. Just their form, their technique, their power, their expression, everything.
Hannah: I think their performance is amazing, too. They know they have the talent to do it, and they execute.
Julia: And also we really look up to Eisenhower in 2A hip hop. They are so amazing.
Hannah: And they have passion when they dance.