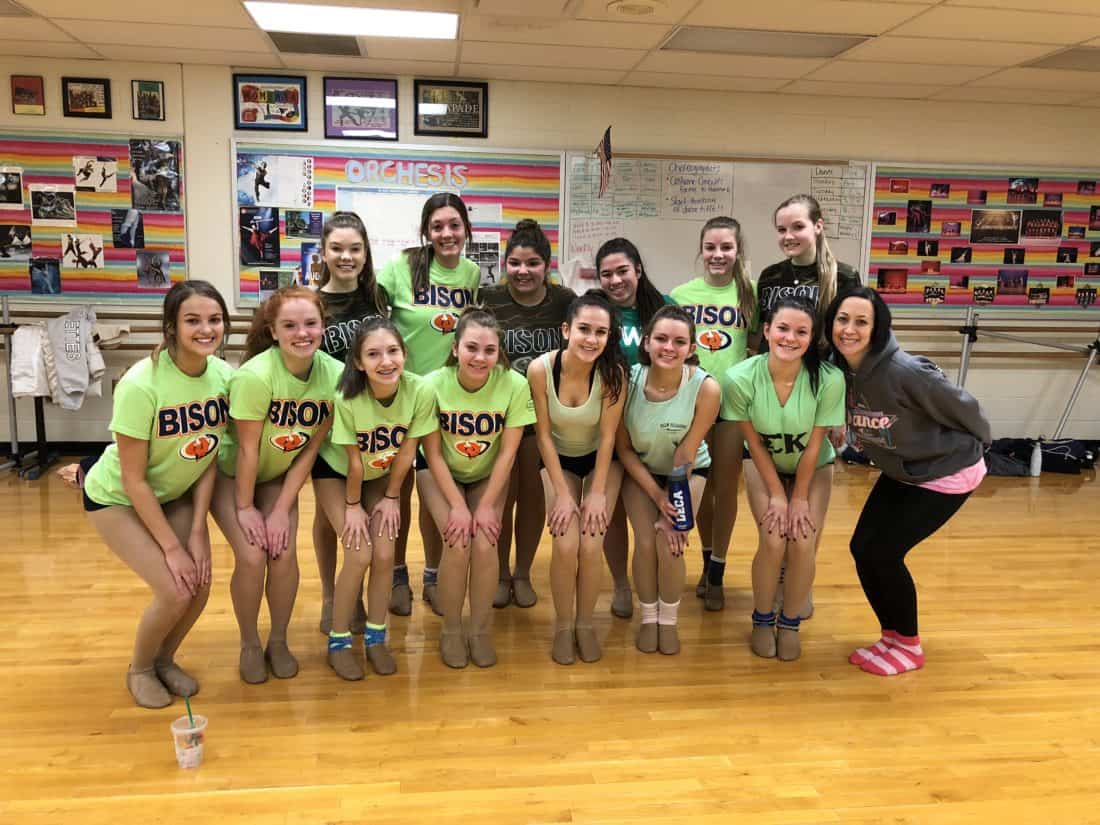 Team Feature Story: Buffalo Grove
What I learned on a visit with the Buffalo Grove Bisonettes
by Norm Ramil / 8ca.music.person and dance.fan
Coach Allison Parker and two dance team alums are up front leading 13 dancers. It's a Tuesday morning and we're in the second week of winter break.
We're in a downstairs dance room that the team shares with orchesis. It's got a wood floor, a full mirror in the front, and barres in the back. Ballet vocab words line the top of the mirror. And while it's hovering just above zero outside, the BG dancers have both fans going so that the room doesn't get too toasty.
…changes to a couple sections of their competition pom routine. A specialist is set to come in in a couple days, so it's important that the team figure out the new parts and have them as clean as possible.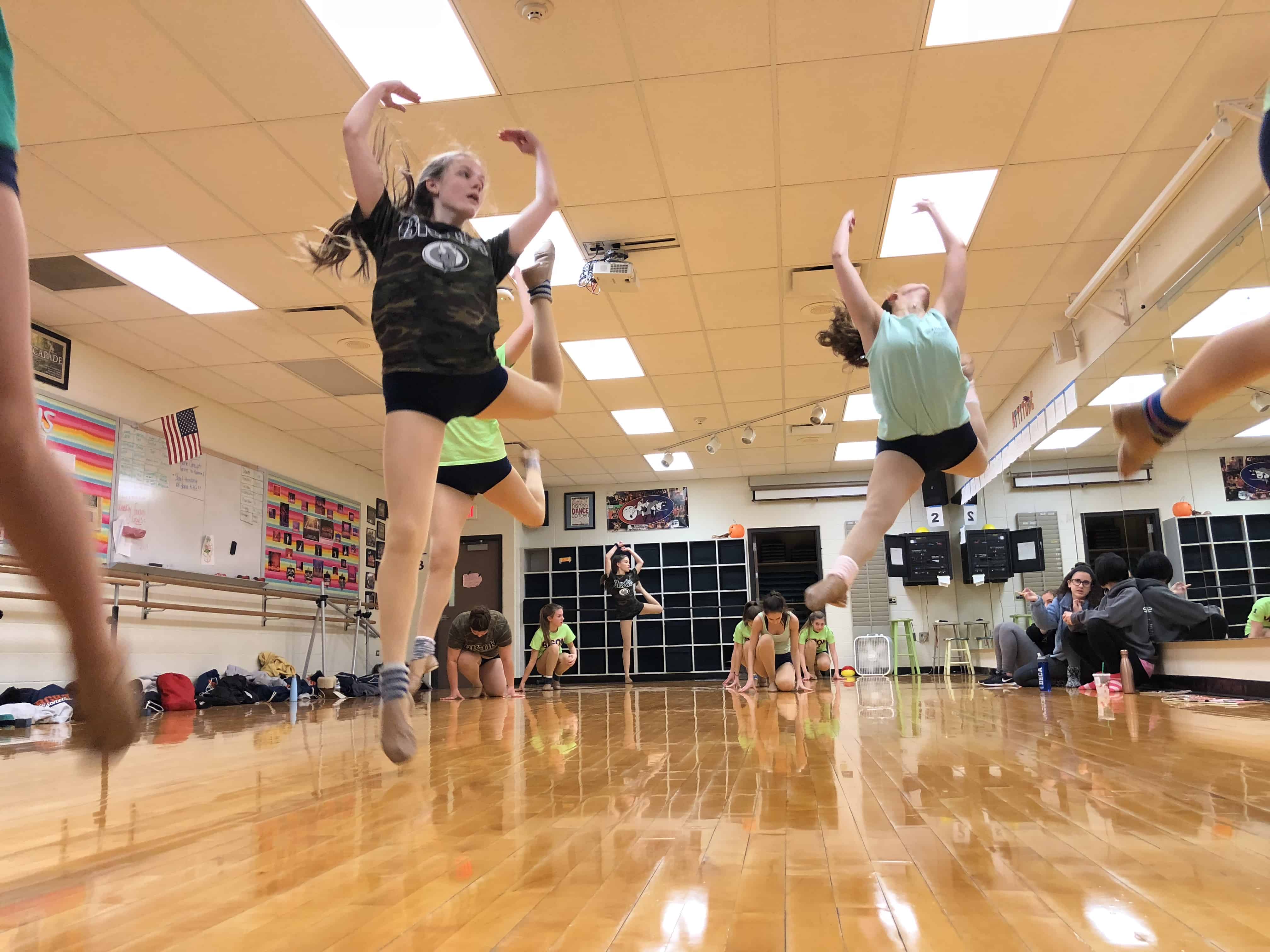 The team tries out ideas offered up by the girls and Coach Parker. Either way, they always make sure that the most impactful hits fall on the right counts. After the team finalizes the new stuff, the girls run that section in groups. Each dancer has a notebook to write down corrections.
"You can call a turning disc a tursc!" — a team member
"Can we do it twice so we can get the alternates in? Sorry guys, I had to…" — Emily, captain
"All those cookies, that food, the pie…" — Coach Parker, commenting that it's their first practice in awhile and it shows
 "One and done, girls. You got this. Thank you for working so hard today!" — one of the captains, just before the last run of the practice
After their guest comes in to help upgrade their routine in a couple days, the girls will do the team's holiday gift exchange. The day after that is a cleaning day! As for right now, JV comes in to take over the dance room for the next two hours.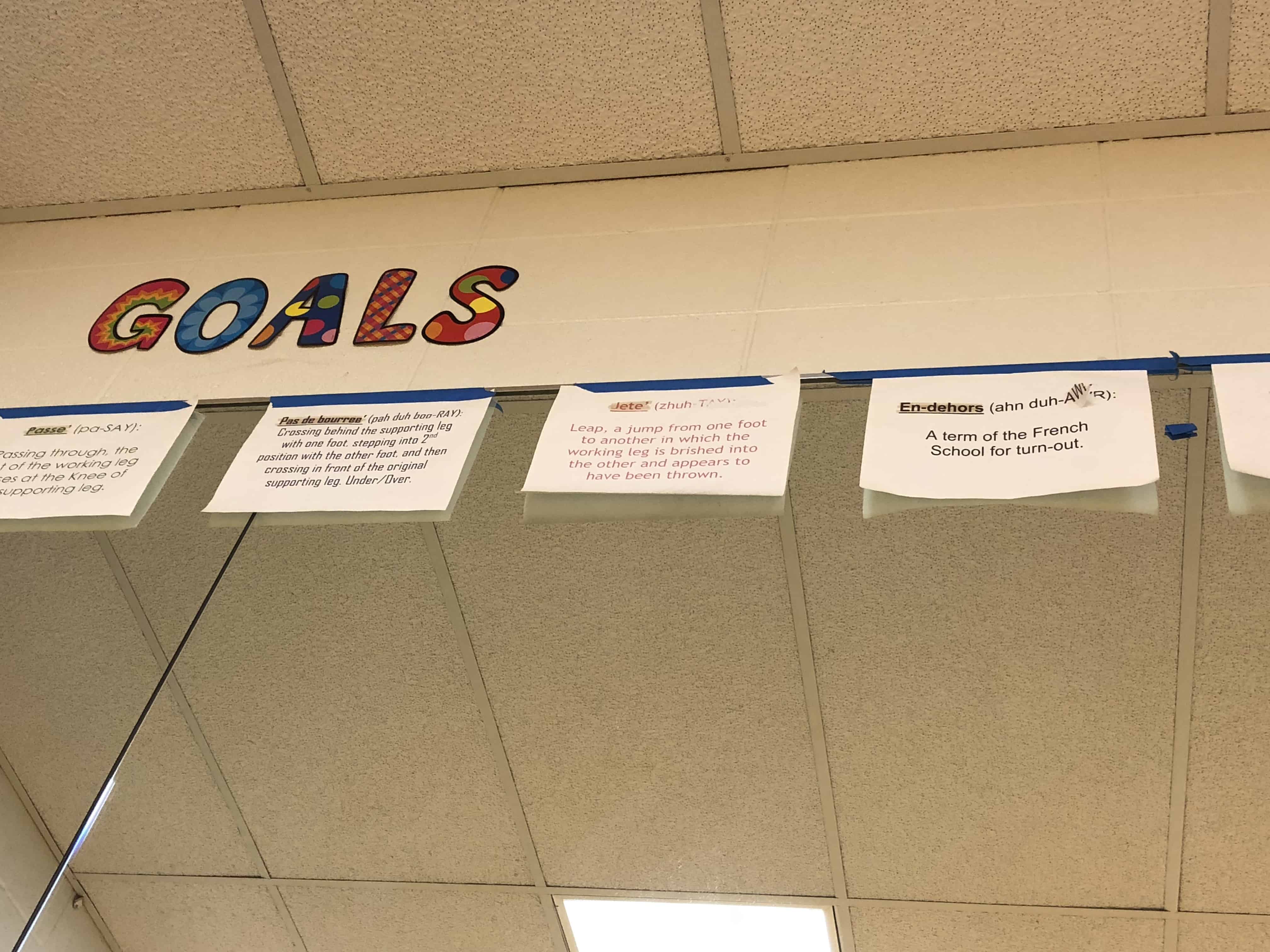 IDTA 1984: Pom (Superior Rating)
IDTA 1991: Kick (6th)
IDTA 1994: AA Kick (3rd)
IDTA 2011: AAA Pom Dance (4th)
IDTA 2011: AAA Kick (5th)
IDTA 2012: AAA Pom Dance (6th)
IDTA 2012: AAA Kick (3rd)
IHSA 2013: 3A Day 1 (29th)
IHSA 2015: 2A Day 1 (14th)
The rest of varsity gathers their stuff but Erin, Emily, Shannon, and Coach Parker stick around for some dance chat.
Tell me about your dance backgrounds…
Erin: I've danced at Christina's Studio of Dance since I was 4 years old. I took all sorts of classes: ballet, tap, jazz, and hip hop sometimes, and I took one leaps and turns class. That's basically what I did until high school.
Emily: I've been dancing since I was 2 at Arlington Heights Park District. And then when I was about 5th or 6th grade I started dancing at Megleo's School of Dance, and I started poms. We actually got 3rd in state…I think Shannon was on that team, too, for our Megleo's dance team. I've done ballet, tap, jazz, lyrical, contemporary…just about everything.
Shannon: Same for me, I started when I was little at the park district. I took all types of classes. Around, same as Emily, 5th or 6th grade, I started at Megleo's School of Dance. I mostly did poms there, and then did some jazz, lyrical, and then leaps and turns.
Favorite style of dance to perform?
Erin: Definitely pom because it has the most energy and it's so fun to watch
Emily: I'm also pom, it's so energetic.
Shannon: Pom, yeah.
Norm: What about to watch?
Shannon: I like hip hop.
Coach: I like to watch hip hop, too. But performance wise…
Erin: …we've mostly done pom. We're not, like, a hip hop team.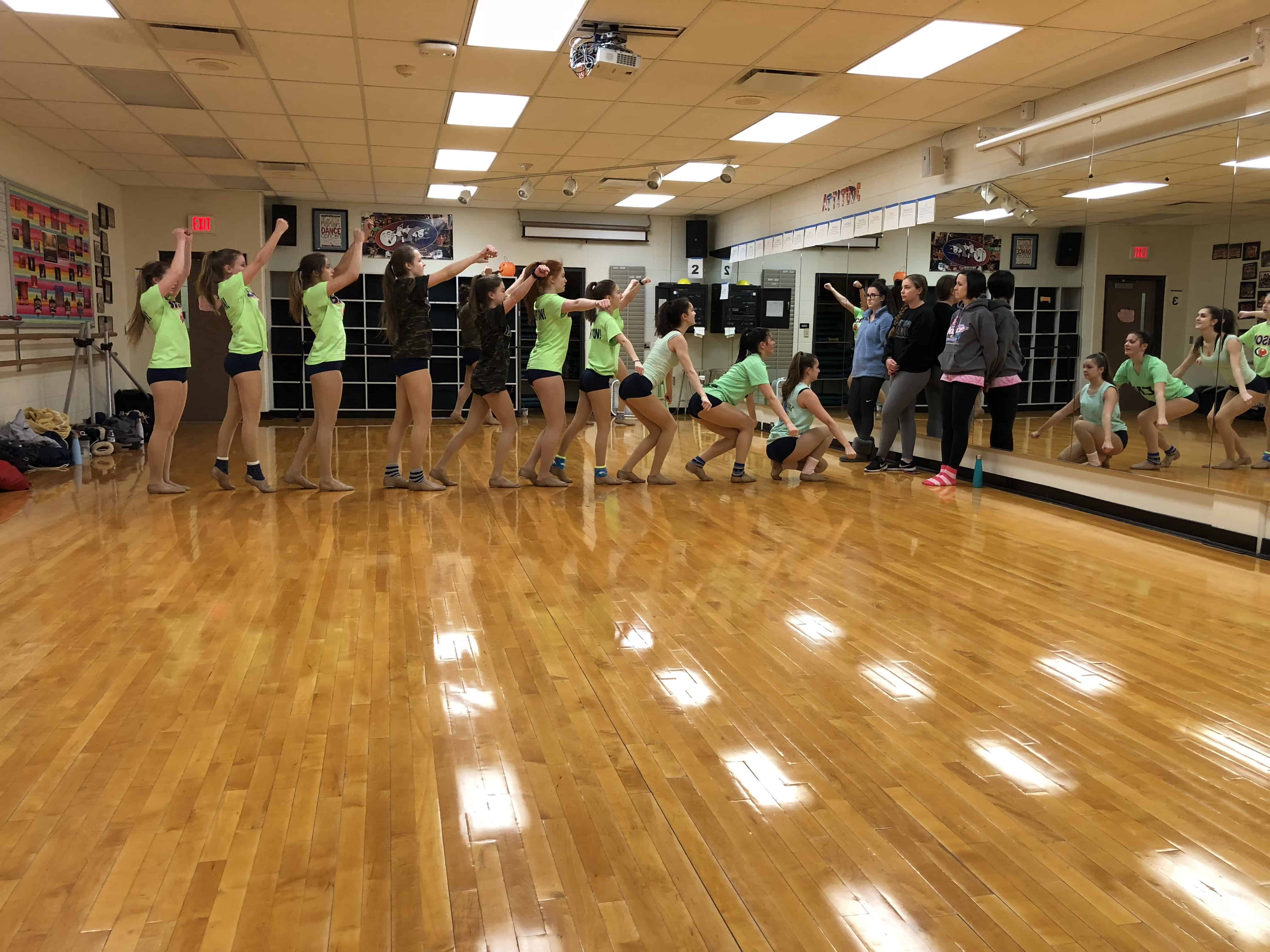 What's one thing you'd like the rest of the dance community to know about you guys?
Coach: It's always been our motto because we've been small for quite some time: we're small but mighty. I always feel like we sometimes get underestimated. I feel like we've got a lot of fire behind us.
Erin: And what I like about this team specifically this year is that it's mostly underclassmen and they all just moved up from JV. So it's cool to see how much they've grown from football season until now, because you can tell how much better they've gotten because of their hard work.
What's the best part about being on this team?
Emily: It's more like a family than a team. We're all really close even outside of poms. We all hang out.
Erin: Not a lot of drama.
Coach: We've been very drama-free this year. I think it helps, though, having three captains. They've been with the program for a long time, so I think that they've seen other captains go through it and know what they want to be like and don't want to be like. They've had some where they're like, "Yeah, I really want to be like that," or others where it's like, "Ooh, I think we need to treat the team a little bit differently so that everyone feels valued." I think that's where it starts, with the captains.
Emily: And we always say our freshman year, we were all three on varsity, and we did make it to state, and we always say that we're like those captains. I'm kind of like the "meaner" one, like the bad cop. And then Shannon's the one who keeps the mood up. And Erin, she can be bad when she wants to be bad but she's also nice too. It's a very good mesh of all of us.
Norm: I did pick up that you can be the bad cop…
Emily: Because sometimes the girls need a little kick in the butt to keep working.
What are some other teams that you admire or look up to?
Emily: Lake Forest, obviously! They're so good at pom. Lake Zurich pom is so good and so sharp. We wanna be sharper, so we've been doing just the arms a bunch of times to try to get the girls to understand what being sharp is and to try and execute it.
Coach: We're going to nationals for the first time this year. It's always something we've wanted to do but they've never approved us to go. So this year I thought this is such a great team to go because the underclassmen…I really want them to see what it's like to be at a national level competition. Regardless of what happens, I do think it's going to be a great experience.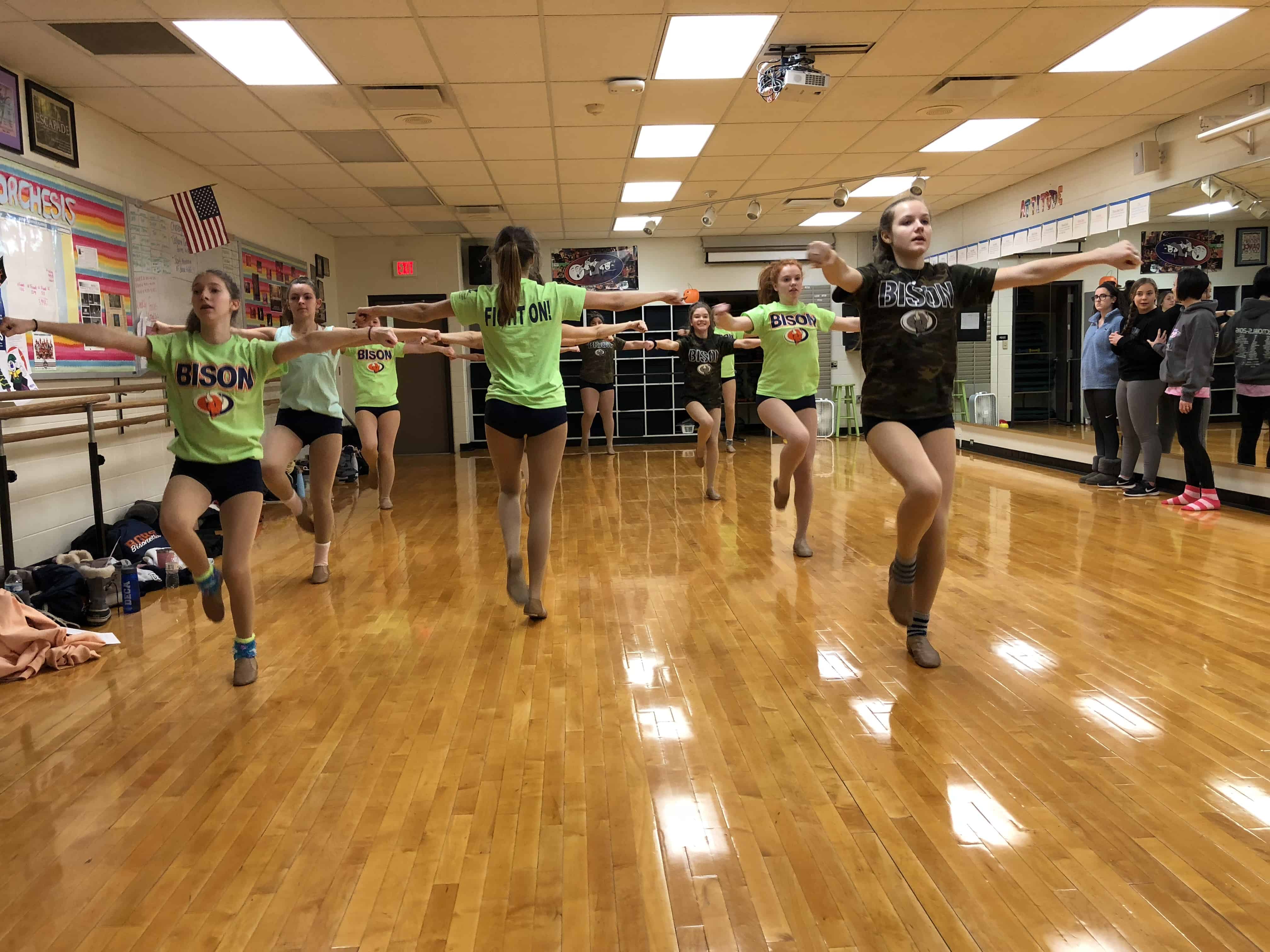 Is there a skill that you guys are really good at?
Shannon: Toe touches.
Erin: Toe touches for sure. I think every girl on the team can really get their legs up and straight.
What about something that you guys weren't that great at over the summer, but that you got better at as the season went on?
Shannon: Turns.
Erin: Our turns in seconde have gotten much better even though they're not where we want them to be. But some girls came on the team and they could even do a couple.
Shannon: A lot have been practicing outside of practice so they've been getting their technique up.
Coach: And it's been awhile, was it last year? To have the whole team turn, that was the goal for us. Even though it may not be as many as other teams do, we knew that that was something that we needed to have in order to be even up in the same category as some of those other teams. We've been working really hard at that. We bring in a lot of technicians throughout the year to help us out. One of our parents owns a dance studio so she's got contacts. We bring in people in the dance world to help us out with that. Sometimes it's hard when it's just always the same person telling them what to do. When it's new people coming in you find that they work harder.