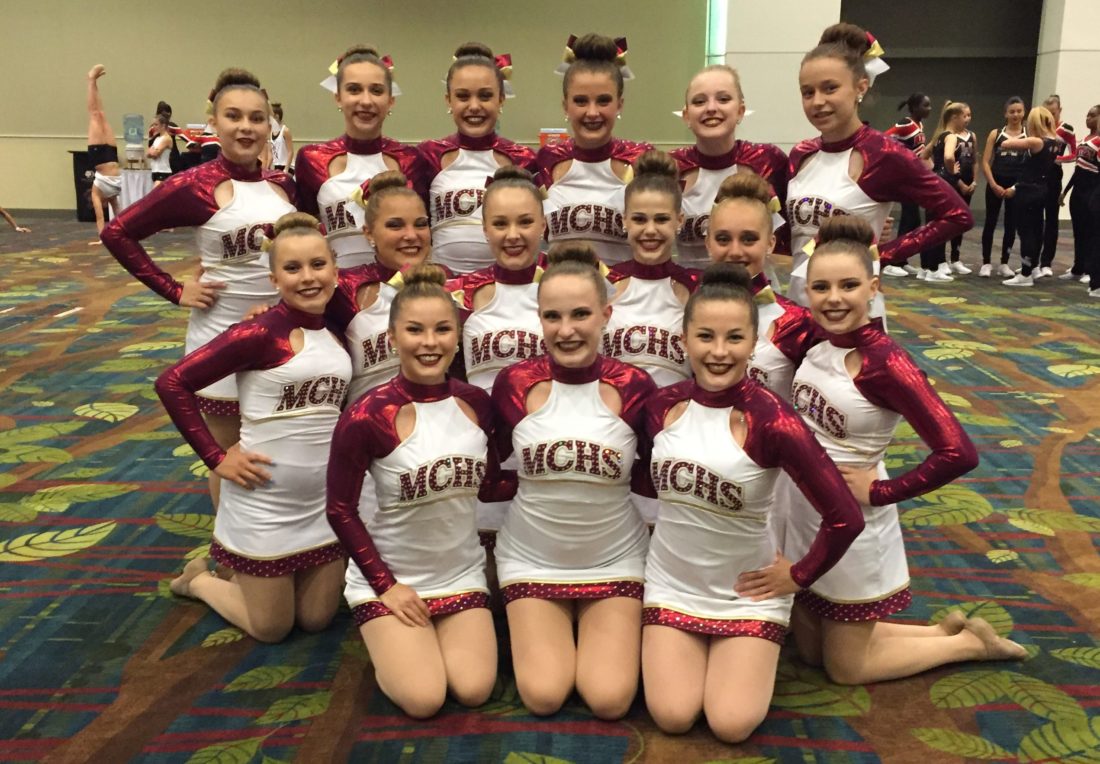 Team Feature Story: Morris
When this year's freshmen were born, Morris Poms already had 12 state championships. These days, they're all about that second day at state.
by Norm Ramil / 8ca.music.person and dance.fan
When you go to a UDA Elite camp, you've got to turn your summer up a few notches. That's why the Morris Dance Team (still called Morris Poms by they and their fans) spent some of each practice on conditioning, except for those days when the girls went straight to a nearby gym afterwards. It's a Monday through Thursday grind all summer.
The team's got a dance room, and usually it's either that or the wrestling gym. But this morning they own this old gym, one of coolest vintage athletic spaces in the state. The temperature's reasonable but the air still lets you know it's mid-July.
Coaches Becky Bernardi and Megan Carlson have the girls doing a stretch/strength/cardio partner drill. "You're going to end with a quality high five [with your partner] and then take a lap," instructs Carlson. That lap means going up the stairs to the balcony, one of those little quirks that makes this ancient gym awesome.
The music blasts through a legit loudspeaker, big enough for an event, and not all that portable. Sometimes Spotify ads interrupt the flow, but hey, we're keeping costs low and skipping the premium membership. Coach Carlson talks about her fave summer jam as it blasts across the gym, DJ Khaled's "I'm The One." "We just watchin' Netflix, she ain't got no cable…"
Meanwhile, Coach Bernardi and I reminisce about all the incredible Morris teams and routines of the past—pom, hip hop, and even back to the days when the hip hop category was called "aerobic funk." We talk about the excitement and wisdom of having a north and south supersectional, the system she herself danced under when she was on the team.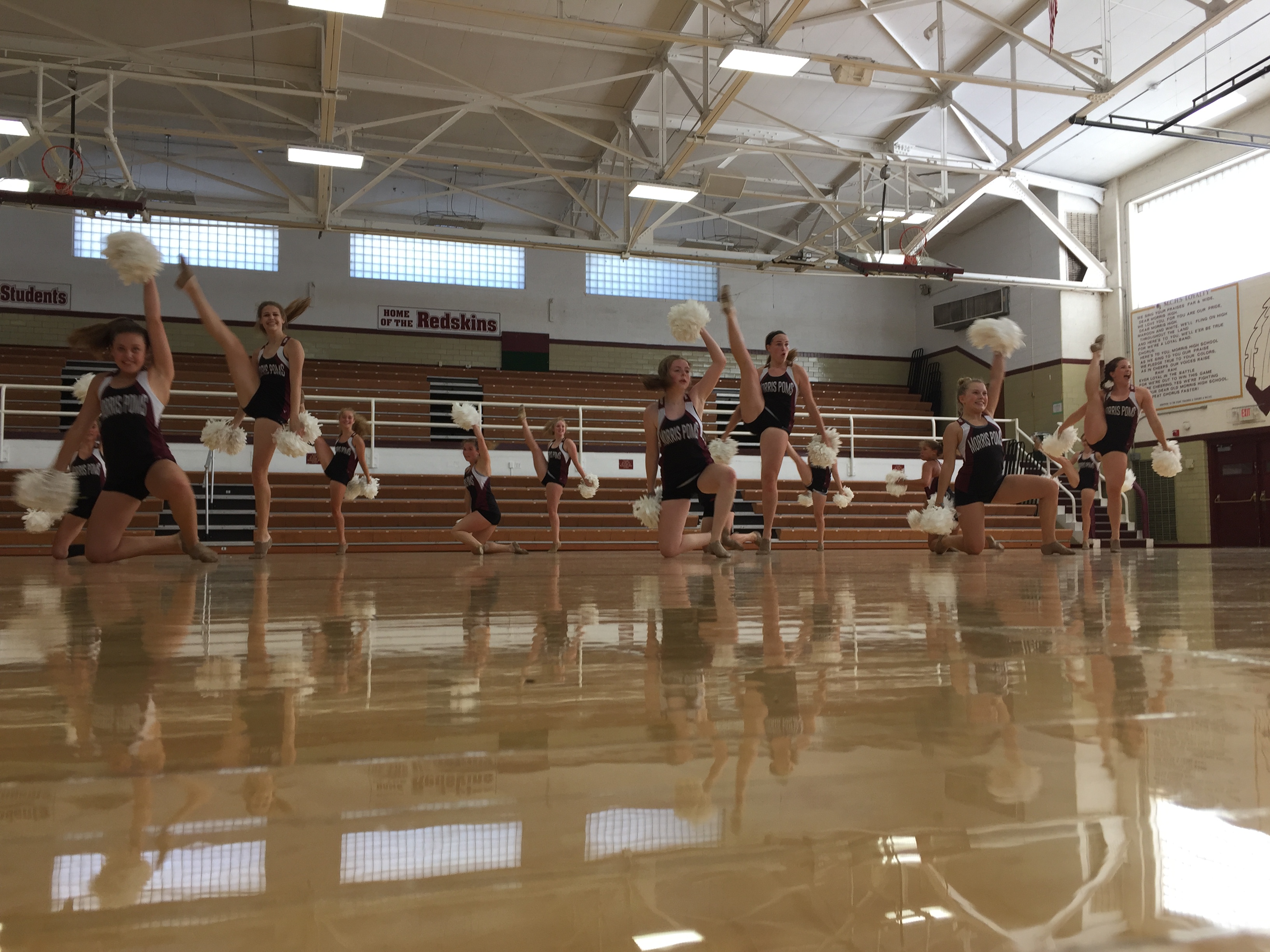 But this morning's all about getting ready for that Elite camp. They'd spent the summer doing technique and both hip hop and pom combinations. Now it's time to get super serious about that home routine, and they're ready. Even after the partner work, the individual Morris dancers do some last minute stretching, showing off some impressive flexibility. One girl even shows the coaches a video of the team doing some kind of box jump drill at the local gym. I can't help but think…if they're this serious about a camp routine, but still positive and all smiles…the rest of 1A might want to watch out.
It's still summer, though. Today's just the second day where the full team's here, and the three new captains are announced (they were picked yesterday). These ladies are officially introduced along with the traits that make them good choices to lead the team. My favorite: "She gives corrections nicely."
Dressed in matching practice uniforms, the Morris dancers change from Nikes into jazz shoes. They're giving these old, white poms a serious workout. They audibly whip through the air, a product of the sharpness that both coaches demand ("We need to hear the poms" on a certain count, instructs Coach Bernardi). But I also think it has to do with the arms that these poms are attached to, because they've been conditioned and strengthened all summer.
It's a mental game, too. Coach Bernardi has the dancers hit and hold one of the counts, reminding the girls to "be angry at your poms!"
Looking out at the formation, this team of 15 looks big. Maybe it's the white poms, or the program's reputation for multiple days at state. I think a lot of it is poise and confidence. They know who they are and what they can do, and it really shows in this high energy pom routine. There's even a little tempo change during a "break" section of the dance, so the girls need to stay sharp to keep aligned and matched. The thing I see right there is that they're committed to musicality and are good at it.
Another mark of an elite team is a crazy dedication to cleaning, something that Coaches Bernardi and Carlson are especially adept at. Sometimes the best way to clean is to just go count by count, which Coach Bernardi does for one section. On a roll-out after an illusion turn, they tell the girls to keep moving or else the formation's going to be off. As Bernardi points out, "There are no floor lines at camp, so you need to be extra aware of spacing."
Part of being sharp isn't just doing things cleanly, but also not doing any extra movements. As the girls learn a new part, Coach Carlson sees that her dancers aren't quite stopping a move cleanly. "This is an entirely extra move that's not choreographed. A lot of you are cheating that." Thanks to both conditioning and attentiveness, they fix that up pretty quickly.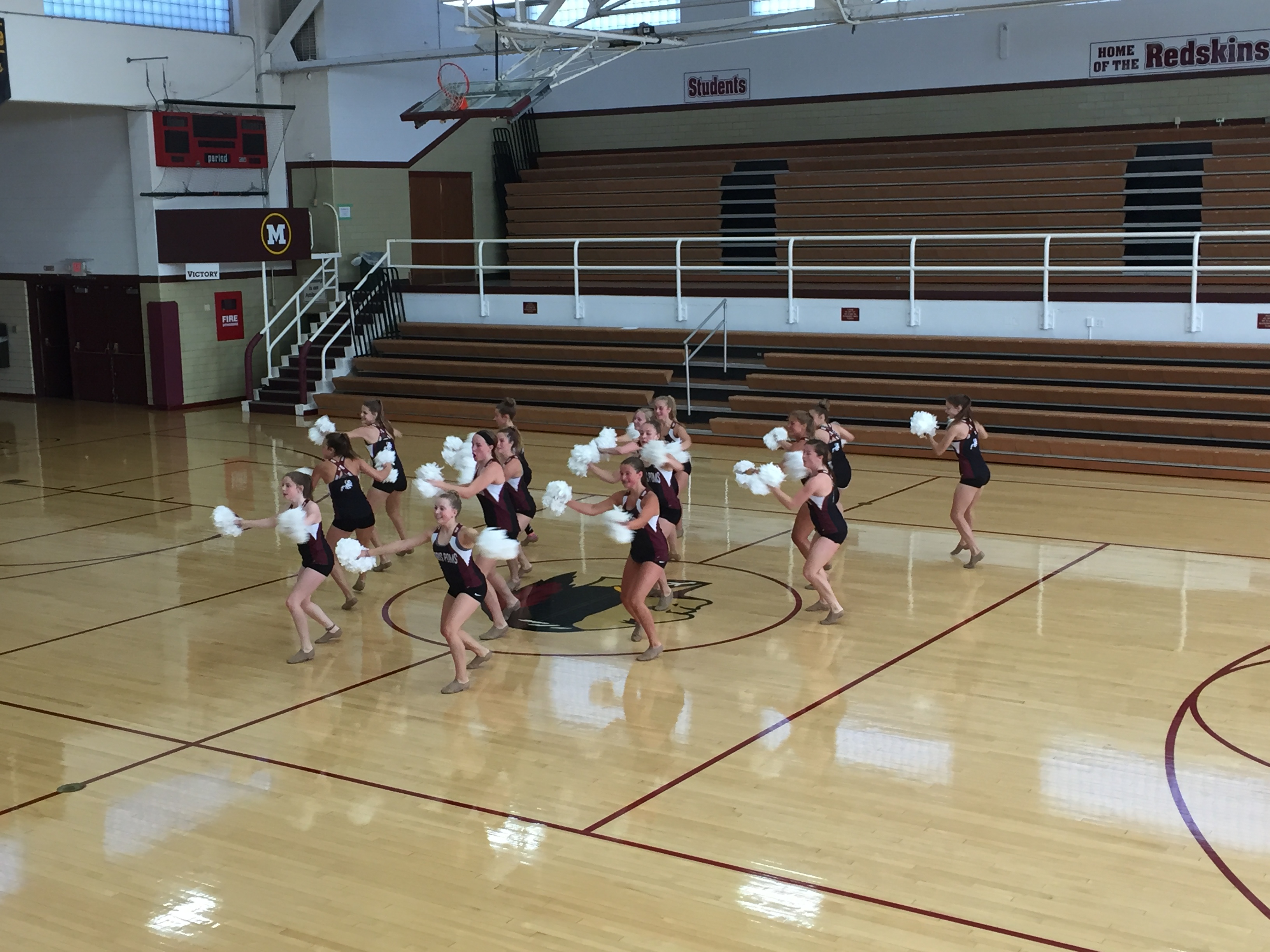 Ah, the disc. If you're reading this you've probably had to ask your coach, "Do we do the 'HUH!' on the disc?" The Morris poms decide as a team to go ahead and vocalize that part. I know dancers think of it in terms of energy (especially in pom work), but I also feel it as a musicality thing. This is just a camp routine, but I already love the way these dancers think their way through a dance.
Coach Carlson takes a video of the routine for the sake of everyone's memory, but it doesn't post to the team page in time. The team solves this by partnering so that one girl videos the other, full out, each pair in their little nook of the gym.
The girls take the time to watch their videos right away and talk through each other's comments. It's kind of cool to hear the routine being played back on all these phones throughout the gym at slightly different times! The process repeats itself with the other partners, and finally the whole team comes together to share all the feedback.
One thing that came up? Hunched shoulders especially toward the end of the dance when they're tired. Coach Bernardi brings up the importance of using and balancing core and back strength. "Remember: this is your second-to-last practice before we perform," she warns.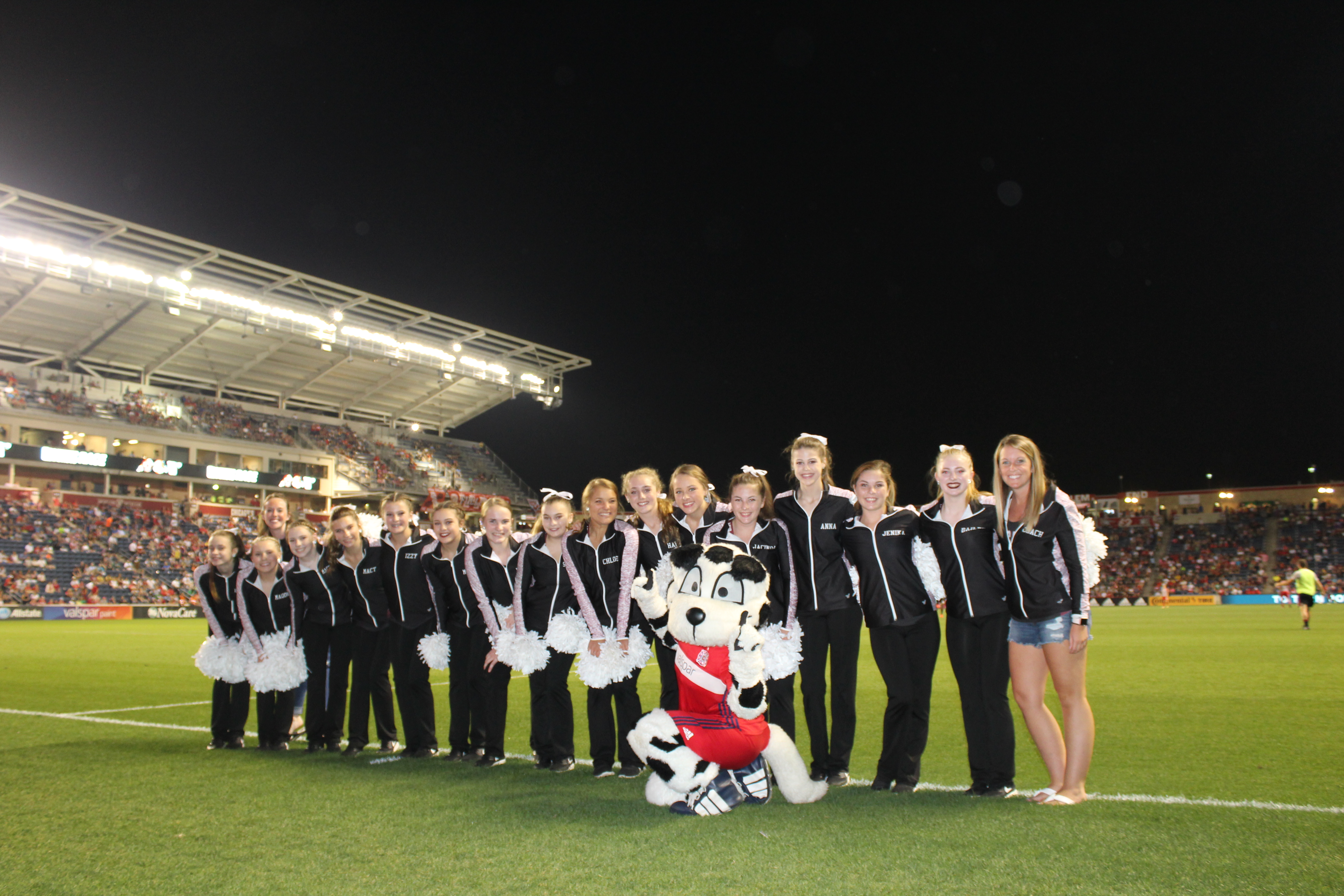 Two final runs. "I'm recording the second one because it'll be better," Coach Carlson frankly informs her girls. Which means they'll have to keep up the energy and stamina for the second one…
One girls puts it in perspective for any teammate that's not thrilled with going twice: "It's like four minutes of your life." And to their credit, these Morris teammates pick each other up, talking a lot during the dance. "We don't wanna do it again!" is one of the rallying cries that sticks out.
Morris at State
IDTA 1996: 2nd in AA Pom
IDTA 1997: Champions in AA Pom, 2nd in AA Hip Hop
IDTA 1998: Champions in AA Pom, Champions in AA Hip Hop
IDTA 1999: 2nd in AA Pom, Champions in AA Hip Hop
IDTA 2000: Champions in AA Pom Dance, Champions in AA Hip Hop
IDTA 2001: Champions in AA Pom Dance, Champions in AA Hip Hop
IDTA 2002: Champions in AA Pom Dance, Champions in AA Hip Hop
IDTA 2003: Champions in AA Pom Dance, Champions in AA Hip Hop
IDTA 2004: Champions in AA Pom Dance, Champions in AA Hip Hop
IDTA 2005: Champions in AA Pom Dance, Champions in AA Hip Hop
IDTA 2006: Champions in AA Pom Dance, Champions in AA Hip Hop
IDTA 2007: Champions in AA Pom Dance, Champions in AA Hip Hop
IDTA 2008: Champions in AA Pom Dance, Champions in AA Hip Hop
TDI 2008: Champions in AA Open Pom, Champions in AA Hip Hop
TDI 2009: Champions in A Open Pom, Champions in A Hip Hop
TDI 2010: Champions in A Open Pom, Champions in A Hip Hop
TDI 2011: Champions in A Open Pom, 2nd in A Hip Hop
TDI 2012: 3rd in 2A Open Pom, 2nd in 2A Hip Hop
TDI 2013: Champions in 1A Open Pom, Champions in 1A Hip Hop
IHSA 2013: 7th in 2A (day 2)
TDI 2014: Champions in 1A Open Pom, Champions in 1A Hip Hop
IHSA 2014: 5th in 1A (day 2)
IHSA 2015: 9th in 1A (day 2)
IHSA 2016: 2nd in 1A (day 2)
IHSA 2017: 2nd in 1A (day 2)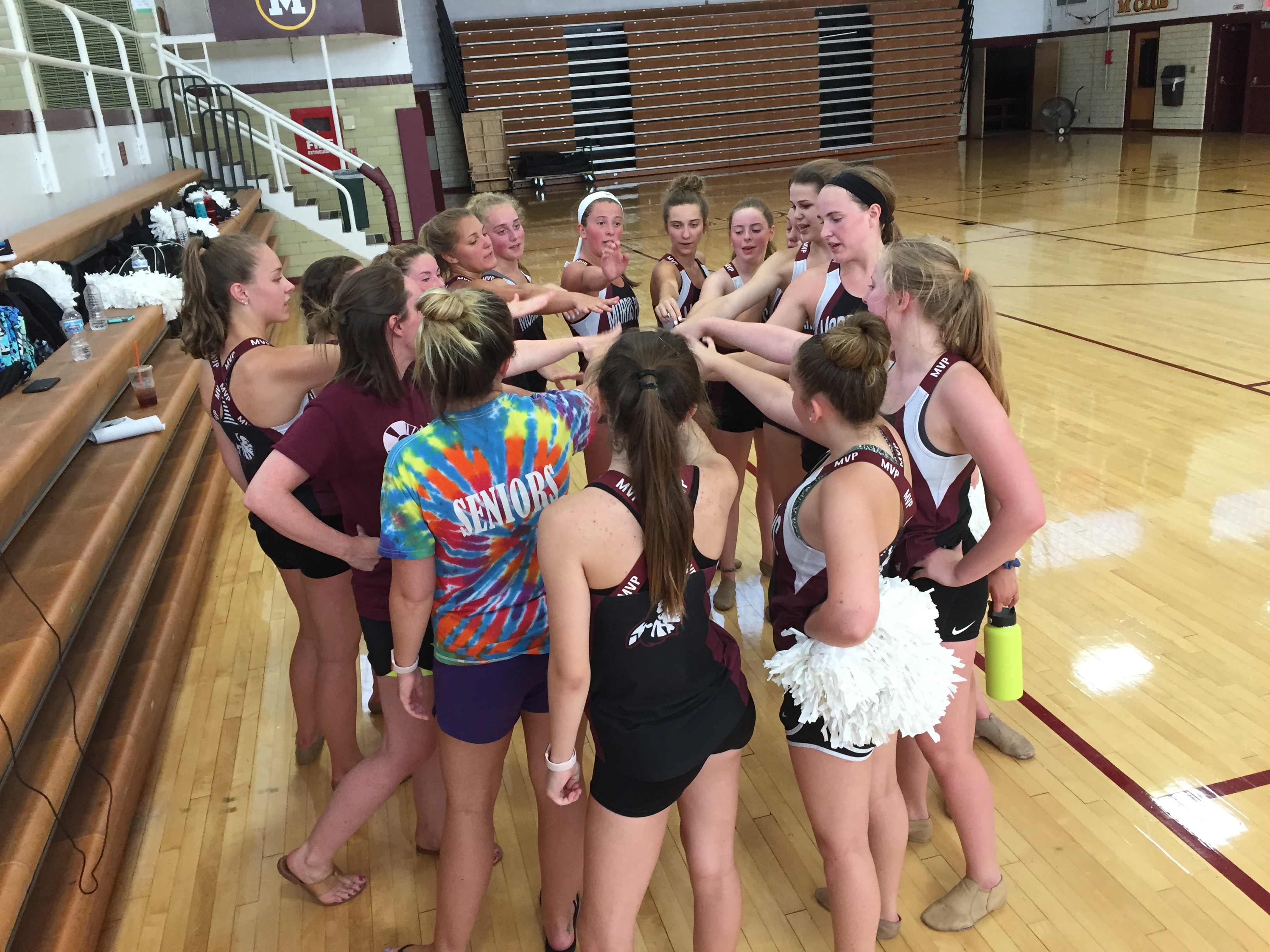 A week later, we're all in downtown Cedar Rapids, Iowa. It's kind of surprising—it looks like a real downtown, with several blocks of tall buildings, public transportation, and its fair share of upscale bars and restaurants. It's definitely the place to be in east central Iowa.
And for three days in late July, it's not a stretch to say that this is the dance capital of the Midwest. They're not kidding with that label, "Elite camp." Along with Morris, Batavia, Huntley, and Geneva represent Illinois well. High-profile teams from Iowa like Linn-Mar and Ankeny are here. And…wait for it…from Minnesota, the Eden Prairie Dance Team.
This convention / ballroom is full of big-name teams from at least three states, and the Morris girls fit in perfectly. Moms, friends, and sisters, almost all dressed in Morris gear, take video of their beloved dance team executing a challenging pom routine on hotel carpeting. And it's so cool to see the Illinois coaches mingle and catch up on the latest. Like so many other dance trips, I feel like the drive was totally worth it to see these amazing home routines.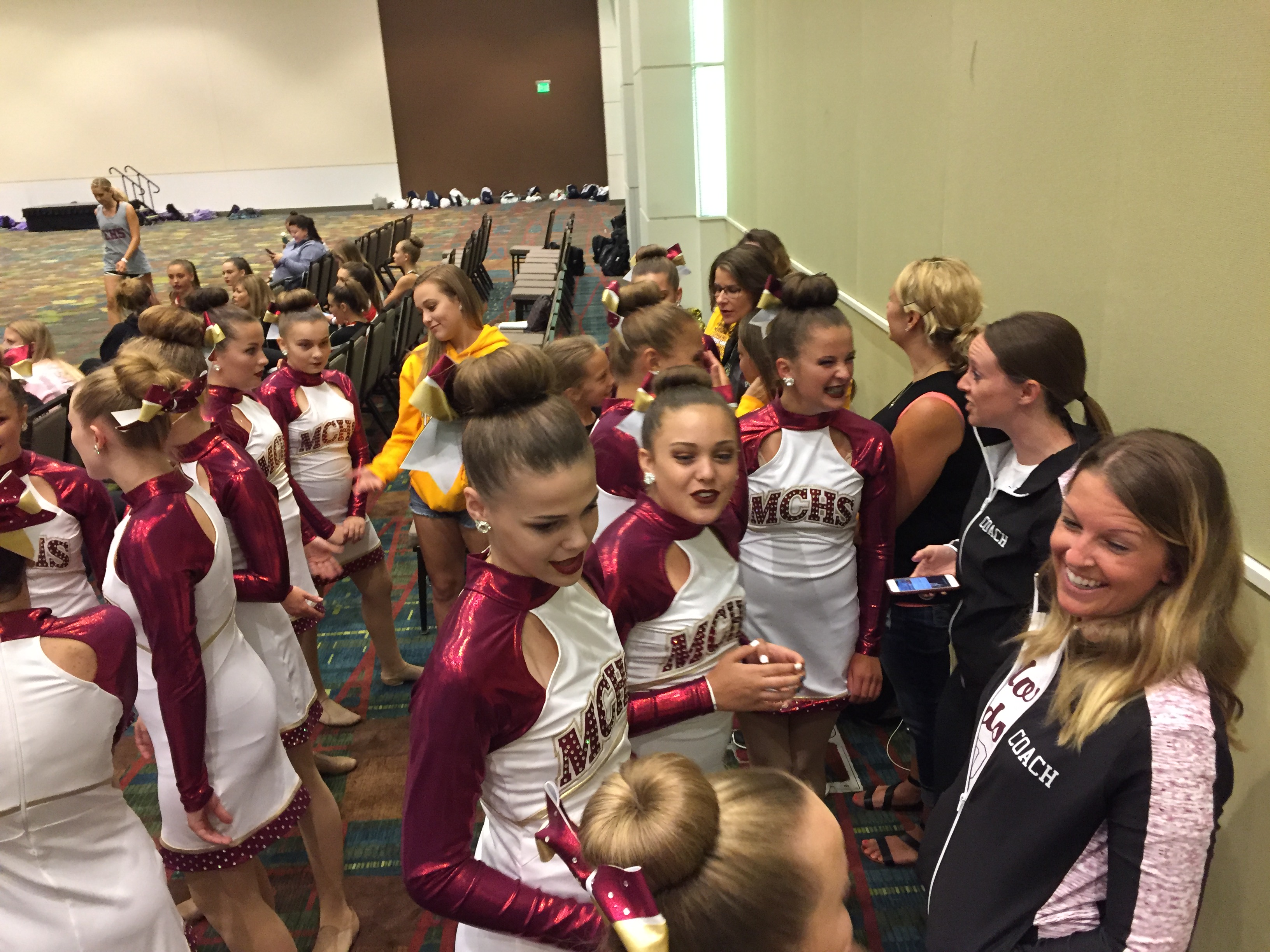 The Morris poms enjoyed a long break after that late-July camp, coming back together in August to launch their football halftime season. Friday night lights are a huge deal in Morris, and with the team 7-1 as of this post, the Morris poms are probably going to be busy for a few more weekends. "One new thing we did this season was perform at a Chicago Fire game," Coach Bernardi writes "It was a great experience and the girls had a blast!"
The team can't wait to dive into comp season—their first appearance will be at Stagg on December 17th. "We will be competing a jazz and a pom…and we're headed to UDA Nationals in February with both of those routines as well," says the veteran coach.
I'd visited Morris before, but I'm feeling a big season from this team. Just because their resumé is ridiculously loaded with state titles doesn't diminish the excitement. And after watching a practice, talking to the seniors, and seeing them go up against other Midwestern elite teams, I'll be looking for the Morris Poms to again dance on a certain Saturday in late January.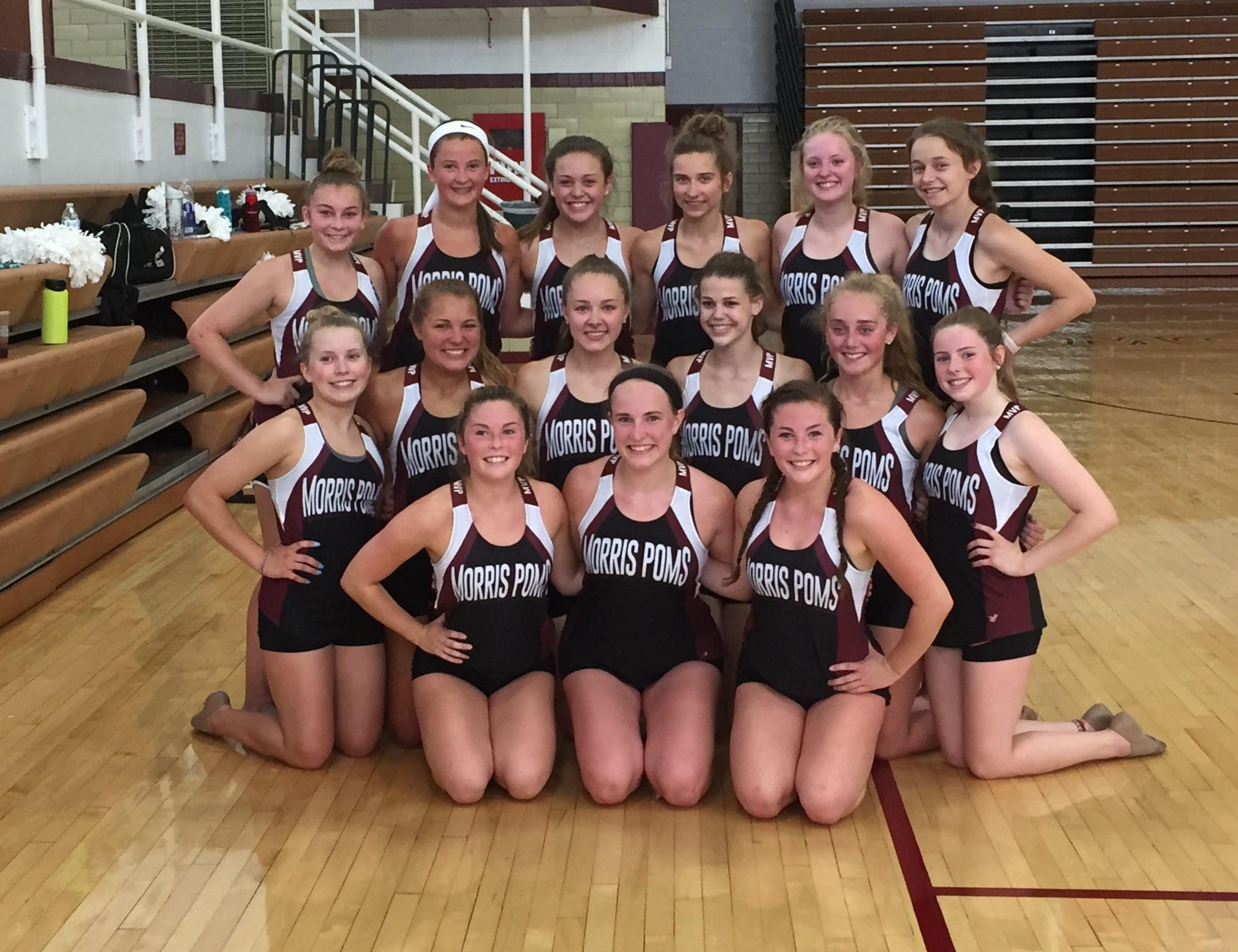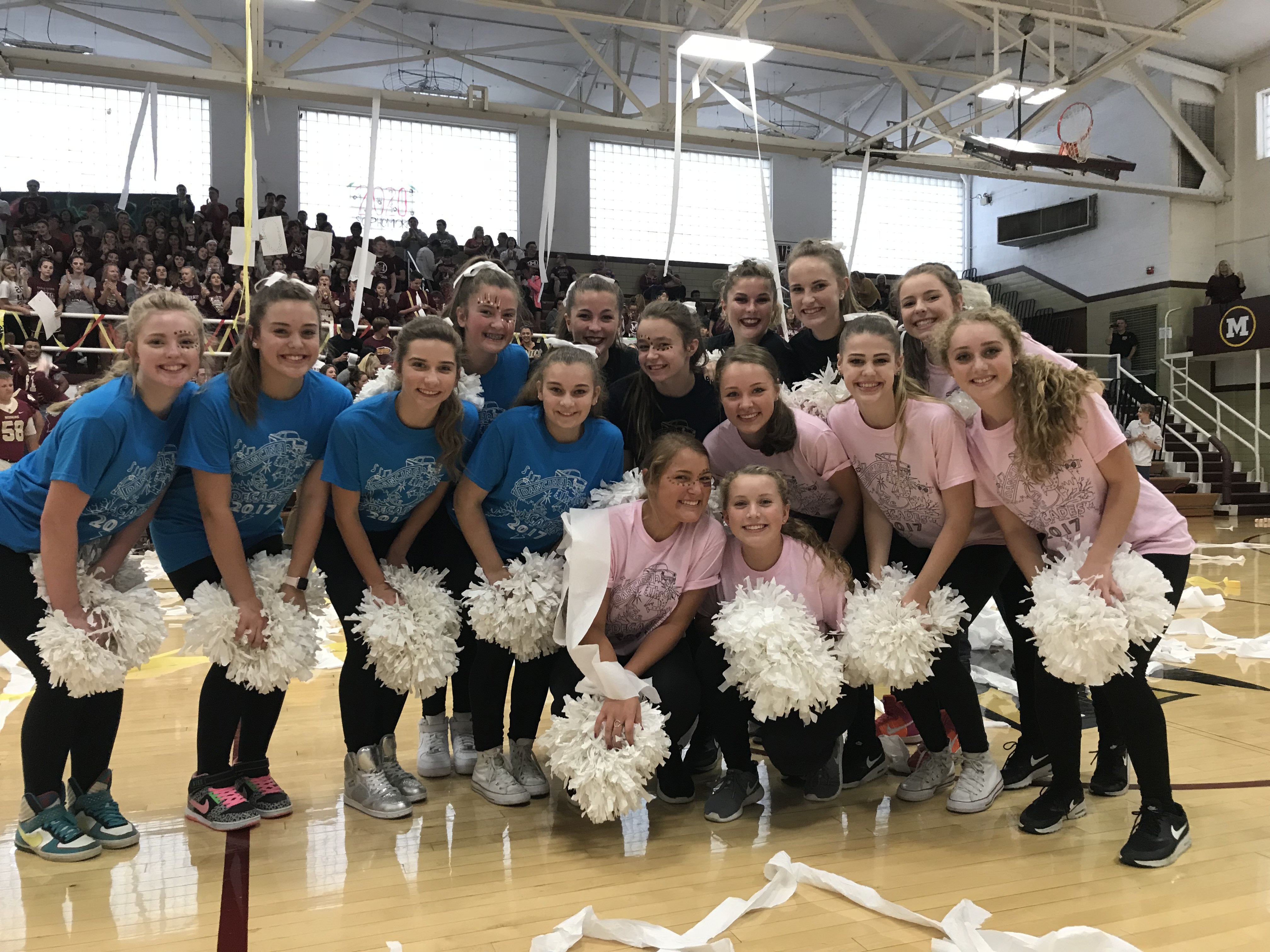 A convo with the seniors
After their intense practice, I get to chat with the three seniors who lead the Morris dance program: Molly, Jenika, and Jacinda.
Do you guys have a technical dance background, like at studios?
Jacinda: We both go to TNT Dance Studio [in Morris] and…
Jenika: …we still compete with them. We do mostly contemporary. 
Jacinda: We do ballet, pointe, jazz, hip hop, and contemporary.
Molly: I went to Forte Arts Center in Morris. I did everything that you could compete, like a lot of the girls here. And for poms we had to stop competing. But we still take like leaps and turns still.
What's your favorite style of dance to perform or even just watch?
Jacinda: I like performing contemporary the most, but I like watching jazz.
Jenika: I'm the same way. We're twins, can you tell?
Molly: I like watching musical theater or jazz.
You brought up the twins thing. Do you do everything the same, like technique wise?
Jenika: Mmmhmm, we even have a duo together.
Jacinda: It's fun to watch.
Jenika: We're the exact same.
Molly: We like to say we're triplets, though. Can you see it?
Norm: Oh, totally!
Jacinda: A perfect resemblance.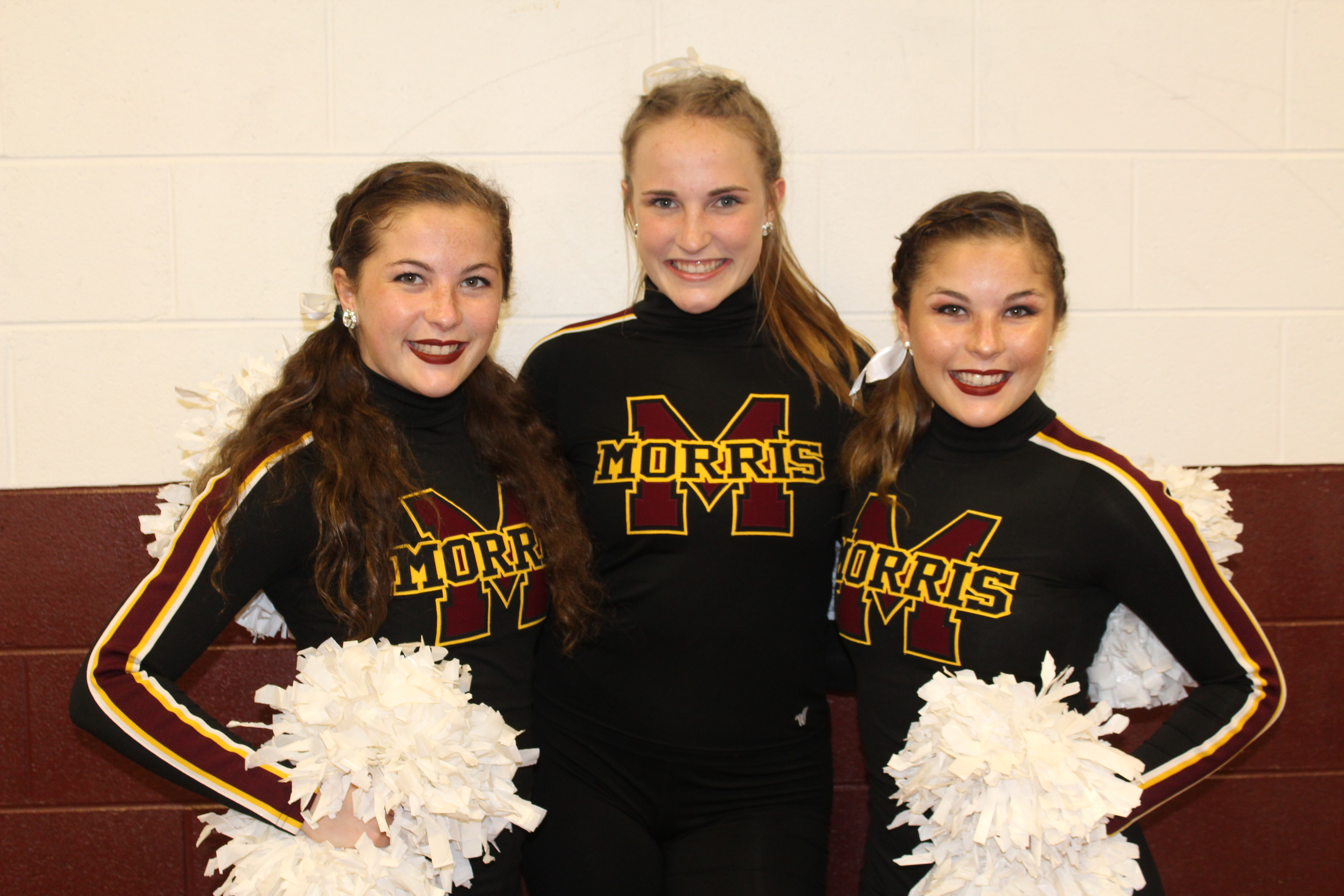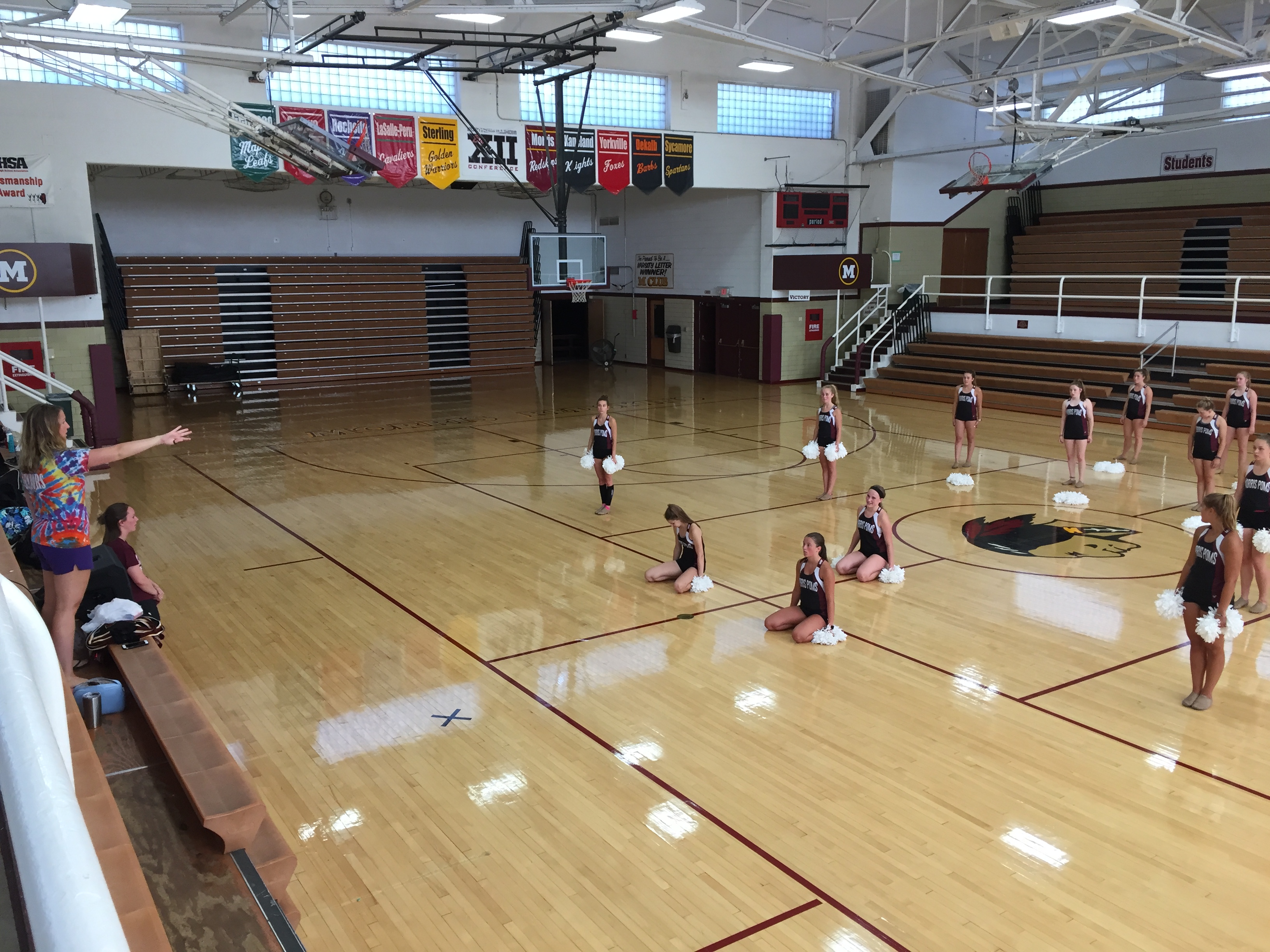 What's the best part about being on this team?
Molly: I think the closeness of this team. I've never been on a team like this. Many other teams in our high school aren't as close as we are 'cause we spend so much time together.
Jenika: We're all like a family, and we're all friends here, and we all hang out outside of practice and it's really fun.
Jacinda: We're having a sleepover tonight. We're all like sisters and we know that like anyone on the team you can always talk to about anything and they'll always be here for you no matter who it is.
Molly: And even if we're not at a team outing, since you're with these people [all the time], they're your friends all throughout high school.
Are there other dance teams you admire?
Molly: Definitely Highland. They're a strong team, like 100%.
Jenika: Minooka.
Molly: Geneva, too. They always go to our camp, and we watch their state performance, they're so good.
How do picture your season going?
Molly: Strong, like this is the year.
Jenika: We're pretty strong this year.
Jacinda: Our motto is "Being stronger for tomorrow," so we're gonna make sure we're working hard every day, and we're gonna push to be our best.
Is there anything you want the rest of the dance community to know about you guys?
Molly: We may be a small town, and a lot of people care about football, but we're a force to be reckoned with. We're coming out.
Jenika: We're here to stay.