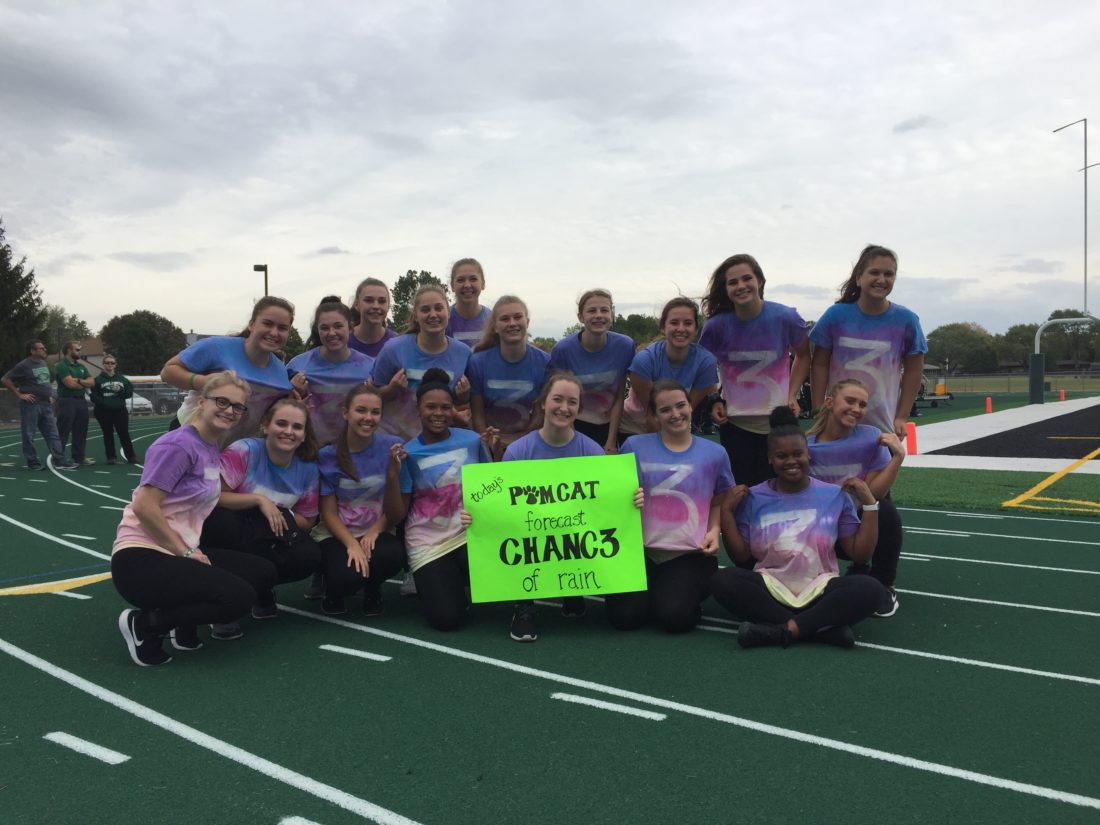 Team Feature Story: Plainfield Central
They went head-to-head with some of the biggest names in Illinois dance and nearly won their sectional. Now the Plainfield Central Pomcats are ready for another breakthrough.
by Norm Ramil / 8ca.music.person and dance.fan
Not that long ago, you could walk into any Starbucks in the Chicago suburbs and hear this: "We're moving to Plainfield." Ok, I'm kind of exaggerating. But get this: after the 1990 tornado demolished Plainfield High School, subdivisions sprouted up like weeds through the '90s and 2000s. So then PHS became Central (followed by Plainfield South, North, and East). And they still sometimes go by "PHS."
Speaking of rebuilding, Coach Katie Jeray tells me that her Pomcats are in a rebuilding phase, just a few months after coming within fractions of a point of winning that crazy 3A sectional at Geneva. Yeah, that sectional. The one with Neuqua, Waubonsie, Naperville North, Oswego, and Wheaton South.
She tells me this while my eyes scan this gym floor full of her kids, varsity in blue shirts and JV in yellow. They're in warmups led by choreographer Justine Haw, well-known in these parts for stellar choreography and coaching Lincoln Way West's JV.
Today's part of their summer camp, days of team-building and technique and just getting the summer going. Jeray and JV Coach April Seef are still figuring out the team's technical strengths, and today's activities are definitely going to point them toward some conclusions. Justine will be teaching combos that the Pomcats will eventually string together into halftime routines. But they do know one thing already: "Our go-to style can either be a pretty lyrical or a hard-hitting jazz."
When it comes to competition, this team does everything in-house (the choreo, the music). That's seriously impressive when you think about what they've accomplished in the past couple seasons.

But before that stunning sectional performance, last year's Plainfield Central team hit a rough patch. "We had high expectations at conference last year. We finished 4th where we were 1st a year before (2016), so that was a wake-up call. So we did some hardcore cleaning through sectionals, things like faces and pointing toes."
Their wake up call went beyond cleaning. Coach Jeray and her girls smartly took a strategic view of their situation. They looked at their sectional field and guessed that it was pretty possible that 4 of the 2016 qualifying teams might not make it in this year. "Do you want to be one of those 4?" was their rallying cry. That kind of determination led to their tie-for-second at sectionals, which really opened up a lot of eyes in 3A.
Last season wasn't all about the intensity of conference and getting to state. Their other dance was a hip hop routine, something that the girls really wanted. "It was just a crowd-pleaser, but we gave it less attention as the season went on," recalls Coach Jeray. Like most coaches, she really misses category competition. So when the Pomcats earned a 1st-place at that snowy, category-format Glenbrook South comp, these dancers got a taste of their coach's dance team upbringing.
After a long stretching session, a captain leads each line as both teams do across-the-floors under Justine's masterful direction. These leaders (check the interview below!) keep any extra talking to a minimum as the dancers go through some basics, like stepping out of a plié into a relevé-passe, and rotating battements combined with pirouettes.
It's not all straight faces. While going through these classy classical drills, someone steps on an old Jolly Rancher (who knows how it got onto the gym floor!) and she needs to take a couple minutes to separate it from her jazz shoe.
Plainfield Central then ups the sassy factor, throwing in some cross steps and tendus as they move across the floor in neat lines. Haw cautions against any unsteady bouncing, keeping everything at a steady, low level. It reminds me of how proper technique makes you look poised, whether or not you actually are!
Also, Coach Jeray keeps things official, referring to them as "turns in seconde" instead of fouéttes. Love that.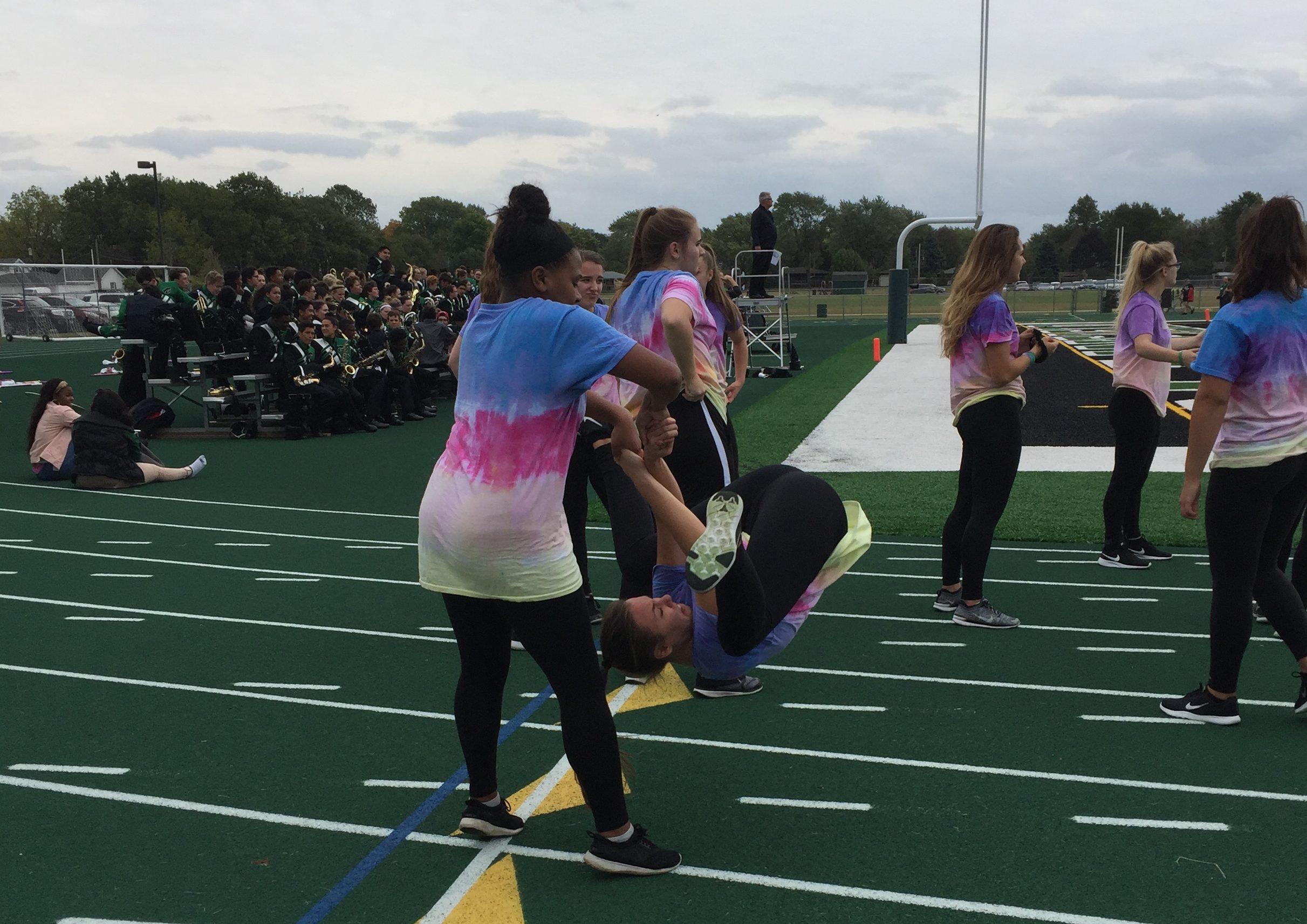 The Pomcats' varsity coach is also a master's degree candidate, so she's definitely going to count on help from new JV Coach April Seef, who works in the building. If you're a freshman, the Plainfield Central poms program requires you to spend at least a year on JV (kind of like how colleges make freshmen spend at least a year in the dorms). "Ideally we'd like two big teams," admits Jeray.
Most of the kids without a lot of technical training find a nurturing place on the JV roster where they can thrive. JV is captainless, but they do have JV liasons who work with varsity and teach the choreo. "It's important for varsity to interact with JV. We're all always looking out for the freshmen." Captains are encouraged to help anyone struggling.
The coaching family tree is pretty strong in the southwest suburbs. Jeray danced with Haw (who's leading today's training and choreography session) on those strong Lincoln Way Central teams of the late 2000s.
The district dance family is pretty impressive as well, with all 4 schools fielding active dance programs. "Each of the other Plainfield schools had dance in mind when they designed them," she explains, referring to the dance rooms in each building. Central's is on the cozy side and too small for the whole team to use its mirrors.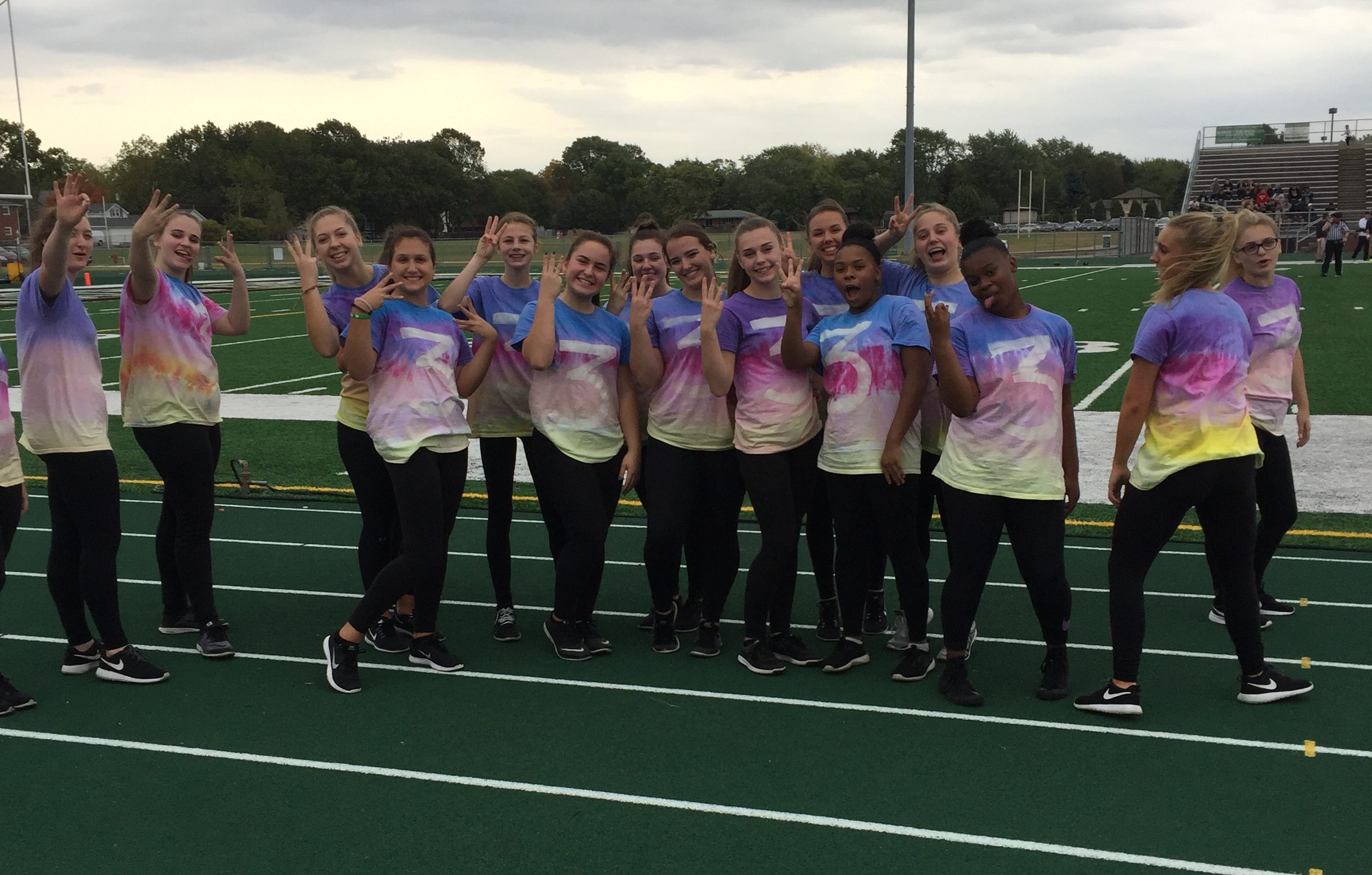 Space issues are the kind of thing that ties together dance teams around the state. They count on lines and other floor markings, which gets challenging as the Pomcats might find themselves in this gym, the fieldhouse (where the lines are handy), or the cafeteria depending on the day and situation. "We could use mirrors for matching," says Coach Jeray.
Plainfield Central at State
(as Plainfield High School)
IDTA 1993: 5th in AA Dance
IDTA 1994: 3rd in AA Pom Dance, 6th in AA Dance
IDTA 1995: 3rd in AA Aerobic/Funk
IDTA 1996: 2nd in AA Pom Dance
IDTA 1997: 5th in AAA Pom Dance, 3rd in AAA Aerobic/Funk
(as Plainfield Central HS)
IDTA 2004: 5th in AAA Pom
IDTA 2005: 4th in AAA Pom
IDTA 2007: 4th in AAA Pom
IDTA 2008: 3rd in AAA Kick
IDTA 2009: Champions in AAA Pom, 2nd in AAA Kick
TDI 2009: 5th in AAA Pom, 6th in AAA Kick
IDTA 2010: 2nd in AAA Pom, Champions in AAA Kick
IDTA 2011: 3rd in AAA Pom
TDI 2012: 4th in 3A Kick
TDI 2013: 6th in 3A Hip Hop, 2nd in 3A Kick
IHSA 2014: 12th in 3A
IHSA 2015: 27th in 3A
IHSA 2016: 20th in 3A
IHSA 2017: 26th in 3A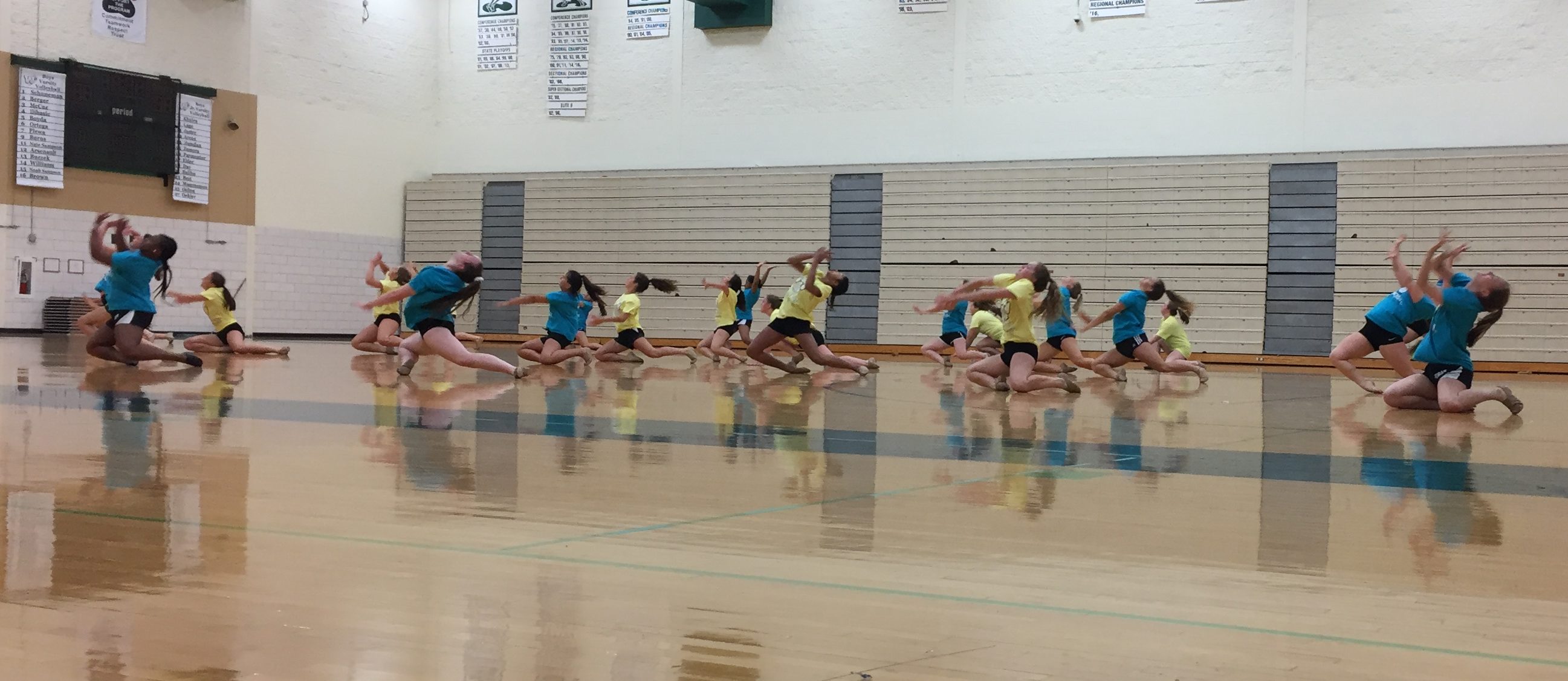 It's that last space that gets super interesting. Jeray might remind her kids of formation alignment by telling the group to "back up to the sand," talking about the color of the tiles on that part of the lunchroom floor. "It's a small school, so space isn't easy for any of the teams." She could snag the gym in the evenings, but that conflicts with her dancers' studio commitments.
Unlike other dance programs, Plainfield Central's pretty tight with the local studios. Harmony and coordination rule and conflicts are kept to a minimum, something that wasn't always the case before she came along.
Those without technical dance training often come in with something, like a gymnastics or cheer background. And some of these kids progress well as the years go by because they work hard and have a team-first attitude, according to Coach Jeray. It's not the kind of program where kids will protest if their solo gets pulled. And she's careful with the costs especially since a good portion of the team come from families of modest means.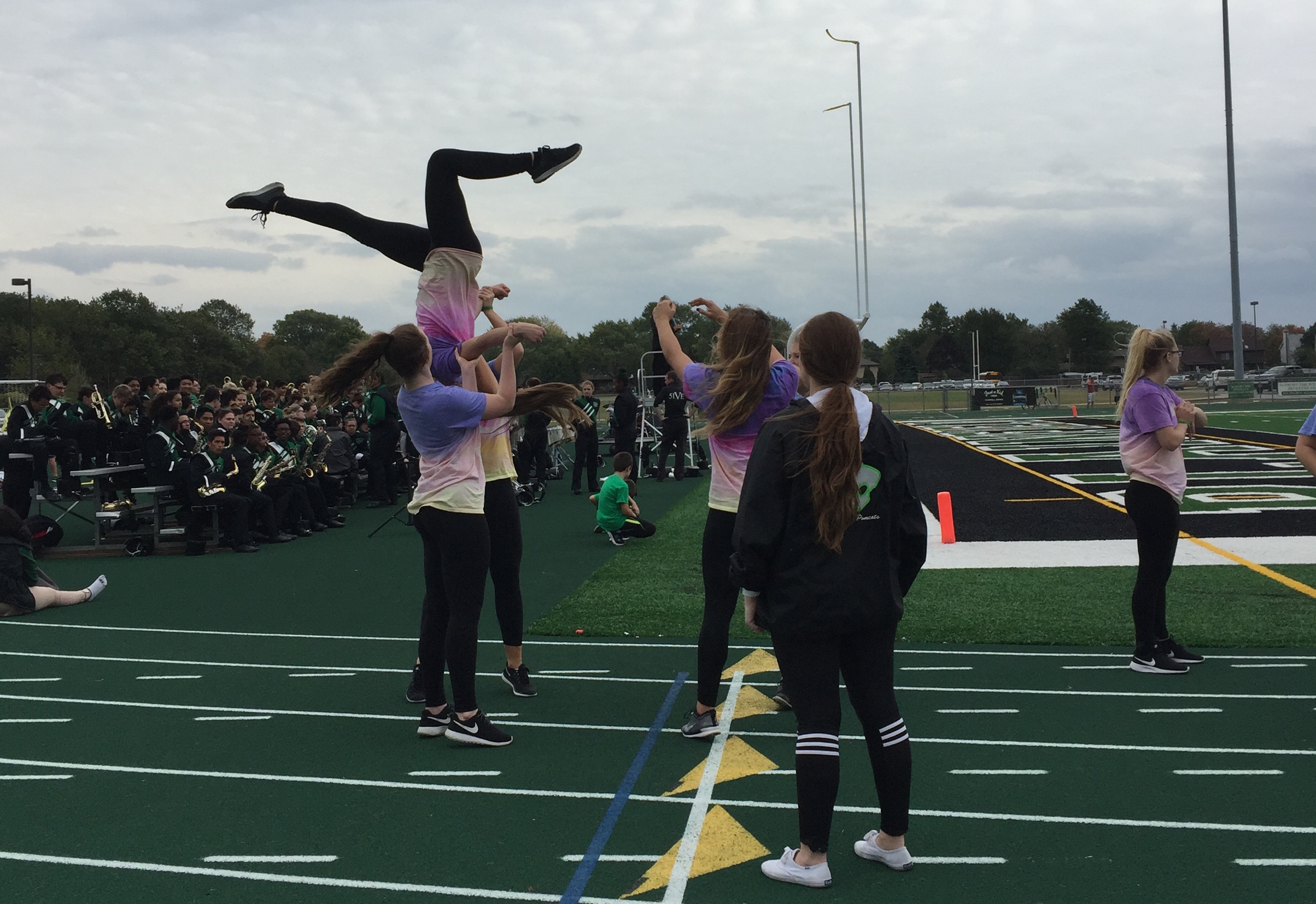 The teams take a break for bonding and introductions in a big circle before they get back to their technical workout. By 11, it's time to learn a lyrical combo to Ellie Goulding's "Still Falling." For just a summertime combo, I love the musicality, as Haw has the dancers emphasize their graceful extensions on the longer words of Goulding's chorus ("allllll of me"). It's not all Haw's show, as Jeray frequently calls out reminders like, "Toes! Faces!"
She also asks for more "performance" from the girls. Haw and Jeray have the dancers improv over the music as it leads up to count one of the combo. It keeps things loose, expressive, and hands some ownership over to the girls whether they're seniors or just out of middle school.
My next look at these Central Pomcats is at their homecoming game. Usually the school does the Friday night lights thing, but Plainfield Central's hoco game is traditionally on a Saturday. The school's football program may not have the hottest record, but Coach Jeray tells me that the student section gets crazy. So the empty spots in the bleachers this afternoon are an aberration [SAT word, y'all!] because kids are getting ready for the dance tonight.
How'd they spend their summer? The girls took intensives at their studios in July, and got back together as a team in August for their own intensive (learning the fight song, sidelines, and halftime dances).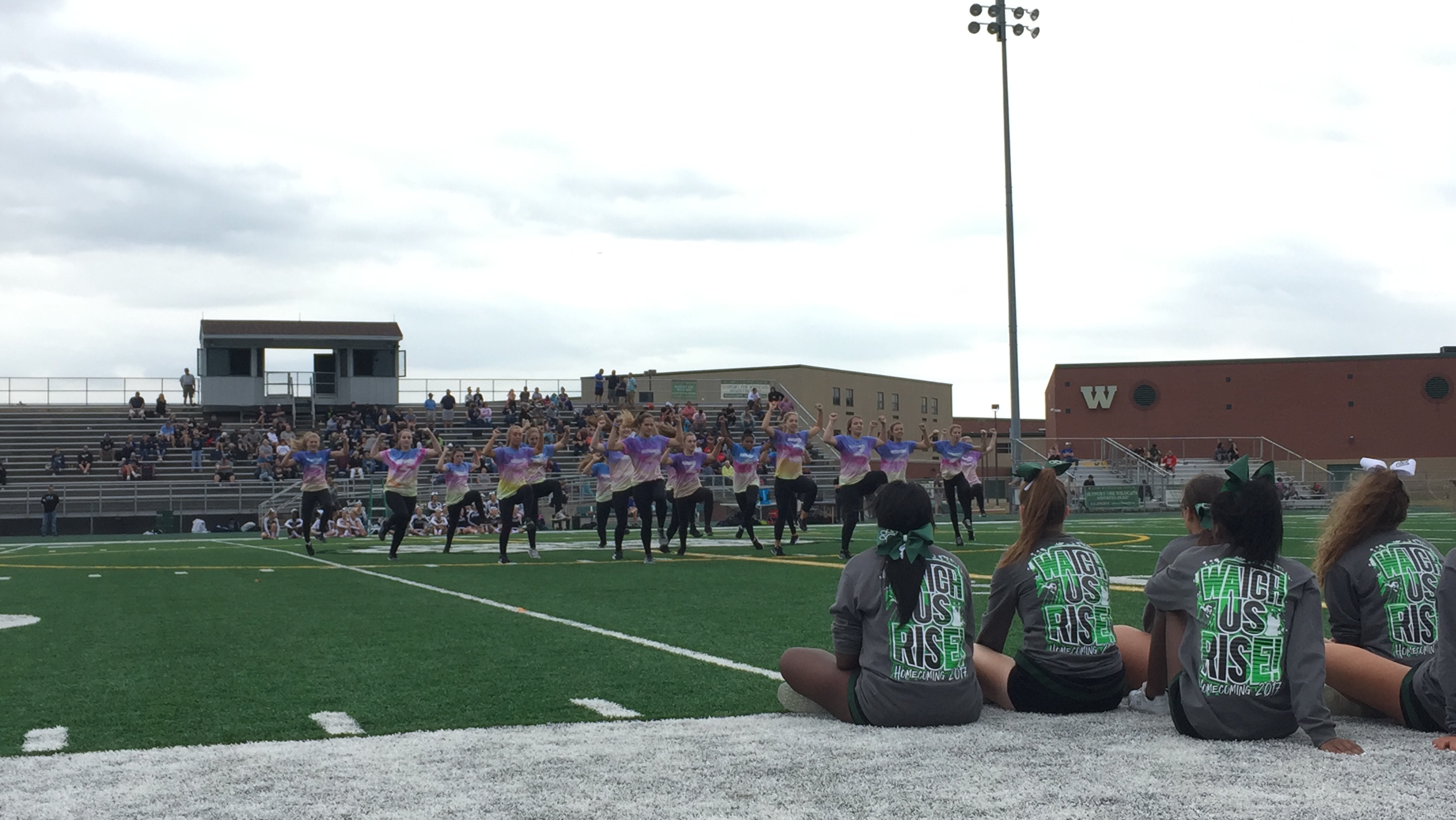 On this windy and warm October afternoon, it's supposed to rain. I'm discovering that my old iPhone isn't loving the new iOS, which means my weather radar app just sucks today when I need it the most. We get through pregame and sidelines before I get to see the Pomcats rehearse some cool tricks on the track, and I can't wait to see where those stunts will figure into the routine.
And thennnn…a long halftime presentation (it's homecoming!). I look up to the booth and signal to Coach Jeray that rain-wise, it's gonna be super close. Meanwhile the Pomcats are on the bench showing plenty of love for the Central cheerleaders as they do a pretty entertaining routine on the field.
With the rain just minutes away the dancers run onto the turf and perform their Chance The Rapper routine, a theme that the girls picked out as a nod to positivity and that artist's support for education. And all those cool tricks I saw a few minutes earlier look even cooler on the field with the dark clouds rolling in.
The promised downpour finally happens as I'm driving away. For a team that keeps drama to a minimum, I kind of liked today's drama and urgency, dancing full-out in the face of the rain they knew was coming. When I tell their coach about some probable sectional scenarios (the 5 sites were just announced a few days ago), there's a determined calmness that I really respect and it's reflected in her team. They're gonna go hard, but they'll probably have a good time doing it.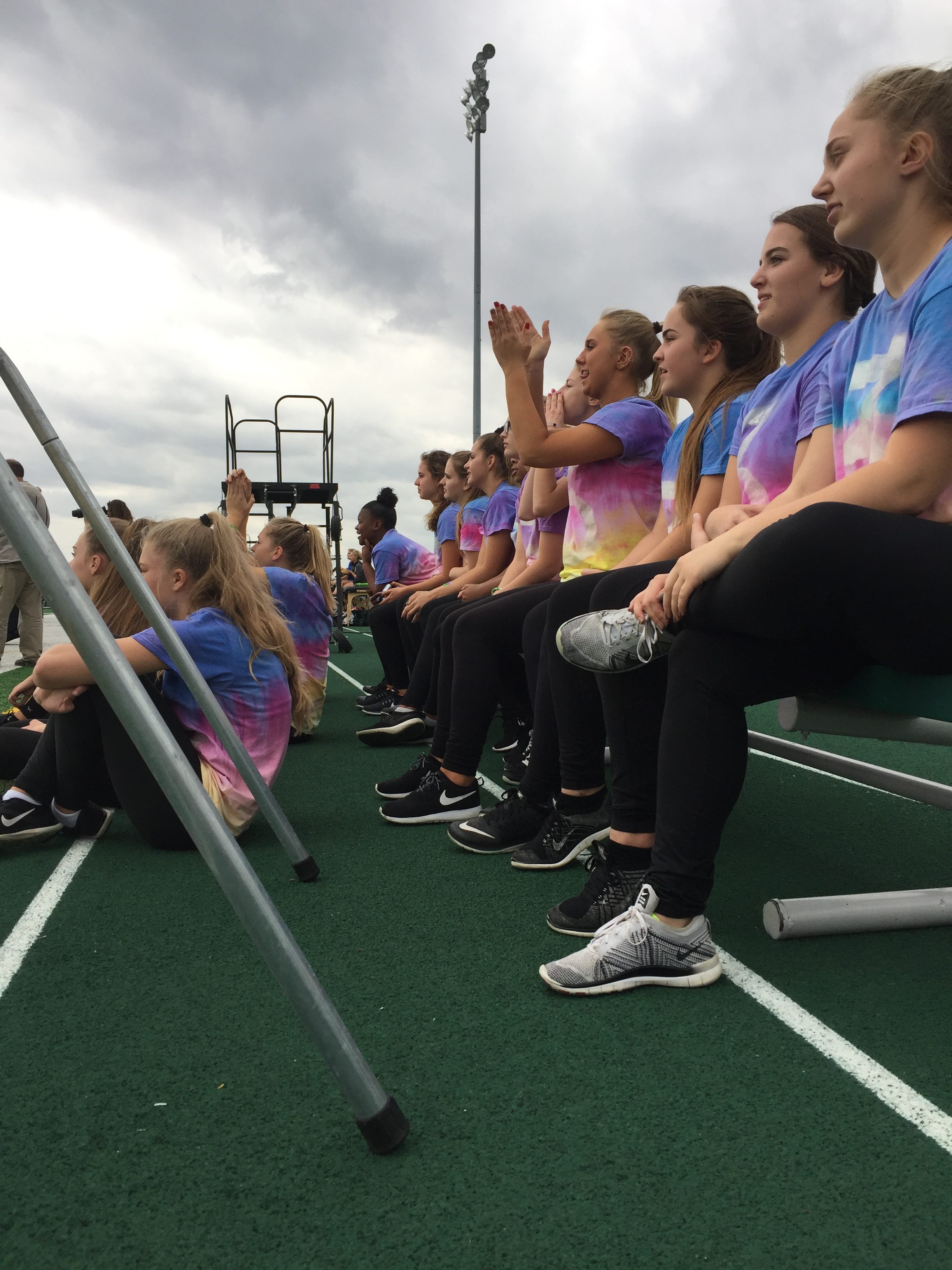 A start-of-summer chat with the captains
Out in the hall, I get to chat with Emma (senior), Kate (junior), Coach Jeray, Danielle (senior), and Armani (senior)
Do you guys all dance at studios?
Emma: I dance with Innovation Dance Company [at Vaughan Dance in Plainfield].
Kate: I go to Revolution Dance [in Shorewood].
Danielle: Revolution also.
Armani: Generation Dance Company [in Joliet].
You guys tied for 2nd at a very competitive 3A Geneva sectional last winter, and came within .8 of first place. What's it like to go into this season knowing how far you went last season?
Kate: We're still working really hard and trying to get that 1st at sectionals, and conference, and 2nd day at state.
Emma: Yeah, it was a good confidence boost but we're gonna work even harder to get 1st.
Armani: It gives us a drive. 'Cause now we know as captains what we need to do, how we need to do it. Before, we were just dancers on a team, they gave us the choreography, we did it. But now we know the meaning, the interpretation, everything we need to do. It's just the hunger to let other teams know that we're not playing.
What's the plan for this summer?
Danielle: Lots of choreography, getting everything prepared so when we start the season we hit the ground running and we're just ready to go for state. That's what we're really working on. Getting everyone in shape and in the mindset that this is it, it starts now. As soon as tryouts happen, you're on the team and this is what's happening.
Armani: And making football season not just "football season," like a laid-back season. The dances that we're gonna be doing are training us for what we're gonna be doing for competition season.
Coach Jeray: I think just determing what styles we would like to do for competition season. So we've talked about doing a lyrical and a contemporary this year, so that's the first time that we're gonna be doing that. I think it's going to be very demanding on us. We want to start out the season with two very competitive routines, obviously see which one does better, which one we're getting better feedback on, and then really perfect that one so when we get to conference, sectionals, and state, they really are the expectation that we wanted them to be.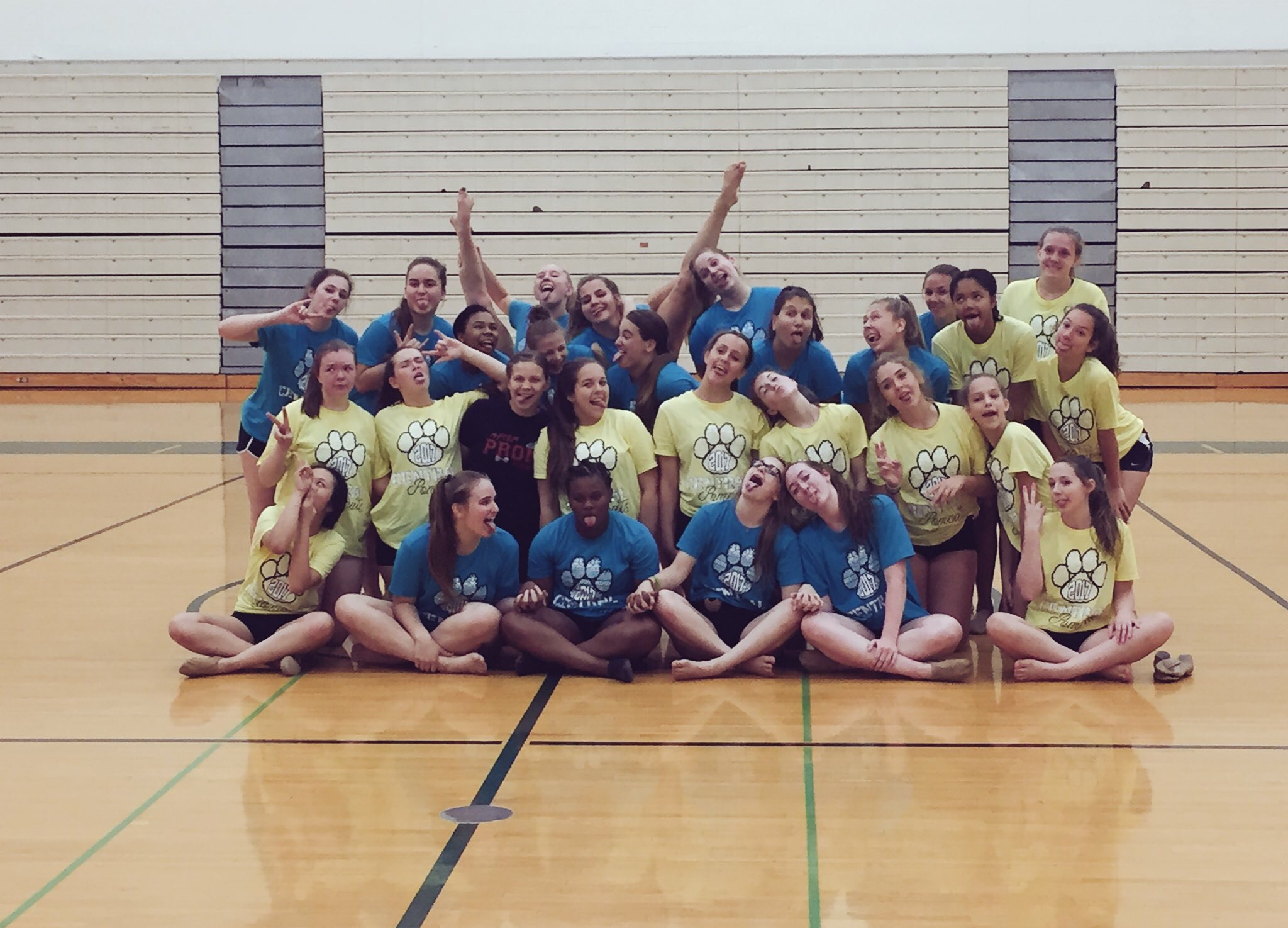 What's your personal favorite style of dance to either perform or watch?
Armani: To watch, I like the modern, the weird stuff, the stuff you don't normally see people doing. The backbends, the flexed feet, that's really cool, it's different. Not a lot of teams do that. They do pretty, contemporary dances that you're gonna remember, but I want something that's gonna be like, wow. To perform, I'm a hip hopper. I love it. The flippin', the holds, the attitude, that's all me.
Danielle: I love me a good jazz dance. The high energy, like facials, it's just something so fun to do when you're doing it. You just get so into it. I love that, that's my favorite, it's fun to watch.
Norm: How about performing?
Danielle: I'd say jazz or lyrical. Something with emotion where people can connect to it.
Coach Jeray: I've always been a sucker for a good lyrical routine. But I personally love watching the girls perform contemporary. Again we haven't done a lot of lyrical since I've been the coach, so I'm interested in how we do with that this year.
Kate: I love to watch contemporary or sometimes tap. Personally I'm a hip hopper.
Emma: My favorite dance to watch would be one with a story. Usually they're more contemporary, but I like ones that take you on a journey the whole way. My favorite to dance would be jazz with its high energy.