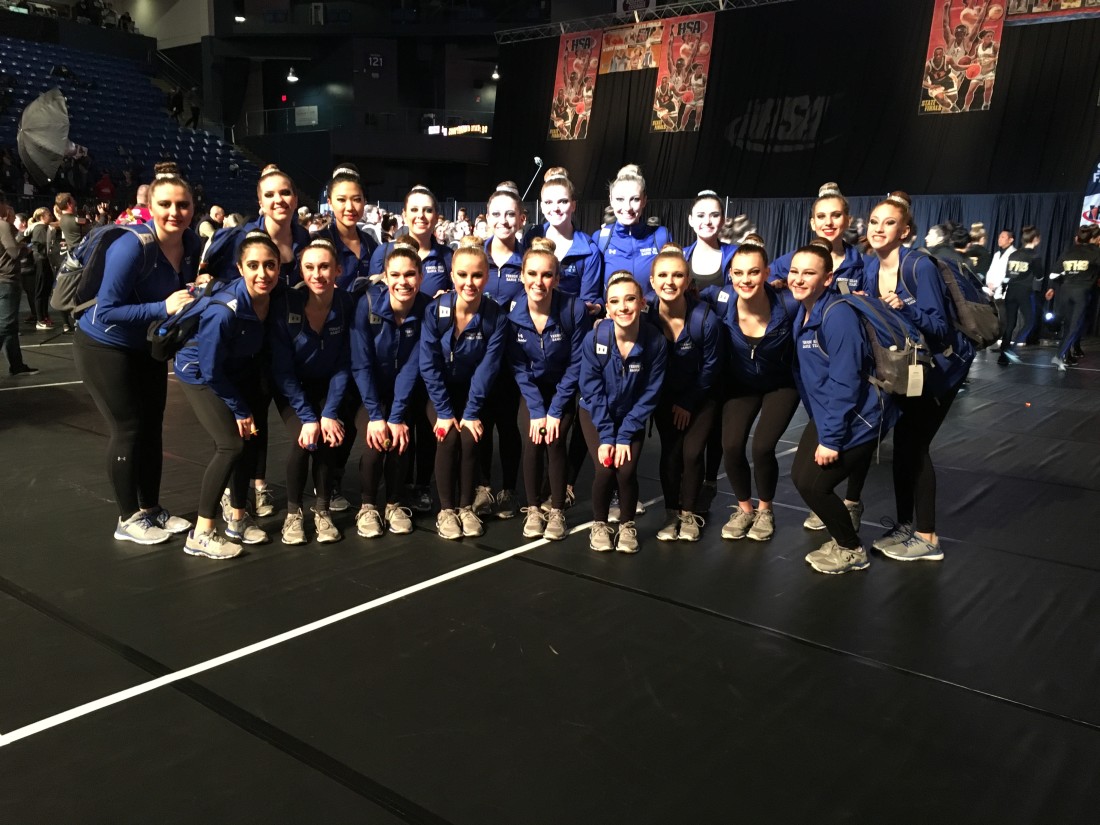 Team Feature: Vernon Hills
by Kaitlyn Winters, 8CA Staff Writer
The Vernon  Hills Dance Program has been making its mark in the Illinois High School dance world for many consecutive years, holding many high titles in both TDI and IHSA. They compete in the 2A division and are members of the North Suburban Conference. Since competing IHSA, they have attended State every year and even placed top 3 once.
Head Coach Beth Brilowski has been in the world of Illinois dance for many years. She is a former member of the Fremd Poms team, and following college spent time coaching at both Conant and Stevenson High School. She attends every practice and helps the girls achieve their highest potential. Under her direction, the team placed in the top 10 at the 2016 State Championship.
Such a talented team does not come easily, and the girls work year round to improve, especially through local studios. These studios include Talent Forum in Libertyville, Dancenter North in Libertyville, and the Lincolnshire Academy of Dance. Skills maintained from studio work are very important for the team, since they are always a strong technical team. Two separate tryouts are held in the fall and winter, since no teams are set in stone during the summer months. At the tryouts, coaches and judges look for girls with strong flexibility and bodily awareness, along with skills such as triples and fouette turns.
While the team does compete in pom, their main focus every year is their jazz routine, which they normally take to conference, sectionals, and state. They self-choreograph their collegiate pom routines, but bring in Sarah Ford to choreograph their jazz dance. Through the season, they continuously improve the cleanliness and visuals by doing detailed cleaning, and having Richard Smith, their technique coach, come in and assist them. He helps run through sections of the routine as well as continue the girl's growth as technical dancers.
Vernon Hills brings very difficult routines to the competition scene, so keeping up their conditioning and technical training is essential. During the fall season, there were many injuries on the team, so coming back together as a strong and healthy team at competitions was a large feat for such a strong team. Their resilience is undeniable.
Fun Facts:
School Info:
Their mascot is the Cougars and their school colors are royal blue and silver.
Special Skills/ Trademarks:
Vernon Hills is known for bringing very high energy collegiate pom routines to the competition world, as well as powerful jazz dances.
Teams they admire:
As a team, they really admire the dance team from the University of Minnesota because of their talent and consistency. They also closely follow the Iowa dance team because they have members of their own team who have gone on to dance there. In the world of IHSA, they have close relationships with Geneva, Libertyville, and Fremd.
Team Composition:
The team is made up of four seniors, five juniors, six sophomores, and one freshman, but three additional freshman were moved up to Varsity for sectionals. Eight girls were new to Varsity this past season.
Captains:
The team has two junior captains and two senior captains, including Jodie Amadei, Kim Kamman, Kendall Dickman, and Chantal Brobst.